Botswana
Botswana
is a landlocked country in
Southern Africa
. Its economy, one of the most robust on the continent, is dominated by diamond mining and tourism.
Botswana is famous for its wildlife, and areas like
Chobe National Park
,
Moremi Game Reserve
in the
Okavango Delta
, and the
Central Kalahari Game Reserve
have a very high concentration of game. The bulk of the Kalahari desert falls within Botswana's borders and Botswana is home to most of the world's San (Bushman) population.
Regions
The sparsely populated Kalahari Desert and its fringe.|
Cities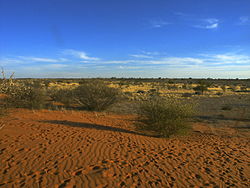 or Gabs – a neat and tidy little capital, but with rapidly growing shantytowns on its periphery
Other destinations
- A unique geological formation where a delta is formed by a river (the Okavango) flowing into the Kalahari desert instead of the ocean. Part of the Delta is designated as Moremi Game Reserve
- a great place to see wildlife, and a good point from which to move on to Victoria Falls.
- a unique corner of Africa where nature & culture combine in spectacular wildlife, stunning scenery and fascinating history
See also
African National Parks
Understand
History
Botswana was never colonized by Europeans. Instead, the Three Chiefs went to the Queen of the United Kingdom to ask for protection from Boers to the south and Ndebele tribes from the north-east. The Boers were (to them) the white people that had invaded and were taking over South Africa. The Queen obliged. In 1964 the Three Chiefs went back to the UK and told the Queen that they did not need the protection any more. The Queen did away with the protection, and the Chiefs went back to Botswana. Botswana discovered diamonds in 1965. They produce 65% of the world's diamonds today. In 1969 DeBeers created a partnership with the Botswana government to create the company Debswana.
Climate
Government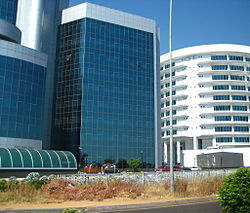 Botswana has been a stable representative democracy since independence and has been largely devoid of the racial and ethnic conflict some of its neighbours have suffered from — perhaps due in part to the relative dominance of its majority Tswana ethnic group. Since the turn of the century, thousands of Zimbabweans have sought sanctuary and economic betterment.
One of the poorest countries at independence, Botswana transformed itself into one of the fastest-growing economies in the world with a GDP (purchasing power parity) per capita of about USD14,000
per annum
. In contrast to the sad situation of its eastern neighbour, Zimbabwe, kleptocracy has been absent and Botswana now also has the second highest Human Development Index of all continental Sub-Saharan African countries.
Public holidays
The public holidays in Botswana are:
1 JanuaryNew Year's Day

Easter weekend("Good Friday", "Easter Saturday", "Easter Sunday" and "Easter Monday"): a four day long weekend in March or April set according to the Western Christian dates.

1 MayWorkers Day

1 JulySir Seretse Khama Day

Mid JulyPresident's Day

30 SeptemberBotswana Day

25 DecemberChristmas Day

26 DecemberDay of Goodwill
The first Monday after Christmas is also a Public Holiday.
People
The
Tswana
, for whom Botswana is named, comprise 79% of the population.
Get in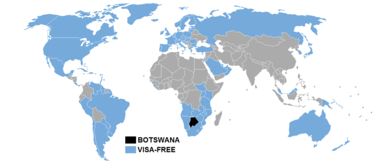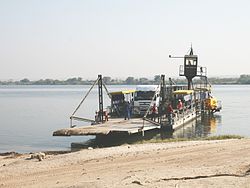 Entry requirements
Unlike more stiff necked administrations such as India, Pakistan, Nigeria and China, the Botswana government has not erected high bureaucratic barriers to enrichment from tourism.
Citizens of
Commonwealth
countries do
not
need a visa to visit
except
those from
Bangladesh
,
Cameroon
,
Ghana
,
India
,
Nigeria
,
Pakistan
, and
Sri Lanka
.
Citizens of
European Union
countries, Norway, Iceland, Liechtenstein and
Switzerland
do
not
require a visa to visit.
Citizens of
Argentina
,
Angola
,
Bahrain
,
Brazil
,
Chile
,
Costa Rica
,
Cuba
,
Dominican Republic
,
Israel
,
Japan
,
Kuwait
,
Mexico
,
Oman
,
Paraguay
,
Peru
,
Qatar
,
Russia
,
Saudi Arabia
,
South Korea
,
South Sudan
,
Turkey
,
United Arab Emirates
,
United States of America
,
Uruguay
,
Venezuela
,
Zimbabwe
do
not
require a visa to visit.
For citizens of
other nations
, a visa must be obtained prior to arrival and this usually takes about a week to process.
Visas can be applied for at a Botswana embassy in
Australia
,
Belgium
,
Brazil
,
China
,
Ethiopia
,
India
,
Japan
,
Kenya
,
Namibia
,
Nigeria
,
South Africa
,
Sweden
,
Switzerland
, the
United Kingdom
,
Zambia
,
Zimbabwe
and at the
United Nations
in
New York
,
USA
.
If you require a visa to enter Botswana, you might be able to apply for one at a British embassy, high commission or consulate in the country where you legally reside if there is no Botswana diplomatic post. The
UK Government website
lists UK embassies around the world where Commonwealth visas can be issued. British diplomatic posts charge £50 to process a Botswana visa application and an extra £70 if the authorities in Botswana require the visa application to be referred to them. The authorities in Botswana can also decide to charge an additional fee if they correspond with you directly.
By plane
Botswana's main airport is Sir Seretse Khama in Gaborone. International flights are to
Zimbabwe
,
South Africa
,
Namibia
,
Kenya
and Ethiopia. The airport in Maun can also be reached via Johannesburg, Cape Town, or Gaborone and, once a day (in summer 2009), from Windhoek, Namibia. The distance between Gaborone and Maun is more than 1,000 km. Maun is very much a tourist attraction spot.
Airlines that fly to Gaborone are.
Air Botswana. Harare, Victoria Falls, Lusaka, Johannesburg, Cape Town.
Airlink. Johannesburg.
Ethiopian airlines. via Addis Ababa. to Europe, Asia, Africa.
Kenya airways. Via Nairobi to Europe. Asia, Africa.
TAAG Angola airlines. Luanda.
South African express. Johannesburg.
By train
Trains to/from
South Africa
have been withdrawn since 1999. For domestic train service, see
#Get around
.
By car
There are several entry points by road to Botswana: In the south at
Gaborone
, providing access from
Johannesburg
; in the west providing access from
Namibia
; the north providing access from
Namibia
,
Zambia
and
Zimbabwe
; and at
Francistown
in the east, providing access from
Harare
. All road access is good and the primary roads within Botswana are paved and well maintained.
Possibly the busiest border crossing from South Africa is the
Kopfontein
/
Tlokweng
border crossing, as it is only a few minutes from the capital of Botswana. As a result, it is open for a long period of time, and has a large number of trucks travelling through.
Coming from
Namibia
, you can either go north to
Maun
, or south along the Trans-Kalahari Highway to
Lobatse
.
By international bus
There is regular bus service from
Johannesburg
to Gaborone, which takes six hours.
Intercape Mainliner
is one of the bus lines from Gaborone to Johannesburg.
there are also buses from Gaborone to
Zimbabwe
. and from Gaborone to
Windhoek
Namibia.
Monnakgotla travel have buses two times a week from Gaborone to Windhoek Namibia.
Metrolyn bus lines have buses from Gaborone to Harare Zimbabwe.
T J Motlogelwa Expess have buses from Gaborone to Johannesburg two times per day.
By ferry
From Kazungula in Zambia you can cross the Zambezi River with ferry to the eponymous town in Botswana.
Get around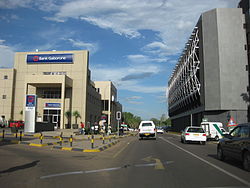 Very few locals know street names and addresses, and you are likely to have to get directions in terms of landmarks. Botswana doesn't have a postal delivery system to addresses (just to centralised mail collection points), so even when streets are well-marked, the names may be unfamiliar to residents.
Through a combination of coaches and combies (minivans), you can get anywhere in Botswana without any trouble, though public transport is spotty away from big cities and major routes but hitchhiking is popular and very easy. However, hitchhiking should only be done in desperate circumstances, as Botswana driving is often very erratic and it can be a harrowing experience to have a stranger drive you somewhere. It is advisable to arrive at the bus station quite early, as the buses do fill up quickly, and it is not uncommon to spend several hours standing in the aisle waiting for a seat to free up (remember to bring water, as the buses are often not air conditioned).
By car
The roads are paved and well maintained, so travel by car is also not a problem, provided that one keeps a close eye out for the cows, donkeys and goats that spend much time in the middle of the road.
The Trans-Kalahari Highway is an old cattle route, now newly paved and easily drivable with a 2-wheel drive. It runs from
Lobatse
to
Ghanzi
in Botswana, making the connection from
Windhoek
,
Namibia
to
Gaborone
, Botswana. It is a long and uneventful drive, but you get a good feel for the Kalahari Desert. Fuel is available in
Kang
at the Kang Ultra Shop, which also offers a respectable selection of food, overnight chalets, and inexpensive camping.
By bus
There are many bus companies in Botswana. One of the biggest is
Seabelo
. From Gaborone you can travel by bus to any bigger city in Botswana.
By train
Botswana Railways
operates all trains in the country. The main line goes from
Lobatse
, near the South African border, via
Gaborone
to
Francistown
at the Zimbabwean border. After having been canceled in 2009, train service was reintroduced in 2016.
Talk
The official languages of Botswana are
English
and
Tswana
.
The language of business in Botswana is English and most people in urban areas speak it, although in the more rural areas many people do not speak English, particularly the older generations. The primary indigenous tongue is Tswana, and is the first language of the overwhelming majority of the population. It is not difficult to learn basic greetings and such, and using these in conversation will make people very happy.
See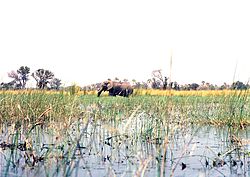 Wildlife is Botswana's main draw. Wildlife parks compose nearly one-fifth of the country. In these parks you will find lions, cheetahs, crocodiles, hippos, elephants, antelope, wild dogs, and hundreds of species of birds. Visitors can take safaris and stay in lodges running the gamut from inexpensive dorms for backpackers with tour buses to $1,000+/night private lodges with your own maid & driver.
Among southern Africa's most impressive—and popular—wildlife destinations is the
Okavango Delta
where the Okavango River widens into the world's largest inland delta. Lying in the middle of the arid Kalahari, the swamps & water channels attract animals from thousands of kilometres around and triples in size (to 100,000 km 2 !) during floods in July and August. Nearby
Chobe National Park
has a large population of elephants and it's also easy to spot many of Africa's well-known species, especially zebras and lions. The bleak salt pans of
Makgadikgadi Pans National Park
attract a large number and variety of birds year-round. Other great game parks include
Nxai Pan National Park
,
Mokolodi Nature Reserve
, &
Gemsbok National Park
.
Unfortunately, most of the native tribes in Botswana only dress in traditional outfits and perform rituals for tourists. Nevertheless, for the culture-vultures, the villages of
D'Kar
and
Xai-Xai
have many offerings, including arts, crafts, and the opportunity to participate in various rituals.
Tsodilo Hills
contain one of the largest collections of rock art on the continent.
Buy
Money
Botswana's currency is the
pula
, denoted by the symbol "
P
" (ISO 4217 code:
BWP
). It is subdivided into 100 thebe. Pula means "rain" in Setswana (rain is very scarce in Botswana - home to much of the Kalahari Desert - and therefore valuable and a "blessing"). Thebe means "shield".
Banknotes of P10, 20, 50, 100 and 200 denomination circulate and the pula is one of the strongest, most stable currencies in Africa.
Eat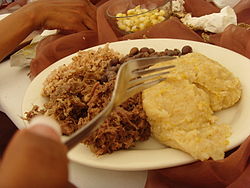 The cuisine of Botswana is unique but also shares some characteristics with other cuisine of Southern Africa. Examples of Botswana food include
Pap
,
Samp
,
Vetkoek
and
Mopane worms
.
A food unique to Botswana includes
Seswaa
, a meat dish made of beef, goat or lamb meat. The fatty meat is generally boiled until tender in any pot, with "just enough salt", and shredded or pounded. It is often served with pap (maize meal) or sorghum meal porridge.
Drink
Many soft drinks and alcohol drinks are produced in factories in Botswana, including Fanta and Coca-Cola. Local brands are Castle and Lion beers. Milk is fermented to make madila (sour milk) which is eaten on its own or added to porridge. A favourite non alcoholic home made drink is ginger beer. A local company Native Foods also produces a variety of refreshments including Mosukujane Iced Tea.

Sleep
Most of the accommodation establishments in Botswana are located near the larger towns and cities, but there are also many secluded game lodges tucked away in the wilderness areas. Travellers can book their accommodation well in advance before travelling to Botswana. this can be done via travel agents that have knowledge of this country.

Learn
The
University of Botswana
is in Gaborone and Botswana International University of Science and Technology (BIUST) is in Palapye . A number of private tertiary instituations such as Limkokwing University, Botho University, Boitekanelo College, Ba-Isago University also offers a variety programs for study.
Stay safe
People in Botswana are very friendly and the crime rate is low. There isn't much to worry about on this front. Nevertheless, crime has been on the rise over the past several years, so always be aware of your surroundings. Basic common sense will keep you safe from the predatory wildlife in rural areas. Botswana happens to be one of the safest countries in Africa, no civil war, less corruption, more human rights, no natural disasters e.g. earthquakes or tsunamis.

Drugs
Drug trafficking is punished by a mandatory death sentence. This is important for you to know because if you need to take prescription drugs into Botswana, you will have to show a prescription for each medication. Failing to do so will result in the medication being classified as a drug and can result in inprisonment if undeclared.

Stay healthy
Botswana's
HIV
infection rate, estimated at
21.9%
, is the third highest reported in the world. Exercise regular universal precautions when dealing with any bodily fluid and remain aware of this high rate of infection. Take precautions accordingly. Wear rubber gloves when dressing someone else's cut, even if they are a child, and obviously
absolutely never have unprotected sex.
If you form a serious relationship, consider both getting an HIV test before taking things further.
The northern part of Botswana, including Chobe National Park and the Okavango Delta is in a
malaria
zone, so it is advisable to take the relevant precautions. Seek medical advice before travelling to these areas; vaccines such as typhoid and hepatitis A+B (if not already immune) are usually recommended. Oral vaccines are also suggested for prevention of diarrhea and cholera.
Water
in urban and semi-urban areas is chlorinated, and is drunk from the tap by the local population. Still, short term visitors should drink bottled water to avoid
traveller's diarrhoea
. Outside of urban and semi-urban areas, the water is contaminated, and should not be used for drinking, ice-cubes, teeth cleaning, or eating washed unpeeled fruits and vegetables.