Boudhanath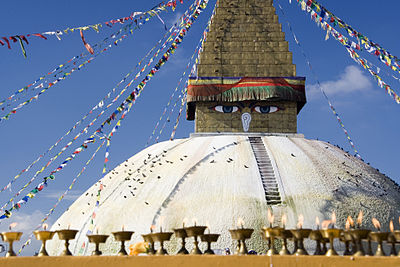 Boudhanath
(also known as Boudha, pronounced 'Bo-da') is located 7 km East/Northeast of
Kathmandu
& home to one of the largest Buddhist
stupas
in the world, built during the 5th century AD.
Understand
For centuries, Boudhanath has been an important place of pilgrimage and meditation for Tibetan Buddhists & local Nepalis. It is located on what was a major trade route between Nepal & Tibet. Many traveling merchants used it as a resting place. It is also a popular tourist site. In 1979, Boudha became a UNESCO World Heritage Site. The Great Stupa of Boudhanath is the focal point of the district. There are at least 29 Tibetan Gompas (Monasteries & Nunneries) around Boudhanath. The culture is very much Himalayan with a strong presence of Tibetans & Sherpas, as can be evidenced by the number of restaurants selling
momos
,
thukpa
& other Tibetan favourites. Many maroon clad Tibetan Buddhist monks & nuns can be seen walking around Boudha, especially at the Stupa. As a daily ritual, many people walk three or more times around the stupa while repeating the mantra 'Om Mani Padme Hum' either quietly or aloud. During the days of & surrounding the full moons, the air is often thick with incense & mantras sung by monks, & the number of people visiting the Stupa increases significantly, along with the intensity of their mantras & prayers. Boudha is a fascinating & very spiritual area. Most of the restaurants & shops are closed by 20:00.
Recommended reading
Boudhanath: The Great Stupa by Keith Dowman. A translation of the legend of the great stupa as disclosed in a hidden treasure teaching of Guru Rinpoche.
Om Mani Padme Hum
Buddha's Teachings - The Four Noble Truths
Get in
Taxis: From the Kathmandu airport, or from Thamel, expect to pay 250-350 rupees (2011). If you are coming to see the Boudha Stupa, tell the taxi driver that you wish to go to Boudha Stupa main Gate.
There are also a number of local buses and vans that carry passengers in the Kathmandu Valley around the Ring Road (which loops around Kathmandu & the Kathmandu Valley) to Chabihil for 15 to 20 rupees. From Chabihill, one can take one of the many buses/vans to the 'Bouda Stupa main gate' for 15 rupees, or walk for 20 mins. up the Boudha road to the Stupa.

Get around
Most of the sites of interest are located near the stupa and can easily be reached on foot. Taxis are available on the main road by the main stupa gate, until around 8PM.

See
Boudhanath Stupa. According to legend, Boudhanath Stupa was built during the 5th century AD, by an old poultry woman who asked the king for land to construct a shrine to the Buddha. The king agreed, and offered her as much land as she could cover with the skin of a water buffalo. The woman proceeded to cut a buffalo hide into thin strips, and placed them end to end to form a huge circumference. The king realised that he had been tricked by the old woman, but he adhered to his word, and the stupa was constructed according to these dimensions. Nowadays, the stupa is the most popular site for Buddhists in Nepal, and throughout the day pilgrims can be seen circumambulating the structure chanting mantras. It is especially spectacular at night when adorned with butter lamps. Remember to walk around the stupa in a clockwise direction and also to spin the prayer wheels clockwise. There is a small entry fee (rps 150) to enter the stupa area. This can be waived for guests of hotels located at the other side of the stupa. See also: Sacred sites of the Indian sub-continent
Monasteries & Nunneries
Shechen Monastery, located in the alleys near the stupa. A very spacious and beautiful temple founded by the late Dilgo Khyentse Rinpoche. There is a garden restaurant near the monastery guest house.

Khawalung Monastery

phone: +977-1-4820205

address: Boudha-Simaltar

A beautiful Tibetan Monastery near Boudhanath Stupa. It is inaugrated by Trulshik Rinpoche and Shechen Rabjam Rinpoche in October 2005. The monastery has an elementary and a training school. It consists of monks from remote region of Nepal and Tibet. There are many exquisite Tibetan Buddhist wall paintings.

phone: +977-1 4821 268

address: North of Boudhanath

Kopan is a thriving monastery of 360 monks, mainly from Nepal and Tibet, and a spiritual oasis for hundreds of visitors annually from around the world. Nearby is Khachoe Ghakyil Ling Nunnery, home to 380 nuns. Both the monastery and the nunnery are under the spiritual guidance of Lama Zopa Rinpoche, and the care of the abbot, Khen Rinpoche Geshe Lhundrup Rigsel. And it is the wellspring of the FPMT, a network of some 140 centres and activities world-wide, themselves expressions of the Buddha activity of Lama Thubten Yeshe and Lama Zopa Rinpoche. Kopan offers study and meditation for serious students, casual visitors and retreaters.

phone: +977-1-4470027

address: Boudha, Nepal

These days, Thrangu Monastery is the centre of monastic life for nearly 250 monks. They receive training in ritual practices, study Dharma & learn to read and write in Tibetan & English.
The older monks take turns annually learning different jobs in the monastery. The monks chant special prayers as requested & often go to private homes to do pujas for the deceased, for new homes, etc.
There are many monks under the age of eighteen and most of these boys are from rural areas of Nepal, particularly the mountain areas bordering Tibet. From an early age, they learn to develop the good habits and discipline.
Do
Circumambulate the stupa (walk clockwise around it). This is the main activity of pilgrims & many tourists too. One lap is approx. 150 m. At the far side from the main gate entrance it is possible to walk up on to the stupa itself during the daytime.
Photography. The stupa & its surroundings are very photogenic, but please don't take pictures of people without their permission.
Monastery tour Please practice good manners. Ask the first monk or nun you see at the place (monastery or nunnery) you wish to visit for permission, before wandering around their home grounds. Some (not all) encourage the public to visit by offering guided tours, classes, puja services, meals, & gift shops. While on their sacred grounds, be respectful, don't smoke, turn off mobile phones, lower your voice, leave your shoes outside before entering any temples or buildings, & get permission before taking pictures. Bear in mind that monasteries & nunneries are sanctuaries for inner practice, not tourist attractions. Most (if not all) of them welcome donations.
Buy
There are many handicraft shops around the stupa. This may be the best place in Nepal for Buddhist & Tibetan related items - statues, prayer flags, Tibetan incense, etc.
Himalayan Singing Bowl Centre

phone: +977 9851046748

address: Boudha Stupa, Kathmandu Nepal

Sells hand made singing bowls used for centuries by Himalayan monastics & today by healers, therapists, musicians & meditators.
Eat
Stupa View Restaurant is a vegetarian restaurant that, as the name implies, offers good views over the stupa. It's a little expensive (200 NPR + for a meal), but the quality of the food and service is good.
Three Sisters also offers views overlooking the stupa and kora. The food is cheaper than at Stupa View (120 NPR + for a meal), but the quality of the food and service is also a little lower.
Regency is in the back streets about a two minute walk from the stupa (with the stupa on your right, turn left into alley after passing Stupa View Restaurant, and take the next right. The restaurant is few doors down on the right) and is where many locals eat. The food is good and you can easily satisfy your appetite for well under 100Rs.
Shechen Guest House (see 'sleep' section). The restaurant at the guest house is open to non-residents and offers wholesome vegetarian food in the quiet of an enclosed garden.

Stupa Dining Restaurant With Garden

address: Boudha, Dhara Tole, before turning to Hyatt Road

Local restaurant with good, clean, cheap food, and with live music.

Himalayan Cafe

phone: +977 1 4492274

address: Boudha Stupa

Clean cafe offering both traditional Tibetan & Western breakfast, lunch & dinner. Cafe is above Buddhist shop & is on 3, 4 & 5th floors overlooking Stupa. Excellent veggie burger with fried for 120rps. Small pot of milk tea 75rps. WI-FI.
Drink
Saturday Cafe over looking the stupa at Boudha has good ground coffee, WI-FI & excellent cakes, which you can enjoy surrounded by books in the second floor book shop or on the roof-top terrace.

Boudha Stupa restaurant & cafe

phone: +977-1-2130681

address: Boudha

Most hygienic food with Free WI-FI, directly over looking the Boudha Stupa.

FlavorsThe owner is a very hospitable man who will gladly take visitors on a hike or a tour fo Nepal.
Sleep
There are dozens of hotels & guesthouses not listed here. Check bulletin boards in cafe/bakeries for individuals offering rooms for rent by the week or month.
Budget
Samdrup Guest House

phone: +977 1 478568

Mostly used by Tibetans on pilgrimage or visiting family, and hence is a very cheap, but basic hotel (though more deluxe accommodation is available on the upper floors). The hotel is conveniently located across from the main gate at Boudha Stupa. Has a gift shop on the 1st floor.
Tharlam GuestHouse

phone: +977 1 4472550,+977 1 4496878

Some of the rooms are nice and clean but the ones downstairs, with kitchen, not so much. They have rats and little cocroaches. It's at the end of a very narrow and dark alley, and there have been lots of robberies at night. Not recommendable. Beside/affiliated with the beautiful Tharlam Sasang Namgyal Ling Monastery. One BR for 1 person: rs. 400; twin beds or double bed for 2: rs. $800; Suite or BR with Kitchen: rs. 1200; (prices: 2011)located about 100 m NE of the Boudha Stupa.
Mid-range
phone: +977 1 4479009

In the grounds of Shechen Monastery in Boudha has clean & good quality rooms with private bathrooms for about 10 USD (2011). Guesthouse also has garden with restaurant/coffee shop facilities & is within a five minute walk of Bodhnath Stupa.
Gangchen Guest House Opposite of Hyatt East Gate. Tel: 4470505, Room Rates from Rs.800 to Rs.1800
Splurge
phone: +977 1 449 1234

address: PO Box 9609, Taragaon, Boudha

5 star hotel with 290 rooms & suites. The hotel offers a health & beauty spa, swimming pool, wading pool for children & an outdoor whirlpool. It's 4 km from Tribhuvan International Airport & within walking distance of Bodhanath Stupa.
Respect
In the vicinity of
sacred sites
:
Wear clothing that expresses respect for the sacred nature of the site.
Take your shoes off before entering temple buildings and some shops. Follow the lead of the locals.
Circumambulate the stupa & other sacred objects in a clock-wise direction.
Preserve the peace and tranquility.
Do not climb onto statues or other sacred objects.
Do not take pictures of people without their permission.
Stay healthy
Shechen Monastery
operates an efficient, hygienic & friendly clinic offering treatments using Western & traditional Tibetan medicine, homeopathy & also sometimes massage & acupuncture. It is a good place to seek treatment for both acute & chronic ailments. The clinic is in an alley across from Shechen Guest Houses.
Fatima Healing Centre
is on the first floor of a beautiful mansion. They treat most common health issues. Dr Fatima (from Llasa Tibet) heals with traditional Chinese medicine, acupuncture & herbal medicine. They also offer therapeutic/healing foot baths, facials & massage. A 15 min. walk North of the Stupa. Closed Saturday & Sunday
Kanti Dental clinic
does general dental work including cleanings for rps 450. Located off the main road into Boudha, less than 100 m east of the Stupa main gate on the same side of the road. Open 7 days a week.
Krishna's Ayurvedic Therapy
features Ayurvedic Medicine, Foot Therapy/Reflexology/Acupressure (1 hr foot massage/treatment costs rps 600, half hour for rps 300, in 2011). Also offered: Aroma therapy, Shiatsu therapy, Facials (rps 600). Store entry is in front of Stupa. From main stupa gate entry, walk clockwise around stupa almost half way - it's on left. Look for "Ayurvedic" sign.
Connect
Most cafes & coffee shops in Boudha have free WiFi for customers. There are many internet cafes near the Stupa.

Go next
Pashupatinath. An important temple to Shiva in the form of Lord of Animals. See monkeys, cremation, sadhus and a holy cave. The temple is a short taxi ride, or 20 minute walk past several temples, from Boudhanath. While entrance to the temple is allowed for Hindus only, the surrounding forest area provides much to explore. NPR1000
Changunarayan - small village and home to the ancient temple of Changu Narayan which is part of the UNESCO World Heritage Site Kathmandu Valley. It's possible to catch a public bus to the beginning of the ascend to Changunarayan and then just hike it towards the top of the hill for half an hour.