Bourgogne-Franche-Comté
Bourgogne-Franche-Comté
is a region of east-central
France
, created in 2016 through administrative reorganisation from
Burgundy
and
Franche-Comté
. Noted for its rich history and diverse scenery, the region stretches from the rolling Burgundy wine country in the west, to the
Jura
mountains and
Swiss
border in the east.
Cities and towns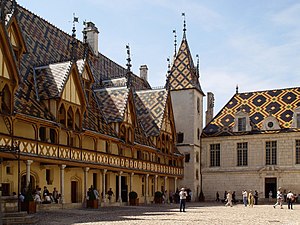 Cities
— capital of the region, Besançon has a beautiful old city, great art and architecture, with Vauban-designed citadel which is surrounded by beautiful green hills, and the atmosphere of a university city as well as one of history and commerce.
— with a relatively compact old town, Auxerre is pleasant to walk through and features some beautiful, very old buildings including the Old Abbey of St. Germain, whose crypt contains frescos from the time of Charlemagne
— capital of the Dukes of Burgundy after Dijon, a well-to-do city that features the beautiful Hôtel-Dieu with the Polyptych of the Apocalypse by Rogier van der Weyden
— former power-base of the Dukes of Burgundy. Really cuts the mustard.
— colourful city on the river Saône, gateway to the Beaujolais wine region
— historically important city with a famous Gothic cathedral and other striking buildings from those heady times in its past
Towns
- small commune with a castle
— small hill town with very well-preserved ancient Roman walls and a great Romanesque cathedral
— small walled town on a rocky outcrop with possible Arthurian links
— home to the most famous Burgundy white wine
— a small village, best known for its cheese; it also has its own château
— small town with a great market hall known for its local food and drink
— Jura mountain village with good local produce
— town on the river Loire which attracts pilgrims visiting the earthly remains of Saint Bernadette, of Lourdes fame
— small town with attractive 11th-century basilica
— known for its museum of diamonds, gemstones and pipes
— a small town that features the Gothic Saint-Andoche Basilica
— a walled medieval town in the heart of the Côte-d'Or, situated on the banks of the Armançon, which has a striking skyline and a beautiful collegiate church
— an old town and fine arts museum
— hill village that's home to the famous Basilique Sainte-Marie-Madeleine de Vézelay, start of many a pilgrimage to Santiago de Compostela
Other destinations
— a protected area of woodlands, lakes and traditional farmland
Understand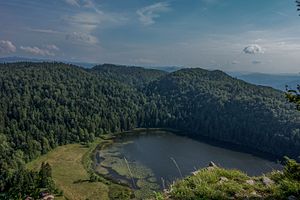 The entire area formed the heart of the Kingdom, and later Duchy, of Burgundy for 1000 years in the middle ages, but was absorbed into the French state from the 15th century onwards. In 2016, the two regions of Burgundy and Franche-Comté voluntarily merged to form the present Bourgogne-Franche-Comté, as part of national territorial reform. They were the only two regions to have already bilaterally expressed a wish to merge before the national law was passed, probably due to their strong historical ties.
Burgundy and Franche-Comté have a rich architectural inheritance of remarkable buildings, including castles and major Romanesque and Gothic cathedrals. The vineyards of the region are some of the most prestigious in the world, with the Burgundy wine region including Beaujolais and Chablis. Aside from cities and towns, many of them walled, the countryside is dotted with numerous pleasant and picturesque villages.
The region also offers natural beauty. Burgundy has lakes and forests, and plenty of opportunities for fishing, walking or riding. A gentle landscape of hillsides covered with vineyards lines the river Loire. The Nièvre holds a vast area of wild countryside ideal both for sport and cultural activities. The Jura is a low range of wooded mountains with many gorges, caves and rocky peaks, which gave its name to the Jurassic period.
Talk
This is France, so surprisingly people here mainly speak
French
! A swiftly-declining number of people in Burgundy speak a dialect of French called
Burgundian
/
Bourguignon
. The Jura mountains are part of the
Arpitan
-speaking region. Arpitan, also known as Franco-Provençal, is a Romance language spoken mainly by older people in rural areas.
As far as
English
is concerned, it is quite likely that travellers will be able to find speakers in tourist areas, and the larger towns and cities such as
Besançon
. As soon as you venture into less-populated areas, some knowledge of French becomes essential. At any rate, having a few basic phrases at your disposal is fundamental politeness, and efforts to speak the language - however clumsy - will help endear you to the locals much more than if you stubbornly stick to English.
Get in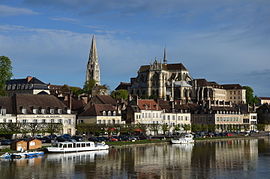 By car
The A5 and A6 autoroutes both connect the region to
Paris
. The A6 heads south to
Lyon
, a hub of highways coming from southern Europe. The A40 brings traffic from
Geneva
.
For more detail on the region's autoroute system, see below.
By train
The
TGV
runs from Paris (Gare de Lyon) to
Dijon
(1h 35 min),
Besançon
(2h) and
Belfort
(2h 15 min). These stations are also served by TGV services from other cities in France (
Lille
,
Lyon
,
Mulhouse
,
Strasbourg
) and neighbouring countries (
Basel
,
Frankfurt
,
Geneva
,
Luxembourg
,
Milan
)
By plane
The region has one tiny commercial airport,
Dole-Jura
, which receives Ryanair flights from Fez, Marrakech and Porto. The nearest large international airports offering flights from English-speaking countries are
Euroairport
(near to the Swiss city of
Basel
, but actually in the French town of Saint-Louis, Haut-Rhin) and
Geneva
, which straddles the French-Swiss border.
Get around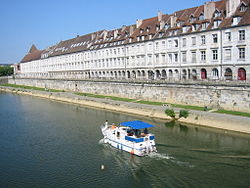 By car
The region is well-connected by road, with the following motorways (
autoroutes
) being particularly useful:
By train
An extensive local rail network is operated by
TER Bourgogne-Franche-Comté
. Besançon and Dijon are linked by the TGV.
By bike
There is an extensive network of cycle routes, which is an excellent and relaxing way to explore the region, whether among the Burgundy vineyards or the hills of Franche-Comté.
See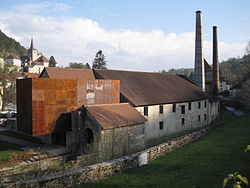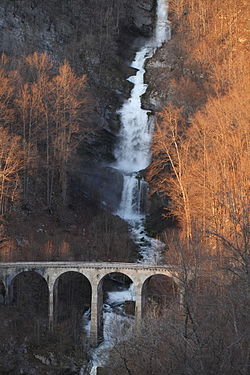 Two historic salt production sites in the region are inscribed on the UNESCO World Heritage List; the Royal Saltworks at Arc-et-Senans and the saltworks of Salins-les-Bains.
Notre Dame du Haut in Ronchamp, a chapel designed by the architect Le Corbusier. It's one of 17 buildings worldwide by Corbusier to be listed as a World Heritage site.
Villages - Many villages of the region have old medieval centres. Walk around, find a bar, drink a glass of wine and enjoy.
Castles - there are hundreds of castles in Burgundy. Many can be visited. Wikipedia has a list of all the castles of the region.

phone: +33 3 80 96 96 23

address: 1 Route des Trois Ormeaux, 21150 Alise-Sainte-Reine

An archaeological museum with a multimedia exhibition, reconstructed fortifications, the remains of a Gallo-Roman city, statue of Vercingetorix.
The Région des Lacs consists of nine lakes of crystal blue water. Here motor-powered boats are prohibited and fishing regulated. It runs from Clairvaux-les-lacs, to Doucier Via Les Frasnois and the Cascades du Herisson. The lakes are a haven for locals on hot summer weekends, and a great place for a barbecue or picnic. Water temperatures are usually around 20°c, and make for a very refreshing dip after a long hike.
Rivers
Doubs -a lovely river winding round the area - best known parts probably the Gorges du Doubs, the Saut du Doubs and the river's source, the last two being near the Swiss border.
Loue - a beautiful tributary of the Doubs noted for its stunning source scenery, gorges and pretty riverside villages, particularly Ornans with its museum of Gustave Courbet in the house where the poet was born, Lods and Mouthier-Haute-Pierre.
Lison - tributary of the Loue another river with a magnificent source in limestone cliffs.
Hérisson - a smaller river but with the Cascades du Hérisson, a fine series of waterfalls - crowded with picnics on a Sunday.
Cirques
A cirque is a glacial valley in the shape of a circus amphitheatre, where the name comes from. Cirques are a common geological feature of the Jura. All these provide spectacular viewpoints and are not far apart so a very enjoyable drive can encompass them all.
Cirque de Baume - a fascinating horseshoe whose charms are increased by the villages of Baume-les-Dames and Baume-Messieurs, the latter with an abbey.
Cirque de Consolation
Cirque du Fer-à-Cheval
Cirque de Ladoye
Do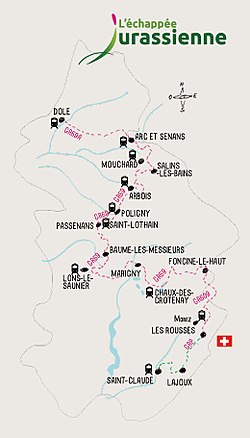 L'Echappée jurassienneThe main walking route of the Jura connects the plains of Dole to the heights of Les Rousses, a ski resort. Its 260 km of trails allow you to discover its forests, Grande Saline and Saline Royale classified as World Heritage by UNESCO, as well as vineyards, refreshing lakes and waterfalls, and spectacular landscapes shaped by a particular geology. You can choose a walk of any length, from a couple of hours to a fortnight or longer.
Wine tours
Route des Grands Crus - The approximately 60 km route runs along the foot of the Côte d'Or from Dijon in the north to Santenay in the south, via many of the great appellations of Burgundy wines. It takes visitors through the vineyards of the Côte de Nuits and Côte de Beaune and the hills of the Hautes-Côtes. The route passes 33 towns and villages, including Beaune, and runs by many picturesque churches.
Route Touristique des Grands Vin de Bourgogne - This 100 km route is a continuation of the Route des Grands Crus and runs from Santenay to Saint-Gengoux-le-National. The route is well marked and can be travelled easily by car and bike.
Routes des Vins Mâconnais-Beaujolais – This route is a way to discover the vineyards of Upper Mâconnais and leads along Lugny, Burgy, Fleurville, Saint-Albain, Mâcon, Péronne, Saint-Gengoux-de-Scissé and Bissy-la-Mâconnaise.
Route des Vignobles de l'Yonne – This route takes you through the vineyards of the Yonne, called wine of Lower Burgundy, and includes the vineyards of Chablis, Auxerre, Vézelay, Tonnerre and Joigny.
Eat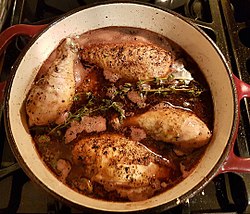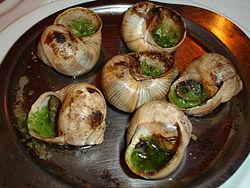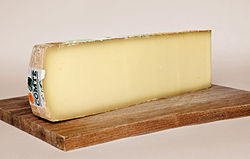 Bourgogne-Franche-Comté is home to many dishes that have become synonymous with French cooking all over the world; the best among them use the local wine as a key ingredient.
Regional specialities
Anis de Flavigny – Sweets made from anise and covered with sugar syrup
Bœuf bourguignon – Beef stewed in red wine
Coq au vin – Chicken with mushrooms and herbs in a red wine sauce
Escargots de Bourgogne – Snails with herbs and garlic butter
Gougères – Cheese puffs
Jambon persillé — Terrine of shoulder ham and parsley with Bourgogne Aligoté white wine
Moutarde de Dijon – The archetypal French mustard is nowadays not from Dijon but from neighbouring Chevigny-Saint-Sauveur
Cheese
A significant part of the regional cuisine.
Comté
is a creamy local variety of Gruyère, and is the region's signature cheese. Elsewhere,
morbier
is a semi-soft cows' milk cheese with a thin blue layer running through the middle. This cheese has made it into the kitchen in a regional speciality, the
morbiflette
. If you know a thing or two about French gastronomy, you'll guess this is a tartiflette (potato, lardon and onion gratin) made with morbier. Some chefs will switch the lardons for a more typical sausage of the region. Also to try are
Citeaux
and
Époisses
. Lastly, your inner child may appreciate munching processed lunchbox favourite
La vache qui rit
(The Laughing Cow) on her home turf.
Restaurants
Of the 25 three-star Michelin restaurants in France, three can be found in Bourgogne-Franche-Comté.
phone: +33 3 86 62 09 70

address: 14, faubourg de Paris, Joigny 89300

phone: +33 3 80 90 53 53

address: 2, rue Argentine, Saulieu 21210

phone: +33 3 85 87 65 65

address: 36, place d'Armes, Chagny 71150
But you do not have to go to a starred restaurant for good food. Even in the smallest villages you will find good traditional restaurants, while along the roads you will find
restaurants routiers
where you can order
le menu / plat du jour
for a very reasonable price.
Drink
Le Beaujolais nouveau est arrivé !
Every third Thursday of November, the new Beaujolais wine arrives at bars and restaurants across France and select places around the world. This wine is from the historical Beaujolais province and wine-producing region north of
Lyon
that covers parts of the northern part of the
Rhône
(
Rhône-Alpes
) and parts of the southern part of the Saône-et-Loire. It is a young wine meant to be drunk as soon as possible as it does not age very well.
Wine
is unmistakably the most well-known product in Burgundy. From north to south, the most famous and recognisable wines of the region grow on carefully exposed soils: Chablis, Côteaux de l'Auxerrois, Côte-de-Nuits, Côte-de-Beaune, Hautes-Côtes, Côtes Chalonnaise et Mâconnais, and Pouilly-sur-Loire.
Away from wine,
Crème de cassis
is sweet dark red liqueur with the taste of blackcurrant
Sleep
The cities and towns have a range of hotels to suit any need. Accommodation in the rural areas consists of guesthouses, self-catering gîtes and camping. You can pitch a tent almost anywhere without concerning the locals. Camper vans can be parked overnight in most public parking areas.

Go next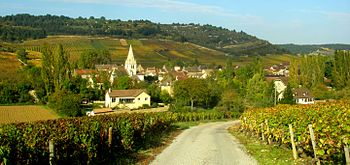 Visitors inspired by the Jura may long to see bigger mountains - look no further than the Alps, just to the east in both France and Switzerland.
Geneva is an international capital of diplomacy and Switzerland's main Francophone city, fronting the famous lake.
Grand-Est, the large region to the north, has everything from landscapes scarred by the world wars, to a unique fusion of French and Germanic cultures.
France's second metropolis, Lyon, only a hop away on the TGV, is considered the gastronomic capital of either France, Europe or the world (depending on whom you ask!). Safe to say, the grub is good.
Wine
Continue your wine odyssey in any direction you choose: