Bournemouth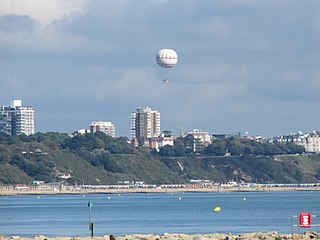 Bournemouth
is a seaside resort town in the county of
Dorset
on the south coast of
England
. Bournemouth is known for its popularity with pensioners and has many residential care homes due to its constant and warm weather (by English terms). However, it is still possible to find vibrant nightlife and youthful activities like watersports.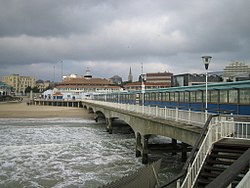 Understand
Bournemouth's spa magic has been revitalised and history is repeating itself. A century ago the cream of Victorian society including royalty flocked to Bournemouth's pine forest landscape of luxurious villas.
They were eager to sample the relaxing ambience of the town, breathe its healthy air, bathe in the pure seawater and unwind at leisure. In
Tess of the D'Urbervilles
Thomas Hardy generously described Bournemouth (alias Sandbourne) as "a Mediterranean lounging place on the English Channel". The aroma and perfume of the pine trees were considered health-giving and many a famous person came here to take advantage of it including J.R.R. Tolkien and D.H. Lawrence.
The first spa hotel was built in 1885 - the Mont Dore Hotel (now Bournemouth's Town Hall). Apart from luxury rooms and tennis courts, the hotel also offered the Mont Dore cure which was said to be a healing water and could not be found anywhere else in England. Sea and pure water from the Bourne stream were pumped into the basement of the hotel to allow the additional luxury of soaking and perspiring in Turkish and salt baths.
Since then, Bournemouth has grown into a thriving seaside resort and many of the big hotels offer spa treatments of their own as well as spa and beauty boutiques peppered throughout the town centre catering for men and women.
The pine trees still exist and visitors can still stroll through Pine Walk in Bournemouth Gardens today to breath in the healthy air. During the summer, the Pine Walk Open Air Art Exhibition is held here.
Bournemouth's growing population of students, gays and surfers have given it a more bohemian image than a typical south coast retirement town, leading to the nickname "BoMo".
Climate
Bournemouth is famous for its year-round mild and temperate climate. The warmest months are May to September which is when you will enjoy long, hot and sunny days. It can get very cold in the depths of winter though, and will sometimes reach temperatures below zero. Bournemouth's annual rainfall is well below the national average. Take a look at the latest
Bournemouth weather forecast
before planning a trip.
Get in
By car
Unless travelling from the South-West of England most journeys by road will be via the M27 which turns into the dual-carriageway A31 and passes through the New Forest. At Ringwood look for the (A338) Bournemouth exit.
Care is necessary when entering into Bournemouth on the Wessex Way as there are numerous speed cameras.
Only those with a penchant for long queues of congestion should think about arriving at mid-day/early afternoon on a warm and sunny day! It is strongly advised to either get there very early or even arrive the evening beforehand otherwise you will be sitting in traffic for a considerable length of time on the A31.
By train
Bournemouth station
is served by SouthWest Trains from
London Waterloo
and other locations on the South coast, such as Poole and Weymouth. It is served by express and semi-fast services which continue to Weymouth, and a slow service which terminates in Poole.
CrossCountry trains from Manchester via Birmingham New Street terminate at Bournemouth, some trains arrive from other cities like Nottingham and Newcastle. Summer sees a wider variety of places linked directly to Bournemouth.
By bus
Greyhound and National Express Bus from
London
direct (approx. 2 hours 30 minutes).
By plane
address: Hurn

A few airlines fly directly into Bournemouth Airport from various destinations throughout Europe.
Bournemouth airport has no train station however
shuttle bus services
operate.
You can fly to Southampton Airport and take the train into Bournemouth (35-45 mins £12.50).
Get around

Bournemouth is small enough to walk around, but local bus services operate frequently within the town centre. Bus services are generally good (particularly in the East-West direction), but there is a wrinkle: the town is served by two companies who do not accept each other's tickets.
They are the "yellow" Bournemouth buses, whose service extends to Christchurch and the east; and the "blue" Wilts and Dorset buses, whose routes extend more to Poole and the west. The main termini are at the rail station and the Square.
Taxi services in Bournemouth are cheap for short journeys, with an initial charge of approximately £2. It is best to call for a cab rather than to queue at a rank near Holdenhurst for the best fare.
The station is a hike (10 or 15 minutes, uphill) from the centre, so consider transport.

Orientation

The Square is the name given to the open space where the Tourist Information office is, the main gardens are, the pier can be accessed, and the river Bourne empties (although it is not in fact particularly square). It is naturally the lowest point in central Bournemouth, so you can generally aim for it by walking downhill.
The main shopping area is due inland/north from the Square. Old Christchurch Road (note the 'Old') marks the upper limit of the main shopping area. Holdenhurst Road, leading from Old Christchurch Road to the station, is a student area of late-night takeaways. Christchurch Road (without the "Old") is a very long road leading out of the town centre to the town of the same name several miles to the west, with the Boscombe and Pokesdown strung along it.
West Cliff is the clifftop, seafront area overlooking the Square, where there is collection of upmarket hotels and the International Centre.
The Triangle, Bournemouth's gay village and specialist shopping area, is up Commercial Road from the Square.
Further west is Westbourne, a very twee and cute area of boutiques and cafes, mostly along Seamoor Road, and its associated arcade. Popular with an older clientelle, it is not particularly jumping at night.
West Bournemouth eventually merges with Poole. About halfway between them and worth a visit is Lower Parkstone, a small area of specialist shops and trendy eateries that resembles a mini-Brighton.
Bournemouth's scruffy little brother to the east is Boscombe, with a population inclining towards foreign workers, and towards surfers and other idlers. The O2 Academy, and antique shops (particularly toward the Pokesdown end) are the main draws.

See

Bournemouth is famous for its 7 miles of
golden sandy beaches
and clean seas. The beach has retained the international Blue Flag award status since it was introduced in 1996 and in 2011 also secured 4 Blue Flag awards for Alum Chine beach, Durley Chine beach, Fisherman's Walk beach and Southbourne beach.
The Pier is almost in the middle of the beach and offers a small fair, boat trips, an arcade, a café/bar and some other shops.
Museums and galleries
Russell-Cotes Art Gallery and Museum

phone: +44 1202 451800

address: Russell Cotes Rd, BH1 3AB

This museum and gallery has some wonderful collections of 19th-century art and Japanese artifacts. The interior of the museum is worth seeing because it is lavishly decorated and shows the Victorian interests in eccentric collecting and other cultures, especially Japan and China. Admission free.

phone: +44 1202 533011

address: Wallisdown, Poole, BH12 5HH

At the Arts University Bournemouth. It runs artist talks, school workshops, events and film nights to support the exhibition programme.

phone: +44 1202 961428

address: Poole House, Bournemouth University, Fern Barrow, Poole, BH12 5BB
Landmarks
Do
phone: +44 1202 311993

address: Pier Approach, BH2 5AA

phone: +44 1202 451870

address: Westover Rd, BH1 2BU

Bournemouth International Centre

address: Exeter Rd, BH2 5BH

Concerts and exhibitions.

Bournenmouth Air FestivalFree, every August.

address: Town Centre

Bournemouth's annual gay pride festival Bourne Free.

ChinesExplore a series of picturesque ravines in the cliff. Can be combined with a stroll along the seafront.

phone: +44 1202 555552

address: 45-47 Westover Rd, BH1 2BZ

A large arcade, slot machines and entertainment centre.
Watch football (ie soccer) at

address: Vitality Stadium, King's Park Drive BH7 7AF

They play in the Premier League, the top tier of English football. Their 11,360-capacity stadium is very small by Premier League standards and the club are looking to build a replacement.
Cricket and bowls are played by a lot of locals and are easy to get involved in. Swimming, windsurfing and kite-surfing is popular as is (normal) surfing to a lesser extent.
Buy
Bournemouth has a good range of shops with mainly well known high street outlets in the centre but also many independent shops. Examples of large stores are Beales, Dingles, Debenhams and Marks & Spencers. The Boscombe area is well known for its many antique shops and for those who are into designer, vintage, and specialist clothes, Westbourne offers a good variety of designer boutiques.
For out of town shopping the massive Castlepoint Shopping centre is easily accessible by public transport, although there is little else to do in the area
address: 8 Albert Rd, BH1 1BZ

Independent skate, streetwear and sneaker store.
Eat
Bournemouth has many different restaurants suiting different tastes and budgets. The Old Christchurch Road at the "top" of the main shopping area has a string of low to mid-range eateries alternating with your orientated bars and clubs. There is another crop of eateries in the West Cliff area (around the International Centre), and in the Triangle, and in Westbourne. The number of takeaways in Bournemouth has also increased over the years, offering a cheap alternative to a restaurant meal.
Tapas PlusAuthentic, independent Spanish restaurant, between the Square and the Town Hall.

Aruba - On Bournemouth Pier has a fantastic menu based on the caribbean with outstanding decor a must see when in Bournemouth.

phone: +44 1202 203601

address: Exeter Rd

Upmarket fish restaurant, opposite the BIC.
Jumbo (Lansdown Rd) - All you can eat Chinese; you'll eat plenty as the food is fantastic!

phone: +44 1202 396234

address: Boscombe Spa Road

Brasserie with innovative menus, stunning views and comprehensive wine list.
Dosa World (260 Old Christchurch Rd). South Indian restaurant with many unusual specialities. Good value lunchtime buffet.
Oriental Garden (105 Commercial Road). Affordable Chinese restaurant with super-authentic dim sum — crispy squid, deep-fried turnip paste, curried whelks, etc. Also a more typical menu.
Atlantic Fish Restaurant (6, The Triangle) combines British fish-and-chips with a more continental approach in the sit-down section. Large portions mean good value.
West Beach - Excellent frontline seafood restaurant adjacent to Bournemouth Pier. Definitely not cheap, but aboard the beachfront decked area, about as close to dining Californian-style as you'll get in the UK!
Himalay (10 Queens Road). Indian restaurant and takeaway with unusual Nepalese specialities.

Chez FredAn excellent fish and chip restaurant and takeaway, as attested by long queues.

Isabel'sRomantic restaurant with reliable French cuisine in trendy Ashley Cross.

Urban BeachA boutique hotel and trendy bistro between the High Street and Pier.

Tomlins (Seabourne Grove, Southbourne). A popular fish and chip shop. Open until late.
Drink
At night the town comes alive with a vibrant bar and club scene. It is one of Britain's most popular clubbing locations, with many stag and hen parties held in Bournemouth. There are over 50 nightclub venues which are open every day of the week. On busy clubnights, roughly 40,000 people are out in Bournemouth. The Triangle area in Bournemouth (5 minutes walk up Commercial St from the main square) is where the gay community is concentrated with several gay friendly clubs and pubs. Most night clubs are in and around town centre, with the exception of the O2 Academy in Boscombe. Old style pubs are at a premium in the centre with the emphasis more on trendy bars. Those fancying an ale pub crawl are advised to do by bus—the Goat, Porterhouse and Bermuda Triangle (see below) are all near stops.
address: Exeter Rd, BH2 5AQ

An outstanding Wetherspoon's pub when it is quiet, dreadful when it is not. It is in an old department store, with outside seating and great views of the gardens from its two floors, and a good selection of guest ales. Idiot central on Friday and Saturday nights, though.

address: 1812 Exeter Rd, BH2 5BY

A swanky jazz music night club in the first mansion in Bournemouth.

Goat and TricycleThe town's top real ale pub, located just off the Triangle and serving at least 10 varieties, also popular for its food.

Smokin' AcesA small "Cocktail Bar and Whisky Lounge" in the Triangle, with live acts.

Winchester

address: 39 Poole Hill

A music and DJ venue. Rather peculiar, very dark inside with a rather cliquey crowd, but good acts.

Sixty Million PostcardsPainfully hip and arty bar, bistro, club and live venue, in a building that looks like a huge, graffiti'd garage on the way to West Cliff from the Square. Definitely not for everybody.

HaloClubbing in a refurbished church.

2930 The TriangleThe biggest gay venue in Bournemouth, set over two floors.

Daisy O'Brien's

address: 77 Old Christchurch Rd

One of the few traditional pubs in the town centre, with low prices.

address: 260 Old Christchurch Rd

At the far end of the Old Christchurch Road strip (number 260), this Irish pub has live music most nights and attracts the slightly quieter kind of student.

The PorterhouseA traditional pub (Ringwood's) in the cute and quaint Westbourne district, a little to the west of the centre.

The Bermuda TriangleWackilly decorated pub with ever-changing real ales. In the trendy Lower Parkstone district, well to the west of the centre.

Mr KypsOne of the area's top rock music venues is next door.

Old Fire StationMedium-sized live entertainment venue in the Holdenhurst Road studentland. Run by the Student's Union of Bournemouth University.

Chaplin's

address: Boscombe High St

Wine bar and cellar bar. This two-in-one venue offers some kind of live music most days of the week. Continental beers and acoustic music in the wine bar on top, real ale in the scruffy cellar where the louder acts play.

address: Boscombe Spa Road

Stylish bar and brasserie - spectacular views, great atmosphere with a wide range of drinks and cocktails.

O2 AcademyThe former Opera House vies with the BIC as the town's main entertainment centre, with major acts and club nights.
Sleep
The American travel writer Bill Bryson commented on the amazing number of hotels there seem to be in Bournemouth, but there are so many because the town developed as a seaside resort in the 19th century and that is still its primary function.
Budget
phone: +44 871 222 0037

address: Meyrick Road Lansdowne

phone: +44 1202 295819

address: 19 Bath Rd, BH1 2EP

A cheap hotel at £35 per night. Handy for the beach – 200 m away down Bath Road.

phone: +44 8719 846257

address: 43 Christchurch Rd, BH1 3PH

Offers budget accommodation.

Premier InnOn Westover Road (+44 871 527 8124), at 47 Christchurch Road towards Boscombe Gardens (+44 871 527 8126), and at 8 Poole Road (+44 871 527 8128) in Westbourne.
Mid-range
address: Boscombe Spa Road

Comfortable hotel with leisure facilities and choice of dining. Sea and garden views with easy access to beach and surf reef.

address: Knyveton Road, BH1 3QQ

The Carrington House Hotel in Bournemouth is perfect for a short break, family holiday or relaxing weekend stay from which to explore the areas many attractions whatever the time of year.

phone: +44 1202 551911

address: 11 West Cliff Road, BH2 5EU

On the prestigious Bournemouth West Cliff, the Wessex Hotel is just a short walk from the town centre, Bournemouth International Centre and Blue Flag beaches.
Splurge
phone: +44 871 221 0204

address: Bath Rd, BH1 2EW

Central for shopping and the beach.
Stay safe
There is an absolutely incredible number of stag and hen parties passing through the centre during the summer, but they tend to be loud rather than dangerous. Drunken youths tend to congregate in Old Christchurch Rd late at night — it is safe the rest of the time.

Go next