Bowen Island
Bowen Island
is a small island at the entrance to Howe Sound, connected to
Vancouver
and the rest of the
Lower Mainland
by a short ferry ride from
Horseshoe Bay
in
West Vancouver
and a regularly scheduled water taxi from Granville Island, in downtown. The island has become a favourite tourist destination although amenities and activities are limited. Most activities involve wandering the shops or exploring the parks and natural areas.
Get in
The most popular way to get to Bowen is via
BC Ferries
service from Horseshoe Bay in West Vancouver to on the island. The ferry takes 20 minutes and generally runs hourly (except early afternoon). There are 15-16 trips a day with the first ferry leaving Horseshoe Bay at 6:05AM. Fare is $12.10 for an adult foot passenger, bicycles are $2 and a car is $34.20.
You can drive your car onto the Queen of Capilano in Horseshoe Bay. Be warned the during peak travel hours and during the summer there are often overloads and the ferry is often late due to high tourist traffic. Mechanical problems can cause the ferry to be cancelled and all vehicles will be stranded on Bowen Island until the ferry becomes operational again. Check the Service Notice section below the current schedule for Bowen Island on the BC Ferries webpage.
A water-taxi run by
English Bay Launch
provides a passenger-only connection between Bowen Island and
Granville Island
or
Coal Harbour
. Monday to Friday, it departs Granville Island at 7:15AM and 4:30PM, and departs Coal Harbour at 6PM. The ferry departs Snug Cove on Bowen for Granville Island at 6:30AM, and departs Snug Cove for Coal Harbour at 8AM and 5:15PM. There is a weekend service between Snug Cove and Granville Island during the summer with six departures. The price for a one way trip is $20 M-F and $25 Sa-Su; round trips are $35 M-F and $40 Sa-Su. Children 2-12 are $10 each way. Reservations are recommended.
Get around
There is a bus service that will take you around to most parts of the island, however it runs infrequently. Information on the schedules are available through the Translink webpage; the C10 and C11 service the island.
An
information centre
is located a minute's walk up the main street from the ferry dock (turn right just before the library). The centre is run by Bowen Island Chamber of Commerce, and provides lots of information on Bowen Island accommodation and activities.
There is also a strong culture of hitchhiking on the island.
See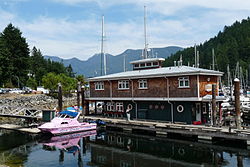 Wander around the village of Snug Cove.
Visit one of the small beaches on the island. There are a couple near Snug Cove; others are scattered around the island and require transportation to get to.
Visit Crippen Regional Park. Open every day, 8AM-9PM in the summer (8AM - dusk at other times of the year). The park has some heritage buildings, a fish ladder, picnic sites and trails for walking, cycling and horseback riding. It is accessible from the main street in Snug Cove.
Do
The primary attraction of Bowen Island to Vancouverites has been to get away from everything and relax. However, if you want to do something, there are a few options.
One is to rent a kayak and paddle around Snug Cove or venture around the island. Bowen Island Sea Kayaking, on the ferry dock at Snug Cove, 604-947-9266 (), , rents kayaks by the hour or overnight. They also provide lessons and guided tours. $35/$45 (single/double, for three hours).
There are also a number of hikes on the island. Crippen Regional Park offers a number of shorter hikes that can be done in a couple of hours. Dorman Point (trail begins at the end of Snug Cove beach) provides views of the harbour and the entrance to Howe Sound. The hike to Killarney Lake (about 45 minutes each way) passes through forest and the fish ladder to the lake. There is also a 4 km hike around Killarney Lake.
Tougher, but with more rewarding views, is the hike to the top of Mount Gardner. The trail begins 3 km from Snug Cove on Mount Gardner Road and is mostly through forest. It rises to an elevation of 719 m and on sunny days provides a very nice view. The trail is 11 km in length, so be sure to leave yourself enough time if you have to walk from Snug Cove to the trailhead.

Buy
There are a number of small craft and souvenir shops in Snug Cove, as well as many artist studios and galleries located at
Artisan Square
, a 5 minute drive or 15 minute walk from the Ferry.
Eat
address: 581 Artisan Ln

Organic, artisanal chocolates.

Artisan Eats Cafe & Fine Foods

address: 539 Artisan Lane

Housemade breads, pates, rillettes, sausages....panini sandwiches, antipasti, a great selection of local and European cheeses and fine foods. Incredible view of ocean, mountains, ferries and forest.

Bowen Island Roasting Co. Ltd.

address: 105-996 Dorman Rd

"The BowenCoffee Store" with everything Coffee...and Tea too! Gifts and souvenirs, and coffee and tea brewing supplies. The coffee is fresh roasted organic coffee and the store has over 65 organic loose leaf teas including whites, greens, oolongs, wellness, herbal, mate, matcha and blacks. Snacks, light lunches, Coffee & Tea Bar, Mario's Gelati Italian Ice Cream in summer months.

Doc Morgans Marina Pub and Restaurant

address: 437 Bowen Island Trunk Rd

Short walk from the ferry dock. Open 7 days a week for lunch and dinner. The pub is located upstairs above the restaurant and has a beautiful large deck overlooking the marina. Fish and chips, seafood specials and other pub fare.

The Snug on Bowen Coffee House

address: 445 Bowen Island Trunk Rd

A busy local cafe offering breakfast and lunch, including fresh muffins, cookies, cakes, croissants, English-style breakfasts, eggs bennie, French toast, wraps, and sandwiches. There are some gluten-free and vegan options, as well. If you're trying to catch a ferry, make sure you indicate that so the staff are aware that you're in a hurry.

address: 451 Bowen Island Trunk Rd

A bustling European style trattoria in a heritage style house with a lush garden patio. The wood fired oven cooks up some excellent pizzas and Mediterraean cuisine. Thoughtful wine list. Reservations recommended.
Sleep
There are no hotels or campgrounds on Bowen Island so the accommodation consists mostly of bed and breakfasts scattered across the island.
Go next
Bowen Island is typically a day trip from Vancouver. Bus connections at the B.C. Ferries terminal in Horseshoe Bay will return you to West Vancouver, and Downtown Vancouver beyond. Last ferry leaves Snug Cove at 10:05PM. Granville Island Water Taxi also runs passenger-only trips back to Granville Island in Downtown Vancouver.