Bowling Green (Kentucky)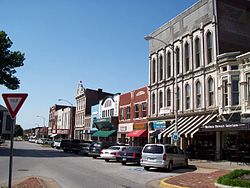 Bowling Green
is the third-largest city in
Kentucky
, with nearly 60,000 residents. Bowling Green is the hub of activity in the
Caves and Lakes
region.
Get in
By car
Bowling Green is accessible by car, primarily from I-65, which connects it with
Nashville
to the south and
Louisville
to the north.
Two roads in the state's parkway system of former toll roads serve the Bowling Green area. Interstate 165 (formerly the William H. Natcher Parkway, and still earlier the Green River Parkway) connects I-65 in Bowling Green with
Owensboro
, 70 miles to the northwest. I-165 intersects with the Western Kentucky Parkway near Beaver Dam, giving Bowling Green easy access to
Paducah
and the
Land Between the Lakes
. The Cumberland Parkway connects I-65 northeast of Bowling Green to
Somerset
, 80 miles to the east. From there KY 80 provides access to I-75 at
London
.
Another major road in the area is U.S. 68. To the east of the city, it is a two-lane road that largely parallels I-65 and the Cumberland Parkway before taking a sharp turn toward central Kentucky. However, to the west, it is a four-lane divided highway (though with at-grade intersections) until the town of Cadiz, near Land Between the Lakes.
By plane
Get around
By bus
Bowling Green Public Transit. Provided by Community Action of Southern Ky. +1 270 782-3162.
Greyhound Bus Lines, 55 Parker Ave., +1 270 842-5131.
By rental car
Avis, 560 US 31W Bypass, BP Service Station, +1 270 842-1700 or +1-800-831-2847.
Enterprise Rent-A-Car, 1125 US 31W Bypass, +1 270 782-5600 and 1851 Scottsville Rd. +1 270 782-7700, .
Hertz Rent-A-Car, 899 US 31W Bypass, +1 270 782-2215 or +1-888-782-2215.
U-Save Auto Rental, 740 US 31W Bypass, +1 270 783-3000 or +1-800-272-8728.
See
Arts
phone: +1 270 782-2787

Located in the historic downtown district, the Capitol Arts Center features an 800-seat auditorium and two art galleries. The civic auditorium hosts a full schedule of local and touring arts performances and civic events. The center houses the Houchens and Mezzanine galleries for year-round exhibits.

Memphis Marsha's Art Gallery & Classes

phone: +1 270 843-1726

address: 524 E 12th Ave

Award winning art from six states, including: jewelry, ceramics, paintings, photography, gifts and notecards. Classes available.

Public Theatre of Kentucky, Phoenix TheatreLocated downtown off Chestnut St, this 147-seat facility is a professional, non-Equity, not-for-profit theatre company founded in 1987.
Museums
phone: +1 270 745-2592

address: 1444 Kentucky Street

Just off US 68/KY 80. Kentucky Museum houses rich collections and offers exciting and educational exhibits that invite visitors to revisit the past to learn about Kentucky history and heritage. The Kentucky Library houses collections of genealogical materials, published works, manuscripts and folk life information. Public programs include workshops, lectures, family events and prearranged guided tours.

phone: +1 270 781-7973

address: I-65 & US 31W exit 28

Showcase to America's Sports Car features over 75 Corvettes. Make a stop on Route 66 to see the cars that shaped our country's history. You'll see classics in mint condition, one-of-a-kind prototypes that never went into production, racetrack champions and modern-day wonders of engineering and design. Interact with educational hands-on exhibits, enjoy a film in the Chevy Theater. Sit behind the wheel of a Corvette and register to drive one home. Corvette Store offers a wide selection of apparel, collectibles home and gift items.
Attractions
Do
Beech Bend Park & Splash LagoonOpen Memorial Day to Labor Day, weekends only in May and September. Amusement park that offers more than 40 rides. Other favorites include antique cars, a miniature golf course, giant swimming pool, water slides, interactive children's water play pool, games and go-carts.

address: I-65 & US 231 exit 22

With 35,000 sq. ft. of meeting and pre-convention exhibit space, the center has a capacity to seat up to 1,700. Room configuration includes a grand ballroom, five break-out rooms, registration desk, ticket window and coat room. Located in the Hartland Business Park and adjoining the Holiday Inn University Plaza and CrossWinds Golf Course.

Carroll Knicely Conference Center

address: 2355 Nashville Rd

This 40,000 sq ft facility offers seminars, workshops, receptions, training sessions, conferences and other social and educational programs.

phone: +1 270 745-4044

address: 1906 College Heights Blvd

WKU Campus. The planetarium is open to the public. Many of the shows are free, and highlight photographic and other work of WKU faculty members. In the evenings, nearby street parking is usually available.

Leonard D. Brown Agricultural Exposition Center

phone: +1 270 843-3542

address: WKU Farm, 4 miles south of Bowling Green off Nashville Road (US 31W)

Events held year-round include livestock shows, sales, clinics, machinery shows, rodeos and other public events. The Center's main arena seats 2,000 with a sales arena seating 315. There are also meeting and banquet rooms.

Civil War Discovery TrailThirteen sites are available to the public and include earthworks, a cave, a house museum, monuments and markers. With Kentuckians divided between North and South, the state adopted a policy of neutrality at the beginning of the Civil War. Bowling Green's reliable and defensible transportation network and the collection of hills that surrounded the city made it one of the most strategic cities in the state. In November 1861, Bowling Green was declared the Capital of the Confederate State of Kentucky but by mid-February 1862, fell into Union hands. Bowling Green was also the site of a federal government campaign to enlist slaves as Union soldiers.

Duncan Hines Scenic BywayThis 82-mile route, which runs through Warren and Edmonson counties, passes many historic homes and churches. Beginning in Bowling Green at the former home and office of author Duncan Hines, it then runs through several small towns and Mammoth Cave National Park where it crosses the Green River by ferry. Along the route are stately mansions, quaint homes, antique shops, one-room school houses, an old train depot, historic cemeteries, Civil War battlefields, an old grainery and a stagecoach stop which was once the home of Patrick Henry's sister.

Bowling Green International Festival

address: Circus Square Park, 601 State Street

A celebration of cultural diversity for the entire family featuring music, dance and demonstrations from around the world, authentic foreign foods, an international bazaar and free edu-tainment activities. The festival takes place the last Saturday each September.
National Corvette Homecoming
Sports
Golf Courses
phone: +1 270 393-3559

address: 1031 Wilkinson Trace

An 18-hole golf course operated by the city of Bowling Green.

address: 1044 Covington Ave

A regulation length 9-hole, par 36 golf course set in the center of town. It is a mature, 5847 yard course with large trees and smaller greens. This course allows golfers of all ages and abilities to experience a relaxing yet challenging round of golf.

phone: +1 270 393-3877

address: 1200 W. Main Ave

The Golf Course at Riverview is a 3239 yard, 9-hole course located on the northwest side of town. This par 36 course is set on a more rolling terrain with mature trees and undulating greens.
Learn
Buy
Tattoos
phone: +1 270 843-1122

address: 948 US 31-W Bypass

Carter's Tattoo Company is located at 948 US 31-W Bypass in Bowling Green, KY. It is owned and operated by Wes Carter & his wife Cara. For appointments call +1 270-843-1122 or just stop in.
Shopping centers
phone: +1 270 782-9047

address: 2625 Scottsville Rd

Four department stores including Dillard's, Macy's, JCPenney and Sears and over 100 specialty shops including Bath & Body Works, Pacific Sunwear, Buckle, Sunglass Hut, New York and Company, Victoria's Secret, Yankee Candle and The Great Escape - Greenwood 10 Theatre. Choose from a wide variety of food selections in the family-friendly food court and take a ride on the carousel.
Specialty Stores
Camping World SuperCenter & National Outlet Center

phone: +1 270 781-5366

address: 725 Bluegrass Farms Rd. Ste 2

Everything for your RV, plus a full selection of camping and outdoor living accessories. Full service and installation facilities.

phone: +1 270 846-4488

address: 251 Cumberland Trace

Accessories, motorcloths, motorcycles, parts, full service dealership.

Wild Bird and Nature Store

phone: +1 270 746-0203

address: 901 Lehman Ave

Midtown Plaza. Wild Bird and Nature Store offers a full line of bird houses, bird feeders, specialty seeds and bird baths. Herb Festival held each April features hundreds of plants for sale including antique roses, hard-to-find herbs and perennials which attract hummingbirds and butterflies.
Eat
phone: +1 270 793-0450

address: 440 E. Main Ave

Located in the historic downtown district, overlooking Fountain Square Park. Relax in a historic building that compliments the rich heritage of the Deep South. Featuring hand-carved steaks, fresh seafood, New Orleans cuisine and an award winning wine list.

phone: +1 270 782-9366

address: 830 Fairview Ave

Bowling Green's most distinctive delicatessen. Specialties include homemade chicken salad, pimento cheese & desserts.

phone: +1 270 843-5567

address: 9191 Nashville Rd

Also visit Chaney's at 830 Fairview Avenue. +1 270 842-6020. Premium homemade ice cream, lunch or dinner daily, homemade soup, sandwiches and desserts. A wide selection of Kentucky-made products in the gift shop. There is an outdoor pavilion and a batting cage.

phone: +1 270 705-9268

address: 705 State St

A fine dining establishment located in downtown Bowling Green. They are open for dinner service on the weekdays and offer weekend brunches. The Sunday brunch is pretty spectacular and reservations are recommended.

phone: +1 270 746-9746

address: 1740 Scottsville Rd

Enjoy good food in a beautifully structured log building featuring a warm, open atmosphere with great food and service. Entrees include Bourbon Tenderloin Filet, Pacific Northwest Salmon, and Fire Roasted Rotisserie Chicken.

phone: +1 270 842-0123

address: 1939 Scottsville Rd

Specialties include hickory smoked barbecue ribs and chicken, choice cuts of steak and prime rib, salads and soups, burgers and sandwiches.

phone: +1 270 842-7636

address: 819 US 31W Bypass

The most popular items include brownies, cream horns, Hungarian coffee cake and the children's favorite - tea cookies. They also make delicious sandwiches. Fillings to choose from include chicken, tuna, ham and egg salad; olive nut cream cheese and pimento cheese.

Taj Palace Restaurant

phone: +1 270 843-2233

address: 2800 Scottsville Rd

Taj Palace is a place where you will enjoy Indian authentic Food

phone: +1 270 782-6540

address: 509 Gordon Ave

Teresa's has home cooked food served at hometown prices. This restaurant is open for breakfast and lunch during the week and stays open later for dinner service on Friday and Saturday. For the price and quality, their breakfast menu is hard to beat.
Barbecue
Smokey Pig Bar-B-Que

phone: +1 270 781-1712

address: 2520 Louisville Rd.

A great barbecue restaurant overlooking the Barren River.

phone: +1 270 842-2268

address: 115 Wilson Rd Alvaton KY 42122

The best slow smoked barbecue anywhere around! Menu includes sandwiches, chicken, ribs and barbecue by the pound.
Drink
Alcohol
Bowling Green is a wet community. However, the rest of Warren County is dry.
Cliffs of Moher Irish Pub

phone: +1-270-904-1819

address: 410 E Main St

A clean and cozy Irish pub. They usually have live music on the weekends.

phone: +1 270 793-9955

address: 522 Morris Alley

Tidball's is Bowling Green's premier venue for live music. It is located adjacent to historic downtown Bowling Green.
Coffee
Spencer's Coffee House

phone: +1 270 393-7060

address: 915 College St.

Residing in historic downtown Bowling Green, Spencer's is a local favorite from high school students to professionals.
Sleep
Bed & Breakfasts
Campgrounds
Hotels
Budget
Mid-range
Splurge
Connect
By phone
Most telephone numbers in Bowling Green consist of +1 270 plus a seven-digit number, but the region is now served by an overlay complex of two area codes, with +1 364 being the second. A local or in-state telephone call now requires all 10 digits of the local number be dialed (omitting just the leading +1 from a local landline call).
Signage on many established businesses may still display the original seven-digit numbers; dial 270 before these if no area code is indicated.

Go next