Bozcaada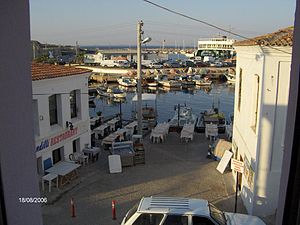 Bozcaada
(pronounced
boz-DJA-ah-dah
) is an island on the Aegean Sea, near the western exit of Dardanelles in
Turkey
. Its ancient name is
Tenedos
.
Understand
Bozcaada is located 20 km (12 miles) from the Çanakkale Strait and extends over an area of around 40 km², roughly in the shape of a triangle one edge of which is parallel to mainland coast. The islanders make their living from viticulture, fishing and tourism.
The sole town of the island—home to about 2,000 people—lies on its northeastern corner, facing the mainland. The rest of the island is covered by vineyards, scattered pine woods, and Mediterranean shrubland (maquis), dotted by the occasional vineyard manor and, close to the coastline, housing estates used by mainland Turks as vacation homes.
Specifically exempted from the "population exchange" agreement between Greece and Turkey (which lead the way to the forced immigration of the Greeks of Turkey and the Turks of Greece to the other country in the 1920s), Bozcaada is one of the very few locations in Turkey that still has a Greek community. While the local Greek population is much smaller than it used to be, their heritage is more or less well kept.

Get in
By plane
Çanakkale
Airport is located 56 km away from the Geyikli Yukyeri Harbour. There are 3 connections a week between Istanbul and Çanakkale. THY Turkish Airlines fly to Çanakkale.
By bus
Regular buses run from most major cities to
Çanakkale
. From Çanakkale there are frequent Bus connection to Geyikli Yukyeri Port where the ferryboats connect Bozcaada with the mainland. There are also some buses from Istanbul directly to Geyikli Yukyeri Port ("Truva" and "Metro" bus companies).
There is a bus company office located in one of the small shops at the town square. You can buy your ticket for Istanbul (or somewhere else on the way) for a bus departing from Geyikli in the mainland. Your bus will be waiting for you just outside the harbour in Geyikli. Don't forget to catch the corresponding ferry back to the mainland (bus hours are usually in accordance with the ferry hours, they depart usually about 30 minutes after the departure of the ferry from island quay), they may wait for the next ferry or not (more likely, not).
By car
From Istanbul
— Get to
Çanakkale
first by following the route west from the city via
Tekirdağ
,
Keşan
,
Gelibolu
, and
Eceabat
. Take the ferry at Eceabat to cross the Strait to Asia. After passing the Strait into
Çanakkale
in Asia, take the road (D550/E87) south to
Izmir
. About 30 km away from Canakkale (and only a few kilometres after you left the junction for the road to
Troy
behind), you'll arrive at the junction which the access road to Geyikli harbour forks (there are also 'Bozcaada' signs on that junction). This route is about 400 km. Those who'd like to drive less may take fast ferries from
Istanbul
to
Bandirma
on the southern shore of Marmara. Bandirma to Geyikli is about 210 km.
From Izmir
— Take the route north (D550/E87) to Çanakkale, and turn left (to direction signposted as 'Geyikli'/'Bozcaada' there) in
Ezine
, about 50 km south of Çanakkale.
By boat
A passenger-only fast ferry (
deniz otobüsü
) provides service to Bozcaada direct from
Çanakkale
. The only mainland location with a ferry connection which can accommodate cars to Bozcaada is
Geyikli
, located on the western (Aegean) shore of Troad (
Biga
) Peninsula, south of Çanakkale.
The
ferryboat schedule
from Geyikli to Bozcaada changes often, so it advisable to check.
A return ticket (they don't sell any one-way) for the ferry between Geyikli and Bozcaada costs 4 TL per person without a car (no student discounts). There is a ticket check only once when boarding the ferry in the mainland, after this, the ticket is practically worthless, since it is not checked again (for example when boarding to return to the mainland in Bozcaada).
Get around

There are frequent minibuses heading for Ayazma and Habbele beaches. Their departure is in the square right next to the entrance of the castle. A one-way ride costs 3 TL per person (no student discounts available) and takes about 15 minutes. There is also a minibus service once every day (at sunset time) to Cape Polente, the westernmost point of the island and where the electricity-generating wind turbines are located.
Although they are well-paved in most sections, most of the roads on the island are narrow. Nevertheless, there is little traffic anyway, so it is no problem that they are narrow.
The town is really small — you can walk from one edge of it to another in approximately ten minutes.

See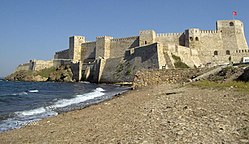 Castle. The castle, surrounded by sea at one side and by a now-dry (or marshy at best) moat at the others, served for Byzantines, Venetians and Genoans, although there is no evidence indicating who exactly built the castle. Still maintaining its glory, this is one of the castles that are in best condition in Turkey. Entrance fee: 5 TL (3 TL for students).
Streets. The old cobbled streets and districts in the center of the town maintain their traditional architecture.
Beaches. Although you can swim even in the small harbor, the beaches are located on the southern part of the island, namely Ayazma and Habbele where you can find some beach cafes around. Renting two deckchairs and a beach umbrella for half a day in Ayazma beach costs 5 TL. The fee is collected twice a day, once in the morning and once in the afternoon by employees walking around the deckchairs one by one (not at the entrance). You can of course swim and sunbathe free of charge in nearby areas which are out of the beach club property.
Do
Swimming. Due to freshwater discharges from the sea floor, the seawater in Ayazma beach is shockingly cold, even in the hottest months, which is pretty good for those preferring a (very) refreshing seabath.
Buy
There are two ATMs in town and they accept foreign Visa cards. One is located at the main square and other on the exterior wall of
Ziraat Bankası
in the town square.
In summer 2006, there was only one
supermarket
in the island (located at one of the cobblestone streets, past one of the wine shops, leading to the town square). There you can find anything you may need as a casual traveller. Despite its monopolistic situation, the prices were at about the same level as the mainland.
Locally produced wine and natural Red Poppy Syrup.
Tomato jam – This delicious jam can be only found on the island in Turkey. It can be obtained from the shop with a big "Salto" sign on the town square, or from the only supermarket of the town (it cost 7 TL in summer 2006, there are also other locally produced jams being sold at both stores), or from villager stalls (same price).
Books
Locally available books that are worth a look are:
Kalaafiyet The book of Bozcaada recipes. A list of 100 recipes and Aegean food, island food and also island life.
Anayurt (Mother Land) by Dimitri Kakmioglu. This is a memoir about an island childhood set in the late 1960s. Available in Turkish and English.
Eat
Definitely fish restaurants. A fish, some green salad, and a glass of raki cost about 20 TL per person in summer 2006. You can see the prices for different kinds of fish on the boards in front of many restaurants. Keep in mind that almost all restaurants in the town gets really crowded between 20:00 and 22:00 and it is almost impossible to find a seat between these hours unless you either, be seated before 20:00 or after 22:00, or better yet, reserve a seat during the day.
There is also a cheaper (did cost about 15 TL for a filling meal for two persons in summer 2006) outdoor restaurant in the first street to the left (when walking from the harbour) which serves traditional Turkish cuisine. You can recognise it by its checked tablecloths.

Ucmuz AdaRestaurant serving delicious meals and great chocolate soufflé—this is the only place on the island serving that dessert.

phone: +90 286 697-80-50

address: American Cesme Mevkii, Kume Evleri

This is small restaurant serving daily home made dishes for breakfast, lunch and dinner. The owner is the chef and he prepares everything daily; freshly baked breads and treats, home made cheeses and jams and wines. Reservations are a must as its small but worth the experience!
Drink
Local drinks
Wine - this is a wine-land where they imprinted a bunch of grapes on their coins thousands of years ago! The local wine producers are Corvus, Yunatçılar Camlibag, Talay, Ataol and Gülerada. There are various local grapes such as vasilaki (white), karalahna (red), kuntra (red), karasakiz (red).

Red Poppy SyrupA local specialty of Ada Cafe.
Bars
Salhane Bar

phone: +90 286 697 01 27

Probably the most famous drinking establishment of the island. Also has some open air deckchair-like seats just on the edge of the sea, facing some scary looking rocks ascending suddenly from the sea. Quite lukewarm waiters.
Fuska bar behind the castle has a lovely terrace by the sea. There are also other nice bars behind the castle.
There are also some other bars located on the sides of the street leading to Salhane, too.
Sleep
Average price in the hotels and pensions of the island is about 50 TL (and upwards) per person per night. This price generally includes breakfast too. There is also a campsite near Habbele beach which should be much cheaper.
If you are given a chance to choose between a cheaper/non-air conditioned room and a more expensive/AC room, go for non-A/C one, as it is always windy in Bozcaada and you won't need to use the air-conditioner. Why pay more for a useless A/C? It's unlikely but even if you feel hot, you can simply wide open the window (except if you are staying in the street-level floor for obvious reasons) even if there is no mosquito screen installed, as mosquitoes cannot survive in this windy climate and theft from the hotel rooms (by entering through the window) is virtually unknown.
Be aware, it is almost impossible to find a room without booking beforehand in summer.
Bozcaada Biz Hotel and Private HousesIf you wish to feel like an islander during your visit, rent one of the renovated traditional houses located in the Greek quarter of the town center or stay in comfortable rooms of Biz Hotel right across to the only one church of the island. Double room costs 220 TL with full breakfast (summer 2011).

Gümüş Hotel

phone: +90 286 697-82-52

Very clean rooms with air-con and en suite bathroom. Rooms offer a nice view of harbour, fish restaurants, and the castle. Booking is highly advised in summer. Double rooms: 50 TL per person/night (summer 2006). Breakfast included.

Baghane Pension and Traditional Town HousesYou can either rent traditional houses located in the Greek quarter of the island or just share a room in the farm house with large breakfast. Double rooms 110 TL (summer 2008).

phone: +90-532-461-42-55

address: Alaybey Mh. Namazgah Cd. N. 8/ Cumhuriyet Mh. Meserret Sk. N. 27

A boutique hotel in the old town, with a kitchenette and a shared living/dining area. All rooms feature en-suite bathrooms, A/C, free wi-fi, and satellite TV. Breakfasts boast homemade and organic ingredients.
Work

It is sometimes possible to find a job as a waiter or waitress in one of the not-so-many cafés in the town. You may also try to work as a picker during grape-harvest time (August to October). But don't rely on either of these before going to Bozcaada anyway.

Stay healthy

Don't swim in the stony beach between the castle and Salhane bar (that yellow building located between the mountain and the shoreline) in the town centre. As you'll soon find out by the smell, there is a raw sewage discharge into the sea from two different points in that beach. The aforementioned beaches are perfectly pure, though.

Connect
Telephone

The area code for Bozcaada (and the rest of Çanakkale province) is 286. All phone numbers in the island are further prefixed with 697 (which should be dialed even when calling within the island), making up 7 digits in the total without the area code (10 with the area code): 286-697-xx-xx. To call a number in the island from out of Turkey, dial +90 286 first.

Go next