Bozeman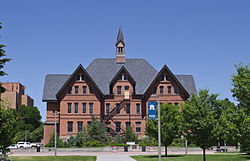 Bozeman
is a city in
Montana
's
Yellowstone Country
. Set right in the middle of the Rocky Mountains, this college town is a place for experiencing the great outdoors around the year, and for those days the weather makes you want to stay indoors there are a number of museums and galleries to explore.
Understand
Bozeman is a picturesque city in Gallatin County, Montana. It is the largest city in Gallatin County and is the county seat. Bozeman residents are known as Bozemanites.
With a population of 37,280 at the 2010 census, Bozeman is the fourth largest city in the state. The city is named after John M. Bozeman, founder of the Bozeman Trail. Located in the fastest-growing county in the state, Bozeman is an All-America City (awarded in 2001). In 2003 Bozeman was ranked #5 of the 40 Best College Towns in the USA by
Outside Magazine
. The
American Cities Business Journal
ranked Bozeman as the #1 Small Business Market among cities of comparable population sizes (awarded in 2005).
Bozeman is home to
Montana State University
. The population of the city nearly doubles during school semesters. Lodging may be difficult to find at the beginning of the school year, graduation and any time the Bobcats have a home football game.
Bozeman sees a steady stream of visitors for its
outdoor activities
—not just hiking, kayaking, and mountain climbing, but also winter sports like skiing and snowboarding, popular among locals and students as well as travellers. In fact, Bozeman once expressed interest in hosting the 2026 Winter Olympics.
One of the inspirations and main themes for the writing of the 1974 best-selling book
Zen and the Art of Motorcycle Maintenance
was a road trip by motorcycle, from
Minneapolis
to
San Francisco
with a stopover at Bozeman, described with considerable detail by the author Robert Maynard Pirsig with his son Chris.
Climate
Bozeman is one of the wettest cities in Montana, averaging of precipitation annually. Mild springs and falls are punctuated by cold, snowy winters and relatively warm summers.
Geography
Bozeman is in south central Montana at an elevation of . It is an Intermountain Grassland habitat, bordered closely by Montane Forest habitat. Bozeman is bordered on three sides by mountain ranges (Bridger, Gallatin, and Tobacco Root) making up the northern Rockies. To the south, you'll find Yellowstone National Park as well as Gallatin National Forest.
Bozeman's geographical location combined with its climate make for a lush, agriculturally rich and diverse location. Its close proximity to the mountains and forest lands creates a plethora of outdoor activities year-round.
Get in
By plane
BZN
) is in Belgrade located northwest of Bozeman and is accessed via Airway Blvd from I-90 or Frontage Rd (which runs parallel to I-90). This airport is the nearest commercial airport for year round commercial air service to two Yellowstone National Park entrances, Bridger Bowl Ski Area, Big Sky Ski Resort, Montana State University, and countless other recreational sites and business destinations in and around Bozemen, Belgrade, and Livingston, MT. The following airlines offer year round service from: The following airlines come seasonally or part of the year:
There are taxis, rideshare and hotel shuttles to bring you into town locally and long shuttles and buses for onward transport to Yellowstone, West Yellowstone, Big Sky and/or other places in and around southwestern Montana. There are also car rental available from the airport which is the preferred method for greater flexibility in getting around the Big Sky country. See this Link for a list of providers.

By car
There are three exits from Interstate 90 (I-90), the N. 19th exit (Exit #305), the N. 7th exit (Exit #306), and E. Main/Frontage Rd (Exit #309). The N. 19th exit, an endless expanse of chain stores and strip development, is furthest from downtown. The N. 7th exit is closer to downtown and has a wider selection of restaurants and hotels, but, though better than 19th St, still is not a pedestrian-friendly area. Many independent motels lie on E. Main St. within walking distance of downtown, which features a wide array of shopping and dining (almost entirely local independent businesses).
Bozeman is east of Butte, Montana via I-90, west of Billings, Montana. Yellowstone National Park is approximately south via US Hwy 89, or US Hwy 191. US Hwy 191 passes through downtown (east-west) as Main St.

By bus
The south parking lot of , at 1500 N 7th St serves as a de facto bus station for the local Stream Line "Blue Line" bus and the following companies:
phone: +1 612 499-3468

address: (Bus Stop) Walmart Supercenter @ 1500 N 7th St

Travels primarily on Interstate 90 between Missoula and Billings (via Butte, Belgrade/Bozeman and Livingston). Passengers transfer in Billings and Missoula to get to additional destinations. Tickets are sold at this Walmart Supercenter location.

phone: +1 406 995-6287

address: (Bus Stop) Walmart Supercenter @ 1500 N 7th St

They offer daily services to Moonlight Lodge in Big Sky. Additional stops in town are at Roskie Hall at Montana State University (MSU); Along Technology Blvd behind Kohl's (981 S 29th); and at Cardinal Distributing Co in Four Corners.
The bus stops are located outside the south Outdoor Living (Home Garden) doors of the Walmart Superstore.

Get around
Classic Limo (406) 585-5466, has shuttles to Bozeman, Big Sky, West Yellowstone, Chico, Mammoth and Livingston.

phone: +1 406-587-2434

Streamline provides fare free service Monday through Friday, with late night service operating Thursday through Saturday. The service area includes Bozeman, Belgrade, and Four Corners. The major hubs are at Montana State University and downtown at Mendehall and Tracy.
See
Museums
Galleries
Nature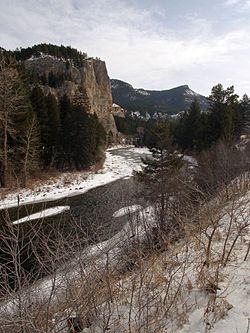 Gallatin RiverThe Gallatin River offers a tremendous amount of water sport opportunities, including rafting at varying skill levels. The river is also known for its scenic beauty and serenity.

phone: +1 406 683-3900

protected wilderness area south of Bozeman. Hiking access to Bear Trap Canyon is from the north end of the canyon only. To reach the trailhead, follow State Highway 84 west from Bozeman. Just before the highway crosses the Madison River, and directly across from the Red Mountain Campground, a gravel road intersects the highway on the left and leads upstream on the east side of the river to the trailhead.
Do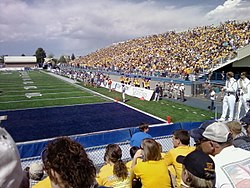 phone: +1 406 686-4224

address: 170 Nixon Peak Rd

Troy Hyde invites photographers (pro or hobbyist) to his wildlife casting and game farm for the chance to photograph wildlife.

Bozeman Hot Springs Spa & Fitness

phone: +1 406 586-6492

address: 81123 Gallatin Rd

Natural hot springs that provide an alternative to heated swimming pools, with no additives. Pools range from mild temperatures to over .

phone: +1 406 587-9265

address: 4050 Bridger Canyon Rd

Operated by the U.S. Fish and Wildlife Service, visitors to the Fish Technology Center are welcome to learn about and observe some of the ongoing research in the health, nutrition, reproduction and management of fish in hatcheries and the wild. In addition to these attractions, the center also houses several types of threatened fish species, such as the pallid sturgeon. Additional activities include walking and hiking trails (including Bozeman's "M" trail), picnic areas, and fish feeding ponds.

address: 9105 Thorpe Rd

Montana State Football

address: Bobcat Stadium

Check out the annual game against in-state rival "University of Montana" commonly known as the "cats-griz" game.

SkiingBozeman works as a launching point for visiting Big Sky, a ranch-turned-ski-resort that's growing in popularity but still not too crowded, or Bridger Bowl Ski Area, which MSU students have been known to call "Bridger Bowl University" because they spend so much time there.

The annual Sweet Pea Festival is usually held the first weekend of August. Activities include music, dance, theater, comedy, food, and art exhibitions. The festival always starts with a parade on the Friday before. Festival regulars include Shakespeare in the Parks, children's woodworking, Verge Theatre, and the Bozeman Chord Rustlers' tater pigs.
Eat
Drink
Try the "Barmuda Triangle" which consists of three dive bars arranged around a back lot between Main Street and Babcock at 8th Ave.
The Scoop
faces Main Street and must be one of the oldest bars in town. A few pool tables, a few slot machines and TVs for the game.
The Haufbrau
is equally as old - if not older - but offers a small stage for locals and even a few out-of-towners to dish out their songcraft with anything from saws to buckets to fiddles or guitars. Great, friendly crowd unless you arrive
before
the local rednecks get sloshed. Bringing up the rear of the troika would be
The Molly Brown
. It's the biggest of the three, with a pool hall, poker tables and a couple rows of slot machines. Montana being one of those rare states that allows machine gambling, you might as well try your hand while passing through. A quick fifteen bucks would not be unheard of, but a vanished fifty is far more likely. All three of these bars are of eclectic crowd; college students, Montana hippies, construction workers, out-of-work ranchers, divorcees, and that one guy who operates under the illusion that cowboys still exist.
phone: +1 406-522-9141

address: 712 W Main St

The Haufbrau

phone: +1 406-587-4931

address: 22 S 8th Ave

phone: +1 406-522-7362

address: 703 W Babcock St

phone: +1 406 585-3745

address: 101 East Oak, Suite D

Local brewery. An ever-changing mix of mostly British and American ales and lagers.
Sleep
Go next
Big Sky — a nearby ranch turned resort with mountain activities like skiing and snowboarding.
Yellowstone National Park — the world's first national park, full of incredible wildlife, famous geysers, and natural beauty.