Brändö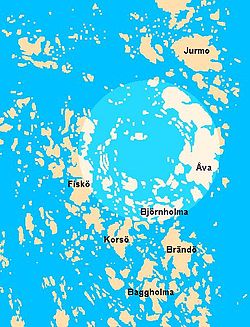 Brändö
is a municipality in
Åland
and the main island of the municipality. It consists of about 1200 islands with 450 permanent residents. It is the northernmost municipality in Åland.
Regions

Brändö consists of the villages Lappo, Asterholma, Torsholma, Baggholma, Brändö by, Björnholma, Korsö, Fiskö, Åva and Jurmo. Åva is the administrative centre but most of the services are at or in the vicinity of Brändö by.
Lappo, Asterholma and Jurmo are separate islands, without direct road connection.

Understand
Brändö is a group of islands in north-east part of Åland, by the border to
Finland Proper
. Due to its remote location in Åland and closeness to mainland Finland locals prefer to go shopping to
Turku
or
Uusikaupunki
instead of
Mariehamn
. Also, almost 1/5 of residents have Finnish as their mother tongue, a number much higher than elsewhere in Åland.
Brändö has been a remote place and there are virtually no archaeological findings. The first permanent residents came here probably in the end of the medieval era. The name Brändö was first mentioned in a land register from 1537. According to this register, all the current villages already existed having 57 houses in total. Probably their souls were saved as Brändö was mentioned as a chapel under
Kumlinge
parish already in the 1540's. The Stockholm–Turku Mail Route ran through the islands from Baggholma to Åva.
On the map its easy to see a large circular formation in the northern part of Brändö islands. This
Åva intrusion
is about 1800 million years old volcanic structure. The formation is well visible from aerial view but not so well from the ground level. Interestingly, there are no pine forests on Brändö islands except on the area close to the Åva harbour.
Getting around these islands has traditionally been challenging, but nowadays most of the major islands are connected with a paved road with bridges and causeways giving a good view out over the surrounding archipelago. Brändö is a delicate place for bicycling as the islands are fairly flat.
The municipality has extensive optical fibre network and there is a free Wi-Fi in all public buildings including hotels and restaurants. The local tax rate is the lowest one in Åland.
Talk

Brändö is unilingually Swedish speaking, like the rest of Åland. Knowledge of English should be good as in the rest of Finland. Knowledge of Finnish is not too good, although there are more Finnish speakers than in most of Åland.

Get in
You can reach Brändö by ferry operated by
Ålandstrafiken
. The islands are on
Norra Linjen
or the Northern Line. Ferries serve from Osnäs in
Gustavs
(Finnish:
Vuosnainen
in
Kustavi
) to the
Åva harbour
by
M/S Viggen
(or occasionally smaller
M/S Knipan
) and from Hummelvik in
Vårdö
by M/S
Alfågeln
via Lappo to
Torsholma harbour
. Osnäs and Hummelvik are on islands connected to the Finland and Åland mainlands, respectively, by short road ferry passages. There are cafés on the ferries and a restaurant in Vuosnainen. Åva and Torsholma harbours have just dry toilets and waiting cabins.
There are
coaches
from Mariehamn and Turku connecting to some of the ferry departures. For Kustavi these services are sparse, especially off season. There is a collective taxi connection from Kustavi centre to the ferry (€4, normal taxi is €30) and between Åva and Torsholma (free, see section "get around"), instead of the bus for some ferry departures. The taxi has to be ordered in advance. The connections are described in the Ålandstrafiken timetables.
There are also connections from
Houtskär
(main village: Näsby) and
Iniö
(main village: Norrby) to
Torsholma jetty
by the ferries serving "Houtskärs ruttområde" (Finnish: Houtskarin reitti) and "Iniö tilläggsrutt" (Finnish: Iniön lisäreitti). These vessels, operated by
Ferentes
, are small (do not carry cars), often calling at many minor islands, and usually have to be booked in advance. See articles for Houtskär and Iniö for details.
Keep the ferry receipts, as the ferry onwards or back will be cheaper after a night spent in the archipelago (as defined in Åland). Also, bike tickets are valid for all the season.
Get around
The tourism is mainly concentrated to the islands Jurmo in the north and Lappo in the southwest. To reach these separate islands there are smaller ferries from Åva-Jurmo vv. and Torsholma-Lappo-Asterholma vv. See the timetables
here
. Note that some arrivals need to be booked in advance.
There is no public transportation in Brändö except
kollektivtrafiken
from/to the Åva/Torsholma ferry harbour along the main road (incl. road to Fiskö). It is scheduled to connect specific arrivals and departures of M/S Viggen and M/S Alfågeln. These are marked to the time tables of these ferries. The kollektivtrafiken must be pre booked one day in advance and is free of charge. There is no kollektivtrafiken on Wednesdays or Sundays.
Taxi and kollektivtrafiken:
Taxi Åberg

phone: +358 400 229 454

even weeks

Brändö Taxi/Eija Laitala-Pettersson

phone: +358 408 481 982

odd weeks
Outside the islands Jurmo and Lappo the distances are rather long for
walking
. Distance between Åva harbor and Torsholma harbor is 23 km.
Bicycle
is useful as there is little traffic on the roads and the islands are mostly flat. Check if your accommodation has bikes for rent.
See
Brändö's Church

address: Brändö by

A wooden cross church built in the 1890s. The altarpiece is from the 15th century.

Ateljée Regnbågen

address: Brändö by

An art exhibition by Anita Hellström-Sandberg.

address: Lappo

Old boats and fishing and hunting tools. There's also an blacksmith's workshop.

Torsholma observing tower

address: Torsholma

Observing tower by a nature trail in the village Torsholma.
There are several
scenic views
from the main road, especially between Torsholma and Brandö by. For safety reasons it is forbidden to stop on some of the bridges including the long and high Åva bridge.
Do
phone: +358 40 506 4777

See the highland cattle, take a stroll in the woods at a walking path, climb the watch tower to see the islands surrounding Jurmo. Visit their small museum with fishing tools in an old fishing hut. Eat at their restaurant and café open in the summer months and sleep at their hostel. From the small grocery shop open in summer time you can buy food to prepare in the hostel. There's also possible to go on boat excursions to see e.g. seals, an old fishing camp, and rent kayaks and bikes.
Eat and drink
Buy
Sleep
Go next