Brønnøysund
Brønnøysund
is situated in the middle of
Norway
, and sports some 5000 inhabitants, 7600 in the municipality
Brønnøy
.
Get in
By plane
Brønnøysund Airport, BrønnøyThere are daily direct flights from Oslo and Trondheim with the airline Widerøe. Book well ahead for decent prices.
By train
Traveling by train, you can go north from Trondheim and get off at Grong, where most arrivals have a connecting bus. Train and bus tickets are bought separately, you practically never have to book the bus ticket ahead, there will be room on the bus. Bring cash for the ticket.
By car
If you drive, the quickest way to get to Brønnøysund is to drive the E6 and turn off a bit south of Mosjøen, where a long tunnel will take you to Tosbotn, from where you drive along fjords all the way to Brønnøysund. The most scenic way is "Kystriksveien", where a number of wonderful and subsidized ferry rides will break up your journey. Traveling north from Steinkjer there is just one ferry, but traveling south from Bodø you will use a number of ferries.
By boat
If you want to travel by boat, you can go on Hurtigruta, a cruise line that operates at a number of harbors between Bergen in the south and Kirkenes in the north.
See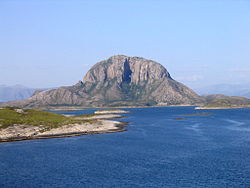 Torghatten some 15 kilometers outside of Brønnøysund, you have this mountain renowned for its distinctive hole piercing straight through the hillside. You really get the sense of man's inferiority to nature when you walk through the 160 metre long, 35 metre high and 15-20 metre wide hole, created thousands of years ago by the sea's erosion. The mountain can also be climbed, with some effort as it's pretty steep, from the southern side. From up there you have a great panorama view in all directions.
Skarsåsen Fortress 5 km north-east of Brønnøysund is a German coastal fortress from the Second World War. Trenches and tunnels lead underground from the four large cannon sites. There are also many local defence sites and the remains of 11 barracks, as well as a cannon and searchlight. Today Skarsåsen is a beautiful area combining overview and insight into local and world-wide history.
Sleep
Thon Hotel BrønnøysundValveien 11. Thon Hotel Brønnøysund is located in the center of this idyllic coastal town on the Helgeland coast.