Bracebridge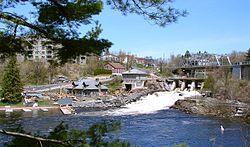 Bracebridge
is a town of 16,000 people (2016) in the
Muskoka
region of the province of
Ontario
. Its most notable and first recognized characteristic is the modern, European-style downtown. In the summer, the small town's population increases significantly providing recreation for tens of thousands of tourists and seasonal residents.
Understand

The municipal boundaries of Bracebridge encompass the smaller communities of Clear Lake, Falkenburg (a ghost town), Falkenburg Station, Fraserburg, Germania, Lakewood, Matthiasville, Monsell (a ghost town), Purbrook, Rocksborough, Springdale Park, Stoneleigh, Uffington and Vankoughnet.

History

Bracebridge is shaped by its proximity to Lake Muskoka to which it is connected by 6 miles of the Muskoka River. The abundant water power afforded by the great waterfall at the foot of the downtown powered the first factory. The arrival of the Grand Trunk Railway cemented the town's role as a transportation hub for the area.
Modern settlement of the town began in the 1860s, beginning at first with a few log huts. The Muskoka colonization road had been completed to the first falls on the north branch of the Muskoka River by 1862. Entrepreneurs began to take advantage of the area's water power. With the advent of steamship service on Lake Muskoka a few years later, Bracebridge prospered as the main distribution centre for the region.

Get in
By car
Car travel is the most popular way to reach Muskoka. It is on the 45th parallel, approximately 190 km north of Toronto. Take Highway 400 north through
Barrie
and continue north up Highway 11 in the direction of
North Bay
. In the summer, Highway 400 and the two northern highways (Hwys 11 and 69) will always be packed heading north on a Friday and south on a Sunday. Dual lanes in each direction have eased the traffic in the past few years, however on 'long weekends', travel to Muskoka is always busy and can take several hours from the Toronto area: Victoria Day (the Monday before May 25), Canada Day (July 1), Ontario Civic Holiday (first Monday in August), and Labour Day (first Monday in September).
Winter travel to the region can be tricky depending on the weather. Bracebridge and the surrounding area do get several winter storms per year, and can be difficult to access if you are not used to winter driving. Winters have become milder, and improved roads in the area in also help. However, this can vary from year to year as it lies on the cusp of the strong snow-belt areas of the country.
By bus
The
Greyhound Canada
bus has limited service to Bracebridge from Barrie (and in turn,
Toronto
),
North Bay
, and
Parry Sound
.
Ontario Northland
may also pick up some of the schedule. It is advisable to check the services offered through their websites.
By train
Ontario Northland no longer offers passenger rail service to Muskoka.
By plane
Muskoka AirportDuring the summer, FlyGTA offers flights from Toronto's Billy Bishop (Island) Airport Thursday through Sunday for $140 one-way.
Get around
In the summer, you can park your car and take advantage of Bracebridge's trolley service. The trolley runs around town to various destinations including to Santa's Village. Getting a taxi is never a problem in Bracebridge, as there always seem to be several whenever needed. Bracebridge is small enough to see on foot as well, however Santa's Village is slightly outside the city, and would be difficult to walk to from downtown.

See
Muskoka is famous for its picturesque scenery. The downtown area of Bracebridge has many small shops along the main street and a small park at the centre of town.
phone: +1 705-646-2628

address: 300 Ecclestone Dr

The 300-passenger Lady Muskoka offers an incredible sightseeing opportunity. The "Lady" is 104 ft long, 24 ft wide, fully-carpeted and has been thoroughly renovated. The ship is handicapped accessible and has a children's play area. 2-3 hour cruises, lunch cruises, dinner cruises. Snacks and full bar.

address: 15 King St

Visit one of Canada's only octagon-shaped houses, up the hill from Bracebridge Falls. It was built in the 1870s. The gardeners free to visit. The house is used an event space.

Bracebridge FallsIn downtown Bracebridge. There is a parking area Drive by the corner of Ecclestone and Entrance Drive from where you can access some walking paths that lead to the falls.
Do
Santa's Village and Sportsland Theme Park

phone: +1 705-645-2512

address: 1624 Golden Beach Road

Open year round, it's a popular destination for families. Younger children can visit Santa and participate in age-oriented fun, while teenagers can enjoy go-karting, mini-golf, batting cages, Laser Tag, and video arcade. Camping and cabins available.

Wilson's Falls TrailA 7.5-km easy-to-moderate hiking trail.

Resource Management Centre Trails

phone: +1 705-645-3037

Stunning natural beauty regardless of the season. Groomed cross-country skiing, snowshoeing, hiking and mountain biking trails within a woodland setting along the Muskoka River. Single track mountain bike trails available.
Learn
Georgian CollegeBracebridge is home to Georgian College's Muskoka Campus. The campus offers diploma programs in Addictions Counselling, Bilingual Administrative Affairs, Paramedic, Advertising, Art & Design, Automotive Marketing, and Aviation Management.
Buy
Muskoka Furniture

phone: +1 705-645-8183

address: 195 Wellington Street, Unit 7

High-quality, authentic Muskoka furniture. All pieces sold are hand-crafted.
Eat
There are many places to enjoy great food in Bracebridge, from cafés and delis to bistros and fine food restaurants. The small town is home to over 40 eating establishments making it a drawing point of the region based on cuisine alone.
phone: +1 705-645-9776

address: 88 Manitoba St

Gluten-free and vegetarian choices available.

phone: +1 705-646-0711

address: 1 Manitoba St

By the waterfalls on the shores of the Muskoka River. Mediterranean-inspired dining room. Menus change to reflect seasonal ingredients.

Fresh Kutz Market & Grill

phone: +1 705-646-2106

address: 195 Wellington St

Sandwiches, burgers, steaks, pork chops.

phone: +1 705-640-2267

address: 72 Manitoba St

Fresh coffee, sandwiches, homemade baked goods, soft serve ice cream?
Drink
phone: +1 705-646-1266

address: 1964 Muskoka Beach Rd

Tours are free, and run W-Su every hour from 11AM–4PM.

phone: +1 705-640-0222

address: 5 Manitoba St

Upscale Irish pub with Irish and international menu.
Sleep
As much of Bracebridge's economy is based on tourism, there are plenty of places to sleep in the area. The summer season can become quite busy so as it is not necessary to book ahead, it is certainly recommended if you have particular tastes.
Budget
Santa's Village Cottages, Cabins, Yurts & RV/Tents

address: 1623 Golden Beach Rd

Camping beside the beautiful Muskoka River. Tenting and full services available with general store.

Bracebridge Inn

address: 133 Manitoba Street

Near downtown Bracebridge, near shopping, Bracebridge Falls, and across the street from Memorial Park. Close to a laundromat, movie theatre, trolley service, banks, and restaurants.
Mid-range
address: 265 Wellington Street

In downtown Bracebridge, close to all of Bracebridge's attractions, it welcomes long-term guests.

address: 300 Ecclestone Drive

Offers 54 climate controlled rooms, workout facilities, dining room, indoor heated pool, business centre, sauna, and bowling alley, on Muskoka River.
Splurge
address: #1515 Muskoka District Road 118 West

Luxurious cottages and suites, for 2-6 people, and smaller, comfortable rooms in a lake setting.

address: 8 Mahaffy Court

Well-prepared gourmet meals and upper-end accommodations in a beautiful setting and a convenient location. A favourite with honeymooners.
Stay healthy
South Muskoka Memorial Hospital, about 2.5 km from Highway # 11. An 84 bed hospital. Emergency facilities available, X-ray, ultrasound, mammography, lab, occupational therapy, physiotherapy, dietary services, mental health echocardiography.
Go next
Bracebridge is a great place to stay while exploring the Muskoka region. Other picturesque destinations in the area include Port Carling, Bala, Rosseau, and Parry Sound. Day trips to
Sudbury
to visit Science North and the Big Nickel are also quite easy to do in the summer while the roads are good.