Bradford
Bradford
is a city and metropolitan borough in
West Yorkshire
in the north of England. With a population of 300,000, to the east its built-up area runs into that of
Leeds
, while to the west are Pennine valleys, the "
Bronte Country
". It's notable for the many Victorian mills and other buildings from its industrial heyday, and for its high Asian population: some 27% of residents describe themselves as "Asian", their families mostly originating from Pakistan.
Bradford has been a wool-processing town for centuries, but remained small until the 19th century. It then burgeoned as the textile industry evolved from cottage weaving to mass production, related trades such as dyeing and fashion retail developed alongside, and the metal-bashing industries arrived. Bradford sucked in skills and labour: German-Jewish wool merchants and dye-makers, Irish flax and linen workers from County Mayo, and Yorkshire folk drifting away from an agricultural way of life. The population grew ten-fold, with great mill complexes and neo-Gothic public buildings springing up, and appalling squalour and pollution in its teeming streets. A few enlightened industrialists tried to better the conditions of their workforce, such as Titus Salt, but even he eventually despaired of Bradford and created a new model town at nearby
Saltaire
, now a UNESCO cultural site.
In the 20th century there was further immigration from East Europe around the war years, but the largest group of incomers were recruited from Pakistan: the traditional weavers of Mirpur had skills that Bradford sought. They arrived in the 1950s / 60s just in time to watch the textile trade go into long-term decline, unable to compete with cheap imports. The city became tatty, with disused factories crumbling into brownfield sites, and a blighted centre. It began to turn a corner from 1983, with what's now called the National Science and Media Museum creating a tourist destination; film tourism expanded, and there was other urban regeneration. There's still a lot to do.
Get in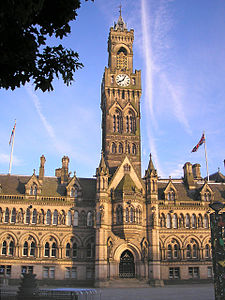 By plane
LBA
is ten miles north-east of city centre along A658. There's a good choice of flights from Western Europe, eg Paris, Brussels, Amsterdam, Dusseldorf and Dublin, and within UK from Southampton, Exeter, Belfast and Glasgow. See Leeds#Get_in for more info.
LBA doesn't have a motorway or rail link so the journey through traffic can be slow and anxious. Buses 737 & 747 between them run every 30 mins from Bradford Interchange Station to LBA, taking 50 mins; the 737 runs via Shipley, the 747 runs via Greengates and continues to Harrogate. Other buses run from the airport to Leeds, Otley, Ilkley and Keighley. Taxis are plentiful.
Manchester Airport MAN is a better option for long haul flights. From there take any train towards Leeds, and change at Huddersfield for Bradford Interchange, journey time 1 hour 40 mins.

By train

is the main railway and bus station. It has trains to Manchester Victoria and Chester, Preston and Blackpool North, Leeds (20 mins) and York, and Huddersfield. There are three direct trains a day to London Kings Cross, but it's usually quicker to change in Leeds. Change there also for Birmingham and the southwest, and Newcastle and Scotland.
is half a mile north of Interchange, and has trains to Leeds (25 mins via Shipley), Ilkley, and (via Saltaire) to Skipton.

By bus

The M62 motorway crosses the Pennines and at junction 26 the M606 is a spur into Bradford city. Bradford bus station is within the Interchange, see above.
First Bus X6 runs to Leeds every 10 minutes M-Sat, every 30 mins Sunday, taking 35 mins. Bus 72 runs a similar route but with more stops, taking 50 mins. Bus X11 also runs to Leeds every 30 mins, and Bus X63 runs to Huddersfield every 10 mins. Metro has all the details of these buses.
National Express has 9 direct buses daily from London Victoria, taking six hours. They also run to Bradford from Manchester city and airport, Liverpool, Birmingham, Oxford, Cardiff, Hull and Newcastle-upon-Tyne.
Megabus has one direct bus from London Victoria and two with a change at East Midlands Parkway.

Get around
By bus:
see
West Yorkshire Metro
for timetables and route maps. Your likeliest bus trip is to Leeds, see above.
By taxi:
there are many taxi ranks in city centre, but it's often cheaper to call and book.
Metro Taxis
are considered reliable, call +44 1274 733733 or +44 1274 728999. No call out charge.
Driving
in Bradford is a tedious business, because of the many terraces opening onto the narrow thoroughfares. You're always stuck behind a van that is waiting to turn right against the oncoming traffic: no sooner does it succeed but a taxi flies out from the left to take its place, then the traffic lights ahead turn red.
See
Little GermanyAn impressive collection of 85 buildings constructed between 1855 and 1890, during the heyday of Bradford's wool textile industry, now a residential and business district. 55 of them are listed because of their architectural and historical importance.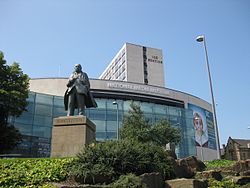 Do
Theatres are the Alhambra on Morley Street, Bradford University's Theatre in the Mill on Shearbridge Road, and Bradford Playhouse on Chapel Street.
Cinemas are Cineworld on Vicar Lane, Odeon at Gallagher Leisure Park, The Light on Broadway, and the IMAX within the National Science & Media Museum.
Music: concerts are held at St George's Hall. Several pubs have live music of an evening.
Watch football (ie soccer) at Bradford City. They were relegated in 2019 and now play in League Two, the fourth tier of English football. Their home ground is at Valley Parade BD8 7DY a mile north of the centre.
Watch rugby league (13 a side) at Bradford Bulls RLFC, who play in the Championship, the second tier of rugby league in England. In 2019 they left their traditional home stadium at Odsal, and (at least for 2019 / 20) now play at Tetley Stadium in Dewsbury, sharing it with Dewsbury Rams RLFC.
Events
Bradford Festival is in mid July and incorporates the formerly free-standing Mela. The next event is 10-12 July 2020, probably in City Park.
Family Film Festival was last held in August 2019 in the Holiday Inn Express, Vicar Lane. It's not known if it will be repeated in 2020.
Get Smart is a smartphone film weekend, 19-21 Sept 2019 at the National Science & Media Museum.
Widescreen Film Weekend is 10-13 Oct 2019 at the National Science & Media Museum.
Learn
Buy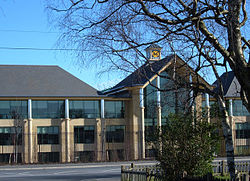 Bradford is the headquarters of the supermarket chain Morrisons, founded in the suburb of Thornbury in 1899. There are four stores around the ring road.
Eat
phone: +44 1274 732015

address: 15 Neal Street BD5 0BX

This cheap and cheerful Pakistani restaurant is a Bradford institution. BYOB, cash only.

The Kashmir

phone: +44 1274 726513

address: 27 Morley Street BD7 1AG

"Restaurant" upstairs, cafe-style downstairs. Long-established, relentlessly tatty decor, good food most nights, and very cheap - a starter & main meal should be under £7.

phone: +44 1274 571861

address: 386-410 Great Horton Road BD7 3HS

Good up-market Pakistani-Kashmir restaurant. No alcohol.

phone: +44 1274 414188

address: 46 Great Horton Rd BD7 1AL

Gets great reviews for food and service, the family-sized naan is humongous. Bring your own alcohol.
Momma Mia's is a reliable Italian chain on Upper Piccadilly next to Forster Square Station. It's open Tu-Sa 12:00-14:00 & 17:00-21:00, Su 16:30-21:00.

address: 1272 Leeds Rd BD3 8LF

Modern curry house with contemporary feel, pricey but value for money. Their spices are hot! Often packed and noisy, difficult to hold a conversation, booking advised at weekends.

phone: +44 1274 258025

address: 1310 Leeds Road BD3 8LF

Restaurant with a mix of Indian, Pakistani and Middle-eastern style cuisine.
Drink
address: 21-23 Preston Street BD7 1JE

Free house, old-style pub. Excellent range of real ales, bottled beers and good grub. A 10-min walk out of the city centre but worth it!

address: 124 Sunbridge Road BD1 2ND

Long established gay pub. Drag nights, karaoke, quiz & cabaret, not necessarily at the same time.

phone: +44 1274 720219

address: 10 Bolton Rd BD1 4DE

A great pub near Forster Sq Station. A free house with a good amount of guest ales. Great food too. Has won several awards from CAMRA.

Shoulder of Mutton

address: 28 Kirkgate BD1 1QL

A Samuel Smiths pub, all the regular Smiths' brews on draft, low prices. The beer garden is a nice sun-trap, allows smoking. Note there's also a Shoulder of Mutton at Thornton Rd, and another in Keighley.
Sleep
Stay safe

The city's crime rate is lower than that of similar large cities such as Leeds or Manchester. Use commonsense and avoid wandering off the beaten track. The city centre is well-policed and seldom sees trouble, but avoid Lidget Green, Manningham and Low Moor after dark.

Go next