Brahmapur
Brahmapur
(Berhampur) is a city on the eastern coastline of the
East Indian
state of
Odisha
(formerly known as Orissa).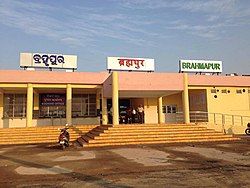 Understand
Brahmapur (previously known as Berhampur) (Oriya: ବ୍ରହ୍ମପୁର), and nicknamed
"The Silk City"
, is a city on the eastern coastline of the state of
Odisha
. It is the third-largest city in Odisha, with a population of 355,823 (with agglomeration the population of the city is around 800,000).
Brahmapur is a business hub, and has many things to offer in terms of tourist attractions and activities.
Tara Tarini
an ancient Shakti peetha, Breast shrine of Adi Shakti and one amongst the 4 major Shakti Peeethas in India is 25 km from the city. In addition, the world famous Gopalpur-on-Sea sea beach, Bhairabi & Mahurikalua temples, and Tampara lake are around 10km from the city. The famous Chilka Lake at Rambha and Taptapani Hot Springs are around 45 km from from the city. It is silk city so silk products are cheap and readily available. This place is also famous for a variety of Pickles, Mixtures and Papped. For the intrepid explorer, Brahmapur offers a variety of good shopping options and food discoveries.
The rural development NGO Gram Vikas is located 14 km outside of Brahmapur, and hosts a number of international volunteers each year. If you're from outside India, don't be surprised if locals keep asking you if you work for Gram Vikas.
Get in
By train
Brahmapur is well-connected by rail. Brahmapur station is part of East Coast Railways, and is 2½ hours from the capital city of
Bhubaneswar
and around 3½ hours from Visakhapatnam. Brahmapur is a major stop on the line from
Kolkata
to
Chennai
, making it a convenient stop along the way, with many trains running every day. There are many trains connecting
Puri
to Brahmapur. Even you can catch a train to Khurda Road Junction, and switch there to
Brahmapur
(Berhampur).
By plane
Bhubaneswar Airport is well-connected to major Indian cities through Indian airlines such as Goindigo. You can fly to Bhubaneswar, and take one of the more than 50 trains connecting Bhubaneswar and Brahmapur daily.
By bus
There are a number of buses that go and come to Brahmapur. They tend to be cheaper than the trains. Buses arrive in the
New Bus Terminal
, located some distance outside the city center. You will need an auto-rickshaw or cycle rickshaw to reach the center. (See "Get Around" below.)
Get around
The main mode of transportation in Brahmapur is the auto-rickshaw and taxis. Cycle rickshaws are also available, and are slower but cheaper. You should ask for the price up front, and are expected to bargain.
The center of town is called the Old Bus Stand Barracks. Located around the Old Bus Stand or Barracks are the five largest hotels in town, Nandan International, Spectrum, Bhubaneswari Classic, Radha and Jyoti Residency. In front of these hotels you can find Ambassador taxis. They are more expensive than auto-rickshaws, but more comfortable for longer drives. Again, expect to bargain for your fare up front.

See
Brahmapur is a busy, crowded business city with many things to attract foreign tourists. There are friendly people and a few great food discoveries awaiting the intrepid explorer.
The Old Bus Stand marks the center of town. Around it you will find many shops, and many restaurant options. You can also find many hotels around here.
The City Mall is 200 m away from the Old Bus Stand.
The Reliance Trend & Vishal Mega Mart are 300 m away from the Old Bus Stand.
Urban Bank Road/Arnapurna Market is famous for Garments and Sarees.
Bhapur Bazzar which is 300 m away from the Old Bus Stand famous for variety of Pickles and Papped, traditional Kalinga food and Mixtures.
Bada Bazzar (one of the biggest markets in East India) which is 2 km away from the Old Bus Stand famous for jewellery, gems, diamonds, garments and variety of other items.
Biju Pattnaik Park is a good location to visit inside the city.
Ramlinga Tank is a pond, west of the Old Bus Stand. Shops, cinemas, food chains like Dominos, Red Chilli, Hyderabadi Biryani and temples situated nearby make it a convenient landmark. There are also a great number of street food options located next to it. (See "Eat" below.)
Sri Sidhibinayakya Pitha: This temple is centrally located in the city near Giri Road, Tata Benz square which is one of the largest Ganesh Temple in Odisha.
Bi-Annual Thakurani Yatra – The Festival of the Goddess Budhi Thakurani: This welcomes the goddess Budhi Thakurani to her temporary abode for the biannual Thakurani Jatra (festival) late at night. The hereditary head of the festival, who is also regarded as the head of the weaver Dera community of the city, Desibehera, dressed in his traditional attire, visits the Budhi Maa Thakurani temple to invite the goddess to her parental abode at his home on Saturday afternoon. His wife also accompanies him, and they make offerings at the Kalika temple. Rituals to welcome the deity for the festival started at the temporary temple built at Desibehera street from evening with the Changudi Puja. After these rituals, flowers are carried from Desibehera's house to the Budhi Thakurani temple. Fallen flowers are carried as representative of the deity to Desibehera Street in a large decorated procession at night. The Thakurani Yatra is celebrated in different parts of Ganjam district. One such major biennial Thakurani Yatra is Lanjipalli Thakurani Yatra.
Outside the city
Gopalpur Beach: This is 10 km from the city and is a retreat for sun, sea and sand lovers. At one time it was a busy seaport and it still displays the crumbling walls and pillars of the jetty. There are various town buses that run from Old Bus stand to Gopalpur. It is quite convenient to drive to Gopalpur on one's personal vehicle. Gopalpur once used to be a bustling place with tourists. There are many good hotels like Oberoi Palm Beach resort. It is a lesser known fact that Oberoi Palm Beach resort was the first property to be acquired under the Oberoi Group brand. Gopalpur has an old light house, and a small fisherman's cove. The Gopalpur Beach Festival is also held here.
Tara Tarini Temple – The Shakti Pitha (Sthana Peetha): This is one of the oldest pilgrimage place of mother goddess and amongst the four major ancient Adi Shakti centers in India. The mythological texts recognize four major Shakti Pithas (centers), like Bimala, Taratarini, Kamakshya and Dakhina Kalika, which originated from the limbs of the Corpse of Mata Sati in the Satya Yuga. Rooted in the hoary past, mentioned in the Puranas, the Tantras and as the main seat of Tantric cult for thousands of years and center of Shakti worship since time immemorial, this hill Shrine is believed to be the Sthana Peetha (Breast Shrine of Mata Sati) and an important prehistoric religious center which bears an uninterrupted history of about 6000 years.
Siddha Bhairavi: The place is named after the presiding deity goddess Maa Bhairabee at the remote village of Mantridi. Carved in crude fashion, the icon (one-legged goddess with four hands) was discovered and enshrined in a newly adorned temple in 1937. According to legend, fisherman and sailors used to worship the deity for blessings before commencing their journeys. Maa Bhairabee has nowadays become an important Shakti Pitha venerable for the fisherman community that live in nearby villages. Tourists from almost all parts of southern Odisha as well as northern Andhra Pradesh visit this holy shrine every day. The holy days on which most of the devotees assemble before the deity to offer their prayers are on Sankranti days of the Hindu calendar and on all Tuesdays.
Taptapani: Taptapani (Hot-Water), as the name suggests, is famous for its hot springs. Nestled at about 1,800 feet (550 m) above sea level, this spot is 56 km away from the city's railway station. The sprawling Panthanivas is the only shelter for tourists at Taptapani. The cottages overlook a pristine valley, and the dining hall is strategically placed between two crests of mountain fold. A few minutes walk from here will take you to Kandimata Mandir, where the locals bathe in the spring before offering their daily prayers. There is also a deer park maintained by the forest department.
Chilika Lake : Chilika is India's biggest inland lake, spread over 1,100 km² stretching across the length of the three districts of Puri, Khurdha and Ganjam and finally joining the Bay of Bengal through a narrow mouth, forming an enormous lagoon of brackish water. Dotted with many emerald green islands with colourful names such as Honeymoon Island and Breakfast Island, Chilika is home to a rich variety of aquatic fauna. It is also a sanctuary and winter resort for migratory birds, some coming from as far as Siberia.
Do
Walk in the city's markets, haggling for souvenirs, Odisha handicraft, or handwoven (khadi) fabric.
Grab a chai or lassi in the many street stalls around the city center, or a quick meal at a street food stall around the Ramlinga Tank.
Brahmapur has a long tradition of theater, and its denizens are passionate about cinemas. The city is famous for its cinema theater complexes, including Gautam, Rukmini, Shiva, Shakti, Payal and Paramjyoti. Hindi movies are the most popular, followed by Odia movies. English and Telugu movies are shown on a regular basis.
Work
Brahmapur is close to many tribal villages in rural Odisha. The NGO
Gram Vikas
, who work with rural and tribal communities in Odisha, are located 14 km outside Brahmapur. They welcome serious, committed international volunteers interested in rural development.
Buy
Many shops around the Old Bus Stand sell handwoven (khadi) silk or cotton. If you are in town for a few days, you can get these fabrics fitted and tailored. Make sure you visit a tailor first, and have your measurements taken, so the tailor can tell you how much fabric you should get.
Silk sarees, called Brahmapur pata, are famous and the reason Brahmapur is nicknamed "The Silk City".
The city is a big market for fruits, especially mangoes when they are in season. Berhampur has the 5th biggest Mango market in the country.
Brahmapur is famous for the shops in Bada Bazaar, Annapurna Market and Bhapur Bazaar.
There are some relatively large department stores in the city, including Vishal MegaMart, Bazaar Kolkata, Reliance trends, the City Mall, the World and Metro Bazar. Prices are higher than in street markets, but you can get a sense of the price of things by shopping there.
Eat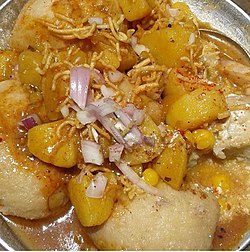 Brahmapur is famous in India for its
papad
(popadum),
aachard
(pickles), and
badis
. Additionally, there are many food options, ranging from street stall to fancy hotel restaurant. Not all of the street stalls are sanitary, so be sure to observe the proceedings, and eat only at stalls that get a lot of business.
Some things worth trying:
Biryani from New Biryani Centre.
Chicken and egg rolls from Calcutta Roll Counter, in front of Ramlinga Tank.
Chicken Pakoda (fried chicken) or chicken tandoori at Girija Restaurant, near Ramlinga Tank.
Chicken Tikka from Hotel Moti.
Fresh fruit juices from Vizag Fruit Juice Centre.
Fried chicken legs from Merydine Restaurant.
Fruit salad from Murty Cool Sip.
Italian-style ice cream from Softy Zone.
Mutton curry from Pidha Hotel.
Drink

Brahmapur is a fairly conservative Indian city, so bars are very rare, almost exclusively for men, and pretty shady. The 'nicest' bar is probably Regency Bar, between Nandan Hotel and Jyoti Residency. Note that women are very rarely patrons of these establishments, and may be refused service altogether. It is not recommended for solo female travellers to go into these bars. Restaurants and hotels do not serve alcohol.

Sleep
Some options in Brahmapur:
Ananda Bhavan Lodging (208364)
Berhampur Rest House (203636)
Hotel MoonLite
Hotel Moti (202386)
Hotel Nandan (200232)
Hotel Radha (202341)
Hotel Shankar Bhawan (203309)
Jyoti Residency (near Old Bus Stand)
Lake View Lodge (203334)
Laxminivas Lodging (305381)
Municipal Guest House (200466)
Sriram Bhawan (203369)
Stay safe
The biggest hazard in Brahmapur comes from the chaotic traffic. Make sure to look both sides before crossing a street, even in a one-way street!
Although Brahmapur is not a tourist city, make sure to keep your belongings close to you and in a safe place, particularly around the train station or the Old Bus Stand.
There is a police station right next to the Old Bus Stand, in front of Nandan Hotel.

Respect
Brahmapur is a traditional Indian city. Make sure to wear culturally-appropriate clothes, especially if you are a woman. You won't get in trouble if you don't, but you might attract a lot of unwanted attention from men.
The people may approach you, asking for your name and nationality, and wanting to shake your hand. As a rule, these are not people out to scam you in any way, just curious, friendly people. Take the time to chat with them, and try and make a good impression! Don't feel obliged to agree to anything that makes you uncomfortable.

Cope
The city can get very hot in the hot season, between March to June. The winter (October to February) is the best time to visit, with dry, cool evenings and very few rain. In the monsoon season (June to October), streets can get flooded with rainwater.
Like many places in India, although there is a lot of delicious street and restaurant food around the city, not all of them are clean and hygienic. Make sure to observe stalls or restaurants, and only go to those with a lot of people, and that inspire you to eat there. Make sure to regularly wash your hands, especially before meals. If you fall ill, there are a number of pharmacies and health stores around the city where you can get medicine.

Go next
Brahmapur is 2½ hr away from Bhubaneswar, and 3½ hr away from Puri. It's located on the main train line from Kolkata to Chennai, making it a convenient stop. It's also a good jumping-off point to nearby places such as
Gopalpur-on-sea
.
Places located near Brahmapur:
Bankeswari
Bhairabi Temple
Budhakhola
Dhabaleshwar beach
Gopalpur beach
Guduguda (Near Jiranga, beautiful place)
Jaugada
Pota Gada
Ramachandi Temple
Sundareswar Temple
Sunpur Virgin beach
Tampara lake water sports complex
Tapatapani hill Resort (operated by OTDC fully renovated with Phantom's Tree house)
Taratarini Temple