Braintree (Essex)
Braintree
is a town in
Essex
,
England
.
Understand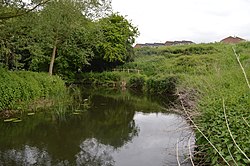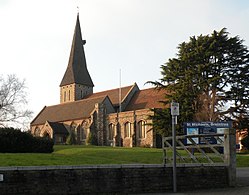 The town has expanded to include neighbouring settlements (the 2011 population of Braintree town was 41,634 whilst the population of the urban area was 53,477). The town lies on the River Brain and south of Stane Street whilst Bocking lies on the River Blackwater to the north. Sometimes the two area is referred to as Braintree & Bocking although they form a single urban area.
The town dates back to habitation in the Bronze and Iron Ages. Later the settlement was used by the Saxons after the Romans left. The town was recorded in the Doomsday Book then called
Branchetreu
. By the 14th century the town was manufacturing woollen cloth and by the 17th century Flemish immigrants contributed to this making the town famous and bringing prosperity. In the 19th century silk manufacture replaced wool and the town benefitted from a rail link to London.
For a town of its size it boasts very few amenities. However, a shopping village on the outskirts, 'Freeport', has roughly 80 shops. It mainly specialise in clothing, along with a bowling alley and a cinema, which makes Braintree worth visiting.
Get in
By car
Getting into Braintree by road is easy. The main roads in and out of Braintree are the A120 and A131. Using the A120 you can travel to Braintree from the M11 or From
Colchester
, Using the A131 you can approach from the
Chelmsford
or
Sudbury
direction. It is also possible to exit the A12 road at Witham and 15 minutes further to Braintree.
Braintree is also ideally suited for those who are intending to drive to or from Stansted airport as is located about 15 min by car away on the A120 dual carriageway towards the M11.
By bus
Braintree is served frequently by buses from
Chelmsford
, Stansted Airport, only 20 min away, and
Colchester
among other routes. There are also other smaller bus services for the smaller surrounding towns and villages.
By train
address: Station Approach, Braintree, CM7 3QL

Regular trains from London Liverpool St terminate at Braintree Train station (also stopping at Braintree Freeport Station). Generally the service is once an hour but this can vary from time to time. Traveling from further north of Braintree generally requires a change of trains at Witham station. Station managed by and services run by Greater Anglia.

Braintree Freeport Train Station

address: Chapel Hill Retail Park, Braintree, CM77 8YH

Station managed by and services run by Greater Anglia.
By bicycle
The town in on
National Cycle Route 16
Bishop's Stortford
to
Southend-on-Sea
, passing through Great Dunmow 11 miles to the W and through
Witham
8 miles to the SE (just beyond which it joins
National Cycle Route 1
and the National Cycle Network.
Get around

Braintree is small enough to get away with walking everywhere: although the lazier ones will be pleased to know that there is a fairly reliable bus service that can get you around most parts of the town.

See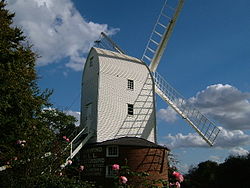 phone: +44 1279 870678

address: Takeley, Bishop's Stortford, CM22 6NE

This forest is about 20 min away heading towards the M11 on the A120 If you are looking for a serene day in the wood its rather pleasant. On a nice summer day the woods can look very nice in the summer. The National Trust do not charge for entry in to the property but to park is £5, well worth the money.

Kelvedon Hatch Secret Nuclear Bunker

phone: +44 1277 364883

address: Kelvedon Hall Lane, Kelvedon Hatch CM14 5TL

A large underground bunker maintained during the cold war as a potential regional government headquarters. No credit card payment.Crown Buildings
"Bocking end" Down this area of braintree some old houses still remain. Though moderized slightly, they still have the traditional Tudor black wooded beams. While expoloring this area of Braintree which is quite small, why not pop into "Hogs" at the bottom of the hill or "The Angel" for a quick pint.

phone: +44 1376 561305

address: 25 West Street, Coggeshall, Colchester, CO6 1NS

phone: +44 1376 552525

No parking (park in Church St). No toilet facilities. Small grass picnic area

phone: +44 1376 328868

address: Manor St, Braintree CM7 3HW

phone: +44 1376 557741

address: Silks Way, Braintree CM7 3GB

England's 2nd-largest collection of flat textiles.
Do
Buy
The usual range of high street stores can be found in the town centre.
Eat
Finding a place to eat in Braintree should not be a hard task: the town centre is littered with pubs and sandwich bars which cater for a range of needs.
If you are looking for more of an evening meal you have to travel towards the outskirts of the town, Where you will find Freeport. This contains about 7 restaurants each catering for different needs, many of these franchises so you will have a rough idea of what you are likely to get.
Towards Galleys corner you can find fast food restaurants, a Pizza Hut, and Frankie and Benny's. Just across the road Fowlers Farm is a warm friendly pub which serves popular food also.
Along Cressing Road is an Indian/Turkish venue that serves a variety of tasty dishes.
Freeport Shopping Village has a number of fast food outlets.
Avoid Braintree after 5PM on a Saturday as it starts to resemble the set of Michael Jackson's "Thriller", and men and women with tattoos of family members names on their bingo wings start to congregate.
Drink
Sleep
Connect
Post Office

address: 3-5 New St, Braintree CM7 1ER
Go next
The local bus service can take people to nearby towns and villages. One of the main bus services is the number 70 by First Essex which connects
Colchester
and
Chelmsford
and passes through Braintree bus park every 30 minutes in each direction.
Braintree's train line is a spur off of the national service, and all trains leaving will be heading for
London
, The frequency of these trains is once every hour. Trains take about 45 min to reach London stopping at various stops along the way. Those wishing to head further up the main line towards
Colchester
,
Ipswich
,
Clacton
, etc., can change at
Witham
.