Brampton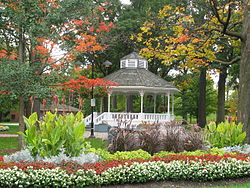 Brampton
is a city within the
Greater Toronto Area
of
Ontario
. It is one of Canada's fastest growing cities and has a population of more than 500,000.
Get in
By plane
Toronto Pearson International Airport
(
YYZ
) in Mississauga is located immediately to the south-east of Brampton. From the airport a limo costs $45, and takes about 30 minutes, all depending on traffic. GO Transit operates a Route 34 – Brampton/Pearson Airport/North York GO Bus; Brampton Transit runs Airport Express (route 115) buses from Pearson Airport to Bramalea City Centre.

By public transportation

GO Transit provides commuter rail and bus service to Brampton. There are three GO train stations in Brampton: Bramalea, which serves the eastern end of Brampton; Brampton station, which serves central Brampton; and Mount Pleasant, which serves the western end of Brampton. GO trains serve the three stations during the day on weekdays only excluding holidays. The trip by train from Toronto Union Station takes 35 minutes. When GO trains are not running, they are replaced by GO buses serving the same area, however these buses generally run to and from Yorkdale and York Mills subway stations to the north of downtown Toronto instead of Union Station. Trains and buses run about every 20 minutes during rush hour and about every hour outside of rush hour.
Brampton station is also served by Via Rail intercity trains on the line from Toronto to Sarnia. Via runs 3 trains a day in each direction. These trains also serve Georgetown, Guelph, Kitchener and London among other places.
Bus route 501 Züm Queen (operated by Brampton Transit) links Vaughan Metropolitan Centre subway station to downtown Brampton. Note: If boarding a Züm bus at Vaughan Metropolitan Centre, pay your fare on the Züm bus; do not pay it on the platform as the platform ticketing/payment machines are for another public transit operator.

Get around
Public transportation
Brampton Transitprovides local bus service in Brampton including the Züm express bus service. Some routes extend into neighbouring municipalities. Fares (including for Züm buses) can be paid by Presto card or exact cash.
If transferring from one of the three
GO Transit
train stations in Brampton to Burlington Transit (BT) to complete a trip, a reduced BT fare of 80 cents (as of 2019) is available. For Presto cardholders, just tap your card on both transit systems to get the discount which is calculated after the transfer. With Presto, the reduced fare is also available to transfer from BT to GO. If paying cash on BT, the reduced fare is available if you show your GO ticket to the BT bus driver when you pay the fare in exact cash.
A fare allows for 2 hours of travel on Brampton Transit including changing BT buses, or transferring to connecting Miway (
Mississauga
) and YRT (
York Region
) buses. If paying by cash, ask for a "transfer" to use as a receipt. For Presto users, transfer info is automatically stored on your card when you tap on.
See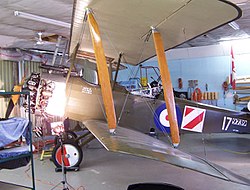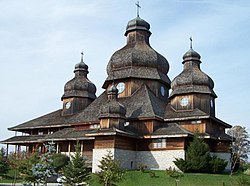 Flower gardens
Brampton prides itself as the "Flower City", with several
gardens
open to the public. The city has a PDF brochure for a
Brampton Floral Self-Guided Tour
, with some of the gardens summarized here:
address: 45 Main St S

Floral gardens, large trees, gazebo and fountain.

Charles F. Watson and Family Park

address: 398 Main St S

Flower garden below street level.

Donald M. Gordon Chinguacousy Park

address: 9050 Bramalea Road

Gardens, greenhouse, ponds, petting zoo.

address: 10060 Bramalea Rd

Flower garden with fountains, the gardens on four hectares (10 acres of land). No smoking, sports or picnicking on the grounds.
Downtown heritage structures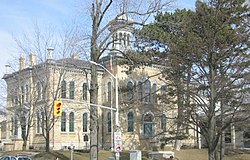 Because of the presence of many modern buildings, Brampton's downtown does not quite have the quaint heritage image of towns such as
Newmarket
,
Port Hope
or
Brockville
. Despite that, the
Brampton website
has a 66-page PDF titled
Downtown Heritage Walking Tour
. Here are some of the heritage buildings; a longer description can be found in the aforementioned PDF. Many of the buildings listed here are not open to the general public, but all can be viewed from a public sidewalk.
Old Fire Hall

address: 2 Chapel St

Built in 1854, this municipal building was used as the village market, as a fire engine house, and by 1860 as Village Council Chambers (second floor). The building has a tower perhaps for hanging fire hoses to dry.

Peel Country Courthouse

address: 3 Wellington St E

Built in 1866, the courthouse features an onion-shaped copula. Next to it, at 7 and 9 Wellington, are the Peel County Registry Office (1890) and the Peel County Jail (also 1866), both of which today house the Peel Art Gallery, Museum and Archives.

address: 41 Elizabeth St S

A Victorian house built in the Italianate Villa style in 1867. Used today for group events.

Dominion Building

address: 8 Queen St E

Built in 1889 by the federal government, the building used to house a post office and a customs house. It has a textured stone facade and a clock tower with the royal coat of arms just below. Today, a coffee shop occupies the ground floor.

Carnegie Library

address: 55 Queen St E

Built in 1906, this is one of 156 free libraries in Canada that were financed by the Carnegie Institute between 1881 and 1917. Today, the building is owned by the City of Brampton and is used by the Brampton Concert Band for rehersals.

Grand Trunk Railway Station

address: 15 Church St W

Built for the Grand Trunk Railway in 1907, and later acquired by Canadian National Railways, the station is still in use today for Via Rail and GO Transit passenger trains. The main entrance to the station is framed by a pair of small, round castle-style towers.
It seems that all the churches in downtown Brampton are 19th-century heritage buildings. For most, you don't need a map to find them as the tend to be prominent landmarks.
Do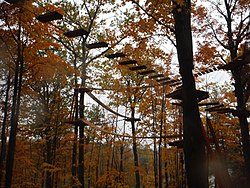 Buy
phone: +1 905-793-9417

address: 25 Peel Centre Dr

phone: +1 905-789-9734

address: 130 Great Lakes Dr

phone: +1 905 459-1337

address: 499 Main St S

This large mall was once Canada's top selling mall. It is a large regional mall serving the Brampton area. It is easily accessible by transit with its own bus terminal. It is served by Brampton Transit, GO buses and Mississauga Transit.
Eat
You can find fast-food restaurants almost everywhere.
Most of the better restaurants seem to be geared towards Italian food.
phone: +1 905 495-5555

address: 3088 Mayfield Rd

Real Italian food and great service

phone: +1 905-463-2091

address: 131 Main S N

Great place for breakfast and Portuguese cakes as well as chicken and steaks for lunch and dinner

phone: +1 905-450-9752

address: 50 Queen St W

Good Italian food

phone: +1 905 456-3733

address: 70 Gillingham Dr

Good steaks, but their salads and starters are also delicious.

Turtle Jacks

phone: +1 905-595-0519

address: 20 Cottrelle Blvd

Lively and fun place.
Splurge
phone: +1 905-459-4447

address: 8672 Mississauga Rd

One of the few fine dining restaurants in Brampton. Great food, friendly service and a nice view
Drink
phone: +1 905-453-3063

address: Union St and Market Sq Blvd

Good beer and good simple food. There is a small outside patio away from any traffic noise, but as the name implies, it is next to the train tracks.

phone: +1 905-451-9695

address: 59 First Gulf Blvd

Fun place with live music on weekends.
Sleep
Budget
Mid-range
address: 30 Clark Blvd

phone: +1 905-451-6000

address: 226 Queen St E

phone: +1 905-792-9900

address: 30 Peel Centre Dr

Fairfield Inn

phone: +1 905-874-7177

address: 150 Westcreek Blvd

.
Cope
Fitness
If you want to work out, Goodlife Fitness and LA Fitness offer day passes for $15. If it is your first visit it might also be possible to sign up for a cheap or free trial on their websites.
A cheap and easy option is the community centres where you can just show up and pay the entry fee in cash.
Stay safe
Brampton is a safe city, however be on your guard at night like in any other city. Muggings and assaults may happen.

Go next