Bran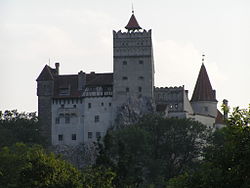 Bran
is a village in southern
Transylvania
, in
Brașov County
. It's famous for Bran Castle, guarding the pass between Wallachia and Transylvania.
Understand
The village is known for Bran Castle, heavily marketed as "Dracula's Castle". In reality it has nothing to do with Count Dracula (or with Vlad Țepeș who lately became identified with Dracula). Nevertheless, the tourists love the idea, and the souvenir shops and tour operators keep up the legend.

Get in
By public transport you'll first need to reach
Brașov
- a train or bus from Bucharest will take about three hours.
Bran is 30 km SW of Brașov on Highway DN73 / E574. Buses run between Brașov Autogara 2 and Bran every 30 mins M-F, hourly Sa & Su. The trip takes 45 min, fare 7 lei (€1.50).
Driving from Cluj-Napoca or Sibiu along the Făgăraş road, you can bypass Brașov by the Highway 73A shortcut into Râșnov.
Get around
Bran is a very small village and everything's in walking distance.

See
Bran CastleHeavily marketed today as "Dracula's Castle", it was built in 1377 to guard the border between Transylvania and Wallachia. It became the property of Brașov city in the late 15th century. At the end of the 18th century, its importance as a guard post diminished. After Transylvania became part of Romania, the castle was gifted to Queen Marie of Romania in 1920, who renovated it. The royal family were expelled when the communists took over and seized everything, but in 2009 the castle was returned to their descendant, Archduke Dominic von Hapsburg.
Do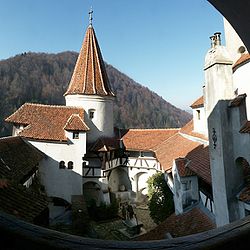 Visit Bran Village Museum in the Castle's park. It presents you pieces of the history of this old Transylvanian village.
Hike in the nearby hills and mountains.
Buy
There is a market near the Castle. The souvenirs are quite "kitschy", but you can get one.

Eat
There is a
Kürtős kalács
place in the center of town, very recommended.
Sleep
There are plenty of pensions and camping places.
phone: +40 0728 269 332
address: Str. Nicolae Bos 45
3-star hotel in Alpine style, in hills towards Predelut. Six rooms with individual bathroom with shower and double size beds, with hotel-type linen and TV cable with TV LCD screen. Every room has a balcony with view to Bucegi Mountains or Magura Branului Hill and from the terrace you can see Bran Castle. The property has also a nice garden with a garden kiosk. Continental breakfast and if more than three rooms are booked they offer a rich breakfast buffet. Free wireless internet.
Go next