Brandon (Manitoba)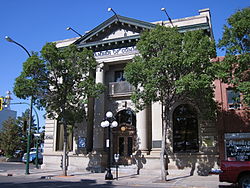 Brandon
is a city of 49,000 people (2016) in
southwest Manitoba
about an hour north of the
North Dakota
border. Brandon is the second-largest city in the province, after
Winnipeg
. Brandon is known as a city that is not too big to be impersonal, but not so small that it lacks the amenities of large cities.
Understand
History
Prior to the influx of people from Eastern Canada, the area around Brandon was primarily used by the Sioux people, the Bungays, the Yellow Quills, and the Bird Tails. In the 1870s and early 1880s, the Plains Bison were nearly wiped out by over-hunting. With the destruction of their staff of life, the buffalo, the nomadic Sioux people began to agree to settle in reserves such as the Sioux Valley Dakota Nation, or left the area entirely.
French Canadians also passed through the area on river boats on their way to the Hudson Bay Post, Fort Ellice near present-day St. Lazare, Manitoba. The city of Brandon gets its name from the Blue Hills south of the city, which got their name from a Hudson's Bay trading post known as Brandon House, which got its name from a hill on an island in James Bay where Captain James had anchored his ship in 1631.
During the 1870s it was believed by most that the transcontinental railway would take a northwesterly direction from Portage la Prairie. Many thought that the route would most likely go through either Minnedosa or Rapid City, Manitoba because they were both located at natural river crossings. Rapid City was the front runner for the site of the new railway and had prepared for the impending building boom accordingly. But suddenly, in 1881, the builders of the railway decided to take a more westerly route from Winnipeg, towards Grand Valley. Grand Valley was located on the northern side of the Assiniboine, opposite the side of the river where present-day Brandon sits.
Grand Valley was settled by two brothers John and Dougal McVicar, and their families. With the expectation of the new railway, settlers and prospectors now rushed to an area they had previously avoided. Around 1879 a few settlers led by Reverend George Roddick had begun to build their new homes about 10 miles south of Grand Valley, at the foot of the Brandon Hills.
Meanwhile, in Grand Valley with the promise of the railway, the town began to boom. Regular voyages were made by steam sternwheelers to the city, each bringing more and more settlers. In the spring of 1881, General Thomas L. Rosser, Chief Engineer of the Canadian Pacific Railway arrived in Grand Valley. It was Rosser's job to choose the townsites for the railway. Rosser approached Dougald McVicar of Grand Valley and offered him $25,000 for the railway in Grand Valley. McVicar countered with $50,000 to which Rosser replied that "I'll be damned if a town of any kind is ever built here". So instead Rosser crossed the Assiniboine river and built the site of the railway on the high sandy south of the River, two miles west of Grand Valley. So the site was then moved to a site just west of today's current First Street bridge in Brandon. A shanty had been built there by a man named J.D. Adamson, and it was on this quarter section Adamson claimed that Rosser chose as the townsite for the CPR Railway and named Brandon.
After the location of the railway was changed again, there was still hope that Grand Valley could become a rival neighbour to Brandon. But late in June 1881 it became clear that Grand Valley would not have lasted as a city long term. A flood hit in late June, and as the city was built on a low-lying part of the river, flooded quickly and dramatically. Because Grand Valley was built on a low flood plain, and Brandon was built on the heights on the other side, it became apparent that Brandon was the best place for a city in the area.
Rosser had chosen Brandon as the townsite in May 1881, within a year settlers had flocked to Brandon in such numbers that it was incorporated as a city.
An internment camp was set up at the Exhibition Building in Brandon from September 1914 to July 1916.

Get in
By plane
Although Brandon has a municipal airport, limited commercial passenger service is available. WestJet Encore provides once daily service to/from Calgary. The
Brandon Air Shuttle
provides daily transportation from Winnipeg International Airport to locations in Brandon. The shuttle will pick up and drop off at any location in Brandon.
Winnipeg International Airport is approximately 200 km to the east of Brandon and is well connected with flights across Canada. Travellers can fly into Winnipeg and then transfer to ground transportation to reach Brandon.
By bus
Brandon is not served by regular intercity bus (as of July 2019).
By car
Brandon is at the junction of the Trans Canada Highway and Highway 10. Highway 10 south is a direct connection to
North Dakota
(USA). The US and Canada customs offices on this highway operate 24 hours. The Trans Canada Highway that goes eastbound to
Winnipeg
or westbound to
Saskatchewan
. It is a four-lane highway.
By train
Via Rail
serves the city of Brandon through the train station in Rivers, 30 km north of Brandon on Highway 10. The Via Station in Rivers is a limited stop service for trains on the Toronto-Vancouver line. There are two trains per week in each direction.
Get around
By public transit
Brandon Transit
operates ten bus routes throughout the city. The Brandon Transit website provides a map of the routes. Buses depart every 30 minutes during peak times and every hour during non-peak times. Limited public transit is available on Sundays.
By taxi
The city has no shortage of taxi companies. Fares are metered and based on rates set by the city.
By rental car
There are two car rental agencies in the city and prices are approximately the same throughout the city. Many rental agency offices are not open on Sundays.
Budget Rent-a-Car, 215 6th Street, +1 204-725-3550
Enterprise Rent-a-Car, 759 1st Street, +1 204-725-1300
See
Do
Thunderbird Bowl8 lanes of fivepin and 12 lanes of tenpin bowling. Home of Huggy's Restaurant, Huggy's Lounge, and Pizza Place.

Wheat City Golf CourseBrandon's most scenic golf course.

Shilo Country Club

address: Shilo, Manitoba

One of Western Manitoba's sternest tests of golf and home of many area tournaments.

address: 8 Deer Ridge Road

A nine-hole golf course with large greens, Deer Ridge offers one par 5 and two challenging par 3 holes. Easy to walk and can be played in under two hours, it is great for both local residents and travellers alike.

address: Keystone Centre

The Brandon Wheat Kings of the Western Hockey League play hockey games from October - April at the Keystone Centre.

address: Brandon University (270 18th Street)

The Brandon University Bobcats volleyball and basketball teams host games on weekends from October - March.
Buy
Brandon Shopper's Mall

address: 18th Street and Richmond Avenue

Brandon's major shopping mall is anchored by Safeway.

The Corral Centre

address: 18th Street at Kirkcaldy Drive

Brandon's first power centre includes Wal-Mart, Safeway, Home Depot, and Michael's. There are several other shops and services.
Eat
Velvet Dip

address: Victoria Avenue at 9th St

One of Brandon's original ice cream shops.

TwistersAn ice cream bar in a retro 1950s theme.

Kam Lung RestaurantBrandon's premier restaurant for Chinese food.

Marino'sHome of the "Marino's Classic", Brandon's best pizza.
Drink
Houstons Country Roadhouse

address: 3000 block Victoria Avenue

This country-like bar features bands and a large dance floor.

address: 943 Rosser Ave

The Double Decker is a tavern featuring a large eating section and a menu full of pub food. They also have a bar section that often features live bands.

Clancy's Eatery & Drinkery

address: 1133 Princess Ave

Clancy's is a two-storey eatery/pub. The upstairs and certain other rooms are designated for eating, while others are designated bar space.
Sleep
Hotels
address: 1125 18th Street

Hotel attached to the Keystone Centre. Convenient if you plan to attend an event at the Keystone.

address: 3550 Victoria Avenue

In the west end of the city.

address: 3130 Victoria Avenue
Bed and Breakfasts
Budget
Go next