Branson
Branson
is in the
Ozarks
and the
southwest region
of
Missouri
.
Understand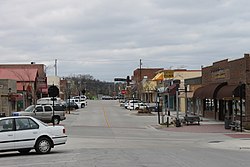 Branson was named for Rueben Branson, postmaster and operator of a general store in the area in the 1880s. The population was 10,520 at the 2010 census. The Branson Micropolitan Statistical Area embraces Stone County and Taney County, both in Missouri.
Today it is sometimes referred to as a "family-friendly Las Vegas" because of the many shows and attractions, the flashy building decorations, and the neon lights. The "strip", as it has been named, draws people from far and wide.
If shows are not your thing then check out one of the three lakes Branson has to offer. Lake Taneycomo's clear cold waters provide some of the finest trout fishing available anywhere in the world. Table Rock Lake and Bull Shoals Lake offer a variety of recreational activities including hiking, sightseeing, hunting, skin diving, fishing, and water sports such as swimming, boating, and water skiing.
Maybe it is golfing that swings your attention. Branson has an array of golf courses sure to please the newest beginner to the most professional golfer.
Get in
By plane
Boone County Regional Airport in Harrison, Arkansas, is closer (31 miles/50 km), but has only one carrier, Southern Airways Express, with service to Memphis and Dallas.
Other options include NW Arkansas Regional Airport in
Bentonville
, 97 miles (160 km) or about a 2-hour drive away though the Mark Twain National Forest (includes some steep curves over hilly terrain—this is the only airport whose land route is through the forest). The nearest major airports are
Tulsa
216 miles, Kansas City 233 miles, and
St. Louis
(Lambert) 255 miles. St. Louis has some international flights, as well as some major tourist attractions of its own to see.
By car
From most locations, take I-44 to
Springfield
, then south on US 65 (exit 82A). From the west, use the US 60/160 connector just before entering Springfield (exit 69).
Get around
In-spite the mind-numbing number of activities here, and occasional bumper-to-bumper traffic, Branson should not be mistaken for a larger city, as it does not have a regular bus system. With this being said, one who is savvy could get around without their own vehicle.
By car
During the week, the congestion isn't
that
bad on Highway 76, and could be especially clear in the afternoons. After all, most shows are in the evening. When driving in weekend or evening traffic, be extra vigilant (lights could be distracting, and thus cause a wreck), consider alternate routes, and allow several minutes of leeway with schedules. Branson has
special "colored" routes
to make driving easier. Knowledge of these can make driving less stressful, and faster.
By train
One could ride the Branson Scenic Train around to out-of-town attractions, which runs on an hourly basis.
phone: +1 417 334-6110

address: 206 E Main St Branson, MO 65616

Scenic excursions to attractions just outside of town
===By taxi===
There are several taxis available, and many different types. On another note, limos may be seen around town as well, although taxis, usually yellow cabs, are the best bet, and are cheaper.
See
The Branson Scenic Railroad operates from the historic Branson Train Depot located downtown. The railroad takes you on a 40-mile (55 km) roundtrip ride through the beautiful Ozark countryside using vintage train engines and cars from the 1930s through 1960s. It also offers nightly dinner trips and a Polar Express tour during November and December.
The Shepherd of the Hills Outdoor Drama is one of the longest-running local attractions. See the events of Harold Bell Wrights classic novel reenacted by a huge cast of actors and stuntmen. During the day you can also visit a recreation of Old Matt's cabin and travel to the top of Inspiration Tower where you can see all the way into Arkansas on a clear day.
Branson has over 50 live entertainment theaters, and the largest Titanic museum in the world. Shows range from singing (Andy Williams for example) to Chinese acrobats. One of the better and more popular shows is Six, 6 brothers who do a variety show including accompanying their songs with the sounds of musical instruments produced by the voices of the brothers.

phone: +1 417-337-8277

address: 3030 West 76 Country Blvd.

The Hollywood Wax Museum is the only wax museum in the country devoted entirely to celebrity figures. Get close to some of the most famous people in show business and step right into the spotlight with icons of the silver screen, recreated faithfully. The Hollywood Wax Museum houses tons of uncanny replicas, from Hollywood stars to television personalities to characters from popular movies.
Table Rock Lake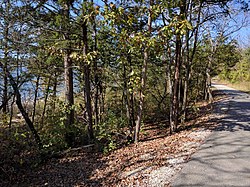 A beautiful stretch of crystal clear blue water, spanning around 50,000 acres (20,000 ha), Table Rock Lake is a reservoir that winds through the Ozark Mountains of northwestern Arkansas and southwestern Missouri. A favorite vacation spot for outdoor lovers of all types of activities, it has become a major tourist attraction of Branson. People from all over the United States come to the area in order to camp, boat, and fish. You can enjoy all sorts of water sports activities, including jet skiing, tubing, scuba diving, and swimming.
Impounded by the Table Rock Dam, which was constructed on the White River by the U.S. Corps of Engineers in 1954 to 1958, the original purpose of the reservoir was to control flooding on the White River, which also flows through Missouri and Arkansas. It had already been established as a prime ground for fishing and recreation as early as the 1930s. However, flooding from the White River had constantly devastated the area. Following the Flood Control Act of 1943, the dam was constructed and the overflow of water from the White River filled the man-made lake now known as Table Rock Lake. The overflow from this reservoir spills downstream into Lake Taneycomo, the cold water of the reservoir creating a trout fishing environment for the lake.
As Table Rock Lake is a big fishing area, a lot of fishermen are attracted to the place. Moreover, the lake boasts a wide variety of fish in abundant supply. Some of these fish include bass, catfish, white bass, crappie, and bluegill. An aggressive fish management program has also been implemented in the area, seeing a resurgence of smallmouth, Kentucky, and largemouth bass of exceptionally large size. This has led to even more fishermen flocking to this site, both professional and recreational fishermen.
Surrounding the lake are lands for public use, which draw many people who enjoy nature and hunting. The scenery is exquisite, and portions of the Mark Twain National Forest are located on these lands. Table Rock State Park also borders the shoreline of Table Rock Lake.
Do
phone: +1 417-239-1900

address: Point Lookout

Visit this unique liberal arts college that has a variety of on site historical attractions. Sights to see are all student-run facilities: the Keeter Center, Williams Memorial Chapel, the Ralph Foster Museum, Fruitcake and Jelly Kitchen, and Edwards Mill.

phone: +1 417-335-2777 ext 7107

address: 612 Devil's Pool Rd

Located at Big Cedar on Table Rock Lake, this stable offers a variety of activities and events including: pony rides, horseback rides, carriage rides, campfire wagon tours & holiday light tours.

phone: +1 417 335-2777

address: 612 Devil's Pool Rd

Part of Big Cedar, this Jack Nicklaus signature golf course is located at Table Rock Lake, just outside of Branson. The Par 3 course is also part of the Audubon Cooperative Sanctuary Program.

phone: +1 417-339-5201

address: 612 Devil's Pool Rd

This spa near Branson offers a variety of services including luxury spa treatments, nail service, certified personal trainers. Treatments for guests under 15 years old are also available.

phone: +1 417-334-1897

address: 601 State Highway 165

Located on highway 165. Take the free tour of the winery and enjoy free samples of their locally produced wines and grape juice for the kids.

phone: +1-800-888-7277

address: 399 Silver Dollar City Parkway

The most popular attraction in Branson, Silver Dollar City is a family theme park similar to "Dollywood" in Tennessee. The park has a consistent "1800s America" theme. While the main focus of the park is on food, souvenirs and live performances, the park has many rides and play areas for children, and a few high-quality roller coasters for thrill seekers, such as Outlaw Run, one of the world's steepest and most daring wooden roller coaster, and Time Traveler, the world's fastest, tallest, and steepest spinning coaster. The number one feature of the park is a giant, sparkling cave that takes hourly tours named Marvel Cave. Quite a lot of money would be spent if one wants to experience the wide variety of food and products at the park, and will most likely need to spend more than one day there to experience everything.
The Branson Belle is a river boat that was built next to Table Rock Lake and has lunch and dinner cruises with entertainment.
Riding the Ducks is also very popular. They are World War II amphibious vehicles that take you around town and then into the lake for a short cruise.,
Buy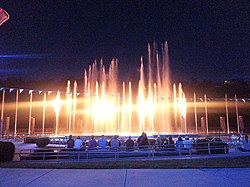 Branson LandingAnchored by Bass Pro Shops and Belk, it has 100 stores and several restaurants. Check out the huge waterfront fountain in the central square where every 30 minutes you can see choreographed fire, water, and light shows set to music. Also nearby is the Branson Hilton and Convention Center. Check out Bass Pro's huge indoor aquarium stocked with native fish species.

Dick's 5 and 10Located in downtown Branson. Take a step back in time and visit Dick's 5 and 10. Lots of hard to find old-timey trinkets and collectibles.

Gifts of DistinctionLocated at the Branson Landing

phone: +1 417 335 6862

address: 2800 W 76Country Blv Suite 205

Peter Engler has had a woodcarving shop in Branson since 1962, representing over 150 artists spanning folk art to fine art, woodcarving to pottery.
There are 3 outlet malls with over 200 stores.
Vintage Paris Wine/Coffee Shop

phone: +1 417-239-0399

An adorable little coffee and wine shop where you can sip, shop and even sit and enjoy a latte or glass of wine on the inviting leather couch.

phone: +1 417-339-3003

address: 1600 W. Hwy. 76

Having entertained audiences around the globe for the past 28 years, Legends In Concert brings glitz, glamour, exciting choreography and high energy to the stage with tribute performances by Michael Jackson, Bette Midler, Alan Jackson, The Temptations, George Strait, Dolly Parton, the Blues Brothers, and Elvis Presley!

phone: +1 417 337-9328

address: 300 Tanger Blvd

Outlet Mall with various mid-range price stores such as Banana Republic and Nike.
Eat
Budget
phone: +1 417-337-5527

address: 963 St. Hwy 165

Excellent pulled pork sandwiches and burgers.

phone: +1 417-334-4858

phone: +1 417 335-5054

address: 3250 Falls Parkway

Grand Country BuffetA wide selection of well prepared food. Total cost for 2 is around $14.

phone: +1 417 239-1348

address: 158 Pointe Royale Dr
Mid-range
phone: +1 417-335-2777

address: 612 Devils Pool Rd

Located at Big Cedar, this bar near Branson features live entertainment, specialty drinks, comfortable indoor/outdoor seating and a great selection of sandwiches and salads.

phone: +1 417-335-2777

address: 612 Devil's Pool Rd

This casual dining restaurant, located at Big Cider, features southern home-style fare in a comfortable, rustic setting. Breakfast buffet and Champagne Sunday Brunch available. Sunday Brunch (10AM-2PM), Breakfast (7-11AM), Lunch (11AM-2PM), Dinner (5-9:30PM), Breakfast Buffet (Saturday/Sunday only)

Fall Creek Steak & Catfish House

phone: +1 417 336-5060

address: 997 Missouri 165

"Home of the Tossed Rolls". Full service dinner options: hand-cut steaks, hand breaded catfish, beef brisket, ribs.

Rocky's Italian Restaurant

phone: +1 417-335-4765

address: 120 North Sycamore St

Family-owned and -operated Italian restaurant within walking distance of Branson Landing. Some of the best Italian food in town. They also have very affordable lunch specials.

The Rowdy Beaver Restaurant & Tavern

phone: +1 417-334-7409

address: 1810 West 76 Country Blvd

Typical sports bar restaurant.

The Shack Cafe

phone: +1 417-334-3490

address: 108 South Commercial St

Located downtown. A local favorite for years, famous for their fried chicken and rotating daily specials.

Truman Smokehouse

phone: +1 417-335-2777

address: 612 Devil's Pool Rd

A specialty shop at Big Cedar offering freshly baked pastries, sandwiches and sides. Open for breakfast, lunch and dinner throughout the summer. Wireless internet available.

phone: +1 417-335-2777

address: 612 Devil's Pool Rd

This Missouri steakhouse at Big Cedar features USDA prime steak, freshwater fish and seafood and extensive wine list. Rooms available for small celebrations or family gatherings.
Splurge
phone: +1 417-334-3633

address: 127 Taney St

Located on the hill above Branson Landing. Fine dining overlooking Taneycomo and downtown Branson.

phone: +1 417-334-6062

Upscale Mexican restaurant located at Branson Landing. Try the fresh guacamole made tableside.

Charley's Grilled Subs

phone: +1 417-337-7334

Located at Branson Landing. Excellent cheesteaks.

Dolly Parton's Dixie Stampede Dinner and ShowDixie Stampede provides dinner and live entertainment including wild west riding with excellent food and beverages.

Ernie Biggs Dueling Piano Bar and Grille

phone: +1 417-239-3670

address: 505 Branson Landing Boulevard

Non-smoking, 21-and-up facility.

phone: +1 417-334-4858

phone: +1 417-335-3701

phone: +1 417-337-7373

Located at Branson Landing. Very affordable happy hour specials.

phone: +1 417-339-1010

address: 2900 West 76 Country Blvd

phone: +1 417-334-6777

phone: +1 417 336-2244

address: 150 Terrace Rd

Shogun Steakhouse prepares your food right at the table. Shogun steakhouse is a favorite among Branson restaurants, and one of Branson's unique dining experiences.

phone: +1 417-335-2777

address: 612 Devil's Pool Rd

Located on the Top of the Rock Golf Course at Big Cedar, this restaurant features homemade pastas, Signature Rotisserie Chicken and grilled steaks and seafood.

phone: +1 417-348-1759

Located at Branson Landing. Authentic Irish pub with live music on the weekends.

phone: +1 417-243-5100

address: 5 Bass Pro Dr

Located at Branson Landing.
Sleep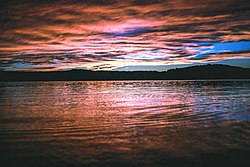 1000 Hills Stay a few nights in comfortable Thousand Hills cabins in Branson
Branson has a plethora of condos. You can get a nice condo for $100/night or less. There are also many motel rooms generally for $25–40/night during the winter season.
Budget
Mid-range
Splurge
address: 612 Devil's Pool Rd

A family-friendly resort on Table Rock Lake. The resort offers a variety of accommodation options including lodges and private cabins. Featured on-site activities include fishing, golf, horseback riding and hiking.
Connect
Branson Missouri is in the (417) area code and the 65616 postal zip code.
And then there are
local radio stations
to consider listening to.
Go next