Brantford
Brantford
is a former industrial city of 97,000 people (2016) on the Grand River in
Southwestern Ontario
. "The Telephone City", it is where Alexander Graham Bell said he invented his telephone, and from where he placed the first long-distance call to nearby
Paris (Ontario)
. His Tutela Heights home, south of the city, is an international tourist attraction.
Understand

Brantford is named after Joseph Brant, an important Mohawk First Nations (Aboriginal) chief during the American Revolutionary War and later, who led his people in their first decades in Upper Canada. Many of his descendants, and other First Nations citizens, live on the nearby Reserve of Six Nations of the Grand River, 20 km from Brantford; it is the most populous reserve in Canada.

History

The Iroquoian-speaking Attawandaron, known in English as the Neutral Nation, lived in the Grand River valley area before the 17th century; their main village and seat of the chief, Kandoucho, was identified by 19th-century historians as having been located on the Grand River where present-day Brantford developed. This community, like the rest of their settlements, was destroyed when the Iroquois declared war in 1650 over the fur trade and exterminated the Neutral nation.
In 1784, Captain Joseph Brant and the Mohawk people of the Iroquois Confederacy left New York State for Canada. As a reward for their loyalty to the British Crown, they were given a large land grant, referred to as the Haldimand Tract, on the Grand River. The original Mohawk settlement was on the south edge of the present-day city at a location favourable for landing canoes. Brant's crossing (or fording) of the river gave the original name to the area: Brant's ford.
The area began to grow from a small settlement in the 1820s as the Hamilton and London Road was improved. By the 1830s, Brantford became a stop on the Underground Railroad. From the 1830s to the 1860s, several hundred people of African descent settled in the area around Murray Street, and in Cainsville. In Brantford, they established their own school and church, now known as the S.R. Drake Memorial Church. In 1846, it is estimated 2000 residents lived in the city's core while 5199 lived in the outlying rural areas.
By 1847, Europeans began to settle further up the river at a ford in the Grand River and named their village Brantford. The population increased after 1848 when river navigation to Brantford was opened and again in 1854 with the arrival of the railway to Brantford.
Because of the ease of navigation from new roads and the Grand River, several manufacturing companies could be found in the town by 1869.

Get in
By road
Brantford is on Highway 403 at Highway 24, 90 minutes from Toronto, 45 minutes from downtown Hamilton, accessible by several major roads. For downtown, exit at King George Rd./Fairview Dr.
From the west, Highway 403 comes from Woodstock.
Highway 24 comes south from Cambridge, and north from Simcoe.
By coach
Brantford Transit terminal is at 64 Darling St. in downtown Brantford.
Greyhound Canada has intercity service to Toronto, Hamilton, London, Windsor and other cities.
GO bus service between downtown Brantford and Aldershot GO Station in Burlington, stopping at McMaster University.
All Around Transportation operates a Paris–Brantford shuttle bus.
By train
Brantford station is just north of downtown Brantford.
Via Rail
has daily passenger trains on the Quebec City-Windsor Corridor. Trains also stop at Union Station in Toronto.
By plane
Brantford Municipal Airport is west of the city. The John C. Munro Hamilton International Airport in
Hamilton
is about 35 km east of Brantford.
Toronto Pearson International Airport
is in Mississauga, about 100 km northeast of Brantford.
Get around
phone: +1 519-753-3847

9 regular routes operating on a half-hour schedule from the downtown Transit Terminal on Darling Street, with additional school service.

City Taxi

phone: +1 519-759-7800

Brant Taxi

phone: +1 519-752-1010

Bell City Cabs

phone: +1 519-759-1300
See
Alexander Graham Bell Homestead

phone: +1 519-756-6220

address: 94 Tutela Heights Rd.

The location of the invention of the telephone, Bell's house, now a museum, has been restored to its 1870s appearance and also includes an exhibit illustrating history of the telephone.

Her Majesty's Chapel of the Mohawks

phone: +1 519-756-0240

address: Mohawk Street

This was the first Protestant Church built in Ontario, and the first Royal Chapel to belong to First Nations (Aboriginal) people. It was built by the British Crown in 1785 for the Mohawk and Iroquois people (Six Nations of the Grand River) was dedicated in 1788 as a reminder of the original agreements made with the British during the American Revolution. In 1904 the chapel received Royal status from King Edward VII in memory of the longstanding alliance. It is a spiritual and restful place and it is calming to roam the peaceful graveyard which surrounds the chapel. Joseph Brant and his son John Brant are buried here.

Chiefswood

address: Highway 54

Brantford was the birthplace and home of Aboriginal poet E. Pauline Johnson, and her home is now a National Historic Site.

Canadian Military Museum and the Vintage Motorcycle Museum

phone: +1 519-759-1313

address: 794 Colbourne St

Here you will discover Canada's military history, from the United Empire Loyalists of the 1700s, to the peace keepers of today. There are artifacts from the war of 1812, the South African War, and World Wars I & II. Motorcycle enthusiasts will enjoy the Motorcycle Museum which is also on the site.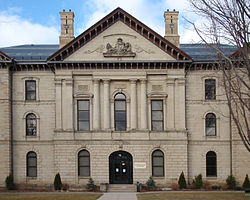 Brant County Courthouse

address: Wellington Street between George Street and Market Street

The stone and brick courthouse was built on land purchased from the Six Nations in 1852. The structure housed court rooms, county offices, a law library and a gaol.

phone: +1 519-753-8825

address: 13 Alma St

History of personal computers, with over a thousand early microcomputers from the 1970s and 1980s. Open one Saturday a month, seasonally, or by appointment.
Do
Brantford's location along the Grand river makes it an excellent spot for water activities, especially canoeing and Kayaking.
Brantford hosts the Annual Gretzky Hockey Tournament in which teams from North America and sometimes Europe come to compete.
Brantford has a junior B hockey club called the Brantford Golden Eagles who play at the Civic Center located on Market Street. The senior team for Brantford is called the Brantford Blast; they also play at the Civic Center. You can watch these games for a ticket price ranging from $5–15.
Brantford also has a baseball club called the Brantford Red Sox which play at Arnold Anderson Stadium at Cockshutt Park. You can also watch these games for a fair price.
Ggreat plays and musicals at the Sanderson Centre on Dalhousie Street, across from Harmony Square.
The Ford Plant was founded in 2003, and is Brantford's most popular music venue. Numerous bands have played there, and they continue to put great shows on. The general admission is usually ranging from $5–15 depending on the bands which are performing.
There are also many festivals during certain seasons of the year and a cinema which is on King George Road at the plaza.
The Tourism Centre for Brantford is off of Wayne Gretzky Parkway close to the Lynden Park Mall.
Festivals
For a detailed guide check the
Brantford Events Calendar
.
Presented by the Kinsmen Club of Brantford. Come on out to "Ribfest" this August at the beautiful Cockshutt Park in Brantford, Ontario. Enjoy great music, crafts, and most importantly, some of the best rib makers in North America!
Brantford International Villages Festival in July Four Fabulous Days of Culture! Each location/hall is where the various ethnic communities of Brantford are ready to entertain you. Your four-day passports or one day pass gives you access to all villages. Free transportation between Villages enables you to sample and explore the diversified cultures of our community. You will enjoy continuous cultural entertainment including music, dancing, unique cuisine and beverages plus cultural displays of costumes and history.
Buy
Lynden Park Mall at 84 Lynden Road is Brantford's only mall with more than 10 stores. It is a fairly sized mall with numerous stores, and only one level. Parking is all around the mall.
Eat
Drink
There are numerous bars in Brantford where you can go for a drink. The downtown core alone has most of them.
The Rodeo Bar & Grill which is across from the Royal Bank is a bar where University students come on Tuesdays for dollar beer night. Also they host dollar beer night on Thursdays and Sundays.
Boston Pizza, though a restaurant in most cities, is a very popular bar in Brantford that is packed on weekends and even has a bouncer to keep out the rowdy ones.
Piston Broke is a more expensive bar, but is also frequented by youths and students during the weekends.
Alexander's is a bar on Market Street close to the train station. This bar has music shows almost every weekend, and is a great place to socialize and get to know people.
Brando's and Two Doors are bars that are side to side and are very popular among youth and students in Brantford. The occasional drunken bar fight will happen, but it is generally safe.
Club NV is on Colbourne Street, you can't miss it. It is most popular during the school year as university students are let in for a cheap price or free. They hold University and College nights for students who have come to school in Brantford.
Ignite is a club on St. Paul Ave, by the Dairee Delight.

phone: +1 519-753-6510

address: 16 Market St.

Live bands, guest DJs and great food and martinis.
Sleep
Budget
phone: +1 519-756-5261

address: 797 Colborne St

24 rooms, outdoor pool, a Robin Hood-themed restaurant with weekend buffet, Wi-Fi, refrigerators, microwaves.

Bell City Motel

phone: +1 519-756-5236

address: 901 Colborne St

phone: +1 519-756-4004

address: 780 Colborne St
Mid-range
Stay safe
Brantford is a dangerous city during the night hours. From the Lorne Bridge down to Stanley Street is where most of the crime takes place. Assaults and robberies are common in these areas, as in Eagle Place which is located east of the downtown core. Police presence is most frequented in these areas; drunken bar fights are an every night thing in Brantford on the weekends, and sometimes week nights. The Brantford downtown has come a long way since the year 2000; the city has put money into the downtown core, and continues to build new buildings and more local friendly attractions. Wilfrid Laurier University is across from the Eaton Square, which is in the downtown core. Police have stepped up and cut down crime since Maclean's magazine ranked Brantford 11th worst city in Canada for its crime rate. If you take the necessary precautions and walk with groups you will unlikely encounter any problems, but if you are alone you may be target for criminals or drug addicts looking for their next fix.

Go next