Brattleboro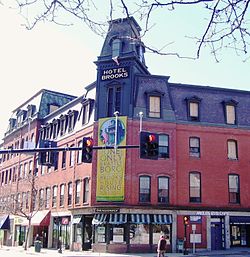 Brattleboro
is a town of 12,000 people in southern
Vermont
. From points south, it will most likely be the place for travelers to begin their exploration of Vermont.
Understand
As a Connecticut River town in southern Vermont, Brattleboro benefited greatly from the easy availability of water and water power, and thus has been a prosperous town since the 18th and 19th centuries, as shown by the extraordinary collection of beautiful buildings in various styles that survive from those days and the first few decades of the 20th century. Only a very small selection of them are shown in this article.

Get in
By car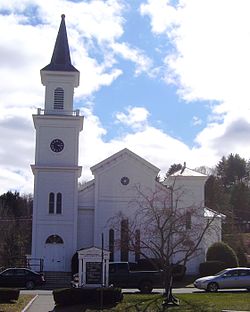 By bus
Greyhound, terminal at 1102 Putney Rd, near exit 3 on route 91.
By train
The town is served by the
Vermonter
, a daily
Amtrak
train which goes south to
New York
and
Washington, D.C.
and north to
St. Albans
. is located at 10 Vernon Rd, a short walk south from downtown.
Get around
For getting around the center of town, all you should need are your feet. Amble around the streets, stop at some shops, and just take your time. For getting out the town, a car would be the best way to go. Be aware that traffic in downtown Brattleboro can resemble that found in cities orders of magnitude larger, in part due to a long term construction project on I-91 that causes people to leave the highway, but more due to all the major streets feeding into Main St in the center of town. Driving within the center should be avoided and parking all day is quite cheap (under $10). If you are in the mood, though, rent a bike at the Brattleboro Bicycle Shop located downtown at 165 Main St.

See
Gallery WalkThe first Friday of each month from 5:30PM-8:30PM. Shops and galleries are open and people come to see the sights. A good way to get a feel for the locals. See the fashion show at Twice Upon a Time, a local consignment shop.

Brattleboro Museum and Art Center

phone: +1 802 257-0124

address: 10 Vernon St

Small museum with consistently changing exhibits since they have no collection. Current admission ranges from $4 for students to $8 for adults. Free for kids under 6.
Do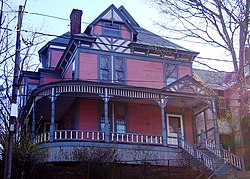 Buy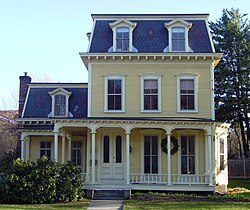 phone: +1 802 254-8160

address: 25 Elliot St

Small new-book store with a social justice focus, although they carry a little bit of everything.

phone: +1 802 257-7777

address: 36 Elliot St

Tightly packed store selling used and rare books.

Harmony Underground

phone: +1 802 257-8080

address: 26 Harmony Pl

phone: +1 802 258-2211

address: 119 Main St

In a small town that already has three other bookstores, you wouldn't expect a store selling only new mystery novels to survive, but Brattleboro is not your average town.

Penelope Wurr

phone: +1 802-246-3015

address: 167 Main Street
Eat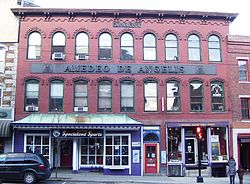 Blue Moose Bistro

phone: +1 802 254-6245

address: 39 Main St

The cafe has the standard assortment of coffee, espresso, and tea, plus a decent selection of gourmet sodas and juices. The baked goods are quite good. The food is great with lots of vegetarian options and is moderately priced. The area is well lit and a good place to read, surf online, or study. The only downside is that they play cheese-ball music. It does not get in the way of conversations or interrupt studying. Cell phone conversations are not encouraged inside the store or cafe, which is nice. The cafe has free Wi-Fi with purchase.

phone: +1 802 257-0236

address: 2 Main St

Healthy foods at reasonable prices, in a relaxed and friendly environment. Staff is knowledgeable and eager to help shoppers in any way that they can.

Kipling's Restaurant & Pub

phone: +1 802 257-4848

address: 78 Elliot St

Kipling's is a homely little restaurant with a few booths and a bar where you can get a decent burger or the standard pub fare.

Three Stones (Mexican/Mayan Cantina)

phone: +1 802 246-1035

address: 105 Canal St

Maybe the best restaurant, or at least the most interesting restaurant, in Brattleboro. All the food is fantastic and the atmosphere is great. They have a good selection of Mexican cervezas and wines to accompany the amazing food. All the food is authentic Mayan/Mexican food and they use a lot of local and organic ingredients.

Amy's Bakery Arts Cafe

phone: +1 802 251-1071

address: 113 Main St

Amy's has great food and baked goods, plus they have the standard coffee shop items. The area in the back is a nice place to sit and over look the river. Overall, a great place and one of the most popular lunch spots in Brattleboro.

Echo Bar and Lounge

phone: +1 802 254-2073

address: 73 Main St

Trendy wood-fired pizza place downtown. Echo offers salads and some sandwiches in addition to their pizza options. To wash down your pie, you can choose from a small, but high-quality selection of beers, many of them local.

T. J. Buckley's

phone: +1 802 257-4922

address: 132 Elliot St

By far the fanciest and most elegant dining in Brattleboro. The restaurant is housed in an old diner. The location is a little off the beaten track, but only by a block or two.

phone: +1 802 258-9178

address: 632 Putney Rd

Top of the Hill Grill serves hickory smoked beef brisket, pulled pork and ribs, smoked turkey, grilled chicken and fresh ground burgers. Also, homemade sides – always from scratch and always fresh – include coleslaw, corn bread, baked beans, roasted potatoes and root vegetables, pasta and potato salad. Great BBQ.

phone: +1 802 254-8399

address: 487 Marlboro Rd

A vintage 1938 Worcester diner. Decor and food speak of times gone by with Daily Blue Plate Specials, generous portions and extremely friendly pricing. The cuisine is probably best described as "high-end home style". Authentic Mexican fare served Tuesday through Saturday evenings, prime rib Friday and Saturday nights, real mashed potatoes, homemade soups, breads, pies and desserts. Breakfasts are served all day and they are a feast, with homemade pancakes and Belgian waffles, eggs Benedict, and the diners' specialty "Cajun Breakfast Skillet" making for some tough choices. The menu also offers an array of sandwiches, pizza, and a kids menu. Take-out is available for every item. April through October is the season for the Royal Soft Serve Stand, featuring Columbo Nonfat Frozen Yogurt, 10 flavors of soft-serve daily, and the Royal's Homemade "Royal Madness" Ice Cream. There's lots of classic eats too, such as footlong hotdogs with fries, and double cheese burgers.

Elliott Street Cafe

phone: +1 802 246-1251

address: 134 Elliot St

Great Mexican inspired breakfast and lunch. Very basic set up, very good food. Lots of vegetarian options. They cook all their dishes from scratch, with the highest quality and local ingredients they can find. They are committed to supporting local, sustainable food systems, and a strong local economy. They also have ping pong and host performances.

Superfresh Organic Cafe

phone: +1 802-579-1751

address: 30 Main St.

A wonderful vegan, gluten free, organic cafe. They have amazing baked goods and smoothies. Quaint and welcome space.
Drink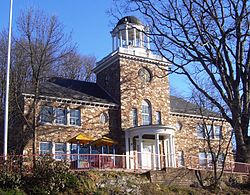 McNeill's Brewery

phone: +1 802-254-2553

address: 90 Eliot Street

A full service drinking establishment located in downtown Brattleboro on Elliot Street in an old firehouse that is across the street from the actual firehouse. As for the full service concept, McNeill's provides glasses and will even pour beer into your glass for you for a small charge. They can also put beer in a growler for you (a deal at 10 bones with refills for just 8). They also have some pub food that is better than just edible. And darts. And that game with a ring on a string that you swing and catch on a hook, which is surprisingly difficult even before a few beers. If it's possible to have a "dive brewery," this is it. Cash Only.

Kipling's Restaurant & Pub

phone: +1 802 257-4848

address: 78 Elliot St

Kipling's has standard pub food and a decent selection of beer. A nice place to stop and get a beer, hang out with friends, etc. Kipling's isn't as trendy as Flat Street Brew Pub and lacks the character and charm of McNeill's, but Kipling's make up for that by being the warmest, friendliest, and most "down-to-earth" bar in Brattleboro. The waitress is really nice too. Cash only.

phone: +1 802 258-6529

address: 19 Elliot St

The Weathervane is a unique place. They offer live music (sometimes it's a DJ) 5 to 7 nights a week. It's a favorite hangout of Brattleboro townies.

Metropolis Wine Bar

phone: +1 802-254-8500

address: 55 Elliot St

Metropolis Wine Bar is a nice spot if you want a cocktail or a glass of wine. Sometimes they have DJ and dancing and sometimes they host art showings.

phone: +1 802 257-2337

address: 29 High St

Brewery in the former home of Blue Moose Cafe, an old auto warehouse on High St. Hermit Thrush is dedicated to sours and Belgian-style beers, even producing a sour IPA. They only offer growler fills and sample flights due to licensing requirements. There are usually at least 8 beers to try and you can chat with the owners in the rustic wood and brick taproom.

phone: +1 802 257-7794

address: 82 Main St

Mocha Joe's is a tiny basement coffeeshop that has a full menu of espresso drinks and a small selection of baked goods. They roast their own coffee, which you will find for sale in stores around the region. The shop is split into two rooms, one for ordering and a seating area with a mix of tables and a comfortable couch in the back. The walls feature a rotating art display with pieces available for purchase.
Sleep
phone: +1 802 254-6300

address: 50 Main St

Definitely the nicest hotel in Brattleboro. Plus it's right downtown and close to all the good stuff that downtown Brattleboro has to offer. Prices go up on the weekend and during the fall foliage season.

Quality Inn and Conference Center Brattleboro

phone: +1 802 254-8701

address: 1380 Putney Rd

Pet-friendly. On-site restaurant, pools, sauna, and fitness center. Provides free wifi and extended stay amenities and services.

phone: +1 802 254-2360

address: 515 Canal St

Budget chain hotel by I-91.

phone: +1 802 257-7733

address: 889 Putney Rd

Very affordable independent motel with an attached tavern.

Lamplighter Inn Motel

phone: +1 802 254-8025

address: 1336 Putney Rd

phone: +1 802 254-6007

address: 1254 Putney Rd

Budget chain hotel neat I-91 exit 3.

phone: +1 802 254-8889

address: 1043 Putney Rd

Budget chain hotel.

phone: +1 802 579-1905

address: 43 Clark Street

The One Cat is a small, friendly bed & breakfast five minutes' walk from downtown. Rates include taxes, a full breakfast catering to all diets, use of a small-but-well-stocked library and the breakfast room, which doubles as a place to relax on a rainy day or stormy night. The One Cat offers a discount to guests taking the train. Check the website for unadvertised specials, more information, policies and lots of photographs. Rates go up on weekends and in high season.
Connect
Go next
Keene
,
New Hampshire
is about 40 minutes' drive via US Route 5 North and State Route 9 East, and has more pretty buildings for you to see.