Breda
Breda
is a city in the Dutch province of
North Brabant
. It has a long history as a military stronghold and army base. Still today, important parts of the Dutch military still reside here. The military character is still at the heart of town, as the national Dutch Military Academy resides in the historic Castle of Breda, right in the centre of the old town.
Understand
The VVV has 2 offices in town. The primary one is across the train station, but there's a smaller office with more limited opening hours on the Grote Markt.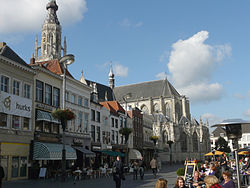 Get in
By plane
Breda does not have a commercial airport, but thanks to the excellent public transportation system of the Netherlands, it can be reached easily from numerous airports in the Netherlands and even in Belgium.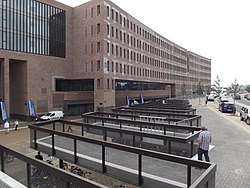 By train
Breda is a major railway hub. Two railway lines meet at the Breda station - the north-south line from
Rotterdam
to the
Belgian
border, with further extensions to
Amsterdam
,
Schiphol Airport
and
The Hague
, and the east-west line branching out in Breda through
Tilburg
towards
Eindhoven
and
's-Hertogenbosch
. The latter connects to branches going to
Utrecht
,
Arnhem
,
Nijmegen
and
Zwolle
. A variety of trains, including frequently stopping
Sprinters
, traverse those lines connecting Breda not only to those major cities but also many smaller stations along the way, such as
Delft
. Pretty much all of the Netherlands can be reached from Breda by trains with one train change.
High-speed premium
Intercity Direct
trains connect Breda to
Amsterdam
,
Schiphol
and
Rotterdam
without intermediate stops. As of 2018, Breda once again has direct international connections to
Antwerp
and
Brussels
, eliminating the need to change in
Roosendaal
along the way.
Train schedules and ticket prices can be found on the
Nederlandse Spoorwegen website
.
By car
From
Amsterdam
, Breda can be reached by taking the A2 to Utrecht and then the A27. Breda is less than a 90 minute drive from the three main ferry ports in Holland. From
Rotterdam
, Breda can be reached by taking the A16 to Breda, which will take about 30 to 40 minutes.
By boat
P&O Ferries
operates overnight ferry service between
Hull
,
England
and
Rotterdam
, the nearest port to Breda. The journey takes 12 hours.
Get around
On foot
The city centre and most of the sights are easy to discover on foot.

By bike
Alternatively, biking is a good option, and bikes can be rented at the train station bike parking.

By bus
The city bus is another option, circling through town.

See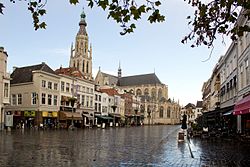 Grote KerkBuilt in the Brabantine Gothic style in the 15th and 16th centuries, the church dedicated to Our Lady (as Virgin Mary is most often referred to in the Netherlands) boasts a tower of almost 100 metres and one of the largest organs in the country. Inside you will find in. al. the Prinsenkapel, where members of the Orange-Nassau family had been buried until the city of Breda fell to the Spanish.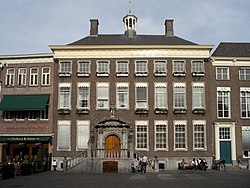 Old city hallCompared to the large church, the city hall standing at its back in a wall of buildings lining up the elongated Grote Markt is inassuming at best. Apart from being a neat example of Dutch 18th century architecture, quite ascetic compared to the raging rococo found in many other countries at that time. The building is now a historic monument and home to several works of art as well as tourist information, but the actual municipal facilities have been moved to a modern building on Claudius Prinsenlaan.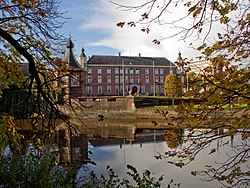 Castle of BredaThe castle originates in the 14th century and was substantially renewed in Renaissance style around 1540. Unfortunately, the castle is not available for visitors as it is home to the Military Academy since 1826, but of course it can still be admired from the outside.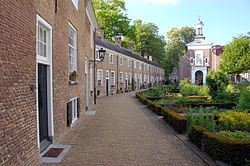 address: Entrance is at the Catharinastraat

Even though it lies right in the middle of the bustling city centre, much of the historic peace and tranquillity remains in this former Béguinage. Today, although no beguines remain, the small houses around the charming courtyard are still inhabited by single ladies. There's a herb garden and a small museum at nr. 29, which is a side branch of the much larger Breda's Museum.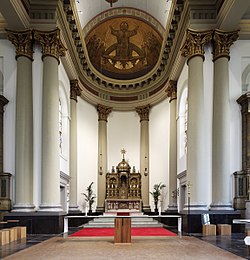 Sint-AntoniuskathedraalNestled in a side street (incidentally named after Saint John), the cathedral church of the long-standing diocese of Breda is much less imposing than the Grote Kerk, but quite unique in that it is a 19th-century creation built in neoclassical style, both inside and out, which is a relative rarity as far as cathedrals go, especially in the Netherlands.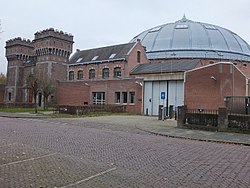 Koepelgevangenis

address: Nassausingel 26

A panopticon-style prison, whose name refers to the cupola topping the round building with prison cells stacked in rounds on the outside walls around a large covered courtyard. It is this prison that held the "Breda four" - the only German prisoners of war that served their sentences after the Second World War in the Netherlands for war crimes committed. The prison building complex is no longer in use and a national monument, but generally is not open for sightseeing.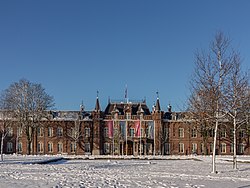 Museums
The city has a number of museums worth noting.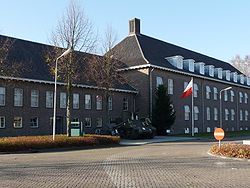 phone: +31 76 527 40 89

address: De la Reijweg 95, Breda

This museum is dedicated to the 1st Polish Armoured Division, which under the leadership of General Stanislaw Maczek liberated important areas of the Netherlands in 1944 and 1945. (Military area; identification is required.)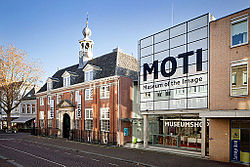 phone: +31 76 529 99 00

address: Boschstraat 22, Breda

Wrong language! Museum Breda is het museum voor erfgoed en geschiedenis van de stad Breda en voor actuele beeldcultuur. Het museum komt voort uit Breda's Museum en MOTI, Museum of the Image.
De geschiedenis van Stedelijk Museum Breda gaat terug tot 1903, toen het eerste gemeentelijke museum werd opgericht. Sinds die tijd is een rijke en gevarieerde collectie opgebouwd, gericht op ontwikkelingen in en om de stad. Daarbij hebben zich deelcollecties gevormd over thema´s als religie, het leger en de industrie. Het museum heeft ook een omvangrijke beeldende kunstcollectie en verzamelingen van grafische vormgeving en digitale beeldcultuur.

phone: +31 76 521 41 56

address: Ginnekenweg 76, Breda

(War and Peace Museum)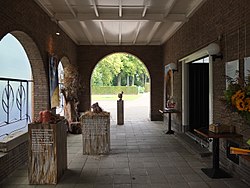 phone: +31 76 514 01 21

address: Dreef 36, Breda

phone: +31 76 522 09 75

address: Haagweg 375, Breda

This museum shows a permanent exhibition of mainly enamel signs (+/- 1000 pieces) and antique posters of old beer adverts. It is said to be the largest collection in The Netherlands or perhaps in Europe.

Heemkundig Museum Paulus van Daesdonck

phone: +31 76 561 27 42

address: Pennendijk 1, Ulvenhout
Do
Get a guided tour through the old moats of Breda. There's plenty of stories behind the historic façades. Book ahead via the tourist office. Alternatively, they sell a Dutch language booklet called "Historische Kilometer", which (if you can understand it) allows you to walk around yourself and still read up on the historic backgrounds.
Visit the old neighbourhood Zandberg and Ginneken, just south of the Wilhelminastraat. It has lots of old merchants' houses and on the south end you will find the Mastbos, one of the nicest forests in the Netherlands.
Rent a canoe and make your own way through the Breda canals. On Saturday and Sunday you can rent one from the starting point at Spanjaardsgat without reservation. For other days, reservations are required and bookable via the tourist office or via the Beleef Breda website
Head out for a picnic in Park Valkenberg, a large and pleasant park halfway between the trainstation and the Grote Markts.
If you have a smartphone, you can enjoy walking around the city with free audio tours, published on izi.TRAVEL platform.
Buy
Breda is a well known shopping city in the Netherlands. In the old city centre you can find lots of clothing shops. You should visit the Wilhelminastraat. It is located just south of the city centre and hosts lots of exclusive shops. It has a very rich and nice atmosphere

Eat
There's a wide choice of restaurants available throughout the centre. The best places to search are around the historic market squares: the
Grote Markt
, the
Havermarkt
and the
Veemarktstraat
all have a number of nice establishments. Some good options are:
address: St. Janstraat 4

Small but busy restaurant. They don't take credit cards. Rather than "starters" and "main courses", they have portions which are somewhere in between, for €8.50 each.

phone: +31 76-51 51 340

address: Ginnekenweg 35

Call ahead, as this ambitious place gets raving reviews and is regularly booked full. It offers fine dining French cuisine in a modern restaurant. The service is good too. Menu's start at €36,50, but if you're out for a splurge, try the 7 course tasting for €67.50.

phone: +31 76 5718099

address: Van Voorst tot Voorststraat 44

The food in this small place is better than you might expect from its looks, and the portions are large. The dishes are simple but fresh and very tasty. They do take away too, so expect people to come in and out for that. With 3 course menus for €24.50, this is great quality for money though.

phone: +31 76-5214306

address: Grote Markt 17

A small place where you can find the real French dishes for breakfast and lunch and where everything is fresh. The service is also very kind and helpfull.

Het Smaakwarenhuis

phone: +31 76 762 01 74

address: Ginnekenweg 11-13

This place is an interesting combination of a fresh food supermarket and a small restaurant. Virtually all products are produced in or directly around the Netherlands, and many in the region. They serve breakfast, lunch and dinner, often with a typical Dutch twist. Dinner is a set 3, 4 or 5 course meal with only a few choices. A fun place to discover Dutch produce.

Restaurant Chocolat

address: Torenstraat 9

phone: +31 76 - 5143900

address: Grote Markt 35

For the best authentic Italian style dishes. The service is very good and it's very cozy inside. They have something for everyone and every week they have a week special.

Restaurant Dickens & Jones

address: Grote Markt 40
Drink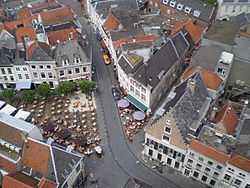 Drink real Belgian and Brabants beer on Grote Markt or Havermarkt square. Explore the nightlife on Thursdays, Fridays and Saturdays around Havermarkt square.
address: Visserstraat 14

address: Grote Markt 20

Kerkplein

address: Torenstraat 17-19
Sleep
Camping
phone: +31 76 514 35 14

address: Liesdreef 40, 4838GV, Breda

Mainly chalets but area for tents. Site uses cardkey system so you pay deposit on the card plus a pre-payment and deposit/unused pre-pay is refunded (pre-pay used for e.g. showers). Credit cards accepted.
Go next
Some nearby destinations of interest are: