Bregenz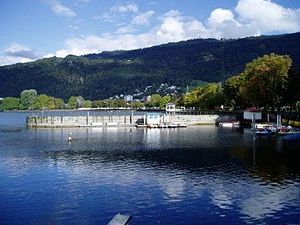 Bregenz
is the capital of
Vorarlberg
in
Austria
at the
Lake Constance
.
Understand
Bregenz has about 28,000 inhabitants and has roots back to Roman times. The city was founded by the Romans in 15 BC, when it was known as
Brigantium
.
Bregenz sits at the northern edge of the Alps, between Lake Constance (the
Bodensee
) and the Pfänder (1064 m). To the west lies the Rhine delta, a huge valley dividing
Switzerland
and Austria. To the south lie the mountains of Switzerland and southern Vorarlberg. To the north, overlooking Lake Constance, are the hills of the
Allgäu
of
Baden-Württemberg
and
Bavaria
in Germany.
Bregenz is the capital of Austria's most modern province. The shore of Lake Constance, one of the biggest lakes in Europe, meets with Downtown! It is highly advisable to go down to the lake in the evening and check out the beautiful sunset. Inhabitants of Vorarlberg are said to be much more friendly and open than the rest of Austria.
Bregenz Tourismus & Stadtmarketing

phone: +43 5574 4959 0

address: Rathausstraße 35a

Offers help with accommodation and has free maps, along with information on transportation and sightseeing.
Get in
By plane
Zürich-Kloten
(
ZRH
) is quite a big airport, about 1 hour with train/car (100 km).
Friedrichshafen (FDH) is smaller but closer, about 40 km from Bregenz. Approached by some companies like Condor and Ryanair (from Stansted London).
Munich (MUC) is the biggest airport around. About 2½ hr to Bregenz.
Altenrhein (ACH): Switzerland, about 20 km to Bregenz but few connections to Vienna.

By train
address: Fritz-Mayer-Platz 1

There are several daily connections from Vienna with stops in Linz, Salzburg and Innsbruck, the train takes around 8 hours from Vienna. In general the Eurocity trains are faster than the Intercity trains. There is also a high speed train called ICE; the price from Vienna to Bregenz the average price is around €60. A few tickets for €29 Sparschiene are available every day; use ÖBB's SCOTTY to look up train information online. Storage lockers available.
From Switzerland, France and northwestern Italy, the best option is to go to via Zürich and take a Railjet train to Bregenz. One can also catch a Railjet from Vienna to Bregenz, the train comes via St. Pölten, Linz, Salzburg and Innsbruck and is operated every 2 hours. Average travel time is 7 hours from Vienna and quality of travel in a Railjet is superior.
By car
From direction Vienna: on the A1 via Salzburg via Germany. In Rosenheim (Germany), you have to decide if you drive via Munich (heavy traffic) or via Innsbruck (Arlberg Tunnel €13).
From Chur/Zürich: about 10 km to the Swiss motorway.
Austria requires autobahn drivers to pay a fee and purchase a Vignette (Austrian: Pickerl), a sticker which must be affixed to the windshield. Vignettes are available for €8.30 (10 days), €24.20 (2 months), and €80.60 (1 year); prices for motocycles are approximately 55% less. The fine for not having a vignette is €120, payable on the spot. The well-known tactic of affixing vignettes with Vaseline (so that they can be easily removed and re-used) earns a fine of €240. The vignette must be pasted on the windshield; they are considered invalid if kept in the glovebox, which also earns a fine. The vignettes are available for sale at ADAC, ÖAMTC and TCS motor club offices (in Germany, Austria and Switzerland respectively; membership is not required), as well as at almost all petrol stations before the Austrian border. The more affordable so-called Korridorvignette for the 23 km-long stretch of the A14 between the German border and Hohenems is no longer available.
Drivers from Germany should take Exit 2 (Lindau) before reaching the border, as the A14 then enters a tunnel and only emerges south of Bregenz. Likewise when driving toward Germany drivers should head north on 190 and cross the border before driving onto the autobahn.

By bus
Check out Eurolines from Vienna and Berlin. There are also connections with Flixbus from Milan and Munich.

By boat
phone: +43 5574 42868 230 (reservations)

address: Hafen Bregenz, Seestraße 4

It is also possible to approach Bregenz by ferry, with direct connections to Lindau, Friedrichshafen, Meersburg, and Konstanz.
Get around
By foot
Many sights in the centre toward the lakefront are easily accessible by foot.
By bicycle
In summer, bicycles are perhaps the best way to get around, as Bregenz is quite small.
By bus
phone: +43 5574 410-1833

address: Rathausstraße 4

5 routes provide good coverage for most of the city. Schedules for all route can be downloaded here (in German); a route map is available here.
By car
Carsharing Zipcars are available in Bregenz.
By taxi
Taxi Schneeweis

phone: +43 5574 53030

phone: +43 5574 65400

Kreditkartentaxi

phone: +43 5574 76222
See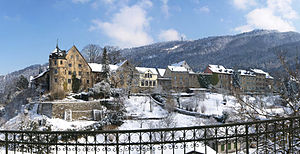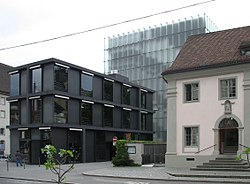 The city wall from the 13th to 16th centuries surrounding the upper part of town (Oberstadt) has been largely preserved.

Old City HallBuilt in 1662.

Lower City HallBuilt in 1686 and remodeled in 1898.

phone: +43 5574 485 94-0

address: Karl Tizian Platz

Frequently changing contemporary art exhibitions. The building was designed by Peter Zumthor.

phone: +43 5574 410 1560

address: Martinsgasse 3b

Bregenz's most famous landmark, the tower features the largest onion cupola in Europe. The foundations of the building date to the late Roman period. St. Martin's Chapel (on the ground floor) can be visited for free and has medieval frescoes.

phone: +43 5574 46050

address: Kornmarktplatz 1

Modernerised and enlarged, the museum opened in June 2013, with exhibits documenting the history of Vorarlberg as well as other current themes.

phone: +43 5574 71 461

address: Mehrerauerstr 66

A bit outside of the city, but can easily be reached by walking or cycling along the lake. The monastery has a museum with exhibits illustrating monastic life.

phone: +43 5574 511 44005

address: Fluher Straße 4

Free guided tours are available upon request, but may not be in English).

phone: +43 55 74-427 51

address: Gallusstraße 10

A collective Vorarlberg artists stages exhibits of members' works.

phone: +43 5574 410 1511

address: Bergmannstraße 6

Workrooms of department Culture of the City government, exhibition rooms.

phone: +43 664 52 88 239

address: Anton Schneider-Straße 4a

Exhibits the work of local artists.
Do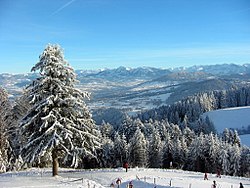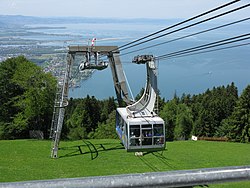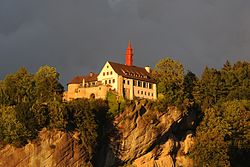 phone: +43 5574 42868

From April to October, Vorarlberg Lines offers a numer of cruises on Lake Constance, including a scenic 'three-country' cruise (daily 14:30); cruises to Friedrichshafen, home of the Zepplinmuseum (daily, various times); the "Flower Island" of Mainau (daily, various times); the city of Konstanz, home of the Sea Life Center/Aquarium (daily, various times); and a number of sunset and dinner cruises. You can also consider a short trip to the German port Lindau, which on a sunny day offers splendid views of the Swiss landscape. The town is beautiful and one can also consider shopping in the main market, a 5 minute walk from the port/train station. Cruise available quite frequently, €5 adult. The return trip can be made via cruise (another €5) or by catching a regional train (S-Bahn) from Lindau station to Bregenz station for as low as €2.4, if purchased at an ÖBB automat.

phone: +43 5574 45127

address: Platz der Wiener Symphoniker 3

Men must wear a shirt and jacket, though the casino will provide jackets for the unprepared.
Festivals and cultural events
phone: +43 5574 4076

address: Platz der Wiener Symphoniker 1

A famous festival attracting 200,000 visitors each year. The centerpiece of the festival is its main stage built on Lake Constance, the largest floating stage in the world. The open-air production changes every two years, with Mozart's The Magic Flute in 2013 and 2014. The setting – 7,000 seats looking out over the lake, the larger-than-life stage, night falling during the performance, and the cool breeze coming off the lake – is truly spectacular. In addition to the production on the floating stage, there is a yearly changing program including an opera in the Festival House (Festhaus), a series of orchestral concerts and other cultural events such as Kunst aus der Zeit (KAZ) and cross culture.
phone: +43 5574 4076

During the festival season, there are tours of the floating stage (Seebühne) and the Festival House (Festhaus). The open-air seating area can usually be accessed for free for getting a glance at the floating stage if there is no performance. The James Bond movie Quantum of Solace features some scenes from the floating stage production Tosca in 2008 and the Festival House. Tickets can be purchased or at the ticket counter.
phone: +43 5574 4080

address: Platz der Wiener Symphoniker 1

A modern dance festival attracting choreographers and dancers from around the world. All performances are staged in the Bregenz Festival House (Festspielhaus Bregenz). Tickets are available at the tourist information office and online.
phone: +43 5574 42 870-600 (tickets)

address: Seestraße 2

Tickets for theatre performances can be ordered online here .
phone: +43 5574 43447

address: Römerstraße 15

Orchestra concerts are performed on a regular basis.
Young Art Generation

phone: +43-5574-4101663

address: Belruptstraße 1

Competition for young creatives, age 16 to 23 presenting their art and shows.
Sport and outdoor activities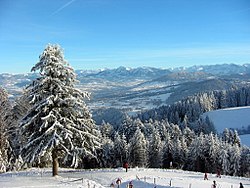 The Lake Promenade (
Strandweg
) is a very popular place for residents to stroll and spend the evening. There are shaded paths and outdoor restaurants. The sunsets in Bregenz are beautiful from any place at the lake.
In summer, Bregenz offers many possibilities. Bregenz is splendid for swimming in the lake (the lake's temperature reaches 26°C in the summer), hiking, cycling, and several other sports. The tourist office offers a map of hiking paths in Bregenz and the immediate vicinity, as well as a map of trails in the nearby Bregenz Woods (
Bregenzwald
).
phone: +43 5574 421600

address: Steinbruchgasse 4

Signage throughout town will direct you to the cable car station.

phone: +43 5574 42184

Restaurant at the top of Pfänder, serves Austrian and international dishes, as well as snacks.

phone: +43 5574 42184-0

address: Pfänder 4
GebhardsbergGebhardsberg is 598 m above sea level and it offers a splendid view on the Rhine Valley (Rheintal) and Lake Constance (Bodensee). It is popular among the local population for walks. On it you can find the ruins of Burg Hohenbregenz, which was built at the end of 11th century, in 1097, by the Dukes of Bregenz. It later changed ownership several times and in the 17th century it was extended into a stronghold. In 1647 it was captured by the Swedes without any resistance and they blew up the fortress in the same year. From 1670 the ruins gained importance as a place of pilgrimage of St. Gebhard and they were adapted for religious and gastronomical purposes several times. In 1723 the church, which was built within the ruins, was consecrated. In this time the "mountain" got its present name. There is a restaurant there now.
phone: +43 5574 442420

address: Strandweg 1

The bathing complex by the lake has a large outdoor pool and an indoor pool.
Buy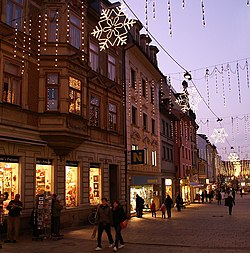 Kaiserstraße is the main pedestrian shopping street, and was renovated in 2006. The inner city in particular has many smaller shops which invite one to browse. In general, stores are open Monday to Friday from 09:00 to 12:00 and from 14:00-19:00, Saturdays from 09:00-16:00.
phone: +43 5574 690-1458

address: Wolfordstraße 1-2

The maker of stylish hosiery and lingerie is headquartered in Bregenz. This location includes a boutique, factory outlet and restaurant.

phone: +43 5574 - 45472

address: Hinteregg 49, Eichenberg

Local cheese shop producing cheese close to Pfänder.
Eat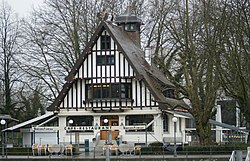 Drink
Heurigen Möth

phone: +43 5574 47711

address: Langenerstraße 5

An especially popular place serving Austrian wines, with pleasant outdoor seating.
Sleep
From the genteel Dueringschlössle to budget-friendly guesthouses, Bregenz offers a range of accommodation for all budgets. The city becomes very busy during the Festival season that runs from mid-July to mid-August; during this time it's advisable to book accommodations ahead of time. Prices posted below are for the high-season summer months.
Budget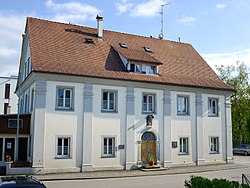 Mid-range
Splurge
Camping
Go next
It is possible to travel along the lakeshore by railway to both Switzerland and Germany.
Bregenzerwald — a mountainous area south-east of Bregenz; take a bus from the railway station, or take the train to Dornbirn and transfer there.
Dornbirn — 20-minute drive south of Bregenz; features a Rolls-Royce Museum
Lindau — a nearby island in Germany with a picturesque harbor and lots of little shopping streets.
Liechtenstein — the fourth smallest country in Europe. Bus and train service is available daily from Bregenz to the capital city of Vaduz. The trip is about 1.5 hours.
Mainau Island — in Germany, "The Flower Island" is known for its warm climate and beautiful botanical gardens