Bremen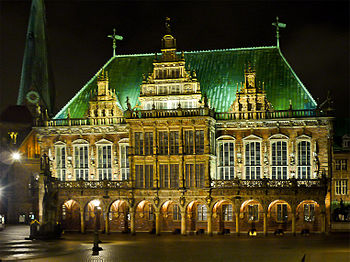 :
This article is about the city of Bremen only, the city of Bremerhaven belongs to the
state
of Bremen but not the city and has its own article
The free Hanseatic City of
Bremen
is a city in northern
Germany
with a major port on the River Weser. The population is 548,000. It is also the name of one of the states of Germany which consists of two separated enclaves on the River Weser.
Districts
Bremerhaven geographically separate form the city of Bremen but administratively part of the state of Bremen.
Understand
History
Bremen was once a member of the medieval
Hanseatic League
and is still one of the most important cities in northern Germany. Together with the city of
Bremerhaven
on the North Sea it forms Germany's smallest state.
Bremen has more than 1200 years of history, and was, for most of its existence, an independent city-state.
Bremer Stadtmusikanten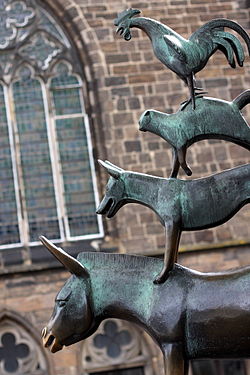 The Bremer Stadtmusikanten
(Town Musicians of Bremen)
perhaps the most well known figures associated with Bremen are characters from the Brothers Grimm fairy tale of the same name. Their image adorns many of the souvenirs in the city. Next to the Town Hall is a much photographed statue of them.
Geography
Bremen is a rather long and narrow city, lining both sides of the river Weser. Along the north-west/south-east axis it stretches about 10 km, but across only 2 km. The entire city is located on flat plains.
Get in
By plane
Bremen airportMostly caters to low-fare and holiday flights. The low-fare carrier Ryanair offers by far the most connections, spread all over Europe but with stronger focus on the Mediterranean (especially holiday destinations) and countries around the Baltic Sea. Apart from Ryanair and holiday specialists, there are a few high-fare business-oriented flights to specific destinations (like Toulouse, serving Airbus Group which has facilities in both cities), and feeder flights to major hub airports operated by flag carriers. While Ryanair has reduced its offer at BRE, Sundair offers flights to some holiday destinations
If you want a smooth intercontinental connection to Bremen, your best bet is to fly with Star Alliance or SkyTeam. Star Alliance founder Lufthansa flies from Bremen to their hubs in
Frankfurt
and
Munich
, sister airline Eurowings to
Stuttgart
, while other alliance member Scandinavian Airlines flies to
Copenhagen
and Turkish Airlines to
Istanbul
. SkyTeam's founders Air France-KLM fly to
Paris Charles de Gaulle Airport
and
Amsterdam-Schiphol
. You can connect to the alliances' vast networks of intercontinental - and European - connections there. If you are cost conscious, it might work out cheaper to forgo the domestic flight on the last leg and use an
air rail alliance
such as rail&fly instead. Though thanks to the quirky nature of airline pricing, the exact opposite may be the case.
Getting from the airport into town is quick, smooth and painless. Tram (Straßenbahn) 6 leaves right outside the main terminal building and takes you into downtown every 10 minutes during the day. Travel time is 10 minutes to downtown (Domsheide) and 16 minutes to the Main Railway Station (Hauptbahnhof).
Further afield, you can fly to Hamburg and Hannover. Both cities have frequent train connections with Bremen.
By train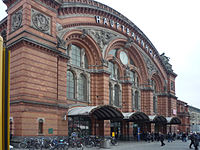 Regular and frequent services connect
Bremen Hauptbahnhof
with the rest of Germany. There are two trains every hour from
Hamburg
(1 hour) in the north, and
Osnabrück
(1 hour),
Münster
(1hr 20min), the
Ruhr Area
in the south, and from
Hanover
(1hr 20min).
Train tickets can be quite expensive (unless bought in advance), and the cheapest way to travel can be to share a group ticket with other people. However, group tickets are not as cheap as they once were and often an early bird fare (starting from €19 for short routes) on a high speed connection is both cheaper and less stressful than dealing with group tickets which are almost always only valid on regional trains. For more on that issue see
rail travel in Germany
.
By bus
Flixbus
has all but cornered the market.
By car
Autobahn 1 runs to
Hamburg
in the north and
Cologne
in the south, but do check the traffic information! The A27 goes north to
Bremerhaven
and
Cuxhaven
and south towards
Hanover
,
Braunschweig
,
Berlin
and other eastwards connections.
Get around
By foot
Much of Bremen (or at least the part frequented by tourists) can be negotiated by foot - the best way to explore the old city and its surrounding districts.
By shared car
Members of the Cambio car-sharing network, whether in Germany or Belgium, can hire cars - Bremen is the company's headquarters.
By train
Most trains are operated by
Deutsche Bahn
and even the local trains that aren't can be booked through their website.
In the west lie the cities
Delmenhorst
and
Oldenburg
and the Frisian islands. In the east you can travel to
Verden
, in the south to
Osnabrück
.
There are trains from the main station to the peripheral areas of Bremen (twice per hour to North Bremen, to Mahndorf via Sebaldsbrück and to Hemelingen.)
By bus/tram
Bremen offers an intensive public transportation network with trams and buses.
Public transport maps of Bremen are
available in German
. There are night buses and trams (indicated by an "N") running through almost the whole night on Fr/Sa and Sa/Su, departing at :30 each hour from central station. Fares on the night network are €1 in addition to normal individual, group or day fares (2013). You can buy tickets on the bus or tram, but is slightly cheaper to buy a set of 4 rides or a day pass for individuals or groups, or a weekly pass for individuals. Note that on trains, tickets must be purchased before you board.
Public transportation timetables and ticket fares
are available in English.
By taxi
Taxis are found nearly everywhere and every time, with a cost of about €1.25/km. There is no need to book a taxi in advance. Taxi drivers and call center employees may have difficulties to understand a phone call in English. Taxi-Ruf has a smartphone app (which can be used to order a taxi) available for
iPhone
and
Android
.
The two main taxi companies are
phone: +49 421 14433

phone: +49 421 14014
By bike
You can hire bicycles at the railway station and several bike shops in Bremen. See (German only).
Bremen is the most bike-friendly city among the biggest German cities. Its former mayor Hennig Scherf is an avid cyclist (who despite the wishes of his bodyguards rode his bike every day to his office or he simply walked to the office.)
See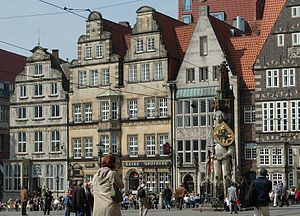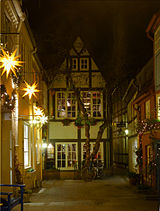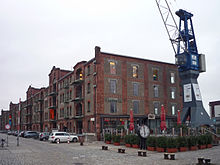 RathausThis is one of the finest in Europe and has been included on the UNESCO World Heritage List. Building work started in 1410 and it is seen as an important display of the wealth and freedom of the city. Tours of the interior are conducted by the Tourist information office at 11:00, 12:00, 15:00 and 16:00.

Roland

address: Marktplatz

This statue on the main square, in front of the town hall is of the Knight Roland who was a protector of trade. He appears in many European cities especially those involved in the Hanseatic league. Bremen's is considered one of the finest and is included with Town Hall on the World Heritage List. The standing figure is 5.47 m tall.

Dom St. PetriOver 1200 years old, its huge towered façade dominates the main square. The interior is impressive with some fine painted details on the ceilings. There is a treasury displaying the collection of the cathedral. Entrance is free, for €1 you can climb the Southern Tower offering nice views over the whole city.

BöttcherstraßeAn incredible Jugendstil (Art Nouveau) street that runs from the main square towards the river. There are many fine façades and courtyards all with large amounts of design detail. There is an impressive Glockenspiel that chimes at regular intervals. There are lots of shops and several museums, including the impressive Paula Modersohn-Becker Museum. Haus Atlantis (now the Hilton) has an impressive spiral staircase just inside, at the top of which is the staggering Himmelshaal (it is not normally open to the public).

Am WallA lovely park next to the former defensive moat which offers a place to sit and relax.

SchnoorThis area of twisting lanes is a lovely place to wander aimlessly looking at in the many shops and also at the world smallest hotel (see Sleep).
Museums
Do
Stroll around the city center and visit the Schnoor-Viertel with its old buildings - most were built between the 15th and 18th century. If you are interested in art, visit the Bremer Kunsthalle (museum of art) with one of North Germany's finest collections.
If you like football, you see one of the matches of Werder Bremen , a team playing in the Bundesliga (German premier league). You can also visit their stadium Weser Stadion for a few euros when there isn't a game going on.
If you want to see green fields, cows, and birds, visit "Blockland" (site in German with some pictures) where thousands of local bikers and inline skaters go every weekend to enjoy the agricultural side of Bremen. It is located just north of the university, between the Autobahn and the meandering river Wümme. You can bike or skate along the dyke that contains the river, have traditional coffee and cake at Landhaus Kuhsiel or Gartelmann's Gasthof, or eat gourmet organic ice cream at Biohof Kaemena (they also sell organic milk and cheese). In winter there is no ice cream but there is ice skating on the river and many small canals. In warmer months it is also possible to rent a canoe or kayak to explore the nature preserve from the water.
There is indoor ice skating at Paradice, the skating hall in Walle (, site in German). Paradice is opened from October to February.
A good way to get in touch with the locals is to stroll along the river Weser on the scenic Osterdeich, where - in good weather - lots of little groups hanging out on the grassy hills may invite you to barbecue with them or have a beer.
Don't miss the beautiful Bürgerpark either, a large, well-maintained park right in the middle of the city, which has a little Central Park vibe to it. Have a drink in the renowned "Emma" Café, rent a boat and row around the ring-shaped pond, play mini-golf, visit the petting zoo, or simply sit on the grass and enjoy some tasty ice cream.

Stadtwaldsee (City Forest Lake)Free swimming at a public beach in a recreation area. There is also a separate nude beach. Fishing, windsurfing, and boating are all possible. Many locals simply enjoy walking or biking on the path that runs around the lake.
Events
January 6: "Eiswette": a funny tradition where a tailor checks if he can cross the river Weser without getting wet feet.
February: Carnival in Bremen, more South-American than Cologne style.
April: Easter market.
June: "Breminale" music/art festival along the River Weser.
August: International Bremen Summer circus festival "La Strada". "Festival Maritim" in Bremen-Vegesack (in the northern end of Bremen).
October (2nd half): "Freimarkt" (free market), one of the biggest and oldest fairground festivals in Germany, north of the railway station.
November: International Cutter Race / "Kutterpullen" tournament (rowing contest on the Weser river).
December: Christmas market around the town hall and Schlachte at the river Weser.
The monthly free event magazine MIX has hosts an event calendar online (German only) .
Buy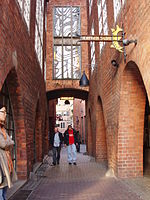 Kluten, are a traditional sweet from Bremen. They are cubes of peppermint, partly covered in chocolate. Hachez, near the Town Hall, is a traditional Bremen based chocolatier and their store is well worth a visit to buy the Kluten, though they are also available at many other places throughout the center.
Areas
Schnoor is a den of tight lanes selling boutique style products including jewelry, African artifacts, paper models and a year round Christmas shop. There are also a lot of shops selling tourist souvenirs.
Böttcherstraße, This wonderful Art Nouveau street has many outlets which cater to buyers of upmarket/high quality products.
Weekly markets are held on most of the squares around the Town Hall .
Lloyd Passage, Obernstraße, Sögestraße are the main shopping streets with all the main High Street chains.

address: Waterfront Bremen, AG-Weser-Straße

A shopping and leisure centre with a unique location directly on the banks of the River Weser. As its name and location suggest, there is always a fresh wind blowing through and around the Waterfront: shopping, feasting, cinema and events assure high spirits all year round. The centre offers more than 80 shops from fashion (Primark, Desigual, Tommy Hilfiger, Clockhouse and many others) to shoes, jewellery, athletic apparel and equipment to leather goods and gifts—nearly everything the heart could desire. To nourish visitors, there is a gastronomic selection of more than 15 different venues in the Food Court and on the outdoor terrace, with its Weser panorama. There are events held regularly in and around the Waterfront: fashion shows, exhibitions, concerts or activities for children—something for everybody. In the Food Court there is also a 25-m² screen where broadcasts of all Werder Bremen football matches and highlights of the German Football League can be viewed.
Eat
Several cafes and restaurants line the "Schlachte" along the Weser river while other popular areas are the marketplace and the "Viertel" ("quarter") east of the Kunsthalle.
Many traditional dishes from Bremen and Northern Germany are very satisfying. The region is famous for cabbage (Grünkohl- green cabbage), fish (smoked eel, herring, smelt in March), an old sailor´s meal called Labskaus (lobscouse) consisting of mashed potatoes, corned beef, onions, fried egg and beetroot or chick ragout (very fine) as well as red fruit jelly or Butterkuchen (cake with yeast and topped with lots of butter, sugar and almonds).
You can find some fish restaurants in
Böttcherstraße
. "Knigge" is the name of a traditional coffee house in Bremen.
Bremen culinary specialties are Knipp (smoked sausage), Labskaus, (fried corned beef with onions and mashed potatoes) and Braunkohl (leaf cabbage)
Budget
phone: +49 421 321676

address: Am Markt

Stunning classic wine cellar located in the basement of the historic city hall. Has stored and sold German wines since 1405. Large menu includes regional specialties and has English translations.

phone: +49 421 326429

address: Lange Wieren 13

Slightly smoked cut of pork with cabbage and mashed potatoes (Braunkohlteller)
Mid-range
Splurge
Drink
The world-wide known
Beck's Beer
is brewed in Bremen.
Guided brewery tours
in English and German are offered Thursdays - Saturdays. The tour costs €10.50/person and lasts approximately 2 hours.
The
Ratskeller
is a wine cellar and restaurant with a famous collection of wines and the oldest wines in Germany.
There are many bars, pubs and cafes in Bremen: the
Schlachte
along the Weser and the
Viertel
, a young and lively quarter.
If you like beer and pretzels, try the
Schüttinger brewery house
(next to Böttcherstraße) where several types of beer are brewed and served directly.
Sleep
Budget

}}

Mid-range
Splurge
Go next