Bremerton
Bremerton
is located on the
Kitsap Peninsula
in the
Puget Sound
region of
Washington
state.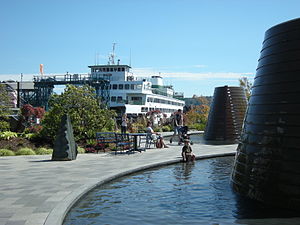 Understand

Downtown Bremerton is experiencing a renaissance, starting with the new Transportation Center, Kitsap Conference Center and a new hotel on the city's waterfront. A new government center, which provides combined governmental services in a single building, anchors the town's revitalized core.
Already contributing to the downtown revitalization are art galleries, the Admiral Theatre, museums and many quaint shops and restaurants.
Bremerton is a safe, environmentally clean community within an hour's ferry ride from downtown Seattle where you can visit the Navy destroyer Turner Joy, stroll along a delightful block-long waterfront promenade and check out the new Kitsap Conference Center Plaza with its fascinating fountains, and enjoy a bounty of seasonal community events and concerts.
Downtown has three museums, in one block, within walking distance of the ferries.

History

Native American Salish people lived comfortably in the Puget Sound area navigating the local waterways in well made cedar canoes for thousands of years before 1792 when Captain George Vancouver 'discovered' the area, named it after one of his officers and declared the area for Great Briton.
Once the Washington Territory was established in 1853, the U.S. government began signing treaties with area tribes to acquire their lands. The Suquamish people ceded most of their land around the Kitsap Peninsula to the United States and logging came into the area in full force. The areas once impassible thick forests gave way to farms, towns and industry as lumber was shipped off to areas such as San Francisco or burned as fuel for the growing fleet of boats known as the Mosquito Fleet. In 1888, William Bremer, a German immigrant from a wealthy banking family, traveled by boat from Seattle and purchased land that is now Bremerton from a local logger.
In 1891, Bremer negotiated with Lt. A.B. Wyckoff to sell 190 acres to the U.S. Navy for Puget Sound Naval Shipyard, still a major employer. Bremer platted the town around the Navy's property and gave it his name. He opened businesses to support the Navy's activities.
The City of Bremerton was incorporated in 1901. The Bremerton Chamber of Commerce was incorporated in 1928 with William Gates, Sr., grandfather of Microsoft founder Bill Gates, as treasurer.
The town exploded in size during World War I and II, when more than 40,000 workers arrived to work at the shipyard. Since then fortunes have been through boom and bust and the town is now revitalizing the downtown area.

Get in
By car
Main Highways to Bremerton are WA Highway 3 from
Shelton
, north through the county to the Hood Canal Bridge near the northern tip of the
Kitsap Peninsula
. From
Tacoma
and
Interstate 5
, take WA Highway 16 north from Tacoma across the Tacoma Narrows Bridge until it combines with WA Highway 3 near
Gorst
.
By ferry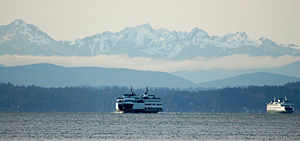 Washington State Ferries +1 206 464-6400 . Connects downtown Seattle to Bainbridge Island and Bremerton. All ferries are for both vehicles and walk on passengers and offer a scenic views of the Puget Sound and Olympic mountains on the way into the area.
By boat
Arriving by water, you'll find a large, destination public marina making Bremerton a favored boating venue with a central location for exploring the area but please be aware of the 500' buffer zone around US Navy vessels and facilities.
phone: +1 360-373-1035

address: 120 Washington Beach Ave

Centrally located in downtown Bremerton within walking distance to shops and restaurants and with room for 80-100 visiting boaters.

phone: +1 360-876-5535

address: 707 Sidney Pkwy Port Orchard, WA 98366

Just across the harbor from Bremerton this guest dock is 3000 feet in length. There are 44 guest moorage slips available. The total estimated guest boat capacity is 180. Electrical hook up is available for a fee. Electrical power is available in 30 and 50 amps. It has been reported the minimum depth at mean low tide is 30. Fuel and pump out available.
By bus
phone: +1 360-876-1737

address: (bus stop) Union 76 at 2550 Burrell St

provides scheduled ground transportation from Seattle-Tacoma International Airport to various locations on the Kitsap Peninsula. Their buses travel all the way around with stops in Tacoma and Gig Harbor rather than going onto the ferry from downtown or West Seattle. Connections to Greyhound, Amtrak, Sound Transit and other bus lines are in Seattle and Tacoma.
Get around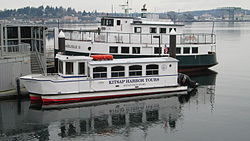 By bus
Kitsap Transit
offers transit services throughout Bremerton and between Bremerton, to Silverdale, Poulsbo, Bainbridge Island, Port Orchard. They also operate the foot ferry between Port Orchard, Bremerton and the Annapolis Ferry Terminals (see "By foot ferry" below). Kitsap Transit connects with
Mason Transit Rt #3
(Mason County) at the Bremerton Ferry Terminal;
Pierce Transit
(Pierce County) in Purdy Park & Ride; and
Jefferson Transit Rt# 7
(Jefferson County) at the Poulsbo North Viking Transit Center.
By foot ferry
phone: +1 360 373-2877

shuttles passengers between Port Orchard, Bremerton and Annapolis ferry terminals using two passenger only ferries, 'Admiral Jack' and the 'Carlisle II' a historic Mosquito Fleet era boat that is nearly 100 years old. Foot ferry service is a great way to tour a historic boat and get an up close and personal view of the marinas and the harbor.
By taxi
A-Ward Taxi Towncar

phone: +1 360-440-1517, +1 360-801-1235

address: Port Orchard based

Bainbridge Island Taxi

phone: +1 206 842-1021

address: Bainbridge Island based

locally owned and operated, serving Bainbridge, Poulsbo, Kingston. Silverdale, Bremerton and the Olympic Peninsula

Best Darn Taxi

phone: +1 360-782-2378

address: Bremerton based

Serving Kitsap County.

Bumblebee Taxi

phone: +1 360 782-1966

address: Silverdale based

A full service Taxi company serving Kitsap County And Beyond. Services all Military Bases And offer flat rates and military discounts.

First Choice Taxi

phone: +1 360 373-7903

address: Bremerton based

services Bremerton, Kitsap County and Seatac Airport. Bremerton Ferry pickups can be prearranged.

phone: +1 360 479-2273

address: Bremerton based

transporting mobility challenged clients in specially equipped vans.

Pleades Transportation

phone: +1 206 618-9630

address: Bainbridge Island based

limousine service on Bainbridge Island.

Redtop Taxi of Kitsap

phone: +1 360 876-4949

address: Port Orchard based

phone: +1 206-842-7660 (Bainbridge Island), +1 360-698-7660 (Kingston - Silverdale - Poulsbo), +1 360-377-9393 (Bremerton), +1 360-876-9393 (Port Orchard)

24 hour serving Bainbridge Island, Kingston, Silverdale, Poulsbo, Bremerton, Suquamish, and Port Orchard.

White Blitz Taxi

phone: +1 360 516-0271

address: Bremerton based
By charter bus
Janssen's Charter & Tours

phone: +1 360-871-2446

address: 1623 Woods Rd E, Port Orchard
See
Aurora Valentinetti Puppet MuseumFun, hands-on place for the kids

Bremerton Harborside and Louis Mentor BoardwalkBeautiful fountains and wide plaza along the Bremerton Waterfront

phone: +1 360 674-2280

address: 7500 Old Clifton Rd

NHRA Division 6 Championship drag racing

Kitsap Historical Society and Museum

phone: +1 360 479-6226

address: 280 4th St

collects, preserves, and exhibits the diverse culture, heritage and history of Kitsap County with a great collection of photos.

Elandan GardensTwo acres of rhododendrons, Japanese maples and Bonsai trees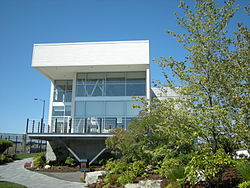 Do
Annual events
First Friday Arts WalkDowntown Bremerton galleries, museums and businesses stay open late

St. Patrick's Day ParadeBe Irish for the day

Armed Forces FestivalNation's largest and longest-running Armed Forces Day parade on the third Sunday in May

All City Arts WalkAll day event held on the first Saturday in June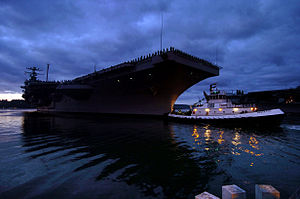 Kitsap County Fair and Stampede Rodeo5-day event held end of August, Stampede Rodeo consistently rated best in nation by cowboys

Bremerton Blackberry FestivalLast celebration of summer on Labor Day Weekend

WinterfestSanta Claus comes to visit

Lighted Boat ParadeMid-December visit by Santa on the waters around Bremerton
Birdwatching
The Kitsap Audubon Society has been actively meeting since 1972 and has a broad coalition of birders actively tracking and sharing sightings since then. They also maintain an active
website
with updates of the latest sightings, suggestions on areas for birders and even a regular newsletter. They also developed a
checklist
of birds likely to be seen birds in the area.
The state Audubon society developed 'The Great Audubon Birding Trail' which includes key migration flyways. Flyways are major north-south routes of travel for migratory birds and likely areas to see birds along the route extending from Alaska to Patagonia. Lions Park in Bremerton is one of only a handful of areas in the region named to this list.
Scuba diving
Diving the cold waters of Puget Sound takes a bit more gear and training than other warm water locations, but the rewards are incredible. The area contains some of the best diving in the world and many areas are accessible from the Kitsap Peninsula. Many dive sites are completely covered with colorful sea creatures that defy description. Giant Pacific Octopus are common, along with friendly wolf eels. Colorful sponges, sea cucumbers, sea stars, soft corals, anemones and fish can be seen on nearly every dive. The state has offers a guide to parks with launch sites
HERE
Sound Dive Center

phone: +1 360-373-6141

address: 5000 Burwell St

Established in 1972, this 6000 sq foot diving center offers a full range of diving gear and classes.
Sea kayaking

With two local sea kayaking clubs based here, Bremerton is clearly a popular place for this sport with miles of coastline allowing the paddler a closer and slower look at their surroundings and exploring both urban and rural surrounding areas. Harbor Seals, Otters, Sea Lions, Bald Eagles and Blue Herons are common sites while the occasional viewing of an Orca or Grey Whale is not out of the question.
Kayak trails
Organized trails offer overnight camping options and maps of appropriate and scenic travel destinations.
Kitsap Peninsula Water TrailsThe National Parks Service Named the this 'Trail of the Month' in the entire USA for the month of December 2012, PDF copies of the water trails map are available and Bremerton is centrally located on the trail.
Buy
Wheaton Way (WA Highway 303) is a major commercial road that extends from Bremerton across the Warren Avenue Bridge several miles north to Silverdale, the commercial district of Kitsap County. Food, motels and other businesses are available along Kitsap Way between the WA Highway 3 interchange and downtown Bremerton.
address: Bremerton Ferry Terminal

wide selection of local produce and crafts.
Eat
El Coral Restaurante

phone: +1 360-479-2239

address: 536 4th St

Mexican/Seafood Restaurant / upstairs lounge on Fridays offers DJ - and occasionally live - music till 1AM
Drink
In the immediate downtown area there are three newer bars:
The Bremerton Bar and Grill, 190 Pacific Ave, +1 360 627-8081
The Toro Lounge, 315 Pacific Ave, +1 360 813-1910
and a beer and fry place called
Fritz European Fry House, 94 Washington Ave (hiding behind the taco place) +1 360 479-1088
There are two other very worthy neighborhood places to go:
The Hi-fidelity, 2711 6th St, +1 360 373-5454 (very funky)
Der Blocken Brewery, 1100 Perry Ave (located in the Manette neighborhood)

Silver City Brewery & Taproom

address: 206 Katy Penman
Sleep
phone: +1 360 405-1111

address: 4303 Kitsap Way

Hampton Inn & Suites

phone: +1 360 405-0200

address: 150 Washington Ave.

phone: +1 360 479-2909

address: 2909 Wheaton Way
Go next
According to a Seattle newspaper, the
Kitsap Peninsula
has three of the top four golf courses in the state -
The City of Bremerton's Gold Mountain Golf Course
with its award-winning Olympic and Cascade courses,
Kitsap Golf and Country Club
, and
McCormick Woods
.