Brest (Belarus)
Brest
is a border town in the south-west corner of
Belarus
, near
Terespol
in
Poland
.
Understand
Brest is a city with a long and complex history, and at different times it has been part of different countries and linked to different cultures. First mentioned in 11th century chronicles, Brest was a city in the eastern part of Kievan Rus. Later it became part of the Grand Duchy of Lithuania and eventually in the 16th century, the Polish-Lithuanian Commonwealth. When, in the late 18th century, the Polish-Lithuanian Commonwealth was partitioned between
Prussia
,
Russia
and
Austria
at the end of the 18th century, Brest became part of Russia on the newly created eastern border with Austria. After the
First World War
Poland was re-established as a country and gained control of Brest as well as most of today's western Belarus. In 1939 this area was again annexed, this time by the
Soviet Union
, and became part of the Byelorusian Soviet Socialist Republic. With the disintegration of the Soviet Union, Brest became a city in the modern Belarus.
In addition, the city has been invaded multiple times and often laid to waste. In the 13th century it was the Mongols, in the 14th the Teutonic Knights. The khan of Crimea burned it down in the 15th century and in the 17th and 18th centuries it was invaded by Swedish armies. In the middle of the 19th century the town was completely demolished in order to make place for the new Brest fortress. The new Brest was built 2 km eastwards. It did not last long, because in 1915 the retreating Russian army burned the town to the ground and took the population to the east. Then the Germans marched in. After the war the city was rebuilt, many parts of the city centre by Jews. In September 1939 the Germans marched in again, just to hand the town and fortress over to the Soviets a few days later. In 1941 the Germans understood that they better had taken Brest and the fortress for themselves, they marched in again, this time with heavy losses, fighting went on for several days (not for a month as later was stated by Soviet propaganda). Brest escaped the fate of Minsk which was laid to waste in the Second World War, but the entire Jewish population (about 44%) was killed (see
Holocaust remembrance
). One could argue that this loss of human lives was the greatest catastrophe in the city's history, but there hardly is any public commemoration of this. On ul. Kujbysheva there is a small monument to the killed Jews, and that's it. The main synagogue on ul. Sovetskaya was converted into a cinema (cinema "Belarus'") and until now was not returned to the Jewish community.
If you are interested in getting to know something about the Jewish history of Brest you won't find anything in the state museums. The Soviet ban of the topic is lifted, but still the topic is omitted. The only small exhibition about Jews in Brest and the Shoah is organised by a Jewish NGO (see below). A totally innovative project to spread information on the topic is the audio performance "Brest Stories Guide" by the theatre "Kryly Khalopa" (see below), but it is in Russian only, so far.
Brest is thus a city closely linked to the history of Central and Eastern Europe and the ever-changing borders. One aspect of the city that shows this is its architecture, with parts of Brest quite Polish in character. However the eastern links are also strong, with beautiful orthodox churches as well as some very prime examples of Soviet building styles.
Get in
Train, car, bus connections are with the local town on the Polish side,
Terespol
. Poland observes daylight saving time and Belarus doesn't, meaning there's a time difference of either one or two hours depending on the time of year.
By plane
By train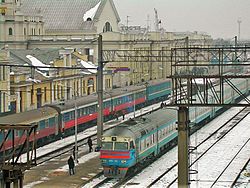 Situated at the border between European Union and the CIS countries, Brest is a great place for train travel. The train from
Warsaw
by
Polish Railways
(PKP) runs once a day and costs 150zł. Alternatively, you can take a connection to
Terespol
on the other side of the border from Brest for 40-60zł, and then take the very cheap (10
Belarus rubles
via
BŽD
website) commuter train across the border which runs twice a day (leaving Terespol at 10:26 and 21:05, February 2019). Check the Belarusian Railway website, as the PKP one may not show the local trains leaving from Terespol.
Watch out when connecting to the Terespol-Brest commuter train. Leave enough time to pass customs at the station and board the train, since it closes at least 15 minutes before departure (the platform will be closed).
Connections with other cities in Belarus by
BŽD
are plenty, to
Minsk
there are up to twenty per day (taking on average 3 hr 40 min to 4 hr), and costing less than 10 rubles. Most other trains connecting Europe and Russia also call at Brest.
Brest is also the starting point for several east-bound long-distance trains, services to
Kiev
,
Moscow
and
Saint Petersburg
are daily while others such as
Astana
,
Irkutsk
and
Volgograd
departs 3-4 times a week. A connection to the Arctic capital of
Murmansk
departs 1-2 times a week. In the other direction there are several trains heading to
Sochi
and other vacation hotspots along the Black Sea cost. Most of these connections are operated by
Russian Railways
.
When leaving Belarus, be aware that customs control at station is not very obvious. About an hour or so before the train leaves, people will be waiting at a railing next to some glass walls which look they open up to some rather bland and unused empty room. They look a bit like people waiting for arrivals at an airport, except that it's not obvious who they are waiting for. In fact, they are waiting for the customs office to open. If leaving Belarus, join the queue a good deal of time before your train leaves. By arriving 10–15 minutes before the train leaves, chances are good that the train will leave without you, not because the queue is too long, but just because the rules are strict.
As of 2018, there is no such control for trains leaving to Poland
. Just board the train a few minutes before its departure.
By car
See
Belarus
. There are six control lines of various sorts at the crossing. Allow something like 2 hours to get through them all.
If you are already in
Terespol
and need to cross over to Brest, you can walk over to the border crossing and "hitchhike" across with one of the cars that is already towards front of the line. They might be happy to take you across as they can "assign" some goods as belonging to you for the purposes of customs. Just go along with the arrangement. Alternatively, they might ask for a modest payment of US$5 or so.
By bus
There's a bus leaving to Brest from close to the train station, up on Czerwonego Krzyża. It appears to leave some time after a train arrives, possibly to transport passengers who missed the connecting train to Brest.
Get around
Transport within Brest city is very regular, with many different bus route through the city, and also regular trolley-buses through the city. Taxis are also easy to order and
"marshrutkas"
also operate throughout the city. The main attractions are all within walking distance.
See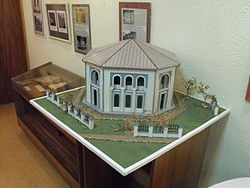 Brest FortressA complex of massive fortification built in mid-XIX century by Russian Empire. In November 1918 the Treaty of Brest-Litovsk was signed here. In June 1941 there were some days of heavy fighting between the German Wehrmacht and the Red Army with thousands of Soviet soldiers ending up as POWs and some 2,000 more killed. After the war the incident was made up as the "heroic defence of the Brest fortress" that lasted for more than one month with everybody fighting to their death. In 1965 the fortress was awarded with the title "Hero Fortress" and a huge propaganda complex was erected. Worth seeing! The fee for the core of the complex, the Museum of the heroic defense of the Brest fortress (where you will see and hear only the official story, no POWs, no Holocaust, but many male armed heroes) is about US$1. Walking the grounds of this great fortification is a moving experience that gives a good sense of the privations faced by the forces that were besieged there. The territory of the fortress is where the ancient city of Brest was born, in the archaeological museum Berestye one can see results of research on the spot. The history of Brest Fortress is complicated, as you can see, and worth learning.

Cinema "Belarus'The former main synagogue of Brest on ul. Sovetskaya, now the cinema "Belarus'". From the outside one still can see the octagon of the original lay out of the building. An attentive visitor will notice several features of the old sacral building in the inside. In the cellar (toilets), the old thick foundation walls are visible.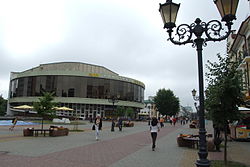 Naberezhnaya

address: Naberezhnaya st

If you just happen to wander around the city this is my best place, especially late summer - fall. The riverfront has a lot of willow trees and there are a lot of ducks swimming in the river. There are some chairs under the willow trees sitting on which is very relaxing.

Gogolya st

address: ulica Gogolya

This is nice alley with two lines of old chestnut trees on both sides. Gives you nice quiet walk in summer and fall.
Brest City Park for a pleasant walk on a summer afternoon. Beware of millions of mosquitoes descending in the evening.

Brest train stationA very beautiful train station, both from outside and from inside.
Museums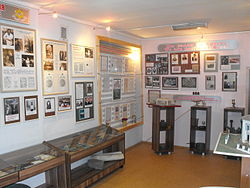 A Jewish NGO has organised a small exhibition on the history of the Brest Jews and the Shoah in Brest. It is not very professional, but still, the only place in Brest where a visitor can learn something about these people who once formed nearly half of the cities population. The exhibition is located on ul. Gogolya 32, one has to enter through the yard, turn left and go down into the cellar. The exhibition is closed on Saturdays, one can agree a visit in advance via mobile: +375296513859.

address: Ul. Maskouskaya

An incredible collection of impressive locomotives from the Soviet era. While there is not much effort in the presentation (they are all displayed one after the other), the variety of the locomotives and carriages is impressive. Some can even be visited.

Brest homeland museum

address: ul. Karla Marksa

It has a new permanent exhibition worth seeing (in Belarusian only, but still). It covers the period from ancient times to the beginning of the 20th century and a charming exhibition on nature with some amazing exhibits.

Berestye Archeological MuseumAn archaeological site displaying an authentic East Slavic wooden town dating back to the 13th century.

Museum of Rescued Art Treasures

The State Archive of the Brest Oblast (GABO) on ul. Khoruzhej offers opportunities for historical research.
Monuments
Lenin monument on the Lenin square. The great revolutionary points with his outstretched hand where to go to: the Catholic church opposite.
Monument to the Atomic missile troops - perhaps one of the rare occasions to see the image of an atomic mushroom cloud in what was intended as a positive context! Opposite the garrison cemetery on the ul. Geroev oborony Brestskoj kreposti.
The 1,000 years of Brest monument on the ul. Sovetskaya was erected to celebrate Brest's 990th anniversary (don't look for logic). It shows scenes and characters from the long history of Brest, omitting the fact that for a long period of time Brest was mainly a Jewish town.
Do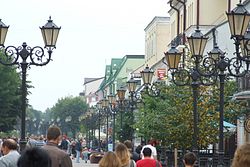 Until the Shoah Brest was a mainly Jewish town. With the audio performance Brest Stories Guide by the theatre "Kryly Khalopa" you can explore the city space and learn about the local history of anti-Semitism and the Shoah. A free app for smartphones and tablet computers contains a map with routes and audio files. The Brest Stories Guide is not an audio-guide, but a completely new and innovative approach to history, a theatre piece in public space, where the city itself turns into scenery.
Walk on ul. Sovetskaya, Brest's Broadway, with all shops and restaurants.
Go ice-skating in the Ice Palace on the intersection of Ul. Moskovskaya and Ul. 28 Iyulya.
There are several swimming pools: A smaller one (25 m, €2 per hour; "sessions" start at every full hour) near "Grebnoj kanal" (Kavalyovka) with good water quality and a bigger one (50 m, more chlorine in the water) at the sports palace on the eastern part of pr. Masherova. Flip-flops and bathing cap required!
If you want to test your Geiger counter you can do this in the area of the river port and a closed park between the port and the Masherov prospect. After WWII in this area material from the Nazi nuclear program was reloaded onto boats - and some of it got lost.
Learn
Brest is home to two Universities:
A.S.Pushkin State University
State Technical University - offers 3–12 months Russian language courses
Buy
There are many shops and boutiques on Sovetskaya street, which sell all kinds of products from fishing gear to real designer wear. Smaller shops are dotted around the town centre and there is a big "TSUM"- Central Department Store on Moskovskaya street. A big supermarket (Miks) with a wide range of food is on ul. 28 Iyulia, 8th trolleybus. Fresh food can be obtained on the "Kolkhos market" in the city centre (ul. Pushkinskaya/ul. Kujbysheva): Inside the closed market meat (a bloody lot!), cheese, bread and stuff, outside (half-open) fruits and vegetables. In front of the markets elder women and other people sell what they grow on their datchas or collect in the forests.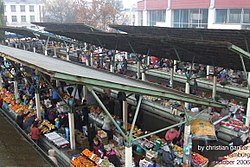 Eat
It's a bit difficult to get really good food in Brest. Vegetarians hardly are a target group for Brest restaurants.
Restaurant Vesta

Venezia RestaurantA place where one at least gets some good food.

Restaurant U ozeraIn a town park, good meat and starters. Good for business lunches.

Jules VerneNot cheap for citizens, but good for foreigners, with tasty European food.
Drink
Avoid at any cost the German owned café Crezo on Sovetskaya. Very rude staff, taking your passport if you want to use the Wi-Fi, for which you have to pay separately from the café charges. Horrible.

Sleep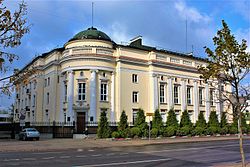 Budget
Cheap rooms are offered by hotel of locomotive depot of Brest Railway station, on the Geroiv Oborony Brestskoy Kreposty street. Two-person room cost about per person.
Mid-range
Hotel Belarus
6, Shevchenko blvd. Central location, several blocks away from river Muhovetz.
Rooms are US$30–70/night for foreign citizens. Belorussian citizens still enjoy lower rates.
Another brilliant option is 5 Rings or 5 Kolets - a hotel built in 2007 on the third floor of Brest Stadium in Gogolya Street, a few hundred meters away from Vesta Hotel. During the high season which is in summer the place is booked out so a prior booking is the most reliable way to check in.
Hotel Belarus

address: 6, Shevchenko blvd
Connect
There are 3 major GSM providers in Belarus (including Brest):
All of them offer no-contract GSM SIM cards and USB modems for Internet access. Each of these companies has numerous stores in Brest city center. You will need your passport to purchase a SIM card.
Stay safe
Belarus has a low rate of crime, and the atmosphere is mostly very friendly even on big celebrations (when everyone is drunk).
Try not to wander off too far at night.

Cope
Buses do not run after 23:30 so you will need a taxi.
Consulates
They might be able to help you if you are an EU citizen and something horrible happens.
Poland https://www.msz.gov.pl/be/p/brzesc_by_k_be/ +375 (162) 270032. Mon-Fri 8:30 - 16:30. Kuibysheva street, 34.
Kazakhstan http://www.mfa.kz/ru/brest
Hungary https://minszk.mfa.gov.hu/hun/page/munkatarsak +375 162 21-42-34; +375 162 27-09-85 ConsulHUBrest@gmail.com
Slovakia http://www.brest-konsulhs.by/o-nas/
France https://by.ambafrance.org/Le-Consulat-Honoraire-de-France-a +375 162 231 112
Czech Republic https://www.mzv.cz/minsk/cz/o_velvyslanectvi/honorarni_konzulat_cr_v_brestu/index.html Kosmonavtov 75/1. +375 (162) 220527.
Ukraine https://brest.mfa.gov.ua/ua/about-mission/contact +375 (162) 22 04 55; +375 (162) 22 03 88. Vorovskogo street, 19. gc_byb@mfa.gov.ua
Go next
Grodno is the Belarusian Lviv, an old and beautiful town north from Brest. By bus it's some four hours and .
Bronnaya Gora is a village about 100 km north-east from Brest. The "elektrichka" to Minsk stops there. Near the village during World War II Germans murdered some 50,000 Jews, amongst them most Brest Jews (October 1941).
Belovezhskaya Pushcha National Park (Belavezhskaya Pushcha) is an ancient woodland straddling the border between Belarus and Poland, located north from Brest. It is one of the last and largest remaining parts of the immense primeval forest which once spread across the European Plain. It is a UNESCO World Heritage Site. There are buses going there from Brest.