Brielle (Netherlands)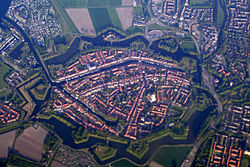 Brielle (Netherlands)
is a historic and fortified sea side town in the
Western Netherlands
, about 35km from
Rotterdam
. It's a town with a long and prominent history, packed with monuments still today. It played a crucial role in the Eighty Years' War, as the Capture of Brielle by the so-called Watergeuzen (or Sea beggars, the Dutch rebels) on the 1st of April 1572 became the beginning of massive Dutch uprising against Spain. Brielle today is a charming town with one of the highest per capita counts of monuments in the country.
Much of the towns fortifications have survived the test of time, and seen from the air, the typical shape of the traditional Old-Dutch fortification structure is still clearly visible.
Understand
VVV Tourist Information Office

phone: +31 181 472662

address: Turfkade 18

The tourist information office here serves is the main one for the area, with lots of information
Get in
The main road in and out of town is the
N218
, which connects to the
N57
and
A15
to the east and north, allowing for a 30 min. drive in from nearby
Rotterdam
and via there on to
The Hague
or
Amsterdam
. The smaller
Rijksstraatweg
connects Brielle in 15 car minutes to
Hellevoetsluis
.
There's no train station in town, and if you're planning to get here by public transport, your best bet is to head for Rotterdam and on by metro to
Spijkenisse
. From there, regular bus services run to Brielle. Total travelling times include about 2h from Amsterdam Central Station or just over an hour from Rotterdam.
Get around
A major part of the village's historic heritage is situated within the old defensive walls, so navigating your way on
foot
is easy. Nonetheless, especially since it's a small town, many visitors come here as part of a somewhat broader exploration of the area. A
bicycle
tour is an excellent way to take in some of the lovely island views and include one or two nearby villages or hamlets. Bike rental and maps are available. Renting a
boat or paddle boat
makes for another fun way to explore the canals, and a nice pass-time.
phone: +31 6 30161399

address: Slagveld 56

Renting out is this place's main business. There are no electric bikes for rent, but a range of normal bicycles, boats and (motor supported) paddle boats are available. If you're camping in the area, you might like to know they also rent out barbecues and some other things.
See
With some 400 buildings and structures on the national heritage list, there's no way to escape some cultural sightseeing in this charming little town.
The main star-shaped structure of defensive walls and canals has changed little since its construction in 1713, making Brielle one of the best preserved fortified towns in the Netherlands. The nine bastions and five ravelins were nicely restored in the 1970s and several of the original city gates are still present. Interesting elements of the walls include a mid-18th-century porter's house as well as:

Langepoort (gate)A robust 1704 brick gate.

't Vliegend HertThis windmill is a replica of the official 19th century city mill. As common at the time, the mill is situated on the walls for the purpose of enjoying the free-flowing wind.
Other sights include;
Grote of Sint-CatharijnekerkThis massive church would have been the largest in Holland of that time, but the structure was never completed. Building started in 1417 but the last bricks were added in 1482, when only the main nave and a 57 meter tower was completed. A stained glass window depicts the wedding of William of Orange and his third wife, which took place here in 1575, after the church was looted and turned into a Protestant church during the Dutch Reformation. It's possible to climb the stairs of the tower, for a nice view over town.

Arsenaal

address: Corner of Rozemarijnstraat and Lijnbaan

The town's weapon depot was built in 1708 and served as a military structure until 1922. Today, it's the impressive home of Brielle's library.

Historic Museum Den Briel in the former City Hall

address: Markt 1

This small but comprehensive museum gives an insight in the town's history, particularly of its role in the Eighty Years' War. It is housed in the 18th-century City Hall, for which the façade was created by Johannes van Westenhout in 1790.
Do
If you can read Dutch and have a smartphone with you, you can make use of a special city walking tour. It's not so much a set route, but rather a collection of objects and buildings where a QR code sign provides additional (mostly historic) information. Even if you can't read Dutch, it's a good selection of sights. Flyers with information on the tour are available from the Historic Museum or the Tourist Information Office.

Buy
With over 100 shops within the old fortifications alone, Brielle definitely allows for a small shopping spree. In fact, it's one of the main shopping destinations in the area for local and tourist alike. Many of the main Dutch chain stores are present, as well as some small speciality shops. The setting in the charming, historic town makes for a fun experience. The main shopping area is the
Nobelstraat
and surrounding streets.
address: Nobelstraat 50

This shop sells antiques and bric-à-brac. It's surely one of the most charming little stores, if you're interested in their kind of ware. Opening hours are not set in stone, and usually it's only open in the afternoons. In off-season the hours are more limited. Your best bet is to just walk by and see, or check the website.
Eat
Drink
Don't expect any serious clubbing or night-life here, but there are plenty of cafés for nice cold beers and a few where locals and young visitors come for music and dancing.
Café Dixi

address: Maarland zz 1-3

This has been a café for over 120 years, but it's still one of the most lively places. Nice terrace overlooking the harbour, makes a good place for a beer on a summer evening.
Sleep
There are quite a few places to sleep in this small town. In high season the best ones get sold out quickly, however, so book in advance if you can.
phone: +31 181 413455

address: Nobelstraat 20

This simple and a bit old-fashioned hotel is part of a mini chain of three hotels in different parts of the country. Facilities are fairly basic and the rooms on the small side, but otherwise pleasant. The place has a 3 star rating and is situated in the centre of town. This place offers some good last minute discounts now and then, which make it more interesting.
Connect
Most of the places to eat and stay have free wifi, and mobile internet 4G is readily available.

Go next