Brigham City
Brigham City
is a city in
Utah
.
Understand
The city is named for Brigham Young, an important figure in Mormon history of the 19th century.
The transcontinental railroad was completed not far from here in 1869 just four years after the end of the Civil War
Visitor information
Get in
See
phone: +1 435-226-1439

address: 24 North 300 West

An art and history museum that has 6-8 temporary exhibitions each year. The museum features a permanent exhibition on the history of Brigham City that includes an interactive area geared to children. Historic collections include all of southern Box Elder County.

phone: +1 435-226-1439

address: 641 East 200 North

Northern Utah's natural history museum. Exhibits include fossils, minerals, and information about the mining history of Box Elder County.
Do
Eat
Drink
Mim's Bar and Grill

phone: +1 435-744-2206

address: 4020 North Highway 13

Corinne. Just outside Brigham City to the west in Corinne.
Sleep
phone: +1 435 723-3439

address: 740 South Main St

Your basic mom-'n'-pop small-town motel (a dying breed). Clean and well-kept, decent beds, A/C. No pets; smoking and non-smoking rooms available. Office hours 8AM-10PM.

phone: +1 435-723-8511

address: 1167 South Main St

Credit card is required. Pets allowed, storage safe in the room. Front desk open 24 hours.
Nearby
Promontory Summit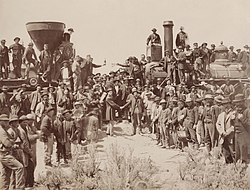 Thirty miles to the west, you'll find Promontory Summit and the symbolic
last spike
which completed the
Trans-Continental Railroad
and joined East to West in 1869. The trip
around the world overland
described in
Around the World in Eighty Days
in 1872 passed through this point when crossing the
United States of America
. By 1904, Promontory Summit had been bypassed; the original tracks were removed in 1942.
Golden Spike National Historic Park

phone: +1 435 471-2209 ext 429

address: Promontory Summit

A May 10, 1869 last spike joined the Union and Central Pacific railroads here, uniting a nation by rail from coast to coast.

address: Rozel Point peninsula

Robert Smithson's 1970 earthwork sculpture forms a coil 1,500 feet long and 15 feet wide; over six thousand tons of black basalt rocks and earth winds counterclockwise off the shore into the water. The water level in the lake fluctuates, so at times the sculpture is submerged and not easily visible.
Go next
To get to Bear River City follow route 13 to Corinne and continue north.
To the south the closest town would be Perry which is a very small town.
To the east, Mantua is known for its large reservoir.