Brisbane
Brisbane
is the state capital of
Queensland
. The Greater Brisbane region has a population of about 2.2 million people, making it the third-largest city in Australia.
Understand
Large enough to be cosmopolitan yet small enough to be friendly and accessible, Brisbane is a 'garden metropolis' famous for its leafy, open spaces and the pleasant pace of life that unfolds between the zig-zags of its iconic river. Gaining international exposure during the 1982 Commonwealth Games, the 1988 World Expo, the 2001 Goodwill Games and the 2014 G20 Summit, Brisbane's year-round warm climate, spectacular scenery, pleasant locals and world-class facilities have been the draw-cards for many domestic and international visitors, making Brisbane the fastest-growing city in Australia. Despite this rapid development, it maintains a youthful enthusiasm and is arguably one of the most laid-back and forward-thinking of any Australian capital city.
History
For many thousands of years prior to British settlement, the Brisbane area was inhabited by the Turrbal and Jagera
Aboriginal people
. They knew the area that is now the central business district as Mian-jin, meaning "place shaped as a spike". The Australian English phrase "hard yakka" – meaning "hard work" – comes from the Jagera people, and is certainly what the British settlers faced in Brisbane's humid subtropical climate.
The
Moreton Bay
area was explored by English navigator Matthew Flinders. On 17 July 1799, Flinders landed at what is now known as Woody Point which he named "Red Cliff Point" - now
Redcliffe
after the red-coloured cliffs visible from the bay. In 1823 Governor of New South Wales Sir Thomas Brisbane instructed that a new northern penal settlement be developed, intended to house dangerous prisoners in a remote location and an exploration party led by John Oxley further explored Moreton Bay. The original penal settlement was established in Redcliffe but was later moved to a location further down the bay where freshwater supplies were more reliable. Oxley named this new settlement "Brisbane" in honour of the Governor.
A series of major immigration events took place in the following decades which brought with it strong industry and commercial development in the region. In 1838, non-convict free settlers moved to the area and pushed to close the jail and to release the land in the area. In 1859, a gold rush led to the establishment of the colony of Queensland with Brisbane as its capital even though Brisbane was not incorporated as a city until 1902. In 1925, the Queensland State Parliament created the City of Brisbane Act that set up a single government for the city of Brisbane, still the largest metropolitan authority in Australia and one of the largest in the world by area. Over twenty small municipalities and shires were amalgamated to form the City of Brisbane. 1930 was a significant year for Brisbane with the completion of Brisbane City Hall, then the city's tallest building and the Shrine of Remembrance in ANZAC Square which has since become Brisbane's main war memorial. These historic buildings along with the Story Bridge which opened in 1940 are key landmarks that help define the architectural character of the city.
During World War II, Brisbane became central to the Allied campaign when the AMP Building - now MacArthur Central was used as the South West Pacific headquarters for General Douglas MacArthur, chief of the Allied Pacific forces. In 1942, Brisbane was the site of a violent clash between visiting US military personnel, Australian servicemen and civilians which resulted in one death and several injuries. This incident became known colloquially as the Battle of Brisbane.
Postwar Brisbane had developed a "big country town" stigma, an image the city's politicians and marketers were very keen to remove but despite steady growth, Brisbane's development was punctuated by infrastructure problems. The State Government began a major program of change and urban renewal beginning with the central business district and inner suburbs. Trams in Brisbane were a popular mode of public transport until the network was closed in 1969 leaving Melbourne as the last Australian city to operate a tram network.
The 1974 Brisbane flood was a major disaster which temporarily crippled the city. During this era, Brisbane grew and modernised rapidly becoming a destination of interstate migration. Some of Brisbane's popular landmarks were lost sometimes demolished in controversial circumstances with much media coverage and public protest. Major public works included the Riverside Expressway, the Gateway Bridge and later the redevelopment of South Bank after the city hosted World Expo '88 starting with the Queensland Art Gallery and Performing Arts Centre.
In subsequent years there has been strong immigration into Brisbane and the surrounding region, both domestically and internationally with large influxes from Asia, the United Kingdom, New Zealand and Polynesia. This was driven by cheaper house prices than in other Australian cities, a pleasant climate and good employment opportunities, especially within the mining and tourism sectors. Brisbane's population growth has exceeded the national average every year since 1990 at an average rate of around 2.2% per year.
Since 2000, Brisbane has gone from drought to flooding rains. In the mid-2000s, lower dam levels led to severe water restrictions for residents. The campaign to lower water usage was so successful that the city now boasts some of the lowest average water use per resident of any developed city in the world. These days you're not likely to find the tap dry or see any visible signs of the shortage. However out of respect for the locals, keep your showers relatively brief, try your best to conserve water and expect the locals to be horrified if you walk away from a running tap.
A number of extremely wet summers broke the drought and culminated in the January 2011 flood which devastated the city. In typical Queensland fashion, one of the largest volunteer workforces ever amassed - over 100,000 Brisbane locals and Queensland volunteers descended on the city to aid in the clean-up, earning the nickname the "Mud Army" and allowing the city to return to business just a week after the flood. The Mud Army were honoured with the naming of a new CityCat Ferry, the "Spirit of Brisbane" and then Prime Minister of Australia Julia Gillard described Brisbane residents as "the best of humankind", gifting a monument to the city to honour the volunteers.
Climate
When the wet season hits the northern Australian tropics, Brisbane experiences hot and clear summer days with stunning afternoon thunderstorms. When winter arrives towards the southern capital cities, temperatures are sent into the low tens (°C), while Brisbane's climate stays mostly dry and sunny, with daytime temperatures usually remaining above 20°C, comparable to that of
Miami
.
Summer (December–February) humidity is high and daytime temperatures frequently exceed 30°C, with night temperatures rarely dropping below 20°C. Occasional heat waves can raise the temperature in excess of 40°C, however these are not common. Just about any outdoor activity you do at the height of a regular summer day in Brisbane will leave you bathed in sweat. Loose-fitting clothing that protects you from the sun is appropriate attire for most casual activities, and air-conditioning will assure you a comfortable night's sleep or ride on public transport. Summer storms with hail and heavy rainfall are common in afternoons on hot, humid days. They usually pass quickly and often put on a good lightning show.
Autumn (March–May) sees a cool change in Brisbane with average daytime temperatures between 20 and 30°C. Most tourists not used to a humid climate will find this the best time to visit Brisbane, as the humidity lowers and the region shifts into a more comfortable, dry and sunny weather pattern, perfect for outdoor activities. Night-time temperatures usually drop to 10-20°C, with ambient heat from the day still radiating from the ground, keeping the early evening still warm and comfortable, though a light jacket may be required later at night.
Winter (June–August) signals the region's dry season, with Brisbane experiencing cool, sunny, cloudless days. Temperatures typically go up to 25°C during the day with night-time temperatures rarely dropping below 5°C. The early-morning chill usually disappears by mid-morning and most of the daylight hours are relatively warm, however it is still recommended to have something warm to wear as this is not always the case. The eastern suburbs tend to be cooler as sea breezes blow in from the bay.
Spring (September–November) sees the revitalisation of the city with warmer days and fresh sea breezes coming in from the bay. Weather is similar to Autumn months, with increasing humidity as summer draws closer.
More detailed information on Brisbane climate and weather is available online at the
Australian Bureau of Meteorology
.
Warning
The damaging effects of the Queensland sun should not be underestimated. The state has the highest per-capita rate of skin cancer in the world and tourists often come unprepared. On a sunny day in Brisbane, it is common to be sunburnt after as few as 15 minutes under the midday sun, but sunburn can also occur on overcast days. This is not exclusive to summer, but can happen all year round, even in winter.
If you are planning a long day outdoors, always cover up with sunscreen, loose clothing, a hat and sunglasses to protect yourself. Limit your outdoor physical activity in the summer until you are used to the heat. Immediately seek shade or an air-conditioned area and drink plenty of water if you are feeling the effects of heat exhaustion, including headache, nausea, dizziness, fatigue, confusion or fainting.
Visitor centre
Get in
By plane
Brisbane can be accessed by plane via the main Brisbane Airport (
BNE
), or by the less convenient but often cheaper Gold Coast Airport.

Brisbane Airport has direct flights from all Australian capitals and many Queensland centres. Major domestic carriers include Virgin Australia, Jetstar, and Qantas. The airport is serviced by many regional airlines and it is possible to fly daily to most Asian centres (and on to Europe), the United States and New Zealand, without flying via Sydney or Melbourne.
You can get a bus and train from the Gold Coast Airport to Brisbane, by using the Surfside buses to Robina and transferring to the train. A single fare costs around $17, and you can buy a single ticket or use a Go Card.
Both airports have a full range of rental car options.

By train
Long distance rail services both arrive and depart from Roma Street Station in the inner city. Services to New South Wales operated by NSW TrainLink depart from Platform 2 and all other Long Distance Services depart from Platform 10.


By car
Visitors from southern states can reach Brisbane by either the New England and Cunningham or Pacific Highways.

The Bruce Highway (A1) connects the northern coast of Queensland to Brisbane.
The Pacific Motorway (M1) connects Brisbane to the Gold Coast continues south along the New South Wales coast.
The Ipswich Motorway (M2) connects to Ipswich and surrounding Western Brisbane areas.
The Warrego Highway (A2) links Brisbane to the west through the Lockyer Valley, Toowoomba and the Darling Downs.
The Cunningham Highway (A15) links Brisbane to Southern Queensland and Central western New South Wales.
By bus

Most long distance bus services operate from level 3 of the near Roma Street Station in the inner city.


By ship
Brisbane has an international cruise terminal next to Portside Wharf

Get around
Ample public and private transport options can take you anywhere in the region with ease. Areas near the river are relatively flat and are perfect for walking or cycling. If heading further out, you'll likely encounter the urban sprawl with long distances, steep roads and a confusing street layout, and you should consider other options.
If you find yourself lost, it's advisable to head to the nearest main road as more than likely it will be serviced by buses or trains. If you are driving, a street directory or GPS unit is an essential addition to your car. Locals are generally friendly and more than willing to help you out if you are lost, so don't be afraid to ask.
By foot
Brisbane is an excellent city for walking and you should have no problems getting around the CBD. Within minutes of walking in virtually any direction you will be able to find a bus, train or ferry station. Maps can be purchased from bookstores, any tourist information centre or viewed online. There are also a number of shared pathways that offer relaxed walking routes away from roads and traffic.
Beyond the CBD and inner-suburbs however, sights can become very spread out, so you might want to consider other modes of getting around.
By bicycle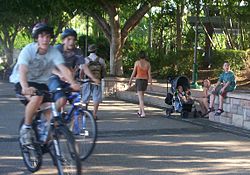 Getting around the city and South Bank is easy thanks to the many cycle paths along the river.
The Brisbane City Council operates a scheme known as CityCycle, which offers bicycles for hire at different CityCycle stations located around the city, however, you must be at least 17 years old to join. Anyone (including visitors) can register for a 24-hour period for $2 which provides access to the entire CityCycle network, an unlimited number of journeys and the first half hour of every journey is free. You can register online at link your GoCard, or tap your credit card at a CityCycle station. . Once you pay the daily or monthly fee, the bikes are free to use, as long as you return the bike to any CityCycle station within 30 minutes. Costs increase steeply after the 30 minutes, and there is no leeway given by the stations. Helmets are mandatory as required by law (and this is enforced with on-the-spot fines), but some free yellow helmets can be unreliably found at the bike-hire stations. Download the AllBikes app to check the location of hire points with bike and return capacity.
Cycling on footpaths is legal in the Brisbane City Council area (maximum speed 10 km/h), however pedestrians have right of way. Keep left and take special care when riding through South Bank Parklands as the shared (and quite wide) foot and cycle path is often clogged with large groups taking up the whole path, pedestrians stopping unexpectedly for photos and playing children running heedlessly in front of you. It is often too noisy here to use your bell, so use your common sense, and dismount and push your bike through crowded pedestrian areas.
Maps showing extensive dedicated bikeways and shared paths in the Brisbane City Council area are available on the BCC website and a journey planner is available
here
or using Google maps with the bicycle mode selected. These bikeways offer a pleasant way to explore and enjoy Brisbane.
Some areas of Brisbane are very hilly. If your street map shows a tangle of winding streets close together that is a sign of steep roads. A short trip can quickly become a lot of work, especially if you are using the heavy CityCycle bikes. Stick to the river when possible, it's where you get the best views and it is almost entirely flat. Also, the a nearby CityCycle station is little use for returning your bike when you are at the top of the cliff, and it is at the bottom.
If you leave the cycle paths, footpaths, and minor streets you should be prepared to contend with busy urban traffic. Feel free to ignore any Brisbane motorists that may have resentment toward cyclists and ignorance of the road rules applying to cyclists; cyclists are permitted to travel on just about all roads in Brisbane. Special "bicycle lanes" on Brisbane's roads are becoming increasingly common and are often denoted by a narrow green-coloured strip of road adjacent to the curb.
Green cabs
Green Cabs
are one of the latest additions to the city and growing in popularity. Essentially a rickshaw, they are a novel way of getting around the inner-city areas. Able to accommodate up to 2 adults and 2 small children (though it can vary - talk to the rider and see what you can arrange), they mostly operate between West End, South Bank, the CBD, Fortitude Valley and along the river where it's mostly flat, although you can arrange to be taken elsewhere. Prices start at $5 and tours are available.
Green Cabs operate on weekends and during special events. During the day operators who are ready to go are usually based at South Bank at the Wheel of Brisbane. At night, you will find Green Cabs at South Bank and throughout the CBD.
By car
Many of the roads in the CBD are one-way, making driving in this area complicated for people not familiar with the layout. Drivers used to city driving should not find Brisbane too much of a challenge, and parking is readily available in parking stations in the city, albeit often at a steep cost, around $40 to casually park for a day. $15 parking is generally available with early-bird deals (arrive before 9:00, leave after 16:00.) The CBD has limited street parking and issues parking infringements for illegally parked vehicles. All inner-city street parking is metered and signed and costs about $4 per hour. Avoid parking fines by only parking in designated parking bays marked by white lines. A yellow painted line along the kerbside indicates no standing and no parking.
Most CBD roads become clearways at 16:00 (unless signed otherwise), and any cars parked on the side of the road will be fined, towed or both. You have to pay for the towing to get your car back, and then expect a fine to follow in the mail. Check for signs and line marking when parking, or just play it safe and find a parking station.
If you are looking to visit the areas surrounding the city, then generally a car will be as quick as any other way of getting around, with the possible exception of the height of peak hour. Brisbane is notorious for having roads that bottle-neck and what would normally be a 15 minute trip could easily turn into well over an hour during peak times.
There are several toll roads in and around Brisbane (clearly signed and marked for approaching motorists), including the Gateway Bridge which crosses the river near the airport, the Clem-7 tunnel and the Go-Between Bridge. Cash is not accepted, toll users must have a prepaid transponder or post-pay via a website. Check the go-via website for more details.
By motorcycle, motorbike or scooter
With limited street parking, and often-expensive off-street parking, the best way to get around the CBD is either by scooter or motorbike. Motorbike and scooter parking is free and there are plenty of areas designated for parking of both motorbikes and scooters.
Scooters, however, are not allowed on major highways. Even though they can be ridden by just about anyone who holds a car driver's licence, it is difficult to see all of Brisbane on a scooter as most major streets are zoned as 60–80 km/hr and the standard 50cc scooters are limited to 55 km/hr.
North of Brisbane you will find many beautiful scenic drives for motorbike enthusiasts. The North side is surrounded by many windy roads and great mountain roads on which any motorbike rider can enjoy a full day out on the motorbike of just about any size.
There are services available throughout Brisbane and the Gold Coast which deliver both scooters and motorbikes right to your door-step. Some will even provide all the necessary gear as well. Take a look at a few rental companies below to find a perfect motorbike/scooter for your trip.
Rentals
Most major car hire companies have offices at Brisbane Airport and in the city centre. As is common with many hire car companies, you will often pay a premium to pick up or return at the airport location. If you are looking to cover a long distance by car, ensure your rental policy includes unlimited mileage – most economy to standard sized car rental include this already. Most car rental companies hire to people 25 years of age and over, some all age car rental companies do hire to younger drivers over 18 years of age (there are surcharges involved for under-age drivers).
By taxi
Taxis are numerous throughout Brisbane and can take you anywhere. The major companies are
Yellow Cabs
and
Black & White Cabs
. All cabs can be hailed down no matter where you are, provided their roof light is on, though in some areas they might not be able to stop, so it might be best to book one in advance. All cabs accept cash, credit and debit cards. Despite cabs being fitted with GPS units, you'll find it wise to check with the driver about your destination before departing and make sure they are willing to go there.
In the outer-suburban areas, cabs will pull over if you hail them down from the side of the road and can be found in designated taxi ranks in shopping centres, or near bars and pubs. The same can be said for the inner-city, however taxi ranks are more common and it's usually best to catch a cab from there. At night though, especially on Friday and Saturday, taxis exclusively pick up passengers from these ranks and you'd be extremely lucky if you get one elsewhere. These ranks are usually monitored by security and have ushers at night. From midnight-5:30AM on Friday and Saturday nights, all taxis from the CBD and Fortitude Valley become "FlatFare", meaning that there is a fixed price for any given destination and you will have to pay before entering the taxi.
Taxis can be expensive in Brisbane; a trip between the airport and the city can be in excess of $50–60 and can easily run to over $100 if you go beyond the metropolitan Brisbane region.
Public transport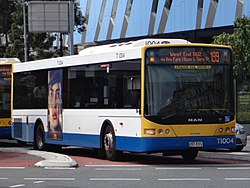 Brisbane's three main public transport options (ferries, buses and trains) are run by a single provider, known as
TransLink
. This allows free transfers to be made between the three different transport modes, providing relevant time and zone restrictions are met. The
TransLink website
(Phone: 13 12 30 or download the 'MyTranslink' app) is handy for researching public transport options between destinations. Google Maps also offers full public transport navigation, with real-time updated information across all three modes.
Ticketing
TransLink has integrated ticketing called the
go card
, a contactless smart card purchased before travelling that you top-up with funds. The fare is deducted as you touch-on and touch-off as you board and leave public transport. You must touch both on and off for all Go-card journeys regardless of the mode of transport. A failure to touch off will result in a fixed fare of up to $30 being charged to the card. Buses and CityCats/Ferries are fitted with go card machines as you board. Train stations have fare gates or distinctive yellow readers located on the platform. A deposit of $10 applies when purchasing a go card. Go cards can be purchased and topped up from staff at train stations, ticket vending machines at major stations and bus stops, and selected newsagents and convenience stores, which there are many of in the city centre.
Buying a go card removes the hassle of figuring out zones. Fares are discounted by 30% and once you have paid for 8 journeys within a week (Monday to Sunday). Translink uses the word "journey" to mean end-to-end journey including any required transfers, and the word "trip" to mean a single point-to-point trip. A journey can be made up of one or more trips. When making a number of trips to get to your destination it is still one journey if you touch on within 60 minutes of touching off on your previous trip.
You can buy paper single tickets for journeys to travel all the zones you need to travel in. Operators generally know what zones to give you if you tell them your destination. They are only valid for one way journeys, and come at a premium - starting at over $4 for a one way trip. A few services (like the City Glider, and some peak hour services on the busways) are pre-paid only, and you must have a Go-card to ride.
Getting a go-card will save you at least 30% over paper tickets for equivalent journeys. However, getting a refund for the unused money and $10 deposit can be a hassle. If you have paid by credit card you need apply and have the money returned by cheque or by transfer to an Australian bank account. If you have paid by cash you can get a refund at a train station, including the airport train station.
If you are going to be doing short-term extensive travel or using the Airtrain, you can buy a 3-day or 5-day unlimited travel SEEQ Card for $79 and $129 respectively. SEEQ cards work like regular go cards however provide additional discounts at various tourist attractions around South-East Queensland. You don't have to worry about topping up and refunds, but you'll struggle to get value out of it unless you are catching the Airtrain.
You can be fined $261 for travelling without a valid ticket.
Fares
If you are using a Go Card, then all fares are calculated automatically based on where you touch-on and touch-off.
The fare depends on public transport
"zones"
. The 8 zones form concentric rings and propagate outwards from the CBD (zone 1) and cover the whole of South East Queensland. All official public transport maps clearly mark the zones and zone boundaries. Most of Brisbane is covered by zones 1 and 2. Your fare is determined by
how many
zones you travel through. Travelling between zones 2 and 3 will cost you the same fare as travelling between zones 7 and 8. In addition if you are using a paper ticket, you must observe the time restrictions for transfers to avoid having to pay for another journey.
Often, major stops like shopping centres and busway stops are used as zone boundaries. Stops that form part of the zone boundary are considered part of both zones.
CityFerry and CityCat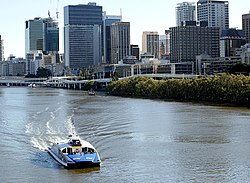 CityFerries and CityCats have become an icon of the city and are fantastic ways to tour Brisbane along the river. The CityCats are high-speed catamarans with stops at South Bank and the city centre as well as many riverside suburbs, and are a very popular method of getting around for tourists. CityFerries are more traditional ferries which generally operate shorter routes with more frequent stops; you may end up on one if you must use one of the smaller terminals, but in practice, most riverside destinations are accessible from the faster and more modern CityCats.
Cross-river ferries, such as the Bulimba to Teneriffe Cross River Ferry link the transport facilities on the opposite sides of the river.
Trains
Trains in greater Brisbane run along radial lines. Most train services in Brisbane are through-running, travelling from one end of the suburbs to the other, however all trains service Roma Street, Central, Fortitude Valley and Bowen Hills regardless of their ultimate destination. Interurban services can also be caught to the Gold Coast (using connecting tram services at Helensvale and buses at several other stops) and Sunshine Coast (using connecting bus services at Landsborough and Nambour) as well as Australia Zoo (connecting bus at Beerwah). Trains generally run from 6AM to midnight, though there are some variations such as running later on Friday and Saturday nights, and finishing earlier on Sundays.
Buses
Brisbane has a large interconnected network of bus routes that service the whole city. The bus fleet is the most modern in Australia and can be identified by the vibrant blue and yellow colouring, with exception to special crosstown services (listed below). Nearly all buses have a digital display of their route number and a brief description of the terminus and/or areas serviced. For your visit, it is worthwhile using the Translink App on your mobile device for maps, route info and real-time service updates.
The inner city areas are very well served by buses, with the most popular routes running frequent services from 6AM to 11PM as a minimum. Heading inbound to the CBD, most routes ultimately terminate at Queen Street Station, Fortitude Valley (via Adelaide St or Elizabeth St) or on the
Busway
. Brisbane's dedicated Busway runs from a corridor in the southern and northern suburbs, with a large number of buses servicing South Bank, Cultural Centre, Queen Street, King George Square (City Hall) and Roma Street Station. Shorter sections branch off to The University of Queensland, The Gabba Stadium and Stones Corner. Due to the large number of buses in the CBD, a number of other routes use stops scattered across the city streets, so if you are unfamiliar with the geography of Brisbane, use of the Busway is recommended where possible. The Busway and rail network meet at Roma Street Station and again at South Bank Station, and the two modes of transport combined provide very good coverage of the key inner city areas.
In some of Brisbane's notoriously dispersed outer suburbs, services may be much less frequent or have reduced running hours, so it is advisable to check timetables if making these trips. Timetables are sometimes optimistic, especially during morning and afternoon peak hours when traffic is heavy, and buses are occasionally up to 10 minutes late.
Drivers do carry bank notes with them, but not always many or of high value. If you must pay cash, try to pay the correct amount and with coins where possible. Some services, especially in peak hour, do not sell tickets on board at all and only accept pre-purchased tickets or go cards. These are signed with the letter 'P' before the route number. As with many cities, Brisbane has a large number of express buses, so it should not be assumed that all buses observe every stop along the roads they travel. In peak hour there are even more express routes ("rockets" and "bullets") for commuters which make very few stops at all. Ask the driver if you are unsure.
Brisbane also has all-night bus services on Friday and Saturday nights on selected routes; this is branded 'NightLink'.
Crosstown services
See
Buildings and landmarks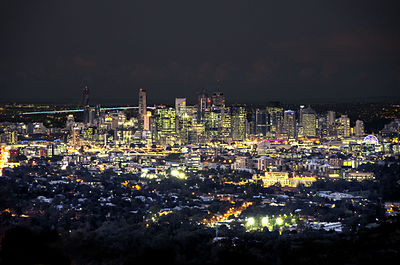 Museums and galleries
Gallery of Modern ArtPart of the Queensland Art Gallery and a short walk from the Main Gallery. Opened in 2006 the gallery regularly hosts exhibitions featuring internationally famous artists (such as Warhol and Picasso) as well as many local contemporary artists.
phone: +61 7 3844-5361

address: cnr Stanley and Sidon Streets, South Bank

Has a range of exhibitions and vessels. Step aboard the HMAS Diamantina and experience life as a Navy sailor. Be sure to see Ella's Pink Lady, the yacht Queenslander Jessica Watson sailed solo unassisted during her record-breaking journey to become the youngest person to sail solo around the world.
phone: +61 7 3840-7555

address: cnr Grey and Melbourne Streets, South Bank

A large museum featuring several exhibitions that generally focus on natural history and Queensland history.
address: Level 1 of the Museum

A hands-on, interactive science facility particularly popular with families and children.
Sir Thomas Brisbane Planetarium

phone: +61 7 3403-2578

address: Brisbane Botanic Gardens Mt Coot-tha, Mt Coot-tha Road, Toowong

Open Tu-Su with free admission to astronomy and space displays and a mini theatre. Admission fees apply to the Cosmic Skydome which features a wide variety of astronomy and space programs. All shows feature a "live" segment recreating the current Brisbane night sky. On weekdays (closed M and public holidays), the doors open at 10AM with school shows at 10:30AM and noon. Members of the public are welcome to attend the earlier school shows when space permits (children must be school age). The 1:30PM and 3PM sessions (Tu-F) are public programs, although the 1:30PM program may be booked for dedicated school programs (check with the Planetarium's Booking Office). During Queensland school holidays there are extra public shows on weekdays. On weekends, the Planetarium opens at 11AM and shows are also presented on Saturday night with "Saturday Night Live" at 6PM being a very popular show. There is a shop with a wide variety of astronomical/science merchandise and souvenirs. There is free parking, an adjacent bus stop and a separate cafe/restaurant.
Nature and wildlife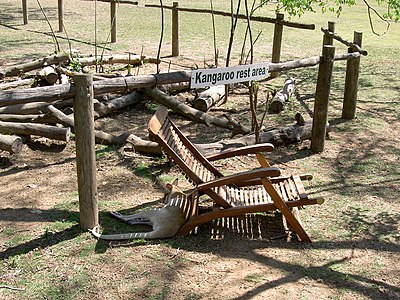 Brisbane Botanic Gardens Mt Coot-tha

address: Mt Coot-tha Rd, Toowong

Beautiful subtropical gardens with many walks.

City Botanic GardensWalking and cycling tracks. Exhibits. Free tours are a mix of the history of the gardens and the city whereas the garden tours at Mt Coot-tha are more focused on the wide variety of plants.

phone: +61 7 3378-1366

address: 708 Jesmond Rd, Fig Tree Pocket

World's first and largest koala sanctuary, with over 130 koalas. Cuddle a koala, hand feed kangaroos and see other Aussie wildlife. Admission $32 adults, $21 children 3-13 yr, with discounts for families and students. Alternate transport options include: Catch the hourly 445 or 430 buses from the city or the Mirimar boat cruise from South Bank at 10:20AM.

address: Sir Samuel Griffiths Drive

Brisbane's tallest mountain. A popular make-out spot with a great view and good but overpriced cafe and restaurant. Large TV and radio antennas line some of its broad peak. You can take a scenic drive through the heavily forested Mount Coot-tha Reserve to the peak to see the almost-360° views of Brisbane and the surrounding region. The mountain is 287 m (941 ft) above sea level and forms the eastern extent of the Taylor Range. It is the most northern part of Australia to record snow. It is a prominent landmark approximately 6 km (4 mi) to the west of the Brisbane central business district and is visible from much of the city. Before the Moreton Bay penal settlement, Mount Coot-tha was the home of the Turrbal Aboriginal people. Early Brisbane people called it One Tree Hill when bush at the top of the mountain was cleared except for one large eucalypt tree. The Aboriginal people of the area used to come to the mountain to collect 'ku-ta' (honey) that was produced by the native stingless bee. Mount Coot-tha (Place of Honey), a derivative of the indigenous term, replaced the title 'One Tree Hill' in 1880 when the area was declared a Public Recreation Reserve. Car is the most effective way to enjoy Mount Cootha at your own pace. There is ample parking at the peak. One can also hike the marked trail from the mountain's foot. See one of the best views of Brisbane. It is best to arrive just before dusk or dawn so you can enjoy the transition from day to night. Drive to the peak for a picnic dinner and admire the views. There are several walking tracks through the forests that surround the summit; some are difficult. It is a great place from which to watch the Riverfire fireworks in Sep.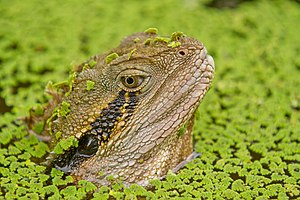 New Farm ParkThis historic park is famous for the long line of jacaranda trees, shady picnic areas and its large rose gardens that contain hundreds of varieties of roses, and over 40,000 plants.

Roma Street ParklandsThe world's largest subtropical garden in a city centre and home to 1,800 unique species of plants. Experience the theme gardens such as the topiary maze, rain forest walk, lake, celebration law and amphitheatre with many public artworks to admire.
Other points of interest
Manly Boat HarbourThis is the nearest access point to Moreton Bay Marine Park with its pristine waterways and fascinating islands. Next to the harbour is Manly Harbour Village, with a great range of dining and shopping options overlooking the marina.

South Bank and Cultural PrecinctSouth Bank is a relatively recent development across the Brisbane River from the heart of the city on the site of World Expo '88, and features an artificial beach surrounded by extensive parklands. Also in South Bank are the shops, cafés, restaurants and cinemas of the Grey Street precinct. A great place to hang out on a hot day and swim for free. Adjacent to South Bank, the Cultural Precinct includes the Queensland Performing Arts Centre, Queensland Museum and Sciencentre, Queensland Art Gallery, Gallery of Modern Art (GoMA) and State Library of Queensland. Griffith University's South Bank Campus incorporating The Queensland Conservatorium and the Queensland College of Art are also located on Grey St.
Suncorp PiazzaWithin South Bank, it often hosts free live events and movies.
Do
Activities and trips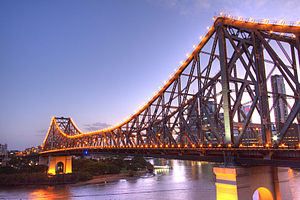 Kangaroo PointThe walls along the Brisbane River are a popular spot for rock climbing and give an excellent view of the CBD skyline just across the river. Activities carry on after dark, when the walls are well-lit. Abseiling and rock climbing classes on the cliffs with an instructor are available from Riverlife Adventures, as well as kayak, kick-bike, rollerblade and bicycle hire. There are also barbecue and picnic spots in the area.

Story Bridge Adventure ClimbScale the top of Brisbane's iconic bridge. You can enjoy 360° views of Brisbane, the mountain ranges and Moreton Bay Islands at dawn, afternoon or night.

Jan Powers Farmers MarketsBuy fresh fruit, vegetables and cuts of meat from one of the many farmers markets across Brisbane including the Powerhouse at New Farm, Manly, Mitchelton and the newest market at Reddacliff Place at the top of the Queen Street Mall.

phone: +61 7 3844 6671

You can gain an aerial perspective as you float over Brisbane in a hot air balloon. It's often possible to see as far off as the magnificent Glasshouse Mountains, to the Gold Coast and out to the islands of Moreton Bay.

Kookaburra Queen River CruisesKookaburra Queen's two Mississippi-style paddle steamers are a common sight travelling up and down the Brisbane river with lunch and dinner cruises. Both ships were built for the 1988 World Expo. Cruises leave from the Eagle Street pier in the CBD, and are a relaxing way to enjoy the sights of the city.

Cruise the Brisbane RiverThere are various companies offering a range of river cruises and tours to take in the sights. These include cruises to the Lone Pine Koala Sanctuary, and the BrisVegas floating nightclub.

Explore Brisbane's Moreton Bay and IslandsThe bay is 25 km (16 mi) from Brisbane's CBD and stretches from Bribie Island to the Southern Bay Islands. Enjoy sand tobogganing, 4-wheel driving, diving or snorkelling or go marine watching and spot turtles, dolphins, dugongs and whales.

Wivenhoe DamSpot koalas, swim, sail or kayak on Lake Wivenhoe. There are BBQ facilities, playgrounds and plenty of parking.

Woorim BeachDrive across the bridge from the mainland to see a beautiful Australian national park. Hire a boat for fishing, visit the secluded Woorim Beach with views to Moreton Island or go on one of the several hikes.

Explore Greater Brisbane CountryTake a day trip to the surrounding regions around an hour from Brisbane and discover wineries, national parks, lakes and country living. The Scenic Rim including Ipswich, Beaudesert and Boonah is a vast region of mountains, rainforest and valleys embracing the World Heritage wilderness of the McPherson Range. The Lockyer Valley provides a perfect blend of town and country living, with experiences ranging from guided tours and bush camping to hot air ballooning and sky-diving.

The Scenic RimThis describes the large arc of mountains, to a height of 1,375 m (4,511 ft), from the Mistake Ranges (south of Gatton) across the Main (Great Dividing) Range to the MacPherson Range that terminates at Currumbin on the Gold Coast. Apart from some well known locations on the Rim, such as Binna Burra and O'Reilleys guesthouses, Springbrook and Cunningham's Gap, the largest proportion of these ranges are unspoilt and much of it near-wilderness. Many forest areas were previously logged, but the forest recovery has been excellent, and virtually all the logging tracks have disappeared except for those still used for foot access. At the previously mentioned sites, graded paths offer a taste, but for the more adventurous there are many hiking possibilities from day trips to sustained multi-day exercises. More information can be found on the web. Hikers should be properly prepared and conversant with navigation in difficult country and the rules of National Parks.

Riverlife Adventure CentreBrisbane's riverside adventures. Kayaking, abseiling the Kangaroo Cliffs, a rollerblade session and bike rentals. They also organise evening activities such as kayak paddle and prawns.

phone: +61 7 3306 8888

address: 130 William St

Full featured casino with a wide variety of slots and table games, in a striking 19th-century building.
Events
Thanks to Brisbane's year-round wonderful climate, it's the perfect city to host outdoor events. The city often plays host to cultural and historic celebrations, music festivals and family entertainment, particularly in the Summer holiday months of December, January and February.
Cultural and historic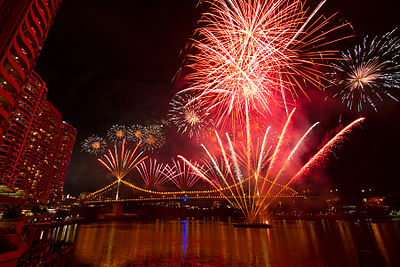 Each year, Brisbane also hosts several parades through the central city. These can make great photo opportunities, and include:
St Patrick's DayParade on Saturday closest to March 17

ANZAC DayParade starts 10AM on April 25.

May Day MarchLarge parade with participants from local trade unions. First Sunday in May.

Zombie WalkAnnual event raising funds and awareness for the Brain Foundation. First Sunday in October.

Christmas Parade and PantomimeEach evening from early December until Christmas, the central city's Queen Street pedestrian mall gets taken over by elves, sugerplum fairies, live camels and a giant teddy bear. It's a popular event for families, particularly on weekends.
Music
Brisbane's Fortitude Valley has the highest concentration of bars, pubs and clubs anywhere in Australia and in 2005, was given Australia's first and only "Special Entertainment Precinct" zoning, which protects and promotes the live music scene. In 2007, influential US entertainment Billboard magazine named Brisbane in the world's top 5 hotspots for live music. And in 2010 the city opened the Go-Between Bridge, named after the popular Brisbane indie rock band The Go-Betweens. There is no doubt that the locals love their music and a night out in Brisbane is not complete without experiencing some of the live music on offer. If you are looking for what's happening in Brisbane, most music and entertainment stores as well as some restaurants and cafés offer free entertainment magazines that list what's coming up within the next month or so. Brisbane and the surrounding South East Queensland region plays host to a myriad of music and arts festivals and are advertised in these magazines.
Though you might find most musicians playing in the numerous bars and clubs around the CBD, West End and the Valley, there are some venues which are geared specifically toward hosting bands or artists that are on official tours. Some events allows under-18s in, but not all, so it's best to check beforehand.
The
Valley Fiesta
is an annual three-day event. It was launched by Brisbane Marketing to promote Fortitude Valley as a hub for arts and youth culture. It features free live music, market stalls, food and drink from many local restaurants and cafés, and other entertainment.
Sports
Whether watching or participating, Brisbane has a great range of sporting events.
Voted as one of the best stadiums in Australia, Suncorp Stadium is host to the Brisbane Broncos NRL and Queensland Reds Rugby Union teams in the winter, and Brisbane Roar Football (Soccer) Club in the summer. Other events such as the NRL State of Origin are also a very big draw-card. Most matches cost between $25–40 for an adult.
On the south side of city at Woolloongabba is the Brisbane Cricket Ground, commonly known as The Gabba. Here, the Brisbane Lions AFL team plays in the winter, and all forms of cricket can be viewed in the summer.
Learn
Several universities call Brisbane home and there are significant opportunities for international students to enrol in degree programs. Many of them have exchange agreements with several foreign universities.
The University of Queensland (UQ) is the oldest university in Queensland and arguably the most prestigious, being a member of the Group of Eight, a coalition of leading Australian universities, intensive in research and comprehensive in general and professional education. UQ has its main campus in the Brisbane suburb of St. Lucia, with other smaller campuses at Ipswich, Gatton and Herston, and satellite facilities scattered around Queensland.
Queensland University of Technology (QUT) is another major university located in Brisbane, with a strong focus on research and practical teaching, formed as an amalgamation of a number of various technical colleges. It also ranks very highly amongst Australian universities. The main campus is located at Gardens Point, right in the heart of the Brisbane CBD, with other campuses at Kelvin Grove, Carseldine and Caboolture.
Griffith University (simply referred to as Griffith by the locals) is the other major university in Brisbane, with a focus on more creative degrees, but it does offer many of the same degrees you can undertake at other universities. The university has a number of campuses in Brisbane suburbs including South Bank, Mount Gravatt and Nathan, with another two campuses in Logan City and the Gold Coast.
Buy
Take a note of Brisbane's shopping hours before venturing out shopping in the City. Late night shopping is Thursday evenings in the suburbs, and Friday evening in the city centre. Other nights, expect most shops to close at 5PM.
Queen Street MallMain shopping mall in Brisbane, large variety of shops, contains several shopping centres.
The Myer CentreRuns the gamut from jeans shops to specialty knife stores. Internet kiosks are available.
The WintergardenA fashion centre connected to the foot of the Hilton Hotel. Also contains a licensed day or night bowling alley.
QueensPlazaBrisbane's newest fashion centre, with more expensive, big brand stores.
Brisbane ArcadeA secluded narrow shopping strip which acts as a pass way between Adelaide and Queen St. It contains many unique stores. It is one of the few remaining heritage shopping arcades in Brisbane.
Queen Adelaide BuildingOne of Brisbane's oldest buildings is home to Queensland's flagship Sportsgirl store, Adidas and Rebel Sport.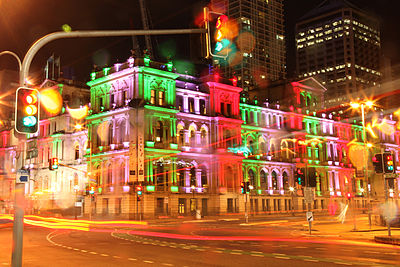 Adelaide StreetDowntown's dress circle

Elizabeth Street ArcadeArcade that spans between Elizabeth and Charlotte streets. Lots of independent boutiques to suit various prices, and lots of cheap Asian food.

Albert StreetHas many adventure and sports-type retailers, lots of bookstores.

Eagle StreetThe centre of law and finance in Queensland, holds the Eagle Street and Riverside markets.

Edward StreetMostly covered by Queens Plaza, MacArthur Central and Wintergarden street fashion stores. There are also a couple of jewellery, take-away restaurants, bars and night clubs. Edward St. has been transformed into a luxury brands precinct, with stores such as MaxMara, Tiffany & Co., Louis Vuitton, Cartier, Bulgari, Bally, Mont Blanc, Chanel, Gucci, Hugo Boss, Oroton, Ralph Lauren, L'Occitane, and Hermes. Apple opened its Brisbane flagship store in the heritage-style MacArthur Chambers building, (which acted as U.S. General Douglas MacArthur's regional headquarters in World War II), and is similar to Apple's other heritage building refurbishments in London, Paris, Amsterdam and Berlin. Brisbane's MacArthur Chambers store was ranked among the best.

South Bank marketsHeld at the South Bank Parklands every Sunday.

Brunswick Street MallLocated in the heart of China Town, there are many Chinese retailers, fast food restaurants, cafes and bars. Markets are run on Sundays.

phone: +61 7 3378-4022

Large shopping centre sprawled over three massive levels. Large variety of retailers.

phone: +61 7 3135-5450

address: Corner of Logan and Kessels Roads, Upper Mt Gravatt

Large shopping centre with two levels. Contains a large variety of fashion retailers and book stores. Outdoor food section based around a water feature, that's busy into the evening.

phone: +61 7 3117-5300

address: Corner of Gympie and Hamilton Roads, Chermside

Brisbane's largest shopping centre. Popular among youth culture for its Megaplex Movie Cinema.

phone: +61 7 3120-5400

address: 1151 Creek Road, Carindale

The largest shopping centre in the Eastern Suburbs.
address: Unit 3, 27 Windorah St, Stafford

address: Montague Rd, West End

An expansive farmers-style market with an alternative vibe that sells fruit and vegetables, meats, cheese, and handicrafts. Also has food vendors, including a crêperie.

James Street

address: Fortitude Valley

Small strip with high-end fashion, furniture and electronics retail, plus a couple of nice bars and cafes.

Valley MarketsA shopping must for locals and tourists. Operating every weekend, find jewellery, fabulous handmade accessories and artwork. Home to emerging fashion designers.

Ann StAlong Ann Street in the Valley there are many independent fashion boutiques for mid-range shopping. Some of them are spread out around the corner of Brunswick Street too.
Eat
Brisbane City and Spring Hill
Budget
Kadoya

phone: +61 7 3229 3993

address: 73 Mary St

A casual Japanese eatery and takeaway dishing up rice bowls, noodle soups and bento boxes. Cooked fresh, tasty, cheap. Popular lunch spot for city-workers.

Beach House

phone: +61 7 3003-0017

Located on the corner of Albert and Elizabeth St, Myer Centre, 2F. Licensed bar, large meals and live entertainment at value for money.

Bar MerloVarious outlets throughout the city, their first being opened in the QUT Gardens Point campus. Regarded as one of the leaders in the Brisbane café society boom since the 1990s, their coffee is served at countless cafes and restaurants throughout Brisbane.

Hanaichi

address: Wintergarden, Macarthur Central

Cheap Japanese takeaway. Try the Katsu Curry.

MOS BurgerThe second largest fast food chain in Japan offering interesting and tasty Japanese style burgers, including "rice burgers" that have buns made of rice and interesting filings not found in your usual western burgers. One of only 4 Mos Burger restaurants in Australia, another one is in Sunnybank, and the other two are in the Gold Coast (Surfers Paradise and Southport)

German Sausage Hut

address: Burnett Ln

Excellent and authentic German food. Take away available. They offer currywurst, wurst in a roll, wurst on a plate with potato salad and sauerkraut.

Pancake Manor

address: Charlotte St

A Brisbane institution, open 24 hours. Tends to fill up with nightclub revellers on their way home after about 3AM on a Saturday or Sunday morning.
Mid-range
Splurge
phone: +61 7 3233-2555

address: 1 Eagle St

The sister restaurant to the famed ARIA Sydney, ARIA Brisbane is no less impressive, with a commanding view of the River and the Story Bridge. Located in the Eagle St Pier precinct, it specialises in the freshest Australian produce.

phone: +61 7 3229-3175

Located in a little hideaway on Eagle St, this restaurant has one of the most impressive views in Brisbane, looking across the river to the Story Bridge. Well known for its "liquid nitrogen nibbles", Alchemy lives up to its name.

phone: +61 7 3211-9944

Pier Ave. Famous award-winning steakhouse located at the Eagle St Pier precinct. Their steaks are considered one of Australia's best. Organic Char, the sister restaurant to Cha Cha Char, serves organic produce.

phone: +61 7 3831-8344

address: 100 Boundary St

Founded and run by the internationally renowned and acclaimed chef Philip Johnson, it is one of the best restaurants in Brisbane and Australia-wide.

phone: +61 7 3220-2123

address: 145 Eagle St

Opened by executive chef Ryan Squires, who trained at Noma in Copenhagen, this restaurant is famed for its degustation menu. Don't go dressed in shorts and a t-shirt. Many an unsuspecting Brisbanite has attempted to get in, yet even in the height of summer the still have a strict dress rule.

phone: +61 7 3221-6090

address: 1 Pier Ave

Located in the Eagle St Pier precinct, along with other notable neighbours. Famed for its signature sand crab lasagne, it is one of the most popular Italian restaurants in Brisbane and also among the priciest.

phone: +61 7 3221-7655

address: 12 Edward St

Huge selection of wines and a varied menu including seafood, duck, rabbit and pork cheeks. By no means cheap but amazing food.

SakeEagle St Pier. The recipient of an Australian Gourmet Traveller star, and selected as one of Australia's 100 Top Restaurants, Sake is one of the hot newcomers to the Brisbane restaurant scene. Serves Japanese Cuisine.

Tank

phone: +61 7 3003-1993

Tank St. Another member of the top 100 Restaurants in Australia, Tank also served Japanese-Australian cuisine in a tucked away spot in a little laneway off Tank St, in the North Quarter of the Brisbane CBD.

Urbane

phone: +61 7 3229-2271

Mary St (short walk from Stamford Plaza). One of the best fine dining restaurants in Brisbane, serving unconventional but innovative food.

Vintaged

address: Elizabeth St

Serving carefully aged meat within luxe surroundings, this is one of better hotel restaurants in Brisbane.
Fortitude Valley and New Farm
phone: +61 7 3254-0377

address: 21 Barker St

Good food, nice atmosphere across several rooms, surprisingly good children's menu. Open for dinner 364 days a year. Watch out for the offal specials on Tuesdays. Reliable high quality.

Enjoy Inn

phone: +61 7 3252-3838

address: 167 Wickham St

One of the longest established restaurants in Brisbane, good Chinese food.

Fatboys Cafe

phone: +61 7 3252-3789

address: 323 Brunswick St

The cafe portion of Ric's Bar, on Brunswick St Mall. Serves some of the best value for money breakfasts in Brisbane from $4.

Green Tea Restaurant

phone: +61 7 3252-4855

address: 31 Duncan St

Good authentic Vietnamese food at a reasonable price.

phone: +61 7 3852-3700

Very popular cafe restaurant and deli. It is located a short walk from James St market.

Hunan Chinese RestaurantUnpretentious eatery serving exotic regional Chinese fare from the Hunan province, as well as Chinese takeaway staples at cheap and reasonable prices.

James Street MarketNot a restaurant, but a yuppie grocery where you will find all the food and drink you need to bring with you in the bush. Includes a small sushi bar at furthest end from James St.

King of Kings

phone: +61 7 3852-1122

Wickham St (Chinatown precinct). A Brisbane institution for yum cha, decent food and prices.

phone: +61 7 3252-5299

address: 1000 Ann St

Popular restaurant that serves modern Middle Eastern food, part of an Australian interstate franchise that originated in Melbourne.

Re Del Gelato

phone: +61 7 3358-2177

Beautifully made Italian gelato, a perfect cap after a nice meal at one of the close by restaurants on Brunswick Street.

Taj Mahal

phone: +61 7 3254-2388

address: 722 Brunswick St

Amazing Indian cuisine. Caterers to the Indian Cricket Team when in Brisbane.

Thai Wi-Rat

phone: +61 7 3257-0884

address: 20 Duncan St

Cheap and cheerful authentic regional Thai-Laotian cuisine.
South Bank and Woolloongabba
Milton and Park Road
China Sea

phone: +61 7 3367-0198

address: 60 Park Rd

Excellent Chinese food at upper-range prices.

La Dolce Vita

phone: +61 7 3368-3805

address: 20 Park Rd

Great Italian cafe

Rue de Paris

phone: +61 7 3368-2600

address: 30 Park Rd

Brisbane's Eiffel Tower, another great cafe
Paddington
phone: +61 7 3369-9500

address: 33 Caxton St

Has a seafood restaurant and a long-established seafood takeaway. A Brisbane institution.

Kookaburra Cafe

phone: +61 7 3369-2400

280 Given Tce. Good pizza in a relaxed atmosphere

Montrachet224 Given Terrace. French bistro specializing in Lyonnaise specialties, regarded as one of Brisbane's best restaurants.

phone: +61 7 3368-2194

163 Given Ter. Among the best Indian food in the city. Fresh and tasty and good service. Usually fills quickly and does a roaring take-away trade, so get in early.

phone: +61 7 3368-1601

address: 19 Nash St

Renowned for their wood fired pizzas, with several franchises in several Brisbane suburbs such as Wilston and Clayfield.

Sol

address: 20 Latrobe Ter

Vegetarian and all organic café warm in winter and cool in summer and the coffee is great.
University of Queensland
The university and its surrounds provide many quality eateries if you happen to be in the area or on a CityCat ferry and caters to a cheaper market.
Main RefectoryIn the main eatery on campus, found in Building 21. This is also known as The Refec, not be confused with the Physiology Refectory. Food is usually reasonably priced, to cater to students. Apart from the main section of the refectory (Main Course), there is a sushi bar, noodle bar, Souvlaki Hut, Subway, Boost Juice, bakery and a Mr. Beans Coffee.

Physiology RefectoryAn eatery known as The Physiology Refec, located in building 63, it is designed to allow students to eat without having to travel to the opposite side of campus.

A Salt 'n Battery

address: Hawken Drive, Hawken Village

Quality fish and chip shop-cum-seafood restaurant with a wide variety of foods and decent prices. Approx 5-10 min walk from the University.

phone: +61 733 772 239

Fantastic pizzas with really different ingredients
South Brisbane and West End
Huong's

address: 83a Vulture St

Thai, Vietnamese and Chinese food. BYO and takeaway available.

Lefkas Taverna

phone: +61 7 3844-1163

address: 170 Hardgrave Rd

West End. Brisbane's most famous Greek takeaway and restaurant.

Makanan Indonesia

phone: +61 7 3846-2111

address: 59 Hardgrave Rd

Authentic Indonesian fare at unbeatable value.

Mondo Organics

phone: +61 7 3844-1132

address: 166 Hardgrave Rd

West End. Considered to be Brisbane's premier organic food restaurant. Also have a cooking school.

Gandhi Indian Kitchen & Laneway Stall

phone: +61 7 3844-1997

address: 10 Little Stanley St

S South Brisbane. Brisbane's signature Indian restaurant, celebrating 10 years of service in South Bank.

The Forest Cafe

address: Boundary St

Vegan food. The indoors area can get quite warm during the summer months, however.

Trang

address: 2/59 Hardgrave Road West

End. Did someone say Pho? Head here for possibly the best Pho is Brisbane. Give the Chinese menu a miss.
Restaurants in other areas and precincts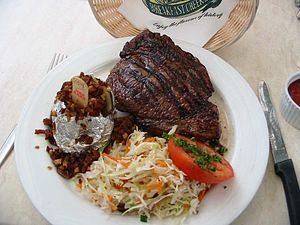 phone: +61 7 3268-6168

address: 150 Racecourse Rd

Modern-Australian restaurant that is owned and operated by the Domenech family for over 30 years.

Blue LotusKelvin Grove Urban Village precinct. Gourmet and exotic ice-creams that change according to the seasons.

phone: +61 7 3262-5988

2 Kingsford Smith Drv (in the Newstead area). Famous for its steaks, a Brisbane institution.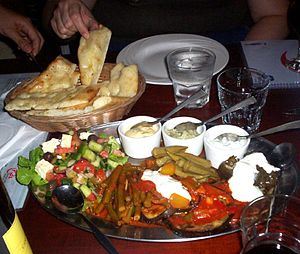 phone: +61 7 3286-1386

address: 1 Paxton St, Cleveland

A Redlands institution, situated in an 1850s Courthouse, this restaurant offers quality food in a stunning heritage building with beautiful views of Moreton Bay.

phone: +61 7 3899-5988 (Oxford St), +61 7 3392-3245 (Ipswich Rd)

BYO family restaurant serving up delicious pasta dishes and pizzas with unusual toppings, all with fresh ingredients, great atmosphere and strange Aussie decor. Expensive but satisfying.

phone: +61 7 3862-4599

address: 293 Sandgate Rd

Brisbane's first Turkish restaurant. Without a doubt the most popular destination for traditional Turkish cuisine and a friendly atmosphere in Brisbane. Belly dancers on Friday and Saturday nights.

Landmark

phone: +61 7 3344-3288

address: 101 Cnr mains Rd

Shop (Sunnybank Plaza business precinct). One of the most renowned and popular Chinese restaurants in Brisbane, notably for its well done authentic yum cha.

SakuraFranchises located in Coorparoo and Highgate Hill. Excellent authentic Japanese food at reasonable prices.

SitarIndian restaurant that has franchises in suburbs like West End and New Farm.

phone: +61 7 3350-5371

address: 23 Playfield St

Tosakan Thai Restaurant serves authentic Thai food for dining in or takeaway.
Cafés
West End
The Gunshop Cafe

phone: +61 7 3844-2241

address: 53 Mollison St

Possibly the best French toast in the city. Always busy so be prepared to queue and not open on Sunday. Fantastic coffee.

PaladarDevised by connoisseur Filip Pilioras, Paladar Fumior Salon is a must for lovers of Cuban coffee, culture and cigars. Despite having a small street frontage and being tucked away off a main street (Merivale St on the corner of Fish Lane) the bright red exterior makes it easy to find once you are in the area.

Three Monkeys

address: 58 Mollison St

Throughout the ground floor and garden of a converted house, this eclectic cafe is an enchanting maze of exotic furniture, fabrics and nooks. A Brisbane icon for over 20 years, you can enjoy meals, desserts, tea and coffee, here 7 days a week.

The Fox Hotel

phone: +61 7 3844-2883

address: Melbourne St

Has a number of wonderful art deco bars and a signature restaurant serving true Italian ristorante style cuisine, luxurious banquet seating, opening roof and euro-style street side dining.

Lychee Lounge

address: 94 Boundary St

Inspired by the neighbourhoods pre- and post-war housing and vibrant art sub-culture. Asian-inspired snacks and cocktails.

West End Coffee House

address: 80 Vulture St., West End

Organic coffee, Thai food for lunch, relaxed atmosphere and occasional exhibitions.
Woolloongabba
Desmond and Molly Jones

phone: +61 7 3391-8594

address: 615 Stanley St

Café with exposed brick walls, a hodge-podge of vintage seating, and excellent iced chocolates.
Teneriffe
Salon

address: 110 Macquarie St

Intimate Euro-chic ambience, delicious food and an extensive international wine list with over 20 available by the glass.

Blowfly

address: 110 Macquarie St

Quirky and intimate. Modern take on the traditional Australian BBQ with a large alfresco dining area.

London Club

address: 38 Vernon Terrace

Contemporary food and a young, casual vibe.
Brisbane CBD
Bean

address: 181 George St

Entrance via driveway. A quiet, hidden bunker-style café that provides an escape from the noise of the city. Friendly staff serving excellent coffee, Bean turns into a boutique cafe-bar in the afternoon and evening.

Brew

address: Lower Burnett Ln

Creative and relaxed café off the Albert St Mall. Great coffee, food and boutique beer and cider in an intimate location.

Coffee Anthology

address: 126 Margaret St

The brainchild of passionate coffee doyen Adam Wang, this café showcases specialty beans from Australia's premier coffee roasters, while maintaining Brisbane's laidback vibe. A must-do destination for serious coffee lovers.

John Mills Himself

address: 55 Elizabeth St

Entrance via driveway. Tucked away in an old garage in the eponymous John Mills building, this funky café boasts knowledgeable baristas serving a variety of espresso and filter coffees using high quality beans that are regularly rotated. Also stocks cold brewed iced coffees and iced chocolates which are perfect for those hot Brisbane days. Turns into a boutique beer and cocktail bar after 3:30PM.
New Farm
phone: +61 7 3252-3612

address: 11 Wandoo St

Sydney-based café/roastery. Located behind the popular Fresh on James Street markets. You cannot access this directly from James St Market you need to go around the complex to get there is a sign that points you the way.
Paddington
Anouk

phone: +61 7 3367-8663

address: 212 Given Tce

Sophisticated atmosphere and the perfect place for brunch. On weekends you may have to queue for seating.
Wynnum and Manly
Jetty Kiosk

address: William Gunn Jetty, Manly Esplanade

Cafe owned by the Port of Brisbane. Open 7 days, from 9AM-4PM, Sit over the water enjoying a drink, dessert or meal and admire Moreton Bay. Peaceful.

Cafe da Vinci

phone: +61 7 3396-2069

address: 50 Cambridge Parade, Manly

Sit on the wooden deck of this bayside cafe and admire the harbour. Serves drinks, meals, great breakfasts, and desserts. Open 7 days, dinner only on Th, F and Sa. Not the best breakfat in Manly.
Drink

Brisbane's drinking and nightlife scene is separated into some distinct areas. Anyone planning a night on the town should be aware that after 3AM, no more patrons are allowed into pubs and clubs. This is a safety measure, coupled with increased security presence at taxi ranks. Additionally, smokers should beware of strict anti-smoking regulations. Smoking is now banned in "all areas where food & drink are served", both indoors and outdoors. This means that smoking is banned in all hotels, clubs, and cafés except in designated smoking areas.
The drinking age in Australia is 18 and only an Australian driver's licence, 18+ card or a foreign passport is accepted as proof of age. Other forms of ID such as a student card are not accepted. These regulations are strictly enforced - for nightclubs in particular, your ID will always be checked at the door, and while venues serving food may let you in, most are very prudent in checking ID if you wish to purchase alcohol.

Suburban

Toowong:

Regatta and the RE have reputations (which they more than live up) as student haunts, being located reasonably close to the St Lucia campus of the University of Queensland.
Bulimba:
Catch a citycat to Bulimba for some trendy shopping on popular Oxford Street, great cafes, hip bars or for a picnic in the park.

Stones Corner
An up-and-coming historic area experiencing a revitalisation in boutiques shops, restaurants, cafes and bars. Only 10 minutes from the CBD by bus.

Brisbane City
Fortitude Valley

The Fortitude Valley is a unique area of Brisbane catering to the live music scene. A large number of Brisbane's hippest clubs are located here. Through the 1960s and 70s it was seen as Brisbane's bohemian hub and has maintained a certain degree of that reputation. More recently, it is sometimes thought of as being one of the more dangerous areas of the city but this attitude is changing as the area becomes more popular and hence, safer. This attitude, however, has had an adverse effect on the area's creative vibe, as locals turn their back on the area, forcing the creative centre of Brisbane to shift towards other areas of the city such as West End and Paddington. As with anywhere, simple common sense, caution and courtesy will keep you out of harm's way.


West End

Less crowded than 'the valley' or the city, this bohemian district popular with locals offers a few hip clubs, intimate restaurants and a very laid back atmosphere. High concentration of craft beer bars, serving local, interstate and international brews.
Check out:


Sleep
Budget
Mid-range

Brisbane hotels are listed in alphabetical order.


Splurge
Serviced apartments
Connect
Internet
Brisbane City Council now offers free wireless internet (Wi-Fi) access in 22 parks and public spaces across Brisbane, as well as the locations around the CBD including Queen Street Mall, Reddacliff Place, Victoria Bridge, South Bank Parklands, Valley Malls, Mt Coot-tha Summit Lookout, Brisbane Libraries and on CityCats. . It can be useful to do a quick email, or lookup some info - but the performance can be challenging.
Many cafes and hotels provide free Wi-Fi access to patrons, as do many shopping malls. Keep an eye out for signage (or do a scan for hotspots). McDonald's restaurants have free Wi-Fi, and Starbucks offers
free 30-minute access to Wi-Fi
with a purchase of any drink.
There are also alternatives to cafes:
Free Internet access is available at the Brisbane City Council library, although you might need to book your session in advance.

phone: +61 7 3840 7666

address: Cultural Precinct, Stanley Place, South Bank

Free Internet (including Wi-Fi) access is available at the Queensland State Library, in selected areas. The main Infocentre area is quite large and has 30-minute (no booking) and 60-minute (booking required) computers. The 60-minute computers are booked using a queuing system upon arriving at the library (no library card required). The Infocentre also has a very large lounge and desk area for those with their own laptops wishing to use the free Wi-Fi. Printing is $0.10 per page, but requires the purchase of a $2 copy card in addition to the per page cost. The library is also air-conditioned (as one might expect) so is a good place to spend some time during the scorching mid-day heat.
Queensland Rail has free Wi-Fi (20MB, resets after 4 hours) on 64 of its trains. They are identified by large stickers near doors, billboards or small stickers on the inside edge of doors. Be careful you don't have updates turned on, or your usage will last a few minutes.
Telephones
Payphones are abundant in the downtown area. For Australia wide contact options, such as mobile phones and calling cards, see the entry in
Australia
Stay safe
Crime
Brisbane has a relatively low crime rate in comparison to other cities of such size. In most cases being aware of your environment and using common sense will keep you safe. Like Sydney and other large cities, trains and train stations are usually considered a common crime zone throughout the afternoons and nights, however trains and stations are patrolled by Police, Transit Officers, railway personnel and private security guards. Cameras are also used to increase security. It is advised to exercise caution when travelling on trains and buses during these periods of the day.
Here are some particular areas of note:
Outer Suburbs: Tend to have a higher crime rate than inner suburbs which should be taken into account when visiting these areas.
Days: Very safe during the day, but using common sense goes a long way. Avoid gangs of people, especially if they seem trashy or obnoxious and be mindful if a questionable person approaches you.
Nights: Like most other places, outer suburbs to get more dangerous. Most suburban streets are poorly lit or have no lighting at all. It is recommended that individuals walking in these areas at night take precaution or venture within a group.
City Central/CBD: Usually very safe at all hours.
Days: Very safe during the day thanks to a good police presence and most people only being there for work. Though during school holidays groups of youths can congregate, especially around Queen St and South Bank and can get rather rowdy, but they usually mind their own business.
Nights: Still relatively safe at night. Police presence isn't as strong, except on Friday and Saturday nights, but you're still urged to travel with others. Be careful if catching a train at night, even though the train stations and trains are well patrolled and watched by CCTV. Treasury Casino patrons often gather outside and unwanted attention can be received late at night due to drunks. However, security is tight and the entire area around the Casino is monitored by CCTV. Take extra caution if in South Bank at night due to groups of youths congregating there.
Fortitude Valley: Police presence very strong here due to the concentration of bars.
Days: Just as safe as the CBD during the day.
Nights (especially Friday and Saturday): Taxi ranks in particular can be a little dangerous due to many frustrated drunks having to wait for cabs. Wait only at ranks that have a security guard. Stay to the well-lit busy streets and never venture off alone, especially down back-streets or far away from a crowd. Especially for females, it is recommended to travel in pairs or groups to avoid any unwanted attention from drunken revellers, especially in the early hours of the morning.
Suburban pubs: generally less safe than inner-city pubs, bars and clubs due to less police and security. Drunks can be a hassle when in the vicinity of suburban pubs, especially around closing times. Fights in these venues are common.
Emergency numbers
Throughout Australia, the number for emergency services (Police, Fire and Ambulance) is
000
. When using a mobile or cell phone, the numbers 000 and 112 are free of charge, and connect using any of the available networks.
Emergency numbers such as 911 and 999 do not work within Australia.
Sun safety
Probably the worst thing that can befall your trip to Brisbane is
sunburn
and other heat-related issues. The local UV Index is almost always in the
extreme
rating during the day (10AM-3PM) and precautions should always be taken. Do not be fooled though, even in the cooler months or when it is overcast you can still be affected by UV rays or the heat. Sunscreen, shirts, sunglasses and lots of water are essential.
Beach safety
Many visitors to Brisbane take day trips to enjoy the very popular nearby beaches at the Gold Coast (south) or the Sunshine Coast (north). Beaches can be great fun and very enjoyable when safe. It is important to know that most of the coastal beaches are Pacific ocean beaches with little to no protection that coves and bays provide. They can become dangerous to swim in due to strong currents, rough or powerfully-breaking waves, and various harmful marine life. Ensure you only swim at beaches where and when lifeguards are on duty and between the flags displayed in front of lifeguard observers. Check with lifeguards for any present, or potential undercurrents, rips, tows, or for the presence of bluebottles, stinging jellyfish, or other potential dangers prior to swimming. Advise the on-duty lifeguards if you are inexperienced in swimming at a beach so they can give you more attention. Avoid going past waist-deep if you are not a strong swimmer. Parents should accompany their children while they swim as rips, undertows, strong currents, and rough breaking waves can cause extreme difficulty. Sadly there have been tourists who have drowned due to inexperience with swimming in an ocean setting. Do not swim after consuming alcohol as it can affect your ability to swim and has been a contributing factor in some drowning fatalities. Avoid swimming near anyone using equipment such as surfboards, windsurfers, parasails, sailing craft or power craft such as jetskis, and motorboats.
Go next
Brisbane provides a base for day trips to explore the southeast of
Queensland
. The North Coast of
New South Wales
can also be reached in an hour if traffic is light, but allow up to two hours travel if traffic is heavy or there is an accident on the Pacific Motorway. Queensland Rail also provides extensive services out of Brisbane to the north and south of the city and to the Gold Coast.
North West of Brisbane:
South of Brisbane:
West of Brisbane: