British Columbia
British Columbia (BC)
is a western province of
Canada
, between the Pacific Ocean, and the Rocky Mountains. British Columbia is about four times the size of Great Britain with 4.6 million inhabitants.
Several north-south mountain ranges cross through the province, such as the
Rockies
, the Selkirks, the Purcells and the Coastal Range.
BC has great scenery along the coast and inland, and is a rewarding destination for
outdoor life
, especially
downhill snowsports
and
wilderness backpacking
.
It is a land of contrasts with the metropolis of
Vancouver
, a progressive global hotspot, against a rich backdrop of the heritage of the
First Nations
of British Columbia.
Regions
Cities
Listed below are just nine of the province's most notable urban destinations. Links to others will be found in the various regional articles.
is by far the largest city in British Columbia, and the largest metropolitan area west of Toronto.
is the provincial capital, on the south tip of Vancouver Island.
is called the tournament Capital of Canada.
is the largest city in the British Columbia interior.
is "The Queen City" of the Kootenays, renowned for its tourism, culture and outdoor activities.
is a popular summer destination on Okanagan Lake.
is the largest city in Northern British Columbia and the center of the BC Forest Industry.
, Canada's rainiest city, is the hub of the North Coast.
is a summer and winter outdoor destination and the site of many events in the 2010 Winter Olympics.
Other destinations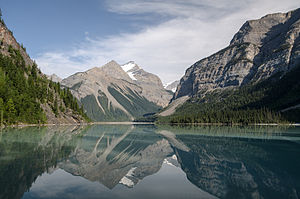 With its abundance of mountains, coastline and wilderness, British Columbia has many destinations outside of its cities and towns. Listed below are nine of the province's most notable other destinations.
Understand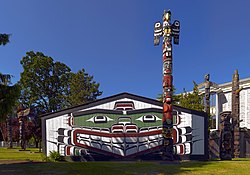 BC was the sixth province to join the Confederation of Canada, in 1871. This was done at least partly on the basis of a promise by the Federal Government to build a railway linking BC to the rest of Canada. Significant geographical barriers and political feuding delayed the completion of this railway until 1885 when the last spike was driven home at a place called Craigellachie in the Eagle Pass area in the interior of BC.
Being on the Pacific, there has always been a strong Asian influence. Many Chinese men arrived in the early part of the 19th century to work in the gold rush of that era and later many more worked on the construction of the railway through the mountains.
The indigenous people of BC have been called Indians or Native Canadians, but now the generally accepted term is First Nations.
Prior to arrival of Europeans BC was a very prosperous area. This was largely due the abundance of salmon. This was demonstrated by the advanced culture that existed in BC. More than thirty languages belonging to seven different language families were spoken in BC. The arrival of Europeans began as a positive relationship. However, the Europeans brought smallpox and other diseases, which decimated the First Nations population.
Many First Nations people were encouraged or even forcibly required to send their children to residential schools during the early to mid 20th century. These schools were government sponsored. The primary intent of the schools was to assimilate the First Nation population. Children were taught that their culture was backward and evil and were not allowed to speak their native languages. This systemic problem is finally being addressed and discussed openly.
Many of the First Nation communities have been trying to revive their culture and are now often the center of much of the ecotourism industry.
With a few exceptions, the First Nations of BC (unlike the rest of Canada) have never signed treaties or ceded their territory to Canada. Therefore, the official ownership of much of the province is contested as the First Nations claim much of the province as their territory. The courts have generally acknowledged that there is a basis for the claims based on historical use of the land and have urged the governments to negotiate a settlement to these claims. Settling these land claims has been a complex issue that is still ongoing. The first modern treaty signed was by the Nis'ga in Northern BC. In 2007, the Tsawassen and Maa-Nulth First Nations signed treaties with the Province and the federal government.
Talk
Although Canada is officially a bilingual French/English country, you would be hard pressed to find many French-speaking people in BC. Services are available in English and French at offices of the federal government. Provincial and municipal governments operate in English only. Some businesses, especially in
Vancouver
and
Victoria
offer services in a number of languages (primarily Asian ones). Banks sometimes indicate by a sign in the window which languages are offered. Due to the large number of Chinese immigrants,
Mandarin
,
Cantonese
and to lesser extent, other Chinese dialects are spoken by many Chinese residents of Vancouver. Some municipal services in Chinese-dominated neighbourhoods may be available in Chinese.
With the migration of people from all over Canada into British Columbia, most citizens here speak with a general Canadian accent while in rural areas, people may speak with a slight twang. At one time
Chinook Jargon
, a bridge language for trading between English, French and First Nations peoples in the late 1800s and early 1900s, was common and almost became the official language of BC. Now there are very few speakers of the language, but many terms from the language are common slang terms in rural parts of BC.
;Cheechako : Newcomer, implying "tenderfoot" (more common in Northern BC and the Yukon).
;Saltchuck : The ocean. Often abbreviated as in "out on the chuck"
;High Muckamuck : The chief, or boss, or "high pooh-bah"
;Tyee : king or chief or boss, can also mean a large Chinook salmon
;Cultus : Bad or worthless, also "ordinary"
;Skookum : Strong, powerful, or impressive, also just means "big and thick".
;Skookumchuck : "strong water", used for rapids, especially saltwater rapids
Get in
By plane
Vancouver
airport is the major international airport of the province, which is served by most major international airlines.
Victoria
,
Abbotsford
,
Cranbrook
, and
Kelowna
also have international airports that have service to a number of locations within
Canada
and to some destinations in the
United States
.
By car
There are a number of land border crossings from the
United States
into BC from
Washington (state)
. See the
Lower Mainland
(BC) and
Northwest Cascades
(
WA
) articles for details. There are also land border crossings into BC from
Idaho
,
Montana
and
Alaska
. BC is also connected to
Alberta
and the
Yukon
by a number of major highways.
By boat
There are ferries from
Washington
into
Victoria
and Sidney, and from
Alaska
into
Prince Rupert
. Except the Victoria Clipper all the other ferries do take vehicles onboard:
By rail
VIA Rail
offers several different passenger trains. "The Canadian", a piece of railway history, no longer runs on the Canadian Pacific Railway line. Travellers can still take VIA Rail along the historic and scenic Canadian National Railway which runs north and before it heads east through
Jasper
and on into
Alberta
. Between Mission and Ashcroft, BC, the eastbound VIA train runs on Canadian Pacific track due to a directional running agreement between Canadian Pacific and Canadian National. VIA Rail also offers passenger rail service between Jasper (Alberta), Prince George (BC) and Prince Rupert (BC) on the north coast with "The Skeena" that runs over Canadian National's former Grand Truck Pacific BC North line, "The Skeena" connects with BC Ferries' Inside Passage and Queen Charlotte routes at Prince Rupert.
Amtrak
offers rail service by between
Seattle
and Vancouver.
Rocky Mountaineer
(Rocky Mountain Rail Tours) offers an elite-class, expensive passenger tour service to Prince George and Jasper, returning to Vancouver via the another CN line via Kamloops. It does not pick up passengers along the route. In Prince George, where guests are placed in local hotels, as again in Jasper.
Get around
By air
BC is a large province. The most convenient way to get to much of the province is by air. However, this can be quite expensive. It is often more expensive to fly to some point in BC than it is to fly to Europe.
Vancouver
is the regional hub for most air service within BC. Float planes can also be convenient for accessing many coastal locations.
By car
Getting around here is not always easy. Many worthwhile destinations are outside of the cities and not accessible by public transportation options. This makes renting a car quite a popular option for getting around, although there is some bus service to be found. Bear in mind when travelling by car that headlights should be used both day and night, regardless of conditions. If driving during the winter, plan your route carefully as British Columbia experiences some hazardous weather.
If you drive or rent a vehicle, be aware that provincial law requires fuel to be prepaid before filling up. If you use a "pay-at-pump" interface, the station may place a hold on an available amount in your account which may last for a few days. It is wise to ensure you have adequate funds or credit limit room on your payment cards before visiting.
Itineraries
:
By bus
Pacific Coach Lines offers service between Vancouver and Whistler.
Ebus connects Vancouver, Abbotsford, Kelowna, and Kamloops.
Tofino Bus and Island Link Bus provide a network of intercity bus routes on Vancouver Island.

Rider ExpressBus service along the Trans-Canada Highway from Winnipeg to Vancouver, twice daily. Service between Revelstoke, Salmon Arm, Kamloops, Hope, Abbotsford, and Vancouver, and to Calgary, Canmore, Lake Louise, Banff (Alberta); Strathmore, Medicine Hat, Swift Current, Moose Jaw, and Regina (Saskatchewan); and Whitewood, Moosomin, Brandon, and Winnipeg (Manitoba).

Radiating from Prince George, BC Bus North serves routes to Prince Rupert, Valemount, Dawson Creek and Fort Nelson. Service is two return trips per week except one trip per week to Fort Nelson.
Moose Travel Network runs a unique service on less travelled routes that is a combination between "just getting you there" and a tour of some very worthwhile destinations. They have a number of quite flexible packages available, many of them connecting the coast with popular destinations in the Canadian Rockies like Jasper, Banff and Calgary. There is also daily bus services to Vancouver Island and Whistler.
BC Transit operates city buses in Victoria and only coordinate & manage local public transportation for Nanaimo, Kamloops and in other cities and towns outside of Vancouver. In the Vancouver metropolitan area Translink operates buses, the SkyTrain rail and the West Coast Express (WCE) commuter rail.
By ferry
You will also find that the ferry service (provided by
BCFerries
) is the only way to access many island and coastal communities. Some of the smaller islands can be visited on foot or by bicycle, but in many cases additional road transportation is necessary. Although ferry service is generally reliable, taking an automobile on board is rarely cheap, and you will likely find it less expensive to take the ferry as a foot passenger and rent an automobile at your destination. If you are taking bus service across a ferry, you should confirm when buying your bus ticket that the ferry fare is included.
By rail
VIA Rail
Canada operates "The Canadian" (from Toronto to Vancouver) and "The Skeena" (Jasper to Prince Rupert), both running three times per week. However, since 2014, VIA Rail no longer runs "The Malahat" between Victoria and Courtenay on Vancouver Island along the
Southern Railway of Vancouver Island
.
Rocky Mountain Rail Tours
operates tourist trains from Vancouver to Whistler, Vancouver to Kamloops, Kamloops to Banff or Calgary, Kamloops to Jasper, and Whistler to Jasper during the tourist season (May–October).
There are many tourist/railfan railway operations that run in BC. With the possible exception of the White Pass and Yukon, these lines offer only round trip excursions. The
Alberni Pacific Railway
in Port Alberni runs on former Esquimalt and Nanaimo Railway trackage. The
Kettle Valley Steam Railway
runs out of Summerland BC on the last remaining portion of the famous Kettle Valley Railway. The
Kamloops Heritage Railway
that runs ex-CNR steam over the Kelowna Pacific, CN, and CPR. The
White Pass and Yukon Route
operates out of Skagway, Alaska, and runs through northern BC on its way to Whitehorse, Yukon.
The
Kaoham Shuttle
, a short-haul rail-bus, is operated by the local Indian band connecting Lillooet to Shalalth and Seton Portage at the far end of Seton Lake. However, for visitors, using this service could be a challenge. See the
Lillooet
article for details.
See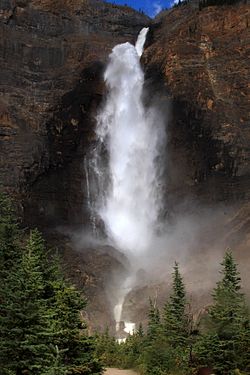 International Buddhist TempleIn Richmond is the most authentic example of traditional palatial Chinese architecture in North America. It is an edifice straight out of the Chinese past, as it resembles any authentic temple that can be found along the banks of the Yangtze River, where one of the world's oldest civilizations originated. Come explore traditional Chinese art, culture, and the Buddhist philosophy inside this magnificent place. Free admission.

Yoho National Park is in eastern BC bordering Banff National Park on the Trans Canada Highway.
Glacier National Park takes in part of the Selkirk Mountain Range where the Trans Canada Highway crosses the range through Roger's Pass.

Butchart GardensNear Victoria offers over 50 acres (22 hectares)of gardens and floral display.

Stanley Park (Vancouver) — is not just your average urban park! You can stroll through the park on the seawall, check out the aquarium, take a look at the totem poles, and stop at various historical points of interest.
Royal British Columbia Museum in Victoria

Science WorldVancouver — nice for kids of all ages. Also has an IMAX Theatre.

Vancouver Art Gallery Vancouver
Capilano Suspension Bridge and Park North Vancouver
Do
Backpack the West Coast Trail, the Juan de Fuca Marine Trail closer to Victoria, or the BC sections of the Trans Canada Trail.
Kayak Desolation Sound, Telegraph Cove, the Broken Islands, the Queen Charlotte Islands.
Scramble the Rockies!
Rock climb the world-famous Stawamus Chief in Squamish.
Winter surfing in Tofino.
Go skiing at Whistler-Blackcomb, North America's largest ski area, or the other excellent ski areas throughout the province in destinations near Kimberley, Fernie, Nelson, Kelowna or Rossland.
Roam the open range on horseback or try world-class fly-fishing in the Cariboo-Chilcotin.
Sleep
Accommodation throughout BC can always be arranged in the usual motels, hotels and B&Bs. BC Provincial Parks have had a good reputation over the years and most have very nice campgrounds.
Camping in BC
is an experience you shouldn't miss.
Drink
The legal drinking age in BC is
19
.
Beer, wine and spirits are available from the government liquor stores (BCL). They are also available from private beer and wine stores which are usually associated with pubs or bars. Most BCL stores close at 8PM while most private liquor stores are open until 11PM. You cannot buy alcohol in grocery stores.
BC is home to a number of breweries, including the
Columbia Brewery
in
Creston
which brews Kokanee, the
Granville Island Brewery
in
Vancouver
and
Nelson Brewing Company
in
Nelson
. Most breweries offer tours.
BC is also well-renowned for its wine and the
Okanagan Valley
is the centre of the wine industry in the province. It's a perfect area to visit during the Autumn grape harvest. Many wineries are open for tastings.
Stay safe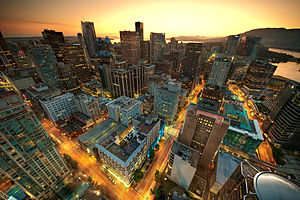 Outside of the metropolitan areas, much of BC is pretty remote. The more remote the area, the better prepared you need to be.
If you are thinking of travelling off designated ski or snowmobile trails always take an avalanche safety course. Travel with experienced guides, talk to locals, look at the
Canadian Avalanche Centre's
forecast. Or best of all, just play it safe and ski at one of BC's great ski resorts.
Outside the winter months always inform yourself about local concerns with carnivorous wildlife, i.e., bears and cougars. If you're in the BC woods, you can assume that there are likely bears and other wildlife in the area. You're in
their
territory and it's good practice to make noise and keep your eyes (and ears) open. Knowing how to avoid wildlife encounters is a good idea.
Petty property crime is a problem in the major cities, as it is in most, so don't leave items visible in a vehicle. Violent crime is relatively infrequent. Simple precautions will normally preclude a brush with crime. A problem area for tourists to avoid is the infamous East Hastings area of Vancouver.
Experiments with late bar/nightclub closing times (4AM) have also led to increased problems and violence on Granville Street in downtown Vancouver (especially on weekends).
Close to 20 women have been killed or are missing along the "
Highway of Tears
" (Highway 16) between Prince George and Prince Rupert since about 1970. Young women might want to avoid hitch-hiking along this highway, especially if you are alone.
As of late July, 2019, travel on the Alaska and Cassiar Highways in northern British Columbia is not recommended. However, an alternate option for travel between Alaska and the lower United States is the Alaska Marine Highway between Bellingham in Washington State and Haines in Alaska.
Smoke
The use and possession of recreational marijuana is legalized in all of Canada on October 17, 2018. However, there are strict anti-smoking bylaws that apply. Avoid flaunting your use do not walk down the street smoking, use in a busy park, or talk loudly about your use in public. British Columbia has strict anti-smoking regulations against any kind of indoor smoking so lighting up in a bar or nightclub will get you in trouble with staff and other patrons. Pot cafes in Vancouver often provide a smoking room where you can safely and discreetly indulge; however, unlike their
Amsterdam
counterparts, they will
not
sell you marijuana.
Go next
To the south is
Washington (state)
in the U.S.A. which is home to the Olympic Peninsula, Mount Ranier National Park, the North Cascades mountain range, a highly developed agricultural region and the vibrant cities of
Seattle
-Tacoma
on the Pacific coast.
To the east is the province of
Alberta
which is home to a beautiful mix of prairie, boreal forest and mountains and an economy that fluctuates with the price of oil. It is also home to the cities of
Edmonton
(the provincial capital) and
Calgary
(a self-styled cow-town). The mountain towns of
Banff
,
Lake Louise
and
Jasper
are popular and busy in all seasons.
To the north is the
Yukon
Territory, a vast, sparsely-populated wilderness.