Brixen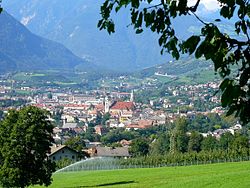 Brixen
(Italian:
Bressanone
) is a town in
South Tyrol
. The first human settlements in the area date back to the Mesolithic age. During the restoration and consolidation of Piazza Duomo (1996), the remains of a hut dating back to around 2,500 years ago were discovered, at a depth of about 4 meters underground. The area was conquered by the Romans, who had their main settlement in the nearby
Säben
(Italian:
Sabiona
). They held it until around 590, when it was occupied by Bavarians. Between 960 and 990 the town's influence and participation in the Catholic Church grew dramatically. It was during this era that the first version of the current Cathedral of Brixen was built. Brixen became the seat of an independent ecclesiastical principate when the bishops from Säben moved the bishopric from there in 965 AD. The bishopric was secularized in 1803 and annexed by the Austrian Empire. After the end of World War I, Brixen was annexed by Italy.
Get in
Get around
The Citybus public transport service has four lines that reach into surrounding villages that are part of the Brixen municipal area.
Line 1: Albiens-Brixen-Varhn (Italian: Albes - Bressanone - Varna)
Line 2: Milland - Neustift - Varhn (Italian: Millan - Novacella - Varna)
Line 3: Neustift - Seiserleite/Haller - Unterdrittel - Industriezone/Burgfrieden (Italian: Novacella - Seiserleite/Haller - Terzo di Sotto - zona industriale/via Castelliere)
Line 4: Krankenhaus - Villa Adele - Bahnhof - Köstlan - St. Josef (Italian: Ospedale - Villa Adele - Stazione - Castellano - San Giuseppe)
See
Cathedral of Santa Maria AssuntaAlso known as the Brixen Cathedral. Imposing Baroque style church; it dates back to the thirteenth century and underwent successive restorations due to a number of fires. It is dedicated to Santa Maria Assunta, contains sculpture of the saint by Hans Leinberger from 1520. The ceiling of the nave has a large fresco by Paul Troger portraying the Adoration of the Lamb.

Palazzo VescovileAncient residence of the Bishop from the time of the bishopric. The building has three floors, and its external facades are pale yellow, with purple ornamentation. The building has mixture of the Renaissance and Baroque architectural styles. Today, it serves as a museum. The palace also houses a permanent exhibition of nativity scenes, which is one of the most important collections of its nature in Europe.

St. Michael's ChurchA modest but beautiful gothic church next to the cathedral. The Gothic choir and the bell tower are from the 15th century while the nave is from the 16th.
Outside the city is Rodeneck Castle, one of the most powerful of its time. It has precious frescoes from the early 13th century. Also important are Reifenstein Castle and Trostburg Castle in Waidbruck.
Do
Eat
FinkRestaurant and Coffee shop. Closed on Wednesdays.