Broadstairs
Broadstairs
is a popular coastal town in East
Kent
. The town lies above a harbour, historically known for smuggling. Popular for its clean sandy beaches, clean bathing water and variety of pubs and restaurants. It was once voted the 2nd best seaside resort in the UK by a
Guardian
newspaper poll (St. Ives in Cornwall was #1). In 2007 it was voted best East Coast seaside resort in Great Britain, beating heavyweights like Southend, Scarborough and Gt. Yarmouth. Broadstairs has retained its traditional Victorian resort appeal.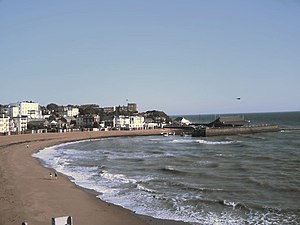 Get in
By train
Broadstairs station
is at the top end of the High Street and is served by trains run by South Eastern. The fast service runs from
London Victoria
via Chatham and Faversham then along the North Kent coast through Whitstable, Herne Bay
Ramsgate
and
Margate
. Services are twice an hour Monday to Saturday, hourly on Sunday and journeys take about 1 hour 45 minutes to Broadstairs. Trains also run from
London Charing Cross
via Ashford (Kent) and Canterbury (West) passing through Ramsgate, although both these services have considerably longer journey times perhaps offset by scenic views of the Kent countryside.
By car
Broadstairs is from London and about 1 hour from the M25 via the M2 and 16 miles east of Canterbury.
By boat
By air
Manston Airport was closed in 2015.
The nearest major international airports are at
London Gatwick
(84 mi/135 km) and
London Heathrow
(104 mi/168 km).
Get around
Being a small town the main sights are easily navigable on foot.
Thanet Loop This bus service runs every 10 minutes during the main part of the day between Margate, Broadstairs and Ramsgate. On Sundays the service is mostly every 20 minutes during the day.
Taxis are abundant.
See
Viking BayThe town's main bay, with a golden sandy beach about 150 m long with cliff-top promenade and harbour pier. The shore drops away quite steeply so keep an eye on kids and weak swimmers at high tide.

phone: +44 1843 865338

address: Fort Rd

It stands overlooking Viking Bay. A former residence of Charles Dickens.

phone: +44 1843 861232

address: 2 Victoria Parade

It was also frequented by Charles Dickens and is now a museum devoted to the English author. Also found here is the tourist info office.

phone: +44 1843 871133

address: The Broadway

Worth a visit, it is home to the town's stagecoach.

phone: +44 1843 865726

address: Harbour Street

Cute and petite.
In Napoleonic times, Eagle House (now flats sited on the beach) was the headquarters of the Coastal Blockade. It was here that news of the victory at Waterloo was first received, together with the French eagle standard captured at the battle (hence the name).
Do
Beaches of BroadstairsBotany, Joss, Stone, Louisa, Kingsgate, Dumpton. Dogs are banned from the beach from May 1 to September 30.

Punch & Judy show

donkey rides

Broadstairs Town TrailA self-guided walk leading you around the town. The trail's 10 illustrated boards and pamphlet guide give an insight into the history of some local people and buildings. Town Trail leaflets are available for 20p from the Visitor Information Centre and Broadstairs & St. Peter's Town Council Offices at Pierremont Hall.
Events
Broadstairs Dickens Festival Held every June since 1937 and features locals dressed in Dickensian costumes. An event is also held in December.
Annual Folk Festival. Takes place in the town for a week in August. Live music in most pubs plus concert tents.
The Bandstand hosts a full programme of entertainment during the summer.
Buy
Broadstairs is home to an abundant number of small traders offering specialised and unique products.
The Bottleneck: Supplier of Quality Wines

phone: +44 1843 861095

address: 7-9 Charlotte Street

Off-license with a great selection of Australian wines.

Albion BookshopA unique and huge converted chapel that is a maze of old books. Book lovers will easily be able to waste away a couple of hours in here digging around.

Suzanne'sA souvenir and joke shop at the bottom of town, selling gifts for the kids, beachwear, sunglasses, hats and seaside essentials like lylos, buckets and spades.

Westwood CrossA shopping centre and entertainment park which opened in 2005, hosting big high-street names such as WHSmith, Debenhams, HMV and H&M. Also a Vue cinema, Casino and numerous chain restaurants.
Eat
There are many inexpensive ice cream outlets on Viking Bay Beach as well as Tea and Coffee outlet's.
Sample traditional fish and chips at one of the town's numerous venues.
The pretty harbour area popular if you like seafood.
The promenade hosts traditional style ice cream parlours.

phone: +44 1843 862500

address: 14 Victoria Parade

The most popular ice cream parlours by far is the flagship outlet for the ice-cream chain that graces the shores of England's most prestigious resorts, including Folkestone, Canterbury and a branch in top London store Harrods. The ice-cream is excellent, although expensive. Expect to pay in the region of £5-7 for a good sized sundae. Worth the money though. Also serve great coffees, teas and hot-chocs.

phone: +44 1843 601133

address: 14 Albion St

Good trattoria style pizza/pasta run by real Italians. Overlooks Viking Bay and has exterior tables (summer only). In 2007 it was rated as one of the top 10 Italian restaurants in UK by The Independent. Advisable to book in advance.

Broadstairs Tandoori

phone: +44 1843 865653

address: 41 Albion St

Nepalese Indian (run by Gurkas). Locally known as one of the best in Kent.

phone: +44 1843 601636

address: Harbour Street

Specialises in seafood.
Drink
There are a plethora of pubs in Broadstairs and people tend to start drinking at the top of town, around Broadstairs Station, and then wander down the hill towards the sea front pubs.
CramptonsUsually at the start of most pub-crawls in the town and is frequented by a fairly young crowd. It is a lively pub with screens for the big matches and occasionally has good drinks offers. Part of the Thorley Taverns group.

Ballards Lounge and the Royal Albion Hotel barAn unrivalled position on the cliff top overlooking Viking Bay. A good place for coffee, beer or wine. Food also served.

Tartar FrigateKnown as "the last pub in town" because it is practically on the beach at the bottom of Harbour Street. Seafaring themes and a cosy atmosphere, particularly in winter. Pool table available and is home to a great seafood restaurant upstairs.

The Dolphin PubEither loved or hated by locals. Frequented by a young crowd it often has drink promotions, a couple of bars, pool and a dance floor most nights. Generally good, although can get rowdy.

Harpers Wine BarA legend in Thanet, and Broadstairs' only late-license establishment, staying open until around 2-3AM most nights. Serves good cocktails, beers and spirits at reasonable prices. One of the only places in Thanet to serve the Czech killer 'Absinthe'. Can get very busy, especially after 11PM at weekends. Often caters for those who prefer not to go clubbing in Margate after a night out in Broadstairs. Get there early for seats.
Sleep
Lots of small guesthouses and several hotels
phone: +44 1843 868071

address: 12 Albion St.

A 3-star hotel overlooking Viking Bay. Once inhabited by Charles Dickens. Very expensive (£80-120pn) for what you get, although has fantastic views. Part of the Shepard Naeme group.

phone: +44 871 984 6341

address: Unit 53, Westwood Cross Retail Park,Margate Rd,Ramsgate

Usually has rooms for ~£40pn but by booking in advance you can get them as cheap as £9pn.
Go next
St. Peters Village is about a half hour walk from the town centre and makes a charming afternoon out, strolling round the churchyard and small shops. The graveyard of St. Peters church is said to be the largest in England.
Faversham for the national fruit collection and breweries.