Broadway (England)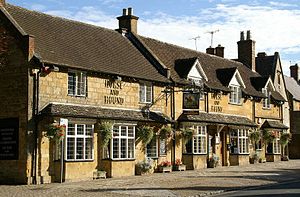 Broadway
is a well-known and much visited
Cotswolds
region village in the
English
county of
Worcestershire
. Often referred to as the "Jewel of the Cotswolds" and the "Show Village of England" because of its archetypal rural beauty, the 'Broad Way' leads from the foot of the western Cotwolds escarpement along a wide grass-fringed street lined with ancient honey-coloured limestone buildings, many dating back to the 16th century. Broadway makes an ideal base from which to explore the surrounding countryside, including the rest of the Cotswolds region, for which the village forms the northern gateway.
Despite Broadway's status as a major tourist destination, it is considered more up-market than the nearby
Bourton-on-the-Water
, and rarely seems excessively crowded. If you take a car, though, you will need to be either patient or selective about your car park on busy days, particularly summer weekends and bank holidays.
Understand
Broadway became a busy staging post on the route from
Worcester
to
London
as coaches had to harness extra horses for the long pull up nearby Fish Hill. As many as 40 travellers' inns once existed within the village to service those passing through, a few of which are still in use today.
Broadway has been home to a large number of prominent English artists and composers, including Sir Edward Elgar, John Singer Sargent, J.M. Barrie, Vaughan Williams and Arts and Crafts artist and writer William Morris.
Like many
Cotswold
villages, Broadway became prosperous from the wool trade, and much of its charm comes from its large number of luxurious old limestone houses.
Get in
By coach
Private chartered coach trips are run by a lot of companies from most major cities, including
London
,
Birmingham
, and other nearby tourist hotspots such as
Stratford-upon-Avon
. You are likely to find yourself sharing the coach with either the elderly or Japanese tourists.
By car
There are several well-signposted car parks around the village. On busy days (notably bank holidays and summer weekends) the one where you are most likely to find a space, the largest car park, is on Leamington Road, near the village library. This has a somewhat unusual entrance; you drive under a bridge formed by two adjoining apartment buildings. The nearest postcode (for SatNav) is WR12 7DZ.
You can hitch-hike from the B4632 or A44 roads. Locals are very friendly, if a bit posh, and generally will give lifts to stranded people.
By train
The nearest mainline railway stations are
Evesham
and
Honeybourne
, both on the Cotswold line with direct services to
Worcester
,
Oxford
and
London
at least every two hours from approximately 6AM until 10PM.
Honeybourne
is a minor unmanned stop and you should not expect to get a taxi from there, but it makes a good place to start cycling or hiking from, with relatively few steep hills on the way.
Moreton-in-Marsh
has a mainline railway station on the same Cotswold line, but has no direct bus service to
Broadway
and is at the other extreme of the very steep
Cotswold Ridge
range of hills - fine to cycle
from
, but requiring Herculean muscles to cycle
to
.
Take the Gloucestershire Warwickshire Steam Railway from
Cheltenham
Racecourse to Broadway. This private steam railway does not connect to the mainline railway network, but you can use the
Stagecoach
Racecourse Park and Ride bus D to get between Cheltenham Racecourse and Cheltenham railway station. The steam railway and Park and Ride services are at opposite ends of this very large racecourse, so allow 20 minutes to walk between the two.
Get around

Broadway is a relatively compact village, flat and easy to walk around. None of the car parks are more than a ten minute walk into the centre, and the buses stop right along High Street.
The main shops, hotels, pubs and cafes are mostly easily found off High Street, around the village green and war memorial. However when walking from there, along High Street, it is a common mistake to think that the shops end at The Horse & Hound pub. It is well worth walking five minutes further north along High Street to find a few more quaint little shops around the Leamington Road junction.

See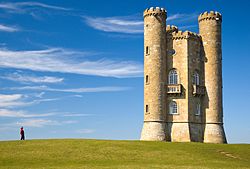 Broadway TowerBuilt on an ancient beacon site atop Fish Hill, this was a favourite retreat of the Victorian designer William Morris. On a clear day, the view from the Tower encompasses as many as 13 counties. Public footpaths run around, and up to, the tower. Entry to the tower is around £4, includes a small William Morris exhibition and access to all levels including the roof. Unsurprisingly, wheelchair access is not practical due to spiral stairs. There is a ticket desk and small souvenir shop on the ground floor. There is also a cafe and car-park nearby. Car access via the A44 Fish Hill.

phone: +44 1386 852410

address: Snowshill, near Broadway, WR12 7JU
Do
Cotswold WayThe long distance footpath makes for a lovely short walk or challenging hike. Check the weather before setting off on longer sections.

Gordon Russell Heritage Centre

phone: +44 1386 854695

address: Russell Square, WR12 7AP

Display of furniture tracing the entire history of the Company, supported by photographs, graphics, Company records and related artefacts. The exhibition also features personal recollections of the people - craftsmen, designers, salesmen - who, inspired by Sir Gordon, contributed to the success and enduring reputation of the company.

Gloucestershire Warwickshire Railway

address: Broadway railway station
Buy
Nearby Broadway Tower was a country retreat of Victorian designer William Morris, and many shops sell both practical and souvenir items with Morris' distinctive floral designs.
There are a number of fine art dealers in the village, notably paintings and furniture. If you need to ask the price, you can't afford it.
Eat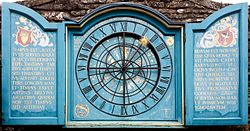 Broadway is extremely well served for pubs, restaurants and cafes, far too numerous to mention them all.
phone: +44 1386 852255

address: High St, WR12 7DU

This impressive hotel is the centrepiece of the village. The Great Hall at the Lygon Arms forms a stylish dining hall for the hotel's restaurant. Chef Martin Blunos was awarded a Michelin star in January 2005. As well as the main restaurant, the hotel has a brasserie which provides a more affordable, but still excellent, menu.

Broadway HotelExcellent restaurant with food comparable in quality to the Lygon Arms, with some great set-menu deals. Also lovely beer garden to the front, overlooking the village green.

address: 2 The Green, WR12 7AA

Refurbished pub with good bar meals.

Russell'sA relaxed place with fair prices.

phone: +44 1242 602123

address: GL54 5PB

An organic food shop and café with their own produce in season. Also offers a pick-your-own fruit service.
Locally-made ice-cream is sold from the back of a tricycle, near the village green, during the peak summer season and on most weekends.
In general, the service in Broadway restaurants, despite often being quite posh, is also extremely friendly. Do not be put off by the formality of the exterior of any restaurant, nor the starchiness of their staff uniforms. Broadway is not London. So long as you remove any muddy footwear, you will be welcomed in all venues.
phone: +44 1386 853040

address: 29 High Street, WR12 7DP

Fine food specialists - delicatessen with great food to take away or eat in the café.
Drink
phone: +44 1386 853202

address: 14 Church St, WR12 7AE

This local pub at the lower end of town provides typical English fare at affordable prices.
Sleep
phone: +44 1386 852255

69 rooms and suites in total, every suite and room having a distinct character, individually decorated and furnished in traditional country-house style - many with fine antiques hundreds of years old.
Go next
Chipping Campden is another beautiful Cotswold village about six miles away, again with exclusive posh boutique shopping. By road it is easiest to drive up the A44 Fish Hill and then down the B4081 Conduit Hill. By bike, a flatter route is possible north through the B4632 Willersey and Weston-Sub-Edge and east along the B4035 Aston-Sub-Edge. A shorter pedestrian route is over the Cotswold Way long-distance footpath, but this can be very steep in sections and should not be attempted in cold or stormy weather.
Winchcombe is about 8 miles (13 km) south on the B4632, another Cotswold village that also features a fortified manor house, Sudley Castle.