Brookline
Brookline
is a town in
Massachusetts
that is bordered on three sides by
Boston
. Brookline is primarily residential, and it's a suburb, but it has fairly high density considering all of that. Brookline is in fact denser than many major cities, such as Los Angeles. In terms of the number of T stops, it's probably the best-connected of any town to Boston.
Understand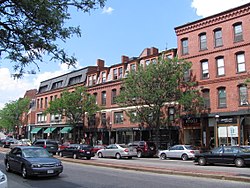 Coolidge Corner
: Anchored by the SS Pierce building, this shopping area is without a doubt the most busy and bustling corner of Brookline. Here you will find the highest concentration of shops, restaurants, along with the requisite traffic of course! Continue north on Harvard Street (towards Allston) to find the densest strip of Kosher restaurants and Jewish traditions in the city. If you visit one place in Brookline it will be Coolidge Corner.
Brookline Village
: A somewhat sleepier historic area lined with many shops and restaurants. The only happening part of Brookline not along Beacon Street, it succeeds mostly due to the T stop. Although its great location between Longwood Medical in the Fenway and south of Coolidge Corner along Harvard Street doesn't hurt either.
Washington Square
: A few stops further outbound from Coolidge Corner, Washington Square plays host to a variety of local shops, swanky restaurants, and popular taverns. Often overshadowed by it's bigger brother up Beacon Street, don't overlook it. More and more offbeat and original businesses are choosing to call Washington Square home.
Putterham Circle
: A variety of shops, including market, restaurants, bank, hair salon, gift shop, Starbucks, and others. Without train access, this location has a different feeling than the others listed here. For those without cars looking to get here, look to catch the #51 Bus from Cleveland Circle.
Get in
Since it's so tightly connected with Boston, please refer to the
Get In
and
Get Around
sections of the Boston article to familiarize yourself with the basics.
By public transit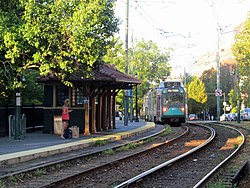 Brookline is served by the MBTA Green Line light rail. The Green Line has four branches: two of them serve Brookline.
C branch: All stops after Kenmore are in Brookline, except for the final stop Cleveland Circle.
D branch: The Brookline Village, Brookline Hills, Beaconsfield, and Reservoir stops are in Brookline.
The
B branch
doesn't enter Brookline proper, but its stops on Commonwealth Ave. are all within blocks of Brookline.
The following
Massachusetts Bay Transportation Authority
bus routes are in Brookline:
66: At Coolidge Corner and Brookline Village. Runs up and down Harvard Street and continues north to Allston in Boston and Harvard Square in Cambridge.
65: Is less frequent, goes through Brookline Village and Washington Square and continues north to Brighton Center in Boston.
60: Goes Along Highway 9 (Boylston Street) and Cypress Street. Goes through Brookline Village. Continues west to Chestnut Hill Mall, and East to Kenmore Square.
51: Goes from Cleveland Circle into South Brookline and continues Forest Hills MBTA station in Jamaica Pond in Boston.
86: Goes from Cleveland Circle north into Brighton Center and Harvard Square.
By car
Cars and Brookline, like most of Boston and its immediate suburbs, do not mix perfectly. One thing to be aware of is that there is generally no overnight parking on streets; those cars on streets after 2AM (11PM in some areas) will be ticketed... seriously! There is also a two-hour parking limit, which is not as strictly enforced. (But wouldn't you know it, your car will be the one that gets ticketed.)
See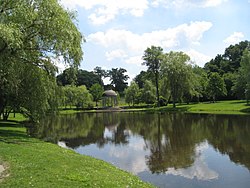 Larz Anderson Park & Auto Museum

phone: +1 617 522-6547

address: 15 Newton St

This features an outdoor skating rink, and is the #1 sledding destination in the town. The park is a great place for kids. Don't miss the Auto Museum, the oldest automobile collection in the United States.

John F. Kennedy National Historic Site

phone: +1 617 566-7937

address: 83 Beals St

The 1917 birthplace and boyhood home of the 35th President of the United States. A peek into how people lived in 1917.

Frederick Law Olmsted National Historic Site

phone: +1 617 566-1689

address: 99 Warren St
Do
phone: +1 617 734-2500

address: 290 Harvard St

A charming, old fashioned movie theatre that plays art house films, and some crowd-pleasers.

Brookline Golf Club at Putterham

phone: +1 617 730-2078

address: 1281 West Roxbury Parkway

Public 18-hole golf course.

phone: +1 617 731-6400

address: 32 Station St

For both children and adults, the theater offers workshops, classes, and training opportunities. Exhibiting over 300 puppetry performances annually.
Buy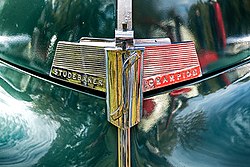 Eat
The stretch of Harvard Street between Comm and Beacon is a heavily Jewish neighborhood; the majority of kosher restaurants in the Greater Boston area can be found here. Remember, Kosher restaurants are closed Friday night and only open late Saturday night (if at all) due to the Jewish Sabbath. Some restaurants in the area might just join the crowd and go Kosher, like the ice cream shop J.P. Licks, for example.

Budget
Kosher
Sweets
Mid-range
Kosher
Splurge
Drink
address: 14 Harvard St

Consistently rated as "Best Irish Pub" by several local publications, this Brookline spot (ride to Brookline Village on the 'D' Branch of the Green Line - about 20 minutes from downtown Boston) boasts fantastic Irish food miles removed from standard pub fare and bartenders and waitstaff with genuine brogues, as well as live music.

phone: +1 617 277-2880

address: 1648 Beacon St

Has great food and a huge selection of artisanal beers on tap and in bottles. Get your hard to find European beers and domestic micro-brews here. Come for the beer, stay for the mac and cheese and the Belgian-style frites.

Washington Square Tavern

address: 714 Washington St

Hops 'n Scotch

address: 1306 Beacon St

O'Leary's

address: 1010 Beacon St

Grainne O'Malley's

address: 201 Harvard St
Coffee
phone: +1 617 232-2200

address: 1003 Beacon St

phone: +1 617 738-4444

address: 419 Harvard St

phone: +1 617 879-2500

address: 1642 Beacon St

Koo Koo

address: 7 Station St
Sleep
Connect
phone: +1 617 730-2370

address: 361 Washington St

phone: +1 617 730-2380

address: 31 Pleasant St

phone: +1 617 730-2385

address: 959 West Roxbury Parkway
Go next