Brooklyn/Coney Island and Brighton Beach
Coney Island and Brighton Beach
are in
Brooklyn
. In addition to those two neighborhoods, this travel guide covers Manhattan Beach, Gravesend, and Sheepshead Bay.
Understand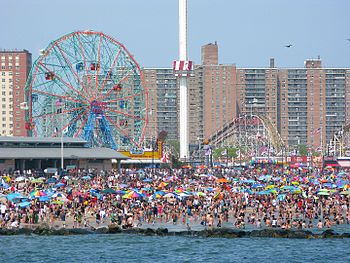 Coney Island. Ah, the famous Coney Island. The Cyclone, a 1927 roller coaster, is the most famous of the amusement park rides at Coney Island, for good reason: It packs a lot of thrill into a small lot. There is also a great view of Manhattan from the top of the Wonder Wheel (a large ferris wheel). Otherwise, the amusement park is somewhat seedy, which is part of its appeal. The high concentration of public housing projects in the area does make the neighborhood around the amusement park somewhat unsafe. Precaution should be taken if exploring these areas.
Brighton Beach is home to the largest Russian-speaking community outside of the former USSR. It's unlike any other neighborhood in the city. Mosey on along the famous boardwalk and have a shashlik (shish-kebab) with a shot of vodka for lunch.
Sheepshead Bay is not far from the Coney Island amusement parks. It is a traditionally Italian and Jewish neighborhood and is now populated by many Chinese and Russian immigrants. There are piers along the bay on Emmons Avenue where anyone can pay a small fee to be taken out for a day of fishing. Includes restaurants along the Bay and the famous El Greco diner.
Gravesend was the oldest English settlement in New York. Parts of it are now a Syrian Orthodox Jewish neighborhood, populated by many people in the rug trade who live in lovely houses, many of them very tasteful and worth walking past just to admire the architecture and landscaping, such as for example on Ave. S west of the Kings Highway stop on the F train. There is also a small Chinese neighborhood on Ave. U near the Ave. U Q train station that has some worthwhile Chinese and Vietnamese restaurants and shops. Perhaps fittingly, Gravesend is also home to huge graveyards that are visible from the F subway line.
Get in
By subway
To get to Coney Island, take the D, F, N, or Q to Coney Island-Stillwell Avenue. On all of these but the Q, keep your eyes peeled for the massive train yard you will pass on the way.
Brighton Beach and Sheepshead Bay are covered by the Q and B (weekdays only).
For Gravesend, take the N to Avenue U.

See
The Coney Island CycloneOpened in 1927, the Coney Island Cyclone or (the Cyclone) is one of the world's oldest and still operating wooden roller coasters and was declared a New York City Landmark on July 2, 1988. It was also placed on the National Register of Historic Places on June 26, 1991. Although in 1927 the roller coaster cost only 25 cents to ride, it now costs $10.

address: Boardwalk and W 8th St
Do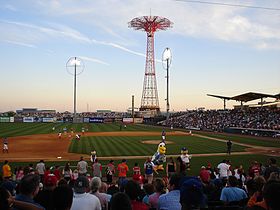 Sports
Brooklyn CyclonesNew York Mets single-A minor league team, which plays in Coney Island right next to the Boardwalk. They were established to fill the void of Brooklyn's old Major League Baseball team the Dodgers, who left for Los Angeles after the 1957 season.
Buy
Eat
Coney Island is a varied neighborhood of old pizzerias, Nathan's Original hotdog stand and newer Russian restaurants and others. Brighton Beach is a huge Russian neighborhood, with immigrants from other parts of the former Soviet Union, too. You can find all kinds of Russian gourmet shops, bars and restaurants in that neighborhood. If you have Russian friends, ask them which restaurants are good at the moment, as these things tend to be very changeable. Sheepshead Bay is a traditionally Italian neighborhood, and also Jewish. It's historically been a place to go for seafood, although Lundy's, its most famous seafood restaurant, closed a couple of years ago.
John's Deli

phone: +1 718 714-4377

address: 2438 Stillwell Ave

Great roast beef heroes.

phone: +1 718 449-1230

address: 2725 86th St

Consistently rated by many as one of the best pizzerias in the city. Talk to any Brooklynite and they will tell you to get an "L & B Square".

Nathan's Original

address: Surf Ave at Stillwell Ave

Opened in 1905, this store offers great hot dogs, fries, grilled chicken, etc. Prices are somewhat high, with a hot dog costing $3.25

Taci's Beyti

phone: +1 718 627-5750

address: 1955 Coney Island Ave

Well-priced, fantastic Turkish restaurant located in Gravesend. Fast service; BYOB. Worth the trip, and a good opportunity to explore other areas of Brooklyn if you're staying in the Slope or the Heights.

phone: +1 718 372-8606

address: 1524 Neptune Ave

A family brick oven pizzeria that's been continually operating since 1905. The crust is one of the very best around - thin, crisp, and charred with a sweet sauce. Whole pies only, no slices. A few blocks from the Coney Island boardwalk. Cash only.
Drink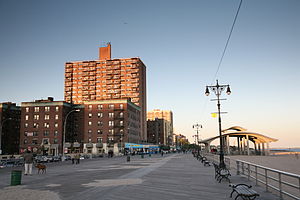 There are Russian bars in Brighton Beach. The more expensive ones tend to be right on the Boardwalk, and they also offer full meals and sometimes a floor show. However, you may be able to get some inexpensive vodka and good homey Russian food a few blocks from the beach. Or hey, just grab a beer like many New Yorkers do, but keep in mind that if you openly drink alcohol outside, you can get a summons, which is why convenience stores normally sell beer in paper bags.
Sleep
Sleep Inn Coney Island

phone: +1 718 975-6702

address: 2586 Stillwell Ave

Free full breakfast, free WiFi, free daily newspaper, free coffee and free parking (first come, first serve basis).
Connect