Brooklyn/Downtown
Downtown Brooklyn
is in
Brooklyn
. In addition to the downtown area proper, it includes Brooklyn Heights, DUMBO, Cobble Hill, Boerum Hill, Fort Greene, Clinton Hill, and the Navy Yard.
Understand
Downtown Brooklyn, which is the central shopping and business area, anchored by Fulton St. west of Flatbush Avenue, looks similar to the downtown of almost any other major American city, with department stores, clothing and electronic shops, a Borough Hall, two universities, a major railroad station, the Brooklyn Academy of Music concert hall, the Barclays Center sports arena, many office buildings, and municipal, state and federal buildings and courthouses. Many subway and bus lines go to or through Downtown Brooklyn.
Brooklyn Heights is a residential neighborhood with elegant buildings and historic churches. It is an expensive neighborhood to live in, partly because of its great views of the Lower Manhattan skyline. The area's brownstone buildings and shopping district give it a quaint yet thriving feel. This is the richest neighborhood in Brooklyn, and more expensive than parts of Manhattan.
Cobble Hill is a quiet neighborhood of bookstores, shops, and restaurants. Old time Italian neighborhood with great pizza and Italian ices. Great restaurants and quite a number of bars along Court St. and Smith St.
DUMBO is an acronym for Down Under the Manhattan Bridge Overpass. Once popular with artists for loft space, it has now become popular with a richer, trendier crowd. Walk along the riverfront park for a unique and unforgettable view of the Brooklyn and Manhattan Bridges and the Manhattan skyline.
Fort Greene has some great restaurants and the Brooklyn Academy of Music which features an art-house cinema, theater, and concerts.
Get in
By subway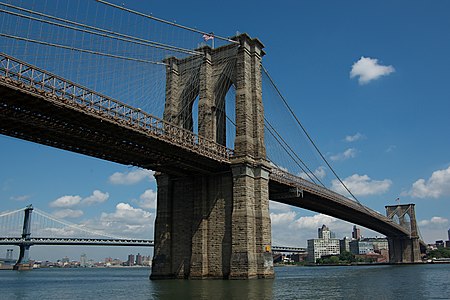 Almost every line that runs in Brooklyn runs through here. The major station here is
Atlantic Avenue
(over by Barclays Center), the biggest station outside Manhattan and a major transfer point. The
B
(weekdays only),
D
,
N
,
Q
,
R
,
2
,
3
,
4
, and
5
(weekdays only) all stop here. There's little to see around it, but if you need to change trains this is the place to do it.
Another major station is
Borough Hall
, served by the
2
,
3
,
4
,
5
(weekdays only), and
R
. This station will put you near most of the attractions.
Clark Street
, served by the
2
and
3
is the station closest to the
Brooklyn Bridge
.
The
A
,
C
,
F
, and
G
also ply parts of this neighborhood, but transferring to or from them can be a pain (although transferring between them can be done more easily). The closest points to transfer between these and the lines stopping at Atlantic Avenue are at Fulton Street in Manhattan (which is a very difficult station to navigate), Jay Street/Metrotech (a new transfer has been built between the
R
and the
A
,
C
, and
F
), 4th Ave/9th St, and the Franklin Avenue Shuttle in
Bed-Stuy
.
By bus
Many buses connect Downtown Brooklyn with other neighborhoods of Brooklyn (see a PDF map here , and note the separate inset for Downtown Brooklyn at the upper right corner), but the B51 bus that used to traverse the Manhattan Bridge and connect Downtown Brooklyn with Manhattan was discontinued in the recent round of transit cuts.
By bicycle or on foot
Both the Brooklyn and Manhattan Bridges can be crossed by bicycle and on foot. Wire mesh limits the view from the Manhattan Bridge, and you will be repeatedly rattled by crossing subways, so the Brooklyn Bridge is much more recommended for pedestrians.
See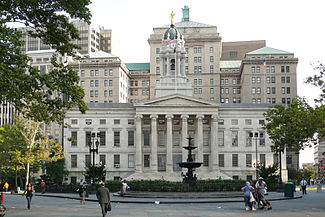 Do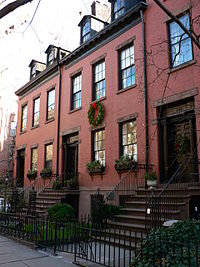 Buy
phone: +1 718 260-9299

address: 57 Pearl St

Record store.

phone: +1 718 624-4550

address: 187 Atlantic Ave

The most famous purveyor of Middle Eastern foodstuffs in New York City. Across the street, there is another store which is open later. If you like Arab food, don't miss a trip to Atlantic Avenue.

address: 81 Washington St

A great small wine shop in the DUMBO (Down Under the Manhattan Bridge Overpass) neighborhood of Brooklyn. They have a great selection of Burgundies as well as other wines from all over the world and a very friendly and knowledgeable staff. A short walk from the park with stunning view of the Manhattan skyline.
Eat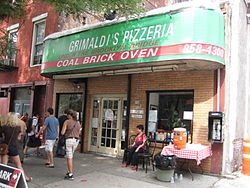 phone: +1 718 852-0200

address: 120 Smith Street (b/t Pacific and Dean)

Bien Cuit offers a variety of house-baked breads and pastries served in a central Smith Street location with wifi and Crop to Cup coffee and espresso drinks.

phone: +1 718 858-4300

address: 1 Front St

Located near Fulton Ferry Landing and DUMBO, only serves its coal-fired pizza by the pie, not the slice, and does not accept credit cards. Some people still consider it worth it, while others think it's a tourist trap. That said, for best results, line up before opening time, when their oven is at its hottest.

phone: +1 718-596-6700

address: 19 Old Fulton St.

From the website: "Juliana's heralds the return of Patsy & Carol Grimaldi—not only to the NYC restaurant scene, but to the original location under the Brooklyn Bridge where they founded Grimaldi's Pizzeria. Unbeknownst to many, Pat & Carol ended their association with Grimaldi's more than a decade ago when they sold the business (along with the name) to a customer." So you could say that this is the real Grimaldi's. New Yorkers skip the lines at Grimaldi's and get their coal-fired pizza here.

Junior's Restaurant and Bakery

phone: +1 718 852-5257

address: 386 Flatbush Avenue Extension

Sure, you can eat their famous cheesecake in Grand Central, but why not try the original? With an ad announcing loud and clear that this is it, it's one of the first places you'll see coming off the Manhattan bridge. Home to what is known as "the most fabulous cheesecake," and also featuring New York deli items like tongue sandwiches, this restaurant has been a Brooklyn favorite for decades. The gracious waiters, dressed immaculately in suits and ties, are part of the atmosphere.

phone: +1 718 852-7510

address: 97A Hoyt St

A Montreal-inspired deli serving up poutine and smoked meat that has gained a huge following since it opened a few years ago.

Yemen Cafe

phone: +1 718 834-9533

address: 176 Atlantic Ave

Serves as an informal community center for the local Yemeni community, but don't be put off by the social club atmosphere; the staff are very friendly and welcoming, and the food (especially the lamb) is very tasty and inexpensive (two people can pig out for about $40). Note: This is a halal establishment that serves no alcohol and would not be an appropriate place to bring your own. Have the spiced tea, instead.
Drink
address: 66 Water St

A small chocolatier located on a sparse street in DUMBO near some of Brooklyn's best views of the Manhattan skyline. Go for the goodies, but stay for the "Wicked Hot Chocolate."
Sleep
New York Marriott at the Brooklyn Bridge

phone: +1 718 246-7000

address: 333 Adams St

The hotel's luxurious accommodations boast a relaxed but modern atmosphere with state-of-the-art amenities.

phone: +1 718 852-8585

address: 85 Smith St

phone: +1 347 696-2500

address: 60 Furman Street

1 Hotel Brooklyn Bridge has expansive views of the East River and Manhattan skyline. Designed by local artists using native greenery and reclaimed materials.
Connect