Brooklyn/Greenwood and New Utrecht
Greenwood and New Utrecht
is a part of
Brooklyn
,
New York City
that encompasses the neighborhoods of Sunset Park, Borough Park, Kensington, Parkville, Bay Ridge, Fort Hamilton, Dyker Heights, Bensonhurst, and Bath Beach.
Understand
Sunset Park is often called New York City's little Puerto Rico and Brooklyn's Chinatown and is one of the most diverse neighborhoods in New York City. It is just less than 20 minutes away from Downtown Brooklyn. Sunset Park is a place for all families to come and shop, and locals can be seen running errands in the heart of the neighborhood along 5th Avenue between 60th and 44th Streets. Its hilly terrain gives magnificent views of Downtown Brooklyn and Manhattan, Staten Island, Jersey City and the nearby Verrazano-Narrows Bridge. Besides the Hispanic part of the neighborhood filled with families of Puerto Rican, Dominican, Mexican and other backgrounds, the Chinese also put Sunset Park on the map with its countless Chinese restaurants found on 8th Avenue between 60th and 40th Streets.
Borough Park contains the biggest Chasidic Jewish community in the city. You will see lots of kosher foods on sale, and shops that are closed every Friday night and Saturday but open on Sunday, due to religious rules. If these things are unfamiliar to you, a trip to Borough Park may be worthwhile.
Kensington is located south of Prospect Park. It is the most diverse neighborhood in Brooklyn and is one of the most diverse in the United States. It is one of the "up and coming" neighborhoods in Brooklyn. Many new trendy restaurants and boutiques have opened, making this neighborhood a hotspot. It is served by the F and G trains at Church Avenue, and the Q train at Beverly Road and Cortelyou Road.
Bay Ridge has traditionally been a residential Irish-Italian-Norwegian neighborhood, but recently has seen an influx of Arab, Asian and Russian families as well. The Verrazano-Narrows Bridge connects to here from Staten Island, and Fort Hamilton, a United States Army Base, is here as well. There is a great variety of good values in food to be had in this neighborhood, especially on 3rd Avenue. The neighborhood is also one of the top bar areas in the non-downtown area of Brooklyn.
Bensonhurst used to be Italian as far as the eye could see, but it now contains Albanian, Pakistani, Korean, Chinese, Mexican, and many Eastern European immigrants as well. Nonetheless, it is still the center of Brooklyn's Italian community and is one of the best-known Italian-American neighborhoods in the United States. The train runs above ground and it is a lively place with an Old New York feel. Many of the best "unknown" restaurants in Brooklyn (known locally but often ignored by the Manhattan-based establishment) can be found in Bensonhurst. Get there by taking the D train to 18th or 20th Avenues or Bay Parkway.
Get in
By subway
For Green-Wood Cemetery itself, the best trains to take are either the
D
to 9th Avenue or the
F
to Fort Hamilton Parkway.
The
D
serves the center of the district, including Borough Park and Bensonhurst before continuing to
Coney Island
, while the
N
serves Dyker Heights after splitting off from the
R
in Sunset Park. The
R
terminates in Bay Ridge.
By bus
The X27/X37 and X28/X38 express buses also serve this area.
By car
The Verrazano-Narrows Bridge takes you to Bay Ridge from
Staten Island
.
See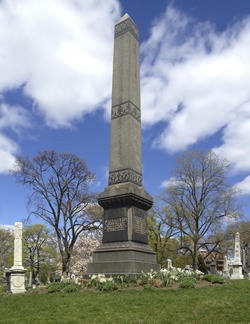 phone: +1 718 768-7300

address: main entrance at 500 25th St

Owl's Head ParkThe park is good for a walk, and you can follow the path toward the water which takes you to the pier and a bunch of park stuff along the water towards the verazano bridge. Those are all really refreshing walks.

phone: +1 718 630-4349

address: 230 Sheridan Loop

A collection of military artifacts relating to the defense of America's harbors located inside still-working Fort Hamilton. Since the museum is located within an active US Army post, foreign visitors are not permitted. All visitors must have an ID.

Christmas Lights at Dyker HeightsAbout 10 blocks, centered around the "Candy Cane House" on 84th and 12th. During the holiday season the locals bring up the most spectacular decorations do a Flickr or Google image search yourself and see! There's the house with the giant snowman, the house with the giant nutcrackers, the house with Winnie and Shrek, and the Toyland house with the animatronic reindeer. Go on a Friday or Saturday night, between 7 and 10. It'll put the Christmas spirit in you.
Buy
Fei Long Market

phone: +1 718 680-0118

address: 6301 8th Ave

An absolutely massive shop selling all manner of Chinese ingredients, including a very good produce section. Can be extremely crowded, though, so go in the off hours.
Eat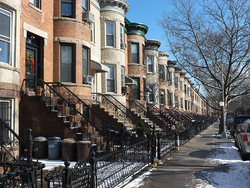 8th Avenue (or Third Chinatown)Stretching from 50th Street to 62nd Street, the avenue holds its own against Canal Street and Flushing. Fancy gourmet restaurants to alleyway noodle shops, Malaysian to Vietnamese and fare from every Chinese province, the neighborhood has it all. The area is particularly known as a nexus for immigrants from Fujian province.
Bay Ridge
The neighborhood's main thoroughfares are 3rd Ave, 5th Ave and 86th Street. Whether you're looking for shops, cafes, restaurants or nightlife you can probably find it on one of those streets.
address: 9124 3rd Street

Amazing Italian sandwiches and a great bakery too

Gino's RestaurantPopular local Italian restaurant with great pasta.

Nicky and Rocky'sPizza place with good slices.

Grandma'sPizza place with good slices and pretty good cheap pasta, and garlic knots are delicious for a dollar there.

HazarA good kabob place.

Kathy'sGood dumplings.

Burger BistroGourmet burgers, a little pricey though.

Bay ThaiRich Thai food.

Taj MahalA really good Indian place.

The Brooklyn MarketThis is the place to get groceries; it's a grocery store with organic and otherwise fancy foods.
Bensonhurst
Il Colosseo

phone: +1 718 234-3663

address: 7704 18th Ave

Old-school Italian-American food. Made with fresh, quality ingredients, and delicious.

phone: +1 718 331-8430

address: 7001 18th Ave

Wonderfully delicious Italian pastries - particularly Sicilian ones - and helpful, unaffected service. No place to sit, so get some items to go. Very inexpensive, too: A couple of pastries will cost you about $5.50.
Drink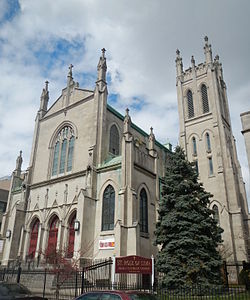 Sleep
Best Western Gregory Hotel Brooklyn

phone: +1 718 238-3737

address: 8315 4th Ave

phone: +1 718 871-8100

address: 1206 48th St

phone: +1 718-604-7300

address: 1324 Atlantic Avenue

100% non-smoking.
Connect