Brooklyn/Prospect Park
Prospect Park
is in
Brooklyn
. It includes its namesake park, plus the neighborhoods of Park Slope, Prospect Heights, Windsor Terrace, and Prospect Park South.
Understand
Park Slope has long been a haven for interracial families, lesbians and gays, and everyone else with a certain kind of groove in NYC; this upscale but downhome neighborhood can be joked about as the Berkeley of New York City. The granola-eating transplant crowd might make you queasy at times and nostalgic for crackheads, but the neighborhood itself is beautiful. Boutiques, cafés, bars, health food stores like the 30 year-old Park Slope Food Coop, and attractive young people pushing strollers. Also home to a sizeable lesbian community since the 1970s. Take the B or Q to 7th Ave, the M or R to 9th St, or the F or G to 4th Ave or 7th Ave and walk the neighborhood. Prospect Park is large, beautiful and green. Ice-skate here in the winter. Fly kites and enjoy free weekend concerts in the summer. While staying hip and vibrant, "the slope", as it is commonly referred to, also enjoys its share of wealth. The quaint, tree-lined streets closer to the park house ornate, brownstones, townhouses, full service apartment buildings, and even a few full scale urban mansions on the park side. These residences include the homes of Senator Charles Schumer (D-NY) and the actors Jennifer Connelly, Steve Buscemi and Maggie Gyllenhaal. Check out 5th Ave for the restaurants and bars.
Prospect Heights is just north of Prospect Park. It features the Brooklyn Museum, which is first-rate but often overlooked due to the museums in Manhattan. A block away from the museum is the Brooklyn Botanic Garden.
Get in
By subway

The 2 or 3 train will take you to Grand Army Plaza, just at the corner of the park; it will also take you to Eastern Parkway, near the Brooklyn Museum and the Brooklyn Botanic Garden.
The B or Q will take you to Seventh Avenue near the corner of Seventh Avenue and Flatbush.
The F and G will take you to Seventh Avenue at the corner of Seventh and Ninth (be aware that, despite the name, this is on the other side of the neighborhood from the B/Q station) or to 15th Street-Prospect Park at the Western corner of the park.
Finally, the R can take you to Union Street, which is at the corner of Union St. and Fourth Ave.

See
Landmarks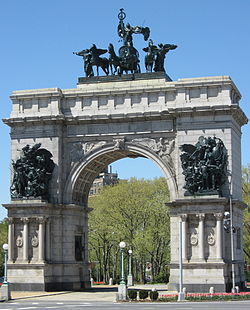 Grand Army PlazaThe gateway to Prospect Park, laid out in 1870. The Soldiers and Sailors Arch was added in 1892 as a memorial to the victorious Union Army. The Plaza itself is a large traffic circle surrounded by trees; apartment buildings; the main branch of the Brooklyn Public Library, itself a large distinctive landmark building; and a memorial bust of President John F. Kennedy. Each June, Grand Army Plaza is the focus for the Welcome Back to Brooklyn Festival for those who lived in the borough.

phone: +1 718 768-3195

address: Washington Park/JJ Byrne Playground

1930s replica of a Dutch colonial farmhouse that had been constructed on the site in 1699; the original structure was buried under landfill during the regrading of the Park Slope neighborhood in the early 1900s. Features an exhibit on the Battle of Brooklyn, the first and largest battle of the American Revolution.

Park Slope Historic DistrictOne of Brooklyn's most prized brownstone neighborhoods. It is predominantly residential, characterized by late 19th and early 20th century rowhouses with architectural significance. Street signs in the Historic District are brown rather than green.

Prospect Park SouthThe lesser-known historic district on the other side of the Park. It was developed at the turn of the 20th century by Dean Alvord as one of the first suburbs.
Museums
phone: +1 718 638-5000

address: 200 Eastern Pkwy

Housed in a 560,000-square-foot, Beaux-Arts building, the Brooklyn is the 2nd largest art museum in New York City and one of the largest in the USA. Its world-renowned permanent collections include more than one million objects, from ancient Egyptian masterpieces to contemporary art, and represent a wide range of cultures. Only a 30-minute subway ride from Midtown Manhattan, with its own recently renovated subway station, the museum is part of a complex of 19th century parks and gardens that also includes Prospect Park, the Brooklyn Botanic Garden, and the Prospect Park Zoo. On the first Saturday of each month, the museum is open until 11PM with free admission and special events.
Parks and gardens
address: 900 Washington Ave

The garden is 52 acres and the layout was well planned. It is definitely worth a visit. Designed by the Olmsted Brothers in 1910 and open to the public since 1911, the garden includes an authentic Japanese garden, a Children's Garden, and the Cranford Rose Garden. The garden has the largest cherry blossom trees in one place outside of Japan. There are 42 gorgeous varieties. The Brooklyn Botanic Garden hosts various festivities throughout the year, including Hanami Sakura in May and the Chile Pepper Festival in October.

Prospect ParkEstablished in 1867 and laid out by Olmsted and Vaux, the designers of Manhattan's Central Park.
Long MeadowThe largest continuous band of green space in New York.

Veil of Kashmir

Boathouse/Audobon Museum

Wollman Rink
Do

Concerts
address: at the Prospect Park Bandshell

An annual series of concerts that are held throughout the summer.
Buy
Brooklyn Superhero Supply Store

phone: +1 718 499-9884

address: 372 5th Ave

The Brooklyn Superhero Supply Co. is your one-stop shopping destination for crime-fighting needs in the Tri-State area. Items on sale include capes, masks, secret identity kits, invisibility detection goggles, particle blasters, powdered anti-matter, deflector gauntlets, bottled justice, maps showing hotspots of good and evil, power rings, and countless other tools essential for any hard-working do-gooder. Test a cape, get devillainized, create your superhero persona and enter it in the master log - they've got it all. The BSSC is also a clever front for the 826NYC Student Writing Center, a non-profit center founded by Dave Eggers (among others) where kids aged 6-18 may receive after school tutoring, or attend a variety of creative workshops, all free of charge. Student writing is on sale in the store, along with books and other items from the McSweeney's label.

phone: +1 718 623-8200

address: 190 5th Ave

A great place to find high quality hand-made designer items. A one-stop shop for last minute gifts.

phone: +1 718 230-1630

address: 92 5th Ave

Incredibly cheap yet hip second hand store, bound to catch your attention and the change in your pocket.
Eat
Unfortunately for the budget traveler, Park Slope has very little in the way of budget or midrange eateries, since it is an expensive neighborhood. However, there are a few low-price places:
Budget
address: 400 7th Ave

The Bagel Hole's bagels hearken back to the days when bagels were small hockey pucks with a definite chew and a nice malty flavor. Easily among the best in New York, and some of the best priced, at about 90 cents for a bagel and a price that just keeps going down the more you buy. This is a good place to stock up on bagels for self-catering.

phone: +1 718 369-7776

address: 422 7th Ave

A bar/restaurant with good food that's inexpensive for the neighborhood, specializing in Austrian cuisine. They used to have a $6 Gulasch Night on Monday, an excellent value, especially for the neighborhood, but the prices may have risen some.

phone: +1 718 499-4994

address: 256 7th Ave

A small pizza place close to John Jay and Millennium Brooklyn High School. Expect students to come in at 10AM-12PM for their lunch breaks. However the pizza is well worth waiting in line behind hungry students.

Hunan Delight

phone: +1 718 789-1400

address: 752 Union St

Neighborhood Chinese restaurant; excellent vegetarian options (fake meat, etc) and sweet and sour soup. Delivery available.

Joe's Pizza on 7th

phone: +1 718 398-9198

address: 137 7th Ave

Pleasant, conventional, and ungreasy pizza for low prices.

phone: +1 718 768-4961

address: 226 7th Ave

Delicious Egyptian food for a low price, something of a rarity in Park Slope. Their sandwiches are very good, as is the Kibbeh, but the star of the menu is their lemonade, which is made with rosewater.

Mr. Wonton

phone: +1 718 398-7088

address: 73 7th Ave

Another Chinese eatery, though the dishes here are somewhat different from most. Although they have all the standard stuff, their pork buns cannot be found elsewhere in the neighborhood. The "Chef's Specials" section of the menu really is where the best (and most unique) dishes are.
Mid-range
phone: +1 718 230-3805

address: 141 5th Ave

Pan-Latin cuisine ranging the South American continent with main dishes from Colombia. Full service bar featuring mojitos and imported Latin American beers and wines. Happy hour and live music.
Splurge
Bonnie's Grill

phone: +1 718 369-9527

address: 278 5th Ave

Serves the best burger in Park Slope, and quite possibly, in all of Brooklyn (it matches Peter Luger's burger). The burgers are spiced nicely, and served alongside nice fries that go well with chipotle mayo. Bonnie's buffalo wings are also something worth savoring.

Geido Restaurant

phone: +1 718 638-8866

address: 331 Flatbush Ave

Excellent sushi bar in Prospect Heights.

phone: +1 718 230-4475

address: 348 Douglass St

Delicious Ethiopian food. Try kitfo or the gored-gored, or, if raw meat isn't to your taste, try any of the more conventional Ethiopian offerings. They have set plates that are good, but can be somewhat limiting.

phone: +1 718 783-1888

address: 71 7th Ave

Delicious sushi. Their best sushi is their rolls, although their individual pieces are good, and the sushi plates are a decent deal.

Yamato

phone: +1 718 840-0099

address: 168 7th Ave

Similar to Oshima, although their rolls are different.
Drink
phone: +1 347 422-0248

address: 376 9th St

A truly wonderful neighborhood bar and live music venue. Barbes tends tends to bring in bands that play early swing, Balkan brass bands (which are fabulous), and singer/songwriter types. The shows tend to be very high quality, and the drinks are reasonable, and well made. The help is extremely friendly, and will make you feel at home in no time.

Buttermilk Bar

phone: +1 718 788-6297

address: 577 5th Ave

The main local for South Slope folk. Free pizza on Wednesdays. Sadly, the photo booth has been taken away.

Commonwealth

address: 497 5th Ave

A new bar worth looking into in southern Park Slope. Good jukebox.

Great Lakes

phone: +1 718 499-3710

address: 284 5th Ave

A Park Slope best, but a bit too crowded on the weekends.

phone: +1 718 965-9600

address: 304 5th Ave

A sports bar with a pool table in the front, and a pleasant lounge in the back with many sunken but elegant couches. This lounge has a good atmosphere for a date or a group of friends almost any size.

phone: +1 718 857-3477

address: 179 5th Ave

A wine bar that makes a great sangria. It has a very relaxed atmosphere and the music is soft enough to allow talking. On the weekends there is a DJ providing an eclectic mix of music. Out back there is a very nice garden area that is especially tempting during the warmer months. The best part is that they will even let you order take out to the bar and eat it out back! Patio only serves wine, beer and sake, but if you are looking for something with more of a kick ask for the Japanese "rice vodka".

phone: +1 718 789-2762

address: 837 Union St

By now it's a tried and true formula: a big room with lots of thrift-shop couches, an Italian coffee machine and the expertise to use it to make a well crafted mocha. Pastries, bagels, wine, hard liquor, smoothies. Throw in cool ceiling fans and free wireless internet access and you're set for a great morning windup to NYC sightseeing. $2 regular coffee is just the bonus.

phone: +1 718 783-5166

address: 74 5th Ave

A very upscale but reasonably priced wine bar that also serves fine cheeses among other small plates. The atmosphere is excellent for a date or just a great place to hang out with a few friends. It is not particularly conducive to larger groups however.
Connect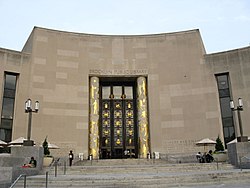 The
Brooklyn Public Library
offers free wireless internet at all its locations.