Brooklyn/Williamsburg
Williamsburg
is a neighborhood in
Brooklyn
, as little as one subway stop away from Manhattan, and is bordered to the north by Greenpoint, to the east by Bushwick and to the south by Bedford-Stuyvesant.
Since the 1990s, Williamsburg has transitioned from a traditional working-class Jewish, Italian, Polish and Latino neighborhood into a poster child for urban renewal and gentrification. The North Side and Greenpoint have become some of New York's hottest areas, with new bars and restaurants popping up every month. The South Side still has a very traditional feel with a large Hasidic Jewish population.
These neighborhoods together will give you everything you look for in New York: views, food, people, and plenty to explore. There is something here for every visitor.
Understand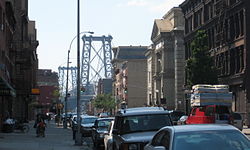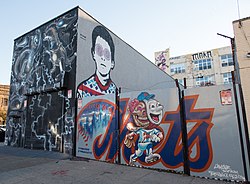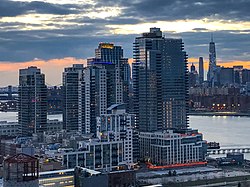 Williamsburg- Take L train from Manhattan to Bedford or Lorimer. The closest water taxi stop is "North Williamsburg" via the East River Ferry. This used to be what Greenwich Village used to be - an artsy scene complete with eclectic galleries and off-beat bars. It has since gentrified with many new high-rise condos with multi-million dollar apartments. Most galleries and artists have long been priced out, moving to Bushwick and other areas. Williamsburg has become a nightlife destination with many bars, restaurants, and clubs drawing people from all parts of the city and surrounding areas. With four new luxury hotels, many foreign tourists are flocking to Williamsburg, looking for something more edgy than Manhattan.
East Williamsburg- Centered around the Morgan Ave stop on the L train. Seemingly a desolate industrial area, this neighborhood has surprises around every corner. Try out Roberta's Pizza, which gets its ingredients for its fabulous pizzas from its own rooftop farm, and from befriended urban farms in the area. For a drink, head to The Narrows or King's County. Many of New York's underground warehouse parties are thrown in this area as well.
Greenpoint- At the northern tip of Brooklyn, Greenpoint used to have the second largest Polish enclave in the United States (after Chicago) but gentrification by young people priced out of other neighborhoods has led to a decline in the Polish population and businesses. One publication even declared "Polish Greenpoint does not exist any more." Greenpoint is still home to a sizable Latino population (north of Huron St.) and a growing number of hipsters (see Franklin St.). L Magazine once called Greenpoint the best neighborhood in all of Brooklyn. The part that is quickly getting gentrified centers around the Nassau stop on the G train. The remnants of its Polish past are further up Manhattan Ave and on Nassau Avenue. The abandoned industrial part in the north is now zoned for luxury high-rise development.
Bushwick- Rich in its own history, Bushwick is home to many brownstones, mansions, and projects alike. Many galleries and artists priced out of Williamsburg have moved here. It can almost be divided into two areas defined by Myrtle Avenue. North of it is the more trendy area with lots of art, bars, and restaurants along with an influx of young creative types. South of it is essentially ungentrified with more long-time residents in lower income brackets. As a low-income neighborhood, shopping can be done on Knickerbocker Avenue, whether for clothes, appliances, or food. The newly restored Maria Hernandez Park on Knickerbocker Ave. and Suydam St. is a nice spot to bring the kids and relax in the shade of the trees. While it's not like neighboring "East Williamsburg", Williamsburg, or Bedford-Stuyvesant, Bushwick has its own sense of community, not to be confused with anything else. However violent crime is a still among the social problems in a community with a high poverty rate.
Get in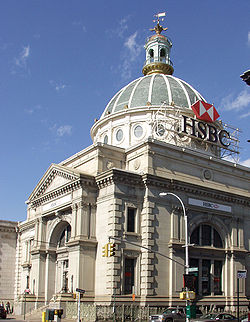 You can take the J/M/Z trains to Marcy Avenue for the South Side or the L to Bedford Avenue for the North Side. The East River Ferry makes stops in both north and south Williamsburg. The G train also runs through the neighborhood. This general area is served by the Bedford Avenue through Bushwick-Aberdeen stations on the L train and the Marcy Avenue through Chauncy Street stations on the J/Z trains. The M stations from Marcy Avenue through Myrtle-Wyckoff Avenue also serve this area. There is a bus station at the Marcy Avenue station and at the Myrtle-Wyckoff station in Bushwick. The B39 bus goes over the Williamsburg Bridge along with the J/M/Z trains and goes to the Lower East Side.
See
Do
Theater
phone: +1 718 907-6189

address: 579 Metropolitan Ave

A former garage, The Brick is home to cutting-edge independent theater, The New York Clown Theater Festival, and an annual themed festival each year (past themes included the Moral Values Festival and the $ellout Festival).
Concerts
phone: +1 347 529-6696

address: 361 Metropolitan Ave

The legendary New York concert club moved from Manhattan to Williamsburg in 2009. Check a diverse blend of live music, comedy, and special events. Main room events are all ages, bar events 21+.

phone: +1 718 486-5400

address: 66 N 6th St

Hosts larger indie rock concerts for the 18+ crowd. 600-person capacity.

address: 603 Bushwick Ave

Cooperatively-run DIY all-ages music venue and exhibition space in Bushwick.
Nightclubs
Buy
Eat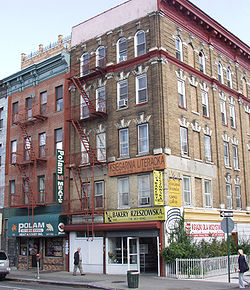 Get Polish food at Karczma (136 Greenpoint Av.), coffee at Ashbox (Manhattan Av. between Ash & Box), brunch at Brooklyn Label (Franklin & Java), Mexican at Acapulco's (Manhattan & Clay). 5 Leaves, on the north-west corner of McCarren park, is one of the best restaurants of the entire city, built up with the estate that Heath Ledger left behind after he passed away.
There are a few remaining good Polish meat markets along Manhattan and Nassau Avs, too. For some industrial chic, walk down Java Street to its dead end at the East River for great views of Midtown. Nearest subway: G train to Nassau Av. and Greenpoint Av. stations.
Drink
phone: +1 718 302-6464

address: 388 Union Ave

Features at least 30-40 classic 1970s and 80s arcade games, all for 25 cents! Also has 20 microbrews on tap and specialty beer nights.

phone: +1 718 302-4441

address: 139 N 6th St

A tiki bar, true to form with sand on the ground, coconuts and all kinds of other beach artifacts. They serve tiki cocktails plus your usual bar drinks. A fun place, especially in flip flops.

address: 11 N 12th St

On top of the new William Vale hotel, this upscale lounge is the highest bar in Williamsburg with panoramic views of Manhattan.

address: 3 Milton St & West St

Open only during the summer, this outdoor bar floats on the East River.

address: 272 Meserole St

A large bar with a huge outdoor area. They sometimes host events and concerts.

address: 298 Bedford Ave

An oyster bar with old-world charm that specializes in Absinthe drinks.

address: 33 Nassau Ave

A large indoor beer garden with a wide selection of craft beer. On weekday afternoons, it's a popular place for parents with children. On weekend nights it becomes very packed with young people who come into Williamsburg.

Jackbar

address: 143 Havemeyer St

A small divish bar with a large collection of vintage pinball machines.

address: 113 N 3rd St

A large indoor beer garden that often has live old-time jazz.

address: 411 Troutman St

A large lounge with a quasi-outdoor area and some games like ping-pong.

address: 45 S 3rd St

This is a coffee shop during the day and a stylish lounge in the evening. In warm weather, they have a large courtyard with various games.

Biba

address: 110 Kent Ave

Only open during the summer, this is a casual outdoor bar set in the middle of East River Park.
Sleep
phone: +1 718 389-3700

address: 99 Meserole Ave

Economy and deluxe rooms daily, weekly and monthly rates; higher prices during peak period. $99 for a double room.

phone: +1 (347) 227-8634

address: 179 Moore St

Located in East Williamsburg and covered with street art.

Red Carpet Inn

phone: +1 718 417-4111

address: 980 Wyckoff Ave

A 3-star inn.

address: 111 N 12th St

This luxury hotel is the tallest in Williamsburg.

address: 160 N 12th St

On McCarren Park.

address: 96 Wythe Ave

address: 80 Wythe Ave

An industrial-chic hotel with a trendy roof bar.

phone: +1-718-388-4433

address: 9 Beaver St

2.5 star hotel
Connect