Brooks
Brooks
is a small town of about 15,000 people (2016) in the
Southern Alberta
region of
Alberta
,
Canada
. It's a good jumping-off point for Dinosaur Provincial Park (see below).
Understand
The base of the economy of the City of Brooks is energy (oil and gas) and agriculture, with other sectors including metal manufacturing, food processing and construction. It is also a retail and service centre for the surrounding area.
Canada's second largest beef-processing facility is in Brooks. It ships meat across the country and internationally.
Brooks has won the Communities in Bloom competition four times in a row. Brooks has won Tidiness and Community Involvement Awards at a national level.

History
The area that is now Brooks was used as a bison-hunting ground for the Blackfoot and Crow. After Treaty 7 was signed in 1877, homesteaders moved into the area to begin farming. Until 1904, the area did not have a name. Through a contest sponsored by the Postmaster General, the area was named after Noel Edgell Brooks, a Canadian Pacific Railway Divisional Engineer from Calgary.

Climate
Located in the steppe region known as the Palliser's Triangle, Brooks has a semi-arid climate. Winters are dry and cold, with little snowfall compared to the rest of Canada. Chinook winds, though less common than in areas west and especially southwest of Brooks, are not uncommon, and ameliorate the cold winter temperatures temporarily when they pass over. Wide diurnal temperature ranges are regular, due to the aridity and moderately high elevation. Low humidity is prevalent throughout the year. Most of the relatively scant annual precipitation occurs in late spring and summer, often in the form of thunderstorms. On average, the coldest month is January, with a mean temperature of −10.1 °C (13.8 °F), while the warmest is July, with a mean temperature of 19.6 °C (67.3 °F). The driest month is February, with an average monthly precipitation of 9.1 mm (0.36 in), while the wettest month is June, with an average of 74.2 mm (2.92 in). Annual precipitation is low, with an average of 301.3 mm (11.86 in).

Get in
By car
Brooks is on the
Trans-Canada Highway
(Highway 1). The easiest way to get in is by car along this highway. It is 188 km (about 2 hours by car) east of
Calgary
.
By bus
Get around

You will need a car to get around. Highway 876 lies north-east of town, running north from Highway 1 to Patricia. Avoid it, due to heavy truck traffic.

See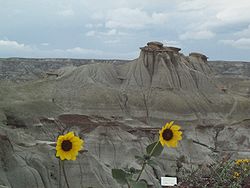 phone: +1 403 378-4342

48 km to the north-east of Brooks, this park is on the UNESCO World Heritage List for its rich collection of dinosaur fossils and its interesting badlands landscapes. During May-October there are interpretive tours of fossil sites and other interesting destinations. Camping available.

phone: +1 403 362-4451

address: Highway 875

Somewhat classical in design, the aqueduct is considered one of the biggest engineering feats in Alberta's history. It's not used now, but at one time it helped irrigate the nearby land and open it up for farming. The aqueduct can be viewed any time for free, there is a small charge to see the interpretive centre.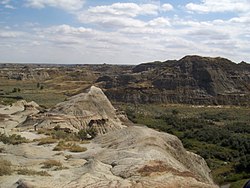 Do
Kinbrook Island Provincial Park

address: Highway 873

Small park set on the shores of Newell Lake. The beach is popular for swimming and the park is a good spot for bird watching.
Tillebrook Provincial Park is to the east and there are several other recreational sites in the area including the Rolling Hills Reservoir, Crawling Valley Reservoir, and Emerson Bridge.
Eat
Wasana

phone: +1 403-362-5554

address: 4 Pine Ave W

Asian, Thai, vegetarian friendly.

phone: +1 403-362-2999

address: 1211 - 1st Avenue East

Lunch Buffet M-F 11:30AM-2PM, Prime Rib Night F 5:30PM-10PM

Sam's Oriental Restaurant

phone: +1 403-362-0234

address: 604 Cassils Rd W

Cambodian food in Brooks.
Sleep
address: 1319 2 St W

free WiFi Internet access, pet-friendly, non-smoking hotel. Gym, indoor heated pool, water slide, hot tub, steam room, free continental breakfast, free parking.

address: 115 15 Ave W

Pet friendly (fee), kitchenettes, microwaves, suites available, air conditioned, coffee maker, guest laundry, fitness centre, free high speed Wi-Fi, waterslide, hot tub, heated indoor pool.

address: 1004 2 St W

Free wireless, mini-fridges and microwaves, and several rooms have kitchens, free coffee in the lobby, a business centre, an indoor pool & a sauna.
Go next
The Royal Tyrrell Museum in Drumheller, 141 km to the northwest, has excellent fossil exhibits including dinosaurs, and is a good companion to Dinosaur Provincial Park. It's a two-hour drive between them, so allow 3 days or more to see them both.
There is similar Badlands countryside to the south, in the United States.