Bruck an der Mur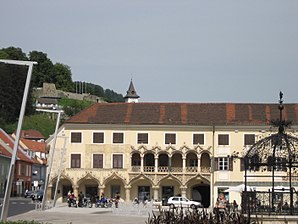 Bruck an der Mur
is a small city located in the north of
Styria
in
Austria
. In medieval times
Bruck an der Mur
was one of the most important trading centres in
Styria
, nowadays Bruck an der Mur is one of the major train hubs (two international train routes cross here) in
Austria
, so it's very likely that you come across this city while travelling through the country.
Get in
Get around
On foot
If you get in by train, follow Bahnhofsstrasse, cross the bridge at the end of the road and follow Herzog-Ernst-Gasse which takes you directly to centre of the city. (Hauptplatz) It's about 15 minutes by feet. Many of the city's sights are close to Hauptplatz and therefor it's a good place to start exploration.

By bus
Local bus lines No 1,2,3 and 30 take you around the city. All lines stop at the main station and the city centre. Tickets can be bought directly on the bus.

By car
As in any bigger city, most of the parking space in the inner city is subject to fees and parking space may generally be rare during weekdays. There's a convenient parking garage at Hauptplatz, prices are around €2 per hour. Tickets for the short-term parking zones can be obtained from ticket machines on the streets.

See
Kornmesserhaus - a beautiful Venetian-style house, built in the late 15th century located at Hauptplatz.
Eiserner Brunnen - located in the middle of Hauptplatz, this fountain has beautiful iron decorations which are unique within Styria. The fountain is at least 400 years old, since it has been mentioned in 1613 for the first time. (due to repair works)
Do
Gauklerfest - A village fair hold every second Saturday in August. Mainly dominated by jugglers.
Martini-Markt - Carnival hold every year on November, 11th.
Eat
Restaurant Riegler - Hauptplatz 11, 3862/54904 - located in the city centre a few minutes away from Kornmesserhaus. Has traditional cuisine, main dishes range from €10 to €16. Has seasonal speciality-weeks (such as asparagus) depending on the time of year.
Drink
S' REINDL American Bar

phone: +43 3862 56661

Mittergasse 23. A cosy cocktail bar in the heart of the city. Has live-DJs.
Supercalafradglisticexpealidocious Bayer - Am Wiener Tor 1. As you might expect, locals call the pub just Bayer.
Sleep
Hotel Landskron Grabner

phone: +43 3862 58458

Am Schiffertor 3, - Has doubles for €98, including free access to the sauna.
Go next
Grüner See - a beautiful lake close to Tragöß. Well known for its stunning green color, this lake offers fantastic walks and is a perfect place for diving. (You need a valid diving license to dive there, there is no diving school) If you are travelling by car head for Tragöß. It will take about 30min to reach Grüner See by car. Be aware that the parking space at Grüner See is subject to fees. (about €2 for one day)