Brunei
The
Sultanate of Brunei
(Full name:
Negara Brunei Darussalam
, with Darussalam meaning "Abode of Peace") is a small but — thanks to natural gas and petroleum resources — very rich country in
Southeast Asia
. It is surrounded by
Malaysia
and has two parts physically separated by Malaysia, almost being an enclave. It is a country of tranquil mosques, pristine jungle, and friendly inhabitants.
Cities
– the capital, sometimes known as "Bandar" or "BSB" for short
– gateway town to the unspoiled nature of Temburong
– center for the oil industry, with a dedicated museum and the Billionth Barrel Monument
– a small town, located on the banks of Tutong River
Other destinations
– the first and the only national park established in Brunei, contains unspoiled jungle and is known as the "Green Jewel of Brunei"
Understand
Brunei is a pint-sized oil-rich sultanate with a population of 450,000 as of 2016, strategically positioned on the South China Sea, close to vital sea lanes linking the Indian and Pacific Oceans. Its oil resources have generated great wealth for the Sultan and some of the local people, and the best evidence of this is seen in the palaces and mosques. However many Bruneians, including those who live in the water village (Kampong Ayer), still have relatively simple, albeit comfortable livelihoods.
The description of an "oil-rich sultanate" might conjure the images of
Dubai
or
Qatar
, but travellers with such expectations will likely to be disappointed. Brunei does not have much in terms of grandiose man-made attractions, and although excellent diving and jungle trekking are available, it does not have mind-blowing natural parks as the neighbour Malaysian states of
Sabah
and
Sarawak
do. Many people that visit Brunei actually do so only for the sake of "country collection" or "passport stamp collection".
If there are attractions particular to Brunei, it is perhaps the absence of crowds, the comfortable but relaxed atmosphere, and the way that society remains religious and conservative, refusing to embrace modernity and globalisation despite having the material wealth to do so.
History
The Sultanate of Brunei's heyday occurred between the 15th-17th centuries, when its control extended over coastal areas of northwest
Borneo
and the southern
Philippines
. Brunei subsequently entered a period of decline brought on by internal strife over royal succession, colonial expansion of European powers, and piracy. In 1888, Brunei became a British protectorate. It was offered to join Malaysia as a state in 1963, but opted out of the federation due to a disagreement on the amount of its oil income that would have to be given to the central government in Kuala Lumpur. Independence was achieved in 1984. One family has ruled Brunei for over six centuries.
;
Independence
: 1 Jan 1984 (from the UK)
;
National holiday
: National Day, 23 Feb (1984); note - 1 Jan 1984 was the date of independence from the UK, 23 Feb 1984 was the date of independence from British protection
;
Constitution
: 29 Sep 1959 (some provisions suspended under a State of Emergency since Dec 1962, others since independence on 1 Jan 1984)
;
Landmarks
:
The Istana Nurul Iman is the world's largest occupied residential palace. The 300-acre palace sits on a man-made hill with a clear view of Kampong Ayer. Istana Nurul Iman is the residence of the Sultan Hassanal Bolkiah, and the palace is quoted to have an estimated value at USD 600 million.
Economy
The backbone of Brunei's economy is
oil and gas
and the Sultan of Brunei is, famously, one of the richest people in the world with an estimated personal wealth of around 40 billion US dollars. Per capita GDP is far above most other developing countries, and substantial income from overseas investment supplements income from domestic production. The government provides all citizens with a comprehensive welfare state without levying any income tax.
All sectors of economy are fairly heavily regulated and government policy is an odd mixture of subsidies, protectionism and encouragement of entrepreneurship. Brunei's leaders are attempting to balance the country's steadily increasing integration into the world economy with internal social cohesion. It became a more prominent player in the world by serving as chairman for the 2005 APEC (Asian Pacific Economic Cooperation) Forum. Plans for the future include upgrading the workforce, reducing unemployment, strengthening the banking and tourist sectors, and, in general, widening the economic base beyond oil and gas.
Culture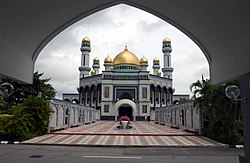 Given their shared history, Brunei shares much cultural similarities with neighbouring Malaysia, with the Malay language serving as a common link between both countries.
Brunei is officially an
Islamic
state, with many large beautiful mosques across the country. Sale of alcohol is banned. Bringing in meat (other than seafood) that has not been certified "halal" (slaughtered according to Islamic law) is also banned. That said, it is possible to find pork at eateries catering to the ethnic Chinese communities. During the fasting month of Ramadan, many shops and restaurants will be open. However, eating, drinking or smoking in front of people who are fasting is considered rude and asking permission is appropriate.
Expect everything to be closed
- including hotel restaurants, and all shops - during
Friday prayers
(noon–2PM) all year. Things start closing around 11AM, and start reopening again around 2PM. Even the buses stop running, though you might still be able to catch a water taxi.
The bulk of the population is
Malay
(67%) and there is also a significant
Chinese
minority of around 15% as well as a number of indigenous peoples, including the
Iban
and
Dusun
tribes who inhabit the jungle upriver and the
Temburong
district (the smaller eastern part detached from the rest of Brunei). There is a large number of
foreign workers
who work on the oil and gas production or in lower positions such as restaurant staff, field workers and domestic staff. The male to female ratio is 3:2. More than a quarter of the people are short term immigrant workers, most of whom are men.
Geography and climate
Brunei's climate is is sub-tropical. Temperatures range from 14-33°C, January being the hottest month. Rainy season is always mild and humid, followed by a hot and humid dry season. The difference between the two seasons is not that marked, however. The rainforest and jungle areas tend to be cooler and wetter than the coastal region.
Brunei's topology is of a flat coastal plain rises to mountains in the east, the highest point being
Bukit Pagan
at 1,850 metres, with some hilly lowlands in the west.
There are no typhoons, earthquakes, severe flooding and other forms of natural disasters to contend with, and the biggest environmental issues is the seasonal
haze
resulting from forest fires (that is caused by illegal clearing of land) in nearby Indonesia.
Get in
Entry requirements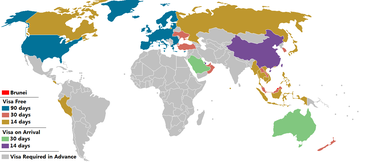 Foreign nationals of the following countries/territories can enter Brunei
visa-free
as long as they present a passport valid for at least 6 months:
For up to 90 days:
All
European Union
member states, British citizens and subjects with right of abode in the
United Kingdom
,
Iceland
,
Liechtenstein
,
Norway
,
Switzerland
,
United States
For up to 30 days:
Malaysia
,
New Zealand
,
Oman
,
San Marino
,
Singapore
,
South Korea
,
Ukraine
and the
United Arab Emirates
For up to 14 days:
Cambodia
,
Canada
,
Japan
,
Hong Kong SAR
,
Indonesia
,
Laos
,
Macau SAR
,
Maldives
,
Myanmar
,
Peru
,
Philippines
,
Thailand
and
Vietnam
Nationals of Israel are not allowed to enter Brunei, though other passports containing Israeli stamps and visas are not a problem for entry.
Citizens of
Australia
and
Bahrain
can obtain a visa on arrival (single or multiple entry) for 30 days. Citizens of
Saudi Arabia
and
Kuwait
can get a single entry 30 days visa on arrival. Citizens of
China
,
Qatar
and
Taiwan
can obtain a visa on arrival for 14 days. These citizens can obtain a visa on arrival for $20 or a 3 day transit Visa for $5. Immigration officers at Sungai Tujoh Checkpoint between Miri and Kuala Belait will not accept payment for a visa on arrival other than in Brunei or Singapore dollars - there is no ATM and cheques are not accepted. At Brunei airport payment must also be made in cash. There is a money changer (with reasonable rates), but no ATM prior to immigration. If you need a visa-on-arrival, make sure you join the right queue at entry. Joining the foreign passport queue will see you sent to the back of the line. Large tour groups requiring visas on arrival can jam up the system. You may have to be quick, persistent or patient.
Proof of return or onward travel is officially required to check in for your flight to Brunei. If you plan to leave by ferry you will need to purchase a cheap flight out of Brunei before you arrive there. Alternatively, you can book an expensive (but fully refundable) flight, and cancel it afterwards.
From
Kuala Lumpur
, Air Asia is
not
enforcing this rule; hence you probably won't need such a proof of return if you fly from KL.
Those who need a visa must apply in advance at a Brunei embassy, where processing can take up to 3 days and costs $20 for a single entry visa. See
Brunei Immigration Department
for the latest details.
If you require a visa to enter Brunei, you might be able to apply for one at a British embassy, high commission, or consulate in the country where you legally reside if there is no Bruneian foreign mission. For example, the British embassies in
Addis Ababa
and
Belgrade
accept Bruneian visa applications (this list is
not
exhaustive). British diplomatic posts charge £50 to process a Bruneian visa application and an extra £70 if the authorities in Brunei require the visa application to be referred to them. The authorities in Brunei can also decide to charge an additional fee if they correspond with you directly.
By plane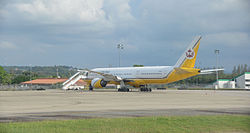 Brunei International AirportThis is Brunei's sole airport of significance and the hub of national carrier Royal Brunei Airlines (RBA). The airport is compact, immaculate and functional.
There are cafes airside and landside, and customs and immigration are smooth. There are additional fast food restaurants outside of arrivals. There are ATMs landside at departures, but none airside or at arrivals.
RBA offers a reasonably comprehensive network, with daily flights to London, Dubai, Kuala Lumpur, Singapore and Kota Kinabalu, and four times weekly non-stop flights to Kuching. Fares that transit via Brunei are attractively priced and you are guaranteed service with a smile. Singapore Airlines flies 5 times a week from Singapore, and Malaysia Airlines flies from Kuala Lumpur twice a week. Malaysia Airlines' rural subsidiary MASwings operates flights to and from Kuching via Mulu, 4 times a week. Budget airline AirAsia provide flights to Kuala Lumpur at as low as US$35 one-way. For other destinations the best transit airports are Singapore Changi and Kuala Lumpur.
Getting there/away:
A taxi to
Bandar Seri Begawan
downtown takes 20 minutes and costs around $25. A covered walk down to the end of the car park further away from the Terminal (turn right from Arrivals) leads to a bus stop for Purple buses to the city centre ($1) that only run during the day.
By car
You can drive into Brunei from
Sarawak
,
Malaysia
. There are two entry points for the main part of Brunei, one from
Miri
at
Sungai Tujuh
and one from
Limbang
at
Kuala Lurah
(Tedungan on the Malaysian side). Both these crossings have drive-through immigration checkpoints at the border but queues can be horribly long, especially during weekends.
It is also possible to drive from the Sarawak towns of
Limbang
and
Lawas
to the
Temburong
district of Brunei. A bridge across the Pandaruan River was opened in December 2013 and the ferry service has been discontinued. Immigration is now conducted at Pandaruan (Malaysia side; opened in June 2007) and at Puni (Brunei side; opened in 2013). From Lawas (which is connected by road to
Kota Kinabalu
in
Sabah
, Malaysia), another bridge completes the connection between the banks of the Trusan River (and no ferry ride is required anymore). Malaysian immigration formalities are done in Trusan (the immigration office, officially known as the Mengkalap immigration checkpoint, is in a shoplot just east of the ferry crossing) about 8 km away, and no longer in Lawas. Those for Brunei can be done at the Labu checkpoint at the border.
It is possible to drive from Kota Kinabalu, Sabah to
Bandar Seri Begawan
in one day. See the
Kota Kinabalu to Brunei by land
page for details.
Warning: Only some petrol stations in the country are permitted to sell petrol to cars with non-Brunei plates due to a tax issue. It can be frustrating to find these stations and so ensure your car is topped up.
The Malaysia-Brunei ferry the Malaysian town of Limbang and the Bruneian district of Temburong has been discontinued since December 2013, due to the completion of the toll-free Friendship Bridge, which connects the two borders at the eastern side of Limbang.
By bus
From Miri: PHLS Express operates a service between Miri and Bandar Seri Begawan twice a day. The bus will also stop in other towns in Brunei such as Tutong and Kuala Belait if you ask them to.
From Limbang: There are no direct buses between Bandar Seri Begawan and Limbang in Sarawak. However, you can catch a local bus from Bandar's bus station to Kuala Lurah on the border, walk across the checkpoint into Tedungan in Sarawak and catch a Syarikat Bas Limbang bus to Limbang. Do the reverse if coming from Limbang to Bandar. Buses depart from Limbang bus terminal several times a day and bear the destination "Batu Danau". Taxis are also available on both sides of the border but bargain hard for the fare. You can also get to Temburong district by bus from Limbang, although again, there are no direct buses into Bangar; all buses (destination "Pandaruan") stop at the ferry landing at Pandaruan, where there is now a Malaysian immigration checkpoint. Cross the river by ferry and catch a taxi for the 5 km to Bangar.
From Kota Kinabalu: buses run once a day between BSB and Kota Kinabalu, Malaysia.
By boat
The main ferry terminal in Brunei is the
Serasa Ferry Terminal
at Muara, some 25 km from
Bandar Seri Begawan
. With a change of boats in Labuan, you can even make it to/from
Kota Kinabalu
,
Sabah
, in a day. See the
Kota Kinabalu to Brunei by land
page. See
Bandar Seri Begawan#By boat
for details about the terminal.
There is a
car ferry service
from Brunei to
Sabah
.
Get around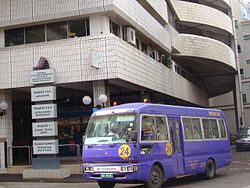 Use caution when asking locals for transportation information. People here are friendly and very helpful, but when asking about transportation, you'll get three different answers from three different people, even people whose job it is to help tourists.
By car
There is one "motorway", from Bandar Seri Begawan (the capital) along the coast. It is almost all dual carriageway from Muara to Kuala Belait and the toll bridge to
Malaysia
/
Sarawak
in the west)
There is also a side road off this, which runs into the jungle towards the settlement of Labi and beyond. Excellent scenery, and a 4-wheel drive may be useful, but the road is now sealed up to the longhouses some distance beyond Labi. Stock up on water at the convenient shop at the junction.
By taxi
There are not many taxis in Brunei, because car ownership and usage are high. There are always some at the airport and some in the Belait District, but little chance of finding a free taxi along the road, especially during morning and afternoon peak hours when they are hired by businessmen. Needing a taxi might require a phone call. The main taxi stand is direct north of the bus station in the capital with only a few taxis waiting.
None of the taxis has a taxi meter since there is no taxi company nor regulation requiring to have one. Drivers have fixed prices for most trips, although the tariffs may vary between different drivers, or they will give a price for an irregular trip.
The ride-hailing app of choice is
Dart
.
By tour vans
Another alternative is hiring a tour van to drive you around Brunei, for example, for a whole day, or several hours. Try asking them from the ferry counters in Muara. Discuss the price first before agreeing to board the van.
By boat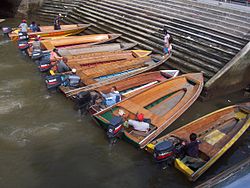 ;
Waterways
: 209 km; navigable by craft drawing less than 1.2 m. Water taxis are available in the capital.
By bus
Around the capital,
Bandar Seri Begawan
, there is a good-sized network of minibuses. Brunei's high rate of private car ownership means very few Bruneians take these buses, which largely cater to foreign workers. The speed of the buses are limited to 50 km/h but are quite efficient and reliable.
In general, the bus system around the capital radiates from the bus terminal in the central district. There are designated bus stops along each route but passengers are picked up or let off at unofficial locations at the discretion of the driver. The unofficial mode of operation makes easy travel and entice patronage. There are maps of the bus routes at the terminal. Routes are numbered and the buses are different colors depending on the route. The fare is $1 which is normally collected by a conductor but may also be collected by the driver. The passenger can advise the driver the location to disembark. The buses run every 20–40 minutes from about 6AM to 6PM. Sometimes, the conductor asks the passengers their respective locations to disembark and skips part of the route, to the dismay of passenger who wish to catch the bus. The buses run
roughly
every 20–40 minutes from 6AM to 6PM, but there's no strict schedule. It is quite normal to wait 30 to 45 minutes for a bus.
There is also an infrequent long-distance bus which runs between BSB and Seria through Tutong.
By thumb
Hitchhiking is doable in Brunei – drivers are very willing to stop.
Talk
The official language of Brunei is
Malay
(
Bahasa Melayu
), but due to its British colonial past,
English
is widely spoken and understood in urban areas, though sometimes with a thick accent. A little Malay will come in handy in rural areas, as English proficiency is limited there. While all Bruneians are able to speak standard Malay, the local dialect of Malay is almost incomprehensible to other Malay speakers. Brunei also officially uses the Arabic script for Malay known as
Jawi
. Outside of government signage and religious publications almost all signs use the Roman alphabet.
The ethnic Chinese community in Brunei continues to speak a variety of Chinese dialects, including
Hokkien
,
Teochew
, and several others.
Tourist sites always have signage in English, and often in Chinese as well due to the large numbers of Chinese tourists.
See
Ulu Temburong National Park in Temburong
The Omar Ali Saifuddien Mosque in Bandar Seri Begawan
Bandar Seri Begawan has a couple of museums dedicated to the history of Brunei and that of the monarchy.
Do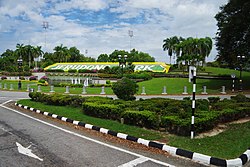 For things to do in and in the near vicinity of Bandar Seri Begawan, see
Bandar Seri Begawan
.
There are many eco-tours which typically go to the
Temburong
district by boat then to a native "longhouse". It is then followed by a powered boat (by the natives) up the river to the
Belalong National Park
, a reserve in the Borneo rainforest. There is a canopy walk and research centre at the park headquarters.
Jerudong Park
was once a decent theme park with a multitude of rides. Sadly, a downward cycle of neglect, declining admission and unaffordable maintenance costs led to the closure and sale of most of the big-ticket rides, including the three roller coasters. This has given the park a sad "circus left town last week" air about it. Most people who visit only go at night to avoid the heat during the day. Outside the park, but very close, is a small complex of restaurants which is open at night, though only a few of the stalls are still operational. The local papers have reported plans to renovate the park with a new selection of attractions.
Scuba diving
Brunei offers some great diving. In addition to coral and fish, Brunei is home to several
shipwrecks
and many species of
nudibranch
- one of the best places in SE Asia for macro photography. Water temperature is generally around 30 °C and visibility is usually around 10-30 metres, although this can be changeable during the monsoon season. As diving here is not overly developed, it means that the sites, and especially the coral reefs, are unspoiled and in pristine condition.
Popular dive sites include the
American Wreck
, Admirable Class Minesweeper, USS Salute (AM-294) lies broken in half on a sand bottom at 30m after hitting a Japanese mine on the 8th June 1945, during pre-invasion sweeps of the Brunei Bay, with the loss of nine lives.
Australian Wreck
, In 1949 while on a voyage to Manila it struck a mine off Brunei and sank. The wreck lies in 33m of water and is roughly 85m.
Dolphin 88 Wreck
Malaysian commercial vessel sunk in bad weather in 2013. Experienced divers will enjoy exploring the interior of the wreck.
Oil Rig Wreck
, a decommissioned oil rig. There are 9 structures to be explored, each seeming to be home to one dominant group of fish.
Baiei Maru Wreck
was a Japanese oil tanker that sank in October 1944 in Brunei Bay after hitting a Japanese mine. Discovered by the Brunei Shell Petroleum during a survey, the wreck sits in about 50m of water and has only recently been dove in what is believed to be the first time in June 2008 by local club divers. Other dive sites includes
Labuan Wreck
,
Bolkiah Wreck
,
UBD Wreck
,
Amai Wreck
,
Arun Wreck
,
Stone Wreck
to name a few.
Diving is very reasonable, averaging out to $35-45 per dive depending on how many dives you do and whether you bring your own gear. There are a number of organisations you can do trips with such as;
Poni Divers
,
Oceanic Quest
,
The Brunei Sub Aqua Dive Club
in Brunei-Muara &
Panaga Divers
based in seria
Buy
Money
The local currency is the
Brunei dollar
, denoted by the symbol "
$
" or "
B$
" (ISO code:
BND
). You might hear
Ringgit
used to refer to the dollar but be sure that the speaker is not talking about the Malaysian Ringgit (MYR) which is valued at less than half a Brunei dollar. All prices in this guide are in Brunei dollars unless otherwise noted.
The Brunei dollar is tied to the
Singapore
dollar at a 1:1 rate. By law the currencies can be used interchangeably, so if you're coming in from Singapore, there's no reason to change money as your cash will be readily accepted. (Likewise, any leftover Brunei dollars can be used at par in Singapore.) However, many stores refuse Singapore notes with seemingly microscopic tears in them, and notices to this effect are posted at the cash register. Malaysian ringgit (RM) will also be accepted in a pinch, but the exchange rate may not be in your favour. The ringgit is not available at Brunei banks but can be obtained from money changers.
The Brunei dollar is divided into 100 cents. There are
banknotes
from $1 to a whopping $10,000 (handy if you're shopping for Rolls-Royces) and
coins
of 1-50 cents. All smaller notes and the 2004 series of larger notes are printed as brightly coloured polymer notes.
Costs
By Southeast Asian standards Brunei is roughly on par with Singapore, meaning roughly twice as expensive as neighbouring
Malaysia
. You can reduce costs by eating at local restaurants and avoiding the more expensive restaurants in hotels. Budget accommodation is available.
Souvenirs
There is not much of a local crafts industry in Brunei. You'll see a handful of different types of branded souvenirs with the Brunei brand - that are all imported. Souvenir type shops usually resort to selling imported curiosities, candles and generic gifts.
Eat
Knock knock, who's there? Nasi Katok
Katok is actually "ketuk" in the Malay language, and it means knock. There is a story behind the name Nasi Katok. It was begun by a couple of teenagers who were feeling very hungry after a midnight practice. They went to a place where they normally bought their food. This place was actually a residential house, which offered Nasi bungkus (a pack of rice with chicken and egg) even in the middle of the night. At any time you could just Katok (knock) on their door, and the owner will come up with fresh hot Nasi Katok. And that's how it became Nasi Katok.
Bruneians love to eat out and there are many excellent restaurants in Brunei serving a wide variety of cuisines, thanks to the large number of foreign workers in the country.
There is also the local
nasi katok
, a simple combination of rice and curried beef or chicken, which can be quite spicy. It is relatively inexpensive when compared to other food that you can buy, for example local food such as chicken rice. However, it is not a healthy option, with few vegetables and too much fat.
Another choice is
ambuyat
, a culinary experience unique to Borneo. It is a starchy and gooey paste made from sago that can be dipped into a savoury sauce.
Being a Muslim country, nearly all food sold in Brunei is
halal
, the exception being food stalls catering to the ethnic Chinese community. Halal certification is handled by the
Ministry of Religious Affairs (MoRA)
(
Kementerian Hal Ehwal Ugama (KHEU)
).
Kosher
food is basically non-existent in Brunei.
Desserts
Kueh melayu (sugar, raisin, and peanut-filled sweet pancakes)
Drink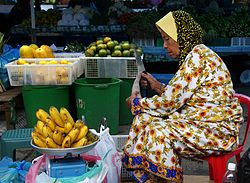 Brunei is a
dry country
: alcohol is not sold anywhere in the country and consumption of alcohol in public is prohibited by law. That said, non-Muslim visitors are allowed to bring in up to two litres of alcohol (wine or spirits) plus up to twelve cans of beer every 48 hours, and there is a wide array of duty-free shops just across the border in Malaysia to cater to this demand. However, alcohol must be declared upon arrival in Brunei while going through customs.
Many higher-end restaurants allow guests to bring in their own alcohol and corkage is not charged, though this is actually illegal and it's best to keep a low profile if you choose to consume in a public establishment. At the lower end (particularly Chinese restaurants), many restaurants supply illicit booze under euphemisms like "special tea".
One should definitely try out
teh tarik
, a sweet milk tea, as well as the wide array of coffee (
kopi
) available in restaurants.
Sleep
Accommodation in Brunei used to be very expensive, but some reasonably cheap guesthouses and hostels can now be found here and there. See
Bandar Seri Begawan
for listings.
Stay safe

Brunei, like Malaysia, Indonesia and Singapore, has very strict laws when it comes to drugs. Drug trafficking to a certain degree has a mandatory death sentence. Other crimes, such as murder, kidnapping and unauthorised possession of firearms are also punished with death. Brunei uses caning (for males only) for rapes, as well as for less serious crimes, including illegal entry, overstaying your visa for over 90 days, robbery, corruption and vandalism. Caning is no slap on the wrist. Strokes from the thick rattan cane are excruciating and very painful. They can take weeks to heal, and even scar for life. These laws apply to foreigners as well.
In theory, offences such as rape, adultery, sodomy, robbery and insult or defamation of the Prophet Muhammad carry the maximum penalty of death, though this is not enforced. Homosexuality carries a penalty of 40 strokes of the cane and/or a maximum of 10 years in jail. The punishment for theft is amputation. Those who "persuade, tell or encourage" Muslim children under the age of 18 "to accept the teachings of religions other than Islam" are liable to a fine or jail. (These laws mostly apply to Muslims, though some aspects apply to non-Muslims.)
During the Islamic month of Ramadhan, avoid consumption of food and beverages in public as a hefty fine in the thousands will be levied if caught doing so. Additionally, all restaurants, including non-halal ones, cease dine-in services during the day. It is best to avoid visiting Brunei during Ramadhan.
The bottom line is: know their laws, and obey them.
In terms of personal safety, Brunei is a very safe country, on par with Japan, though you should use common sense no matter what.
Driving in Brunei is easy. Most drivers obey the traffic rules, and the roads are well maintained. Distances are not great. If you're driving around Brunei, however, do watch out for impatient and/or dangerous drivers. Some drivers obviously consider themselves above the law, and given the social structure of Brunei, this is likely to actually be the case. Take extra caution around midnight and early morning as some drivers illegally race on the roads.
Homosexuality and adultery are illegal in Brunei. Since July 2019, the Brunei government have implemented a new law, where you could be stoned to death for being homosexual.

Stay healthy
Eating out is generally safe because of good food safety standards. But drink
water
only if it's been boiled, or bottled water.
Protect yourself from mosquito bites
.
Dengue fever
is a real risk.
Malaria
risk is low.
Brunei's
hospitals
are generally adequate for most routine procedures. However, due to the lack of specialists, you may need to be airlifted to
Singapore
if your case requires complicated surgical procedures; ensure that your insurance covers this if you plan to be in Brunei.
Respect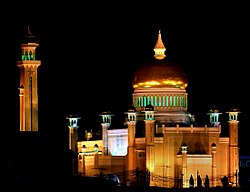 The Brunei Government is run as a Malay Islamic Monarchy (MIB), which means that the Sultan of Brunei, apart from being one of the richest men in the world, effectively runs the country. You can expect the Sultan to appear on the front page of the two local daily newspapers almost every day, and occupy the first ten minutes of the local TB news bulletin.
You'll see the wealth of the country in everything that the Sultan touches, but much of the rest of the country misses out on badly needed investment and development. Over half of the country are expatriate workers or permanent residents, and it's not hard to engage them in a conversation about the political situation once they gain your trust. Brunei is a country where your race, religion and heritage matter in day-to-day life. Still, it's best to approach the subject very carefully, especially with Bruneians. Brunei does have lèse majesté laws that can get you in serious trouble for insulting the Royal Family.
Bruneians are generally courteous and tolerant. Non-Muslim visitors are generally not restricted in their manner of dress. Women can wear sleeveless shirts and shorts and blend in. Super-skimpy swimming attire is probably one step too far.
It is a good idea to keep your ideas to yourself on politics (domestic, regional, or international) and world events, particularly those relating to Islam or Islamic countries, but most Bruneians are more than happy to share discuss the role their religion and royalty play in their lives if you listen respectfully.
Like in East Malaysia, you'll often be expected to take your shoes off in Brunei, in places like hostels, museums, and mosques. Wear socks if you want, and be grateful for the opportunity to cool off your feet after walking around in the tropical heat.
Connect
By phone
The international code for Brunei is
673
. The telephone numbers in Brunei consist of 7 digits with no local codes, although the first digit of the number indicates the area such as 3 for the Belait District and 2 for Bandar Seri Begawan.
The prepaid
Hallo Kad
, available from
TelBru
telephone offices (including one at the airport) and other outlets in denominations from $5-50 can be used at any phone in the country to make local and international calls. Other phone cards are also available for use in public phones.
Mobile phone services are provided by two network operator
DST
and Progresif Cellular. Coverage is completed across almost all of the country. Coverage in the Temburong national park areas may be patchy.