Bruny Island
Bruny Island
is an island of stunning natural beauty, close to
Hobart
, in the state of
Tasmania
in
Australia
. It's a possible day-trip from Hobart, but with boutique accommodation and plenty to offer for longer stays. The island is divided into North and South Bruny, joined by a narrow isthmus.
Understand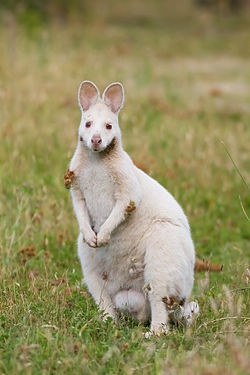 North Bruny is mainly farmland, and is relatively flat. South Bruny is more mountainous, and is more heavily forested. The national park sections are on South Bruny.
The main towns for visitors are Adventure Bay on South Bruny. This is where the cruises depart from, and is adjacent to one of the three discrete sections of South Bruny National Park. There is accommodation here, and a bowling club for drinks and meals. If you are going to spot one of the White Wallabies, along the national park track here at dusk is your best chance, and the rainforest and walks are in the hills just about the town.
Not far from Adventure Bay is the town of Allonah.
Here you'll find the post office, pharmacy, the pub, cricket club, school, medical centre, Police station and history room.
The Bruny Island winery is five minutes south of Allonah.
There are smaller settlements, a few cafes and produce centres scattered around the Island with local produce.
Get in
Kettering, the gateway to Bruny Island, is around 30 minutes drive south from
Hobart
, through the sleepy townships of Margate, Snug and Oyster Cove. For a more interesting drive, you can divert through Kingston Beach and Blackmans Bay. From Kettering, you can catch the vehicular ferry,
The Mirambeena
, across to Bruny Island. The ferry costs $38 return per car (slightly cheaper off-peak). You pay the full amount at Kettering, and the return trip is "free". The crossing takes around 15 minutes, and the ferry departs promptly. You're expected to be there around 15 minutes ahead of the ferry departure time. You are allowed to walk around on the ferry apart from when it is mooring, however there are no passenger facilities - not so much as a shelter.
At the Kettering and Roberts Bay termini you can buy snacks and coffee. There are also public toilets at the terminals, but none on the ferry.
There is no car hire on Bruny, so you'll have to hire a car from Hobart. Some hire car companies don't allow their cars to be driven on to the island, so check before you book. Even those that do, may not insure you for an accident on the ferry. This is difficult to avoid if you aren't bringing your own car.
Foot passengers are carried on the ferry free of charge, but it is difficult to take advantage of this bargain offer, with no public transport available at either ferry terminus.
If you are taking the tour of the island, the tour company offers a connecting bus.
Bruny Island has a small airport for general aviation and charters. The airport is not within walking distance of any accommodation or facilities, so you'll need to arrange for someone to pick you up.
Get around

Bruny Island is approximately 100 km from one end to the other. The main road stretches the length of the island (Bruny Island Main Road), with branch roads to towns, beaches and attractions. Expect to take around 45 minutes to drive between the ferry and Adventure Bay or Allonah at the north of the South Island. Then another half an hour or so from there down to Cape Bruny.
The advisory speed limit drops to 45 km/h on many parts of the main road between dusk and dawn - due to the danger of hitting wildlife. Insurance on many rental cars does not cover damage done to their cars hitting wildlife between dusk and dawn.
The common ways to explore are by private car or by tour. There is no scheduled public transport on the island. There are no facilities provided on the narrow shoulders for cyclists.

See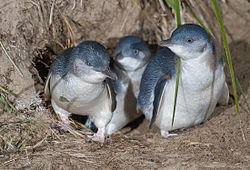 History
address: Main Rd, Adventure Bay - Many artifacts relating to early Bruny history and the first explorers - particularly Cook and Bligh

address: Main Rd, Alonnah - Early and recent history. Many artifacts, photos, documents and newspaper cuttings provided by Bruny residents

Cape Bruny LighthouseWas one of Australia's longest serving lighthouses guiding seafarers through some at-times treacherous waters. It still stands proudly at Cape Bruny for all to admire.

TruganiniOften considered the last full-blood Aboriginal Tasmanian and last speaker of a Tasmanian language, was born on Bruny Island. A memorial to her, and a description of the hardships she endured at the hands of the colonists, is at The Neck lookout on North Bruny.
Wildlife
PenguinsThere is a Little Penguin colony at The Neck, and a hide there for viewing them coming ashore after dusk. Take care not to destroy any of their nests (stay on the path). Penguins will just stand still if they are afraid (they won't walk around you), so stay well out of their path.

Shearwaters

Wallabies
Viewpoints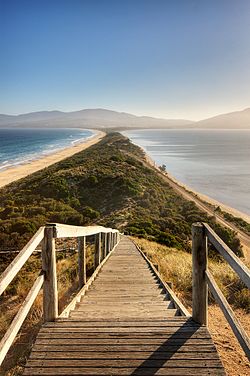 Do
address: 915 Adventure Bay Road, Bruny Island, TAS 7150

Bruny Island Cruises operates a 3-hour wildlife eco-cruise daily exploring the coastline of the South Bruny National Park. - tall sea cliffs, amazing coastline, seals, albatross, often dolphins and sometimes even whale sightings!. Day tours from Hobart are available.

address: 320 Cloudy Bay Road, Bruny Island, TAS 7150

INALA Tours operates wildlife tours into the South Bruny National Park.
Buy

Supplies are available at the General Store in Allonah, and at the shop at the ferry wharf at Roberts Bay.

Eat
There are a range of places to eat on Bruny, but the choice is much wider for lunch than for dinner. Throughout the day you can graze through the produce trail, trying cheeses, sausages, oysters, honey, fudge and wines. Most establishments work together to showcase what is produced on the island. If you travel down to Bruny Island Wines at Lunawannah, you'll get a choice of their wines, and can also purchase a tasting plate of local cheeses, or oysters, or honey, or other farm produce. Similarly you can stop at Bruny Island cheeses, and they'll be happy to give you a cheese plate and a glass of local wines.
Hotel Bruny

address: 3959 Main Road, Alonnah

Bar, Restaurant, Bottleshop, TAB, Keno. Across the road from the beachfront, with windows and views across the bay.

phone: +61 3 6293 1568

address: 710 Adventure Bay Road, Adventure Bay

Good for crepes.
There are a range of boutique offerings on Bruny Island as well, including:
Bruny Island Cheese CompanyCheese tastings, but also serves home baked pizzas, toasties, coffee and the like. Half-a-dozen cheeses in their range, from vintage hard cheeses (including raw milk varieties), and French-style soft cheeses. They'll sell you a drop of the local Pinot to wash it down.

Get Shucked Oyster Farm

HIBA Island produce
Given the size and nature of the island, most of the establishments are owner-run, and can close in periods of low demand.
Drink
Bruny Island is home to the southern-most licenced pub in Australia and the country's most-southern vineyard.
Bruny Island Premium Wines

address: 4391 Main Road, Lunawanna

Meet Bernice and Richard and sample their range recognised as premium Tasmanian wines. Serves lunch until late afternoon - the best burgers on the island, sausages from local farms, and daily specials. Open fire during the colder months. Combine with a glass of any of their Pinots, Chardonnay or Riesling.
Sleep
Connect
There is a payphone by the ferry wharf, and in Adventure Bay at
Allonah
. Optus and Telstra have towers on the island, but the terrain and distances mean that there is no reception even on parts of the main road. There is a post-office at Allonah, and a post-box at the ferry wharf.
Stay safe
Road conditions deteriorate in and after rain, particularly in the more rainforest and steep areas of the South Island may not be suitable for 2wd traffic in parts.
Observe speed limits. 50 km/h in built-up areas, otherwise 90 km/h on sealed roads and 80 km/h on gravel.
Watch out for wildlife on the roads - particularly at night.
Check ferry times. Last ferry leaves before 7PM most nights (see Ferry Times)
Always notify somebody if you are going bushwalking and carry a (NextG) mobile phone if possible.
Carry an EPIRB if boating and wear life jackets
Stay healthy

There is a 24-hour accident and emergency service on Bruny Island, and an ambulance. Call 000.
There is a pharmacy in Allonah.