Brussels/Schaarbeek
Schaarbeek
is a district in
Brussels
,
Belgium
.
Understand
A mixed residential and commercial district to the north-east of the
Pentagon
. There are a few nice neighborhoods, but in most of the district the conditions are deteriorating. The suburb
Sint-Joost
in particular is not only the poorest commune in Brussels but also in entire
Belgium
. Crime is widespread.
See
address: Ambiorixplein 11

A small town house designed by architect Gustave Strauven (1878-1919), who started off as an assistant of Victor Horta when he was only 18 years old. He designed the house for painter Georges de Saint-Cyr, and it became famous for its narrow 4m wide design and for its abundant wrought iron decorations in the facade. It is renowed as Strauven's most important building, constructed between 1901 and 1903. It combines a Baroque style with elements from Victor Horta's Art Nouveau style, resulting in geometric motifs, sgraffiti, and ornate ballustrates at each floor, with wrought iron mimicing vegetation and decorative elements occupying all the space available. The remarkable circular loggia on top is considered the building's characteristic signature, the 2 lower floors are finished with glass and bent wooden windows. Strauven designed several other houses in this neighborhood, which was famous for its architecture at the end of the 19 th century. The building is listed as protected architectural heritage and underwent a restoration in 2008.

phone: +32 2 215 66 00

address: Haachtsesteenweg 266

The first town house buildt by famous Art Nouveau architect Victor Horta, constructed in 1893. Designed by Horta as residence for a friend, engineer Eugène Autrique and his family, the house was kept simple because of budgetary constraints, yet proved to be a comfortable home. It is architecturally important because it serves as the missing link between traditional private architecture and the then emerging Art Nouveau style, with all typical Art Nouveau characteristics already present: fine iron pillars and colums in the facade, sgraffiti, stained glass, mosaics, and attention to light and decorative elements with floral inspiration. Although decoration was kept to a minimum to lower the cost, a traditional floor plan can be recognized in the construction. The house was acquired by the Schaarbeek municipality in 1990, renovated, and opened to the public.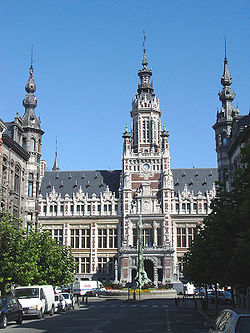 Town Hall of Schaarbeek

phone: +32 2 244 75 11

address: Colignonplein

A design in Flemish neo-renaissance style from architect Jules-Jacques Van Ysendyck. Being a young municipality at the end of the 19 th century, Schaarbeek sought to tighten its ties with Brussels, and presented itself as the ideal residence for the new Brussels upper class. To illustrate this role, a monumental town hall needed to convince new residents of the class of Schaarbeek, and the municipality organized an architectural competition that was won by Van Ysendyck. Construction of the town hall took only 2 years, and it was inaugurated in 1885. After a heavy fire destroyed much of the building in 1911, Maurice Van Ysendyck (son of the first architect) was appointed with the reconstruction of the building. Work commenced a year later, and were completed in 1915. Maurice chose to enlarge the original design in an Italian neo-gothic style and closed the U-shape to a square. Because of the outbreak of the First World War, the reconstructed building was only inaugurated in 1919 despite being completed in 1915 already. King Albert I and his wife Queen Elizabeth attended the inauguration ceremony. The interior of the town hall is richly decorated with sculptures, prestigious woodwork, glass roofs and stained glass windows depicting the history of the town. It also serves as an exposition hall for master glassmakers Louis de Contini, Charles Baes and Colpaert, and many works from local artists. The building has been recognized as a monument since 1995.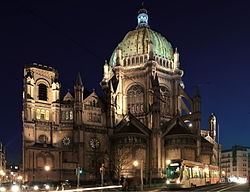 address: Koninginneplein

Iconic church by young Ghent architect Henri Désiré Louis Van Overstraeten, who won an architecture contest in 1844 for the design of a royal church to be constructed on the Royal Street (Koningsstraat) between the Royal Palace in the centre of Brussels, and the Royal Gardens in Laken. The church was constructed in a byzantine-roman style with Gothic design elements, with a central octagonal base plan surrounded by chapels. The stained glass windows are creations from French glass artist Jean-Baptiste Capronnier and his son Jules-Adrien. The 3 storey building is crowned with a cupola, of which the weight was reduced by making extensive use of steel and light materials as opposed to stone and concrete. Large windows allow light to enter the church from all sides, and several flying buttresses fortify the structure. Construction of the church started in 1845, however, Van Overstraeten died 3 years later at the young age of 31 from cholera. Construction was taken over by Van Overstraeten's former professor Lodewijk Roelandt, but because of a lack of funding the construction stalled numerous times and eventually also Roelandt died before the church could be completed. When queen Louise-Mary of Orleans, the first queen of Belgium, died in 1850, it was decided to inaugurate the church for a funeral ceremony ahead of its completion in 1853. It would still take until 1888 until the building was fully completed, and the interior took another 2 decades, which delayed the official opening until 1902. The church gained fame with the funeral of Italian musician Giacomo Puccini when he died in Brussels in 1924 from throat cancer. For this occasion, Italian ochestra leader Arturo Toscanini came to Brussels to play the 3 rd act of Puccinis own requiem. After the Second World War its significance as a Christian religious building has decreased due to the secularization of the local inhabitants. By 1966 neglect of the church forced it to be closed to the public, but from 1976 it was recognized as a protected monument, which freed the necessary funding to renovate the church in 1982.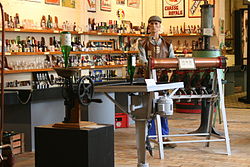 phone: +32 470 81 43 00

address: Louis Bertrandlaan 33-35

Founded in 1993 by a group of 11 volunteers and beer enthusiasts. It opened in 1994 and has expanded ever since. Its collection consists of over 2000 bottles of Belgian beers, their corresponding glasses, machines and equipment used in the brewing process, copper couldrons, signs, trays, objects related to advertising, and so on. The museum also hosts a tavern where many beers can be tasted, including the Schaerbeekoise, the museum's own beer that is brewed at the Rocs Abbey since 1994, and is among Belgium's strongest beers with an alcohol content of 9.5%. The bottles are sold in a gift package, making the perfect souvenir.

Hotel van Eetvelde

address: Palmerstonlaan 4

Not a hotel, but a townhouse designed in 1895 in art nouveau style by renowed architect Victor Horta, as residence for Edmond van Eetvelde, the administrator of the Congo. It is one of epoch-making urban residences Victor Horta designed before 1900, making visible use of materials like steel and glass, then a novelty for prestigious private residences due to their industrial outlook. The building is easily recognizable by the hanging steel structure for the facade. The interior receives sun light through a central reception room covered by a stained-glass cupola, as well as a winter garden using glass in a stainless steel framework. The residence was recognized as a in 2000, and is now owned by an energy supplier.
Do
Red Light District

address: Aarschotstraat

Just like Antwerp and Amsterdam, Brussels also has its own Red Light District. It is mainly in Rue d'Aerschot/Aarschotstraat, behind the North Train Station. Contrary to the Netherlands, prostitution is not legal in Belgium, they exploit a loophole in the local legislation presenting brothels as "bars". Do not expect to get a drink in there though. Despite heavy police presence, it remains a fairly seedy area, not the kind of place where you'd want to walk alone at night.
Sleep
phone: +32 2 230 21 35

address: Karel de Grotelaan 25-27

A 4-star hotel which combines modernity and comfort.
Budget
phone: +32 2 217-01-58

address: Rue Traversière-Dwarsstraat 8

Good location, near Brussels North Station, quick access to all train stations via metro and airport. Very clean reception, friendly staff, and lively bar with good ambience which stays open late. Rather basic double rooms (toilets in rooms with no doors).
Mid-range
phone: +32 2 220-66-11

address: Rue Royale-Koningsstraat 250

Clean rooms. Free internet and breakfast.