Bușteni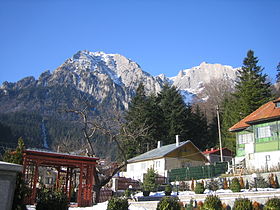 Bușteni
is in the
Carpathian Mountains
in the
Muntenia
region of
Romania
. It is the main "entry point" to Bucegi Mountains, a high and scenic mountain range that attracts many tourists.
Get in
You can get to Bușteni by car, bus, minibus, bicycle, motocycle or by train. You could also fly to Bucharest and from there rent a car, or take the bus, minibus or take the train.
Busteni is on the DN1 (national road 1) and getting in and out by road is very easy. The road is in good condition, but can get very slippery quickly; be careful in winter.
There are also buses linking Bușteni to major cities (
Bucharest
,
Brasov
,
Ploiesti
,
Predeal
, etc.) and nearby resorts (
Sinaia
,
Predeal
,
Poiana Brasov
).
By train, Bușteni is situated on the main track linking
Bucharest
and
Brasov
, and all trains stop here (P,A,R,IC).
Get around
Taxis are an inexpensive way to get around the town (5 lei from the train station to hotel). Buses also run between nearby towns.

See
There are no attractions in the town itself. Most people come to hike in the Bucegi Mountains. There are many scenic trails - beware as some of these are quite dangerous and difficult (e.g. Jepii Mici)
A cable car from Bușteni takes you to the top plateau of Bucegi where you can see rocks carved by the wind (Babele and Sphinx). The cable car can have enormous queues (around 3 hours of wait time per direction in July 2018).
Heroes' Monument a huge cross to honor the fallen in World War I, on the top of Caraiman peak, is about a 45-minute hike away from where the cable car arrives at the top of the mountain.
Do
Hiking in the beautiful Bucegi National Park. There are a lot of picturesque marked trails. You can buy maps directly from Bușteni, Sinaia or Predeal or from mountain shops in Bucharest. Also there are smartphone apps with maps of the region (Muntii Nostri). Most hiking routes are closed in winter because of their difficulty but they are a must in the summer. But be careful to have proper equipment and keep an eye out for bears.
Coştila, one of the biggest climbing areas in Romania, lies close to Bușteni. It is a paradise for multi-pitch conglomerate climbing with walls ranging from 100 m or less to a little over 300 m lots of routes for all levels in a beautiful alpine environment. Accommodation is free at the Coştila Refuge but you must bring your own food, sleeping and cooking gear. There also is a water source close by (you will see it while hiking to the refuge).
In the winter you can practice winter sports on the Kalinderu ski slope. There are several equipment rental stores with fair prices. Also you can rent ATVs.
Eat
There are a lot of good places to eat here: restaurants, fast-food, pizza, delivery also. Here is a pizza delivery phone number: 0244 322 388

Sleep
There are a lot of sleeping areas. You can find hotels from 1 to 4 stars and room rentals (from 45 lei per night, double room).

Stay safe

The phone number for mountain rescue is 0SALVAMONT (+4 0725826668 - +4 being the national phone code).