Bucks County
Bucks County
is in the
Delaware Valley
, in the
Philadelphia Region
of
Pennsylvania
,
United States of America
.
Cities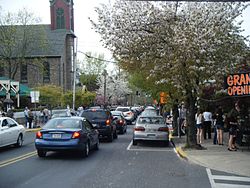 Understand
About 1 hour by car from the center of
Philadelphia
and a 2-hour drive from
New York City
, the area has picturesque scenery and historical significance. George Washington crossed the Delaware River on Christmas Eve from Bucks County (Washington's Crossing). A suburb of Northeast Philadelphia, it has a beautiful balance of flowing grass fields and modern destinations. The county is filled with state parks, creeks, historical buildings, and historical covered bridges.
Get in
By car
From Philadelphia and all points south, take Interstate 95 North. If you're coming from New York, take I-78 West to I-287 South, then get off at US-202 West which will take you into Bucks County.
By train
SEPTA Regional Rail. Four SEPTA Regional Rail lines connect Philadelphia with Bucks County. The Trenton Line and West Trenton Line provide service to lower Bucks County while the Lansdale/Doylestown Line and Warminster Line provide service to central Bucks County. The Trenton Line runs through the county on its route between Philadelphia and Trenton; stops in Bucks County include Cornwells Heights, Eddington, Croydon, Bristol, and Levittown. The West Trenton Line runs through the county on its route between Philadelphia and West Trenton; stops in Bucks County include Trevose, Neshaminy Falls, Langhorne, Woodbourne and Yardley. The Lansdale/Doylestown Line provides service to the county from Philadelphia, Ambler, Pennbrook, Lansdale, and Colmar; stops in Bucks County include Chalfont, New Britain, Delaware Valley University and its terminus in Doylestown. The Warminster Line provides service to the county from Philadelphia, Ardsley, Roslyn, Willow Grove, and Hatboro; the line terminates in Bucks County in Warminster.
By plane
See
Bowman's Hill TowerA 125 foot tall stone tower located in Washington Crossing Historic Park in Bucks County Pennsylvania. It is administered by the Pennsylvania Historical and Museum Commission. The tower was built on Bowman's Hill, which is on the dividing line between Upper Makefield and Solebury Township. The tower is 125 feet tall and its base measures 24 feet in each direction. It's a sweet place to take in the beautiful countryside, and it now has an elevator that you can take, which brings you three quarters of the way up Bowman's Tower, and in the fall, particularly October, the fall foliage from this vantage point is not to be missed. There's a flower park across the street as well, which is amazing in the spring.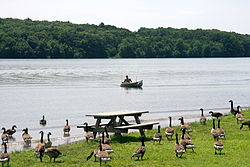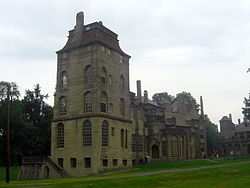 address: Doylestown

The concrete castle home of Henry Mercer, built between 1908 and 1912. Over 44 rooms, 18 fireplaces, more than 200 windows. Interior walls, floors, ceilings elaborately adorned with an array of original handcrafted tiles. It's considered a National Historic Landmark.

address: Perkasie

Guided tours of the Nobel and Pulitzer Prize-winning author circa 1825 farmhouse and intact collection on a picturesque 68-acre estate. A National Historic Landmark with gift shop, cultural center, beautiful gardens and seasonal special exhibits featured.

Washington CrossingThe site where, on Christmas Night, 1776, George Washington and the Continental Army crossed the icy Delaware River. Includes the 19th-century village of Taylorsville, Thompson Neely House and gristmill, Bowmans Hill Tower, and picnic areas.
Do
phone: +1 215-322-7755

address: 100 E Street Rd, Feasterville

Bowling Alley, Laser Tag and arcade. Fun for the whole family. Facility also caters birthday parties.

address: 4200 Neshaminy Blvd, Bensalem

address: 2300 E. Lincoln Highway, Langhorne

address: 100 Sesame Rd, Langhorne

'Sesame Street' themed amusement park. Park has water rides, parades, roller coasters, live shows, and Sesame characters walking around. Across the street from the Sheraton Bucks County, and Oxford Valley Mall.

phone: +1 215-396-9936

address: 4201 Neshaminy Blvd, Bensalem

Multi-Leveled Laser Tag facility. "Missions" take place every 15-20 minutes. All participants are split into three teams (Red, Green, Blue) and must defend/attack other team bases and players. Also provides birthday party space.

phone: +1 215-639-9000

address: 3001 Street Rd, Bensalem

Enjoy gambling on horses, slots, or tables. Right off Route 1 (Roosevelt Boulevard).

phone: +1 215-702-9633

address: 97 Styers Ln, Langhorne

Pick your own peaches, apples, pears, pumpkins or various other fruits at this beautiful farm frozen in time. The farm has a beautiful pond, and acre after acre of fresh produce. Perfect for families, typically attended by elementry students on class trips.

Playwicki ParkCan be found on Bridgetown Pike, right before it splits into Maple Avenue. The park consists of 135 acres of land that was at one point going to be developed into a neighborhood. Fortunately, Lenape Indian artifacts were found on the site, and the land was preserved and turned into a recreational park. The park features various walking paths, a playground, and it intersects with the picturesque Neshaminy Creek. Picnics occur here frequently.

Bucks County River Country"World's River Tubing Capital." 3-4 hour trips on the scenic Delaware in 80-degree waters, average depth of one to four ft. Tubing, rafting, canoeing, kayaking. We've been providing family fun for 40 years. The only place to go tubing with safety people always in place. Open everyday, it is the summer hot place to be and a great place to meet friends, $10 tubing specials.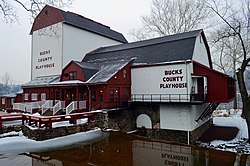 The Bucks County PlayhouseA who's who of the theater - Grace Kelly, Bob Fosse, William Shatner, Paul Lynde, George C. Scott, Liza Minnelli and John Travolta are some of the luminaries that have graced the stage in their incredible productions.

New Hope WineryTheir wine list includes those unusual fruit wines, as well as a full list of carefully chosen Reds and Whites. They have a gift shop, gourmet foods, and picnic area. Beautiful gift baskets and custom labeling by the bottle. They can accommodate 25 to 250 people.

Rices MarketRice's Market is a 30-acre outdoor market open on Tuesdays and Saturdays. Vendors come from all around, as they have for over 100 years, to sell their goods.

Penn's Purchase Factory Outlet StoresA great place to shop - always 20-50% off. In a charming country village setting.

Peddler's Village70 specialty shops and six restaurants to the luxurious 70-room Golden Plough Inn and the Giggleberry Fair family entertainment center. 11 annual events.

Giggleberry FairGiggleberry Mountain, Discover Land, Game Room, Grand Carousel and Painted Pony Cafe. Perfect party place. In addition to the restored 1922 Carousel, this attraction houses Giggleberry Mountain, the largest indoor obstacle course in the area.

Balloon Rides Daily by U.S Hot Air Balloon TeamHot air balloon rides. Regardless of the season, the scenery is breathtaking. Enjoy views of the mountains, the Delaware River and the wildlife in their natural habitat. Hot air balloon rides depart each morning and afternoon from Lahaska. Champagne and hors d'oeuvres celebration conclude each flight.

BucksMont Indoor Sports Center78,000 square foot facility. Offering programs in all sports, for the novice to premier athlete of all ages.
Eat
phone: +1 215-942-8888

address: 772 Second St, Pike, Southampton

Closed Sunday and Monday. Features a purely vegetarian menu, and has received various mentions in culinary publications for its work. A local favorite. BYOB. Get reservations as the place is extremely popular.

phone: +1 215-348-7707

address: 73 Old Dublin Pike, Doylestown

Beautifully decorated Italian restaurant. Menu offers authentic regional cuisine. Owned by Chef Angelo D. Patruno, who left Italy in 1988.

phone: +1 215-322-7272

address: 400 2nd St, Pike, Southampton

Features a large dining room, along with catering, banquet facilities and a full sized bar. Restaurant has been in business for 34 years. Menu offerings include salad, strombolis, homestyle pizza, burgers, cheesesteaks and hoagies. Various other menu items cover all areas.

Tex Mex Connection

phone: +1 215-699-9552

address: 201 E Walnut St, North Wales

A unique and fantastic infusion of Southern Texas and Mexican cuisine. Truly TexMex. The menu offers many selections, including tacos, Texas fried chicken, tortas, fajitas and nachos.

Uno Chicago Grill in DoylestownCasual theme family restaurant. Featuring our famous Chicago-style deep dish pizza. Our menu also includes a variety of pastas, salads, sandwiches and steaks. Kids menu.

Bridgetown Mill House18th-century Mansion, eight acres. Five rooms, fireplaces. Restaurant-Continental cuisine. Gracious hospitality and service await. Weddings, meetings, corporate rates.

Earl's RestaurantEarl's Prime serves only the freshest and finest beef and seafood expertly prepared to delight the area's most demanding gourmets. The 150-seat restaurant includes a dynamic lounge with live jazz on weekends and elegant banquet facilities. A variety of intimate dining areas with dramatic windows provide views of the Village's beautifully landscaped grounds. They have an extensive wine list with over 100 offerings handpicked to perfectly complement menu selections.

The Freight House"Big City Dining" in the heart of Doylestown, offering world class cuisine, outstanding professional service and a dramatic award winning design. "City Chic" cocktails and affordable premium wines. Complimentary valet. Corporate and private functions welcome.

Lambertville StationEnjoy the natural tranquility of the Delaware River while you dine in a meticulously-restored 1867 railway station. Offering New American Cuisine with an innovated twist. Live entertainment and dancing every Fri and Sat. Open 365 days/ year.

The Talking TeacupFull service tearoom offering breakfast and lunch. Also offering children's birthday parties, private parties and a gift shoppe.
Drink
phone: +1 215-357-9974

address: 1134 Street Rd, Southampton

Modern bar and restaurant, features full sized bar area with plasma screen TVs. M-Th: 11AM-2AM, F-Sa: 11AM-2AM, Su: 11AM-2AM. "Best Happy Hour in Bucks."

Bucks County Wine TrailTaste, relax, experience history in the making. Follow the trail: Buckingham Valley Vineyards, Crossing Vineyards & Winery, New Hope Winery, Peace Valley Winery, Rose Bank Winery, Rushland Ridge Vineyards, Sand Castle Winery and Wycombe Vineyards.

Buckingham Valley VineyardsBucks County's first winery, founded in 1966.

McCoole's at the Historic Red Lion InnA place to gather with new and old friends for spirits. Amidst stone walls, stamped tin ceilings, old wood floors, open fireplaces and period furnishings. Luncheons, celebrations, special occasions.

Triumph Brewing CompanySophisticated restaurant/brew pub featuring eclectic contemporary American food and handcrafted freshly-brewed beer. Catering and banquet space available. Outdoor seating. Brewery tours upon request. Live music Wed-Sat 9PM. Local artist openings. Open 7 days a week.