Buena Park
Buena Park
is a city in
Orange County
in
Southern California
.
Understand
European settlement of the area dates to the Spanish "ranchos", huge land grants in the late 1700s. A rail connection to Los Angeles was established in 1875. Buena Park was established as a community in 1877 (in conjunction with the railway development) and formally incorporated as a city in 1953. While there has historically been some industrial activity in the area (such as a Nabisco factory which closed in 2006), Buena Park is the closest city in Orange County to
Los Angeles
and operates largely in that city's shadow; various attractions (which formerly included a wax museum, a Ripley's Believe it or Not museum and a deer park) have come and gone over the years, but the city is best known for an
amusement park
on what used to be Walter and Cordelia Knott's farm.
Get in
By car
By plane
By rail
Amtrak's Pacific Surfliner runs from Paso Robles to San Diego; the closest station is Fullerton.

address: 8400 Lakeknoll Dr.

Metrolink's Orange County Line runs from Los Angeles to Oceanside, with stops in Buena Park and Fullerton
Get around
By foot
The main tourism corridor in Buena Park is located along Beach Boulevard. Most of the main attractions, including Knott's Berry Farm, are located here and are within walking distance of each other.
By transit
Many Orange County Transit Authority (OCTA) lines come together in Buena Park. Route 29 (Beach Blvd.) runs north-south, from the Brea Mall to downtown Huntington Beach and the Pacific Coast Highway, straight through downtown BP. Route 38 (La Palma Ave.) runs east-west, from Lakewood to the Anaheim Shopping Center, serving the Buena Park Promenade. Los Angeles County Metropolitan Transit Authority Route 460 connects BP with downtown Los Angeles, Norwalk, Fullerton, and Disneyland. All three routes serve Knott's Berry Farm.
The Knott's Berry Farm Resort Hotel and other hotels in Buena Park provide a shuttle to Disneyland.
By car
Buena Park is small enough for driving, but most attractions are on Beach Boulevard.
See
Independence Hall at Knott's Berry Farm

phone: +1 714 220-5200

address: 8039 Beach Blvd

A recreation of Independence Hall (site of the signing of the Declaration of Independence) is so accurate that the original structure in Philadelphia used Knott's blueprints for its own restoration. The replica also stood in for the actual Independence Hall in the film National Treasure.
Do
Dinner theatre
Knotts Berry Farm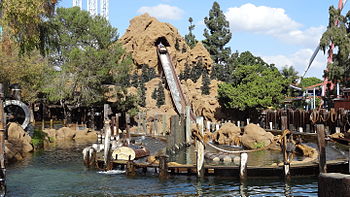 Knott's bills itself as America's oldest theme park. In 1920, this was a working farm selling berries; its restaurant served its first chicken dinners in 1934. Once the restaurant started drawing a crowd, Walter Knott began constructing a replica
Ghost Town
in 1940; the park's first ride attraction (the Ghost Town & Calico Railroad) opened in 1952. Knott's Berry Farm remained family-owned until late 1997; the park is now owned by Cedar Fair Entertainment Company and the food brand was acquired by The J. M. Smucker Company.
The park made many claims to have had the first, largest or only version of various amusements: the
Calico Mine Ride
(1960) as the world's first themed amusement park attraction,
Timber Mountain Log Ride
(1969) as the first log flume with thematic elements,
Corkscrew
(1975) as the first modern roller coaster to successfully turn riders upside-down,
Xcelerator
(2002) as the world's first hydraulically-launched roller coaster. The
Ghost Town & Calico Railroad
(1952) claimed the only remaining narrow-gauge steam engines still in operation at one point; many other
heritage railways
have since restored historic engines to service.
Supreme Scream
(1998) was briefly the tallest turbo drop–type amusement ride in the world (312-feet tall),
Perilous Plunge
(2000) was once the world's tallest and steepest water chute ride (at 121' tall and 77.8°; permanently closed in 2012).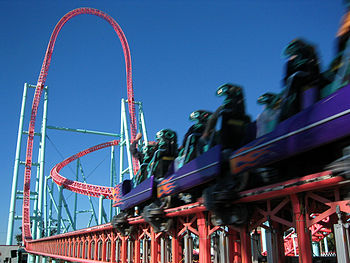 Events
Buy
phone: +1 714 503-5000

address: 8308 On the Mall

Basic mall with the usual store names.

address: 8039 Beach Blvd

A shopping and dining district adjacent to Knott's Berry Farm. One of the highlights is the Berry Market where Knott's jams and jellies can be purchased.
Eat
Mrs. Knott's Chicken Dinner Restaurant

phone: +1 714 220-5055

address: 8039 Beach Blvd

Traditional American fare, the specialties are fried chicken and buttermilk biscuits. A popular place to eat which usually has long lines (so plan to arrive early), this 1934 restaurant is one of the oldest parts of what is now the Knott's Berry Farm theme park. Lines at Cordelia Knott's restaurant lasted for hours, so Walter Knott built a ghost town (and later an amusement park) to entertain the crowds.

phone: +1 714 739-8801

address: 7802 Orangethorpe Ave

Great idea choosing and putting your own contents into your burger

address: 7926 Valley View St

Classic California. Looks like fast-food but you do have to wait for your freshly made burger and fries.

address: 8650 Beach Blvd

phone: +1 714 220-5084

address: 8039 Beach Blvd

phone: +1 714 367-2030

address: 7640 Beach Blvd

Regional chain of five Cuban-style cafés.
Fast food and diners on Orangethorpe and nearby streets.
Sleep
Go next