Buenos Aires/Centro
The
center
(
centro
) of
Buenos Aires
has most of the city's attractions, including performances (especially on Avenida Corrientes) in the
Tribunales
theater district, the dense downtown area with government buildings, the San Telmo tango scene, and the biggest train station and the general bus station that offers connections to the surrounding provinces and neighboring countries.
Understand
The
San Telmo
district preserves colonial-style houses along narrow cobblestone lanes, illuminated with pretty wrought iron lanterns. In San Telmo, one breathes the history of Buenos Aires. There is also a very exciting, underground nightlife scene.
Just like the London docklands, the antique port of Buenos Aires (
Puerto Madero
) has been renewed and now represents the latest architectural trends of the city. It has a mixture of restaurants, ranging from high end to U.S. chains such as Hooters and TGIF. It also has apartment buildings and a few expensive hotels. The Reserva Ecológica Costanera Sur, an excellent option for nature lovers, lies nearby.
The
Retiro
neighborhood hosts the main train station in the city, a busy area filled with commuters, but also home to some of the most luxurious restaurants, shopping, and partying, in the expat-friendly border of Microcentro. Retiro has attracted people from various kinds of lifestyles, without any strong attraction for any specific group of people.
Get in
By Subte
All the Subte lines start from around Plaza de Mayo.

By bus
Buses 33 and 45 from Retiro station connect to the Aeroparque Jorge Newbery.

See
Teatro ColónConsidered one of the top 5 opera houses in the world, it was closed for many years due to remodeling. The theater is now opened to the public, and it's a must-see when in Buenos Aires.

Palacio de JusticiaDesigned by French arquitect Norbert Maillart. Built 1905-1910, it is where the Supreme Court resides.

Pasaje RivarolaA beautiful hidden gem in Buenos Aires. It was built in a way that buildings on one side are a 'mirror' of the ones in front of them. You'll also find 'Casa Raab', an antique clock shop, featuring a nice old watch that complements really well with the atmosphere of the street.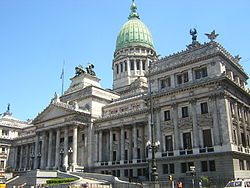 Palacio del Congreso

address: Av. Rivadavia 1864

Open for tours.

Plaza de CongresoContains some interesting sculpture, including a copy of Rodin's Thinker.

address: Balcarce 50

The Argentine equivalent to the White House in the U.S. Plaza de Mayo is in front of it, and there are several noteworthy buildings around the plaza, including the National Bank and Bank Museum, and the Metropolitan Cathedral.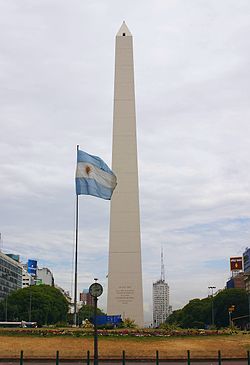 ObeliscoFrom its base is a good vantage point for Avenida 9 de Julio, which at 22 total lanes is the widest street in the Americas.

Confitería del MolinoThis art nouveau coffeehouse (now closed) used to be the meeting point for many cultural and political figures. The coffeehouse was built in 1917 and closed in 1997, year in which was declared National Historic Monument.

Teatro LiceoOpened in 1876, is one of the oldest theaters in the city. Its original name was "El Dorado". Eva Peron, before entering the political scene, performed once when she was a young actress.

Confiteria Ideal

address: Suipacha 384

A famous tango venue featured in many films. The building has beautiful architecture, and there are tango lessons and Milongas (dance parties) offered there daily.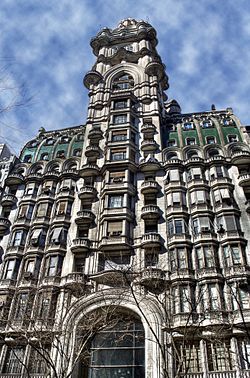 address: Av. de Mayo 1370

Don't miss this architectural gem in Buenos Aires, designed in accordance with the cosmology of the Divine Comedy. Reserve a guided tour in advance (night or day) and enjoy one of the best views of Buenos Aires. If you do not book a tour, they will not let you into the lower floor. However, try to sneak in with another tour or head in, asking for a tour. The tour counter is on the other side of the lower floor, so enough time to see the lower floor and take pictures.

Casa de la Cultura

address: Av. de Mayo 575

This is the Government Cultural House of Buenos Aires. Check out the "Salon Dorado", which design is inspired by the Palace of Versailles. Also, the Salon Dorado hosts music performers every Friday 7PM.

Libreria La Calesita

address: Av. de Mayo 769

Don't miss this antique bookstore with plenty of toys dating back to more than 50 years ago. It looks like it has been freezed over time. Jose Luis, who has been working here for more than 20 yeats, will give you advise and recommend you books according to your interests.

La Botica del Angel

address: Luis Sáenz Peña 541

Church/Old House that offers guided tours and where many cultural events take place. It is considered one of the places where "cafe concert" started.

address: San Martin 42

A neoclassical cathedral containing the tomb of José de San Martín.

Retiro railway stationThe old train station, built by the British empire and formerly the starting point of the Patagonia Express.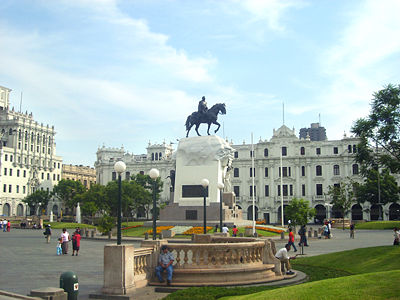 Plaza San MartínA beautiful park outside the train station, next to the plaza of the air force

Carlos Regazzoni art factory/atelierCarlos Regazzoni, a recognized Argentine artist, lives in Retiro in a warehouse where he also has his atelier. He mainly creates art sculptures using the available iron and train parts that is spread among the area, due to the proximity to the train station (check the iron ants climbing the big sign close to the entrance). The ambiance of the place is not something that most visitors will like; although Carlos is very friendly and likes to talk and talk with those who are interested in his work. If you're interested in going, check before if he's in the country, as he spends 6 months in France and 6 months in Argentina. At night (not every day), the warehouse were he works becomes a restaurant, El Gato Viejo, attended by himself.

Edificio Kavanagh

address: Florida 1065

It is considered as the first skyscraper built in Buenos Aires. The story behind the construction of the building is interesting: Corina Kavanagh had a fight with another lady, Mercedes de Anchorena, both from Buenos Aires high society. Corina's daughter was about to get married with Mercedes son, but because of Corina's opposition to the wedding, it never happened. As a revenge, Corina spent all her inheritance in building what would become the tallest South American building of that period. The reason: Block the sunrise and the view to the Sacramento Church from the Anchorena's home. It was declared as national historic monument in 1999.

Palacio PazBuilt between 1904 and 1912, it is the main site for the Military Circle in Buenos Aires. It used to be the residence of Jose C. Paz, who died two years before the palace was finished. Highly recommended to take the guided tour inside the palace. Check the website for more details.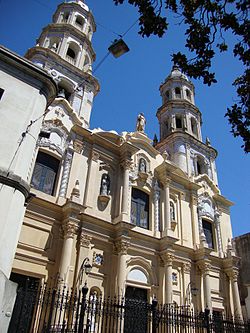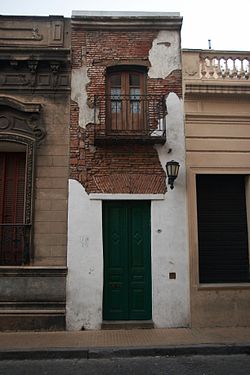 Manzana de las LucesThis block, surrounded by the streets Alsina, Moreno, Peru and Bolivar, is home to many of the most importants and traditional educational, religious and cultural institutions of Buenos Aires, dating back to the 17th and 18th century. The name of this block comes from the number of intellectual institutions that were present in the old days. One of the most interesting attractions is a mysterious subterranean network of tunnels that communicates each building.

Mercado San TelmoDaily market housed in a huge wrought-iron hall. Everything from fresh basil to antique shoes and coins is on display in this permanent marketplace. Come during the week to see the local produce and meat market. On Sunday, when the action is outside, it's mostly empty.

Plaza DorregoThe second oldest plaza in Buenos Aires, six days a week the plaza is a relatively quiet, shady space lined with restaurants and cafes. On Sundays an antiques market takes over and you can hardly see the plaza for the people and market stalls. The stalls get cleared away from about 5PM, and from 8PM there is public dancing, including tango.

address: 1600 Defensa

History of Argentina, but all captions are in Spanish and neither comprehensive nor well-organised. Entry by donation.

Pasaje San LorenzoWalking along Balcarce street, before arriving to Av. Independencia, you'll see the street "San Lorenzo". One of the interesting things to see, is the narrowest house in the neighborhood, among the street, which is very pleasant. Also, between San Lorenzo and Av. Independencia, in Balcarce street, you'll find the Almacen Don Manolo. For those who know Mafalda, almacen Don Manolo is where Mafalda used to go for shopping. The store in Balcarce street nº 774 is actually the one from which Quino inspired for the cartoon.

El Zanjon de GranadosThe most important architectural building in San Telmo and one of the most important of the city. It has nearly 500 years of history. Check the website for more info.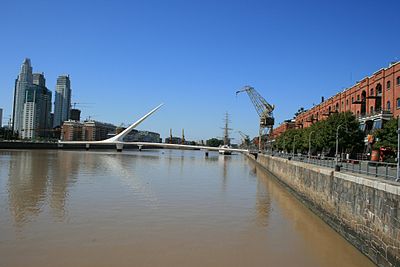 Puente de la MujerA beautiful pedestrian suspension bridge.

address: Cerrito 1399

One of the most beautiful buildings in Buenos Aires. During the year, some times there are "open doors" events so you can visit the building inside. Ask for guided tours.

Casa de Esteban de Luca

address: 383 Carlos Calvo St.

Once inhabited by the Argentine poet, soldier, Esteban de Luca.
Do
Find a theater show on Avenida Corrientes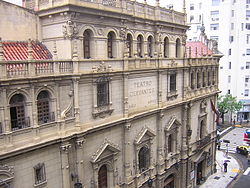 phone: +54 11 4816 4224

address: Libertad 815

See the Theater Museum at Teatro Cervantes
Walk along Avenida de Mayo: Buenos Aires is one of those cities where the best way to get immersed into it is by walking, walking and walking. With Plaza de Mayo as it starting point, Avenida de Mayo offers a beautiful walk tour. Here you will find many historical buildings, like the traditional Cafe Tortoni, or the impressive Palacio Barolo (which offers one of the best views of Buenos Aires, ask for the guided tour) .
Tango San Telmo is the heart of the "tourist tango" scene with a dozen different venues offering $30 dinner-and-show combos to the tourbus crowd. While it might be a good spot to get your feet wet, you'll have a more authentic experience elsewhere.

Learn the art of FileteadoOr dance Tango at La Independencia, Independencia Avenue Nº 572, San Telmo

Take Tango classesEach day at Centro Cultural Torquato Tasso - Defensa 1575, San Telmo

Puerto Madero is a great place for a walk. All along the way there is a display of impressive cow art.

Reserva Ecológica Castenera SurAn expansive park and wildlife preserve popular with hikers, joggers, and bird watchers.

Take a ferry to Uruguay and other destinations from the Buquebus ferry terminal at Darsena Norte
Learn
Buy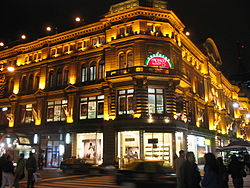 FloridaMain pedestrian street pf the city. It has a good variety of shops as well as street vendors. Good place to buy a souvenir and also to watch the street tango dancers and other performers.

address: Avenida Cordoba

An upscale shopping mall, which is worth seeing even if you don't buy anything. On the top floors is the Centro Cultural Borges which usually has art on display.

Sunday MarketPlazza Dorrego and the outlying streets fill up with tonnes of craft and antique booths, supplementing the numerous antique shops, collectives, and malls in the area. You can get stamps, Judaica, tins, clothing, office equipment, chandeliers, furniture, paintings, etc.

Pasaje La Defensa

address: Defensa street nº 1179

This used to be a tenement where poor families settled after a yellow fever hit Buenos Aires and made the richs to move to the north part of the city (today Recoleta and Retiro). It has been restored and today it has some antique shops.

El Solar de French

address: Defensa street nº 1066

In the old days this building was Domingo French's house. Today it has leather shops, silver souvenirs, among other typical stuff from Argentina.

Walrus Books

address: Estados Unidos 617

Sells new and used English language books and also buys used ones for about 1/3 of the price they sell them for.
Eat
Defensa and its side streets, especially Chile, offer everything from Thai to gourmet ice cream with plenty of parrillas and
bares y cafes notables
(historic bars and cafes).
You will find the prices in Puerto Madero much higher than in the rest of the city—you're paying for location. Sometimes they are worth the price, sometimes not. Fixed price menus (three courses, called executive menu or "menu ejecutivo" in spanish) can be had with drink and coffee for about €6.25; these restaurants have outside seating areas with excellent views of the
dársenas
, the Fragata Sarmiento and the old European-style warehouses.
The Gibraltar

phone: +54 11 4362-5310

address: Calle Perú 895 near Estados Unidos

A rare find in Buenos Aires featuring spicy dishes including Thai green chicken curry and a beef jalfrezi curry. Beyond the smoky pool table in the back is an outdoor seating area. Gibraltar is also a good drinking spot and serves good imported beer on tap and on cask.

Desnivel

address: Defensa between Estados Unidos and Av. Independencia

"Parrilla" at an excellent price, but the surroundings and presentation are sub-par. If you can't tear yourself away from shopping long enough to sit down, you can get choripan and sandwich de lomito to go starting at $2.

Don Ernesto's

address: 375 Carlos Calvo

A large menu with very good food at reasonable prices. It is somewhat more expensive but nicer than Desnivel.

Cafe San Juan

phone: +54 11-4300-1112

address: 450 San Juan

Very nice meals at somewhat higher than average prices. A reservation is recommended.

Amici Miei

phone: +54 11-4362-5562

address: 1072 Defensa

Italian restaurant at average to slightly above average prices. Nice food.

Mash

address: 518 Mexico

A British "curry house" but it will adjust the spiciness level down as required. Especially recommended if you are missing the ability to converse with someone else in English, and the food and prices are good.

address: 594 Chile

Good food at less than average prices.

El Cuartito Pizza

phone: +54 11 4816-1758

address: Talcahuano 937

One of the traditional pizzerias of Buenos Aires, since 1934 El Cuartito maintains most of its original environment and quality in their food. Don't miss the 'fugazzeta rellena con jamon' (fugazzeta with the crust filled with ham), it's delicious. You can go and eat inside, or ask for delivery (they deliver up to 11:30PM, ask for covered zone).

phone: +54 11 4371-8141

address: Av. Corrientes 1368

Similar to El Cuartito, very traditional, local noisy atmosphere, not very expensive. The place is best known for the muzzarella pizza, although you'll find other types as well. You can order a portion along with a glass of moscato.

phone: +54 11 4371-5643

address: Rodríguez Pena 682

This is probably the best place in BA to try an "asado de tira" (ribs), the most traditional piece of an Argentine asado. You can also try other different meat cuts, but the "tira de asado" is the distinctive dish. A waiter said the "porcion de tira" is enough for three or more whereas the single tira (una tira), together with some fries or salad was enough for two. Be aware that if you order a "parrillada", the cuts for the "asado" are completely different, they don't even taste the same.

DoraDora has an upscale decor to match the upscale seafood. The extensive menu offers fish, meat, chicken, and one or two vegetarian options, but seafood is definitely the focus. The prices look high, but some of these dishes involve lobster and caviar. Any of the dish for two make for a huge and affordable meal. Many of the appetizers, like snow crab in avocado, would also make a filling main course for one.

El Gato Viejo

phone: +54 11 4315-3663

address: Av. del Libertador 405

If you think you've seen everything in weird restaurants, think again. El Gato Viejo is Carlos Regazzoni's restaurant, defined as himself as a 'railroad-restaurant'. The particularity of this restaurant is that, during the day, it is an old warehouse where Carlos creates his artwork based on train parts and iron. During the night, on Thursdays, Fridays and Saturdays (with previous reservations), the place becomes a restaurant. Not a restaurant as you know it, in fact, nothing changes: dark, all the iron parts, stencils, oils, sculptures, etc. are spread around while you eat and enjoy some glasses of wine with Carlos. Definitely a unique experience. Call in advance for reservations.

Dadá Bistro

phone: +54 11 4314-4787

address: San Martín 941

This small restaurant makes the top lists among locals, and is a highly recommended one in tourist guides. Try the Lomo Dadá, one of the house specialities. Recommended to arrive before 9PM, otherwise you'll have to wait.

phone: +54 11 4313-1336

address: Av. Alicia Moreau de Justo 516

Probably the best place to eat meat in the Puerto Madero neighborhood. It's a highly rated restaurant among travel guides and sites, although not a local's favorite. Don't miss the ojo de bife! This place had the reputation of being the best place to eat steak in Buenos Aires. The steaks are enormous and succulent. If you eat here, count on them having to roll you out as you will be near explosion (probably best to wear trousers with elasticated waists!) It's a constant struggle not to stuff yourself with the mouth watering appetizers before your steak even arrives. When it does, you may chuckle at the little plastic cow figurine jabbed into the meat, smiling at you and bearing the words "Estoy jugoso," - "I am juicy" (meaning rare). Count on spending around AR$85 for a steak, 12 for a beer, and 80 for a bottle of wine from their extensive list of Argentine and international vintages. You can also share an order of steak, which the restaurant will serve on separate plate. The doneness is different in Argentina than in the U.S., for medium rare, order rare.

Happening Puerto Madero

phone: +54 11 4319-8712

address: Av. Alicia Moreau de Justo 310

phone: +54 11 4334-3638

address: Av. Alicia Moreau de Justo 838

phone: +54 11 4315-6801

address: Av. Alicia Moreau de Justo 1714

A must-visit restaurant while in Puerto Madero. You eat for about AR$50 on week days lunch and AR$80 on weekends, and get unlimited salad, pasta, meat, and bottled water. Also included in the price are one bottle of red wine and one dessert per person. Not very popular among locals.

Veggie Medio Oriente

address: Suipacha 532

Vegetarian Middle Eastern food.

phone: +54 11 4343-4020

address: Florida 165 2nd floor

Vegetarian/Vegan

phone: +54 11 4374-5125

address: Montevideo 446

Vegetarian/vegan.

RodizioArgentine asado. It is not cheap, but you can eat as much as you can of the highest quality steak, which is served in 'swords'. There are 3 branches: Puerto Madero, Costanera Norte and one in the tourist city of Mar del Plata. Unbelievable view of the coastline.
Drink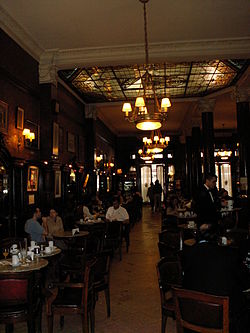 address: At Av De Mayo 825

Opened in 1858, one of the most traditional coffee houses in Buenos Aires. It has been restored to its original style, which dates back to 150 years ago. It was a cultural meeting point of many famous people, like Borges, Quinquela Martin, Molina Campos, among others. The hot chocolate is incredible.

Confiteria London City

address: Av. de Mayo 599

A London-style bar. The original building was completely destroyed by a huge fire. It was rebuilt and opened again in 1954. Good place to stop by for a coffee before continue your walk along Av. de Mayo.

Bar Iberia

address: at the corner of Av. de Mayo and Salta street

After cafe Tortoni, Bar Iberia is the second oldest bar in Buenos Aires. It represents an historical significance for the city, since It used to be the meeting point for the Spanish immigrants representing the 'republicans' during the civil war in Spain. In the corner in front of it, it is located Cafe Español, the meeting point for the opposite group of the republicans: those representing the Francoism. Today, Bar Iberia has been restored in a way to maintain most of its original façade.

address: Alsina 416

One of the most popular coffee shops among locals, not touristy. It has been declared a "Site of Cultural Interest" by the Government of Argentina.

The Kilkenny

phone: +54 11 4312-7291

address: Marcelo T. de Alvear 399

phone: +54 11 4342 3916

address: Venezuela 474, San Telmo/Monserrat

This popular pub offers the best selection of tap beers in San Telmo, a huge variety of cocktails and top shelf liquors in a beautiful period location. Great European menu includes moderately priced tapas, picadas, pizzas, hamburgers and mains. An international crowd enjoys a large projection screen for sport events, Nintendo Wii, board games, free WiFi and comfortable sofas in the living room/club section of the pub. The staff is multilingual and modern music is kept at the right volume. Happy Hour is every day till 10PM.

Pride Cafe

address: Balcarce and Pasaje Giuffra

Modern decor and an outdoor seating area. Gay themed show on Thursday evenings. Open until 11PM, later on show nights.

Bar Britanico

address: Brasil and Defensa

Historical, pleasant bar notable a great place for a drink.

Bar El Hipopótamo

address: Brasil and Defensa

A beautifully decorated bar and cafe that also serves food (light snacks mostly). Very pleasant.

phone: +54 11 4315-2403

address: Lavalle 345, Microcentro

One of the trendiest clubs in Buenos Aires with a good selection of electronic music. Tuesdays are popular among locals, with accelerated drum & bass rhythms. Thursdays are also a good option. The club is located within an old bank building, check the vault in the bottom floor.

El Alamo

phone: +54 11 4813 7324

address: Uruguay 1175, Recoleta.

Free beer for girls M-F until 11PM and cheap prices all the time. Satellite quality feed on 10 large flat screen TVs.

Jack the Ripper

phone: +541148167508

address: Libertad 1275

London style pub in the heart of Recoleta.
Sleep
San Telmo is chock full of hostels and budget hotels making it an affordable option with easy access to downtown. Every other doorway along Carlos Calvo and Chile seems to be a hostel, so that's a good place to start if you show up without a reservation. Another option for sleeping arrangements is renting an apartment. There are a ton of apartments for rent in the San Telmo area and you can find very reasonable rates on furnished apartments.
Budget
Hostel Estacion Buenos Aires

phone: +5411-4381-0734

address: Solis 458

A short walk from the Obelisk, Estación Buenos Aires Hostel offers budget, shared and private accommodations with a 24-hr reception desk. Wi-Fi is free. A continental breakfast is served every morning at the Estación Buenos Aires. There is also a bar for evening drinks.

Arahaus Hostel

phone: +54 11 4382 8375

address: México 1482

A sweet home located on Calle Mexico, Congreso (at the south end of centro). This is a converted apartment with just a few nice rooms. Free internet and a TV in the front room. It is run by a really nice chica called Hebe, who will make you feel at home, and it is cheap (current prices are: US$20 per night for a double room as of Feb. 2011). Hebe actually prefers to host students who will stay for several weeks or months (prices then get cheaper) but is open to one or just a few nights. Anyway, it is definitely worth checking out for a tranquil stay in Buenos Aires.

phone: +54 11 4343-1463

address: Piedras 545

With more private rooms than most hostels and with each one painted and designed by local and international artists, this converted 1870s mansion attracts young backpackers from all over the world, families on a budget as well as Argentinians visiting Buenos Aires. The vibe is lively, but not hectic or loud, intimate but without plenty of room to stretch out. A rooftop bar features local musicians, art openings and cheap beer. Weekly asados, or beef BBQs, occur every week on the large terrace. The best and grooviest hostel staff in Buenos Aires.

phone: +54 11 4300-8300

address: Balcarce 946

Hotel Babel is a smart boutique hotel set in an historic mansion in San Telmo, the bohemian colonial quarter of Buenos Aires. Superb central location, privacy and comfort.

El Firulete (Downtown)

address: Maipu 208

Great spacious hostel in the Microcenter. Large lounge with TV and projector, Free internet, helpful staff, average breakfast. US$14 for a private room.

Gran Hotel Espana

address: Tacuari 80

AR$5-50 for a single room. Rooms are nice, but typically will not have air conditioning.

phone: +54 11 43043019

address: Lima 1169, at junction with San Juan

Conveniently-located hostel with sociable staff and guests. Housed in a slightly old three-story building with Wi-Fi available both in the lobby and the rooms. Hot showers and computer terminals are available.

phone: +54 11 4345-9604, +54 11 4343-5038

address: Hipólito Yrigoyen Street 959

Backpackers' favorite right in the center. This huge hotel has internet facilities, and shared kitchen; also organizes many expensive tours and tango lessons. Definitely a party place though and the atrium reverberates sound, making it very noisy and not an ideal place to sleep. Has a fingerprint door entry system and surveillance. Dorm: AR$34/38 members/nonmembers (note that you have to pay your stay in advance and they do not give refunds if you decide to leave earlier than planned).

phone: +54 11 4305-1400

address: Salta 990

phone: +54 11 4342 5951

address: Av. Belgrano 887 Rayuela

It is very homey and fun, with big rooms w/AC, hot water 24 hours a day, and a common room stocked with statellite TV, Dvds, a pool table, ping-pong table, tea and coffee machines comfy couches. Hands-on owners who love to help. Very clean and fun. Minihostels members get 10% off their stay.

Ayres Porteños

phone: +54 11 4300-7314

address: Perú 708, near Av. Independencia

Quirky tango themed hostel with spacious rooms and a social atmosphere. Possibly the best breakfast you'll ever have in a hostel. Not a quiet hostel, can be loud at night due to buses and festive guests.

phone: +54 11-4393-1397

address: Florida 328

Centrally located on Florida Street, the city's major tourist pedestrian road. A few meters from the famous Corrientes Avenue, heart of porteño culture. A few blocks away from 9 de Julio Avenue and just steps from main transportation. Attached to a bar/restaurant which sometimes offers a free small dinner (with purchase of a drink) to hostel guests. Very large lockers, free breakfast if you book through their site, and all rooms possess private bathrooms, heating and air conditioning.

phone: +54 11 4328-4040

address: Corrientes 830

Hotel Residencial Carly

phone: +54 11 4361-7710

address: Humberto 466, San Telmo

Cheap and clean rooms for long/short term stays. Friendly staff.

phone: +54 11 300 9028

address: Carlos Calvo 614

Clean. Kitchen. Wifi and 1 computer for guests. Decent breakfast. Good atmosphere. Barbecue on the roof.

phone: +54 11 4300-7992

address: Humberto 1º 820

This hostel is in the heart of San Telmo, right next to the famous Plaza Dorrego. It offers a shared-kitchen, a DVD room, free internet and weekly organised asados. Its location in this bohemian barrio means that most sights are in walking distance!

phone: +54 11 4304-1824

Ave. San Juan 1271 (San Telmo);. With only 16 beds, a tiny but pleasant hostel, it takes only a hour to know all guests. It is located at the outskirts of San Telmo close to the San Juan metro station. Has an outdoor terrace, but conversation is hard due to the noise of the nearby highway. A dormbed cost AR$21 per night and comes with breakfast.

address: Carlos Calvo 430

Housed in a renovated old mansion. It is frequently sold out. Decent breakfast of pastries, bread, butter, jams, dulce de leche, coffee, tea, and mate. Four dorms with 6 beds in each room, a quad and two double private rooms. Shared bathrooms, lockers. There is a nice rooftop terrace, a pool table, free internet, and friendly staff.

Hostel Carlos Gardel

address: 500 block of Carlos Calvo

phone: +54 11 43811966

Mexico 1545. Located in the upcoming Montserrat neighborhood, where there are few tourists and more local activity going on. This casual hostel also has an awesome vibe; it's in an early 1900s house, there's a funky kitchen and the small leafy courtyard is prime for relaxing.Rooms are lined around a small central patio, and some dorms have lofts. There are 30 beds, so it's pretty intimate, and occasional barbeques help stir the social scene further. Outside, a hammock or two are great for hanging around, and there's even a small bar area in the dining room.

End of the World Hostel San Telmo

address: 818 Ave San Juan

Situated between two noisy streets and with equally noisy inhabitants, this cheapy is only for those spending the nights with tango and sleeping during the day.

phone: +54 11 4343-4845

address: Venezuela #857

South America's first private hostel chain with hostels in different locations throughout South America, including Buenos Aires. Located in the area of Plaza de Mayo-San, Telmo, the hostel offers inexpensive and good quality accommodation Rooms from US$12.

Hostel San TelmoOnly AR$14 per person per night. However, it is a bit cramped but this creates the feel of a real family atmosphere, It is located in the middle of San Telmo close to restaurants, its a cheap place to hangout and get to know some interesting people!

phone: +54 11 4322 0994, +54 11 4327 5131

address: Viamonte 887

The V&S Hostel Club is in a beautiful refurbished house whose history dates back to the 19th century. It is located in the heart of Buenos Aires and combines both the old with the new. The rates include daily maid service, luggage storage facilities, breakfast buffet style, sheets/blankets, individual bathrooms, heat and ceiling fans in all rooms.

phone: +54 11 4372-8898

address: Ave Callao 341

Safe, clean budget hostel. Complete with kitchens. Breakfast, Wi-Fi, internet and cleaning services all included in prices.
Mid-range
Splurge
phone: +54 11 4343-1888

address: Chile 437, San Telmo

San Telmo Luxury Suites offers junior, superior and executive suites with air-conditioning, plasma TV and mini-bar. Its facilities and services include free Wi-Fi, complimentary use of laptop, room service, personal shopper and trainer.

phone: +54 11 4370-8000

address: Av. Callao 181

address: in the Puerto Madero district

Hotel with lots of bars in the lobby and a pool at the front.

Four Seasons HotelHas a walled garden.

phone: +54 11 4891 0000

address: Avenida Macacha Güemes 351

Situated in Puerto Madero, the trendiest area in town, just like the London dockland, Hilton Hotel in Buenos Aires is a short walk to the financial district, tourist attractions, more than 70 restaurants and amazing nightlife, with quick access routes to both the domestic and international airports.

phone: +54 11 4321-6750

address: Avda. Corrientes, 280

Built in the early 1900s, this hotel is perfectly situated in the heart of the city. Many well-known areas are in walking distance such as Puerto Madero, Plaza de Mayo and the famous Calle Florida street. The hotel contains a restaurant, bar and a gym, from $166.01.

phone: +54 11 4318-3000

address: Florida 1005

phone: +54 11 4318-9000

address: San Martín 1225

phone: +54 11 4131-8000

address: Av.Roque Saenz Peña 725, Ciudad de Buenos Aires

The building, built in 1927 with a distinguished French style became a symbol of Buenos Aires architecture. Today the Hotel Continental is reborn under a new name and a modern and contemporaneous style.

phone: +54 11 4378 9300

address: Av. Corrientes 1173

It offers 110 rooms that comprises 56 junior suites, 6 executive suites, 4 deluxe suites, 38 duperior rooms and 6 corner superior rooms. Some of its amenities include outdoor swimming pool, LCD screen television with cable channels, and wireless high-speed internet connection. While staying here, you can visit some interesting places like Obelisco, Broadway Theater, and Puerto Madero.

phone: +54 11 4331-0091

address: Avenida Julio A. Roca 562, Capital Federal Argentinia

The Hotel Nogaró Plaza de Mayo is in the historical, commercial and financial heart of Buenos Aires. It was built in 1930 and it has been renovated in keeping with its classic French style. Many of the city's major attractions are within 200 meters, and a ten-minute walk will bring guests to shopping areas and entertainment venues. The Hotel Nogaro Plaza de Mayo is convenient for the business, as well as the leisure traveler.

phone: +54 11 4383-0555

address: 101 Lima St. (C1073AAC)

Imperial Park Hotel provides standard rooms, junior and executive suites with air-conditioning, mini-bar, high-speed internet and breakfast. Restaurant, fitness room, room service and dry cleaning.

InterContinental

address: Piedras and Moreno streets

phone: +54 11 5239 1000

address: Carlos Pellegrini 877

High end hotel with helpful staff. There is also a butler service.

phone: +54 11 4307 4625

address: Piedras 906

15 condominium units with A/C, kitchen and buffet breakfast. Terrace, conference room, travel agency and airport transfer.

phone: +54 11 4310-7000

address: 25 de Mayo 764, Buenos Aires 1002 ABP

Beautiful 5 star boutique hotel, fantastic location
Apartments
phone: +54 11 4824 1256

address: Lavelle & Callao

2 bedrooms (4 people max) apartment on a nice street

ByT ArgentinaFurnished apartments and lofts for rent in San Telmo. Well equipped apartments. Economy, Luxury, Classic or Modern, spacious or small apartments. All the apartments are fully furnished and equipped and can be rented for short and long-term stays in Buenos Aires. Advanced search tool that will allow you to find an apartment available for the dates of the stay. Better value than a hotel so long as you are staying for a full week.

San Telmo Colonial Hotel Boutique

phone: +54 11 4300-0097

address: Carlos Calvo 767 - Barrio de San Telmo (town) - Capital Federal

Offers rooms that are furnished with amenities such as air-conditioner, telephone, cable TV, in-room safe, and coffee/tea maker. Some of its facilities and services are 24-hour front desk, safe, baggage storage, concierge services, and translation services.