Buffalo/Allentown and the Delaware District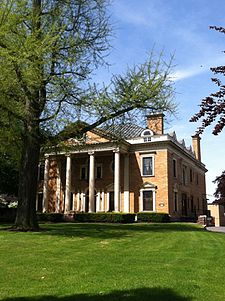 Allentown
and the
Delaware District
are two neighborhoods in
Buffalo
that are located adjacent to each other and north of
downtown
. These two areas are among the most desirable neighborhoods in the city today, and, much more than most other areas of Buffalo, were able to retain their charm, affluence, and safety throughout Buffalo's dark days from the 1960s to the turn of the millennium. Today, Allentown boasts a thriving cultural and artistic scene and a large selection of bars, restaurants, and funky shops, while the Delaware District is a quiet upscale residential area of stately homes, many of which are of great architectural distinction.
Understand
Allentown
covers some 160 acres (65ha) north of the
Theater District
and west of the
Medical Corridor
. For a long time it was a home for hippies, starving artists, punk rockers, the LGBT community, and other assorted misfits and outcasts, and even today the neighborhood trades on a certain "alternative" identity. But bohemian Allentown is quickly being consigned to history: the
Allen Street
bar scene of today is miles away from the chilled-out hipster haunts of yesteryear, with an influx of rowdy college kids and twentysomethings bringing a wild and hedonistic vibe north from Chippewa Street after the
government-orchestrated mass closure
of the nightclubs there, and the remaining shops and art galleries catering to decidedly more bourgeois sensibilities than before. Even on the side streets, the charming old Victorian cottages are nowadays more likely to be home to trendy urban yuppies than to counterculture types.
The
Delaware District
follows
Delaware Avenue
and its adjacent streets from the northern border of Allentown to Delaware Park. Though there is little here in the way of entertainment, especially compared to Allentown, the area is of interest to visitors due to the lavish mansions that line its main thoroughfare. Once one of the most prestigious addresses in America, the breathtaking residences along Delaware Avenue are an architecture lover's dream come true: elegant palaces from the Gilded Age that were once home to aristocratic Buffalo families like the Curtisses, the Rumseys, and the Knoxes. The portion of Delaware Avenue between North and Bryant Streets, where the densest concentration of original mansions can be found, is known as
Millionaire's Row
and has been listed on the National Register of Historic Places; however, huge mansions of this type can periodically be found as far north as Gates Circle.
The Delaware District, such as it is defined in this article, includes a number of peripheral areas that purists might argue to be separate neighborhoods. These include
Linwood Avenue
, a Local Historic District located a block east of Delaware Avenue that is densely lined with ample wood-frame houses only slightly newer and less luxurious than those on Delaware Avenue,
Oxford
, a more middle-class, mixed-race neighborhood situated southwest of the corner of Main Street and West Delavan Avenue, adjacent to Canisius College, and
Midtown
, a term developers have begun to use to describe the newly emerging business district along Main Street between approximately Summer and West Ferry Streets, straddling the Delaware District and the
East Side
.
History
Allentown
takes its name from Lewis Falley Allen, a native of
Westfield
, Massachusetts who arrived in Buffalo in 1827 and established an orchard and cattle farm on a 29-acre (10.5ha) lot that fronted on Williamsville Road, now Main Street. It was only six years later that Allen moved his farm to a much larger parcel he had just purchased on
Grand Island
, selling his former plot to developers hungry for new land for development for the growing city of Buffalo. Allen's land was soon joined on the market by a massive portion of the land belonging to future Mayor Ebenezer Walden; located on what is now the southern fringe of Allentown, Walden's land straddled what was then the border between the newly incorporated City of Buffalo and the Village of Black Rock, which was annexed by Buffalo in 1854.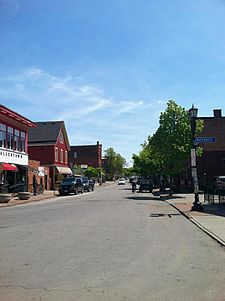 Meanwhile, the
Delaware District
, located relatively further from downtown than Allentown, began to urbanize slightly later; it remained farmland until 1868, when Buffalo's northern border was extended from North Street to Ferry Street. Fortuitously for the neighborhood, the following decades saw probably the most rapid growth of population and economy in Buffalo's history. The explosive growth of commerce and industry made millionaires out of many of Buffalo's citizens, and among the newly urbanizing outskirts of the city, the Delaware District was the most popular place for these newly minted aristocrats to build their homes: "Millionaire's Row" was well away from the congestion and bustle of downtown, yet directly connected to it via the broad, straight Delaware Avenue. The development by Frederick Law Olmsted of an extensive system of parks and parkways in Buffalo, with Delaware Park as its centerpiece, brought rapid urbanization to the northern part of the Delaware District, with still more lavish residences constructed along Chapin Parkway and on the streets immediately adjacent to Delaware Park beginning in the 1890s.
The beginning of the 20th Century saw the Delaware District and Allentown at the height of their fortunes, with Delaware Park playing host to the Pan-American Exposition — what many characterize as Buffalo's shining hour — in 1901. However, the area, along with the rest of Buffalo, eventually began to stagnate and decline: the period of deindustrialization and suburbanization that began after World War II, along with the mass exodus of Americans from the often cold and snowy Northeast to the sunnier climates of the West and South, saw Millionaire's Row abandoned by many of its titular residents for the suburbs or (more likely) other cities. Allentown, never having truly recovered from the Wall Street crash of 1929, for several decades verged on being an outright slum before its rediscovery in the 1950s by an emerging community of artists and bohemians (including what would come to be called "beatniks"), a reawakening that culminated in the founding of the North Street Association in 1960, which was soon renamed the
Allentown Association
.
However, the decline of Allentown and the Delaware District was not nearly as severe as that of other parts of the city; it was the location of this district on the west side of Main Street, and particularly along the still-elegant Delaware Avenue, that was its deliverance. Remarkably, with the exception of the noisy, intrusive Scajaquada Expressway which was routed through Olmsted's Delaware Park in 1961, the urban renewal that permanently scarred or altered other areas of the city barely touched Allentown and the Delaware District. For example, construction of the
West Side Arterial
, a proposed highway that would have run through Allentown near Virginia Street connecting the Kensington Expressway with Interstate 190, was opposed relentlessly by a grassroots coalition of community groups and was finally cancelled in 1976. Also, IBM's proposal to demolish three of the most sumptuous mansions on Delaware Avenue — the
Forman-Cabana House
, the
George B. Matthews House
, and the
Richmond-Lockwood House
— to make way for corporate offices was stymied and finally cancelled by the Delaware Avenue Historic District's nomination in 1974, and official addition in 1980, to the National Register of Historic Places.
In the present day, the stately homes on Oakland Place, Linwood Avenue, Chapin Parkway, and other streets in the Delaware District, as well as the charming red-brick Victorians of Allentown, are still largely occupied by residents; these neighborhoods, more than most in the city, have gained a new cachet during recent years as urban life has belatedly come back into vogue among citizens of Western New York and elsewhere in the so-called Rust Belt. Also still standing are the mansions of Millionaire's Row, though most of these have been converted to the well-cared-for headquarters of local corporations and not-for-profit groups.
Visitor information
The
Allentown Association
is the oldest neighborhood organization in Buffalo, with roots that stretch back to 1960; its
website
boasts a wealth of information for visitors, such as extensive historical information on many of Allentown's homes, buildings, and streets, a business directory, special event listings, and even a small selection of Allentown-related academic essays and literature.
Get in and around
By car
The
Scajaquada Expressway
(NY 198) is a short highway that closely parallels the northern border of the Delaware District (largely through Delaware Park), connecting the Kensington Expressway with Interstate 190. Delaware Avenue — the main thoroughfare of the Delaware District and also an important route through Allentown — is the site of one of the Scajaquada's busiest interchanges; those headed for these areas via the Scajaquada should exit via the southbound ramp, proceeding past Delaware Park and Forest Lawn Cemetery toward Gates Circle.
The
Kensington Expressway
(NY 33) is located on the East Side, but the Delaware District is easily accessible via its Best Street and Humboldt Parkway exits (the latter providing access to Ferry and Utica Streets, among others). Travelers using these interchanges to access the Delaware District should be prepared to traverse some sketchy neighborhoods while heading westward; this changes almost immediately after crossing Main Street, Buffalo's traditional and enduring dividing line between have and have-not.
As mentioned before,
Delaware Avenue
(NY 384) is the area's main thoroughfare, running north-and-south through the length of both Allentown and the Delaware District. Other main north-south routes through the area include, from west to east:
Elmwood Avenue
, a small portion of which runs through Allentown,
Franklin Street
(which becomes
Linwood Avenue
after crossing North Street into the Delaware District), which runs one-way (south to north) a block east of Delaware Avenue, and
Main Street
(NY 5), which forms the eastern boundary of the district. Major cross streets include (from south to north)
Edward Street
,
Virginia Street
,
Allen Street
and
North Street
in Allentown, and
Summer Street
,
West Utica Street
,
West Ferry Street
,
Lafayette Avenue
, and
West Delavan Avenue
in the Delaware District.
In Allentown, on-street parking on Allen Street and the side streets adjacent to it, as well as Elmwood Avenue, can be hard to come by — especially on Friday and Saturday nights, when the bars and restaurants are packed. North Street, Delaware Avenue, Virginia Street, and Main Street are better bets. Parking meters charge 50¢ per hour and are enforced on weekdays until 5PM. Off-street parking along Allen Street is available in the lot between
Nietzsche's
and
Exchange
(free), next to
Holley Farms
convenience store at the corner of College Street ($5 flat rate on Friday and Saturday nights; free other times), and in a small pay lot just west of Elmwood Avenue between
Falley Allen
and
Jim's Steakout
(same rate as the parking meters). In the Delaware District, on-street parking is prohibited along Delaware Avenue between North Street and Gates Circle, but is generally free and easily available elsewhere.
Rental cars
phone: +1 716 882-7045

address: 1477 Main St.

phone: +1 716 854-0283

address: 1312 Main St.
Car sharing
Members of
Zipcar
have access to a Honda Fit parked at
Antiques Allentown
on Elmwood Avenue in Allentown. The vehicle is available for a price of $9/hour or $74/day M-Th; $10/hour or $80/day F-Su. This price includes fuel, insurance, and 180 free miles (about 290 free kilometers) per day.
By public transportation
Public transit in Buffalo and the surrounding area is provided by the
Niagara Frontier Transportation Authority
(NFTA). The NFTA Metro system encompasses a single-line light-rail rapid transit (LRRT) system and an extensive network of buses. The fare for a single trip on a bus or train is $2.00 regardless of length. No transfers are provided between buses or trains; travelers who will need to make multiple trips per day on public transit should consider purchasing an all-day pass for $5.00.
By bus
Allentown and the Delaware District are traversed by a number of NFTA Metro bus routes:
To and from downtown
NFTA Metro Bus #7 — Baynes-Richmond
. Beginning at the
Richardson-Olmsted Complex
on Forest Avenue in the
Elmwood Village
, Bus #7 enters Allentown via Symphony Circle and passes eastward along North Street, turning south at Main Street with service to the Allen-Medical Campus Metro Rail Station. From there, inbound trips continue down Main and Pearl Streets on their way downtown, while outbound trips take Franklin Street north to Virginia Street, then continue eastward to Main. Bus #7 does not run Saturdays, Sundays or holidays.
NFTA Metro Bus #8 — Main
. Beginning at the University Metro Rail Station, Bus #8 proceeds down Main Street through both the Delaware District and Allentown (with service to all Metro Rail stations in the district) and ends downtown.
NFTA Metro Bus #11 — Colvin
. Beginning in
Tonawanda
, Bus #11 proceeds down Delaware Avenue through both the Delaware District and Allentown and ends downtown.
NFTA Metro Bus #20 — Elmwood
. Beginning in Tonawanda, Bus #20 proceeds down Elmwood Avenue through Allentown and ends downtown.
NFTA Metro Bus #25 — Delaware
. Beginning in Tonawanda, Bus #25 proceeds down Delaware Avenue through both the Delaware District and Allentown and ends downtown.
Crosstown routes
NFTA Metro Bus #12 — Utica
. Beginning on the
West Side
, Bus #12 proceeds along West Utica Street through the Delaware District, with service to the Utica Metro Rail Station, and ends at the University Metro Rail Station.
NFTA Metro Bus #13 — Kensington
. Beginning at the Utica Metro Rail Station, Bus #13 proceeds along Main Street through the Delaware District as far as Ferry Street, where it turns eastward and enters the East Side. It ends at the University Metro Rail Station.
NFTA Metro Bus #22 — Porter-Best
. Beginning on the West Side, Bus #22 proceeds along Summer Street through the Delaware District, with service to the Summer-Best Metro Rail Station, and ends at the Thruway Mall Transit Center in
Cheektowaga
.
NFTA Metro Bus #26 — Delavan
. Beginning on the West Side, Bus #26 proceeds along West Delavan Avenue through the Delaware District, with service to the Delavan-Canisius College Metro Rail Station, and ends at the Thruway Mall Transit Center in Cheektowaga.
NFTA Metro Bus #29 — Wohlers
. Eastbound trips begin on the West Side and proceed through Allentown via Cottage, Virginia, and Main Streets (with service to the Allen-Medical Campus Metro Rail Station), proceeding thenceforward through the East Side before turning westward again via East Delavan Avenue, ending at the Delavan-Canisius College Metro Rail Station in the Delaware District. Westbound trips traverse Allentown via Virginia, College, and Maryland Streets. Bus #29 does not run Saturdays, Sundays or holidays.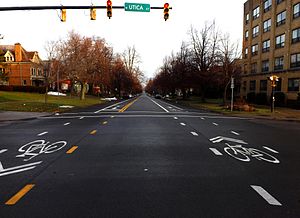 By Metro Rail
The
Metro Rail
is an LRRT line that extends along Main Street from the University at Buffalo's South Campus in
North Buffalo
southward to downtown, along the eastern border of Allentown and the Delaware District. The Metro Rail serves as the backbone of Buffalo's public transit system, accessed directly by many bus routes. Like the buses, the fare for the Metro Rail is $2.00 ($4.00 round-trip); the $5.00 all-day passes available on Metro buses are also valid for the Metro Rail.
There are three Metro Rail stations located in the Delaware District, and one in Allentown. From north to south, they are:
— Main Street at West Delavan Avenue (Delaware District).
— Main Street at West Utica Street (Delaware District).
— Main Street at Summer Street (Delaware District).
— Main Street at Allen Street (Allentown).
By bike
Buffalo has been making great strides in recent years in accommodating bicycling as a mode of transportation, with recognition from the League of American Bicyclists as a Bronze-Level "Bicycle-Friendly Community" to show for its efforts. Allentown and the Delaware District are among the most common places in the city to see residents commuting by bike or just enjoying a leisurely ride on a warm day.
In the Delaware District, Linwood Avenue boasts a bike lane on either side of the street for its entire length, as do the "S-curves" of Delaware Avenue between Nottingham Terrace and Forest Avenue. The Delaware Avenue bike lanes reappear further south in Allentown, starting at North Street and extending southward into downtown as far as Niagara Square. Also in Allentown,
"sharrows"
(pavement markings on roads too narrow to accommodate dedicated bike lanes, indicating that drivers should be aware of bicyclists on the road) are present along North Street from Symphony Circle to Main Street, along Wadsworth and Allen Streets between Symphony Circle and Delaware Avenue, and along Elmwood Avenue south from the Elmwood Village as far as Allen Street, thence continuing further south to Virginia Street as a pair of dedicated bike lanes. Word is that bicycle infrastructure of one form or another will eventually be added to all of Elmwood Avenue, southward into downtown.
Away from the city streets, the 1.1-mile (1.8 km)
multi-use trail
that circumnavigates Delaware Park's Hoyt Lake is especially popular among cyclists.
Bike sharing
You'll find three
Reddy Bikeshare
racks in Allentown:
at the corner of Allen and Wadsworth Streets, at the east end of Days Park
on the north side of Allen Street between Elmwood Avenue and Park Street, in front of Allen Burger Venture
on the west side of Franklin Street at the corner of Allen Street, on the side of Café 59
Additionally, all of Allen Street is a
free parking zone
for Reddy bikes, as is the stretch of Elmwood Avenue north of Allen. Here you can return your Reddy bike when you're done to any public bike rack without incurring the $2 fee for parking outside of a hub.
On foot
Allentown is a safe, pleasant, and compact neighborhood that lends itself particularly well to pedestrians — in fact, with its dense concentration of homes and businesses and relative lack of parking spaces, walking is arguably the most common method of transportation Allentown residents employ for traveling within the neighborhood. Contrarily, the more spread-out nature of the Delaware District makes it relatively less amenable to pedestrians.
See
The Bubble Man
Those who pass by the corner of Elmwood Avenue and Allen Street on a warm day may be surprised to notice a deluge of soap bubbles wafting out of the third-story apartment above Jim's Steakout. Since 2002, Chuck Incorvaia, better known as the
Allentown Bubble Man
, has been delighting area residents with his unusual hobby, which, according to an interview published in
Buffalo Rising
, began as a way for him to relieve stress. Now he's a beloved local institution, and Allentowners agree: the simple pleasure of watching bubbles floating above the city streets does go a long way in relieving the minor tensions of the day.
History
Benjamin and Dr. Edgar R. Cofeld Judaic Museum

phone: +1 716 886-7150

address: 805 Delaware Ave.

Located inside Temple Beth Zion, one of the oldest and largest Reform synagogues in the country, the Cofeld Judaic Museum encompasses a collection of artifacts and information relevant to Jewish history in Europe and the United States that is impressive given the small size of the facility. Many of these informative exihibits have been bequeathed to the museum by members of the congregation.

address: 29 Irving Pl.

A comprehensive list of all the architecturally and historically significant private homes in Allentown and the Delaware District would make this article far too lengthy to be useful; however, the two-story, front-gabled Italianate cottage at 29 Irving Place in Allentown is especially significant for a number of reasons. First and foremost, this is the house where F. Scott Fitzgerald, famous as the writer of The Great Gatsby and other magnificent works of Jazz Age literature, lived for five years during his childhood. Fitzgerald moved with his family to Irving Place at the age of seven, in 1903, after having lived briefly in the Hotel Lenox on North Street and then in Syracuse for a few years. His childhood friends said later that even at this young age, his intellectual curiosity and interest in literature as a student at Nardin Academy were apparent. Though his family was forced to move away after his father lost his job, he remembered his childhood in Buffalo fondly; even today, it does not take much imagination to envision Irving Place as a setting for some of the scenes in his novels. The later history of the house is a testament to Allentown's decline and rebirth after the stock market crash of 1929; by 1970, when its current owners purchased the place and restored it to its former glory, it had degraded into a seedy rooming house rented to scruffy transients. The F. Scott Fitzgerald House is also notable for having one of the few examples remaining in Buffalo of an intact Italianate portico — a style that is ubiquitous in Allentown.

Karpeles Manuscript Library (North Hall)

phone: +1 716 885-4139

address: 220 North St.

The brainchild of California real estate magnate David Karpeles, the Karpeles Manuscript Library is the world's largest privately-owned collection of historic documents and manuscripts. The library consists of twelve branches nationwide, including two in Buffalo: North Hall, located in the former First Church of Christ, Scientist in Allentown, as well as Porter Hall on the West Side. Travelling exhibits, highlighting historic documents of all descriptions, rotate among all twelve branches.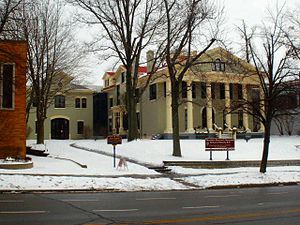 Theodore Roosevelt Inaugural National Historic Site

phone: +1 716 884-0095

address: 641 Delaware Ave.

The only property in Western New York operated by the National Park Service, the Theodore Roosevelt Inaugural National Historic Site is located in Allentown, in a lovely 1838 Greek Revival mansion that was the residence of Ansley Wilcox, a Buffalo lawyer and politico. In September 1901, several days after President William McKinley died in Buffalo of gunshot wounds he sustained while greeting attendees of the Pan-American Exposition, Vice-President Theodore Roosevelt stayed at the home of Wilcox, an acquaintance of his, and the Oath of Office was administered to him there. A planned demolition of the house in the early 1960s was averted at the last minute, and today the Wilcox Mansion has been thoroughly restored inside and out, and features historical displays related to Roosevelt, McKinley and the Pan-American Exposition as well as occasional temporary exhibits. The grounds of the Theodore Roosevelt Inaugural National Historic Site are planted with herb and flower gardens in season.
Architecture
More and more, Buffalo's exquisite and well-preserved architecture has grabbed the attention of locals and tourists alike. As of June 2017, there are 12 historic neighborhoods in Buffalo listed on the National Register of Historic Places, as well as nine additional ones that have been granted landmark status by the Buffalo Preservation Board. Of those districts, there are three in Allentown and the Delaware District that will be of especial interest to architecture buffs:
The

Allentown Historic DistrictLocated north of downtown, Allentown was the first Buffalo neighborhood to be listed on the National Register, with a history that dates back to the middle and late 19th century. It's characterized by small but lovely two-story brick houses in the Italianate, Gothic Revival, Second Empire, and other typical styles of the time. Among Allentown's most architecturally exquisite buildings are the Allendale Theatre and the seven houses that make up the Tiffts Row, both of which are located on Allen Street; the William Dorsheimer House on Delaware Avenue, and the former Buffalo Catholic Institute building on Main and Virginia Streets that is now home to the Church of Scientology.

The

Delaware Avenue Historic DistrictThough there's period architecture to be found along the whole length of Delaware Avenue, the listed district consists of the stretch between North and Bryant Streets, dubbed "Millionaire's Row". The opulence of Millionaire's Row testifies to the fact that Buffalo once had more millionaires per capita than any other city in the U.S. Most of the mansions have since been converted to office space for local corporations and not-for-profit groups. Among the many mansions along this stretch of Delaware Avenue are the Butler Mansion (at #672), the Clement Mansion (at #786, now the local chapter of the American Red Cross), the Richmond-Lockwood House (at #844), and the Charles W. Goodyear House (at #888).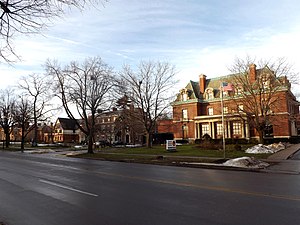 The

Linwood Local Historic DistrictThis district consists of the blocks bounded by Linwood Avenue, North Street, Delaware Avenue, and West Ferry Street, as well as the corresponding properties on the opposite sides of Linwood and West Ferry, and the properties on the opposite side of Delaware north of Bryant Street. Like the adjacent Millionaire's Row, Linwood Avenue rose to prominence after the Civil War as a playground of Buffalo's rapidly growing aristocracy, who built mansions there in a setting that was and is bucolic yet distinctly urban; unlike Millionaire's Row, the majority of the old houses in the Linwood Historic District are still used as private residences. Substantial wood-frame houses in the Colonial Revival, Queen Anne, Shingle, and other turn-of-the-century styles are the rule here; these include the Charles R. Huntley House (#440 Linwood Avenue), the unusual Henry Crane House (#420), and the Albert J. Wright House (#242).
Forest Lawn Cemetery is also the site of a mausoleum designed by renowned architect Frank Lloyd Wright:
phone: +1 716 885-1600

address: 1411 Delaware Ave.

Forest Lawn Cemetery, whose vast, manicured green space full of sprawling shade trees and songbirds was one of his favorite places in Buffalo, is the site of the mausoleum Frank Lloyd Wright planned some time between 1925 and 1928 as the final resting place of his friend and benefactor, Darwin D. Martin. Though Martin's fortune was obliterated by the great stock market crash of 1929, the Blue-Sky Mausoleum was completed in 2004 to the original blueprints, and supervised by Anthony Puttnam, an architect trained by Wright himself. An exemplary adaptation of Wright's "organic" Prairie-style architecture, the mausoleum consists of twenty-four double-tier crypts contained in sprawling, horizontal slabs of white Vermont granite embedded into a gently sloping lawn next to Crystal Lake, with a stout monolith crowning its summit. The architect described his design as "a burial facing the open sky — a dignified great headstone commune to all." For exceptionally dedicated admirers of Wright, crypts are available for purchase (call for pricing and other details). As for Martin himself, he died penniless in 1935 and was buried quietly in a different grave in Forest Lawn that was long left unmarked, but was finally adorned with a headstone in 2007 courtesy of the Forest Lawn Heritage Foundation.
Art
Allentown boasts perhaps the largest and most longstanding community of artists in Buffalo, with an abundance of galleries for every taste. A good time to experience the art scene there is during
First Fridays
— a free gallery walk that takes place on the first Friday of each month (hence the name), when the galleries of Allentown and the lower Elmwood Village stay open late and often hold openings and other events, and folks can take in live music and performances or enjoy special deals at nearby shops and restaurants.
The fashionable Delaware District has its share of galleries as well, which tend to be more highbrow than their scruffy, bohemian (and, arguably, more interesting) counterparts in Allentown.
In addition to the places listed here, the
Buy
section includes a listing of galleries that offer works for sale, rather than display only.
phone: +1 716 885-2251

address: 1 Linwood Ave.

The Artists' Group Gallery is named for and operated by the Western New York Artists' Group, a not-for-profit organization that promotes both well-known and emerging artists from Buffalo and the surrounding region. These works come in all media, but paintings — especially watercolors — are particularly overrepresented on the walls of this modest-sized gallery space. The Artists' Group philosophy holds that the whole community should have access to a range of artistic voices that speak to them on a personal level; to that end, the gallery puts on about a dozen exhibitions a year (including a series of juried members' exhibitions that is a springtime tradition at the Artists' Group Gallery) and also offers lectures, watercolor classes, workshops, concerts and other programming that's open to the public.

phone: +1 716 631-5777

address: 124 Elmwood Ave.

Located in the Elmwood Avenue offices of Autism Services, Inc. — a disability services organization that's famous for using art therapy as a cornerstone of its treatment plans — Atrium 124 Gallery shows changing exhibitions of work by local artists with autism, Asperger's syndrome, and related disabilities.

phone: +1 716 536-5669

address: 148 Elmwood Ave.

The ¡Buen Vivir! Gallery is located in the former B West Studios, right next door to the headquarters of the Global Justice Ecology Project that operates the space under the curatorship of its board chairman, local photojournalist Orin Langelle, an intrepid artist-cum-activist who has risked his life in some of the most geographically and politically inhospitable regions of the world to create works with a focus on the effects of climate change and other environmental catastrophes, as well as other social and human rights injustices — "concerned photography", he has dubbed his genre. The gallery's name in Spanish translates to "living well", which is meant to signify the harmonious coexistence of humans with the Earth, and which is fitting of the hopeful and uplifting message that shines through in the work displayed here despite the harshness of its subject matter.

phone: +1 716 854-7457

address: 408 Franklin St.

The C. G. Jung Center is not only the home of the Analytical Psychology Society of Western New York, but it also doubles as an art gallery featuring works by well-known and up-and-coming local artists, as well as symposia, lectures, and workshops on a wide variety of topics relevant to Jungian psychology.

phone: +1 716 882-8100

address: 1120 Main St.

Opened in October 2013 with "Electric Primitive", an exhibition by local painter LeRoi Johnson, this brand-new gallery is housed in a stunning 1926 Art Deco building that was built as the REO Motor Car Company's local dealership. This stretch of Main Street was Buffalo's "Auto Row" at that time, and owner John Fatta has done justice to the massive size of this cavernous old showroom by converting it into a sleek and minimalist exhibition space whose "sheer size", to quote the owner in a recent Buffalo Rising article, allows art fans to "stand back and really appreciate the works that are being displayed." The Eleven Twenty Projects will host changing exhibits of works by various artists, as well as Fatta's own collection of antiques and other curiosities.

phone: +1 716 578-3782

address: 91 Allen St.

El Museo has been open in Allentown since 1981, serving its mission of exhibiting contemporary works by artists of color. Its initial focus on works by Latino artists has been complemented in recent years by representations of African, African-American, Asian, American Indian and Caribbean culture, in visual art as well as other media. El Museo presents six to eight exhibitions per year and is an excellent place to appreciate groundbreaking works created by emerging artists from the local area who reflect cultures that are traditionally underrepresented in the art world.

Indigo Art

phone: +1 716 984-9572

address: 47 Allen St.

Elisabeth Samuels curates this neighborhood art gallery on Allen Street that opened in 2008 and is located at the former East End Salon. Supporting emerging artists from Buffalo and the surrounding region working in such diverse media as drawing painting, sculpture, photography, textile art and printmaking, Indigo Art displays changing exhibitions of the work of Western New York's vibrant arts community.

phone: +1 716 882-5777

address: 140 North St.

An award-winning art appraiser and philanthropist who was responsible for, among other accomplishments, directing the selection and inclusion of public art displays in the NFTA Metro Rail system, Nina Freudenheim has operated her eponymous art gallery on the first floor of the Hotel Lenox since 1975. Both the permanent collection of the gallery and the traveling exhibitions that are held reflect the curator's enduring commitment to showing the finest contemporary art, craft and photography by both well-established and emerging artists. The Nina Freudenheim Gallery has placed works in a number of prestigious institutions including the National Portrait Gallery in Washington, D.C. as well as Buffalo's own Albright-Knox Art Gallery. In addition, fine art consulting and appraisal services are also offered.

phone: +1 716 882-0890

address: 293 Linwood Ave.

In an ample old Queen Anne-style house on historic Linwood Avenue can be found the studio and gallery of Romanian-born artist Ella Joseph, whose works have been displayed at the Museum-Kunst-Palast in Düsseldorf and locally at Hallwalls Contemporary Art Center, as well as at the Buffalo Infringement Festival. In fact, the Infringement Festival is your best bet for access to Ms. Joseph's truly avant-garde installations of video and theatrical performance art which seem to celebrate the ephemerality or transience inherent in the genre; however, interested visitors can contact the artist directly for private showings.

phone: +1 716 882-0391

address: 1243 Delaware Ave.

This unassuming midcentury building on Delaware Avenue is not only home to the Unity Church of Practical Christianity, but also a gallery that, since 2002, has hosted a neverending series of two-month temporary exhibits featuring local artists displaying their work in solo and group shows, in a multiplicity of different media. If the "crafty" side of art is what you're into, check out the schedule: exhibits of handmade jewelry, enamels, quilting, and needlework are popular admixtures among the usual retinue of painting and photography.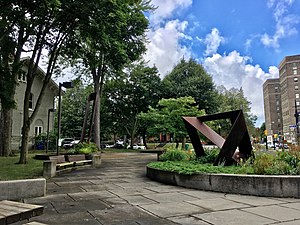 If it's a sunny day and you'd rather enjoy some
al fresco
art than be cloistered inside a gallery, head to the north edge of Allentown, where you'll find...
Sisti Park

address: 42 North St.

Sisti Park is a small public sculpture garden at the corner of Franklin and North Streets established in 1981 in homage to sculptor Tony Sisti (1901-1983), who lived and operated his studio in Allentown beginning in the 1930s, and taught at the prestigious Art Institute of Buffalo. The park contains two untitled metal sculptures by local artist Duayne Hatchett, as well as attractive plantings and benches to stop and relax on.
Outdoors
phone: +1 716 885-1600

address: 1411 Delaware Ave.

It may seem strange to place a cemetery on a list of tourist attractions, but Forest Lawn is more than just a burial ground. Located immediately south of Delaware Park, Forest Lawn was founded in 1849 as a rural-style cemetery on what was then the outskirts of town, and serves today as an arboretum, nature preserve, and celebration of Buffalo's rich history. "Sundays in the Cemetery" tours are offered seasonally; conducted variously on foot (sensible shoes are recommended) and on trolleys, each of these themed excursions explores a different aspect of local history through an exploration of the lives of individuals buried at Forest Lawn. Famous people who have been laid to rest here include President Millard Fillmore, Prince Kyril Scherbatow of Imperial Russia, Congresswoman Shirley Chisholm, aviation pioneer Lawrence Bell, Seneca Indian chief Red Jacket, singer Rick James, and many mayors and other prominent citizens of Buffalo. Deer, birds and other native wildlife are commonly seen strolling these 269 acres (108 ha) of impeccably landscaped greenery, and architecture buffs will love the mausoleums and memorials designed by such Buffalo architecture luminaries as Richard Waite and George Cary, and especially the Blue Sky Mausoleum, completed in 2004 from a design by Frank Lloyd Wright.
Blue-Sky MausoleumSee "Architecture" subsection above.

Margaret L. Wendt Archive & Resource Center

phone: +1 716 332-2233

address: 1990 Main St.

If researching your family history is a priority for your visit to Buffalo, Forest Lawn's Margaret Wendt Archive & Resource Center may be the place for you. Here you'll find a collection of over 1.2 million archived family records and other historical documents tracing all aspects and periods of local history, pertaining equally to those buried at Forest Lawn and elsewhere. The Margaret Wendt Center also employs a staff of professional genealogy experts who can provide personalized assistance and service.

Serenity FallsLocated on the grounds of Forest Lawn Cemetery, where Scajaquada Creek meets the Onondaga Escarpment, Serenity Falls may not have the majesty of other waterfalls in the area like Glen Falls in Williamsville or Akron Falls in Akron — let alone of the mighty Niagara Falls — but this charmingly understated hidden gem is one of only two natural waterfalls within Buffalo's city limits. Located in Section 20 of the cemetery, visitors can park along the side of the road, from which point they'll already be able to hear the rushing water, and walk a short distance upstream along the bank of the creek to the series of rapids and a flight of seven small cascades, 12 feet (3.6m) in total height, that makes up Serenity Falls. The falls are best visited in spring and late autumn, when the leaves on the trees don't block the view — the banks of Scajaquada Creek are very steep, and there are no trails or other methods of approach that lead directly to the falls.
Parks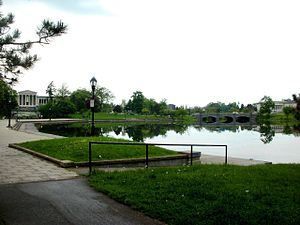 phone: +1 716 838-1429

address: North end of Lincoln Pkwy., behind Albright-Knox Art Gallery

With an area of 234 acres (93 ha), Delaware Park is the central node in Buffalo's park system, by far the largest park in Buffalo, and one of the largest and best-preserved examples of Frederick Law Olmsted's landscape architecture anywhere. All the classic Olmsted features are present here: a large, grassy Meadow that is now the site of the Delaware Park Golf Course, thick stands of trees, and Hoyt Lake, the 46-acre (18.5ha) pond in the southwest corner of the park that Olmsted originally named "Gala Water". An essay by Charles Beveridge on the Olmsted park system in Buffalo describes how well Delaware Park continues to fulfill its intended role as a place for Buffalonians to experience nature and greenery without leaving the city limits; Delaware Park, as per his essay, is "the only public space designed by Olmsted in Buffalo that met his definition of the term 'park' — a setting of pastoral scenery extensive enough to provide complete escape from the artificiality and noise of the city." Delaware Park is popular year-round, but is most often enjoyed during the warm months, when walking, bicycling, jogging, tennis, golf, and basketball are popular activities, and the renowned Shakespeare in Delaware Park outdoor festival, which takes place here each summer and which is described more thoroughly in the Festivals and Events section below. Hoyt Lake is surrounded by a lovely walking/biking trail and features rowboats and paddleboats for rent at the Marcy Casino during the summer months. Delaware Park is also the site of the Buffalo Zoo.
Delaware Park Rose GardenDelaware Park's beautiful Rose Garden is located directly off Lincoln Parkway behind the Marcy Casino, and blooms in season with thirty-three beds of beautiful red, purple, yellow and white roses, many varieties of which have been honored in the past as All-America Rose Selections. The rose garden was not part of Olmsted's original design for the park, but was instead added to the park in 1912. Although its formality contrasts incongruously with the quiet, curvilinear naturalism of the park's original features, the Rose Garden is nonetheless lovely and renowned, and was recently subjected to a thorough restoration at the hands of the Buffalo Olmsted Parks Conservancy. The impeccably manicured garden also includes a working fountain and pyramidal trellises, and a grand pergola at its rear. The garden, and Delaware Park in general, is immensely popular with bridal parties during rose season; don't be surprised if you have to dodge gaggles of bridesmaids posing for endless pictures!

Japanese GardenInaugurated in 1974 as a gesture of friendship between Buffalo and its sister city of Kanazawa, Japan, Delaware Park's Japanese Garden is located on six acres (2.4ha) on Hoyt Lake, behind the Buffalo History Museum. This beautifully manicured oasis of greenery slopes gently down from Nottingham Terrace to the shore of the lake, also encompassing three small islands in the lake connected to the mainland by a lovely ornamental footbridge. Over the past years, the Buffalo Olmsted Parks Conservancy has been hard at work restoring and maintaining the more than 1,000 plantings of ornamental trees, shrubs and plants in the garden, including a large stand of Japanese cherry trees, and also have added or will soon add a stone garden and an authentic karesansui waterfall. Amid it all there are many benches and other sitting areas perfect for serene contemplation of one's peaceful natural surroundings.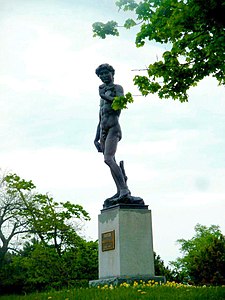 Public artThere are a number of installations of public art peppered around the grounds of Delaware Park. These include:
:*
DavidThis bronze replica of Michaelangelo's iconic sculpture David is the work of the firm of Sabatino de Angelis and Sons, based in Naples, Italy. In 1903, three years after seeing it on display at the Exposition Universelle in Paris, Buffalo businessman Andrew Langdon purchased the statue from the firm, with the stipulation that no casts of the sculpture would be sold to any other American clients. Langdon donated the statue to the Buffalo Historical Society, and it has been on display near Hoyt Lake ever since.
:*
The Indian HunterA bronze figure of a boy in American Indian garb crouching over next to his dog, bow and arrow in hand, The Indian Hunter is a replica of the statue of the same name that's on display in New York City's Central Park. According to the plaque on its pink granite pedestal, Buffalo's Indian Hunter was donated to the city in 1926 by Ella Spencer Darr in memory of her husband Marcus. The original sculpture is the work of artist John Quincy Adams Ward, and was cast in 1866.
:*
Spirit of WomanhoodA work of renowned local sculptor Larry Griffis, this 15-foot-tall (4.5m tall) bronze statue is a modernist, stylized rendering of a nude woman holding over her head a metal hoop six feet (1.8m) in diameter. The vertical orientation of the sculpture, and the upward gaze of the figure's head, are symbolic of optimism and hope, and the hoop represents the world, eternity, and the cycle of life. Griffis cast this sculpture in December 1962 in honor of Marian de Forest, the founder of Zonta International, a service organization dedicated to the advancement of women that traces its roots to Buffalo.
:*
Wolfgang Amadeus MozartThe first installation of public art to be placed in Delaware Park and one of the first in the entire city, this 4-foot (1.2m) bronze bust of the most prolific, prodigious and influential composer of the Classical era was sculpted by Olin H. Warner for the Buffalo Liedertafel — a fact that bears testament to the profound importance of the German-American community in Buffalo's history, who made up more than half of the city's population when the statue was dedicated in 1894. The statue's pink granite base contains a number of bronze plaques inscribed with biographical facts about Mozart's life, the titles of some of his important works, and honorifics. Today, Mozart serenely overlooks Hoyt Lake from a spot near the Buffalo History Museum.
:*
Young LincolnLocated (appropriately enough) adjacent to Lincoln Parkway, this bronze statue depicts Abraham Lincoln seated on an oak log with an axe at his feet and a book on his right knee, symbolizing his transition in life from humble farm labor to the highest achievement of American statesmanship. The work of sculptor Bryant Baker, Young Lincoln was cast in bronze in 1935; on its pink granite base is inscribed a quote from poet James Russell Lowell: "For him her old world moulds aside she threw, and choosing sweet clay from the breast of the unexhausted west, with stuff untainted shaped a hero new."
Delaware Park is far from the only Frederick Law Olmsted park in the city — on the contrary, all of Buffalo is crisscrossed by Olmsted's park and parkway system, designed by him in stages beginning in 1868, and part of which is found in the Delaware District. Olmsted's "parkways" are wide, verdant avenues modeled after the grand boulevards of Paris, and lined with multiple rows of large shade trees. They serve as approaches to the parks, or extend from one park to another, and were intended to enable visitors to travel between parks without ever leaving a green and natural environment (for a long time, automobile traffic was prohibited on the parkways). Running south from the entrance to Delaware Park are three parkways, one of which, Chapin Parkway, is located in the Delaware District. Chapin Parkway's southeastern terminus, }, was also originally laid out by Olmsted, but was later redesigned in the Beaux-Arts style by eminent local architect E. B. Green. Early on, the Olmsted parkways became popular places for Buffalo's moneyed aristocracy to build their homes; much like Millionaire's Row and Linwood Avenue, the parkways near Delaware Park are the site of some of Buffalo's most palatial mansions.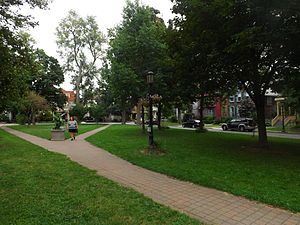 There are also a number of smaller parks and green spaces scattered around the district. Notable among these are the two residential parks located in Allentown. is a two-acre (0.9 ha) green space on the site of a former cow pasture at the west end of Allen Street, which its owner, Thomas Day, donated to the city in 1854. Some time later, Days Park was redesigned by Frederick Law Olmsted, whose plan to eventually integrate it into his park and parkway system never materialized. is a smaller residential park a short distance northeast of Days Park, which is most famous as the place Frank Lloyd Wright lived while designing the Darwin D. Martin House in North Buffalo. Both of these beautifully landscaped swaths of greenery still boast beautiful and fashionable Victorian cottages around their perimeters, in Italianate, Second Empire, Gothic Revival, and other styles popular in the late 19th Century. They are lovely places for a picnic or leisurely walk on a warm day.
Do
Festivals and events
Delaware Park
serves as one of the busiest venues for Buffalo's huge and growing slate of annual festivals, with a wide range of activities taking place there year-round. Additionally, Delaware Avenue and Allen Street in Allentown is the site of the
Allentown Art Festival
, where Buffalonians kick off the summer each June at the longest-running and best-known annual event in the city.
Spring
Buffalo St. Patrick's Day ParadeSince 1940, on the closest Sunday to March 17th, Allentown, as well as downtown, has been the scene of New York State's second-largest St. Patrick's Day celebration, held by the Buffalo United Irish-American Association. Traditionally, Mass is said by the Bishop of Buffalo at St. Joseph's Cathedral on Franklin Street immediately before the participants gather at Niagara Square, marching up Delaware Avenue through Allentown as far as North Street. The grandeur of this event is testimony to the continuing importance of Buffalo's Irish-American community.

Buffalo Cherry Blossom FestivalBuffalo's Cherry Blossom Festival serves as both a tribute to the city's sister-city relationship with Kanazawa, Japan, as well as a fundraiser for the continuing upkeep of Delaware Park s Japanese Garden. This weeklong festival usually takes place about three weeks after its much more famous counterpart in Washington, D.C., with peak bloom in early to mid-May. In between admiring the lovely trees, you can also catch live music, take a boat ride on Mirror Lake, and — especially — take a taste of Japanese culture with bunraku puppet theater performances and a traditional tea ceremony on the portico of the Buffalo History Museum. Expanding their scope far beyond the Japanese Garden, the Buffalo Cherry Blossom Festival's organizers also sponsor cherry tree plantings all over the city, and will even sell you one to plant in your own yard.
Summer
Autumn
Music Is Art FestivalThe brainchild of Robby Takac, longtime bass guitarist for Buffalo-based rock band The Goo Goo Dolls, the Music Is Art Festival was founded in 2004 and originally was held in Allentown in June to coincide with the Allentown Art Festival before moving to Delaware Park in 2008, where it now takes place in mid-September. The Music Is Art Festival "celebrates all that is weird and wonderful about arts scene in Western New York" (in the words of a recent feature article in the Buffalo News) by presenting a constant stream of creative performances of live music of all genres by artists of local provenance, on several stages.
Golf
Delaware Park Golf Course

phone: +1 716 838-1249

address: 84 Parkside Ave.

Opened in 1930 on the site of Delaware Park's Meadow, the Delaware Park Golf Course is arguably the most popular golf course in the city. Golfers can enjoy playing a full 18-hole game in a beautifully landscaped environment; the course is par 68 and its longest tees have a yardage of 5,359 yards. The Parkside Lodge is a lovely 1914 Craftsman-style building that houses a snack bar and the course's pro shop. An interesting historical feature of the Delaware Park Golf Course can be found near the fourth hole; a monument there pays tribute to two or three hundred War of 1812 soldiers, who succumbed to disease and were buried on the site in 1812-13, while stationed for the winter on what was then the rural farmstead of Dr. Daniel Chapin.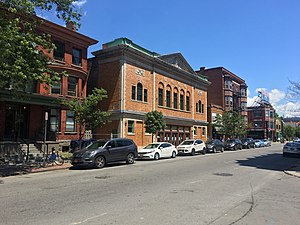 Theater
phone: +1 716 819-9653

address: 203 Allen St.

The Theatre of Youth is a not-for-profit professional theatre company that is the only one in the Niagara Frontier dedicated to presenting works for young people and families. At the , the Theatre of Youth stages performances such as Pinkalicious and Charlotte's Web for 30,000 audience members per year with a goal of instilling in young people an enduring appreciation for the performing arts.
Live music
Allentown's bars are some of the best places in Buffalo to see local singer-songwriters and rock bands play. The scene here is brimming with talent, and very tight-knit: the bands all know each other socially and from sharing bills, and tend to gig around all the venues in the neighborhood, musical chairs-style. The places listed below are all fairly interchangeable — laid-back, intimate venues populated by typical Allentowners. In addition, a few other venues present a more eclectic range of performances.
And, if you'd like to take in some local music but don't fancy shelling out for a cover charge or dealing with cheek-to-jowl barroom crowds, Allentown is also the center of Buffalo's small but growing
busking
scene. On Friday and Saturday nights anytime other than the dead of winter, you'll find artists and groups performing for passersby at various locations along Allen Street. However, the one place where you'll invariably encounter a busker is the sidewalk in front of the
Holley Farms
parking lot, at the corner of College Street directly across from the
Allen Street Poutine Company
.
Buy
Allentown
Clothing
phone: +1 716 883-0871

address: 89 Allen St.

A purveyor of "beautiful clothing for interesting women", the Allen Street Dress Shop is the place to go in Allentown for creative and chic clothing and accessories at reasonable prices, from such brands as Kiko, Anthropologie, and Cut Loose, as well as by new designers on the cutting edge of fashion whose lines are displayed on the store's website.

Class Act

phone: +1 716 602-8128

address: 40 Allen St.

At Class Act, fans of urban fashions will be in heaven among a selection of bold apparel for the trend-setting urbanite: the colors are bright (if you look good in gold, this is your place), the patterns are vibrant and often display a hint of Afrocentric flair, and the styles are sassy and make a strong statement. Accessories such as handbags and jewelry continue along those lines, and perfumes, colognes and stylish gifts are available from J's House of Fragrances co-located in the same storefront. The interior is interesting, too: the wood-panelled walls and dim lighting make for a strangely hip "basement rec room" ambience.

phone: +1 716 909-5975

address: 93 Allen St.

Owners Bridget Hodges and Eddie Patterson Jr. launched Freshly Dipped Clothing in 2008 as an online boutique selling a carefully curated inventory of premium, limited-edition streetwear, skatewear, and accessories. Then, in January 2015, they followed that up with a brick-and-mortar "flagship store" on Allen Street. If you're in the market for clothes that boast a streetwise urban style without skimping on quality, Freshly Dipped is the place to go: brands like Crooks and Castles, Rastaclat, and Sprayground fill the racks and shelves on their brightly lit, handsomely decorated retail floor.

phone: +1 716 884-1580

address: 445 Franklin St.

Named for the versatility of the shop's inventory — these items are suitable for any environment from the boardroom to the bedroom — Lace & Day is an upscale lingerie and ladies' sleepwear boutique where intimate apparel from such top designers and brands as Marie Jo, Empreinte, and Bedhead, is on offer in two floors of retail space: airy, high-ceilinged rooms are bathed in natural light for a pleasant, relaxing shopping experience. You'll also find a small selection of men's underwear including boxer-briefs from Saxx. Knowledgeable sales staff will not only happily direct you to the right product, but also offers custom bra fitting.

My Cuzin Vintage

phone: +1 716 908-5111

address: 168 Elmwood Ave.

Thirtysomethings rejoice: the 1990s never ended! Or at least you can pretend as much at this quirky Elmwood Avenue vintage shop. Old sports jerseys and gear are a specialty at My Cuzin, especially souvenirs from the glory days of the Buffalo Bills — original Jim Kelly jerseys, Zubaz pants, and Super Bowl merchandise from the four years Buffalo competed are highlights of the collection here. But even if you're not a football fan, My Cuzin has your nostalgia needs covered with t-shirts, jackets, hats, hoodies, sneakers, and other clothes emblazoned with quintessential relics of '90s pop culture, from the Atlanta Olympics to Garth Brooks to 3rd Rock from the Sun.

phone: +1 716 883-8615

address: 201 Allen St.

Rick's Sports Apparel has been, in their own words, "Allentown's Athletic Footwear Store Since 1984". Shoes are the main stock in trade here — the newest and best from brands like Nike, Timberland, and K-Swiss — but Rick's also carries athletic apparel like Champion tracksuits and jogging pants, New Era caps, as well as track and dugout jackets.

Trend Up/MS Eye Candy Boutique

phone: +1 347 962-6162 (Trend Up), +1 716 308-2093 (MS Eye Candy)

address: 85 Allen St.

The former Black Cat Vintage on Allen Street is the new home of this dynamic duo of fashion boutiques that moved in 2018 from downtown and the Elmwood Village respectively. Aside from that, though, little has changed: Trend Up is still where Giovanni Centurione purveys his über-stylish collection of contemporary clothing for modern urban males, with a range of hard-to-find designers such as DOPE, European Apparel, and Other UK represented, while MS Eye Candy is still a place to go for contemporary and fashionable women's clothing whose subtle yet eye-catching style quirks make them stand out from the mall brands.
Art and art supplies
phone: +1 716 884-1777

address: 78 Allen St.

Since 1985, Buffalo Big Print's focus has been the production of custom prints for such industries as fine art, advertising, and pre-press. A wide variety of specialty films and papers are used, such as digital photobase papers of the highest quality, artists' canvas, and 100% cotton rag papers. As well, services such as high-resolution digital image capture, digital restoration and enhancements, and custom finishing are provided to local artists. Buffalo Big Print also boasts a large gallery where the work of many local artists is displayed.

phone: +1 716 885-6343

address: 114 Elmwood Ave.

El Buen Amigo — "The Good Friend" in Spanish — is the name of the storefront gallery in Allentown run by the Latin-American Cultural Association of Buffalo. Aside from the works of art that are on display and for sale in the gallery, El Buen Amigo also hosts a wide variety of activities and programs reflective of the vibrancy of the local Hispanic community, including music, cultural enrichment programs, and Spanish language classes. El Buen Amigo also offers fair-trade crafts, clothing, and coffee for sale.

phone: +1 716 275-3648

address: 65 Allen St.

The Pine Apple Company is gallery and event space run by a sextet of local artists, and the operative word is "local": the Buffalo art world tends to be insular by necessity, a concept reflected in the name of the gallery (google the 2016 feature story in The Public that quotes co-owner Tom Holt for an explanation). Aside from the focus on local solidarity, though, there's no way to succinctly summarize what you might find here on any given day: come by to check out anything from watercolors to pen-and-ink cartoons to handmade plush toys to digital pop-art pieces, all representing the best of the Buffalo scene.
Antiques
Antiques Allentown

phone: +1 716 882-9535

address: 146 Elmwood Ave.

Antiques Allentown is a funky shop that's housed in an unmissable white and pink cottage on Elmwood Avenue just north of Allen Street. Specializing in primitives as well as small items from the 1960s and earlier, Antiques Allentown stocks antiques and collectibles for all budgets in a friendly environment. Layaway and estate management is also offered.

The Antique Man

phone: +1 716 883-2121

address: 234 Allen St.

A frequent winner in the "Best Antique Shop" category in Artvoice's annual "Best of Buffalo" poll, the Antique Man's specialty is music: LPs, cassettes, and CDs hang in the window and occupy a prominent place on the shelves here, with timeless classics from the likes of Jimi Hendrix, Bob Dylan, and Frank Sinatra for sale or even playing on the turntable in the store. As well, the Antique Man stocks a quirky selection of books, pamphlets, magazines, comic books, art, and miscellaneous trinkets to accompany the records.

Carl Slone - L'Été Antiques

phone: +1 716 884-0211

address: 65 Elmwood Ave

Founded in 1978 by its eponymous owner, Carl Slone, and located in an 1883 wood-frame Stick-style house, L'Été Antiques specalizes in a wide variety of gas and early electric light fixtures, with a particular emphasis on Art Nouveau, Art Deco, and Sheffield-style chandeliers and sconces, as well as stained and leaded glass of all varieties. Restoration and estate consultations are also offered.

Larry's Antiques

phone: +1 716 883-6255

address: 181 Elmwood Ave.

"Top Dollar Paid On the Spot" is the credo at Larry's Antiques. Since 1980, a wide range of unique and interesting antiques and collectibles has been on display and for sale at this charming store on Elmwood Avenue. Items such as fancy leaded glass and lamps, clocks, garden items, cabinets and furniture of all types are specialties at Larry's.

Patricia's Antiques

phone: +1 716 886-5486

address: 43 Allen St.

Patricia's is nothing if not a fleeting glimpse of a bygone, pre-gentrification Allentown: it's a rather ramshackle junk shop at first blush, but dig deeper into the clutter and you'll come up with unique finds pretty much every time in the realm of vintage fashions, furniture, and decorative bric-a-brac. The prices, too, seem to have changed little since back in the day — they're a far cry from what you'll find at most of Allentown's remaining antique shops. Opening hours seem to be purely by chance; there are none posted either at the store itself or anywhere online.
Gifts
phone: +1 716 844-8907

address: 67 Elmwood Ave.

Located on Elmwood Avenue just south of Allen Street, HeadSpace is Allentown's premier "head shop", stocking a wide variety of scientific glass pipes, artistic and decorative glassware, vaporizers, and other smoking accessories, as well as (interestingly enough) a modest selection of baseball caps.

Saibo African Imports

phone: +1 716 884-9481

address: 81 Allen St.

Featuring a bevy of imported fashion accessories and gifts: handcrafted necklaces, bangles, beads, earrings, sterling silver rings, handbags, a selection of Afrocentric literature, toiletries such as shea butter and essential oils, and hand-carved art imported from Mali, Senegal, Ghana and elsewhere. Dr. Lonnie Smith, the store's eponymous owner, is a friendly and interesting fellow — a local jazz musician renowned for his prowess on the Hammond B3 organ who's always around for a chat about politics, art, or current events, and often hosts readings of poetry and literature in his shop.
Furniture and home decor
Miscellaneous
phone: +1 716 370-2834

address: 220 Allen St.

This garishly decorated building, set incongruously amidst the party-bar district at the west end of Allen Street, is where you'll find Amanda Bernardini six days a week, whipping up a lovely spread of house-baked goodies that includes cinnamon rolls, an extensive line of gourmet specialty cupcakes, and a cookie selection crowned by the ever-popular Mexican Wedding Cakes. Grab-and-go is the usual procedure, but if you'd rather linger in these cheery, aromatic surroundings (perhaps on a cold winter's day over a cup of Tipico coffee), the dining room couldn't be more pleasant.

phone: +1 716 852-6838

address: 55 Allen St.

Founded in 1898 by brothers Frederick, Otto, and Thomas Rick, this is the second-oldest continually-operating bicycle shop in the U.S. — in fact, Buffalo native Albert Krushel, who helped the American time trial team to a bronze medal in the 1912 Olympics in Stockholm, rode a bike from Rick. Today they stock new and used bicycles from all the top brands, as well as helmets, bicycle shorts, patches, pumps and tool kits, lights and reflectors, water bottles, and other accessories. Professional staff are always on hand to recommend the right product for your individual needs.
Delaware District
Art
phone: +1 716 885-2251

address: 5 Linwood Ave.

Curated by Donald J. Siuta, a noted artist, educator and consultant who also serves on the Board of Directors of the Buffalo Arts Commission and as head of the Western New York Artists Group, the Art Dialogue Gallery exhibits a small but magnificent collection of paintings, drawings, photographs, sculptures, and works in other media by local artists. In addition, there are antique prints for sale, and Siuta puts his nearly forty years of experience to good use in offering the most comprehensive selection of custom framing in Western New York, with hundreds of mouldings to choose from.
Miscellaneous
phone: +1 716 881-2199

address: 190 Bryant St.

Catherine Gillespie has always been big on art that is beautiful as well as functional — things that serve a purpose more useful than to be idly hung on a wall and then barely noticed — and functional art is the name of the game at Chatham Pottery. Choose from a selection of unique, handmade stoneware pottery and dinnerware — plates and bowls, tea sets, coffee mugs and urns, vessel basins (custom-designed to mount in your kitchen or bathroom!) — designed by Gillespie herself, or commission your own if you prefer. And if you're looking for a less expensive but no less unique gift, Chatham has you covered with decorative kitchen tiles that run from $10 to $20.
Eat
Allentown
Budget
phone: +1 716 883-7437

address: 242 Allen St.

Allen Street Poutine Co. is Buffalo's first poutinerie, and like any good one, it offers not only the basic fries/gravy/cheese curd setup but also a host of different specialty toppings including General Tso's (with hot peppers and the namesake chicken), Montreal Smoked Meat (another classic Canadian specialty making its Buffalo debut here), and the huge Boss Poutine with five kinds of meat. The vibe is spot-on — a trendy, foodie-friendly take on the familiar greasy-spoon snack bar template — and so is the service, which really lives up to the stereotype of Canadians as unfailingly friendly, polite and self-effacing.

phone: +1 716 551-0160

address: 191 Allen St.

Cantina Loco offers an upscale and eclectic take on Mexican cuisine that's among the most interesting and best-loved in the city. Tacos, burritos, and carnitas are prepared with aplomb using high-quality ingredients; one of the more interesting choices on the menu is the fusion-style Koreatown Taco, with barbecue short ribs and kimchee served in a flour tortilla.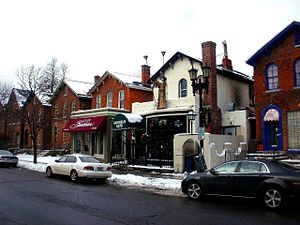 phone: +1 716 886-0602

address: 145 Allen St.

Located in a two-story brick house on the historic mid-19th-century Tiffts Row, Gabriel's Gate has been a popular restaurant and bar in the heart of Allentown practically forever. Ask a Buffalonian the best place to go for chicken wings that's off the beaten tourist path, and they're likely to direct you here. Apart from that, menu favorites such as ribs, sandwiches, and souvlaki are tasty and a bit more elaborate and upscale than your usual pub grub, and the back patio is undeniably a pleasant place to enjoy food and drink on a summer evening.

phone: +1 716 768-0426

address: 244 Allen St.

The specialty at Melting Point is a series of creative, upscale takes on everyone's favorite grade-school lunchbox treat, the grilled cheese sandwich, made with high-quality, locally-sourced ingredients and ordered by number rather than name. Highlights include No. 17 (Swiss cheese on pumpernickel bread with hand-carved Virginia ham, mustard, and a pickle), No. 25 (chèvre with arugula and house-pickled beets), and the ineffable No. 50 (ricotta on cinnamon swirl bread with banana coins, Nutella, and — get this — candied bacon). Add a side order of tomato basil soup (available in cup, bowl, or quart sizes) and you've got the kind of meal that can really warm you up on a dreary winter day in Buffalo.

phone: +1 716 884-1033

address: 571 Delaware Ave.

Panaro's is a small, family-owned and operated Italian restaurant open weekdays for lunch, with a take-out window available through dinnertime. The menu is surprisingly diverse, with a dizzying range of sandwiches, focaccias, entree salads, pasta dishes, and homemade specialty pizzas offered. Panaro's slate of appetizers includes a pasta fagioli soup that is beloved by many locals, as well as one of Buffalo's best Caprese salads. The dessert selection includes Italian specialties such as cannoli, pasticotti, and cassata cake prepared in-house.

phone: +1 716 885-7659

address: 846 Main St.

The only Western New York location of this little-known but delightful national chain serves a delicious assortment of hot and cold wrap sandwiches, salads and other light fare in the historic Granite Works buildings on Main Street at the east edge of Allentown. Though the food here gets decidedly mixed reviews (some have complained of unpleasant temperature contrasts in the filling of the hot sandwiches, which are stored chilled and heated after assembly, and many find the chicken to be bland and flavorless), the options are creative and gluten-free versions of everything are available on request (for no upcharge!), prices are decent, and the friendly, attentive, and knowledgeable service is a point in their favor.

phone: +1 716 768-3100

address: 149 Elmwood Ave.

First of all, don't be fooled by the fact that this place is in the "Budget" section — though the low prices reflect the light fare on offer, the Savoy experience is a decidedly upscale one. The small menu is divided about equally into appetizers (from classy takes on Buffalo standbys like chicken wings, stuffed banana peppers, and "loaded potato bites" to exquisitely executed truffle frites and a luxurious cheese plate) and delightful sandwiches, flatbreads and main-course salads. "Free Chicken Wing Fridays" pack the house (not a difficult thing to do at a place as small as this) until 8PM. But the real attraction here is the bar — see below.

phone: +1 716 884-5128

address: 186 Allen St.

Back in the '70s and '80s, the Towne was the place to wind down after a night of Allen Street bar-hopping, with a motley crowd of neighborhood bohos, drag queens, and starving artists congregating over a cup of coffee or bowl of hot soup until well past daybreak. Those days are long gone, and the Towne of nowadays is a shadow of its former self (it doesn't even stay open 24 hours anymore!), but if you want an authentic old-school Greek diner experience without crossing the city line, it's pretty much your only option. Souvlaki meat is dry and bland, miles away from the delectable flavor of what you'll find at Pano's and the Acropolis, but the avgolemono soup and Greek salad are still impressive.
Mid-range
ABV

phone: +1 716 768-0386

address: 175 Allen St.

Allen Burger Venture's menu comprises burgers of dry-aged, grass-fed, hormone-free Angus beef ordered by number — standouts include #2, their take on beef on weck with au jus and caraway horseradish aioli, and #5, topped with bacon, jalapeños, and peanut butter — as well as "alternative burgers" made from pretty much every kind of ground non-beef protein imaginable, served in a dimly-lit, "Brooklyn hipster bar" ambience wherein seating is at long, warehouse-style tables and benches made of salvaged wood, walls are covered from floor to ceiling in vinyl album covers, and found objects are employed in novel ways as decorative baubles. And the acronym is no coincidence: those who've visited owner Mike Shatzel's other restaurants will be similarly impressed by the beer list.

phone: +1 716 882-8843

address: 245 Allen St.

Named for its location in a former hardware store, Allen Street Hardware is only the first in a long line of places on this stretch of Allen Street that were originally conceived as an upscale experience for a more refined clientele, only to throw in the towel and devolve into just another frat-bro party bar. Which is not to say, depending on what day and time you come, that you won't still feel a hint of the old identity: the menu (a selection of creative sandwiches, salads, burgers and panini, appetizers including a cheese and charcuterie board, and a few heartier entrees where seasonal ingredients abound) is a cut above the usual Allentown dives, and if you're in and out reasonably early you can avoid the obnoxious riffraff. For better and worse, a true Allentown experience.

phone: +1 716 362-0633

address: 370 Virginia St.

Betty's opened on Virginia Street in 2004 and quickly won the hearts of Allentown's hip community of bohemian urbanites with their friendly and funky staff, their cheerful ambience, and — of course — their fine food, including a legendary breakfast and Saturday and Sunday brunch. For dinner, Betty's serves a wide variety of entrees with a Mediterranean bent; the lentil salad plate is a personal favorite. Sandwiches, salads, and a kids' menu flesh out the offerings.

phone: +1 716 331-3047

address: 228 Allen St.

The chilled-out Billy Club is, simply put, a breath of fresh air on the west end of the Allen Street strip, otherwise dominated by party-hearty frat-boy pubs: situated in a bright and airy space in Noel Sutton's stunning Puritan Building, newly renovated after some four decades of vacancy. A small but expertly crafted selection of upscale pub grub is served up from the kitchen by head chef Scott Crombie — check out the "House Grind Burger" topped with arugula, pickled onions, and blue cheese; the hanger steak that comes dressed with braised onions and mini potatoes and drizzled in a blue cheese jus; and a yummy cheese and charcuterie plate — but the real highlight at Billy Club is the bar; see below.

phone: +1 716 240-9324

address: 25 Allen St.

At Buffalo Tikka House, the operative question is: how flexible are you? That is to say, if your waiter served you something different than what you ordered, and your protestations were met with only a vague promise to "take care of you next time", would you take it in stride? If not, that's understandable; normally it would be hard to recommend that kind of place under any circumstance. But it's tough to complain when the food is so good; miles ahead, in fact, of any other local Indian restaurant. Options range from the usuals (the namesake dish comes in a sweet-ish iteration perfect for those with tender palates) to specialties available nowhere else in Buffalo (fiery Chicken 65 packs an authentic flavor straight off the streets of Chennai), all 100% halal.

phone: +1 716 883-1880

address: 62 Allen St.

Though the heart and soul of the menu is still elegant yet affordable Italian fare, the slate of offerings at Café 59 has diversified considerably of late: rubbing shoulders with the pasta-and-sauce mains are delightful specialties such as salmon niçoise salad, a ratatouille tart, and Moroccan spiced chick peas. Lunch features a range of specialty sandwiches, burgers, and wraps. The ambience is airy and minimalist, and there's an ambitious range of local craft beers, imports and microbrews available at the bar, as well as a modest selection of Italian wines and locally bottled Johnnie Ryan sodas.

phone: +1 716 332-1885

address: 888 Main St.

Fans of French food in the local area have faithfully followed the seemingly neverending saga of local restaurateur Maura Crawford, from the original Le Metro in the Elmwood Village, to the suburb of Williamsville, and finally to the newest incarnation of the business, now renamed "Coco", on Main Street in Allentown at the former site of The Eights Bistro. Compared to other French restaurants in Buffalo, the cuisine at Coco trends more toward lighter bistro fare, offered at correspondingly more reasonable prices. The moûles frites are the star of the show on the dinner menu, which also includes a variety of salads, ciabatta, pasta, pizza, and — in a nod to France's former colonies in Indochina — an innovative (and vegetarian-friendly) take on Vietnamese pho.

phone: +1 716 436-5197

address: 561 Delaware Ave.

Along with the Towne, Gabriel's Gate, and a few others, Colter Bay is one of a dwindling rank of "old guard" Allentown eateries that has persevered relatively unchanged (despite new ownership and recent renovations) for decades. The place takes its name from a small bay on Jackson Lake in Yellowstone National Park, and indeed a Western theme manifests not only in the ski-lodge decor (wood panelling and mounted antlers abound) but also on a menu where sandwiches, burgers, and pub grub-style appetizers come with unique flourishes. Notable are the Elk Alley burger, which features a patty of the namesake meat topped with crusted goat cheese croquette and seasonal fruit jam, as well as Pepi's Run Poutine, an authentic take on the Canadian classic.

phone: +1 716 939-2807

address: 73 Allen St.

Genuine Mexican cuisine didn't arrive in Buffalo until the 2016 opening of Casa Azul downtown, but Don Tequila was a major precursor. There, chef Sergio Mucino cooks up the usual slate of tacos, burritos, enchiladas, and fajitas, as well as fare like carne asada and mole poblano that bridges the gap between the bastardized and the uncompromisingly authentic. The ambience is chic yet friendly, a lively Allentown approximation of an old Mexican cantina, and the staff displays a genuine flair for customer service. All meals are preceded by a delicious serving of complimentary chips and salsa, with guacamole also available for a nominal upcharge. And if you like tequila, head to the bar.

phone: +1 716 464-3903

address: 206 Allen St.

Taking its name from the 19th-century landowner whose cattle farm later became the neighborhood of Allentown, Falley Allen's menu of classic American pub grub and comfort food with an eclectic range of ethnic-fusion flourishes was described in Step Out Buffalo as "modern but approachable", with "just enough going on in the kitchen to keep foodies happy scaring Grandma away with... ingredients that sound like they're straight out of Hogwarts" (which perhaps explains the mixed clientele this place attracts; thirtyish Allentown hipsters rub shoulders freely with older patrons coming from a night out at Kleinhans or Shea's). All this in a rustic, hipster-friendly ambience of exposed brick, reclaimed lumber, and dim lighting ably summarized by one reviewer as "industrial steampunk".

Fast 'N Tasty

phone: +1 716 881-1832

address: 69 Allen St.

This place has always been a conundrum: opened in 2012 as one of the first Ethiopian restaurants in Buffalo, locals were torn between their love for the delicious food and their dismay at the unreliable opening hours and service that ranged from merely adequate to downright surly. As time went by and more Ethiopian eateries emerged, the owners responded by jettisoning half the menu and replacing it with Middle Eastern standards such as fatoush, kofta, and shawarma, further complicating matters. Still, if you're arguing with a traveling companion with a hankering for Lebanese, Fast 'N Tasty remains recommendable.

phone: +1 716 887-2971

address: 41 Virginia Pl.

Generous helpings of slow-cooked Southern comfort food. A carnivore's paradise of St. Louis pork ribs, pulled pork, beef brisket, barbecued chicken, catfish & more. Sinful sides include collard greens, cornbread, creamy mashed potatoes, baked beans, sausage gravy, and mac & cheese. Come hungry. Decent selection of domestic and imported beers.

phone: +1 716 834-4000

address: 59 Allen St.

Giacobbi's is not a cooler-than-thou hipster hangout by any stretch of the imagination, but also not out of place in the Allentown restaurant scene: the overall rule of thumb is casual Italian with a few upscale flairs here and there, and favorites on the menu include magnificent takes on chicken parmigiana and Milanese, an "Italian Nacho" appetizer (a flat pasta sheet fried crispy and topped with Italian sausage, hot peppers, olives, cheese and spicy marinara sauce), copious pasta dishes available either in individual portions or "family style", main course salads, and — above all — a slate of a half-dozen specialty artisan pizzas (or create your own). A decent selection of craft beers, wines and cocktails are available at the bar, and service is topnotch.

phone: +1 716 885-8084

address: 432 Franklin St.

Located in a handsome two-and-a-half-story Italianate villa built in 1866 for wealthy dry-goods merchant and landowner Cicero Hamlin, the experience at the Hamlin House preserves the dignified, old-school ambience expected in such a place while also offering serviceable food at surprisingly reasonable prices. The lunch menu can be accurately described as a slightly more upscale take on pub grub, with the usual assortment of burgers, and sandwich and salad selections that each include some interesting choices — but it's dinner where all the stops are pulled out; delicious steaks, chicken dishes, and seafood selections are the rule on Friday nights. A modest brunch is offered on Sunday.

phone: +1 716 235-8211

address: 916 Main St.

Veggie lovers who were dismayed over the closure of Merge on Delaware Avenue a while back can dry their eyes: while not everything at Homegrown Kitchen is 100% animal product-free, vegans are well cared for on an extensive menu encompassing build-your-own salads, a selection of non-dairy smoothies, and plenty in between. (And if honey is on your "okay to eat" list, you're in luck: the avocado sesame tofu salad, topped with crispy wontons and honey sesame dressing, is a real crowd-pleaser!) The place is set up to grab-and-go, but if you prefer to indulge onsite, the dining room sports a rustic yet modern decor, and there's even an indoor porch swing as seating! The main downside is a price point that's on the high side, a problem that's exacerbated by stingy portions.

phone: +1 716 884-1700

address: 140 North St.

Nestled inside the Hotel Lenox on North Street well off the beaten Allentown path, the Lenox Grill opened in 2012 with a menu of sturdy, blue-collar favorites reinterpreted in an upscale style. Start out with one of their slate of appetizers, mostly deep-fried offerings (including some great calamari), then move on to a juicy steak, delicious pork chop, or one of a range of chicken and pasta selections for the main course. If you'd prefer something lighter, try a "Pittsburgh-style" steak sandwich garnished with coleslaw and French fries in an imitation of the Primanti Brothers chain. Thumbs up for consistent service and an unpretentious ambience that "feels like it was carved out of an old Elks lodge" (says one reviewer); thumbs down for inconsistent food quality and prices that are a tad high for what you get.

Mother's

phone: +1 716 882-2989

address: 33 Virginia Pl.

Virginia Place is a narrow, one-way side street off Allen where some of Allentown's best off-the-beaten-path restaurants and bars can be found, and Mother's is number one with a bullet on that list. Mother's boasts a menu that makes up for in quality and creativity what it lacks in length (it is one page long), featuring exciting takes on chicken and steak, as well as a host of seafood options. Look for the image of the classic "Mother" tattoo that serves as the restaurant's sign.

phone: +1 716 322-5188

address: 26 Virginia Pl.

After a half-decade of constantly changing names and concepts — first Scarlet, then the Twilight Room, then the gay bar Fierté for a hot minute — the bar and restaurant at 24 Virginia Place seems to have finally settled on a New Orleans-style identity, one that is committed to with perhaps more aplomb than any other local Cajun joint: not only do superlative takes on gumbo, muffuletta, the shrimp po' boy, and the French dip sandwich all make their requisite appearances on the menu, but deep-fried alligator tail is a frequent visitor to the specials list! All this in an aesthetic that's classic "old Buffalo" to the hilt: two floors of exposed brick and ceiling rafters, oozing with charm.

phone: +1 716 405-2599

address: 153 Elmwood Ave.

Another Allentown restaurant named after a spot in the Wyoming Rockies? Yes indeed, but if you're expecting a menu inspired by the cuisine of the American West, as at Colter Bay, you've got another think coming. The name of the game at Teton Kitchen is a fairly incongruous mix of Thai specialties and sushi: the former is a limited range of extraordinarily well-executed renditions of the usual standards that suffer a slight bit from lack of heat (though if your spice tolerance is low, you may consider this a point in the place's favor); the latter are equally excellent and a good deal more numerous and creative as well. Customer service is another strong suit; these folks really go out of their way to please.
Splurge
phone: +1 716 885-1594

address: 581 Delaware Ave.

The brainchild of locally famous chef Paul Jenkins, Tempo serves innovative Italian-inspired cuisine in an upscale environment, with an extensive and high-quality wine list. Dinner is served nightly at 5PM; reservations are recommended.
Local chains
The following local chains have locations in Allentown.
Descriptions
of these restaurants can be found on the main Buffalo page.
phone: +1 716 886-2222

address: 194 Allen St.
Pizza
The following pizzerias are located in Allentown. Those who are interested in pizza delivery (as opposed to pickup) might want to also check listings in adjacent districts; local pizzerias will often deliver to several different neighborhoods of the city.
Allentown Pizza

phone: +1 716 885-0529

address: 94 Elmwood Ave.

address: 900 Main St.

phone: +1 716 881-2454

address: 35 North St.
Groceries
phone: +1 716 885-1104

address: 400 Virginia St.
Delaware District
Mid-range
Eggsperience Vasilis

phone: +1 716 436-3533

address: 1526 Main St.

Described succinctly in the Buffalo News as a "Greek family restaurant posing as a friendly neighborhood bistro", the second location of Eggsperience Vasilis serves up an extensive menu of food in a spacious dining room imbued with character by exposed brick walls and abundant natural lighting. Offerings begin with, but go far beyond, the classic Greek diner staples: the Buffalo chicken finger pita is a Hellenified nod to local cuisine, they get in on the poutine craze with a version topped with chicken souvlaki, and seafood takes center stage among the full-size mains. But breakfast (not surprisingly given the name) is where Eggsperience really shines, with a similarly encyclopedic selection of omelettes, specialty pancakes and crêpes, and other goodies.
Splurge
phone: +1 716 885-0074

address: 1375 Delaware Ave.

In the shadow of Olmsted's magnificent Gates Circle, the cuisine served at Hutch's is wide-ranging and of unrelentingly high quality. Appetizers are dominated by seafood selections as diverse as "Thai-high" calamari, Moroccan spiced shrimp salad, and mussels Scampi; these are accompanied by more typically Buffalo fare such as the stuffed poblano pepper that is a beloved regular on the specials list. Mains include a respectable stable of steaks and chops, chicken dishes, and seafood entrees, as well as the jambalaya pasta that is another favorite. Sandwiches and salads are also featured, and don't forget to save room for the delectable desserts including Hutch's homemade gelato and sorbet.

phone: +1 716 886-0089

address: 199 Lincoln Pkwy.

Delaware Park's Marcy Casino has played host to a restaurant throughout most of its history — records date all the way back to 1875 — and nowadays it serves an upscale menu described as "contemporary global cuisine", an understatement if there ever was one. Aficionados of cuisines the world over will probably find something to their liking, whether it be the Cantonese baozi on the small-plate menu, Argentinian skirt steak with chimichurri sauce and fried patatas bravas on the side, or Belgian-style duck frites. All this is served in a swanky supper-club ambience that really brings the rich history of the building into focus, but on summer days you can also enjoy one of the loveliest settings in the city on the namesake terrace overlooking Hoyt Lake.
Groceries
phone: +1 716 881-2045

address: 1384 Main St.
Drink
Allentown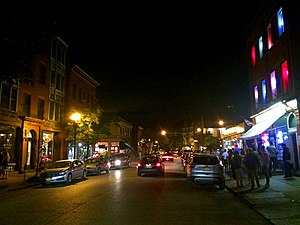 Allentown's bar scene has two faces. Show up on Allen Street on a Friday or Saturday night, when the obnoxious party crowd descends on the strip in droves from their homes in the 'burbs, and it quickly becomes clear what locals are talking about when they say enough is enough and it's time to put the brakes on the increasingly out-of-control hijinks. Typically, midnight is when "lively" tips over into "rowdy", and by 2AM vomiting in the streets, the occasional drunken brawl, and a general anarchic hedonism characterize the scene. But on weeknights things are completely different, and you'll actually experience a serviceable approximation of what it was like in the good old days — the strip is quiet and uncrowded, the ambience in the bars is decidedly more chilled out, and the clientele is mostly people from the surrounding neighborhood (or rather, the specific
type
of colorful neighborhood characters who tend to go out drinking in the middle of the week).
ABV

phone: +1 716 768-0386

address: 175 Allen St.

Come for the burgers, stay for the beer: while ABV's selection is not quite as expansive or eclectic as the one at Blue Monk — the storied, sadly short-lived Elmwood Village spot that had the same owner — it's nonetheless impressive, emphasizing craft beers from the local area and elsewhere around the Northeast plus a few West Coast microbrews and imports thrown in for good measure.

phone: +1 716 882-8843

address: 245 Allen St.

If you're a hipster foodie looking to quaff the obscurest beer you can find, show up at Hardware earlier in the evening and prepare to gawk at one of Buffalo's longest and most impressive selections thereof, spanning everything from big names like Bud and Labatt, to microbrews hailing from the local region and all over the U.S., to a decent selection of imports. If you're a frat guy looking to make an ass of yourself, show up past midnight when it gets rowdy. If you're a live music fan, check their Facebook page to see what's on in the Back Room.

phone: +1 716 235-8215

address: 197 Allen St.

If there's any bar on Allen Street that could be described as a "where everybody knows your name" type place, the Alley Cat is it. The ambience is stylish but not pretentious, the vibe is lively but not rowdy, the clientele is a mix of all different types of people — and drinks come cheap (case in point: a daily "beer and shot special" with Jameson, Crown Royal, or Cuervo sets you back a paltry $7). Free popcorn and Cheez-Its to munch on while you drink.

phone: +1 716 331-3047

address: 228 Allen St.

A more relaxed alternative to the usual Allentown party bars and dives, catering to a decidedly older and more upscale crowd. Owners Jake Strawser and Dan Hagen claim to be going for a "modern speakeasy" vibe, a nod to the real-life one that operated in the basement of this same building during Prohibition. But in reality the sleek lines, pastel tones, minimalist decor, and spherical hanging lights say "midcentury" much more than "Roaring Twenties", a perfect match for the Mad Men-worthy range of top-shelf whiskey, bourbon, and Scotch poured here.

phone: +1 716 436-5197

address: 561 Delaware Ave.

Colter Bay was one of the first places in town to tentatively dip its toes into the craft beer craze that would go on to take Buffalo by storm in the 2010s, and anyone who's ever been lucky enough to experience Blue Monk, the sadly-missed gastropub that launched Colter Bay's owner, Mike Shatzel, to local fame, knows what that means: there are some four dozen national and local microbrews on tap at the bar, as well as some craft ciders and house cocktails, all expertly mixed and poured in a refreshingly chill environment where the tightrope walk between hipster-friendliness and stifling pretentiousness is successfully mastered.

phone: +1 716 939-2807

address: 73 Allen St.

The Mexican food served up in the kitchen is the best in Allentown (albeit a far cry from, say, Rancho La Delicias on Niagara Street), but the real pièce de résistance is the bar, where you'll find not only a range of Mexican beers such as Pacifico and Tecate, but over 75 different varieties of tequila — true to its name, this place boasts what must be the best selection of tequila in Buffalo.

phone: +1 716 240-0359

address: 253 Allen St.

The best of both worlds here: the same party-hearty clientele as the other bars on the strip, but an ambience that's just a bit less scruffy, a food menu kicked up a notch from the competition (smoked Buffalo chicken wings are a perennial favorite), a beer list to rival Allen Street Hardware s, and live music in the back room.

phone: +1 716 464-3903

address: 206 Allen St.

Another Allen Street nightspot that started out hoping to offer a more upscale and chilled-out experience only to prove unable to stave off colonization by the usual rowdies, the typical clientele at the bar portion of the Falley Allen operation is as mixed as that of its restaurant. Choose from about a dozen house cocktails that continue the trend of old favorites with creative new twists, as well as a down-to-earth selection of beer composed equally of big-name domestics and imports as well as a few not-too-pretentious craft beers.

Frizzy's

phone: +1 716 883-5077

address: 140 Allen St.

Another dive bar catering to the usual Allentown crowd, Frizzy's serves up cheap beer in a low-key location away from the busy end of the strip. If a night at the bar is about more than just drinking for you, you can enjoy a round of darts, pool or foosball in the game room, play your favorite song on the jukebox, or even snap a selfie in the photo booth.

phone: +1 716 886-0602

address: 145 Allen St.

Gabriel's Gate is most famous for their chicken wings, but for folks of a certain age who've grown out of the "party 'til you puke" mindset, the chilled-out ambience of the bar and its location away from the brouhaha on a relatively quiet stretch of Allen Street are just what the doctor ordered. Enjoy a modest but diverse selection of big-name beers, local craft brews from the likes of Community Beer Works and Big Ditch Brewery, and house special Gabriel's Brown Ale.

Mulligan's Brick Bar

phone: +1 716 881-0545

address: 229 Allen St.

Opened in 1973, Brick Bar has been a haven for the obnoxious frat-boy crowd since back in the days when most of the bars on the strip were still populated by a mix of starving artists, gay men, and neighborhood weirdos. Of course, the bohos have mostly decamped for the West Side and the Allentown scene has gotten a lot rowdier since the clubs on Chippewa closed, but Brick Bar still lays a strong claim to the title of king of Allen Street party bars.

phone: +1 716 885-8539

address: 248 Allen St.

The quintessential Allen Street dive, and the one where you're most likely to get a hint of what the neighborhood was like before the douchebros took over — to the extent that "colorful neighborhood characters" are still a thing in Allentown nowadays, you're more likely to find them hanging out here than any of the other bars on the strip. Kick back with a cold beer or stiff mixed drink in the affably grungy, whimsically decorrated barroom, or enjoy performances by local bands or comedians (the Rust Belt Comedy Showcase happens every Tuesday at 8PM) in the back room.

The Old Pink

phone: +1 716 884-4338

address: 223 Allen St.

The dive-iest of the dive bars on the west end of Allen Street, the Old Pink was one of the main stomping grounds for Buffalo's punk, hardcore, and goth crowd in the '80s, and still looks the part today. Cheap beer plus a short menu of bar snacks including a killer steak sandwich in an ambience brimming with grungy character. And old habits die hard: on weekend nights, longtime DJs EVR and Dr. Know (sorry punkers, not the guy who plays guitar for the Bad Brains!) spin a diverse profusion of left-of-the-dial favorites.
Further east, you'll find the remnants of the old
gayborhood
, another facet of Allentown's identity that's fast disappearing into history. The two blocks between Franklin and Main Streets feature a cluster of LGBT bars catering to a tight-knit community that's held fast in the face of the changes that have swept over the area in recent years.
phone: +1 716 884-3615

address: 26 Allen St.

For better and for worse, walking into this longstanding pillar of the Allentown gay-bar district is like walking into a John Waters movie — a seedy place with a dated, dive-ier than dive-y ambience that's populated by a delightfully trashy rogue's gallery of neighborhood misfits whose abrasive attitudes will either charm you or put you off, depending on your personality.

Fugazi

phone: +1 716 881-3588

address: 503 Franklin St.

Off the main drag and not very well signed, Fugazi is where you go if you want a classy gay bar experience in Allentown — but that class comes at the expense of character; with no dance floor, karaoke, or any of the fun diversions of its competitors, the place comes off as bland and a bit pretentious. Still, Fugazi is clean, the staff and customers are actually friendly, and they'll pour you a nice stiff drink.

phone: +1 716 884-3616

address: 20 Allen St

The "new kid on the block" in the Buffalo gay district at least tries to live up to its name, with a small dance floor and tunes blaring on the stereo, but otherwise Funky Monkey is just more of the same — cheap drinks poured in a dated, dive-y ambience. For an alternative, the back patio is one of the more pleasant in Allentown.

phone: +1 716 332-0510

address: 948 Main St.

The erstwhile OHM Ultra Lounge — Western New York's only lesbian bar, under the same ownership — has relaunched in a way that's true to its roots but expands the concept in different directions. No longer just another spot in the gayborhood to dance the night away and get your drink on, Preservation Pub is an LGBT-friendly but not LGBT-specific place where a diverse clientele enjoys not only a full range of domestic, imported, and locally-brewed beers but also an expansive menu of upscale pub grub. Indulge in the spic-and-span renovated interior if you like, but the patio out back is one of Allentown's best-kept secrets.

phone: +1 716 332-2223

address: 44 Allen St.

Not the most well-known gay bar in Buffalo, but easily the most well-liked, Q is a breath of fresh air for those who are put off by the cliquish cattiness of the customers at Cathode Ray or Funky Monkey, the stodgy pretension of Fugazi, or the obnoxious straight women who've lately colonized Club Marcella. Frequented but not packed by a diverse and accepting crowd that skews older than other places in the gayborhood, Q offers a modest but bargain-priced selection of beer and mixed drinks, and Tuesday-night karaoke is always a winner.
Off the beaten path of Allen Street, things are a lot more calm and chilled-out.
phone: +1 716 855-8944

address: 75 Edward St.

One of Buffalo's most unusual bar experiences awaits you at Founding Fathers: the owner is a former social studies teacher famous for quizzing patrons on American history from behind the bar, and the cozy interior is bedecked with portraits of all 45 U.S. Presidents as well as other historical memorabilia culled from said owner's private collection. Enjoy a pint while noshing on complimentary nachos and popcorn, choose from an abbreviated food menu of sandwiches and burgers, or if you're in town on the first Tuesday of the month, show up for trivia night — history-themed, of course!

phone: +1 716 725-0166

address: 846 Main St. #1

The Granite Works buildings on the corner of Main and Virginia Streets make for a somewhat oddball location for an upscale wine bar, but that's precisely where you'll find Just Vino. Indulge in an extensive selection of vintages from all over the world in a cozy ambience that oozes charm (exposed brick abounds). Best of all, this place manages to pull off a chichi feel without devolving into snobbish pretension; these folks really bend over backwards to make you feel welcome.

phone: +1 716 884-1700

address: 140 North St.

The late-night menu at the Lenox Grill is expansive and perfect for sobering up after a night of Allen Street bar-hopping — but if your night on the town is only just beginning, the huge beer selection, including local microbrews from Community Beer Works and others, is great for doing the opposite.

Mother's

phone: +1 716 882-2989

address: 33 Virginia Pl.

Equally popular with downtown businesspeople as with Allentown hipsters, Mother's bar is a perfect setting to imbibe your choice of wine from a list that's high-quality and reasonably priced, nosh on a selection of upscale bar snacks, or order off the dinner menu that's available in its entirety until 3AM. Dark lighting and wood-panelled walls bring a relaxed, genteel vibe to the interior, or enjoy gentle summer breezes on the patio.

phone: +1 716 322-5188

address: 26 Virginia Pl.

Downstairs at The Quarter is a lively bar and restaurant serving a yummy food menu of Creole specialties and an ample slate of well-prepared craft cocktails (not surprisingly, New Orleans' signature cocktail, the sazerac — cognac, absinthe, peychaud bitters, and a sugar cube — is the specialty of the house). Upstairs you've got the far more chilled-out "Llama Lounge", with darts, pool, foosball, a slew of vintage arcade and pinball games, comfy couches to relax on, and the only bathrooms in the building. And everywhere you go, the vibe is convivial and classics from the '70s and '80s bump on the jukebox (that is, when the place isn't hosting a live jazz concert).

phone: +1 716 768-3100

address: 149 Elmwood Ave.

Serving creative, award-winning cocktails crafted with pride by owner/bartender Noel Sutton in an ambience that's a careful, Art Deco-inflected recreation of a Prohibition-era speakeasy: fitting for a restaurant named after London's Savoy Hotel, where American tourists flocked in the 1920s to enjoy legal booze and concerts by jazz greats like George Gershwin and Lena Horne.
Coffee shops
Allentown's long-lackluster coffeeshop scene got a major shot in the arm in 2015, when not one but two new cafés opened their doors to accompany longtime neighborhood stalwart
Intersection Cafe
.
phone: +1 716 427-3147

address: 23 Allen St.

If your requirements for a cafe begin and end with "good coffee", than any of the three in Allentown will do the trick. But if you're looking for ambience — particularly of the laid-back variety — then stop into this spot on the more off-the-beaten-path east end of the strip, with a quiet, studious vibe courtesy of a clientele that draws from the student body of the nearby UB Medical School. And that's not to downplay the quality of the drinks: an extensive menu of the kind of stuff that, as one reviewer said, "you keep thinking about until the next morning when you find yourself going back to get more". Breakfast sandwiches, sourced from BreadHive, are a hit too.

Grindhaus Café

phone: +1 716 725-6300

address: 160 Allen St.

On the other hand, if good coffee is your paramount criterion, Grindhaus is at your service with Allentown's fanciest gourmet third-wave cold-drip pour-over yada yada yada. If that sounds like a knock on the place, it's not — everything here is tasty, the vibe is super welcoming, and most notably, everything on the menu is 100% vegan. And unlike the similarly hipster-focused Intersection Cafe, the place is big enough to linger rather than just grab-and-go, so if you want to actually take time out to (let's say) admire the work of local artists on the wall over a slice of avocado toast, that's a viable option. Prices are a touch high, but worth it.

phone: +1 716 557-4359

address: 100 Elmwood Ave.

The name may no longer be Cafe Taza, but little else has changed at this postage stamp-sized space on Elmwood: the smooth-flavored, creatively concocted drinks still exude caffeinated excellence without trying too hard (despite the straight-outta-Portlandia arty-hipster vibe, The Intersection is about good times and community spirit, not coffee snobbery), and if the name wasn't enough to clue you in that the LGBT+ community is still welcomed with open arms, the rainbow-flag decor certainly drives the point home. Best of all, added to the mix is a delicious slate of baked goods courtesy of BreadHive. Lines can be long, but efficient service keeps them moving.
Delaware District
The Delaware District is quiet and residential, and does not have nearly the level of nightlife that Allentown has.
phone: +1 716 886-0089

address: 199 Lincoln Pkwy.

Another Mike Shatzel operation, and if you're familiar with that name, you likely have a good idea of what to expect — a selection of beers that's almost inarguably Buffalo's most creative and well-curated. The bar features sixteen brews on tap at any given time, the selection hewing closely to Shatzel's trademark combination of American microbrews and sometimes hard-to-find European imports, plus well-prepared classic craft cocktails that befit the bar's 1920s speakeasy getup.
Coffee shops
Café Molon Lave

phone: +1 716 436-3533

address: 1526 Main St.

The Greek phrase "molon lave" (μολών λαβέ) translates to "come and take them", and while nowadays it's mainly used as a slogan for gun-rights activists (a fact that raised quite a few eyebrows among locals of a certain political bent when this place opened in 2018), what you're supposed to "come and take" from this place is a modest but delicious selection of smoothies, Greek-style coffee, and desserts cooked up by the folks at Eggsperience Vasilis next door. And despite the name, this isn't a takeout-only place: the interior features comfy seating and a minimalist decor that's a stark contrast from its neighbor.
Sleep
Allentown
Allentown boasts a modest selection of accommodations, including a pair of grand old historic hotels that have soldiered on to the present day, catering to travellers in search of a more distinctive experience.
Mid-range
Best Western Inn on the Avenue

phone: +1 716 886-8333

address: 510 Delaware Ave.

If you're looking for a predictable, decent-quality chain hotel experience without breaking the bank, the Best Western is pretty much the only option within a five-mile (8 km) radius of downtown Buffalo. Here you have basically the same slate of amenities as the myriad other Best Westerns around the country — business center, fitness room, free WiFi, continental breakfast; climate-controlled guest rooms with cable TV, coffee maker, hair dryer, iron and ironing board, and workstation — in a central location only steps away from the Allentown action and within easy striking distance of pretty much everything else too. Free parking is a relative rarity inside the city line, as well.

phone: +1 716 884-1700

address: 140 North St.

The oldest continually operating hotel in Buffalo (opened in 1896), the Lenox Hotel and Suites began its existence as a luxurious hotel and apartment building that counted a young F. Scott Fitzgerald among its early residents. Under new ownership, this stately old beauty has recently been renovated to its former glory. The Lenox's ground floor is occupied by the Nina Freudenheim Gallery and a restaurant, the Lenox Grill, and it also boasts lovely views of downtown Buffalo and the waterfront from its upper floors.
Splurge
The Mansion on Delaware Avenue

phone: +1 716 886-3300

address: 414 Delaware Ave.

Rated 4 diamonds by AAA and named one of the top 5 hotels in the United States by the 2007 Zagats survey, the Mansion on Delaware is a luxury boutique hotel located in the Sternberg House, a beautifully restored 1870 French Second Empire-style mansion near the border of Allentown and downtown that was owned by a succession of wealthy Buffalo aristocrats of the 19th century. Free WiFi and wired Internet access, as well as a business center. Butler service, fine dining, working fireplaces in most rooms. Popular for formal receptions such as weddings.

Residence Inn by Marriott Buffalo Downtown

phone: +1 716 247-5252

address: 620 Delaware Ave.

The only extended-stay hotel inside Buffalo's city limits, the Residence Inn opened in 2018 after a thorough modernization of the 1960s-vintage building once home to the Holiday Inn. At this all-suite property, choose from studios with one king bed or one-bedroom suites with two queen beds, each of which come with sofa bed, workstation, Samsung SMART TV equipped with a variety of streaming services, and separate, fully equipped kitchen and dining area. As well, the hotel itself boasts a fitness room, indoor pool, guest laundry and dry cleaning, and — best of all — free parking. If you're in town on business, an extra $4.95/day upgrades your free WiFi to enhanced high-speed service perfect for videoconferencing and such.
Delaware District
Historic Linwood Avenue has a superlative
B&B
where the themes of local history and culture come out in full force.
phone: +1 716 381-8605

address: 288 Linwood Ave.

Buffalo architecture is the theme at this bed & breakfast, and you get an eclectic smorgasbord of it: while the exterior is textbook Second Empire, the three guest suites are individually styled and named for historic luminaries of the Buffalo design world: the Wade Room honors the designer of Buffalo's City Hall with Art Deco-inspired fixtures and artwork, the Beebe Suite is a Victorian dreamscape of two adjoining rooms with an antique brass bed, French armoire and Eastlake-style marbletop table, and the decor in the top-of-the-line Wright Suite (as in Frank Lloyd) is inspired by his work in Japan. All rooms come with air conditioning, WiFi, flat-screen cable TV, coffeemaker, private bath, parking for one vehicle, and (on request) an iron and ironing board.
Connect
The nearest post offices are located
downtown
at 229 W. Genesee St. and 701 Washington St.
The service area of
BuffaloConnect
, Buffalo's free municipal WiFi network, extends north from downtown into the east edge of Allentown, along Main Street as far as North Street. Signal strength drops off pretty rapidly the further you get from Main, though; don't expect anything past North Pearl Street. WiFi is also available in Allentown at
Café 59
on Allen Street and
Tim Hortons/Cold Stone Creamery
on Delaware Avenue, and in the Delaware District at
Delta Sonic
,
McDonald's
, and
Burger King
on Main Street.
Stay safe
Despite the fact that Buffalo's crime rate has fallen steadily since the 1990s, it is still higher than the national average for cities its size. By Buffalo standards, Allentown has a moderate-to-high crime rate. The general rule for Allentown is that the closer you are to Delaware or Elmwood Avenues, the safer you are. Despite (or perhaps because of) the rapid gentrification that is taking place there, a particularly troubled area is the blocks west of Wadsworth Street, straddling Allentown and the Lower West Side. Reports of assaults and robberies in Days Park occur with some frequency. That being the case, visitors should by no means allow these occasional incidents to put them off from experiencing this part of Allentown — the lush greenery of the park and the splendid Victorian cottages surrounding it are simply magnificent, police patrols have increased sharply, and perhaps more than any other area of Buffalo, residents of the Days Park area are working diligently to "take back their streets". Those who exercise common sense — locking car doors, keeping valuables out of sight — will be fine. The Main Street corridor is another problem area.
The Delaware District boasts an extremely low crime rate. Visitors should not experience problems of any kind there.
The Allentown bar district's devolution from a chilled-out hipster scene to obnoxious frat-bro hijinks has been a headache for the increasingly (and incongruously) well-heeled, settled-down population of neighborhood residents, to the point where comparisons to the
bad old days of Chippewa Street
(from which many current Allentown bar patrons have indeed decamped) are apropos. Bars in Buffalo close at 4AM, and the rule of thumb is the later you stick around, the more things degenerate. If you arrive early in the evening and finish up by midnight, you'll be gone before most of the craziness begins. Alternatively, those who want to take their chances later into the night should be aware that assault, pickpocketing, vandalism, and similar phenomena are routine occurrences on Friday and Saturday nights. That being said, the Buffalo Police have stepped up their weekend presence on Allen Street, so if trouble finds you, help is never far away.
As in downtown and the Elmwood Village, panhandlers are present in Allentown. The homeless tend to congregate around the west end of Allen Street where it veers right and becomes Wadsworth Street, near which there is a soup kitchen. As elsewhere in Buffalo, aggressive panhandling in Allentown is unheard of; a firm "no" will usually do the trick. Panhandlers are almost completely absent from the Delaware District.
Cope
Newspapers
The Allentown Association publishes a quarterly newspaper, the
Allentown Neighbor
, that covers neighborhood news such as business openings and closings, urban development and historic preservation, Buffalo Common Council proceedings, community events, and other issues.
Hospitals
The nearest hospitals are
Buffalo General Hospital
, at 100 High St. in the Medical Corridor,
Erie County Medical Center
at 462 Grider St. on the East Side, and
Sisters of Charity Hospital
at 2157 Main St.
Places of worship
This is one of the few remaining areas of Buffalo where white, mainline Protestant churches still predominate.
Roman Catholic
phone: +1 716 884-0053

address: 1029 Delaware Ave.

At the current site of the Timon Towers apartments just next door stood from 1915 to 1978 the seat of the Catholic Diocese of Buffalo, the so-called St. Joseph's New Cathedral. Though chronic problems stemming from shoddy construction eventually forced the demolition of the palatial church, whereupon the old cathedral downtown reverted to its former role, Blessed Sacrament Church — whose parish predated the cathedral by about a dozen years, and whose building had served as the Cathedral's chapel — is still an active congregation in the Delaware District.

phone: +1 716 852-6040

address: 35 Edward St.

St. Louis, the first Catholic church in Buffalo, was founded in 1829. At this early date in Buffalo's history, most of the city's Catholics were of French descent, and it was Louis Stephen LeCouteulx de Chaumont, a French nobleman from Rouen who had settled in Buffalo, who donated the land where the church stands today.
Protestant
Delaware Avenue Baptist Church

phone: +1 716 884-0070

address: 965 Delaware Ave.

This beautiful Richardsonian Romanesque church in red sandstone, the most significant remaining work of local architect John Coxhead, now houses a large, active, friendly, and ethnically diverse congregation affiliated with the American Baptist Convention.

phone: +1 716 884-7250

address: 1 Symphony Cir.

The name of this church, as well as its nickname, the "Mother of All Churches", is literal — founded in 1812, this is the oldest religious congregation of any denomination in Buffalo. Since 1891, the members of First Presbyterian have worshiped in a sandstone church on Symphony Circle designed by the eminent local firm of Green & Wicks, which contains several Tiffany stained-glass windows and which once counted Teddy Roosevelt among its worshipers.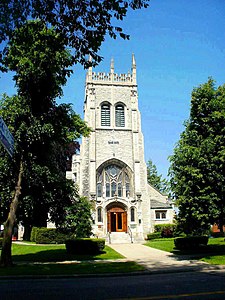 phone: +1 716 886-2400

address: 1080 Main St.

A fixture on Main Street in Midtown since 1899, this was the first church in Buffalo of its denomination to conduct services in English rather than German, borne of a language-based schism in the no-longer-extant St. John's Lutheran Church led by the prominent Buffalo merchant, William Hengerer.

Religious Society of Friends Buffalo Meeting

phone: +1 716 892-8645

address: 1272 Delaware Ave

Established in 1939, Buffalo's Quaker congregation meets at the Network of Religious Communities building on Delaware Avenue for about an hour every Sunday morning "to seek an inner light and peace". There's no pastor or pulpit — just silent prayer and meditation, interrupted every once in a while by testimonies and other impromptu messages spoken out by congregants whenever the inspiration catches them. Meetings end with a potluck lunch at noon. The Society of Friends is also active in community programs, especially those that foster nonviolence.

Westminster Presbyterian Church

phone: +1 716 884-9437

address: 724 Delaware Ave.

Westminster Presbyterian Church was founded in 1854; many members of Buffalo's élite aristocracy of the 19th and early 20th Centuries, including Jewett Richmond and Jesse Ketchum, have worshiped in this massive Gothic edifice that still boasts a number of Tiffany stained-glass windows. Today, Westminster Presbyterian's commitment to inclusion has led it to affiliation with the "More Light" movement, as well as to interfaith collaborations with Temple Beth Zion, the Muslim Public Affairs Council, and other congregations and groups.
Nondenominational
Unity Church of Practical Christianity

phone: +1 716 882-0391

address: 1243 Delaware Ave.

One of the most open-minded and welcoming spiritual communities in Buffalo, at Unity the artificial boundaries between faiths and denominations are rejected in favor of what its website describes as "a positive, practical, progressive approach to Christianity based on the teachings of Jesus Christ" that "honors the universal truths in all religions and respects each individual's right to choose their own spiritual path". Services are held in an unassuming midcentury building on Delaware Avenue just south of Gates Circle, and Unity also hosts a wide variety of study groups, courses, and even an art gallery.

Word of Life Church

phone: +1 716 868-7997

address: 181 W. Utica St.

At this friendly non-denominational evangelical church, pastor William Tobin preaches the gospel to a diverse congregation in services that respond to the spiritual needs of all types of people in today's world. Since 1968, Word of Life Church has occupied the wood-frame building on West Utica Street that was formerly home to the Church of the Divine Humanity, Buffalo's first and only Swedenborgian congregation built in 1900 to a design by architect Sidney Woodruff.
Black churches
Midtown Bible Church

phone: +1 716 884-5203

address: 1722 Main St.

A nondenominational Christian church founded in 1994 and located on Main Street in Oxford, near Canisius College.
Eastern Orthodox
Hellenic Orthodox Church of the Annunciation

phone: +1 716 882-9485

address: 146 W. Utica St.

Located since 1952 in a beautiful English Gothic edifice listed on the National Register of Historic Places, the Hellenic Orthodox Church of the Annunciation is not only the place of worship for the Buffalo metro area's Greek Orthodox population, but is also well-known as the site of the Buffalo Greek Fest, where Buffalonians kick off the summer festival season each June.
Jewish
phone: +1 716 836-6565

address: 805 Delaware Ave.

Soon after its foundation in 1850, Temple Beth Zion became one of the first shuls in America to embrace the new movement of Reform Judaism, and it is still one of the largest Reform synagogues in the nation. The current Temple Beth Zion, built in 1961 after a fire claimed its old building, is a breathtaking work of modern architecture that stands out among its neighbors on Delaware Avenue. A truly magnificent place to worship, Temple Beth Zion's interior is lit naturally with skylights as well as magnificent stained-glass windows by noted artist Ben Shahn.
Other
phone: +1 716 856-3910

address: 836 Main St.

The Buffalo chapter of Scientology has occupied the wonderfully restored former Buffalo Catholic Institute Building since 2003.
Go next
If you like the nightlife in Allentown, you'll want to make the
Elmwood Village
your next stop. The range of bars, restaurants and shops that line
Elmwood Avenue
is even greater than Allen Street, and their vibe is influenced by the student life at nearby
Buffalo State College
in much the same way that Allentown is flavored by its artists and bohemians. Aficionados of art and history are in luck, too, with a vibrant
Museum District
at the north end of the strip.
Check out the
West Side
to see Buffalo's next Allentown in the earliest stages of its revival. Instead of hipsters and well-heeled young urbanites congregating in a relatively "safe" gentrified area, the West Side has a creative community that is far closer to "starving artists" than anything in Allentown, urban pioneers snapping up beautiful but dilapidated Victorian houses and restoring them to their former glory, a vibrant Latino community centered on
Niagara Street
, and a veritable United Nations of immigrants gathered around
Grant Street
, each adding their bit to an ambience that is wonderfully gritty and chaotically fascinating.
On the far side of Delaware Park,
North Buffalo
is a part of the city where the pleasures are subtler. The shops and restaurants on
Hertel Avenue
are pleasant without the pretension of the hipster hangouts on Allen Street, the mansions of
Park Meadow
and
Central Park
are elegant without the in-your-face ostentation of Millionaire's Row, and the college dives in
University Heights
are lively without the crowds and chaos of the ones on the Elmwood Strip.