Buffalo/Downtown
Downtown
has been the nucleus of
Buffalo
since its foundation; over two centuries later, it retains its central importance in the Niagara Frontier both geographically and commercially. Though its bygone era of bustling streets and fancy department stores along Main Street has not been completely reclaimed, visitors to downtown today will be greeted with a lot more than the boarded-up storefronts and eerie desolation that they would have seen a quarter-century ago.
For the purposes of this article, the
Medical Corridor
— located north of what has traditionally been called downtown, where the University at Buffalo Medical School has helped cultivate a complex of medical research institutions that are a new and growing sector of the area's economy — falls under the umbrella of downtown due to its abundance of tall buildings and white-collar workers.
Understand
Downtown Buffalo has come a long way in the past decade or two, and now contains a number of distinct attractions for tourists. Main Street's
Theater District
is centered around the grand old silent movie palace-turned-performing arts venue,
Shea's Buffalo Theatre
, and boasts a range of restaurants, bars, shops, music venues, and of course, theatres, that is astonishingly wide for a city Buffalo's size. Nearby, though the club kids and rowdies of old are largely gone these days, there's still a healthy (and now much more chilled-out) bar scene along
West Chippewa Street
. Most recently, the ongoing revitalization of the
Canalside
area is a paradise for history buffs, families with children, and those who just enjoy the simple pleasure of a stroll along the lakefront on a warm summer day. Fans of
architecture
will also be enraptured by the many well-preserved examples of turn-of-the-century buildings found all over the business district, many of which have been lovingly restored and have been repurposed with new identities amid the modest but growing renaissance that Buffalo is currently enjoying.
History
Not surprisingly, downtown Buffalo is the oldest section of the city. Though the official incorporation of Buffalo dates to 1804, it is known that there was a tiny trading post, a few cabins, and perhaps a half-dozen settlers located here before that date — and perhaps even before the Holland Land Company's purchase eleven years earlier of all of what is today
New York State
west of the Genesee River. However, it was in 1798 when Joseph Ellicott, a land agent and surveyor for the Holland Land Company, arrived at the junction of the Buffalo River and Lake Erie. Soon afterward, he began to lay out streets and lots for a village he called New Amsterdam, but which the residents insisted on calling Buffalo (a name change that was made official in 1808). Joseph Ellicott was the brother of Andrew Ellicott, who was responsible for surveying the streets of
Washington, D.C.
; the radial streets that Joseph Ellicott laid out in Buffalo, centered on
Niagara Square
and largely intact today, certainly bear a great deal of similarity to the street plan of Washington and also testify to the greatness that Ellicott envisioned for Buffalo — though it was well beyond the frontier of settlement at that time, Ellicott predicted that Buffalo would someday be a huge city and an important inland port. Ellicott's vision came to fruition in 1825 with the completion of the
Erie Canal
from the Hudson River at
Albany
to Buffalo Harbor, kickstarting a century of meteoric growth for Buffalo.
It is important to note that for all of Buffalo's importance during those early years as an inland port and manufacturing center, commerce played a much smaller role in its economy than industry. Buffalo's commercial district at that time was quite small, hugging the north side of the harbor and extending no further north than Church Street. By contrast, the northern reaches of today's downtown, i.e. the Theater District, were residential; even Niagara Square was a cluster of elegant and spacious mansions with an appearance much more akin to a village green in
New England
than the center of an urban business district. It was not until after the Civil War that commerce truly began to take a place in Buffalo's economy; by the turn of the century,
Lafayette Square
, two blocks north of Church Street, was the home of large office buildings such as the
Buffalo German Insurance Company
and the
Mooney & Brisbane Building
. The business district's boundary continued to creep further north during the first part of the 20th century; at the onset of the Depression, Niagara Square was an odd mishmash, with the remaining mansions standing side by side with tall skyscrapers like the twelve-story
Buffalo Athletic Club
, the 19-story
Hotel Statler
, and the then brand-new
City Hall
, which, at a height of 398 feet (121 m), is still the second-tallest building in Buffalo.
However, things were slowly beginning to change. Though World War II saw Buffalo's steel mills and automotive plants working at full force, a number of factors converged after the war that stymied, and finally reversed, Buffalo's growth. In downtown specifically, the Main Street retail corridor began to grow less and less crowded each year as shoppers began to pass up grand old department stores like
Adam, Meldrum and Anderson
,
Hengerer's
, and
L. L. Berger
in favor of suburban plazas and malls. Sadly, the response of Buffalo's civic leaders to the decline of downtown was the same as their response to the deterioration in other neighborhoods: "urban renewal", for the most part poorly thought out and incredibly destructive. Among the many examples of the devastation of downtown's urban fabric was the demolition of the stunning, castlelike
Erie County Savings Bank
building to make way for the
Main Place Tower
, a bland modernist office tower with an attached suburban-style shopping mall, the razing of Cyrus Eidlitz's
Buffalo Public Library
, a beautiful Romanesque edifice in red sandstone at the east end of Lafayette Square, to be replaced by the drab monolith that houses the Central Library today, and the replacement of the beautiful French Second Empire-style Buffalo German Insurance Company with the minimalist, boxlike
Tishman Building
, which stood abandoned for nearly a decade before a belated redevelopment as a combination
Hilton Garden Inn
and headquarters to local development company, the
Hamister Group
.
By 2000, signs of hope had begun to emerge. Buffalo's preservationist movement, which was kickstarted in 1950 with the city's shortsighted demolition of Frank Lloyd Wright's glorious
Larkin Administration Building
, had gained strength all through this time as their list of successes in preventing future disasters of that type grew. Thanks to their efforts, downtown Buffalo retains many splendid old buildings that would otherwise have been demolished. More importantly, the failure of Robert Moses-style urban renewal to address Buffalo's decline has inspired the city's leaders to adopt a new strategy for development, favoring a more broad-based approach that has already borne fruit in similar Rust Belt cities like
Cleveland
and
Pittsburgh
. Without this epiphany,
West Chippewa Street
would likely still be overrun with seedy flophouses, prostitutes, and other unsavory characters,
Canalside
would likely still be a desolate patchwork of parking lots and moribund warehouses, and downtown in general would likely still be replete with boarded-up storefronts and a virtual ghost town after the end of the workday and on weekends. The most recent phase in downtown's renaissance, beginning over the past decade, has been the conversion of disused office space into high-end downtown apartments and condominiums — a commodity for which many Buffalonians have been surprised to discover there is considerable pent-up demand.
Climate
Because of its proximity to Lake Erie, downtown Buffalo is noticeably cooler and windier than other areas of the city and region. This has the effect of making the
Erie Basin Marina
and other waterfront areas popular places for Buffalonians to escape oppressive summer heat, but also makes nighttime baseball games at
Sahlen Field
early in the season fairly uncomfortable.
Get in and around
On foot
Although a car is probably necessary for most visitors to Buffalo, the small size of Buffalo's downtown, coupled with issues such as traffic, the proliferation of one-way streets, and the hassle and expense of parking, make walking a far more sensible method of transportation for those who only need to travel from one downtown location to another. In fact, it could be said that walking is the only way to fully experience the best of what downtown Buffalo has to offer — its magnificent architecture, the proliferation of unexpected things to see, and the bustle of the streets are often missed by those who merely pass through in a car. It's really quite a pleasant experience.
By car
Due to its central location and the famously light traffic on area roads, downtown Buffalo is easily accessible by car. (Parking, however, is another story!)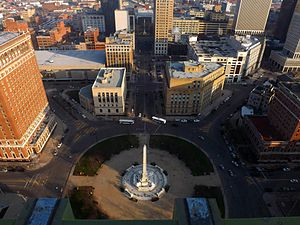 Niagara Square was designed as the central node of Buffalo's network of streets, a status it retains, and thus it is a good point of reference for visitors in navigating the streets of downtown. Niagara Square is where many of Buffalo's most important thoroughfares converge: Niagara Street, Elmwood Avenue, Delaware Avenue, Genesee Street, and Court Street (which splits three blocks east of here, at Lafayette Square, into William Street and Clinton Street). Downtown's other major thoroughfares include Main, Church, Pearl, Tupper, Washington, Chippewa, Ellicott, Oak, and Elm Streets.
In addition, downtown Buffalo is also served by three urban expressways: the
Kensington Expressway
(NY 33), which begins at the airport and passes through the suburb of
Cheektowaga
and the
East Side
before ending at Oak Street at the northeast corner of downtown;
Interstate 190
, Exits 6 and 7 of which serve downtown via Elm and Church Streets, respectively; and the
Buffalo Skyway
(NY 5), which parallels the lake shore along the Outer Harbor before ending at its junction with I-190 downtown.
Although Main Street has been closed to automobile traffic between Mohawk and Scott Streets since 1985 to accommodate the above-ground portion of the Metro Rail, the "Cars Sharing Main Street" project allowing for the gradual return of cars to that thoroughfare has been ongoing for some time. The segment between Tupper and Chippewa Streets and Chippewa and Mohawk Streets reopened in January and December 2015, respectively, with cars and trains sharing the tracks; the next segment to reopen (with a target date of 2020) is the block between Exchange and Scott Streets, just north of Canalside. However, it will likely be many years before all of Main Street is accessible to autos.
On-street parking in the downtown core can be hard to come by, though the scenario is certainly not as dire as in larger cities like
New York
or
Toronto
. This is especially true on weekdays during business hours and, in and around the Chippewa Street entertainment district, also at night and on weekends. Parking meters generally charge $1 per hour; parking is free after 5PM on weekdays and all day Saturday and Sunday. Parking is much more easily available, but also more expensive, at downtown's many paid parking lots and ramps. Rates at parking ramps average about $1.50 per hour up to a daily maximum of about $6; surface lots range from $4 to $5 per hour up to a daily maximum of between $8 and $10. During special events at the
KeyBank Center
,
Sahlen Field
, or the
Convention Center
, rates at parking ramps and (particularly) surface lots rise steeply.
Rental cars
phone: +1 716 854-0283

address: 538 Pearl St.
Car sharing
Members of
Zipcar
have access to a Nissan Frontier crew-cab pickup truck stationed in the parking lot on the east side of Washington Street between High and Carlton Streets in the Medical Corridor, behind the . The vehicle is available for a price of $10/hour or $80/day M-Th; $11/hour or $87/day F-Su. This price includes fuel, insurance, and 180 free miles (about 290 free kilometers) per day.
By public transportation
Public transit in Buffalo and the surrounding area is provided by the
Niagara Frontier Transportation Authority
(NFTA). The NFTA Metro system encompasses a single-line light-rail rapid transit (LRRT) system and an extensive network of buses. The fare for a single trip on a bus or train is $2.00 regardless of length, with the sole exception of the Enhanced Express service described below. No transfers are provided between buses or trains; travelers who will need to make multiple trips per day on public transit should consider purchasing an all-day pass for $5.00.
By bus
Downtown Buffalo is served by virtually all of the NFTA's bus routes, either directly or via the Metro Rail, and thus is easily accessible from the majority of the metropolitan area by public transportation. The , at Ellicott and North Division Streets, is the central node of the bus network and serves as a stop on most if not all bus routes that access downtown directly. Individual routes and schedules are available at the NFTA Metro System's
website.
In addition to regular routes, the NFTA operates thirteen express buses that directly connect downtown Buffalo with more far-flung suburbs, with few if any intermediate stops. Of particular interest to tourists will be
NFTA MetroLink Bus #204 — Airport-Downtown Express
, which makes 12 runs in each direction Monday through Friday between the Buffalo Niagara International Airport and the Buffalo Metropolitan Transportation Center. Because these buses are primarily intended for residents of the suburbs who need to commute to jobs downtown, all express buses (with the exception of Bus #204) make inbound trips on weekday mornings only, and outbound trips on weekday evenings only. Thus, travelers who are staying in the suburbs but would like to visit downtown may find express buses convenient. Visitors should also note that some express buses fall under the
Enhanced Express
service that was introduced by the NFTA in September 2012. In addition to the usual one-way fare of $2.00, an additional 50¢ surcharge per trip applies on Enhanced Express buses. These routes are enumerated on the NFTA Metro System's
website
.
By Metro Rail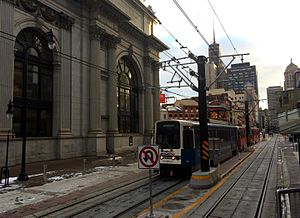 The
Metro Rail
is an LRRT line that extends along Main Street from the University at Buffalo's South Campus in
North Buffalo
southward to downtown. The northern portion of the system is a subway, but as it enters downtown it emerges from its tunnel and runs at street level. Riding on the above-ground portion of the Metro Rail — from Fountain Plaza Station near Genesee Street southward to Erie Canal Harbor Station — is free, and is a pleasant and efficient way to travel from one end of downtown to the other. It's important to note, though, that travelers who continue northward past the Fountain Plaza Station without having paid a fare ($2 one-way/$4 round trip) may incur a substantial fine.
There are six Metro Rail stations located downtown. From north to south, they are:
— Main Street at Huron Street.
— Main Street at Court Street.
— Main Street at Church Street.
— Main Street at Seneca Street.
— Main Street at Scott Street.
— Main Street at Perry Street, adjacent to the KeyBank Center. This station is only open immediately before and after certain events at the KeyBank Center, otherwise Erie Canal Harbor Station serves as the last stop on the Metro Rail.
Additionally, the , the next stop north of Fountain Plaza, is located at the corner of Main and Allen Streets, adjacent to the Buffalo Niagara Medical Corridor. Though most Buffalonians would argue that this area is not part of "downtown" per se, the fact that the Medical Corridor is covered in this article makes the Allen-Medical Campus Station the most convenient one for several of the attractions listed below. Also keep in mind that the Allen-Medical Campus Station is
not
part of the free-fare zone.
The Metro Rail is the backbone of Buffalo's public transit system — the line intersects with most NFTA bus routes, including many crosstown routes that do not access downtown directly. In particular, the
University Station
, at the outer end of the line, is serviced by many suburban bus routes that traverse the towns north of Buffalo, making for easy access to downtown.
By bike
Buffalo has been making great strides in recent years in accommodating bicycling as a mode of transportation, with recognition from the League of American Bicyclists as a Bronze-Level "Bicycle-Friendly Community" to show for its efforts. As far as bicycling infrastructure goes, downtown Buffalo, along with the city as a whole, has come a long way in a short time. There are
"sharrows"
(pavement markings on roads too narrow to accommodate dedicated bike lanes, indicating that drivers should be aware of bicyclists on the road) on West Chippewa Street between Main Street and South Elmwood Avenue, on West Huron Street between the same two streets, and in the Medical Corridor along Ellicott Street between Goodell and Best Streets and along High Street east from Main Street into the Fruit Belt. As well, there are bike lanes along Delaware Avenue from Niagara Square northward through downtown (and as far as North Street in
Allentown
), along Genesee Street between Elm Street and Roosevelt Plaza, along Broadway from the corner of Ellicott and William Streets outward into the East Side, along Pearl Street between Exchange and West Tupper Streets, along North and South Division Streets (one on each of those parallel one-way streets, oriented in the same direction as car traffic) between Main and Elm Streets, and along Marine Drive and its eastern extension, Scott Street, between Erie and Washington Streets.
This trend is slated to continue, as the aforementioned Cars on Main Street program will see Main Street progressively transformed from a failed attempt at a pedestrian mall lined with moribund businesses to what will be almost inarguably the most "complete" street in Buffalo's "Complete Streets" program, whose aim is to redesign streets so as to promote alternative methods of transportation. At its completion, Main Street will see cars and trains sharing the Metro Rail tracks in the middle of the roadway, flanked by ample sidewalks and — yes — a bike lane on each side of the road as far south as Chippewa Street.
This is not to say that cyclists should throw caution to the wind: downtown Buffalo is still a place of heavy automobile traffic and crowded sidewalks. In particular, despite the pavement markings, West Chippewa is still an extremely busy road in terms of both automobile and foot traffic.
As well, Canalside serves as a main nexus of the
Shoreline Trail
, a multi-use trail 22.6 miles (36.4 km) in length that runs north along the Niagara River to
Gratwick Park
in
North Tonawanda
as well as south past the
Outer Harbor
and into
Lackawanna
. Originally called the Riverwalk, this was one of the first purpose-built bike trails in the area, dating to the 1980s, and it's still a perennial favorite especially on warm summer days, boasting scenic views over the water. Particularly avid bicyclists will note that the Shoreline Trail also links up directly to the
Scajaquada Creekside Trail
to Delaware Park, as well as the
Erie Canalway Trail
through
Tonawanda
and
Amherst
. If you're headed south to the Outer Harbor instead, the
Queen City Bike Ferry
(fare $1, operates late May-mid Oct) is a nice shortcut for those who don't want to deal with the on-street bike lanes along Marine Drive, Main Street, etc.
Bike sharing and rental
You'll find
Reddy Bikeshare
racks at the following locations downtown:
on the Buffalo Niagara Medical Campus, on the east side of Main Street at the corner of Allen Street, in front of the UB Jacobs School of Medicine and Biomedical Sciences
on the Buffalo Niagara Medical Campus, on the north side of North Oak Street at the corner of Ellicott Street, across the street diagonally from Ulrich's Tavern
the east side of Main Street between Tupper and Chippewa Streets, in front of the Andrews Theatre
the west side of Delaware Avenue between Johnson Park and West Chippewa Street, at the entrance to the Westin Buffalo hotel
the north side of West Chippewa Street between South Elmwood and Delaware Avenues, across the street from Ted's Hot Dogs
at Roosevelt Plaza, at the corner of Genesee and East Huron Streets
the east side of Lafayette Square, on the side of the Central Library
at Niagara Square directly in front of City Hall
the east side of Ellicott Street at the corner of East Eagle Street, at the side entrance to the Metropolitan Transportation Center
the east side of Main Street at the corner of North Division Street, in front of One M&T Plaza
at Canalside, on the south side of Marine Drive just past the corner of Pearl Street, in front of Liberty Hound
Additionally, the stretch of Main Street from Edward Street south to Church Street is a
free parking zone
, wherein you can return your Reddy bike when you're done to any public bike rack without incurring the $2 fee for parking outside of a hub.
If you're in town between May and October and are keen to take a two-wheeled spin around the harbor, is another option. Made possible by
BlueCross BlueShield of Western New York
, Blue Bikes' fleet of 46 includes adult- and child-sized bikes and even a few tricycles for the littlest riders, which are rented from a kiosk on the west side of Main Street across from the
Courtyard by Marriott
, near the paddleboat station. In theory you can ride wherever you like, but the fairly steep prices — $15 per hour, $20 for two hours, $25 for three hours, and $35 for four or more hours (BlueCross BlueShield members can show their card for a $5 discount) — make this a less practical option if you're planning to venture outside of the immediate Canalside area.
By train
The (BFX) is located downtown at 75 Exchange St., and is directly accessed by a number of NFTA Metro Bus routes. See the main
Buffalo
article for more information on arriving via Amtrak.
See
Museums
Buffalo and Erie County Naval and Military Park

phone: +1 716 847-1773

address: One Naval Park Cove

Located adjacent to Canalside, the Buffalo and Erie County Naval and Military Park opened in 1977 and consists of three historic warships: the USS Little Rock, a cruiser which served in the Mediterranean Sea during the Cold War as a flagship for the Second and Sixth Fleets of the U.S. Navy and is now the only guided missile cruiser in the country on display; the USS The Sullivans, a destroyer that saw intense action in the Pacific theater of World War II; and the USS Croaker, a submarine that also saw action in the Pacific during WWII. These ships are open for self-guided tours during the warm months. There is also a museum on site that displays memorabilia such as Medals of Honor awarded to area residents.

phone: +1 716 655-5131

address: 130 Main St.

Explore & More was founded and spent the first quarter-century of its existence in the village of East Aurora (best known as home of the Fisher-Price toy company), but moved in 2019 to an all-new four-story space in Canalside with a revamped set of exhibits based on telling the story of Buffalo to the littlest youngsters through the medium of play. Kids can pilot boats down a miniature Erie Canal in the "Moving Water" exhibit, learn about "Being Good Neighbors" with folks of different backgrounds, or strap on a hard hat and play architect in the "Building Buffalo" exhibit, constructing their very own house or bridge using play tools and building materials. And on the first Friday of each month when they're open late, the rooftop terrace is a great place to catch the Buffalo Bisons' post-game fireworks display at nearby Sahlen Field.

Western New York Book Arts Center

phone: +1 716 348-1430

address: 468 Washington St.

A 501(c)(3) educational non-profit organization, the mission of the Western New York Book Arts Center (WNYBAC) is, in the words of its website, to "promote, encourage and develop the printing and book arts through education and access for individual artists and underserved communities". Presented at the WNYBAC are permanent exhibits detailing the history of printmaking, writing, bookbinding and related crafts, temporary shows featuring the work of local writers, artists and illustrators, and workshops that educate individuals and groups on techniques in bookbinding, papermaking, screen printing, and letterpress. The WNYBAC also holds Open Studios twice monthly for local artisans to work on their own projects.
History
Lower Lakes Marine Historical Society Museum

phone: +1 716 849-0914

address: 66 Erie St.

The shipping industry was greatly important to Buffalo's economy in earlier times, and the Lower Lakes Marine Historical Society's mission is to pay tribute to, and increase awareness and appreciation of, that facet of local history. To that end, a wide variety of historic artifacts, old photographs, models, and interpretive materials relevant to the Great Lakes shipping trade are displayed in a warm and airy museum located in what was once the offices of Howard H. Baker and Company, a ship chandlery that served Buffalo Harbor in the 19th Century.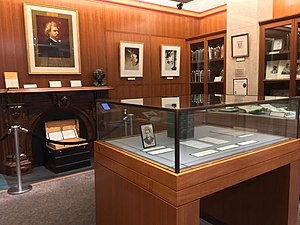 phone: +1 716 858-8900

address: Central Library, 1 Lafayette Squ.

Mark Twain lived in Buffalo for a short period at the beginning of his career, from 1869 to 1871; though not his most prolific period as a writer, it was during his time as editor and co-owner of the Buffalo Morning Express that he courted and married his wife Olivia and fathered his first child. Today, at the Central Library on Lafayette Square, there's a small exhibit space that displays a range of memorabilia related to the iconic author and humorist, including most famously the original manuscript of The Adventures of Huckleberry Finn handwritten by Twain in 1885. In addition, you can see a collection of English and foreign-language editions of Huck Finn gradually amassed by the Library beginning in the 1930s, as well as the restored mantel from Twain's handsome mansion at 472 Delaware Avenue in present-day Allentown (destroyed by fire in 1963). The Mark Twain Room is open whenever the Central Library is open; it's on the first floor of the building, on the right side of the corridor as you walk past the escalators.
Monuments and memorials
McKinley MonumentErected in 1907 in commemoration of the assassination of President William McKinley at the Pan-American Exposition exactly six years prior, this gleaming 96-foot (29 m) obelisk of Vermont marble anchors Niagara Square at the focal point of Joseph Ellicott's 1807 radial street plan. The McKinley Monument was designed by Carrere and Hastings, the same architects in charge of the Exposition; the lions and turtles resting at its base (symbols, respectively, of strength and eternal life) were carved by well-known sculptor A. Phimister Proctor. The monument was also the subject of Carl Sandburg's poem "Slants at Buffalo, New York".

Soldiers' and Sailors' MonumentDesigned by architect George Kellar of Hartford, Connecticut with bronze reliefs by Caspar Buberl, the Soldiers' and Sailors' Monument is the centerpiece of Lafayette Square, a granite shaft that stands 85 feet (25 m) tall. Talk of a Civil War memorial monument (originally intended to be located at Soldier's Place in the Delaware District) had begun as early as 1866, but it was not until 1884 when the Ladies' Union Monument Association finally effected its construction. Soon after its dedication it was noted that, due to the uneven settlement of its foundation, the monument was tilted and was structurally unsound; it was dismantled, rebuilt, and rededicated five years later. The Soldiers' and Sailors' Monument was thoroughly restored in 1982.
Architecture
More and more, Buffalo's exquisite and well-preserved architecture has grabbed the attention of locals and tourists alike. As of June 2017, there are 21 historic neighborhoods in Buffalo that have been recognized by either the National Register of Historic Places or the Buffalo Preservation Board, at least partly for reasons of architectural importance. Four of those are located downtown:
The

Genesee Gateway Local Historic DistrictA row of seven buildings on the south side of Genesee Street between Ellicott and Oak Streets, at the east end of the business district just past the terminus of the Kensington Expressway, this district is the aptly named "gateway" to downtown. These two-, three-, and four-story brick buildings were built mostly in the final quarter of the 19th century in styles popular at the time, and represent the most intact period streetscape remaining in Buffalo's business district. Thankfully, after years of neglect and talk of demolition, these properties have been thoroughly renovated as office, retail, and restaurant space.

The

Joseph Ellicott Local Historic Districtencompasses the blocks surrounding Niagara Square, as well as most of the area between Church and Seneca Streets west of Oak Street. The Joseph Ellicott Historic District preserves the nucleus of Ellicott's original street plan for the village of Buffalo, which remains substantially intact, and contains historic buildings in diverse architectural styles from all eras of Buffalo's history — from the Greek Revival-style Title Guarantee Building (110 Franklin St., 1833) through to the Gothic St. Paul's Episcopal Cathedral (128 Pearl St., 1849) and Erie County Hall (96 Franklin St., 1871), the Italianate Main-Seneca Building (237 Main St., 1913), the Art Deco Walter Mahoney State Office Building (65 Court St., 1932), and the striking postmodern Robert H. Jackson U.S. Courthouse (2 Niagara Squ., 2011), to name just a few.

The

500 Block of Main Local Historic DistrictAlso known as the Main-Genesee Local Historic District, the 500 Block is bounded by Main, Genesee, East Huron, Washington, and Mohawk Streets. This block chronicles the development of Buffalo's business district from the mid-19th Century to the early 20th Century, consisting mostly of low-rise brick commercial buildings in vernacular interpretations of Greek Revival, Renaissance Revival, Art Nouveau, and Art Deco styles. The small scale of these buildings, which generally rise to no more than three or four stories in height, hearkens back to the appearance of the downtown business district before the construction of gargantuan skyscrapers like the Tishman Building and Fountain Plaza began altering the character of this stretch of Main Street in the middle 20th Century.

The

Theater Local Historic DistrictCentered on Main Street and bounded by Chippewa, Pearl, Edward, Goodell, and Washington Streets, also including the former Buffalo Courier-Express Building at the northeast corner of Main and Goodell Streets, the Theater Historic District is not only significant as Buffalo's traditional and enduring entertainment district, which has been given a new lease on life in recent years, but also for the architectural grandeur of its buildings, most of which were constructed around the turn of the century in the Beaux-Arts Neoclassical style and feature exquisitely detailed terra cotta decoration. Examples include the Pierce Building (651 Main St.), the Alleyway Theatre (672 Main St.; quite unlike the others, this was constructed in 1941 in the Streamline Moderne style), the Perron Building (674 Main St.), the Market Arcade (617 Main St.), and the centerpiece of the district, Shea's Performing Arts Center (646 Main St.)
In addition to these historic districts, among the many individual buildings in downtown Buffalo of architectural significance is the...
Guaranty Building

phone: +1 716 854-0003

address: 140 Pearl St.

Erected in 1896, the Guaranty Building was one of the earliest high-rise office buildings in Buffalo, an architectural wonder in ruddy terra cotta designed by the "Father of the Skyscraper" himself, Louis Sullivan. With breathtaking vertical lines, exquisite Art Nouveau ornamentation all over the façade, and a design that is a near-perfect embodiment of the "form follows function" credo, the building was for many years the headquarters of the Buffalo Prudential Insurance Company (hence its alternate name, the Prudential Building) and was named a National Historic Landmark in 1975. There's an interpretive center in the northeast corner of the lobby with exhibits on Sullivan and his partner, Dankmar Adler, the building's history and architecture, and the history of its current occupant, the law firm of Hodgson Russ, now the oldest continually operating business in Buffalo. Guided tours are also offered by appointment.
Art
Recent years have seen the emergence of a growing arts community in downtown Buffalo, centered in the Theater District as well as the emerging 500 block of Main Street immediately south of there. For more art galleries in downtown Buffalo — specifically, ones where art is sold as well as displayed — see the
Buy
section.
BOX Gallery

phone: +1 716 852-5222

address: 667 Main St.

Located in the Theater District inside of Hostel Buffalo Niagara, BOX Gallery was opened in September 2014 by the hostel's general manager, Jon Piret, in conjunction with local artist Jeffrey Vincent, as a home for temporary exhibitions by local artists. At BOX Gallery you'll find innovative work by neophytes and veterans of the local scene alike, often synthesizing multiple different media. As well, there's a performance space for musicians, dancers, and performance artists.

phone: +1 716 856-2717

address: 617 Main St.

Located in the historic and architecturally stunning Market Arcade in the Theater District and funded by CEPA members as well as charitable foundations, the CEPA Gallery's mission, according to its website, is "to present contemporary photo-related art, to support working artists, and to promote a greater understanding of photography and its associated aesthetic and cultural issues", with a particular focus on the work of local photographers as well as those who come from groups that have been traditionally underrepresented in the field. To that end, exhibitions of work by CEPA members and others are frequently held in the gallery space.

Hallwalls Contemporary Arts Center

phone: +1 716 854-1694

address: 341 Delaware Ave.

Founded in 1974 on the West Side by a collective of visual artists that includes such future luminaries of the Buffalo arts scene as Diane Bertolo, Charles Clough, and Robert Longo, Hallwalls Contemporary Arts Center has operated since 2006 in Babeville, the complex created by Ani DiFranco in the redeveloped Asbury United Methodist Church. With a mission of creating and making available to the public new works in a diversity of genres of contemporary art, Hallwalls operates a large exhibition gallery that features a permanent collection as well as temporary exhibitions of works by local artists, as well as a screening room and performance space. As well, Hallwalls Contemporary Arts Center is a dedicated advocate for local artists on issues such as funding for the arts and freedom of expression.

Main St. Gallery

phone: +1 716 578-1702

address: 515 Main St.

Opened in January 2016 in the former home of MAIN(ST)UDIOS, the Main St. Gallery represents a proud continuation of its predecessor's dedication to the downtown arts community that has coalesced around the 500 Block of Main Street. In this large, two-story combination art gallery and performance space, curator Cole Pawlowski hosts a diverse range of temporary art exhibitions as well as live music, poetry readings, and even film screenings and theatrical pieces.

Shark Girl

address: at Canalside near the foot of Perry Boulevard

A work of local artist Casey Riordan Millard, Shark Girl is a life-size fiberglass statue of a young girl with an old-fashioned blue dress, bright red shoes, and a great white shark for a head that's been perplexing — and polarizing — visitors to Canalside since it was unveiled in 2014, borne of a partnership between the city government and the Albright-Knox Art Gallery aimed at promoting works of public art around Buffalo. Shark Girl is a recurring character in Millard's repertoire of paintings and drawings — a representation, she says, of "the existential conundrums of life, love, family, and loss". She sits atop a boulder on one of the whipple-truss bridges over the restored canal.

phone: +1 716 842-1525

address: 340 Delaware Ave.

Located in the Theater District and operated by the Learning Disabilities Association of Western New York, Starlight Studio is a gallery and studio that showcases works by artists with disabilities. With a rotating collection on display of works by member artists, frequent temporary exhibitions, and display space available for rent to the community, the overarching goal of Starlight Studio is to support the creative expression and artistic development of adults with disabilities.
Breweries
phone: +1 716 854-5050

address: 55 E. Huron St.

In the 19th Century, "The Big Ditch" was a popular name for the Erie Canal, which, over the course of only a few decades, took Buffalo from a sleepy frontier backwater to one of America's foremost industrial centers. In much the same way, the Big Ditch Brewing Company's name pays homage to its role in the revival of Buffalo's proud brewing tradition, which was all but dead after the closure of Iroquois Brewing in 1972 but now comprises a growing legion of locally-owned craft microbreweries like the brand-new one on East Huron Street where they operate. During retail hours, Big Ditch's staff leads craft beer lovers on free tours of their production floor, where folks can watch two batches of beer a day get brewed, fermented, carbonated, and racked into kegs. Afterward, head over to the attached tap room and restaurant to sample the finished product.
Outdoors
phone: +1 716 856-3150

Situated on 20 acres (8 ha) of formerly idle land at the harbor, Canalside combines the celebration and preservation of Buffalo's rich history as a rough-and-tumble canal town with an expansion of waterfront recreational opportunities for Buffalonians of today to enjoy. At Canalside, amenities such as tour boats offering cruises of the harbor, river, and lake, a lengthy slate of festivals, and one of the city's favorite new restaurants (Liberty Hound) can be enjoyed in an environment that also pays tribute to history with features such as a recreation of the Commercial Slip — once the western end of the mighty Erie Canal — on the side of which are the restored foundations of old Canal District buildings, dating to the mid-19th century and rediscovered in the early 2000s. As well, a restored canal bridge, interpretive plaques, and the enthralling Buffalo and Erie County Naval and Military Park are on the scene. With further expansion of the offerings slated for the near future, such as two new hotels, a children's museum, a sports complex, and restaurants and shops, Canalside is only going to get better as time goes on.

phone: +1 716 851-5389

address: 375 Erie St.

Much more than just a place to park boats, the Erie Basin Marina is popular with Buffalo residents during the summer as a place to walk, jog or bike, enjoy an ice cream cone and cool lake breezes, or just relax and watch the people go by. A longtime fixture on Buffalo's waterfront, the Erie Basin Marina is located next to the Buffalo and Erie County Naval and Military Park, the Canalside redevelopment, the Waterfront Village Condominiums, and the Buffalo Light, which was built in 1833 and is the oldest existing building in Buffalo still on its original site. The marina also boasts such amenities as a snack bar and ice cream shop (The Hatch), a pair of upscale restaurants (Templeton Landing and William K's), a waterfront boardwalk that provides access to the small Emerald Beach, and an observation tower that boasts excellent views of downtown, the West Side waterfront, Elevator Alley, Lake Erie, the Niagara River, and Canada. Also located here are the Erie Basin Marina Gardens, whose 200 different species of plants come into bloom each spring and summer along Erie Street and which serve not only as a delightful attraction for visitors but also as a test garden for floral and seed companies to experiment with growing their plants in a Northeastern climate.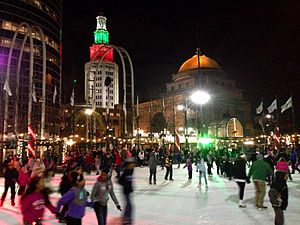 Miscellaneous
Buffalo City Hall Observation Deck

phone: +1 716 851-4200

address: 65 Niagara Squ.

As mentioned before, Niagara Square is the center of Joseph Ellicott's original radial street plan for Buffalo, which makes the 360-degree panoramic views available from the 28th floor of — the second-tallest building in Buffalo — all the more impressive. Guests take the elevator as far as the 25th floor, then ascend a stairwell for the remaining three floors, and are then rewarded with unparalleled views over Buffalo and its surroundings, Lake Erie, and Canada. On clear days, the mist from Niagara Falls can be seen over the northern horizon.
Do
Festivals and events
Buffalo's calendar of annual festivals, parades and events is huge and growing, and its central location makes downtown a popular location for these events. In particular, Niagara Square and Canalside are among Buffalo's preeminent venues, each hosting a multitude of festivals per year.
Spring
Buffalo St. Patrick's Day ParadeSince 1940, on the closest Sunday to March 17th, downtown Buffalo, as well as Allentown, has been the scene of New York State's second-largest St. Patrick's Day celebration, held by the Buffalo United Irish-American Association. Traditionally, Mass is said by the Bishop of Buffalo at St. Joseph's Cathedral on Franklin Street immediately before the participants gather at Niagara Square, marching up Delaware Avenue as far as North Street. The grandeur of this event is testimony to the continuing importance of Buffalo's Irish-American community.
Summer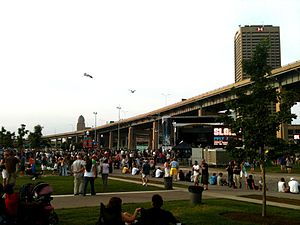 Autumn
Curtain Up!Curtain Up! takes place in mid-September, when downtown Buffalo's Theater District toasts the opening of the theater season with a slate of new shows generating excitement anew among Buffalo's theater fans. Opening performances in the various theaters are preceded by a gala black-tie dinner at Shea's Performing Arts Center and followed by an outdoor party on Main Street that is open to the public.

The World's Largest DiscoThe largest event of its kind in the world, the World's Largest Disco brings back the 1970s for one day each Thanksgiving Day weekend, with the transformed into New York State's largest dance floor. Every year, thousands of locals and visitors age 21 and over dance the night away to the retro tunes that are played on the festival's 500,000-watt soundsystem, and have the chance to meet disco-era celebrities that have included Henry Winkler, Erik Estrada, Leif Garrett, and the cast of The Brady Bunch. The World's Largest Disco has been featured on the front page of the Wall Street Journal as well as such television programs as CBS This Morning, VH-1's Where Are They Now, and the Travel Channel's Secrets. All proceeds go to benefit Camp Good Days and Special Times, a local summer camp for children with cancer.
Winter
Downtown Buffalo Christmas Tree LightingIn addition to serving as the official opening of the ice skating season at the Rotary Rink at Fountain Plaza, the lighting of downtown Buffalo's Christmas tree has unofficially kicked off the holiday season in the local area since 1984. Immediately after the tree lighting, the crowd can enjoy an exciting fireworks display over Fountain Plaza, followed by horse and wagon rides, clowns and balloon art, face-painting, skating at the Rotary Rink, and, of course, visits with Santa Claus.

First Night BuffaloA drug- and alcohol-free New Year's celebration, First Night is a celebration that takes place in various cities in the United States. Beginning in Boston in 1976, First Night made its way to Buffalo in 1989. In addition to the "ball drop" that takes place at the stroke of midnight from the top of the Niagara Mohawk Building (second in annual attendance in the U.S. only to the famous Times Square ball drop in New York City), live music can be had downtown; other venues around the city present a diversity of free entertainment such as poetry, dance, comedy, puppet shows, and other performing arts, as well as activities for children such as bounce houses and jungle gyms.

phone: +1 716 901-1855

A new tradition that takes place in early January, the Buffalo Soup Fest sees Buffalonians stave off the cold of winter with hot, hearty bowls of soup, all to benefit a variety of worthwhile causes. This offbeat but popular festival was inaugurated in 2011, and spent its first few years bouncing around various venues in suburbia before growing crowds forced it to relocate to the Buffalo Niagara Convention Center in 2014. At the Buffalo Soup Fest, over 30 vendors representing restaurants, food trucks, and specialty shops from all over the Niagara Frontier compete for 17 different prizes, while youngsters can enjoy the Oogie Games "Kid's Corner" with video games. The Brooklyn Brewery Soup Challenge was also inaugurated as part of the 2014 festival, where competing restaurants create new soups using beer as an ingredient.
Sports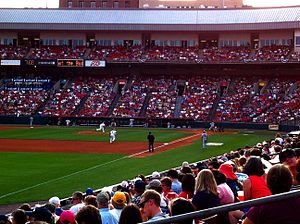 Downtown is home to four of Buffalo's six professional sports teams.
Pro sports aside, HarborCenter is also home to the Canisius College Golden Griffins men's ice hockey team, playing Division I hockey in the Atlantic Hockey Conference.
Ice skating
address: West side of Main St. between Exchange and Scott Sts.

The Ice at Canalside is New York State's largest outdoor ice rink, two and a half times the size of a regulation hockey surface and three times the size of the skating rink at Rockefeller Center in Manhattan. Located on the new northern extension of the Commercial Slip — the site of both the Erie Canal terminus and the playing surface at the old Memorial Auditorium (a special insignia on the surface of the rink pays homage to the Buffalo Sabres' former home ice) — the Ice at Canalside opened just in time for the start of the 2014-15 skating season, and also hosts broomball, curling, and other winter pastimes. Skates and "ice bikes" are available for rent as well. In summer, the Ice at Canalside is converted to a lovely reflecting pool, with old-fashioned whipple-truss bridges crossing over the water that evoke the bygone days of the Erie Canal.

address: 95 Main St.

When they're not being used for Buffalo Sabres practice sessions or Buffalo Beauts, Buffalo Junior Sabres, Canisius Golden Griffins, or Erie Community College Kats hockey games, the two indoor NHL-sized rinks on the sixth floor of the HarborCenter at Canalside occasionally host public skates. See the HarborCenter website for a schedule of open times and ticket purchasing information.

phone: +1 716 851-4200

address: 20 Fountain Plaza

Named for the Rotary Club whose $500,000 donation made its construction possible, the Rotary Rink has, since 1991, provided city residents with a unique opportunity to ice skate outdoors in an urban setting just steps from the Theater District, Chippewa Street, and downtown hotels and attractions. Skating at the Rotary Rink is very popular during winter events downtown such as the Christmas Tree Lighting, the New Year's Eve ball drop, and Winterfest, with the rink open extended hours during those times.
Boating
phone: +1 716 288-5309

address: 1 Naval Park Cove

At BFLO Harbor Kayak, the format is decidedly freeform: after a brief introductory talk on oar gripping, seating, and other mechanics of kayaking, you're set loose into the water to explore Canalside, the Naval Park, and the elevators of the Buffalo River at your leisure; just make sure you're back when your time is up. Stand-up paddleboarding — a watersport imported from Hawaii that's perhaps best described as surfing with an oar — is also offered, as are guided historical tours of the harbor and the Buffalo River (check website for details on those). Keep in mind that BFLO Harbor Kayak is one of the most popular activities offered at Canalside, with waits of three hours or more not uncommon on balmy summer weekends, so arrive early and plan accordingly as no advance reservations are taken.

phone: +1 716 681-4643

address: near corner of Main St. and Marine Dr.

Courtesy of Water Bikes of Buffalo (see below), both young and old can cruise their way around the rebuilt Canalside canals on their choice of six adult-size paddleboats or 12 child-size double-passenger boats. Boats are rented for 20-minute intervals on a first-come-first-served basis from the kiosk at the east end of the canals, adjacent to Main Street. Life vests are provided free of charge and, even though the water is only 18 inches (45 cm) deep, are mandatory for all ages.

Sail the CanalThe miniature remote-control sailboats you see puttering around the rewatered Erie Canal were inspired by the model boat races that have long taken place at Conservatory Pond in Manhattan's Central Park, and Canalside is still the only other place in the world that has them. As you stand alongside the edge of the water, you use the remote-control unit that the folks at Sail the Canal give you to adjust your boat's sail and rudder — but as with a real sailboat, the wind does all the rest of the work. For that extra touch of authenticity, they'll even sell you a captain's hat.

phone: +1 716 681-4643

address: south end of Main St.

A "water bike" is a contraption that looks rather like two parallel kayaks with a bike frame, pedals and handlebars suspended between them, and Water Bikes of Buffalo has ten of them (plus one tandem "waterpillar") docked at the far southeast corner of Canalside. What a unique way to explore the downtown waterfront, the hulking grain elevators of the lower Buffalo River, and the handsome, historic Buffalo Lighthouse. Water bikers must be at least 8 years old and at least 48 inches (122 cm) in height, and children must be accompanied by an adult 18 years of age or older.
Harbor cruises
phone: +1 716 856-6696

During the warm months, the Miss Buffalo II takes visitors on their choice of three sightseeing cruises that cover various parts of Buffalo's waterfront. The basic Narrated Sightseeing Cruise takes in the sights along the upper Niagara River including the old Buffalo Light, the Black Rock Canal, and (on the opposite side of the river) Old Fort Erie. The Historic Buffalo River Tour explores Buffalo's mighty industrial past with a visit to the old Erie Canal terminus and "Elevator Alley", a stretch of the Buffalo River adjacent to the harbor that is lined with historic grain elevators. The Landmark Tour uses Buffalo's scenic harbor as a base to explore the magnificent architectural landmarks of downtown. Tours leave from the Erie Basin Marina rain or shine. Parties, corporate events, and private charters are also available.

phone: +1 716 854-7245

address: 2 Templeton Terr.

The Moondance is a 51-foot catamaran that offers two-hour cruises on Lake Erie. Four cruises depart daily from the Erie Basin Marina, and passengers can take advantage of an open bar, sound system, and ample space for sunbathing. Group charters and banquet packages are available.

phone: +1 716 796-7210

Serene and scenic cruises on Lake Erie and around the harbor are to be had on the Spirit of Buffalo, an unmissable 73-foot schooner that affords them the opportunity to experience a trip aboard a traditional 19th-century sailing vessel. Day cruises, sunset sails, and a Wednesday "Wine in the Wind" Cruise featuring local vintages from the Niagara Peninsula are all offered; kids love the Pirate Cruises that sail on Saturdays and Sundays. All cruises leave from the Commercial Slip at Canalside. Private charters are available as well.
Theater
For a city its size, Buffalo has a surprisingly large, active, and diverse theater scene. The
Theater District
, bounded roughly by Washington, Tupper, Pearl, and Chippewa Streets, is especially vibrant, with
Curtain Up!
, the gala event that marks the opening of the theater season, drawing larger-than-ever crowds downtown each September.
For further information on many of the theaters listed here, and on the shows currently running, please visit the Theatre Alliance of Buffalo's
website
.
phone: +1 716 852-2600

address: 672 Main St.

Located in a striking Art Moderne building in the heart of the Theater District that once housed Buffalo's Greyhound bus station, the Alleyway Theatre presents a full slate of plays and musicals year-round in a comfortable and intimate setting. Popular features of the Alleyway Theatre's annual schedule include "Buffalo Quickies" (a festival of one-act plays by local writers), the Maxim Mazumdar New Play Competition, and the theater's annual presentation of Charles Dickens' A Christmas Carol each December. The Alleyway is also home to Theatre Plus, a troupe that puts on musicals, plays, dance performances, and other such fare, geared toward and performed by women.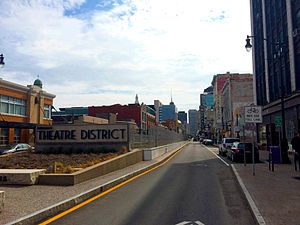 Irish Classical Theatre Company

phone: +1 716 853-4282

address: 625 Main St.

Housed at the in the Theater District, the Irish Classical Theatre Company was founded in 1990 by a pair of brothers from Dublin with a mission "to present the greatest works of dramatic literature: international classics; modern plays of exceptional merit; and Irish plays, both traditional and contemporary... at the highest level of artistic excellence for the public of Buffalo, Western New York and Southern Ontario, and subsequently, for national and international audiences." Despite its name, the Irish Classical Theatre has a broad and international focus; over the course of its history, the company has presented performances by the late French mime Marcel Marceau, the renowned Polish dramatist Kazimierz Braun, and Buffalo native Jesse L. Martin, whose work includes performances in the Broadway musical Rent and the television series Law & Order.

phone: +1 716 629-3069

address: 456 Main St.

Road Less Traveled's location may be new (it moved in September 2018 to its own space in the former Baker Shoes building a couple blocks south of the Theater District proper), but its mission remains the same: developing and producing works by playwrights of local extraction. Its in-house program for developing local talent, the Emanuel Fried New Play Workshop, has been of especial assistance in Road Less Traveled's recent initiative to better reflect the increasingly diversified identity of Western New York in order to present local audiences with a picture of their world that is as true-to-life as possible, and to capture the interest of young people and others who may be new to the experience of live theatre. Additionally, Road Less Traveled Theatre often presents theatrical productions of exceptional quality by dramatists from outside the region.

phone: +1 716 847-1410

address: 646 Main St.

Located in an dazzlingly ornate former movie palace that has been listed on the National Register of Historic Places, Shea's Performing Arts Center has been the cornerstone of downtown Buffalo's Theater District since the late 1970s, when its opening thwarted plans by civic leaders to demolish the grand old building. Today, Shea's is Buffalo's premier venue for lavish Broadway-style musicals such as Dreamgirls, The Lion King, and Wicked, as well as live music and performances such as Sesame Street Live and the Radio City Christmas Spectacular. The Mighty Wurlitzer organ, installed in the theater in 1926 to provide musical accompaniment to silent movies, is also occasionally dusted off for performances of various types.

phone: +1 716 847-0850

address: 710 Main St.

The Studio Arena Theatre was one of the oldest resident theatres in the United States and Buffalo's only professional regional theatre at the time of its closure in 2008 due to financial difficulties. It was reopened in 2012 by Shea's Performing Arts Center in partnership with a variety of other local, regional, and college theatre institutions. The 710 Theatre presents an assortment of productions. The theatre is also available for private and corporate events.

phone: +1 716 847-1410

address: 660 Main St.

Next door to the main Shea's building is the Smith Theatre, a cabaret-style venue that presents fare that is quirkier and more locally-focused as opposed to major national touring productions. The Smith Theatre hosts a diversity of fare, including stand-up comedy sets and off-Broadway-style material that's often written and performed by Buffalo-area natives.
Movies
phone: +1 716 803-6250

address: 639 Main St.

After a four-year hiatus, the movies made their triumphant return to the downtown Theater District in summer 2018. The eight screens show the typical big-budget Hollywood fare, but in terms of amenities, this is easily Buffalo's swankiest cinema experience: ticketless entry, heated reclining seats, and a full bar (the Market Arcade 8 is the only movie theater in New York State with a liquor license!) are but a few of the additional touches that elevate it a cut above the competition. As anywhere downtown, limited parking is the Achilles heel of this place: if you're not arriving by Metro Rail, best practice is to head for a spot in the M&T Bank parking lot across Washington Street, which is open to non-bank employees beginning at 4PM (10AM on weekends) at a flat rate of $3.

phone: +1 716 884-7172

address: 617 Main St.

Founded in 1985, Squeaky Wheel is a nonprofit, grassroots, artist-run media arts center that periodically screens locally-produced independent and avant-garde film and video projects.
Live music
phone: +1 716 852-3900

address: 681 Main St.

Once a Prohibition-era speakeasy that was Al Capone's favorite Buffalo hangout, the Town Ballroom has been reborn as one of the city's premiere venues for nationally famous pop, rock and hip-hop acts to strut their stuff. The upcoming concerts at the Town Ballroom as of this writing — hip-hop veterans Cypress Hill, Canadian alt-rockers Billy Talent, metalcore favorites Killswitch Engage, and jam band Umphrey's McGee — are indicative of the caliber and range of groups that perform there.

phone: +1 716 852-2860

address: 622 Main St.

This Theater District mainstay started out as a small jazz club but has branched out into roots, rock, soul, R&B, and world music with an emphasis on mid-level national acts as well as local bands.

phone: +1 716 885-9643

address: 335 Franklin St.

It's best known as a divey blue-collar watering hole, but the Tudor Lounge is also one of the best places in Buffalo to see local blues combos — including the house band, the Jony James Blues Band — strut their stuff. Bluesy alt-rock acts take the stage from time to time, as well. The Tudor Lounge also has karaoke on Friday nights starting at 11PM.

Venü

phone: +1 716 427-8368

address: 75 W. Chippewa St.

Another of Chippewa's new breed of live music venues, Venü is where Timothy Walton brings a "Vegas-style concert experience" to the former Lux nightclub at the heart of the strip. A ground-level dance floor plays host to a full schedule of DJs, rave and electronica musicians, and the occasional rock band, while a second-floor balcony accommodates live music fans looking for a less kinetic experience. Themed dance parties and other special events are also frequently held.
In summer, downtown plays host to a number of regularly scheduled outdoor concert series, too.
Canalside LiveThis long-running outdoor concert series traces its history to 1986, the first year Thursday at the Square was held at Lafayette Square in the heart of downtown. In 2011, event organizers responded to the increasingly large crowd sizes by moving the second half of the schedule to the much larger Canalside area, where the entire series is now held. Evolving from its humble beginnings as mainly a showcase for local bands (and with shows no longer held exclusively on Thursdays), Canalside Live has grown to host internationally known artists and groups such as Blues Traveler, Parliament/Funkadelic, the Violent Femmes, Hootie and the Blowfish, They Might Be Giants, Big Bad Voodoo Daddy, and dozens more, and is also well-known for regularly showcasing Canadian acts such as Sam Roberts, the Lowest of the Low, Sloan, and 54-40. Concerts are held from June through August.

M&T Bank Plaza Event SeriesNot many people know that Buffalo is home to the longest-running free concert series in the United States: since 1969, M&T Bank has been staging lunch-hour performances five days a week on the entrance plaza of their corporate headquarters, the Minoru Yamasaki-designed . Out of all the concert series you'll read about in this section, the Plaza Event Series has easily the most diversity of programming: sure, you'll see your share of local bar bands working their repertoire of classic-rock cover tunes, but the 2019 schedule also included jazz from the Bobby Militello Quartet and David Kane's Them Jazzbeards, a tribal drum and dance performance courtesy of the African-American Cultural Center, an appearance by the Buffalo Philharmonic, and even a stand-up comedy set from Nels Ross.

Thursday & MainFilling a void left when Thursday at the Square outgrew its downtown digs, moved to Canalside and started charging admission (see above), this much lower-key event sees a crowd of mostly nine-to-fivers descend on Fountain Plaza on summer evenings after work to enjoy free concerts by local bands and/or nosh on a spread of "happy hour"-style libations and light foods offered up be a rotating lineup of downtown restaurants.
Miscellaneous
phone: +1 716 424-0507

address: 505 Main St.

The obligatory axe-throwing bar that any city that aspires to any level of coolness has to have nowadays. The procedure at Hatchets & Hops sees groups divided into teams of a maximum of six people which each face off in a round-robin, bracket-style tournament lasting about two hours. Admission is by advance reservation only (though the policy says 24 hours, they're usually booked out several weeks in advance, so reserve early) with a $100 deposit required at the time of purchase that can be transferred to a new session date and time within the window of the 2-week rescheduling/cancellation policy, but is nonrefundable. Prices are quoted per lane rather than per player, with no discount for teams of less than six people, so to maximize the bang for your buck you should try to come in a group numbering in a multiple of six. And, as you can imagine in a place with sharp objects flying around, they're dead serious about safety here — you have to sign a liability waiver before you begin, as well as review an exhaustive set of safety rules. Open-toed shoes are prohibited; loose-fitting or dangly clothing is strongly advised against; and you'll be escorted out if found to be intoxicated. (Notwithstanding that, there is a bar onsite — while tournaments are ongoing they only serve Snowy Owl Kombucha and Public Espresso, but afterwards you can freely indulge in a decent selection of local craft brews, wines, and ciders.)
Buy
Urban renewal gone wrong
No discussion of downtown Buffalo retail would be complete without a mention of the
Main Place Mall
, opened in 1969 on two blocks on the west side of Main Street, between North Division Street and Lafayette Square. In the midst of suburbanization, the Main Place Mall was a tragically wrongheaded attempt on the part of downtown developers to provide a shot in the arm to the then-declining phenomenon of Main Street retail by recreating the sterile ambience of a suburban shopping mall in an urban setting. Although this attempt was mostly a colossal failure, the Main Place Mall clings to life today, albeit with the vast majority of its storefronts vacant. An exception to that rule is the food court, which is fairly active as a lunchtime destination for the white-collar workers at the nearby office towers. However, one would be hard-pressed to recommend the mall as a shopping destination to anyone other than those few readers who happen to be in the market for dollar-store trinkets, basketball sneakers, or cheap prepaid mobile phones.
Downtown Buffalo is not the retail draw that it was 50 or 75 years ago, before suburbanization took its toll. However, as Buffalo continues its renaissance, specialty shops are beginning to creep back in to some parts of the business district — namely the
Theater District
, which is close enough to the densely-populated and well-heeled neighborhoods of Allentown and the Elmwood Village to draw in their clientele. Elsewhere downtown, shopping opportunities are few and far between, but look for that to change as more and more former office buildings are converted to apartments and hotels, slowly creating a "critical mass" of residents and tourists in the area.
Art
phone: +1 716 868-8183

address: 617 Main St.

The Queen City Gallery "Celebrates the Architecture of Buffalo" (to cite its mission statement) from its headquarters in the Market Arcade on Main Street in the Theater District. Here you'll find not only the work of its owner, Michael Mulley, but also photography and works in other media by a bevy of local artists, with an accent on vintage and contemporary depictions of Buffalo and Western New York. Books and prints are offered for sale at reasonable prices.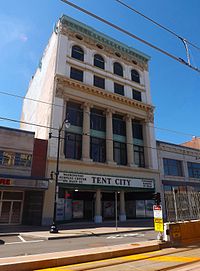 Clothing and accessories
address: 110 Genesee St.

If you want to not only look sharp but also wow Buffalonians with your knowledge of the minutiae of local culture, the Genesee Gateway is the place to be. The marquee item on sale at the aptly named Buffalo Made Co. is a line of hand-printed t-shirts and hoodies emblazoned with vintage Buffalo Bills logos, the old Bethlehem Steel Company insignia, and logos of innumerable gone-but-not-forgotten bars and nightspots like Merlin's, McMonkeez, and Romanello's Roseland. If that's not what you're looking for, they've also got house-brand leather goods and toiletries, art prints, and other gifts and trinkets you won't find in any other city in the country.

phone: +1 716 886-5787

address: 1031 Main St.

Located (appropriately enough) in the Buffalo Niagara Medical Corridor within easy walking distance of Buffalo General Hospital, Buffalo Scrubs is Western New York's #1 dealer of high-quality professional medical apparel. Scrubs, lab coats, shoes, and accessories are available in a wide range of styles and brands, with free office consultations, on-site fittings and delivery services provided.

phone: +1 716 847-0180

address: 747 Main St.

DC Theatricks is a full-service costume company specializing in custom-made men's period suits and uniforms for sale or rent. Not surprisingly, DC Theatricks does an especially brisk business around Halloween selling literally hundreds of custom-made costumes for adults and children, as well as wigs, makeup, accessories, costume kits, party supplies, decor, and other such goods. DC Theatricks' manufacturing department also takes online orders for shipment anywhere, and wholesale pricing is available to qualified purchasers.

phone: +1 716 882-1500

address: 391 Washington St.

Custom-designed bridalwear is the specialty here, but even if you're not planning a wedding, you'll find two collections of made-to-measure upscale ladies' clothing in Made by Anatomy's showroom on the ground floor of the Hotel Lafayette. Everything you'll find on the shelves represents the work of local designers (including owner Ali Eagen herself) and has been chosen with a view to an up-to-the-minute fashion style, an impeccable quality of handiwork, an ethos of sustainability and environmental consciousness, and support of the local fashion community.

phone: +1 716 812-0937

address: 403 Main St., Unit 103

Inside this boutique in downtown's Brisbane Building you'll find not only a huge mural photo of Lafayette Square as it looked in Buffalo's early-20th Century glory days — a symbol of the optimism that inspired owner Nia Badger to take a chance opening a downtown fashion boutique — but also a selection of eye-catching clothes, jewelry, and accessories for stylish urban fashionistas. MMW is a place to go for ladies of all shapes and sizes (from 0 to 3X) looking to make a bold fashion statement for prices that won't break the bank.

phone: +1 716 604-9193

address: 160 Delaware Ave.

This exclusive manufacturer and marketer of caps for all Major League Baseball teams and their minor-league affiliates — as well as a licensee of apparel for the NHL, NBA, and over 200 colleges and universities nationwide — has been headquartered in Buffalo since its foundation in 1920. At New Era's flagship store on Delaware Avenue in the former Federal Reserve Building, shoppers can choose from hats representing just about every professional sports team imaginable. As you can imagine, caps for local teams such as the Sabres and Bisons dominate the selections at the store, as well as the New York Yankees, who also boast a loyal following in Buffalo.

phone: +1 716 730-2685

address: 617 Main St.

Owned and operated by Angel Rodriguez, a gregarious native New Yorker who is as enthusiastic about giving impromptu tarot card readings as he is about fashion, SaiOne stocks a wide variety of one-of-a-kind clothes, accessories, and gifts, including many of his own designs (look for the "OMI Clothing" label) as well as other locally-produced pieces available only in Buffalo. However, what makes this place stand out is its extensive and fashionable selection of menswear — stylish t-shirts feature bold prints and a refreshing lack of ironic pop-culture references or other Urban Outfitters-style hipster cutesiness, and stylish sunglasses abound.

phone: +1 716 949-0192

address: 617 Main St.

Former Indonesia Stock Exchange trader Novi Paluch has guided Sasmita Batik Indonesia from relatively humble beginnings as a stall at the West Side Bazaar, to a quick ascent into part of the growing wave of retail tenants that have returned to the historic Market Arcade building (and downtown in general). As can be inferred from the title, the stock in trade of this cute, brightly decorated little shop is an exciting and colorful array of fashions, jewelry and loose batik cloth that ably reflect the beauty and culture of Southeast Asia. As well, Sasmita stocks a modest range of accessories, home decor, kitchenware, and unique gifts of the same ilk.

Tent City

phone: +1 716 853-1515

address: 674 Main St.

Tent City is one of Buffalo's foremost purveyors of activewear, work clothes, and surplus military uniforms. Camping supplies, work boots, winter coats, and apparel from brands like Timberland, Nike, Dickies, Carhartt and Columbia can be found at Tent City's outlet in the heart of the Theater District.

phone: +1 716 440-8966

address: 700 Main St.

Selling a range of vintage and modern clothing, jewelry and accessories, Yar Mo's Muse specializes in mixing and matching pieces from among their vast inventory to create one-of-a-kind, head-to-toe ensembles that balance timeless elegance with nods to any of a kaleidoscope of head-turning styles. And "kaleidoscope" is no exaggeration: Yar Mo's merchandise runs the gamut from brightly-colored dresses in patterns inspired by West African mudcloth, to stylish retro pieces that look like something Audrey Hepburn might have worn, to unusual Victorian-era flourishes such as capes. A respectable range of menswear is also offered.

phone: +1 716 392-8612

address: 465 Washington St., Suite 100

If custom-tailored menswear is what you're after (and money is no object), head over to the Sinclair Building for some of the most upscale threads Buffalo has to offer. The Zio experience is a personalized one: you first book an appointment for a fitting with owner Mark Nunziato, then you'll go over fabric and pattern choices together, then they'll build your suit jacket, dress shirt, pants, or whatever the case may be from scratch. As old-school as it gets, and with genuinely friendly customer service to match.
Furniture and home decor
David Tiftickjian & Sons Oriental Rugs

phone: +1 716 852-0556

address: 300 Delaware Ave.

Family-owned since 1892, the uncommon longevity of this place is probably creditable to the second-to-none care taken by the Tiftickjian family of their customers — buying an Oriental rug is a complicated process that requires extensive knowledge of what you're buying, and the staff here is not only knowledgeable but also trustworthy, even to the point of allowing customers to "live with" the rugs for a while in their own houses before making a final decision on whether to purchase. As for the merchandise itself, a dizzying variety of rugs and carpets are available, from hand-weaved antiques from Persia to high-quality modern rugs.

phone: +1 716 854-1805

address: 124 Genesee St.

Buffalo's oldest furniture store has been in the same handsome brick building at the corner of Genesee and Oak Streets, across the road from the Genesee Gateway, since 1897. Even as similar businesses fled for the suburbs, the loyal customers of Scherer Furniture have continued to travel here from all over the region to purchase quality products including solid oak, cherry and hardwood furnishings for every room in the house, made by renowned manufacturers such as Statton, Wesley Hall, Lexington, Colonial, and Hallagan and sold at reasonable prices with delivery and setup included. Free parking is provided.
Jewelry
Diamond Cutters of Western New York

phone: +1 716 854-4455

address: 295 Main St.

"To go to a more direct source, you'll need a miner's hat", so the slogan of this renowned wholesale diamond brokerage goes — and true to form, what you'll find here are carefully hand-select loose diamonds cut and polished by the two award-winning gemologists on staff, mounted into rings, earrings, pendants and other pieces by Diamond Cutters' own goldsmith (a selection of other lines of jewelry designs, including Cordova, Prima New York, and Vanna K are also available), and sold directly to the customer. Staff can even help you custom-design your own jewelry.

phone: +1 716 856-7599

address: 255 Delaware Ave.

Melting Point Jewelers is the place where owner Diane Von Heckler handcrafts personalized custom-designed gold and platinum jewelry for a growing legion of loyal customers — designs which usually include the diamonds and other precious and semiprecious gemstones that Melting Point sells. Melting Point will also appraise, repair or restore your old jewelry or watch, or remount gems from your old piece into a completely new setting.

New Generations Jewelry

phone: +1 716 853-2138

address: 403 Main St.

Located in the Brisbane Building on Lafayette Square, New Generations is a friendly neighborhood shop that does it all — not only do they sell a wide range of rings, earrings, bracelets, charms, timepieces and other jewelry items in gold and sterling silver, but the store provides complimentary gift wrapping and engraving, and will adjust and replace watchbands and change watch batteries while you wait. The friendly and knowledgeable service at New Generations is matched by amazing prices — customers speak again and again of spending less than half what they would at other stores for items that are of respectable quality.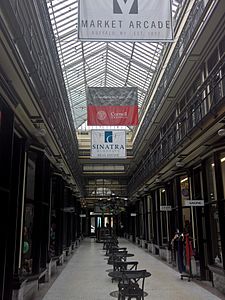 Specialty foods
phone: +1 716 342-2167

address: 535 Main St.

After your meal in the attached restaurant, browse through the sales racks filled with the same selection of high-quality handcrafted extra-virgin olive oils, balsamic vinegars, and other gourmet specialties as at the larger, retail-only locations of this renowned local chain.

phone: +1 716 575-5519

address: 5 Genesee St.

When Blue Monk on Elmwood closed, the loss to the local craft beer scene was staggering. Sure, there's been an explosion of new breweries, bars, and bottle shops emerging in the intervening years, but none of them could match the Monk for sheer variety. That dark age ended in 2019 with the opening of Fattey Beer Company on downtown's Roosevelt Plaza, the brainchild of Nik Fattey, one half of the ownership team of Hamm & Fattey's in Hamburg. The selection goes far beyond the navel-gazing obsession with local brews that you see elsewhere around Buffalo: an enormous rotating roster of over 500 varieties, including some hard-to-find rarities, available to take home or to drink in the onsite bar. Simply put, if you're a beer snob, Fattey is a can't-miss.

Fry Baby Donuts

phone: +1 716 783-7837

address: 336 S. Elmwood Ave.

Handmade vegan doughnuts are the name of the game here, but even meat eaters agree that Fry Baby's are among the best doughnuts in Buffalo (with some going so far as to call them "better than Paula's"!) The selection changes daily, ranging from the ordinary (chocolate and vanilla frosted, apple fritters, Bavarian cream) to the truly extraordinary (bubble gum, cotton candy, cherry cola). It really can't be emphasized enough how high the demand for these things are: despite odd and limited opening hours, Fry Baby is always packed and the most popular flavors always sell out early, so make sure to show up as soon as possible after they open.

phone: +1 716 704-4672

address: 41 W. Tupper St.

Tupper is a busy street, always full of cars rushing to the Kensington Expressway entrance, so it's remarkable that Jaclyn Krajewski's eponymous artisan chocolate and wine lounge sports such a pleasantly secluded vibe: the quaint and elegant decor and cozy intimacy will make you think you're somewhere in the French countryside. What a setting for a slate of artfully crafted ganaches, truffles and other confections, which come expertly paired with fine wines at a reasonable price — and if you're not in the mood for chocolate, how about a cheese plate or maybe a macaron from The Blue Eyed Baker?
Miscellaneous
phone: +1 716 844-8299

address: 255 Delaware Ave.

"Swarovski with a Buffalo twist", in the words of one visitor: at Abino Mills the name of the game is one-of-a-kind, customized etched glass. Browse through the shelves in a stylish, warmly-lit (courtesy of Buffalo's own Litelab, best-known for designing the light-up dance floor in the movie Saturday Night Fever) ambience and peruse your choice of bowls, vases, wine glasses, decanters, and the like, crafted in the finest Riedel and Darlington crystalware and featuring etchings that often reflect a Buffalo theme — the kind of upscale, intimate shopping experience that brings to mind the Delaware Avenue of old.

address: 617 Main St.

If its name brings to mind a bakery for dogs, that's entirely intentional: the Buffalo Barkery offers a line of homemade dog biscuits and treats made with all human-grade ingredients (and without preservatives, by-products, or unnecessary fillers). The "Buffalo" half of the moniker is done justice as well; specialty biscuit flavors include beef on weck and Buffalo chicken wing, and they also sell a yummy pumpkin treat in the shape of Canalside's own Shark Girl. Beyond the realm of the edible, you'll also find a range of squeak toys, shampoos and grooming supplies, and accessories for dogs and cats too — all manufactured in the United States.

phone: +1 716 674-7833

address: 500 Main St.

The third and newest location of this popular local chainlet opened on the 500 block of Main Street in 2019. Buffalo Cigars carries a gargantuan selection of over 50,000 cigars — everything from big names to up-and-coming brands to obscure imports — along with loose tobacco, pipes, and various smoking accessories. And don't be surprised if the friendly, chilled-out environment lures you to the cigar lounge at the back of the store: with comfy leather seating, big-screen TVs, free coffee and soda at the bar, and even personal humidor lockers (subject to availability; extra fees apply), it's a great spot to light up and take a load off.

phone: +1 716 604-2580

address: 712 Main St.

If you're in the market for a motorized bike on which to tool around the streets of Buffalo, this little shop in the Ansonia Center is the only game in town. At City Cycle you'll find some pretty snazzy models, all designed and built by owner Dan Thomas himself with a stylish retro aesthetic "reminiscent of the early days of Indian motorcycles and Western Flyer bikes" (to borrow the words of Buffalo Rising s October 2018 write-up of the shop). If none of the floor models strike your fancy, they'll even custom-design a model for you. Just don't show up expecting the utmost in friendly customer service.

Lincoln Coin & Stamp Company

phone: +1 716 856-1884

address: 33 W. Tupper St.

In business in the Theater District since 1972, owner Lou Montesano has built Lincoln Coin & Stamp's renown with collectors from all over the city and region with his honesty, integrity, and friendly and helpful service to his customers. A wide and changing selection of coins and stamps of all descriptions are available, as are supplies and accessories for the collector. Appraisal service is also available. Despite Lincoln Coin & Stamp's downtown location, ample free parking is available!

M. Steffan's Sons Leather Supplies

phone: +1 716 852-6771

address: 761 Main St.

Founded in 1851 and now the oldest (and once once of the largest) leather goods stores in the United States, you'll find M. Steffan's Sons at the north end of the Theater District. The huge variety of leatherworking supplies available here — buckles, rings, rivets and snaps, leather shoelaces, needles, shears and thread, etc. — belies the modest size of the store. Owner Linda Steffan really goes out of her way to educate local crafters about the art of shoemaking and leathercraft, going so far as to offer workshops every Monday morning where enthusiasts can learn from experts in the field.

phone: +1 716 500-6669

address: 731 Main St.

Oxford Pennant's business is retro-style pennants, banners, and patches, and while the bulk of their bottom line comes from partnering with big corporate giants like Adidas, J. Crew, and Google, they also run a little retail shop in the Theater District where the house-conceived designs run from meme-worthy slogans to their own Oxford Pennant branded swag. But if you're here shopping for souvenirs, you'll likely be most interested in their wide selection of Buffalo-themed gifts: how about an '80s-tastic "Talkin' Proud" camp flag, or a chenille "B" patch to sew onto your cardigan? And if you're an individualist, they'll be happy to work with you on a custom design.

phone: +1 716 301-5455

address: 617 Main St.

The Market Arcade is where you'll find the retail outlet for this "Simple-Ingredient Skin Care Apothecary" offering up soap, shampoos, shaving creams, lotions, and other toiletry items manufactured using 100% organic ingredients. Prices are predictably steep, but you're paying for local sourcing, sustainable and eco-friendly manufacturing, and above all, a gentle product (perfect for those with sensitive skin!) that gets the job done effectively without harsh chemicals being introduced into the proceedings.
Eat
Downtown's dining scene is flourishing, with great new restaurants opening on a constant basis. The scene has taken a turn for the luxurious of late, but affordable options are plentiful too — especially for those who are in the neighborhood at breakfast or lunch time on weekdays.
Budget
phone: +1 716 854-1489

address: 452 Pearl St.

Downtown's sole option in the realm of Indian food, but depending on how big a role atmosphere plays in your ideal dining experience, it may be the only one you need. Akbor's menu doesn't stray far beyond the usual lineup of North Indian specialties, but consensus says the preparation is a bit more authentic than most places around town (although, counterintuitively enough, the odds-on favorite dish served here is chicken tikka masala, arguably the least "authentically Indian" Indian specialty around). But the true claim Akbor stakes on the Buffalo culinary map is as the only place in town that serves Indian Chinese food; if you're interested in trying out this hard-to-find fusion, opt for the chicken or vegetable Manchurian. Downsides include surly staff, and as mentioned earlier, a spartan and grungy ambience.

phone: +1 716 853-2464

address: 42 W. Chippewa St.

Bada Bing was one of the last holdouts at the former Delaware Court Building, which was demolished at the end of 2013 to make way for a new high-rise — but now it's back in a new location at the other end of Chippewa Street. Head chef Dominic Paladino serves up "pub grub with an Italian twist" (in the words of an Artvoice feature story from some years ago): "sangwiches" of garlic bread and grated cheese, as well as pasta, chicken and sausage parmigiana, chicken wings and fingers, salads, and a full drink menu.

phone: +1 716 883-8200

address: 11 E. Mohawk St.

After 62 years on Elmwood Avenue, Casa-di-Pizza moved downtown in 2015, making its mark on the revitalization of Buffalo's business district in its new home just off the burgeoning 500 Block of Main Street. Though the location has changed, the menu is much the same as before: at heart Casa-di-Pizza remains an old-school neighborhood pizzeria, Italian restaurant, and bar, whose food — chicken wings and fingers, subs, salads, sandwiches and burgers, pasta dishes, simple yet hearty homestyle entrees such as barbecue chicken and ribs, and, of course, pizza — is as delicious as it is unpretentious. One new addition to the menu are the "breakfast pizzas" served up to hungry downtown office workers on weekday mornings.

City Fare Café

phone: +1 716 907-5600

address: 483 Main St.

Opened in 2017 by a former chef at Allentown's renowned Mother's restaurant, what you'll find on the sandwich board at this somewhat off-the-beaten-path lunch spot is a roster of specialties with memorable names and even more memorable flavors: favorites include the "Bay of Pigs" (a classic-recipe pressed cubano made with ham, salami and slow-roasted pork), the "Tempeh of Doom" (a vegetarian-friendly banh mi with sriracha mayonnaise), and "It's All About Me" (their term for the build-your-own option), all made with locally-sourced BreadHive rolls and panini. Salads are an alternative option where Mediterranean influences predominate. The ambience is pleasant, relaxing, and airy, bathed in natural light courtesy of large windows looking out onto the lively 500 Block of Main Street.

The Dish

phone: +1 716 867-9271

address: at Canalside, on the boardwalk about halfway between the Commercial Slip and the Skyway overpass

Far from its roots as a waterfront stand with a pleasant but simple and rather unimaginative menu of hot dogs, burgers and ice cream, The Dish nowadays has a more upscale focus: interesting new additions such as a tofu banh mi and curried lentil fritters have lately appeared on the menu, and old favorites were given innovative new twists, such as a burger made with a blend of short rib and sirloin sourced from Pat LaFreida Meats. Breakfast time sees a variety of egg sandwiches served up for early birds. As always, al fresco dining is the rule at The Dish: long communal tables line the boardwalk along the side of the river, with refreshing lake breezes caressing you and the plaintive wail of seagulls serenading you as you eat.

E-CaféMore than just another lunch-break destination for the suit-and-tie crowd, E-Café is a veritable Internet café, rare in these parts, with free WiFi and a collection of wired PC terminals available free to customers. Here you can get simple but well-prepared lunches and breakfasts served with a smile and lightning speed. The usual range of subs, wraps, burgers, soups, and salads are all on offer and all delicious, but E-Café's customers reserve special praise for the dozen or so melt and focaccia sandwiches on offer at lunchtime. Breakfast sees office workers savoring the scent of bacon in the air as they gobble up omelettes and breakfast sandwiches (available on English muffins or bagels) before the workday begins. The downside is the coffee, which is just okay. On Fridays they close early, but make up for it with free fountain beverages all day.
E-Café has two locations, both located on Main Street and both with the same opening hours and menu:
E-Café at the Glenny
phone: +1 716 436-5482
address: 249 Main St.
E-Café at 487 Main St.
phone: +1 716 852-7449
Ellicott Square Building food court

address: 295 Main St.

In the lobby of the historic Ellicott Square Building are a trio of food stands where businesspeople and other on-the-go downtowners can stop for a quick breakfast or lunch in the midst of the impossibly ornate Gilded Age splendor of this local architectural masterpiece. The downtown location of Charlie the Butcher Express is one; the other two are...
phone: +1 716 903-4623

Launched in 2016 as a food truck, The Grove's credo of "healthy drinks and clean eats with the needed nutrition to replenish and heal the human body" carries over to its Ellicott Square Building location as well. The star of the show here is a range of cold-pressed fruit and vegetable juice blends, healthy smoothies, organic coffees and teas, but you'll also find house-formulated specialty salads, healthy breakfast options, and — uniquely in Buffalo — savory bone broth served as a hot beverage, packed with vitamins and nutrients. All made fresh before your eyes using organic, all-natural ingredients, all delicious, all served with a friendly smile.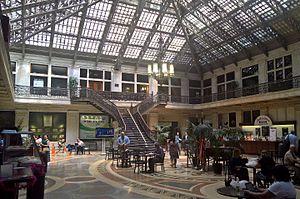 Joseph's Panini Stand

phone: +1 716 777-9570

Joseph's stock in trade is a huge selection of delicious made-to-order panini and wraps from which you can't go wrong no matter what you choose — but for something especially unique, try the apple tuna panini or the onion teriyaki burger wrap. Add to this a wide variety of salads, delicious homemade soups (the highlight of the menu according to the consensus of the regulars), and real fruit smoothies, and you have one of the business district's favorite spots for light, healthy and inexpensive lunches on the go. Vegetarians, vegans and the gluten-free crowd are well taken care of too, and not just with salads.
phone: +1 716 816-3018

address: 70 W. Chippewa St.

Basically a food court staffed by students and faculty from the Buffalo Public Schools' Emerson School of Hospitality, the cuisine at Emerson Commons, appropriately enough, can be likened to school cafeteria fare kicked up a few notches in quality. But the upside is that this is among the most affordable food you can get in the downtown core. Lunchtime offerings change daily; the menu usually contains two soups, two hot sandwiches, and three heartier main courses. The current week's menus are posted at the website for those who want to make their mind up in advance. Pizza by the slice, a salad bar, an assortment of homemade desserts, and breakfast options are available every day.
phone: +1 716 220-8468

address: 617 Main St.

The founding credo of the Pan-American Exposition, held in Buffalo in 1901, was about "bringing closer together the peoples of this hemisphere in their social, political, and commercial relations", and it's that collective spirit that inspired the name of EXPO Market. Described variously as a "food court" for the adjacent Market Arcade and as downtown's less culinarily daring answer to the West Side Bazaar, perhaps a better comparison would be to an upscale take on a university dining hall — compete with colorful contemporary decor, loud piped-in music (mostly singalong-able '90s and early '00s alternative and indie rock hits), a selection of vintage arcade and pinball machines in the back, and an overall youthful feel to the place. EXPO is home to four food counters, a coffee shop, as well as GBGB: Gypsy Bohemian Grove Bar.
La DivinaIn the years since the original location in Kenmore started serving the area's first truly authentic Mexican food, many competitors of the same ilk have come and gone. But the fact that there are now three La Divinas in the metro area goes to show who still rules the roost. The newest one, at EXPO Market, sports essentially the same food menu — tacos from the familiar (beef, chicken, carnitas) to the exotic (tongue, tripe, cecina), tortas, quesadillas; all among the best you'll find in Western New York — but sadly lacks the wide variety of Mexican juices and soft drinks the original place stocks.

Newbury SaladsSpecialty options at this emporium of organic, locally-sourced, GMO-free light lunch fare include the "Brainy Beet" (spinach/arugula mix, raw beets, fresh blueberries, feta, walnuts and broccoli) and the "Jalapeño Chicken" (over romaine with tomatoes and cucumbers), but the build-your-own salad is the marquee item here: choose a leafy green, then add any of four additional veggies, premium toppings if you like, and dressing. Build-your-own quinoa bowls and wraps work under similar principles, and multigrain bread sourced from the West Side's own BreadHive Cooperative Bakery (35¢ upcharge; totally worth it) tops it all off. Wash it all down with a selection of healthy smoothies.

Sun ExpressThe EXPO iteration of chef Kevin Lin's ever-popular local restaurant chain serves an abbreviated selection of the same Southeast Asian specialties as at the Black Rock and Williamsville locations: tasty Thai and Burmese curries, fried rice, and noodle dishes, along with a modest but scintillating range of ramen soups with your choice of meats and vegetable add-ins.
phone: +1 716 845-7060

address: 598 Main St.

Situated in the former Dunkin' Donuts at Main and Chippewa is a one-of-a-kind service aimed at on-the-go office workers (but also perfect for longer-term visitors) whose special dietary needs put Buffalo's diverse dining options out of their reach. Feature Meals works one of two ways: either treat it like a restaurant and stop in to enjoy a changing selection of breakfast and lunch boxes amenable to gluten-free, paleo, keto, vegan, and pollotarian diets (the menu varies widely, but fans of Southwestern and Middle Eastern cuisines will be especially pleased) along with a healthy smoothie or locally-brewed coffee or kombucha, or else pre-order up to a week's worth of prepackaged foods off the same menu and pick them up anytime during opening hours.
Fera's Electric Tower Café

phone: +1 716 855-4663

address: 535 Washington St., Suite 100

The menu at Fera's is as old-school as the Electric Tower s Art Deco-styled lobby, if not nearly as dazzlingly opulent: a selection of sandwiches, soups, and other simple lunch fare that's as comfortable and familiar as an old shoe, served to you nice and quick for decent prices by a superbly friendly staff that seems like they've been here forever. The turkey bacon club is a particular favorite, but consensus says stay away from the salads, which are overpriced for what you get. In the morning, breakfast sandwiches and piping hot coffee are a hit with the nine-to-five office crowd.
phone: +1 716 212-0374

address: 111 Genesee St

It's only natural that a restaurant located in one of downtown's oldest buildings — the c. 1845 Seeberg Building, part of the Genesee Gateway row — would pay homage with a menu full of sandwiches and salads named for the great landmarks of Buffalo architecture. The food is so uniformly high-quality and made with such fresh and tasty ingredients that it's pointless to recommend anything in particular, but examples include the "City Hall" (smoked ham served hot with bacon, melted Swiss, Dijon mustard and sweet and spicy relish), "The Buffalo Club" (turkey breast with provolone and bacon), and "The Hotel Henry" (house-roasted beef with provolone and blue cheese dressing). Prices are more than fair, service is quick and efficient yet with a personal touch — what's not to like (other than the limited opening hours)?
address: 424 Main St.

Pretty much the only lifeline keeping the Main Place Mall alive is its food court (see infobox above), which at lunchtime on weekdays is filled with workers from the attached high-rise office tower. Indeed, if you're downtown on a weekday and you're in the mood for an inexpensive bite, it can be worthwhile to make your way through the corridors past the empty storefronts and enjoy pizza at Zesto's or Gino and Joe's, deli sandwiches at Hoagie Brothers or H. B. Carver, Mexican food at Tijuana Taco or Chinese at Ding How Express. On weekends it's a dicier proposition; though the mall is open seven days a week, many of the restaurants are closed and the ghost-town ambience can be downright eerie.
phone: +1 716 851-6501

address: 329 Erie St.

The Hatch is the snack bar at the Erie Basin Marina, serving tasty burgers, hot dogs, fries, and a wide selection of ice cream and other frozen treats. The real appeal of The Hatch, though, are the lovely lake breezes and the stunning waterfront views that grace its visitors on hot summer days. This is why the Erie Basin Marina is popular not only with boaters but also with joggers, sunbathers, and people-watchers. Convenient to the Buffalo & Erie County Naval & Military Park and all downtown attractions. Watch out for seagulls!
phone: +1 716 855-4404

address: 75 Main St.

The main draw at The Healthy Scratch is a range of cold-pressed juices, smoothies, and coffee, but those in the mood for a light lunch instead can choose from a modest but tantalizing range of toast spreads as well as fruit and grain bowls — the "Too Much Is Never Enough" (yes, they all have cutesy names like this) features açaí and a mixture of other berries as well as banana, topped with granola, hemp seed, and flaxseed and drizzled with honey, but there's also a build-your-own option with a range of fruit blends and dry toppings. The menu helpfully enumerates not only all ingredients but also the calorie, carb, sugar, protein, and fat content of each menu item.
Hot dog cartsDowntown Buffalo's staple street food is served by the open-air hot dog carts that work the busy street corners of the business district. Regular hot dogs (invariably Wardynski's, for some reason) go for around $2, but bigger spenders can also enjoy jumbo all-beef franks, Polish and Italian sausage dogs, and, in some cases, burgers. Most carts also offer a value pack of two hot dogs and a drink, which usually run about $4.50. Vendors cook your food before your eyes on portable outdoor grills, slather on the condiments of your choice, and customers can fish soft drinks out of Styrofoam coolers on the sidewalk nearby. On weekdays from roughly 9AM-4:30PM you'll find a dozen or more hot dog carts up and down Main Street, as well as other spots with heavy foot traffic, such as Niagara Square and Canalside. Some operate on weekends too, but they're much fewer and further between outside of business hours.
phone: +1 716 446-3953

address: 14 Lafayette Squ.

As you may have inferred from the name, the sushi shop on the ground floor of Lafayette Square's Rand Building is indeed Burmese-owned. But make no mistake: Man-Aung is no Sun Express clone, with black rice and other elements of Southeast Asian cuisine creeping into the mix, but rather boasts a modest selection hewing to the usual Japanese-American standards. Service is grab-and-go out of a refrigerator case, but the food is remarkably tasty and fresh considering. If sushi's not your thing, try a bowl of piping-hot miso soup or (interestingly enough) surprisingly authentic Hungarian goulash.
phone: +1 716 852-8646

address: 56 Niagara St.

Ask locals about Marotto's and they'll likely assume you're referring to Mark Marotto's eponymous restaurant in Kenmore. But the original Marotto's, founded in 1958 by family patriarch Jerry, is still going strong downtown under the ownership of his other son, David. By contrast with the upscale Italian cuisine at its better-known counterpart, Marotto's DuBois features a smaller but equally delicious menu of homestyle options. DuBois wears its old-school identity on its sleeve — the serving staff here is decked out in "waitress whites", and the place has the feel of a private club — and it's the perfect setting to bear witness to judges and officials from the nearby courthouse talking shop at "The Roundtable", or local hotshot attorneys relaxing at the cocktail bar.
phone: +1 716 551-0472

address: 298 Main St.

One element the local dining scene has lacked more and more noticeably lately is French food: over the past decade, this dwindling has claimed longtime Buffalo stalwarts like Le Metro, Rue Franklin, and Mode. Striking a blow in the other direction is this breezy bistro that opened in the Cathedral Park Tower in 2019 with a menu replete with quiches, crêpes, sandwiches, and other light and lunchy Gallic classics, plus some nifty breakfast options too. The odds-on favorite is the croque madame — rich and decadent to rival that served anywhere in Paris, so reviewers say — but you really can't go wrong no matter what you choose. The speedy service is perfect for those on the go, too.
Natalie's Mediterranean Eatery

phone: +1 716 436-2084

address: 111 Genesee St

After having done a brisk business for over twenty years at the original Natalie's in Amherst, Tony Mansour brought his trademark slate of quick, light, all-homemade Greek and Lebanese specialties to a second location at the Genesee Gateway in late 2015. At Natalie's, you have your choice of copious Mediterranean favorites such as shawarma, souvlaki, and gyro that can be ordered either as wraps or full-size platters; fresh, flavorful fatoush and tabbouleh salads, hummus and baba ghanoush appetizers, and — in the morning — a killer range of breakfast sandwiches. The vegan and vegetarian crowd will be particularly delighted with the wide selection of veggie-, falafel- and hummus-based wraps. Natalie's delivers, too.
phone: +1 716 852-5555

address: 38 W. Chippewa St.

Prima Pizza & Pasta is situated at the east end of the Chippewa Strip and is a popular place to grab a bite to eat after a night at the bars or while staying in one of the area's many hotels. In addition to the astounding variety of pizza, subs, wings, pasta, salads, and tacos are served.
Taki's

phone: +1 716 845-6422

address: 45 Court St.

Open weekdays for breakfast and lunch, this perennial favorite with the downtown office crowd serves simple but tasty Greek diner fare for reasonable prices. The interior is spartan and dated (try to snag one of the unfortunately limited number of outdoor tables if weather permits), but customers rave about Taki's fried-to-perfection French fries, homemade Greek dressing, and light and healthy souvlaki.
Two Wheels Bakery & Café

phone: +1 716 370-1505

address: 435 Ellicott St.

Named in honor of the shared hobby of its two owners, Two Wheels is a quirky, low-key, vegetarian- and vegan-friendly café and bakery on the edge of downtown where everything is 100% gluten-free. The airy ambience of this restored period building is a great place to grab a quick breakfast or lunch — in the morning house-baked quiche by the slice is king and avocado toast appeals to a hipster clientele, while lunchtime features hearty soups as well as sandwiches and wraps of ham, turkey, tuna or hummus. Prices are high, but for those with health conditions that entirely preclude any amount of gluten in their diet, this is the only place in town where absolutely nothing on the menu contains it (and the baked goods, surprisingly, can hold their own with their "normal" counterparts).
Mid-range
phone: +1 716 883-1134

address: 1046 Main St.

Easily Buffalo's most famous restaurant, and maybe the only true "tourist trap" in town. Whether the Anchor Bar is recommendable for you depends on why you've come: if you're a hardcore wing fan who wants to make a pilgrimage to the place where it all began and maybe pick up some chicken wing-themed merch too, you'll leave happy. But if you care about a quality dining experience, look elsewhere: service is utterly indifferent and almost blatantly designed to turn over tables as fast as possible, and the food quality and prices are about what you'd expect from a place that serves mostly tourists with few repeat visitors. Besides wings, offerings include salads, sandwiches (including that other local innovation, beef on weck), and homestyle Italian specialties.

phone: +1 716 847-1512

address: 643 Main St.

One of the Theater District's finest dining establishments, the Bijou Grille specializes in upscale Continental and Italian cuisine in a prime setting just across the street from the historic and beautiful Shea's Performing Arts Center. Burgers, sandwiches, and salads are also available, and the second floor features two elegant and spacious banquet rooms.

phone: +1 716 842-4181

address: 490 Pearl St.

With a pitch-perfect ambience of dark tones and dim lighting, a decor scheme that's inspired by Broadway playbill art, and a staff who keeps track of showtimes and will have you served and out the door in time to get to your seats, Cabaret is a true creature of the Theater District. The menu incorporates meat-based mains, salads, and above all, pasta dishes (fettuccine Alfredo with shrimp is the odds-on winner, garnished with fresh broccoli), all united by impeccable quality and generous portion sizes — and free off-street parking is something not many downtown restaurants can boast!

phone: +1 716 331-3869

address: 128 Genesee St.

One of two restaurants owned by Victor Parra Gonzalez, Casa Azul's 2016 debut was the opening salvo in an ongoing explosion in the number and quality of Mexican restaurants in Buffalo. The cornerstone of the menu here are tacos that walk the line between authenticity and innovation — alongside run-of-the-mill options like chicken, beef and al pastor you'll find oddities such as a birria (braised goat) taco wrapped in a banana leaf and a fried, tequila-cured sweetbread taco seasoned with sal de maguey — though a newly expanded menu also features more elaborate specialties displaying the same creative flair. Seating is at bar stools along a counter facing an open kitchen; one reviewer compared it to a sushi bar. The main downside is the pint-sized portions, an issue that's only compounded by the high prices.

phone: +1 716 854-6642

address: 395 Delaware Ave.

Chris' is a family-run operation, which cuts both ways: the food itself is good enough to ensure consistent crowds during their brief lunchtime opening hours, but it's hard to fire your own flesh and blood, which makes for inconsistent-at-best service: friendly and efficient if you luck out, but more often slow, indifferent, and downright surly. Sandwiches come on your choice of ten different breads with a variety of optional toppings, with chips on the side by default or sweet potato fries for $3 extra. Try the smoked turkey salad sandwich, blended with fresh dill for an incomparable flavor. Grilled fare such as burgers and steak sandwiches, specialty salads, and Friday fish fry round out the menu. Prices are on the high side, but — if you're willing to put up with the lousy service — you really do get what you pay for.

phone: +1 716 322-6001

address: 341 Franklin St.

Okay, so the Crabman has more than its share of scathing one-star reviews on Yelp. That's not its fault. By and large, those come from locals who 1) are unfamiliar with the "Cajun seafood boil in a plastic bag" concept, of which this is Buffalo's first taste, and/or 2) were devotees of Rue Franklin, the much more elegantly-appointed French restaurant that used to be in this space. But it's also got plenty of glowing reviews too, courtesy of folks who don't let petty nitpicks get in the way of enjoying good food. Pick from a list of seafood specialties (besides crab, lobster and shrimp are also popular), choose your seasoning mix, then it's served to you in the bag it was boiled in; a tasty if messy experience. Legit quibbles include price point by relation to portion size as well as some misleading wording in the menu — the "catfish" is actually haddock, for instance.

phone: +1 716 342-2167

address: 535 Main St.

The downtown location of this local chain of gourmet food shops also includes a restaurant with a menu of build-your-own salads, pizzas, antipasto plates, and sandwiches. Service is fast-casual style: you're given a laminate-surfaced menu board and a dry-erase marker, and you mark off your preferred ingredients (bread/pizza crust/salad base, one or two meats, one or two cheeses, veggie toppings, and condiments). A soup du jour and seasonal fruit bowl comprise the somewhat limited selection of appetizers and sides, and drinks include a wide range of hot and iced teas and a more modest selection of beer and wine. The food is prepared with time-tested Old World techniques that bring out the subtle flavors of the ingredients, and portions are large.

phone: +1 716 235-8464

address: 291 Ellicott St.

If you're a taco lover for whom ambience is more important than authenticity, check out the Ellicott Street cantina helmed by Richard Hamilton, here making a clean break from his haute cuisine background both in terms of the food he serves and the acid-trip environment it's served in: at the entrance psychedelic lights and visuals surround a giant lucha libre mask; indoors garish multicolored LED lights are punctuated by the eerie greenish glow of illuminated heating ducts and bar taps. Tacos come à la carte on homemade tortillas that draw mixed reviews: fresh as can be, but a bit too fluffy and prone to falling apart in your hand. Other options include a nacho platter smothered in melted cortija cheese, sides of Mexican street corn that are as authentic as it gets, and several vegetarian options.

phone: +1 716 880-1677

address: 301 Franklin St.

The Buffalo outpost of this nationally renowned chain is located in the former Universal International Pictures film vault in the Theater District: smaller than other locations, but with the same rowdy roadhouse vibe and menu of Kansas City barbecue done to perfection. Start with appetizers like out-of-this-world fried green tomatoes or "Dino poutine" topped with pulled pork, then move on to mains such as barbecue chicken, pulled pork, hand-sliced brisket, secret-recipe ribs, and catfish that come with your choice of sides (the mac & cheese is to die for and the peel-and-eat "drunken spicy shrimp" are gargantuan, but stay away from the bland "A.K. Chili") or as part of a range of combo platters. Sandwiches and burgers are also on hand for those with smaller appetites.

phone: +1 716 855-3739

address: 51 W. Chippewa St.

Frankie Primo's +39 (the suffix refers to Italy's telephone calling code) features specialties from owner Jay Manno's ancestral homelands of Sicily and Campania served in an old-school, Little Italy-esque ambience where exposed brick abounds and the tin ceiling is original to the building. The menu boasts a wide range of brick-oven pizzas, pasta dishes (including the Roman specialty cacio di pepe, the only place in Buffalo where you can find it), sandwiches on house-baked ciabatta bread, and main-course salads (particularly interesting is the cavolo toscano, a huge mound of kale topped with currants, toasted pine nuts, pecorino romano, and lemon vinaigrette) at prices that aren't half bad considering the ample portions. An encyclopedic wine list is the cherry on top.

phone: +1 716 697-7653

address: 500 Pearl St., Suite 107

It was at the Williamsville location of Fresh Catch Poke Co. where the Buffalo area was first introduced to the namesake Hawaiian specialty, and locals took to the dish with enough zeal that they opened a second outlet only a year later, attached to the Aloft Hotel downtown. The menu is the same at both locations — a wide variety of specialty or build-your-own poke bowls with varying grain or veggie bases, proteins, toppings, sauces, and sides; numerous options for vegans or those on other restricted diets; ingredients all fresh and sustainably sourced and served in generous portions to offset the high-ish prices — but exclusive to the downtown location is the Galley Lounge, a full bar where the emphasis is on healthy "mocktails".

phone: +1 716 262-0866

address: 665 Main St.

Its owners may be a pair of Lebanese brothers who got their start running a Greek diner in Amherst, but at Hearth + Press it's all about the Italian (the real thing, not watered-down, Americanized schlock). Sure, artisan pizza is everywhere these days, but nowhere else in town can you find an experience so distinctly European — this place is a charming, laid-back coffeeshop and a chic trattoria all rolled into one, with an airy ambience bathed in natural light. As you can guess, the gas-fired stone pizza hearth is the star of the show, with thin-crust, Neapolitan-style specialty pies crisped up in 90 seconds flat at temperatures north of 1000ºF (about 550ºC). But that's not all: there's also a slate of sandwiches served on fresh house-baked baguettes, and in the morning, Hearth + Press's coffeeshop alter ego comes to the forefront.

phone: +1 716 856-0062

address: 391 Washington St.

"History, ambience, and grandeur". "If these walls could talk". "Ridiculously ornate". High praise indeed for the ambience (deservedly so, the Hotel Lafayette is a meticulously restored Gilded Age masterpiece); if only the food were accoladed so consistently. Lafayette Brewing Company's menu — a down-to-earth panoply of sandwiches, burgers, salads, pizzas, and pub-grub appetizers — inspires sharply mixed reviews: some see it as boring and middle-of-the-road, others notice subtle creative twists and/or nods to local cuisine (Korean BBQ sliders; Buffalo chicken wontons on the appetizer menu), making this a good place to come if your party includes both adventurous and timid palates. Wash it all down with one of a quintet of specialty beers brewed onsite.

phone: +1 716 845-9173

address: 1 Naval Park Cove

Located inside the Buffalo & Erie County Naval Park at Canalside, Liberty Hound is a celebration of seafood from across the U.S. and the world, in a wonderful lakeside setting convenient to all downtown and waterfront attractions. Traditional offerings such as Maine lobster rolls and crab boil share space on the menu with exotic and innovative offerings, such as steamed littleneck clams with chorizo garlic butter and a Vietnamese-style banh mi sandwich stuffed with crispy fried calamari, that can be found nowhere else in Buffalo. Best of all are the refreshing lake breezes and lovely views over the waterfront and downtown.

Local

phone: +1 716 849-1000

address: 88 W. Chippewa St.

A perfect encapsulation of the Chippewa Street's evolution over the past decade: Noir, once home to many a thumping rave, has been transformed into a much mellower "kitchen and beer bar" that — from the locally-sourced ingredients, to the huge "Buffalove" sign adorning the back wall, and even to the interior, bedecked in warm-toned wood upcycled from an old barn in Clarence — really lives up to its new name. Local's menu is a classed-up take on pub grub whose standouts include the "Ultimate Chicken Sandwich" (grilled and topped with avocado, goat cheese, tomato, fresh basil, bacon, alfalfa sprouts, potato chips, and pesto mayo) and a beer-battered fish fry made with Southern Tier Brewing Company s "One Buffalo" American blonde ale.

phone: +1 716 259-8228

address: 521 Main St.

A Japanese-style yokocho stuffed inside a cramped-looking storefront on the 500 block of Main Street? Yes, and it's one of downtown Buffalo's newest sensations. Misuta Chow's is much bigger than it looks from the outside, and its dining room serves you classic Japanese street-food specialties and customized bento boxes as you sit on bar-style seating surrounding the open kitchen, but that's only the beginning of what this place is about. Dim lighting, red hanging lanterns, Godzilla-inspired mural art, imitation sakura in bloom, faux storefronts built into the walls to mimic a Tokyo back alley, and pretty much every vintage arcade and pinball machine imaginable combine for an ambience that's as much indebted to '80s video-game culture as Harajuku.

phone: +1 716 858-3118

address: 166 Franklin St.

Osteria 166 is a "casual Italian eatery and pub" that walks a fine line between the humble "red-sauce Italian" restaurants of Hertel Avenue and what's left of the Italian West Side, and the upscale establishments more typical of downtown. Entrees trend heavily toward the former, with classic favorites such as spaghetti and meatballs, shellfish fra diavolo, and an Italian sausage sandwich all making appearances on the menu. However, the appetizers are far more imaginative, with the creativity of the offerings in that category exemplified by grilled octopus, pork confit, and stuffed pepper risotto cakes. An impressive wine list caps off Osteria 166's menu in grand style.

phone: +1 716 856-2337

address: 76 Pearl St.

Located in a circa-1841 brick building in what the menu describes as "once the most evil square mile in America" — the old Canal District — the Pearl Street Grill & Brewery does its best to evoke those bygone days with a take on traditional pub grub that's unmistakably Buffalo and a setting that's been restored to mimic its 19th-century ambience. An interesting variety of burgers, sandwiches and wraps — including an astounding pulled pork sandwich served with Carolina-style barbecue sauce, and of course, beef on weck — and heartier mains all augment the selection of house brews, but (almost more than anything else on the menu) they bake a mean pizza too. The Pearl Street Grill is very busy before and after events at the nearby KeyBank Center, so check the event schedule before heading out.

phone: +1 716 626-5566

address: 125 Main St.

Those who are familiar with the original Pizza Plant in Amherst will be happy to know that the menu at the Canalside location is exactly the same; for the uninitiated, the house specialty are pods: like calzones but bigger, these football-shaped shells of pizza dough are as long as your forearm and contain your choice of pizza topping-style fillings (select from a couple dozen specialty pods or build your own). Equally worthwhile, though, are a range of thin-crust and stuffed deep-dish pizzas, pasta dishes, and bread bowl salads (including, oddly enough, the best Greek salad in town), not to mention a beer list that rivals anywhere else in town. Vegetarians, vegans, and the gluten-free crowd have a lot to choose from, and live music and other events are frequent.

phone: +1 716 436-3244

address: 537 Main St.

Paul and Sandra Wilkens' labor of love, meticulously restoring a building once thought too far gone to be saved, is matched by a topnotch dining experience available nowhere else in Buffalo. Raclette's namesake specialty is a Swiss French dish that you might call a cousin to fondue, and a quick meal this is not — they advise you to allow at least 90 minutes for the whole experience. If you're pressed for time, the balance of the menu is made up of serviceable bistro fare — a variety of Belgian-style moûles frites is popular for dinner, while lunchtime features a range of croques and baguette sandwiches. If there's a complaint to be made about Raclette's, it's that the portions are more European-sized than American-sized (let alone Buffalo-sized), but reasonable prices go a long way to compensate.

phone: +1 716 248-1436

address: 110 Pearl St.

While the two original Sato locations in the Elmwood Village and University Heights specialize in ramen, the downtown outlet of Satomi Smith's semi-eponymous restaurant chainlet (located in the 1895 Dun Building, Buffalo's first high-rise office building; architecture buffs might want to linger outside and drink in the Beaux-Arts Neoclassical majesty for a bit before entering) is in fact the first izakaya in North America to brew its own beer on the premises (and the first one in Buffalo, period). A few ramen and donburi highlights from the other Satos are joined on the menu by a short but well-curated range of kushiyaki and yakitori skewers, small sashimi plates, and other shareable Japanese bar snacks, among which teriyaki spare ribs sautéed in a house-made glaze earn especially high praise.

Señor Tequila

phone: +1 716 854-1000

address: 414 Pearl St.

While the fairly run-of-the-mill Tex-Mex fare they serve makes for a more well-rounded menu than many of downtown's other, more exclusively taco-focused Mexican restaurants, Señor Tequila is several unmistakable steps down from the competition in culinary creativity. But if you're content to stay within your comfort zone of burritos, fajitas, nachos, seafood platters, and the like, it's worth a shot anyway — and if the food fails to impress, you can still kick back at the bar (with your choice of tequilas, mezcals, over 30 different margaritas, and a roughly equal number of beers on tap) and take in the lively atmosphere and well-executed decor: all the old-school charm of original tin ceilings and exposed brick walls accented in the classic Mexican restaurant color scheme of yellows, oranges, and lime greens.

phone: +1 716 855-4716

address: 7 Scott St.

The experience at Buffalo's sports bar par excellence is, in the words of one reviewer, "probably better than actually going to the game". That's because you can watch the Sabres on the ice next door at the KeyBank Center (or pretty much any other team) in grand style on one of about 70 HDTV screens covering not only the bar but pretty much every interior surface right down to the mirrors in the restrooms. The menu is pub grub with a twist — beer-can chicken comes seasoned with a secret-recipe dry rub and jicama slaw on the side, and the ever-popular "Power Play Poutine" is smothered in locally-produced Yancey's Fancy cheese curds and a gravy that boasts a spicy kick (some speculate that they add Frank's hot sauce). The weak link at (716) is the service, which is often dashed-off and indifferent.

phone: +1 716 259-8130

address: 338 Ellicott St.

"Let's enjoy city dining again", implores Tappo's website, echoing the sentiment of a growing number of Western New Yorkers. Developer Rocco Termini and Buffalo restaurateur extraordinaire Mike Andrzejewski teamed up in 2013 to convert the former Horton Coffee building into this casual restaurant serving Italian fare that is familiar yet creative and well-prepared. Diners rave about delicious interpretations of classic favorites like lasagne, chicken cacciatore, and Italian wedding soup, as well as more imaginative options such as a basil prawn risotto and Tappo's lauded brasciole. The wine list features no fewer than 41 imported vintages, with a few domestic wines for good measure. Best of all, the value for what you get can't be beat — and neither can the view of the downtown skyline from the rooftop patio.

phone: +1 716 342-2901

address: 437 Ellicott St.

The erstwhile Golden Swan has been revamped into three floors of class, with a restored bar at street level, upper floors with great views over the skyline, and an understated decor that's mindful of the building's historic character. But you're here to eat, not for the view or the decor, and at Toutant the menu of Southern and Cajun specialties is small in size but superlative in quality. Start off with an appetizer of flaky "cast-iron cornbread", fried pork cracklins that according to one reviewer "taste like bacon-flavored chips", or house-smoked sausage and bacon, then move on to mains such as excellent fried chicken — crunchy and not too greasy — or jambalaya whose spiciness you can adjust to your taste. Weak spots include the service (slow and inept) and the noise level (deafening when the place is crowded).

phone: +1 716 989-1868

address: 674 Ellicott St.

Buffalo's oldest continuously operating restaurant dates back to the era when the Medical Corridor was a thriving German enclave, and its decor certainly pays tribute to its history — the ambience is fittingly dim and dated, with old photos and memorabilia on the barroom walls. Sadly, those in search of authentic Teutonic cuisine will be disappointed: specialties like schnitzel, knockwurst (served either in a sandwich or as part of the "Oktoberfest" sausage platter), and house-recipe potato pancakes are scattered widely among a menu that's otherwise characterized by hearty, old-school American fare. Food and service are both inconsistent in quality, but portions are generous.

phone: +1 716 844-8335

address: 118 W. Chippewa St.

Papaya may have closed some time ago, but its successor in the same location is keeping the Asian-fusion tradition alive on Chippewa. Waves' à la carte menu encompasses a wide range of sushi rolls, mains of Thai curries and noodle dishes, and an appetizer list dominated by tempura options, all competently executed, but the main draw here is all-you-can-eat seafood. Buffalo was a late adopter of this concept, but with Waves the city sure made up for lost time: the gargantuan slate of sushi, sashimi, nigiri, and other specialties of astonishingly high quality is where the chef's creativity really comes out in full force. Prices are a tad high, but you get what you pay for: not only great food but speedy and friendly service, all in an impressive ambience.
Splurge
phone: +1 716 854-9463

address: 54 W. Chippewa St.

Appropriately named for the Roman god of wine, Bacchus has always been Chippewa Street's odd-man-out, offering a decidedly upscale and laid-back experience since long before the rest of the thumping party bars on the strip began to follow suit. Located in the historic Calumet Building, the Bacchus experience is one of unrelentingly high quality and attention to detail. Impeccably prepared specialties of diverse influences — panko crusted ahi tuna, steamed Prince Edward Island mussels, and duck confit are a few — are complemented on the menu by an impressive wine list to suit all tastes. Free valet parking is a nice touch, too, on a street where it's always so hard to find a spot.

phone: +1 716 842-6900

address: 282 Franklin St.

The Buffalo Chophouse is one of the fanciest restaurants in the city, with prices to match. A variety of USDA-prime steaks; pork, lamb and veal chops, chicken dishes, and mouth-watering seafood selections take center stage on the menu, but you'll also find a huge selection of elegantly prepared salads and appetizers, the latter category predominated by elaborate and creative seafood dishes. For those in search of a luxurious experience "without taking out a second mortgage" (in owner Mark Croce's words), there's also a "5 for $55" prix fixe menu that buys an appetizer, a main course with two sides, and dessert. The decor is done up in a '40s Rat Pack theme, with a wood-panel inlay on the second-floor wall carved in the image of Frank Sinatra.

phone: +1 716 842-6800

address: 210 Franklin St.

Back in the '40s and '50s, the original Chez Ami on Delaware Avenue was Buffalo's hippest, swinging-est supper club, and today the Curtiss Hotel pays homage with its identically named restaurant, featuring a replica of the original's revolving bar (which, fun fact, was the first in the U.S.) "Casual upscale" is how the website describes the place, and the latter is certainly accurate vis-à-vis its ambience, price point, and culinary ambitions (a moderately creative take on the steak-seafood-pasta template). As for "casual", that seems more like a euphemism for inconsistent-quality food (burrata salad is a hit at lunchtime and the "Chez Burger" is said to be among the best in Buffalo, but many of the heartier mains tend to be bland and unimpressive) and mediocre-at-best service.

phone: +1 716 853-1390

address: 112 Genesee St.

Marble + Rye's oeuvre is hard to summarize succinctly, but let's try anyway. First, the menu is divided among permanent fixtures and seasonal options, the former generally better than the latter. Second, the cuisine here is maddeningly diverse, ranging from patatas bravas in a spicy and smoky tomato sauce, to grilled octopus topped with charred scallion, jalapeño and romesco sauce, to a hearty falafel and hummus appetizer. These and other culinary delights are enjoyed in an ambience that's rustic and homey yet urbane, with bright lighting as a welcome change for those tired of squinting to read the menu in fancy restaurants. Best of all, the service is as topnotch as the food — no mean feat given the crowds that show up on weekend nights (reservations are de rigueur).

phone: +1 716 852-7337

address: 2 Templeton Terr.

Templeton Landing is located at the Erie Basin Marina, a popular summertime hangout for boaters, walkers, joggers, and people-watchers. Boasting fine food and stunning views of Lake Erie from their patio that is open seasonally, Templeton Landing's entrees comprise hearty fare such as steaks, pork loin, burgers, and ribs, but the true pride of this place is their side dishes, which often share the spotlight with the main course rather than mere afterthoughts. Open all year, but summer is when you really want to come.

phone: +1 716 332-3131

address: 31 N. Johnson Park

The 31 Club began in the 1940s as Buffalo's premier supper club; though its original incarnation closed in 1983, it has now reopened in its original historic brick building on Johnson Park at the north end of downtown. The style and sophistication of the original 31 Club has returned, but with a contemporary twist. Freshly prepared Continental cuisine, such as Australian rack of lamb and filet mignon au poivre, is the rule at the 31 Club, as well as martinis and other specialty cocktails. Brunch and lunch are also served.

phone: +1 716 852-0500

address: 329 Erie St.

Though its dining room is gifted with spectacular views over the harbor, William K's follows through with an experience that's a cut above other waterfront eateries that often use said scenery to justify high prices and mediocre food. The smallish menu is an innovative take on the upscale steak-and-seafood model with the balance tipped toward the latter: grilled Spanish octopus over chorizo and chickpea stew is a unique combination of flavors and textures, and a changing selection of fresh seafood from the Gloucester Fish Market makes up the "Boston's Finest" platter. Those on a budget can choose from a range of brick-oven pizzas with some unusual toppings (how about bone marrow, smoked tongue, horseradish, and pecorino romano?)
Local chains
The following local chain restaurants have locations downtown.
Descriptions
of these restaurants can be found on the main Buffalo page.
Pizza
The following pizzerias are located downtown. Those who are interested in pizza delivery (as opposed to pickup) might want to also check listings in adjacent districts; local pizzerias will often deliver to several different neighborhoods of the city.
Dough Bois

phone: +1 716 852-8646

address: 56 Niagara St.

phone: +1 716 852-5555

address: 38 W. Chippewa St.
Groceries
In 2021, the parking lot behind the
Central Library
will become the location of downtown Buffalo's first proper supermarket. For self-caterers of the here and now, however, the nearest ones are the
Tops
on Niagara Street on the
Lower West Side
and the
Towne Gardens Supermarket
on William Street on the
Near East Side
.
Farmers' markets
address: Main St. between Court and Church Sts.

A downtown tradition for over thirty years, the Downtown Country Market sees dozens of vendors converge on Buffalo's business district to the delight of office workers, local residents and visitors who come to purchase a wide range of farm-fresh produce, meats, baked goods, and flowers. The Downtown Country Market is a member of the Pride of New York Program, meaning that all goods sold there are produced in New York State.

Roswell Park Farmers' Market

address: Kaminski Park, corner of Elm and Carlton Sts.

Named for and sponsored by Roswell Park Cancer Institute, the Roswell Park Farmers' Market is held in Kaminski Park, a lovely green oasis amid the gleaming new high-rises of the Medical Corridor. Each Wednesday afternoon in season you can pick up the usual assortment of locally-sourced fresh fruits and vegetables, baked goods, jams and jellies, and other specialty foods and gifts, including an especially good variety of cut flowers and ornamental plants.
Drink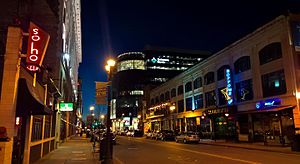 Chippewa Street
Though it's "grown up" a great deal since its glory days, there are still a few lively party bars and thumping dance clubs on Chippewa, generally clustered near the corner of Franklin Street...
...but nowadays the Chippewa strip — especially its western half, closer to Delaware and Elmwood Avenues — has come to be dominated by more laid-back, upscale bars and fine restaurants that cater to an older clientele than the club kids who frequented the district in the '90s and '00s.
Theater District
These more upscale establishments have traditionally been busiest before and after shows during theater season, but that's changing — with new life coming to Main Street thanks to the Cars Sharing Main Street program and the downtown revival in general, the Theater District's bars now attract their share of the Friday and Saturday night crowd too.
phone: +1 716 842-4181

address: 490 Pearl St.

To drink at this quintessential Theater District bar and restaurant is a halfway-decent range of beers on tap and in bottles as well as a modest but diverse selection of wines. But where Cabaret really shines is in the realm of specialty cocktails, all creative and well-crafted takes on classic recipes perfect for an after-show nightcap. One drawback is the noise level; if it's crowded, don't expect to be able to carry on a conversation without shouting.

phone: +1 716 847-6850

address: 622 Main St.

To hear owner Joe Guagliardo tell it, Marcella's has long ceased to be a gay bar in the strict sense, as opposed to a club that simply welcomes people of all stripes, LGBT or no. And while it's true that nowadays the place attracts at least as many twentysomething women looking for a fun, harassment-free night out as it does gay men, when you get right down to it not all that much has changed. The music still pumps, the weekly drag shows are still locally legendary, and the all-female "Roxy's Thursdays" remain the nucleus of the Buffalo burlesque scene. The bouncers tend to be sticklers, though, so mind your P's and Q's.

phone: +1 716 220-8468

address: 617 Main St.

Wherein a team headed jointly by the folks behind the West Side's Gypsy Parlor and Allentown's Duke's Bohemian Grove pour a range of craft brews as well as some of Gypsy Parlor's signature cocktails.

phone: +1 716 359-2977

address: 698 Main St.

Cabaret gets all the accolades, but if you want a nightspot that truly lives and breathes the Theater District — one where you stand a good chance of rubbing shoulders with an actual performer after a show at Shea's or the Alleyway — Matinee is your place. Unlike its competition, beer is the drink of choice here; the selection encompasses over 100 varieties (with obscure imports and craft brews from across North America represented) curated by a knowledgeable staff more than happy to serve as tour guides for newbies. And the chilled-out ambience, with vintage Broadway show posters on the walls and indie rock on the soundsystem, says "theater-geek hipster" in big bold letters.

phone: +1 716 885-9643

address: 335 Franklin St.

"This place is a hot mess and always has been", says one reviewer, and she meant it as a compliment. The Theater District's odd-bar-out for sure, the Tudor Lounge is a grungy dive with a salt-of-the-earth clientele, sticky floors, cheap beer, and live blues and rock music performed frequently by local bands. If this sounds intimidating, don't worry: the crowd here is one of the friendliest and most chilled-out in the city, welcoming of new faces in a way that lots of Buffalo bars sadly aren't.
Elsewhere downtown
phone: +1 716 259-9025

address: 517 Washington St.

Though there is a selection of eight loose-leaf teas on the menu (everything from Irish breakfast to Egyptian chamomile to sencha), the name of this place is really less a reference to the drinks than the decor: dainty and dazzlingly colorful, it really does look like an old-school European tea room. At the bar are poured a range of upscale, classic-inspired yet creative specialty cocktails in which imported whiskeys and other spirits predominate, as well as some really swanky wines. There's also a small food menu — think gourmet bar appetizers like ibérico chorizo and tuna belly, as well as (of course) a half-dozen tea sandwiches to choose from.

phone: +1 716 854-5050

address: 55 E. Huron St.

Sure they're served in many a local bar and restaurant, but the best place to enjoy Big Ditch's roster of beers is in the pleasantly airy tasting room and restaurant located just off their production space at the corner of Ellicott and Huron. Choose from any of three signature beers (the "Hayburner" IPA, whose citrusy flavor is balanced with an earthy, hoppy finish; the über-hoppy "Low Bridge" golden ale, and the "Excavator" rye brown ale wherein chocolate malt is the dominant flavor) or a couple dozen seasonal and limited-edition offerings to enjoy over a light menu of gourmet pub grub.

phone: +1 716 854-7017

address: 97 Genesee St.

If you're a Buffalo native but it's been a while since you've been back, Eddie Brady's is the sort of place to catch a whiff of that familiar, friendly, old-school vibe that's so sorely lacking amidst the changing face of downtown; the sort of place that's just itching to get discovered by the hipsters but let's hope that never happens. It's not a dive exactly, and certainly not somewhere you'll feel uncomfortable or unsafe; just a comfy place to down a cold beer (familiar big brands mostly, plus a few local brews from the likes of Community Beer Works to keep things interesting) or order off a menu of hearty stick-to-your-ribs pub grub.

phone: +1 716 854-1760

address: 300 Ellicott St.

There's character for miles in this scruffy dive bar hidden in plain sight next door to Mohawk Place, understandably a popular place to drop in before or after a concert for a cheap beer (mostly blue-collar brands like Genny and PBR, though there are a few local craft brews if you're so inclined) or maybe play a game of pinball or darts. Other than at showtimes, Electric Avenue's clientele is composed mostly of salt-of-the-earth regulars, though you won't be made to feel unwelcome.

phone: +1 716 575-5519

address: 5 Genesee St.

Buffalo Rising asks about Fattey: "Is it a bar? Is it a store?" The answer is: not only is it both, but it pulls off both roles with equal aplomb. Compared to what's available in the bottle shop, the on-tap selections at downtown's craft beer emporium skew more heavily toward local and regional beers rather than imports and West Coast varieties. But service is impeccable, the chilled-out and welcoming vibe is miles away from the usual beer-snob scene, there's free popcorn to nosh on, and the sidewalk terrace on Roosevelt Plaza is a nice al fresco alternative on warm days. If you find the selection overwhelming, they offer $10 flights; if you're on a budget, head for the vintage fridge filled with $3 bottles — and if beer isn't your drink, check out Fattey's almost-as-impressive selection of ciders and seltzers.

phone: +1 716 856-0062

address: 391 Washington St.

The Hotel Lafayette s onsite brewpub serves up a selection of house beers from their 15-barrel basement brewery. The signature offering is "Roosevelt Red", a mellow, smooth-drinking, slightly hoppy Irish red ale with notes of caramel, but there are four others to choose from on the menu (including the "Trainwreck" amber ale that's so popular at sister brewpub Pearl Street Grill) as well as changing seasonal selections.

phone: +1 716 322-0547

address: 320 Pearl St.

It's located in the historic Ancient Landmarks Masonic Lodge, so architecture buffs can drink in the majestic Beaux-Arts splendor before drinking in one of literally hundreds of varieties of whiskey, scotch, bourbon, and rye, as well as classic cocktails smartly crafted from same. Or maybe you're hungry, in which case you'll find something to your taste no matter what your favorite cuisine is: from Polish pierogi platters to Southern-style chicken and waffles to samosas garnished with green chutney and curry ketchup, the food menu is all over the map. Either way, service is impeccable, the mixologists work their art with aplomb, and live music and other events are frequent.

phone: +1 716 259-8228

address: 521 Main St.

Johny Chow took inspiration for his namesake nightspot from his visits to Tokyo while on tour as bassist for heavy metal band Stone Sour, and sure enough, he's recreated an honest-to-goodness indoor yokocho in downtown Buffalo. So when you're in between games of pinball or Double Dragon at the arcade or after you've had your fill of Japanese noodle-shop and street-food fare, head over to the gargantuan first-floor bar where you'll find a menu of Asian-inspired cocktails, an ample range of sake, and beers on tap from Sapporo to PBR — or up the "Hello Kitty-themed staircase" to the private karaoke room on the second floor. There's truly nowhere else like this in Buffalo.

phone: +1 716 856-2337

address: 76 Pearl St.

The Pearl Street Grill has been brewing their own beer in-house since long before that was the "in" thing to do, and their beer list is still one of the best known and most sought out among locals. Between the regulars and seasonal specialties you've got about eight options to choose from, including the signature brew "Trainwreck", a light-bodied, sweet and spicy German-style amber ale.

phone: +1 716 626-5566

address: 125 Main St.

Before everybody and their brother started drinking craft beer, the original Pizza Plant out in suburbia was the only game in town for folks with a taste for obscure microbrews and hard-to-find imports. The newer Canalside location continues the tradition, with two or three dozen selections on tap at any given time and even more in bottles, along with a range of house cocktails. Craft beer tastings are among the frequent events they host, too.

phone: +1 716 248-1436

address: 110 Pearl St.

The house brews at Buffalo's first izakaya are, for the most part, pretty faithful renditions of time-tested European classics enhanced with distinctly Japanese touches — witness the notes of soy complementing the clean, dry finish of the "Aggretsuko" Belgian stout, while the "Urban Samurai" IPA packs a strong, bitter, hoppy punch at 6.2% ABV. If that doesn't strike your fancy, the "Yuz' Not That IPA" brewed in conjunction with Community Beer Works for Sato's other locations is poured here too, as well as a range of sakes and mixed drinks.

phone: +1 716 855-4716

address: 7 Scott St.

While you're catching the action on the giant 38-foot (11 m) big-screen TV, enjoy a choice of three or four dozen beers available on tap and in bottles, including a great selection of local craft brews from places like the Hamburg Brewing Company and Community Beer Works, at an extra-long bar illuminated bright white to imitate the ice of a hockey arena.

phone: +1 716 989-1868

address: 674 Ellicott St.

Buffalo's oldest continuously operating bar was once appended to the back of the Phoenix Brewery, slaking the thirst of the German-American community that had settled in the neighborhood then called Hospital Hill. Appropriately enough, the bar half of the operation does a better job nowadays than the restaurant half at carrying forward that Teutonic heritage, with a halfway decent selection of German imports on tap along with some local craft brews.

phone: +1 716 853-0092

address: 274 Delaware Ave.

Buffalo's oldest operating LGBT bar and nightclub, open for business in the basement of the Hotel Touraine since 1978, draws a diverse and welcoming crowd seven days a week whether it be for drag shows, DJ sets, "Karaoke Mondays", or just revelry as usual.

phone: +1 716 854-2199

address: 38 Swan St.

Mixed reviews for this tastefully remodeled and updated (yet still down-to-earth) Buffalo perennial in the shadow of Sahlen Field. Points in the Union Pub's favor include a great selection of beer (24 varieties on tap; local craft brews abound) and an unfailingly spectacular food menu starring some of the best wings in town; drawbacks include the service, which while always friendly, can be glacially slow if you catch them on a bad day.

Washington Square Bar & Grill

phone: +1 716 849-0619

address: 295 Washington St.

The third-oldest continuously operating restaurant in Buffalo (after the aforementioned Ulrich's Tavern and the Swannie House in the Old First Ward), Washington Square has been at the service of hungry and thirsty Western New Yorkers since 1892. Appropriately enough, the experience here is old-Buffalo through and through: a dimly-lit and delightfully divey ambience, cheap cold beer served with a smile, and pub grub par excellence.
Coffee shops and miscellaneous
Downtown's coffee shop scene trends heavily toward "grab and go"-style establishments for white-collar workers on their way to the office — perfect for those who just want to squeeze a quick caffeinated pick-me-up into a busy day of sightseeing, but if you're looking for somewhere to stay and linger, you'll have to choose carefully.
One coffee shop downtown that emphatically should be avoided is the
Tim Hortons
at Lafayette Square, which is notorious as a hangout for panhandlers, drug dealers, addicts, and other transients. If you've got to have your box of Timbits or your double-double, either hop on the train to Canalside and get your fix at the one in the
HarborCenter
or else head north to the Allentown location on Delaware Avenue.
phone: +1 716 381-9156

address: 350 Main St.

If you've been to Buffalo before, the name of this place might ring a bell. If so, rejoice: it is indeed the same ownership team as before, who after selling the old place in Allentown had a change of heart and reopened a few months later in the Main Place Mall. All the heavy-hitters from the old place's menu have returned, the coffee drinks are still as expertly roasted and creatively concocted as ever, and it's the same old service with a smile — but there's now a food menu to go with, including some topnotch breakfast sandwiches. And they take credit cards now, too.

phone: +1 716 262-0866

address: 665 Main St.

Hearth + Press may be best known for the artisanal pizzas and baguette sandwiches they dish out during lunch and dinner hours, but in the morning they're at the service of caffeine-starved office workers with what is easily downtown's most eclectic selection of coffee — roasts hailing from Guatemala to Ethiopia to Hawaii and everywhere in between can be sampled, along with tasty breakfast sandwiches.

phone: +1 716 241-9789

address: 9 Genesee St

No fancy syrups or frou-frou cappuccinos at this tiny little place — just real honest-to-goodness coffee, light-roasted and smooth-drinking yet bold-flavored; a little pricey but you get what you pay for. And if you really like it (and really have money to burn), they ship the same house-roasted, expertly blended beans nationwide! Indoor seating is extremely limited, but if it's a nice day, take a seat at one of the tables set up on Roosevelt Plaza and enjoy your coffee al fresco; it's one of downtown's best people-watching spots.

address: 617 Main St.

For a description of this locally based coffeeshop chain, see the main Buffalo article.

phone: +1 716 341-2150

address: 391 Washington St.

Notwithstanding what was said in the beginning of this section: if you are looking for a place downtown where you can linger for awhile, where you can drink in a little ambience along with your coffee, Public Espresso is it. That goes double if you're a coffee snob: both drip and pour-over iterations are expertly roasted in-house to bring out the nuanced natural flavors of each variety of ethically-sourced bean, and are served in an ambience that carefully balances hipster trendiness with down-to-earth approachability, if ultimately with more of the former than the latter. The food menu, too, is impressive: Public's homemade vegan doughnuts hold their own with the ones at Fry Baby, no mean feat.
SPoT Coffee has one full-sized location downtown as well as two smaller SPoT Express counters:
If coffee isn't your drink of choice, check out...
phone: +1 716 551-0550

address: 69 Delaware Ave.

For a description of this local chain of juice bars, see the main Buffalo article.

phone: +1 716 855-4404

address: 75 Main St.

A small space in the HarborCenter smartly appointed with modern decor and warm-toned wood paneling, the Healthy Scratch offers up a selection of several dozen organic cold-pressed juice blends and smoothies — each a delicious and nutritious blend of fruit, vegetables, whole grains, and herbal ingredients available on their own or with "booster" shots of healthy additives such as whey protein, wheatgrass, and multivitamin cocktails. You can get a smaller range of iced and hot coffee drinks here too, as well as fruit bowls and other light, healthy lunches.

phone: +1 716 368-2888

address: 523 Main St.

An old-school malt shop, ice cream parlor, and soda fountain done up in a charming throwback '50s style, serving up a wide and creative selection of milkshakes, tasty hand-mixed flavored sodas, specialty sundaes, and other treats — and for the New York crowd, Jerk's is the only place in town where you can find egg cream.
Sleep
The number and quality of hotels available in downtown Buffalo has exploded in recent years, with new hotels opening their doors, such as the
Westin
in the
Delaware North Building
, as well as renovations and modernizations at existing ones such as the
Hyatt Regency
and the
Hotel Lafayette
. This boom shows no signs of slowing, with several new hotels slated to open in the near future — in many cases under the framework of the myriad rehabilitation projects of historic buildings that have come to pass recently.
All of the establishments listed below offer wireless Internet to guests (free unless otherwise noted).
Budget
phone: +1 716 852-5222

address: 667 Main St.

Buffalo's only hostel is a friendly, safe, and clean facility in the heart of the Theater District. The charming innkeeper and her hip staff run a first-rate facility — Hostelling International named it the third-best hostel in the United States in 2007, though Hostel Buffalo Niagara is no longer HI-affiliated — and are knowledgeable about local points of interest and worthwhile events and activities. Hostel Buffalo Niagara offers a choice of dormitory-style accommodations or private rooms, and boasts a full kitchen, game and media room, living room, and a small library. The walls of the guest rooms and common areas are decorated with works by local artists, many of which are donations from those who've exhibited at the adjacent BOX Gallery.
Mid-range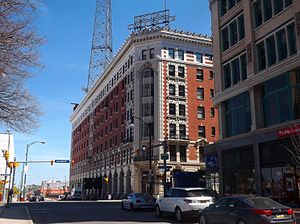 Splurge
Connect
There are two
post offices
located downtown:
at 229 W. Genesee St.
at 701 Washington St.
Free wireless Internet is available through
BuffaloConnect
, whose hotspots run along the Main Street corridor from North Street through the
KeyBank Center
and also cover all of Canalside. In addition, free WiFi is offered at
Starbucks
and
SPoT Coffee
on Chippewa Street, and the
Market Arcade
and
EXPO Market
on Main Street.
For wired computer terminals, the on Lafayette Square is the place to go: their media room has several dozen Internet-enabled computers available for a nominal charge, as well as WiFi if you've brought your own laptop.
Stay safe

Despite the fact that Buffalo's crime rate has fallen steadily since the 1990s, it is still higher than the national average for cities its size. Downtown Buffalo registers more crimes than other areas of the city, but this probably has to do with the fact that it has a far denser concentration of people and businesses than other neighborhoods. Though the usual precautions should obviously be taken — locking your car doors, keeping valuables out of sight, being aware of your surroundings — the central business district is patrolled vigilantly by police officers, and generally speaking, it doesn't "feel" especially unsafe by Buffalo standards.
The pickpocketing, drunken brawls, and assaults that were once common in the Chippewa Street entertainment district have decreased sharply in number over the past five years or so, thanks to the Buffalo Police's vigilant patrols and stepped-up enforcement of drinking laws (not to mention the resultant decrease in the number of nightspots operating there). Still, if you're planning a night out at one of Chippewa's remaining clubs, it never hurts to be aware of your surroundings and to make yourself scarce if you find yourself in a heated situation.
Panhandling is an increasingly common phenomenon in many neighborhoods of Buffalo, including downtown. Panhandlers can be found all over downtown but seem to be especially fond of the Theater District and the 500 block of Main Street, with the Tim Hortons at Lafayette Square particularly notorious in that regard. They can be a nuisance, but they are rarely aggressive. A polite but firm "no" almost always suffices.

Cope
Hospitals
Buffalo has a remarkably large number of hospitals and medical facilities for a city its size. Located just north of the business district, the
Buffalo Niagara Medical Campus
, a complex of health care centers, research institutes, and educational facilities that is the epicenter of Buffalo's growing medical technology and bioinformatics industry, was established in 2001 by the University at Buffalo Medical School, Roswell Park Cancer Institute, and others.
phone: +1 716 859-5600

address: 100 High St.

Founded in 1855, Buffalo General is one of the oldest hospitals in the city. This 501-bed facility is especially well-known for its expertise in cardiovascular treatment, stroke care, and neurology, and is well-equipped to handle any medical emergency that might befall a visitor to downtown Buffalo.

phone: +1 716 323-2000

address: 818 Ellicott St.

After 125 years in the Elmwood Village, the newly renamed John R. Oishei Children's Hospital moved to the Medical Corridor in November 2017. One of the oldest facilities of its kind in the world, Oishei Children's traces its roots to 1892 — a time when the idea that the treatment of children should be different than that of adults was still on the fringes of medical theory. Today this 185-bed facility serves as a teaching hospital for UB Medical School and offers comprehensive care in the field of pediatrics, maternity and neonatal care.
Places of worship
Downtown Buffalo is the site of some of Buffalo's most historic and imposing church buildings, including the seats of both the Roman Catholic Diocese of Buffalo and the Episcopal Diocese of Western New York. Attending services at many of these locations is a truly magnificent experience.
Roman Catholic
For a part of Buffalo that is not primarily residential, and especially given the decline of population in the inner city and the rash of closures and mergers of Catholic parishes in recent years, a surprising number of older Catholic churches remain open and active downtown in neighborhoods that have long since transitioned from residential to commercial.
St. Joseph Roman Catholic Cathedral

phone: +1 716 854-5855

address: 50 Franklin St.

Built in 1855 to serve as the seat of the Roman Catholic Diocese of Buffalo, the design of St. Joseph's Cathedral is based on that of Salisbury Cathedral in England, and its sanctuary boasts stained-glass windows that were donated by King Ludwig II of Bavaria.

St. Anthony of Padua RC Church

phone: +1 716 854-2563

address: 160 Court St.

Located immediately behind City Hall, St. Anthony of Padua was built in 1891 in what until the 1950s was Buffalo's "Little Italy". Its school was the first one in the United States to be held in Italian. St. Anthony still holds one Mass per week in Italian, a nostalgic tradition that brings neighborhood old-timers back together again.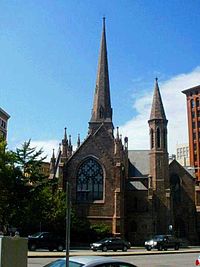 St. Michael RC Church

phone: +1 716 854-6726

address: 651 Washington St.

Founded in 1851 by German-speaking Alsatians who split from St. Louis Church, St. Michael is significant as the first home of Canisius College, a Jesuit school that is now Buffalo's largest private college.
Protestant
St. Paul's Episcopal Cathedral

phone: +1 716 855-0900

address: 128 Pearl St.

The seat of the Episcopal Diocese of Western New York, St. Paul's Episcopal Cathedral is the most architecturally distinguished church in Buffalo — built by Richard Upjohn in 1849 to replace an earlier structure built on the same site, the church has been named a National Historic Landmark, the U.S. government's highest level of recognition for a man-made structure, and it was the tallest building in Buffalo until 1912.

phone: +1 716 852-8314

address: 371 Delaware Ave.

The second-oldest Episcopal church in Buffalo, Trinity was founded in 1836. Its current building was erected in 1886 and is famous for its stained-glass windows, the work of prominent names like Louis Comfort Tiffany and John LaFarge — the latter of whom was responsible for "The Sealing of the Twelve Tribes", which was exhibited at the Exposition Universelle de Paris in 1889.
Church of Jesus Christ of Latter-Day Saints
Church of Jesus Christ of Latter-Day Saints

phone: +1 716 842-0816

address: 780 Michigan Ave.

Built in 1992, this meetinghouse serves the LDS Church's Buffalo Ward with services in English, Spanish, French, and Swahili.
Buddhist
SGI-USA Buffalo Community Center

phone: +1 716 856-2623

address: 121 W. Tupper St.

This is the home of the Buffalo chapter of Soka Gakkai International, a Buddhist sect that emphasizes pacifism, individual development and empowerment, and community activism. Group chanting and meditation sessions are offered, as well as other events and programs.
Go next
The
Elmwood Village
boasts all the hip boutiques, trendy restaurants, and engaging cultural attractions a visitor to Buffalo could want, not to mention a bar scene that is a lot more laid-back than Chippewa.
The
Delaware District
— particularly
Millionaire's Row
, along Delaware Avenue between North and Utica Streets — is the place for architecture buffs to be bowled over by the opulent mansions that were once the home of Buffalo's élite aristocracy of yesteryear, most of which have been given new leases on life in recent decades as the headquarters of locally-based businesses and not-for-profits.
For those who want Delaware District-style history and architecture and Elmwood Village-style culture and nightlife in the same compact, thoroughly charming neighborhood,
Allentown
is the place to Go Next.