Buffalo/North Buffalo
Perhaps
North Buffalo
doesn't have the immediate cachet of other parts of the city. The clothing boutiques on Hertel stock fashions that may not be as up-to-the-minute as the ones in the
Elmwood Village
. The bars are more likely to be populated by neighborhood regulars than the cooler-than-thou hipsters you'll find in
Allentown
. But that's okay. More so than perhaps any other area of
Buffalo
, regular folks can spend a whole day shopping here and they won't experience condescension — they'll meet friendly, outgoing shopkeepers genuinely glad to see them. Budget-conscious travelers can eat well in North Buffalo's restaurants without being bowled over when they see the bill.
But North Buffalo is much more than shopping, dining, and nightlife. North Buffalo is architecture — Frank Lloyd Wright's
Darwin Martin House
in
Parkside
, and the mansions in
Park Meadow
and
Central Park
, will have you ooh-ing and aah-ing. North Buffalo is art — Hertel Avenue has more than its share of galleries tucked among the shops and restaurants, and the
UB Anderson Gallery
is truly one of the city's unknown treasures. And North Buffalo is culture — with not one but two colleges and universities adding their flavors to the mix, Erie County's most-visited tourist attraction (the
Buffalo Zoo
), and a growing theater scene.
Speaking of culture, North Buffalo is, in particular, Italian-American culture. Hertel Avenue is Buffalo's
Little Italy
, a paradise for fans of pasta with red sauce, pizza, and fine wines. And if you're looking for a delightfully gaudy little tchotchke to send home to Nona, this is your place.
Understand
North Buffalo comprises a number of distinct neighborhoods. As described above, the stretch of between Delaware and roughly Parker Avenues boasts some of the city's best restaurants as well as a growing range of shops and art galleries. As you head west from there, you pass a series of suburban-style strip malls lining Delaware and Elmwood Avenues, and then you come into , a quiet, off-the-beaten-path area where working-class apartments and industrial warehouses coexist. Elsewhere, is centered along Main Street at Buffalo's far northeast corner, dominated at its outer end by the University at Buffalo's
South Campus
and with a small but lively collection of restaurants, bars and shops along Main Street catering to a diverse student population. Southwest of University Heights adjacent to Main Street are a trio of quiet, pleasant residential neighborhoods: from north to south, , where some of Buffalo's most palatial mansions can be found, the , a tiny enclave bounded by Amherst Street, Main Street, and the Belt Line railroad tracks, and , a leafy neighborhood of curvilinear streets designed by eminent landscape architect Frederick Law Olmsted. Olmsted also designed , an upscale residential area west of Parkside, sandwiched between Amherst Street and Delaware Park.
History
North Buffalo's location further from
downtown
than any other part of the city, as well as its poorly drained topography, conspired to make it the last part of Buffalo to urbanize. Being located at the foot of the
Onondaga Escarpment
in what was once the bed of a glacial lake, the marshy land of North Buffalo — or the Buffalo Plains, as the area was called in the early days — made it far less suitable for agriculture than the ground above that low ridge of flint.
Cornelius Creek
, which roughly followed the course of today's Hertel Avenue from its headwaters near what is today the corner of Parkside Avenue, traversed North Buffalo until sometime in the 1880s, when it was buried as part of the city's storm drain system. An outpost of civilization in this wilderness was the
Great Iroquois Trail
(today's Main Street), which was an important thoroughfare between Buffalo and points east such as
Williamsville
and
Clarence Hollow
that ran along the crest of the escarpment. Like the aforementioned hamlets, the farmsteads along that road played an important role in the
War of 1812
as refuges for residents of Buffalo and
Black Rock
which were burned by the British in December 1813, and, in the case of Dr. Daniel Chapin's farm in what is now Parkside, as the site of the
Flint Hill Encampment
, where the Army of the Frontier under General Alexander Smythe spent that same winter. However, even as the city to its south grew astronomically, North Buffalo remained a rural backwater even well after 1868, the year Frederick Law Olmsted laid out the centerpiece of Buffalo's park system, Delaware Park, on land just south of here.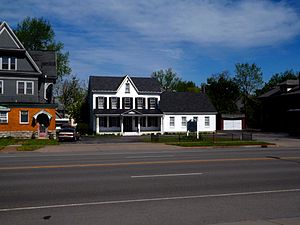 It was the construction of the New York Central Railroad's
Belt Line
in 1882 — a 15-mile (24 km) loop intended to enable residents of Buffalo's outskirts to commute to jobs downtown — that spurred the beginning of urbanization in North Buffalo. As early as 1876, Frederick Law Olmsted had planned to follow up the success of Delaware Park with a development he called
Parkside
, a verdant residential neighborhood adjacent to the park that would serve as a buffer between the pastoral park system and the bustle and congestion of the city. Now, with the construction of the railroad having driven up property values, construction of Parkside could begin in earnest. By the turn of the century, the ample houses of Parkside were occupied by a growing number of Buffalo's richest citizens — including Larkin Soap Company executive Darwin D. Martin, who moved into a substantial home on Jewett Parkway designed by Frank Lloyd Wright. Immediately north of Parkside, across the tracks of the Belt Line, local business magnate Lewis Bennett had success with
Central Park
, a similarly upscale neighborhood situated on his former estate that he developed beginning in 1890; further west, the first houses and streets began appearing in what is now West Hertel, just northeast of the corner of Hertel Avenue and Military Road.
It was not until after 1900, however, that the development of North Buffalo came to full fruition. Despite the success of Parkside and Central Park, when the
Pan-American Exposition
was held in 1901, the remainder of North Buffalo was still sparsely populated farmland. However, the presence of visitors who came by the tens of thousands to the Exposition — many of whom arrived there via the Belt Line — spurred real estate speculators to buy up farmland in preparation for the inevitable rush of new residents. The Pan-American Exposition, a World's Fair that was intended to show off Buffalo's industrial might, was held on a parcel of vacant land north of Delaware Park that Olmsted had earlier planned as a future western extension of Parkside. Afterward, beginning about 1920, the luxurious neighborhood known today as
Park Meadow
was laid out on the former Exposition grounds.
Elsewhere in North Buffalo, the
University of Buffalo
purchased the 153-acre (61ha) site of the former
Erie County Alms House
in the far northeast corner of the city in 1912, moving its rapidly growing campus there from downtown and setting off a similar land rush in what is now University Heights.
Hertel Avenue
, for its part, was becoming the neighborhood of choice for Buffalo's Jewish community — mainly Orthodox Jews from
Russia
and elsewhere in Eastern Europe — who were gradually being displaced from their traditional homes on the
Near East Side
and in
Hamlin Park
by a growing African-American population.
World War II saw the last remaining bits of empty land in the city — including the area between Elmwood and Delaware Avenues north of the Belt Line, much of West Hertel, and along the south side of Kenmore Avenue west of Elmwood — eaten up with the construction of wartime factories and hastily-built housing for returning GIs. However, after the war, Buffalo, like many cities in the so-called Rust Belt, saw its formerly steady growth stagnate and decline. These were certainly trying times for North Buffalo; for instance, for the first time in its history the formerly posh neighborhood of Parkside found itself grappling with social issues such as slumlords and vacant buildings, which led to the foundation of the
Parkside Community Association
in 1963. But, by and large, North Buffalo was able to hang on better than other areas of the city. Aside from the construction of the
Scajaquada Expressway
in 1962 through verdant Delaware Park, the urban renewal that wrought havoc on other areas of the city left North Buffalo mostly unscathed — enabling the addition of the
Parkside East Historic District
and the
Parkside West Historic District
(
i.e.
Park Meadow) to the National Register of Historic Places in 1986. Meanwhile, the stabilizing presence of UB and its large and diverse student population did much to insulate University Heights from the ghettoization that ravaged adjacent
East Side
neighborhoods such as Kensington-Bailey and Kensington Heights in the 1960s and '70s.
Perhaps the greatest change to take place in North Buffalo at this time, however, was in its ethnic makeup. In the early and mid-1960s, as the
Lower West Side
fell to the wrecking ball as part of a misguided campaign of "slum clearance", many of the Italian-Americans who'd been evicted from those blocks began to drift into the vicinity of Hertel Avenue, displacing the Jewish community in that area which dispersed over the ensuing decades, largely into suburban
Amherst
. Even the Italian Village Festival, heretofore held on Connecticut Street in the West Side, picked up stakes and moved north in 1988, where it went on to become one of the biggest Italian-American street festivals in the nation. But by 2011, when the city government finally got around to officializing this change by festooning the streetlamps along Hertel with handsome red-white-and-green signs reading "Welcome to
Little Italy
", it was almost too late: the next phase of its demographic evolution was already in progress. The whole city was on an upswing at this time, and in its toniest neighborhood, the Elmwood Village,
gentrification
had proceeded to such a degree that small businesses could no longer afford the astronomical rents their landlords were charging. Many Elmwood shopkeepers and restaurateurs chose to move elsewhere in the city, and the already thriving but significantly less expensive Hertel strip was a prime destination for those displaced businesses. The result has been not only that Hertel has overtaken Elmwood as Buffalo's liveliest shopping, eating, and nightlife street, but also that Little Italy is getting progressively less and less Italian: the older pizzerias, bakeries, and wine bars are nowadays joined by a diversity of new shops and businesses catering to every taste.
Visitor information
The
Parkside Community Association
maintains a
website
that contains neighborhood news and event listings, and — most notably by far — is an extremely comprehensive resource for information about Parkside's rich history, with an extensive written history of the neighborhood spanning the 18th Century to the present day, descriptions of many old houses and historic sites on its leafy streets, historic maps, and a myriad of other resources.
The
University Heights Collaborative'
s
website
contains information on restaurants, nightlife, community happenings, and other items of interest to those visiting University Heights.
Get in and around
By car
The
Scajaquada Expressway
(NY 198) is a short highway that passes through North Buffalo, extending between the
Kensington Expressway
on the East Side and
Interstate 190
in Black Rock. The Scajaquada passes through the south end of Parkside and traverses Delaware Park, after which point it enters the
West Side
. Interchanges at Main Street and Parkside Avenue provide access to Parkside, Central Park, the Vernon Triangle, and (further afield) University Heights, while Hertel Avenue and Park Meadow are best accessible via the northbound Delaware Avenue and Elmwood Avenue exits.
Hertel Avenue
can be almost inarguably considered the "main drag" of North Buffalo, passing from west to east through the heart of Buffalo's "Little Italy" and ending at Main Street just past the south end of University Heights. In addition,
Kenmore Avenue
straddles Buffalo's northern border with the suburban communities of
Tonawanda
and
Kenmore
, and
Amherst Street
passes through the residential areas of Parkside, Central Park, and Park Meadow, at the southern edge of North Buffalo. Major north-south routes in North Buffalo include, from west to east:
Military Road
(NY 265),
Elmwood Avenue
,
Delaware Avenue
(NY 384),
Colvin Avenue
,
Parkside Avenue
,
Starin Avenue
, and
Main Street
(NY 5).
In the Hertel Avenue business district, parking can be hard to come by on Hertel itself as well as on side streets within a block or so of the main drag. Parking meters are in place on Hertel along essentially the entire length of the business district (from Wallace to Virgil Avenues); paid parking is in effect Monday through Saturday until 5PM, at a rate of 50¢ per hour up to a maximum of two hours. The two free parking lots provided by the
Hertel-North Buffalo Business Association
are often your best bet for parking on the Hertel strip. These lots are located, respectively, next to
Terrapin Station
near the corner of Virgil Avenue, and next to
Hertel Avenue Poutine and Cream
near the corner of Sterling Avenue.
Though finding a spot in the University Heights business district can be difficult, parking along Main Street between LaSalle and University Avenues is free (though limited to two hours). On-street parking on Main Street north of University Avenue is prohibited, but most businesses at the outer extremity of University Heights have their own parking lots, so this shouldn't pose too much of a problem. There are also three free parking lots on the north side of Main Street: at West Winspear Avenue behind the
Mobil
gas station, at Heath Street behind the (this one is closed to the public during the community center's business hours), and at Englewood Avenue adjacent to the former
P. J. Bottoms
. Parking in these lots is limited to two hours. Perhaps your best bet for parking in University Heights, however, are the large, free NFTA Park-and-Ride lots at the University and LaSalle rail stations — see the
By Metro Rail
section below.
In Parkside, Central Park, Park Meadow, West Hertel, and elsewhere in North Buffalo, on-street parking is free and plentiful.
Rental cars
phone: +1 716 873-0100

address: 2643 Delaware Ave
Car sharing
Members of the
Zipcar
car-sharing program have access to five vehicles located on UB South Campus. In the
Main-Bailey Lot
located adjacent to there's a Ford Focus ($7.50/hr or $69/day M-Th, $8.50/hr or $77/day F-Su) and a Honda Civic ($8.50/hr or $69/day M-Th, $9.50/hr or $77/day F-Su), and in the Townsend Lot next to there's a Mazda 3 ($8.50/hr or $69/day M-Th, $9.50/hr or $77/day F-Su), a Ford Fiesta ($7.50/hr or $69/day M-Th, $8.50/hr or $77/day F-Su), and another Honda Civic (same price as the one at Goodyear Hall). All quoted prices include fuel, insurance, and 180 free miles (about 290 free kilometers) per day.
By public transportation
Public transit in Buffalo and the surrounding area is provided by the
Niagara Frontier Transportation Authority (NFTA)
. The NFTA Metro system encompasses a single-line light-rail rapid transit (LRRT) system and an extensive network of buses. The fare for a single trip on a bus or train is $2.00 regardless of length. No transfers are provided between buses or trains; travelers who will need to make multiple trips per day on public transit should consider purchasing an all-day pass for $5.00.
By bus
North Buffalo is traversed by a number of NFTA Metro bus routes:
To and from downtown
NFTA Metro Bus #3 — Grant
. Beginning at the city line at the corner of Kenmore Avenue and Military Road, Bus #3 proceeds westward down Kenmore Avenue through
Riverside
, re-entering North Buffalo at the corner of Military Road and Skillen Street and continuing southward down Military Road through West Hertel, ending downtown.
NFTA Metro Bus #5 — Niagara-Kenmore
. Beginning at the University Metro Rail Station, Bus #5 proceeds westward down Kenmore Avenue, then entering Black Rock and continuing through the West Side via Niagara Street, finally ending downtown.
NFTA Metro Bus #8 — Main
. Beginning at the University Metro Rail Station, Bus #8 proceeds down Main Street along the east edge of the district, through University Heights, Central Park, the Vernon Triangle, and Parkside (with service to all Metro Rail stations in the district), ending downtown.
NFTA Metro Bus #11 — Colvin
. Beginning in Tonawanda, Bus #11 proceeds down Colvin Avenue through North Buffalo, then turns west at Hertel Avenue. Turning south again on Delaware Avenue, the bus passes through Park Meadow with service to
Delaware Park
before ending its run downtown.
NFTA Metro Bus #20 — Elmwood
. Beginning in Tonawanda, Bus #20 proceeds down Elmwood Avenue through North Buffalo, with access to the
Regal Elmwood Center
and
Tops
shopping plazas, and ends downtown.
NFTA Metro Bus #25 — Delaware
. Beginning in Tonawanda, Bus #25 proceeds down Delaware Avenue through North Buffalo. The bus passes the
Delaware Consumer Square
(Target) and
Delaware Place
shopping plazas, then proceeds perpendicularly across the Hertel Avenue corridor, through Park Meadow, and past Delaware Park, ending downtown.
Crosstown routes
NFTA Metro Bus #23 — Fillmore-Hertel
. Beginning at the Black Rock-Riverside Transit Hub, Bus #23 proceeds eastward along Hertel Avenue to Main Street, where it turns south and accesses the Amherst Street Metro Rail Station. The bus then enters the East Side via Fillmore Avenue and ends in
South Buffalo
.
NFTA Metro Bus #32 — Amherst
. Beginning at the Black Rock-Riverside Transit Hub, Bus #32 proceeds along Amherst Street, detouring briefly into the Elmwood Village via Elmwood Avenue, with service to Buffalo State College and the Museum District. After returning to Amherst Street, Bus #32 proceeds eastward through Park Meadow, Parkside, Central Park, and the Vernon Triangle, then passes the Amherst Street Metro Rail Station and proceeds further eastward into the East Side, ending at the Thruway Mall Transit Center in
Cheektowaga
.
By Metro Rail
The
Metro Rail
is an LRRT line that extends along Main Street from the University at Buffalo's South Campus southward to downtown, along the eastern border of North Buffalo. The Metro Rail serves as the backbone of Buffalo's public transit system, accessed directly by many bus routes. Like the buses, the fare for the Metro Rail is $2.00 ($4.00 round-trip); the $5.00 all-day passes available on Metro buses are also valid for the Metro Rail.
There are four Metro Rail stations located in North Buffalo. From north to south, they are:
— Main Street at UB South Campus (University Heights).
— Main Street at LaSalle Avenue (University Heights).
— Main Street at Amherst Street (Central Park/Vernon Triangle).
— Main Street at Humboldt Parkway (Parkside).
It bears mentioning that the
University Station
is a major node in Buffalo's public transportation network, served directly by no fewer than eleven bus routes, as well as the subway. In particular, anyone travelling on public transit from Buffalo to one of its northern suburbs, such as Tonawanda or Amherst, will very likely have to transfer at the University Station.
Also, the NFTA operates a large 600-space on Main Street, adjacent to the University Station, and an even larger (and generally much less crowded) 800-space behind the LaSalle Station. Parking in these lots is free, and they're great for people whose hotel may be located in the aforementioned northern suburbs but would like to visit North Buffalo (or anywhere else the Metro Rail goes). Users of the University Park-and-Ride in particular should ensure that they are parked in the correct place — the Park-and-Ride lot is surrounded by a number of other lots that are reserved for students and faculty of UB, and campus police will not hesitate to ticket cars without parking passes parked in reserved spaces.
By bike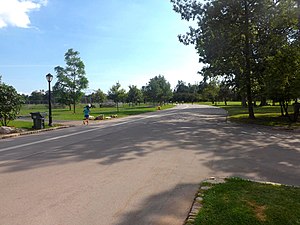 Buffalo has been making great strides in recent years in accommodating bicycling as a mode of transportation, with recognition from the League of American Bicyclists as a Bronze-Level "Bicycle-Friendly Community" to show for its efforts. Sadly, the bicycle infrastructure in North Buffalo is relatively underdeveloped compared to other parts of the city, and especially compared to other upscale neighborhoods such as the Elmwood Village and Allentown. However, this is not to say that North Buffalo is not a thoroughly enjoyable place to see by bike — the safe, quiet, and leafy streets of Park Meadow, Parkside, and Central Park are a cyclist's dream come true, with magnificent scenery to admire on the way to one's destination courtesy of the grandiose and architecturally distinguished housing stock of those areas.
What specialized bike infrastructure there is in North Buffalo is largely centered around Delaware Park.
Meadow Drive
, the 1.8-mile (2.9 km) ring road that circumnavigates the
Delaware Park Golf Course
and passes within view of the
Buffalo Zoo
and the some of the grand old
mansions
of Park Meadow, is delightful for walkers, joggers and bicyclists alike. Though 1.1 miles (1.7 km) of Meadow Drive — from Agassiz Circle to Meadow Road — is also open to automobile traffic, traffic is generally quite light and speed limits for cars are very low (15 mph, or 24 km/h) and enforced strictly. Additionally, the
Scajaquada Creekside Trail
, also known as the
Jesse Kregal Bike Path
, begins in Park Meadow near the corner of Lincoln Parkway and Nottingham Terrace (a pedestrian bridge over the Scajaquada Expressway provides access from the
Hoyt Lake trail
) and proceeds 2.4 miles (3.8 km) along the north bank of Scajaquada Creek, passing the
Japanese Garden
and the
Buffalo History Museum
on its way into the West Side, where it ends at the
Shoreline Trail
in Black Rock.
Away from Delaware Park, University Heights boasts
North Buffalo Rails-to-Trails
, a network of paved multi-use trails, 1.4 miles (2.2km) in total length, straddling the former Erie Railroad right-of-way. The main branch begins at the back end of the Park & Ride lot at
LaSalle Metro Rail Station
and extends along the west side of the old railroad embankment, with access to
Shoshone Park
near its south end. On the opposite side of the embankment is the , which (along with a short spur west to Taunton Place) converges with the main line near the west end of Merrimac Street. From there, the route continues further northwest to the city line at Kenmore Avenue, whenceforth the
Tonawanda Rails-to-Trails
leads into downtown Tonawanda, with a further extension planned to connect to the
Erie Canalway Trail
. The entirety of the network is open to both cyclists and pedestrians, but the former are better off sticking to the straighter and better-maintained main line, while the latter are safest in the Linear Park, which unlike its counterpart is outfitted with security cameras.
You'll also find infrastructure for cyclists on many of North Buffalo's streets themselves. In Park Meadow, a pair of
bike lanes
extends along each side of Lincoln Parkway leading north from Delaware Park, between Nottingham Terrace and Amherst Street. As well, you'll find
"sharrows"
(pavement markings on roads too narrow to accommodate dedicated bike lanes, indicating that drivers should be aware of bicyclists on the road) along Main Street between Bailey Avenue and Humboldt Parkway, extending westward from the North Buffalo Rail Trail along Brinton Street and St. Lawrence Avenue as far as Campbell Avenue, and extending westward from Nottingham Terrace along Amherst Street out past the edge of the neighborhood and into Black Rock.
GO Bike Buffalo
, the local organization that promotes and advocates for cycling and other sustainable transportation alternatives in Buffalo, operates a at 98 Colvin Ave in Park Meadow. There, a range of used bicycle parts and complete refurbished bikes are available for sale, as well as special programs periodically throughout the year; unwanted bicycles can also be donated (tax-deductible). The Community Bicycle Workshop is open Tu 6PM-9PM and Su 1PM-5PM, and also Th 6PM-9PM during summer only.
Bike sharing
North Buffalo has five
Reddy Bikeshare
racks:
on the north side of Hertel Avenue between North Park and Norwalk Avenues, in front of the North Park Theatre
on the east side of Parkside Avenue at the corner of Hertel Avenue, alongside M&T Bank
on the north side of Hertel Avenue at the corner of Parker Avenue, in front of the Daily Planet Coffee Company
adjacent to Delaware Park, in the back of the parking lot of St. George Orthodox Church at the corner of Amherst Street and Nottingham Terrace
on the west side of Main Street at the corner of LaSalle Avenue, in front of the LaSalle Metro Rail Station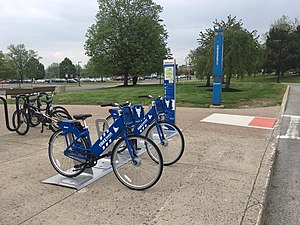 In addition to the above,
UB Bikeshare
is a presence on the South Campus. Though these bikes are part of the Reddy system, you'd be forgiven for thinking otherwise: for instance, UB bikes are of a different model and sport a blue-and-white color scheme that's starkly distinct from the fire engine-red color of normal Reddy bikes, and their spokespeople are on record as saying the UB network is intended for use by students and generally try to steer non-students away from campus bikes. Nonetheless, if you're in a pinch, the UB bikes
are
fully accessible to ordinary Reddy members and work the same was as any other bike in the network. You can even drop them off at off-campus racks (though, again, the folks at Reddy prefer that you don't). UB Bikeshare racks can be found:
on the north side of Goodyear Road, at the entrance to Goodyear Hall
at the back end of Main Circle, in front of Abbott Hall
near the corner of Hayes and Winridge Roads, at the west end of the Pharmacy Building
On foot
Being a more spread-out area with attractions often spaced a good distance from each other, North Buffalo is relatively less amenable to pedestrians than other upscale Buffalo neighborhoods such as the Elmwood Village and Allentown. Exceptions include
Hertel Avenue
and Main Street in
University Heights
, both boasting dense and lively concentrations of shops, bars, restaurants, and other attractions. Also, the safe, verdant streets of Parkside, Park Meadow and Central Park are pleasant places for a leisurely stroll.
See
Art
phone: +1 716 332-6300

address: 1250 Amherst St.

Located in the foyer of the Glenn & Audrey Flickinger Performing Arts Center on the campus of one of Buffalo's foremost private prep schools, the focus here is on works in a wide range of media by local artists (especially current Nichols students and alumni, much of whose work is displayed at the adjacent SEEARTRUN Gallery) or whose themes are relevant to Buffalo, Western New York, or the surrounding region. The Nichols School Gallery also hosts a range of travelling exhibits, workshops and visiting artist lectures.

phone: +1 716 322-7656

address: 1419 Hertel Ave.

A longtime fixture in the Buffalo arts community whose untitled illustration graced the inaugural issue of The Public, Craig LaRotonda opened Revolution Gallery in December 2016 along with his wife, fellow artist Maria Pabico LaRotonda, after a successful Kickstarter campaign. LaRotonda's own style is a sort of noir surrealism, and that's the aesthetic he's going for with this gallery — to borrow the words of the website, the emphasis is on works by local artists (including, of course, the LaRotondas themselves) that are "provocative and imbued with dark beauty, emotion, and mystery" and are executed in a variety of media: drawings, paintings, photography, and sculpture but also handmade jewelry and postcard prints offered for sale. As well, Revolution Gallery augments their permanent collection with a regularly scheduled slate of temporary and travelling exhibitions by local, national, and international artists including their inaugural one, Inception: a multimedia exhibit of work by artist Damien Echols, famous as one of the exonerated "West Memphis Three" falsely convicted of murder in 1994.

address: 3107 Main St.

The Buffalo arts community first took notice of the once-forlorn empty lot behind St. Andrew's Episcopal Church in University Heights in 2013, when it was pressed into use as a staging area for the University Heights Art Crawl. Owned now by the University Heights Art Association — the community group that's behind that annual event as well as many of the outdoor murals you'll find on area buildings — the space has been transformed into a beautifully landscaped, intimately scaled outdoor garden centered on a stone-paved courtyard of ten platforms where sculptures and other works of three-dimensional art are displayed on a changing basis. St. Andrew's Sculpture Garden is open for temporary exhibitions as well as poetry readings, live music performances, and other events.

phone: +1 716 829-3754

address: 1 Martha Jackson Pl.

The home of the University of Buffalo's permanent art collection, the Anderson Gallery was donated to UB in 2000 by David Anderson, the son of prominent New York City gallery owner Martha Jackson and a noted art collector in his own right; before that, Jackson had operated the gallery on his own since 1991. This state-of-the-art exhibition space contains selections from a collection of over 1,200 works of art in various media that represent a diversity of cultures and traditions, including many works by local artists. The UB Anderson Gallery also houses the complete archives of the Martha Jackson Gallery, covering the years 1952-1969, and of pop artist and UB alumnus Allen D'Arcangelo. An exciting selection of temporary and traveling exhibits are also displayed at the UB Anderson Gallery.
History
phone: +1 716 873-9644

address: 25 Nottingham Ct

Located just off Elmwood Avenue in Park Meadow, adjacent to Delaware Park, the newly renamed Buffalo History Museum has by far the most extensive collection of artifacts relevant to the history of Buffalo and Western New York from pre-Columbian times to the present day. Originally built for the Pan-American Exposition in 1901, it is perhaps not surprising that the Exhibition is a particular focus of the exhibits at this wonderful museum. A Pierce-Arrow roadster built in Buffalo, the medal presented by George Washington to Chief Red Jacket, prototypes of the cardiac pacemaker invented by Clarence native Wilson Greatbatch, and artistic renderings of historical scenes and people flesh out the collection. Further historical records, manuscripts, photographs, and personal documents are housed at the Research Library. The Buffalo History Museum is also an invaluable resource for local residents interested in genealogy.

McKinley Death Rock

address: in front of 30 Fordham Drive

On the center island in the middle of Fordham Drive, in Park Meadow on what once were the grounds of the Pan-American Exposition, is a small rock with a historic plaque marking the spot where President McKinley was standing when felled by the bullet of his assassin, Leon Czolgosz.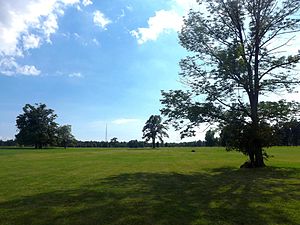 Parks
phone: +1 716 838-1429

address: Parkside Lodge, 84 Parkside Ave.

With an area of 234 acres (93 ha), Delaware Park is the central node in Buffalo's park system, by far the largest park in Buffalo, and one of the largest and best-preserved examples of Frederick Law Olmsted's landscape architecture anywhere. All the classic Olmsted features are present here: a large, grassy Meadow that is now the site of the Delaware Park Golf Course, thick stands of trees, and Hoyt Lake, the 46-acre (18.5ha) pond in the southwest corner of the park that Olmsted originally named "Gala Water". An essay by Charles Beveridge on the Olmsted park system in Buffalo describes how well Delaware Park continues to fulfill its intended role as a place for Buffalonians to experience nature and greenery without leaving the city limits; Delaware Park, as per his essay, is "the only public space designed by Olmsted in Buffalo that met his definition of the term 'park' — a setting of pastoral scenery extensive enough to provide complete escape from the artificiality and noise of the city." Delaware Park is popular year-round, but is most often enjoyed during the warm months, when walking, bicycling, jogging, tennis, golf, and basketball are popular activities. Delaware Park is also the site of the Buffalo Zoo, described in more detail below.
phone: +1 716 837-3900

address: 300 Parkside Ave.

Accredited by the Association of Zoos and Aquariums, the Buffalo Zoo is the third-oldest zoo in the United States (founded in 1875 on the former site of the Deer Paddock at Delaware Park) and is second in popularity only to Niagara Falls among tourist attractions in the Niagara Frontier, welcoming 400,000 visitors each year. The 23-acre (9.5ha) Zoo boasts exciting thematic displays that play host to 1,200 different animals, such as elephants, bears, otters, sea lions, hyenas, and of course, bison. Some of the animals, such as a resident peacock, are allowed to roam freely on the walkways, allowing visitors to get closer to nature than they would in most zoos. In 2002, a new Master Plan was unveiled that will see the Zoo thoroughly modernized over the next 15 years. Under this framework, the Vanishing Animals, EcoStation, Otter Creek, Sea Lion Cove and South African Rainforest exhibits have already opened, with a new Children's Zoo and other exhibits slated for the near future.

Japanese GardenInaugurated in 1974 as a gesture of friendship between Buffalo and its sister city of Kanazawa, Japan, Delaware Park's Japanese Garden is located on six acres (2.4ha) on Hoyt Lake, behind the Buffalo History Museum. This beautifully manicured oasis of greenery slopes gently down from Nottingham Terrace to the shore of the lake, also encompassing three small islands in the lake connected to the mainland by a lovely ornamental footbridge. Over the past years, the Buffalo Olmsted Parks Conservancy has been hard at work restoring and maintaining the more than 1,000 plantings of ornamental trees, shrubs and plants in the garden, including a large stand of Japanese cherry trees, and also have added or will soon add a stone garden and an authentic karesansui waterfall. Amid it all there are many benches and other sitting areas perfect for serene contemplation of one's peaceful natural surroundings.

Public artThere are a number of installations of public art peppered around the grounds of Delaware Park. These include:
:*
The Indian HunterA bronze figure of a boy in American Indian garb crouching over next to his dog, bow and arrow in hand, The Indian Hunter is a replica of the statue of the same name that's on display in New York City's Central Park. According to the plaque on its pink granite pedestal, Buffalo's Indian Hunter was donated to the city in 1926 by Ella Spencer Darr in memory of her husband Marcus. The original sculpture is the work of artist John Quincy Adams Ward, and was cast in 1866.
:*
Wolfgang Amadeus MozartThe first installation of public art to be placed in Delaware Park and one of the first in the entire city, this 4-foot (1.2m) bronze bust of the most prolific, prodigious and influential composer of the Classical era was sculpted by Olin H. Warner for the Buffalo Liedertafel — a fact that bears testament to the profound importance of the German-American community in Buffalo's history, who made up more than half of the city's population when the statue was dedicated in 1894. The statue's pink granite base contains a number of bronze plaques inscribed with biographical facts about Mozart's life, the titles of some of his important works, and honorifics. Today, Mozart serenely overlooks Hoyt Lake from a spot near the Buffalo History Museum.
Though Delaware Park is far from the only Frederick Law Olmsted-designed park in Buffalo, by comparison with other areas of the city North Buffalo is sadly lacking in green space. Though all of Buffalo is crisscrossed by Olmsted's park and parkway system, only one of those parkways — the northern extension of Lincoln Parkway through Park Meadow, between Nottingham Terrace and Great Arrow Avenue — passes through North Buffalo. In fact, it's arguable whether this portion of Lincoln can really be considered a "parkway" in the Olmstedian sense: though his plans for the neighborhood did include Lincoln Parkway, as actually constructed the street's ambience is much less open and pastoral than true Olmsted parkways like Chapin and Bidwell, and the setback between houses and street is not nearly as great. is the only other park in North Buffalo of any note; it's on 16.5 acres (6.6 ha) of land at the east end of Hertel Avenue about midway between Little Italy and University Heights, Shoshone Park boasts six baseball diamonds, a playground, and a swimming pool.
Architecture
More and more, Buffalo's exquisite and well-preserved architecture has grabbed the attention of locals and tourists alike. As of June 2017, there are 12 historic neighborhoods in Buffalo listed on the National Register of Historic Places, as well as nine additional ones that have been granted landmark status by the Buffalo Preservation Board. Three of those districts are located in North Buffalo:
The

Parkside East Historic DistrictBounded by Main Street on its southeast, Humboldt Parkway on its south, Parkside Avenue, Amherst Street and Colvin Avenue on its west, and the Belt Line railroad on its north and northeast, this district comprises pretty much the entirety of the neighborhood Buffalonians know simply as "Parkside". Though located within the city limits, Parkside was one of the first neighborhoods of Buffalo that might be called "suburban"; its architectural significance comes not only from the leafy, curvilinear layout of its streets — as described in the History section, the work of eminent landscape architect Frederick Law Olmsted — but also from the large two- and three-story wood-frame houses that occupy those streets, constructed in styles typical of upper-class residential architecture from 1870 through 1930 such as the Queen Anne, Bungalow, Craftsman, and Colonial Revival styles. Prominent among the historic and/or architecturally notable buildings of Parkside include the William Sydney Wicks House at 124 Jewett Parkway, the Walter V. Davidson House at 57 Tillinghast Place, and — of course — the Darwin D. Martin House, described in detail at the end of this section.

The

Parkside West Historic DistrictThough it's located in the neighborhood Buffalonians know as Park Meadow, this district is so named because it was originally intended by Frederick Law Olmsted as a western extension to Parkside. The neighborhood is much newer than Parkside — no meaningful development occurred there until after the Pan-American Exposition, with most houses in the area constructed between 1920 and the beginning of World War II — and the degree to which the motley patchwork of real estate companies that developed the neighborhood kept to Olmsted's original plan is inconsistent (especially the further you get from Delaware Park). Thus, the Parkside West Historic District is not nearly as significant for its landscape design as for the architecture of the buildings themselves — the neighborhood is a veritable showcase for some of Buffalo's best examples of aristocratic mansions in styles popular during the interwar period, such as the French Château, Tudorbethan, and Colonial Revival. These include the Howard Kellogg House at 12 Middlesex Road, the Mary Goodyear House at 115 Meadow Road, and the breathtaking Annie Lang Miller House at 175 Nottingham Terrace.

The

University Park Historic DistrictLocated on 45 acres (18 ha) of land in University Heights, bounded roughly by Main Street, Capen Boulevard, Kenmore Avenue, and the rear property line of the houses on the west side of University Avenue, University Park was added to the National Register of Historic Places in 2011 as part of the Suburban Development of Buffalo, New York multiple-property submission - and it is indeed distinctly suburban in character; a remarkably intact example of a planned residential subdivision of the 1910s and '20s, complete with ornate entrance gates of the same type that can be found along Main Street in the adjacent early suburbs of Eggertsville and Snyder. The attraction of University Park for architecture buffs is not the presence of any outstanding individual buildings (though the Edward Diebolt House at 62 Niagara Falls Boulevard was listed separately on the National Register in 2006), but rather the leafy, verdant streetscape, designed as a quiet respite from the bustle of city life, as well as the homogeneity of its housing stock, which consists of single-family Colonial Revival, Craftsman, American Foursquare, and Bungalow homes which, though stylistically similar, are somewhat less ornate and more modest in size than the houses of Parkside.
Additionally, though it is not listed on either the local, state or national historic registers, another neighborhood that's noteworthy for aficionados of history and architecture is
Central ParkThis neighborhood immediately north of Parkside, across the Belt Line tracks, was laid out beginning in 1890 by Lewis Bennett, who worked his way up from canal boat repairman to owner of the immense Bennett Limestone Quarry, which was located just across Main Street in the East Side neighborhood now known as Highland Park, Central Park's streets are filled with some of the finest housing stock in Buffalo. Examples include the Bayliss-Oishei House at 360 Depew Avenue, the old Central Park Station, the only former station of the Belt Line railroad still standing, at 10 Starin Avenue, and the Edward Barcalo House at 371 Depew Avenue (yes, the man who invented the Barcalounger).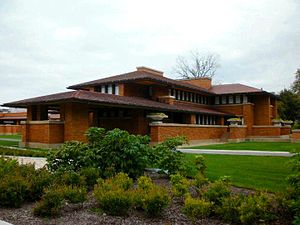 Parkside is also the home of what is undoubtedly the premier attraction in Buffalo for architecture buffs:
Darwin D. Martin House Complex

phone: +1 716 856-3858

address: 125 Jewett Pkwy.

The most important work of the first half of Frank Lloyd Wright's career, and the first commission for that renowned architect outside of Chicago, the Darwin D. Martin Complex is one of the crown jewels of Buffalo's huge architectural cornucopia. The complex includes not only the Darwin D. Martin House itself — built in 1904-05 for the president of the Larkin Soap Company and Wright's longtime friend and benefactor — but also the George Barton House, where Martin's daughter and son-in-law lived, the Gardener's Cottage, and three buildings — a carriage house, conservatory and pergola — which were demolished in 1962 and recently reconstructed according to Wright's original blueprints, the first Frank Lloyd Wright buildings ever to be rebuilt after demolition. Following over half a century of neglect, vandalism, and decay, the complex was purchased by the Martin House Restoration Corporation in 1994, with the extensive restoration process finally completed in 2010. For many local residents, the rebirth of the Darwin D. Martin House symbolizes the increased attention Buffalo's citizens are paying to their city's world-class architecture. A one-hour Basic Tour is offered, as well as a more extensive two-hour In-Depth Tour.
The Darwin Martin House is not the only Frank Lloyd Wright-designed house in North Buffalo. Another one, the , can also be found in Parkside. Located at 57 Tillinghast Place in the northwest extremity of the neighborhood, the Davidson House was designed for its namesake, who was an executive at the Larkin Company between 1906 and 1913, thereafter founding the Davidson Shoe Company. Though it's noticeably smaller and more unassuming than the Darwin Martin House — the smaller budget Wright worked with in constructing the Davidson House was perhaps a forerunner of the "Usonian" houses he designed for middle-class clients toward the end of his career — its modest scale belies a stunning two-story living room dominated by a massive bay window at its east end. Sadly, the Walter Davidson House is privately owned and not open for tours.
Miscellaneous
phone: +1 716 829-3081

address: 360 Biomedical Education Building, UB South Campus, 3435 Main St.

Otherwise known simply as the "Brain Museum", the UB Medical School's Museum of Neuroanatomy is the only one in the United States dedicated exclusively to the human brain. Since 1994, this unique collection has comprised over 80 of these organs preserved in formaldehyde — both healthy specimens whose internal structures, such as the cerebellum and hippocampus, are clearly displayed and labeled, as well as pathological ones showing the effects on the anatomy of the brain of Alzheimer's disease, aneurysms, and other maladies. Exhibits are engagingly designed and accessible to everyone from the layman to the academic.
Do
Festivals and events
Spring
Buffalo Cherry Blossom FestivalBuffalo's Cherry Blossom Festival serves as both a tribute to the city's sister-city relationship with Kanazawa, Japan, as well as a fundraiser for the continuing upkeep of Delaware Park s Japanese Garden. This weeklong festival usually takes place about three weeks after its much more famous counterpart in Washington, D.C., with peak bloom in early to mid-May. In between admiring the lovely trees, you can also catch live music, take a boat ride on Mirror Lake, and — especially — take a taste of Japanese culture with bunraku puppet theater performances and a traditional tea ceremony on the portico of the Buffalo History Museum. Expanding their scope far beyond the Japanese Garden, the Buffalo Cherry Blossom Festival's organizers also sponsor cherry tree plantings all over the city, and will even sell you one to plant in your own yard.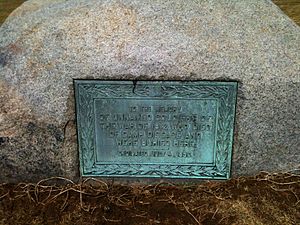 Golf
Delaware Park Golf Course

phone: +1 716 838-1249

address: 84 Parkside Ave.

Opened in 1930 on the site of Delaware Park's Meadow, the Delaware Park Golf Course is arguably the most popular golf course in the city. Golfers can enjoy playing a full 18-hole game in a beautifully landscaped environment; the course is par 68 and its longest tees have a yardage of 5,359 yards. The is a lovely 1914 Craftsman-style building that houses a snack bar and the course's pro shop. Weekend green fees $15.00.

phone: +1 716 836-7398

address: 3781 Main St.

Located at the far northeast corner of the city, across Bailey Avenue from UB's South Campus, this 18-hole, par 69 course is not only one of Western New's most challenging, but also one of its most historic: as the home of the Country Club of Buffalo from 1900 until its move to the suburb of Williamsville in 1925, the course was the site of the first airplane flight in Western New York, which took off from here in 1910, played host to the 1912 U.S. Open, and contains on its premises the , the second-oldest extant building in the city (built in 1822, four years after the Coit House in Allentown), now used for storage and office space. The Grover Cleveland Golf Course boasts a practice green, men's and ladies' locker rooms, and a clubhouse and concession stand. During winter, cross-country skiing and snowshoeing is permitted from 7AM-dusk.
Ice skating
phone: +1 716 873-8481

address: 156 Tacoma Ave.
Theater
phone: +1 716 479-1587

address: 18 Agassiz Circle

With a mission of enriching and enlightening audiences through the power of live theatre, the Kaleidoscope Thratre is an independent, award-winning production house dedicated to high-quality original material produced in-house, as well as occasional performances of classics such as Dr. Jekyll and Mr. Hyde and I Love You, You're Perfect, Now Change. Kaleidoscope shows three plays per year, usually with a run of two weeks each, at the Lecture Hall Theatre in Medaille College's Main Building.

phone: +1 716 408-0499

address: 255 Great Arrow Ave

The Manny Fried Playhouse, named after a former Buffalo theatre actor, union organizer, and political radical and located in the former Pierce-Arrow Factory Complex in Park Meadow, is the new home of the Subversive Theatre Collective. This bold new troupe's mission is to present provocative works of drama that are "dedicated to the needs, concerns, and aspirations of those who are oppressed, exploited, and disenfranchised by the existing social order". The Subversive Theatre Collective has staged performances of works such as Maxine Klein's The Furies of Mother Jones and Bertolt Brecht's The Mother, and has traditionally been an integral part of Buffalo's annual Infringement Festival.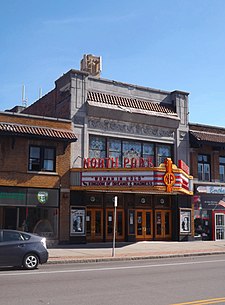 Movies
phone: +1 716 834-7655

address: 3500 Main St., Amherst

Owned by Dipson Theatres, a local chain of movie houses, the Amherst Theatre is located at the University Plaza at the outer end of University Heights. It features three screens showing an interesting mix of indie and arthouse films, Hollywood blockbusters of the more high-concept variety, and the occasional foreign film.

phone: +1 716 836-7411

address: 1428 Hertel Ave

Almost inarguably the most distinctive movie theatre in the Buffalo area, the North Park was built in 1920 as an old-fashioned silent movie palace and still boasts an exquisite (and newly restored) Baroque interior with Art Deco flourishes. The single screen shows indie films almost exclusively. The North Park Theatre is also famous as the site of the world premiere of Buffalo '66, the critically-acclaimed directorial debut of local native Vincent Gallo, which took place here in June 1998.

phone: +1 716 871-0950

address: 2001 Elmwood Ave

16 screens showing standard big-name Hollywood fare.
Bowling
phone: +1 716 876-6020

address: 686 Amherst St.

Situated at the corner of Elmwood Avenue and Amherst Street and especially popular with students of nearby Buffalo State College, Voelker's may seem like it was plucked from another time. Behind a lively bar redolent of old-school Buffalo — the kind of place where you might see Pabst Blue Ribbon being drunk by rough-around-the-edges blue-collar types, rather than ironically by hipsters — are 36 bowling lanes, as well as three pool tables and a few dartboards. Open daily till 4AM, Voelker's is the place to go for late-night bowling in Buffalo.
Billiards
Hippodrome Billiards

phone: +1 716 874-1802

address: 975 Hertel Ave.

The oldest continually operating billiard hall in North America, Hippodrome Billiards opened in 1914 in the Theater District; through its early years of operation, some of history's great pool sharks, such as Minnesota Fats and Willie Mosconi, were regulars here. Sadly, Hippodrome is situated today in a nondescript suburban-style strip mall at the southwest corner of Delaware and Hertel Avenues. Despite the unfortunate location — and its spacious, bright and clean ambience that runs counter to the stereotype of pool halls — Hippodrome manages to conserve some of the old-school feel with chairs, cue racks, and several billiard tables retained from the original property. And, for those who'd rather skip the history lesson and just shoot a few games of pool, Hippodrome's rate of $4 per person per hour is hard to beat.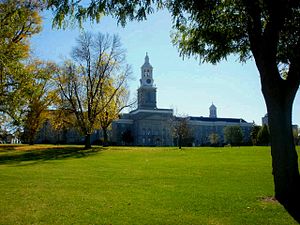 Learn
Located on 154 acres (62 ha) of land in University Heights, the
South Campus
is the oldest of the three campuses of the , the largest school in the State University of New York (SUNY) system as well as the largest public university in the Northeast. Founded in 1846 as a private medical college with future U.S. President Millard Fillmore as its first chancellor, the University at Buffalo moved to the former site of the Erie County Alms House in 1912, where the preeminent local architectural firm of the time, E. B. Green & Son, built a lovely Georgian-Revival style campus modelled after Trinity College in
Dublin
. Though most of the academic departments were transferred to UB's sprawling new North Campus in Amherst in the late 1960s and early 1970s, the South Campus still contains UB's
Schools of Dentistry
,
Nursing
, and
Architecture and Planning
, as well as the
Health Sciences Library
,
Biomedical Science Research Complex
, and student housing. UB Medical School has moved to the new Buffalo Niagara Medical Campus in the
Medical Corridor
.
is a small private college located at the southern end of Parkside, on Agassiz Circle. Founded in 1875 as a Catholic girls' school by the Sisters of St. Joseph, Medaille has been coeducational and nonsectarian since 1968, and boasts about 3,000 students and a full range of courses emphasizing the liberal arts and sciences. Medaille also has branch campuses in
Rochester
and the nearby suburb of Amherst, the fruits of a rapid expansion of the school that began in the 1990s and continues through the present day.
Buy
Hertel Avenue
The Hertel strip is the place to go in Buffalo for antiques, furniture and housewares, and quirky gifts.
Clothing and accessories
phone: +1 716 834-4287

address: 1434 Hertel Ave.

If the "New Buffalo" is all about finding inspiration for the future in the glories of the past, then Agorie Headwear fits right in. With an aesthetic described in the pages of Buffalo Rising as "fashion-forward yet retro", the inventory of bowlers, fedoras, Panama hats, newsboy caps, and other merchandise you'll find on the shelves is a throwback to the days when it was unthinkable to leave the house bare-headed. And prices are surprisingly reasonable, as well: while a particularly high-end hat might cost as much as $150, it's rare that you'd be unable to find a truly high-quality piece for less than $100.

phone: +1 716 424-0229

address: 1455 Hertel Ave.

Bon Fire Craft is the only jewelry shop in Buffalo where all stages of production take place in-house: all of these limited-edition pieces are hand-forged, hand-cast, hand-carved, and gems and other inlays are hand-set by owner Emily Sajban herself. There's definitely a house style, but it's impossible to describe in any succinct way — "rustic" might be the word that comes closest; popular artistic motifs include trees, leaves, bears and other forest animals, as well as skulls and Indian-head nickels.

phone: +1 716 834-4755

address: 1588 Hertel Ave.

In business since 1900, Korona is the longest-running family-owned jeweler in Buffalo, providing a shopping experience and a selection of rings, earrings, bracelets, necklaces, watches, and other gold and silver jewelry that marries old-school customer service and quality workmanship with the latest in modern techniques and technology. Bridal jewelry is a particular specialty, and staff is happy to work with customers to design custom pieces to their personal specifications.

Misfits N Kicks

phone: +1 716 424-0953

address: 1293 Hertel Ave.

At Misfits N Kicks, the accent is on helping you the customer express your unique personality through fashion. In a small and sleekly decorated shop next to Richel Formalwear you'll find a selection of graphic tees, hoodies, jackets, and ladieswear where the style is quirky and individualist without losing its streetwise edge. However, the crown jewel of the inventory here is a range of up-to-the-minute designer sneakers from labels like Nike and Jordan as well as limited editions from celebrity designers like 2 Chainz.

phone: +1 716 844-8435

address: 1382 Hertel Ave.

Customers adore ModNos for — and forgive its high prices because of — its wide and changing selection of clothing, lingerie, and accessories that come in a style befitting the store's name, equally inspired by elegant classic designs and exciting contemporary fashion. Jewelry and handbags are a particular specialty, with a massive range of earrings, bracelets, necklaces, handbags and clutches from collections by local and national designers, such as Pura Vida, Ornamental Things, and Made By Anatomy.

Peek-a-Boo Baby Boutique

phone: +1 716 833-4084

address: 1446 Hertel Ave.

Peek-a-Boo Baby Boutique features large and adorable selection of items for children from newborns through toddlers — clothes, high chairs, bassinets, strollers, toys, and miscellaneous merchandise — offered in impeccable condition and sold in a clean, cheerily decorated, and surprisingly expansive retail space. Most of the merchandise is consignment, but new items are sold as well, many of which represent the unique work of local designers. All items are 10% off after 5PM on Wednesdays.

phone: +1 716 572-2494

address: 1493 Hertel Ave.

The name of this place is no empty boast, with a well-curated selection of fashion accessories in loud and proud, statement-making styles, hand-picked (and in some cases designed) by owner Nikita Williams herself. A wide range of jewelry (tends toward the dangly and chunky, with lots of sterling silver); handbags (animal prints abound); hats, scarves and accessories is contained in a spacious store with racks and shelves splayed around in a charmingly helter-skelter array, perfect for folks who like to linger and browse.

phone: +1 716 877-6065

address: 1291 Hertel Ave.

Luxurious yet affordable menswear is the order of the day here: tuxedos, dress shirts, vests, three-piece suits, shoes, and accessories are custom-tailored to perfection by owner Carmelo Bandinelli with a skillful and genuine approach to customer service honed over more than a quarter-century of experience. But Richel Formalwear doesn't leave the opposite sex out in the cold, either: wedding dresses, bridesmaids' gowns, prom dresses, and other formal attire for ladies are available for sale or rent.
Art and art supplies
phone: +1 716 332-0486

address: 1508 Hertel Ave.

Greg Link is the self-taught craftsman whose sculpture and handmade pottery can be found among the unique items for sale and on display in Cone Five Pottery's ample gallery space. The rest of the collection encompasses works by over 50 artists from all over Buffalo and Western New York, in media as diverse as painting, jewelry, metal and wood art, photography, and blown glass, as well as occasional temporary exhibitions. In addition, open studio time for gallery members takes place at Cone Five every Thursday, Saturday and Sunday from noon till 9PM, and Donna Goeckel Martiny and Rachel Kofahl conduct pottery classes for basic and advanced learners.

phone: +1 716 854-5285

address: 1478 Hertel Ave.

After over half a century operating out of a breathtaking mansion in Allentown, Dana Tillou moved in 2016 to a smaller space on Hertel, and with that move came a change in focus: away from 19th- and early 20th-century American and British paintings and furniture to more contemporary pieces in line with the tastes of a new generation of art and design aficionados. If you've just come to browse, though, never fear: a somewhat more selectively curated variety of works by Western New York artists is still displayed at his gallery-cum-shop, with locally famous names like Martha Visser't Hooft, Carlo Nisita, and Evelyn Rumsey Cary represented.

phone: +1 716 885-5188

address: 1417 Hertel Ave.

A small storefront boutique gallery operated by the legendary Michael Morgulis out of a section of his Hertel Avenue shop, New Buffalo Graphics, the Local Color Gallery's exhibit space features brightly colored, pop art-style prints with almost a comic-book look to them, where local themes predominate and Morgulis' background in graphic design is on full display. Works can be purchased in-store or online.

The Main Frame

phone: +1 716 447-1107

address: 1386 Hertel Ave.

Opened in 1988 as a small art gallery and frame store at the heart of the Hertel Avenue corridor, The Main Frame is a sister shop to the venerable Vern Stein Art & Frame in Williamsville, and serves also as the production facility for the custom-made frames sold at both stores. The Main Frame boasts a large selection of prints on display and for sale, with antique prints featuring local scenes and themes a particular specialty. The Main Frame's staff has over 30 years of combined experience in custom framing, and really does a marvelous job at it.

phone: +1 716 832-3900

address: 1781 Hertel Ave.

The credo here is, "We may not be big, but we're small" — and so it is at State of the Art, where the staff consists of Mar Penner Griswold, a certified picture framer with over 40 years of experience in the field, and her ever-present feline companion, Lucy. Since 1982, State of the Art has been a Hertel Avenue mainstay, with the store's website vaunting a full range of services including framing, frame repair, photographic repair and restoration, matting, glass replacement, and — yes — cat advice. Customers rave about Griswold's helpful advice on style and color, patient and sincere service to her clients, and fair prices.
Antiques
The Antique Lamp Company and Gift Emporium

phone: +1 716 871-0508

address: 1213 Hertel Ave.

Wherein longtime antique aficionado John Tobin offers up a full selection of antique and vintage lamps and light fixtures in 19th- and early 20th-century styles such as Victorian, Art Nouveau, Art Deco, Mission, and Art Moderne, along with a variety of fine china, timepieces, jewelry and fashion accessories, and other gifts. Western New York's only full-time, professional lamp restorer, Tobin's work in restoring these pieces to their former brilliance truly betrays the boundless love he has for what he does. Best of all, soft music and subtle fragrances make for a pleasant shopping experience.

Buffalo Antiques and Quality Furniture

phone: +1 716 832-4231

address: 1539 Hertel Ave.

Dealing in a wide selection of wholesale antique furniture, timepieces, china, sterling silver, light fixtures, and decorative accessories, Buffalo Antiques is a massive emporium that's been in business on Hertel for over fifteen years. In addition to the antique items, which represent Victorian and 19th-century European styles through the Mid-Century Modern period, a variety of new furniture is also sold here: Buffalo Antiques is a licensed dealer of the Maitland-Smith and LaBarge brands. As well, these fine folks are always on the lookout for quality items to purchase, from single items to partial and total estate sale liquidations.

phone: +1 716 913-8549

address: 1484 Hertel Ave.

This store's name is an unfortunate misnomer: much more than just another sleazy old-gold buyer, the much more interesting half of the operation has been described by one satisfied customer as "like the best parts of an estate sale were put together in a small shop". Specialties among the maddening diversity of antiques here include weaponry including guns, knives and Japanese swords, "modern vintage" paintings, sculptures and other art, and Oriental rugs. Fans of the usual array of furniture, timepieces, light fixtures, jewelry and collectibles won't be disappointed either.

Man Cave Outfitters of Buffalo

phone: +1 716 830-3984

address: 1453 Hertel Ave.

If you prefer to "outfit your mancave" with collectibles from the golden age of Buffalo brewing, check out the vintage neon signs, wall clocks, steins, ice chests, and bottle openers at this unique breweriana shop. Iroquois and Simon Pure logos abound, but if you're not familiar with those local brands of yore, never fear: they've got old-timey national-brand merchandise too. But that's only half the story: in partnership with the House of Jacob with whom they share the building, Man Cave Outfitters also sells restored vintage guitars and other musical instruments, and there's even a custom jeweler who practices his craft in a small nook in the back.

My Two Cents Coins & Collectibles

phone: +1 716 398-5685

address: 1555 Hertel Ave.

If you're a coin collector who does your shopping in Buffalo, by now you've likely heard the persistent rumors that the owner of Lincoln Coin and Stamp is getting ready to retire and close up shop. If you're concerned, don't be, because up on Hertel there's a shop that's waiting in the wings to take over. My Two Cents specializes in hard-to-find specimens of historic American currency — not only coins but also paper money, bank and treasury certificates, and the like — as well as a range of vintage and antique jewelry, toys, glassware and other collectibles, especially from the 1950s and 60s.

Redz Fine Art Vintage Toys and Collectibles

phone: +1 716 444-0208

address: 1249 Hertel Ave.

If you're a millennial or Gen Xer nostalgic for the halcyon days of your youth, this vintage toy and collectible store is a trip down Memory Lane. That goes double if you were into action figures back in the day: '70s and '80s throwback toys from franchises like ThunderCats, He-Man and the Masters of the Universe, and the World Wrestling Federation crowd the shelves in this diminutive little shop. And if you've got some old toys you'd like to find new homes for, the owner buys for a fair price.

phone: +1 716 551-6151

address: 1241 Hertel Ave.

In business on Hertel since 2018, White Dog makes up for its somewhat limited hours with an inventory of vintage merchandise that's crowned by what may very well be Western New York's best selection of midcentury flatware, glassware, tea and coffee service, and the like; if you're planning a Buffalo wedding and want to go the vintage route, these folks are your alpha and omega. Alongside that come all the usuals too — clothing, decorative baubles, et cetera — united by a stylishly retro aesthetic for an overall effect described by one satisfied customer as "Anthropologie meets your granny's attic".
Books
The Second Reader

phone: +1 716 862-0001

address: 1421 Hertel Ave.

The selection at this small used book shop directly across from the North Park Theater may not be the widest, but the Second Reader makes up for that with the quality of its merchandise and the friendliness and enthusiasm of its staff — not to mention the surprising and unusual finds that can often be encountered on the shelves there. The Second Reader's excellent prices are exemplified by the "$1 Book Table" which makes regular appearances in season on the sidewalk in front of the store. In addition to books, a range of prints, gifts and other ephemera are available here.
Specialty foods
In addition to the imported cheeses, pastas, olive oils, and so forth that are to be expected in Little Italy, Hertel has a small colony of Middle Eastern groceries that's located near the corner of Delaware Avenue.
Al Noor Grocery

phone: +1 716 876-4752

address: 1200 Hertel Ave.

Tasty Middle Eastern groceries of all types are the order of the day at Al Noor, with the crowded aisles of this little place fully stocked with everything from spices to Turkish coffee to canned vegetables to sheesha to a small selection of frozen foods. This stuff is the real deal, authentic and delicious — especially the halal meats that are the specialty here. Interestingly enough, British visitors will note that this is the only place in Buffalo that stocks Vimto soft drinks.

Caruso's Italian Imports

phone: +1 716 875-2797

address: 1212 Hertel Ave.

In the heart of Buffalo's Little Italy, appropriately enough, is found this delightful old-world food shop that seems to have been plucked from another time. Caruso's Italian Imports is a purveyor of delectable yet unpretentious Italian specialties such as pasta, cheeses, olives and olive oils, fresh-baked breads, fine charcuterie such as prosciutto and mortadella, and fresh vegetables. The old-fashioned warmth and friendliness exuded by Caruso's employees is matched by the prices, which are among the lowest in town for specialty groceries of this type.

phone: +1 716 876-6457

address: 1374 Hertel Ave.

Easily the most interesting of the products sold here by owner Sandy Hofschneider are her flavored olive oils: infusions of fresh basil, jalapeño, Meyer lemon, garlic mushroom, and more into the imported extra-virgin oils you can also buy plain. Infused vinegars are also a specialty, with blackberry, raspberry, hickory, and chocolate among the available flavors. Best of all, Hofschneider herself is always on hand to suggest pairings, share recipes, or — bringing to bear her experience working as a registered nurse in North Carolina — extol the myriad health benefits of extra-virgin olive oils and balsamic vinegars.

Jerusalem Halal Market

phone: +1 716 259-8381

address: 1146 Hertel Ave.

What sets Jerusalem Halal Market apart from the competition among the Middle Eastern grocers on the west end of the Hertel strip is the pleasant shopping experience: the store is clean and brightly lit, the merchandise is well-organized, the aisles are easy to navigate, and customer service is friendly and attentive. As well, there's an in-house butcher that sells fresh meat (100% halal, like everything else sold here) several days a week; if it's closed when you stop in, there's always an ample selection of frozen meats. Rounding out the inventory is a modest selection of fresh produce as well as hookah pipes, headscarves, and other Islamic clothing.

phone: +1 716 876-2500

address: 1191 Hertel Ave.

Since 1960, Johnny's Meats has offered for sale a full range of meats, cold cuts, and cheeses, many of which are produced locally. Johnny's homemade Italian sausage, crafted with a secret blend of herbs and cheeses, is a specialty, but it's also just the beginning of the story — this real, old-fashioned butcher shop sells it all. Beef, lamb, bacon, veal, locally produced Sahlen's hot dogs, seafood, pork, poultry, and delicious homemade meatballs all keep Johnny's loyal customers coming back for more. In another nod to Hertel Avenue's status as the epicenter of Buffalo's Italian community, a small line of pasta products is also available.

phone: +1 716 551-0500

address: 1416 Hertel Ave.

Give Camille Le Caër credit for identifying and filling a void in the local culinary scene: after noticing that options for sweet-toothed Buffalonians were lagging behind by comparison with the profusion of new local restaurants, this native Breton opened Buffalo's first honest-to-goodness French bakery and café. Though Camille's baguettes are first rate, it's as a patisserie where his place really shines: from éclairs to crêmes brûlées to myriad varieties of macaron, you won't find pastry remotely as authentic anywhere else in Western New York. (That's something to keep in mind when you get a load of the stratospheric prices on the menu board.)

The Pasta Peddler and Blackbird Sweets

phone: +1 716 393-9547 (Pasta Peddler) and +1 716 253-1115 (Blackbird Sweets)

address: 1547 Hertel Ave.

Husband-and-wife team Eric and Andrea Amodeo operate two artisanal food shops in one lovely Hertel storefront: the former's stock in trade at the Pasta Peddler encompasses not only a line of handmade gourmet pastas (linguine is the most popular variety, available in a variety of flavors) as well as gourmet goodies like imported olives and oils, flavored balsamic vinegars, honey, and artisanal fruit butters. As for Andrea's half of the operation, Blackbird Sweets offers a wide range of gourmet baked goods that deliver, in her own words, "confection perfection and wow with every bite". The specialty of the house are cupcakes that come in a diverse selection of flavors, crafted so artfully that one reviewer described being hesitant to bite into them. Consensus says that the cake has real heft to it and the frosting is not overpowering in its sweetness.
Music
phone: +1 716 213-7604

address: 1225 Hertel Ave.

The merchandise on the racks here is the basically the same as at Revolver Records down the street: a vast, diverse, and well-organized collection of mostly used vinyl, accurately graded and generally in good condition. But in terms of ambience and clientele, Jam Records skews older and tones down the hipster factor a bit: picture veteran scenesters who saw the Ramones play at Buffalo State College in '77 versus twentysomething rich kids wearing $99 designer-label Ramones t-shirts. In keeping with that old-school identity, Jam is also a place to pick up reasonably-priced vintage audio equipment such as turntables, amps, and speakers.

phone: +1 716 213-7604

address: 1451 Hertel Ave.

As has become the rule among the new crop of record shops that have lately sprung up around Buffalo, vinyl is the name of the game at Revolver Records: on offer is a gargantuan yet carefully-curated kaleidoscope of over 15,000 titles spanning all genres and time periods from the 1950s to the present and representing some of the most interesting, obscure, sought-after, and above all, best music on the planet; everything from popular favorites to hard-to-find imports to offerings from Buffalo's local music scene, all accurately graded. There's a limited selection of music on CD and other formats too.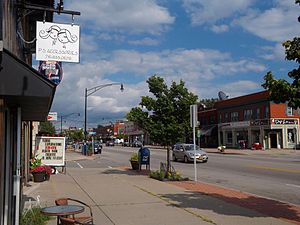 Furniture and home decor
Gifts
address: 1499 Hertel Ave.

Whether through mail order or at a series of retail shops, John Hoffman has been proudly promoting his hometown since the early '90s via an exclusive line of t-shirts, embroidered baseball caps, hoodies, coffee mugs, and other Buffalo-themed souvenir swag that he screenprints himself in the workshop behind Buffalo Bar & Grille in the Old First Ward, which he also owns. Choose from some 30 custom designs that pay homage to all of the many facets of Buffalo that locals take pride in — from sports to history to ethnic heritage to architecture.

phone: +1 716 885-5188

address: 1417 Hertel Ave.

If you want to commemorate your visit to Western New York with high-quality t-shirts, prints, cards, mugs, and miscellaneous gifts emblazoned with icons of buffaloes, photos of beloved Buffalo landmarks, and catchy slogans all the locals can recite by heart (in fact, one of Buffalo's most enduring nicknames, the "City of No Illusions", originated as a slogan on a New Buffalo Graphics t-shirt), this is the place for you. All the designs are the work of owner Michael Morgulis, whose knowledge of the ins and outs of Buffalo is matched by the enthusiasm of his love for his hometown.
Miscellaneous
phone: +1 716 998-1257

address: 1448 Hertel Ave.

Named by owner Lisa Samar after her beloved dog, pet supplies for the dog lover is the name of the game at this independently-owned specialty boutique. Natural, holistic, and often locally-sourced products are priced competitively with mass-market big-brand items: everything from leashes to shampoos to bowls to organic, filler-free dog foods and treats from brands such as Fromm and Wild Callings. All this is available to browse in a brightly-painted, well-lit retail floor that also serves as space for the puppy training classes the store puts on. You can even choose from a range of animal-themed greeting cards.

Her Sanctuary

phone: +1 716 886-6457

address: 1438 Hertel Ave.

Sharing the same positive vibes and life-affirming ethos of Her Story Boutique (the now-closed Elmwood Avenue shopping destination owned by the same mother/daughter entrepreneurial team) but taking things in a somewhat different direction, Her Sanctuary does double duty: on the shelves you'll find anything and everything to do with health and wellness — think locally-sourced kombucha, yoga mats, and handmade healing crystals — while the pleasant, peaceful event space is where you can hear prominent women from around the community share inspirational stories about their lives and accomplishments during the "Her Story Hours" the shop hosts periodically.

phone: +1 716 837-6122

address: 1835 Hertel Ave.

It's not often that a business is in the top of its class selling two completely different products, but Shickluna is an exception to that rule. If a bike is what you're looking for, you'll find some of the highest-quality models in town here (Giant brand is a specialty; they're Buffalo's only licensed dealer), all of which are assembled onsite by a professional mechanic and come with a year of free adjustments and flat-tire repair. Meanwhile, if darts are your game, soft- and steel-tip darts and boards by such brands as Dart World and Harrows are on offer. Customer service can be indifferent, but the value you get for your money can't be beat.

phone: +1 716 480-4855

address: 1434 Hertel Ave.

A good way to describe the experience at this motorcycle clothing and gear shop is as "a hipster's paean to biker culture" — that is to say, the merchandise says "image-conscious, urban-dwelling motorcycle enthusiast" much more than "Hell's Angel". Apparel tends toward the high-end, sourced from designers both local (the store's own branded clothing is screenprinted by the West Side's own Positive Approach Press) and far-flung, while accessories include canteens, attractive yet functional boots, helmets, a rack of motorcycle magazines, and even spare bike parts. And if you're a do-it-yourselfer, classes on bike building and repair are offered periodically.

phone: +1 716 874-6677

address: 1172 Hertel Ave.

Since 1988, Buffalo's premier head shop has been encouraging locals of all stripes to (in the words of the radio spots that are all over the local airwaves) "stop in and say hi". A wide-ranging gamut of smoking products, t-shirts and other clothing, tie-dyes, jewelry, incense and body oils, and new-age gifts such as crystals and tarot cards are available at Terrapin Station, all united by that distinctive aesthetic familiar to those who are still on that "long strange trip". Perhaps not surprisingly given the store's name, Terrapin Station is also Buffalo's foremost source for Grateful Dead-themed merchandise.

phone: +1 716 873-6461

address: 6 Virgil Ave.

A one-stop shop just off Hertel offering everything the Buffalo smoking enthusiast could conceivably desire: imported cigarettes, pipes and pipe tobacco, rolling papers, loose tobacco, and — the main draw — a dizzying range of premium cigars shipped directly from factory to store. Ashton, Hemmingway, Arturo Fuentes, and Cohiba are only a few of the many brands to be found in the huge walk-in humidor. Also part of the package is the Rocky Patel Lounge, a cigar lounge with a large-screen HDTV, beverages including a complimentary coffee bar, and club-style seating for up to 20 people.
Delaware Avenue, Elmwood Avenue, and West Hertel
The portion of the Delaware and Elmwood Avenue corridors north of Park Meadow is characterized by a proliferation of suburban-style shopping centers and other "big box" retail, with many national chain stores and restaurants present.
is a large shopping center located on the west side of Delaware Avenue south of Hinman Avenue, anchored by Target. Other chains located in this plaza include GameStop, OfficeMax, and Rainbow.
is a smaller plaza located directly across Delaware Avenue from Delaware Consumer Square. The main anchor store at this plaza is a Goodwill thrift store.
Regal Elmwood Center is located on the east side of Elmwood Avenue about midway between Hertel and Hinman Avenues. It's anchored by the Regal Elmwood Center 16 movie theater, as well as Catalyst Fitness.
is the largest shopping center in North Buffalo, located on the east side of Elmwood Avenue directly north of the Regal Elmwood Center, abutting Delaware Consumer Square at its rear. Anchored by the namesake Tops supermarket, other stores here include Bath & Body Works, Citi Trends, Dollar Tree, Famous Footwear, Five Below, Party City, Petsmart, and Rainbow Kids.
Other national chain stores with locations in this area include , , and .
Clothing and accessories
phone: +1 716 871-8000

address: 2207 Elmwood Ave.

Taking a stand for homegrown retail amidst the wasteland of national chains that this part of North Buffalo is, Top Notch is the place to go to shop for the latest in street-level urban fashions from brands like Rockstar and Timberland in an environment that's spacious, well-organized, and uncluttered. Sports wear is a specialty here, with fans of popular teams like the New York Yankees and Chicago Bulls well cared for when it comes to jerseys and caps. There's also a snazzy selection of unique designer sneakers.
Art and art supplies
phone: +1 716 308-0825

address: 51 Botsford Place

As you approach this anonymous brick industrial building set amidst a sea of warehouses and big-rig parking lots, you might think your GPS has misdirected you. But appearances can be deceiving: inside Flying Anvil you'll find a bevy of unique, custom-made furniture, collectibles, and objets d'art fashioned by owners Mollie Atkinson and Kenny Kash out of steel, copper, brass and aluminum. They'll help you create your own metal-art masterpiece whether it be functional or strictly decorative, or else you can browse their selection of other artists' works in the medium. Flying Anvil even doubles as a gallery where local metal artists display their works.

phone: +1 716 884-8900

address: 1941 Elmwood Ave.

Founded in 1959 by graphic artist Charles W. Hyatt, Western New York's leading purveyor of art supplies stocks goods such as oil, acrylic and watercolor paints, brushes, canvas, pens, inks, papers, easels, ad nauseam at the hugely expanded warehouse-like location in North Buffalo that they inaugurated in January 2019. Hyatt's also offers picture framing services, classes and workshops, and miscellaneous gifts, and is one of the world's leading distributors of Pantone color-matching products.
Specialty foods
Scime's Sausage

phone: +1 716 877-5010

address: 2484 Delaware Ave.

Scime's Sausage is an old-style meat market that's been sating hungry Buffalonians practically forever. Though a full range of meats is on offer at their butcher's counter, the specialty here is the homemade Italian sausage that owner Salvatore "Sam" Scime crafts daily from high-quality, specially-purchased pork shoulders, to which is added a blend of herbs, spices and flavorings including black pepper, fennel seed, fresh parsley and Romano cheese. As well, a range of Italian groceries is offered at Scime's that includes imported cheeses, olives, produce, pasta, and fresh, locally-baked Luigi's bread.
Miscellaneous
phone: +1 716 877-3317

address: 2635 Delaware Ave.

In business since 1951, this photographer's paradise attends to the needs of old-schoolers with a selection of film, slides, and photo paper to choose from and an onsite darkroom. But Delaware Camera's specialty is a top-of-the-line range of digital cameras representing many major brands (a notable exception is Canon), along with lenses, filters, flash mechanisms, tripods, camera cases, memory cards, and other such accessories. And not only does the staff go above and beyond in the field of customer service, but their expertise also extends to restoring old photos to their former glory, either as prints or digitally.
University Heights
The outer end of University Heights is dominated by the . Situated on the north side of Main Street between Kenmore and Springville Avenues, directly across from UB's South Campus, the University Plaza was the first suburban-style shopping center to be constructed in Erie County, with ground broken in 1939. The University Plaza contains locations of the national retail chains
Dollar Tree
,
Rainbow
, and
Villa
, as well as the
Dipson Amherst Theatre
,
M&T Bank
, and
Tops
supermarket.
The entire north side of Main Street east of Kenmore Avenue, including the University Plaza, is actually part of the Town of Amherst.
Clothing and accessories
phone: +1 716 833-4913

address: 3230 Main St.

Greeks & Sneaks is not only a place for UB students to purchase or rent textbooks (at prices much more reasonable than the on-campus bookstore and sometimes even cheaper than Amazon), but it also doubles as a one-stop shop for all manner of college-themed clothing and gear. Dedicated UB football and basketball fans can find a full range of t-shirts, sweats, hoodies, and other items emblazoned with the Bulls logo. Greeks & Sneaks also offers fraternity and sorority swag, as well as silkscreen prints, embroidery, and a wide range of sneakers.

phone: +1 716 836-4140

address: 3240 Main St.

The ambience at O'Connell's is decidedly old-school, redolent of a time when merchandise was crafted with pride and skill and salespeople knew their customers by name, which makes it fitting that the specialty here is high-end men's formalwear, almost a sartorial anachronism in this day and age. The suits, sportcoats, dress shirts, shoes, slacks, ties and accessories offered here are of a style that marries staid conservatism with quirky individuality (novelty cufflinks shaped like race cars and champagne bottles are a good example of this). Prices tend toward the higher end of things, but you get what you pay for.

Pamela Inc.

phone: +1 716 725-6215

address: 3142 Main St.

The vivacious Pam Alexander's eponymous women's clothing boutique may be small, but — as indicated by the impeccable effort she puts into her window displays — the selection is vast, diverse, and constantly changing. The clothing at Pamela Inc. is characterized by fun, sassy fashions with bright colors and a chic urban style, but where the place really distinguishes itself is in the realm of accessories: handbags, belts, jewelry, scarves and sunglasses — and above all, what may be the city's best selection of women's hats — all take a prominent place among the merchandise.

address: 3126 Main St.

What exactly does "vintage" mean, anyway? What time period does it represent? For most people, the word conjures up images of the '50s and '60s, but if you're prepared to stretch the chronology to encompass the latter decades of the 20th century — say, World Wrestling Federation "Austin 3:16" t-shirts, New Kids On The Block lunchboxes, or memorabilia from the 1993 Summer Universiade, held in Buffalo — then head down to this shop in the Heights where you'll find all these and hundreds of other fashions, collectibles, and trinkets from that bygone-but-not-too-bygone era. Old Bills and Sabres gear is a particular specialty.
Books
University Heights is heaven for comic book fans.
Iron Crown

phone: +1 716 831-0957

address: 3077 Main St.

Iron Crown may play perpetual second banana to its neighbor further up Main Street, Queen City Bookstore, but this smaller, more out-of-the-way comic store makes up for that with its reasonable prices, customer service that is arguably even more friendly and personable than Queen City's, and — above all — a full range of supplies for players of Magic: The Gathering, Yu-Gi-Oh, and other card games. Iron Crown also sells a variety of toys and collectibles.

phone: +1 716 833-6220

address: 3184 Main St.

Easily Buffalo's largest, longest-standing, and best-loved comic book store, with a wide selection that encompasses traditional superhero stuff, gritty graphic novels, quirky indie titles, kids' comics, and a dizzying array of back issues for completists, not to mention a vast selection of toys, collectibles, and collctors' supplies. As well, head honcho Emil Novak is the man to seek out if you're interested in local low-budget horror cinema. All titles are 20% off on Sundays and come with a free bag and board.
Specialty foods
phone: +1 716 833-7540

address: 3208 Main St.

Parkside Candy has been in business since 1927 — and walking into their original location is like a trip back in time to right around that year, with a full range of chocolate truffles and cordials, peppermint patties, fudge, old-fashioned lollipops, and their famous sponge candy merchandized amid an Art Deco interior with Adamesque flourishes (designed as a conscious imitation of French confectionery stores) and the classic black-and-white checked tile floor. Best of all, Parkside Candy's Main Street location doubles as an old-fashioned ice cream parlor and soda fountain perfect for warm summer days.
Miscellaneous
Kenmore Avenue area
Though it's one of North Buffalo's main thoroughfares, Kenmore Avenue is quiet and largely residential. However, peppered among the brick apartment blocks and houses are a smattering of unpretentious neighborhood businesses — particularly in the vicinity of Colvin Boulevard.
Clothing
Nickel City Shirt Co.

phone: +1 716 207-3803

address: 1106 Kenmore Ave.

Located for many years on Kenmore Avenue near the corner of Colvin, the Nickel City Shirt Company offers customized embroidered and screen-printed T-shirts, hoodies and sweatshirts, as well as hats, mouse pads, and other goods emblazoned with the design of your choice. "Quality Work at the Lowest Prices in Town" is the vow of founder Keith Marzec, and that's no lie — this place is highly regarded among Buffalonians.
Specialty foods
phone: +1 716 874-2315

address: 1104 Kenmore Ave.

Whether you're in search of a loaf of fresh, tasty house-baked bread, or you're looking to satisfy your sweet tooth with delectable pastries (the pasticiotti is a perennial favorite), cookies such as cuccidiati and giugiuleni, Italian wedding cakes, or all manner of other sweets, Gino's is as good as it gets in Buffalo when it comes to authentic, delicious Italian baked goods. And the prices can't be beat.
Miscellaneous
Nick's Sporting Goods

phone: +1 716 875-9218

address: 1212 Kenmore Ave.

"Sporting goods" nothing: this small, jam-packed Kenmore Avenue storefront might be better described as a surprisingly comprehensive outdoor goods shop, with a full range of gear for hunters, fishermen (including live bait!), and sport shooters. But that's all just a prelude to the real raison d'être of Nick's, however, as Buffalo's premiere archery store. Not only does this place sell the best state-of-the-art gear, but customers can also come to Nick's for adjustments, repairs, and even archery lessons and New York State bowhunting education courses at the indoor range in the basement.
Park Meadow
The commercial corridors of Delaware and Elmwood Avenues cut parallel north-to-south swaths through the otherwise tranquil, upscale residential area of Park Meadow.
Retail in Park Meadow is dominated by , which is located on the west side of Delaware Avenue between Great Arrow Avenue and the Belt Line tracks, just behind the
Pierce-Arrow Factory Complex
. Aside from its namesake,
Marshall's
, the shopping center is anchored by locations of
Dollar Tree
,
Rainbow
, and
Shoe Dept.
phone: +1 716 881-2326

address: 1654 Elmwood Ave.

In addition to supplying desserts to some of the finest restaurants in the Buffalo area, Carriage Trade Pastries is a great place to pick up some of the best scratch-made baked goods in Buffalo: cookies, brownies, cinnamon rolls, muffins, sticky buns, scones, and more for prices that are surprisingly affordable given the quality. Pies, cakes and other specialty items are available too, but as this is a small operation that custom-designs all their cakes, these must be ordered at least a day in advance. If you're hungry for something else, there's a lunch counter where a few light items such as soups, meatless chili, and quiche are on offer.

Gatti Jewelers

phone: +1 716 875-1003

address: 1598 Elmwood Ave.

This small, friendly neighborhood jewelry store has been on the corner of Elmwood Avenue and Amherst Street since 2003. Gatti Jewelers' selection of bracelets, necklaces, earrings, watches, and other pieces is curated by an owner whose knowledge of gold and silver jewelry is encyclopedic. As well, Gatti does an impressive side business dealing in used musical instruments as well as accessories such as amplifiers. Estate sales are also handled.
Parkside, Central Park, and the Vernon Triangle
Though these neighborhoods are primarily residential, their eastern boundary — Main Street — is a commercial strip of increasing vibrancy. The business district is mostly concentrated around the corner of Amherst Street and the few blocks to the south, in the Vernon Triangle. Property values along the Metro Rail corridor began rising rapidly when plans for the downtown Medical Corridor were revealed to entail a paucity of parking and an emphasis on alternative methods of transportation, so look for the current array of nail salons and prepaid cell phone outlets to be replaced by more upscale businesses over the next few years.
There's another cluster of shops and restaurants at the corner of Parkside Avenue and Russell Street, across from the entrance to the
Buffalo Zoo
.
Clothing and accessories
phone: +1 716 835-0740

address: 287 Parkside Ave.

If you've got a son or daughter age 8 or below, check out this "children's boutique for the unapologetically stylish fashion mini" situated right in the heart of the Parkside action. At Mini Fashion, the house style splits the difference between streetwise urban sassiness and a casual yet upscale preppy look. They even carry kid-sized aviator shades!
Specialty foods
phone: +1 716 688-0361

address: 289 Parkside Ave.

The cupcake craze of a few years ago may be over, but don't tell that to the folks at this cute little bakery-café that still busily turns out cupcakes in a range of creative flavors ("Pancakes and Bacon" specimens come topped with maple buttercream and real bacon, and the "Original Buffalo Hot Wing Cake" is a seductive marriage of rich chocolate and spicy cayenne pepper), a selection of "adults only" cupcakes made with rum and other potent libations, and a modest selection of other desserts. If nothing else, Fairy Cakes is worth a visit if only to experience the whimsical decor: an almost dollhouse-like setup in cheery pastel colors, truly befitting its name.
Miscellaneous
Illos Piano Restorations & Music Center

phone: +1 716 832-0013

address: 2940 Main St.

Pianos — selling, tuning, rebuilding, and restoring them — are the main attraction here. But if you're not inclined to lug one of those along with you on your travels, Illos also offers merchandise of more manageable dimensions: perhaps you'd prefer to pick up a high-quality hardwood piano bench (available in a variety of finishes), stock up on accessories such as piano covers and wheel and tripod casters, or choose from a huge selection of sheet music.
Eat
Hertel Avenue
If you've come to Little Italy with visions of pasta with red sauce, fine wine, and some of Buffalo's best
pizza
, you will of course not leave disappointed. But Hertel is no one-trick pony: the offerings have diversified considerably in recent years, and nowadays you'll find restaurants for all tastes there. Also of note is a cluster of Middle Eastern groceries-cum-restaurants at the west end of the strip, near Delaware Avenue, where shawarma, falafel, and other such dishes are served.
Budget
phone: +1 716 836-3100

address: 1430 Hertel Ave.

Bertha's, which according to its slogan is "the diner that takes you back a few years", is a '50s-style affair that's located right next door to the North Park Theater. Open daily for breakfast and lunch and till 8PM on Fridays, Bertha's serves standard diner fare at unbeatable prices. The lunch menu is dominated by standard fare — burgers (monikers of selections such as the "James Dean", the "Davey Crockett", and the "Buddy Holly" continue in the '50s theme), club sandwiches, and similar items, as well as salads, wraps, and simple entrees. Full breakfasts comprise delicious omelettes, egg sandwiches, buttermilk pancakes and "Buffalo's best Belgian waffle", and weekly specials are offered. Cash only.

phone: +1 716 836-5411

address: 1545 Hertel Ave.

A newly remodeled dining area boasting several high-definition flat-screen TVs which are inevitably tuned to the big game (this place is understandably popular during Bills and Sabres seasons) is the setting where patrons of Bob & John's La Hacienda enjoy simple yet delicious items such as subs, wraps, burritos, a small selection of salads, pizza, and stromboli. A particular specialty at Bob & John's is the chicken wings, which come in a wide variety of delicious sauces including classic Buffalo, barbeque, Cajun, and Jamaican jerk (boneless "wingdings" are also available). A modest range of simple entrees, comprising mostly pasta dishes as well as a locally renowned fish fry that's available on Fridays, is also on offer; at lunchtime, a buffet is offered featuring pizza, soup and salad.

Café on the Avenue

phone: +1 716 877-2233

address: 1240 Hertel Ave.

Café on the Avenue hops during the morning hours with a full menu of breakfast sandwiches and (huge!) burritos, omelets, pancakes, French toast, and egg-and-breakfast meat platters, but the flagship item here is homemade donuts, prepared by what is proudly cited as "the first Donut Robot in the Buffalo area" and available in quite a few more varieties than you'll find at your average Tim's or Dunkin'. At lunchtime, the slate of options transitions into classic American diner fare: no surprises on the menu, but everything's reliably good. Service can be hit-or-miss, but the price is right, the ambience is spacious and airy, and the kitchen is open, with all the food prepared freshly before your eyes.

phone: +1 716 931-9680

address: 1488 Hertel Ave.

Though it makes a game effort, the EXPO Market's smaller North Buffalo satellite doesn't quite pull off the same hip, millennial-friendly vibe as the main location downtown — the concept doesn't really translate to the low-rise, quasi-suburban Hertel neighborhood, not to mention the fact that its location in a former Family Video rental outlet lends it a more prefab air, more like a miniature shopping-mall food court than anything. Still, if you're in it strictly for the food and not the ambience, you'll find two of the original EXPO vendors with menus identical to their downtown counterparts, along with a longtime North Buffalo summer tradition-turned-year-round Market tenant and a swanky bar that pays tribute to the neighborhood's Italian heritage.
Newbury SaladsSpecialty options at this emporium of organic, locally-sourced, GMO-free light lunch fare include the "Brainy Beet" (spinach/arugula mix, raw beets, fresh blueberries, feta, walnuts and broccoli) and the "Jalapeño Chicken" (over romaine with tomatoes and cucumbers), but the build-your-own salad is the marquee item here: choose a leafy green, then add any of four additional veggies, premium toppings if you like, and dressing. Build-your-own quinoa bowls and wraps work under similar principles, and multigrain bread sourced from the West Side's own BreadHive Cooperative Bakery (35¢ upcharge; totally worth it) tops it all off. Wash it all down with a selection of healthy smoothies.

Steve's Clam BarOnce upon a time, North Buffalonians had to ask around to find out where and when Steve Meli would be setting up shop, whether it be the back room of some random neighborhood tavern or just a street corner somewhere along the strip. But with the opening of the EXPO Market on Hertel, now Steve's Clam Bar is a daily, fixed-address operation. Über-fresh Alaskan king crab legs, succulent lobster tail, clams casino, and other specialties from the briny deep are served with aplomb as always, but with the larger space has come the addition of a raw bar with about half a dozen oyster varieties on offer at any given time. And if you can handle the heat, garnish it all with one of Steve's own not-to-be-trifled-with homemade hot sauces.

Sun ExpressThe Hertel Avenue iteration of chef Kevin Lin's ever-popular local restaurant chain serves a selection of Southeast Asian specialties that's identical to the downtown location and a bit abbreviated by respect to the ones in Black Rock and Williamsville: tasty Thai and Burmese curries, fried rice, and noodle dishes, along with a modest but scintillating range of ramen soups with your choice of meats and vegetable add-ins.
phone: +1 716 436-2141

address: 1127 Hertel Ave.

The building that houses this restaurant used to be an auto body shop, and in many ways it still looks the part: from the retro-50's decor, to the clear glass garage doors on the front of the building that lend the dining room a pleasant airiness, to the name of the place (of course), to the menu of sandwiches, panini, salads, and other breakfast and lunch fare with monikers that pay homage to American automotive greats. Fresh baked goods are another specialty: The Garage's cinnamon rolls are as delicious as they are huge. On the minus side, prices are a touch high, and they have a bad habit of running out of menu options (especially on the bakery end of the operation), so you might want to call ahead to see if your favorite item is in stock.
phone: +1 716 837-6703

address: 1465 Hertel Ave.

Owned for over 30 years by the Mora family, there's perhaps no Mexican restaurant in Western New York about which local opinions are more polarized. Pretty much all anyone can agree on is that Gramma Mora's food is as far from authentic as it gets: some Buffalonians continue to sing the praises of this place's pleasantly mediocre Tex-Mex comfort food; others curse it as bland, uninspired, overpriced dreck. Since Buffalo's recent introduction to bona fide Mexican cuisine courtesy of places like Rancho La Delicias, La Divina in Kenmore, and Cheektowaga's Taquería Los Mayas, the balance has been tipping more and more toward the naysayers — but Gramma Mora's still packs 'em in on a pretty consistent basis, so who knows?
phone: +1 716 875-5637

address: 1322 Hertel Ave.

Neighborhood old-timers still know the building as the former Mastman's Kosher Deli, once an iconic linchpin of Jewish North Buffalo, and you'll still find the old Mastman's sign perched above the corner entrance. But Joe's hasn't stayed completely true to the identity of its predecessor: this food isn't Kosher, and traditional Jewish sandwiches such as corned beef, pastrami, and Reuben are joined on the menu by a range of others such as muffuletta (the best in town according to a wide consensus), cubano, and a host of creative specialties such as the "Johnny Be Good" (a concoction of grilled vegetables and herb cream cheese on a hoagie roll).
La Kueva

phone: +1 716 936-4933

address: 1260 Hertel Ave.

A small family-run restaurant with a modest menu, La Kueva nonetheless made a big splash in 2013 when it became the latest in a long list of multiethnic eateries to chip away at the official designation of Hertel Avenue as Buffalo "Little Italy". Owner Luis Martinez's desire was to bring the subtle, delightful flavors of Puerto Rican cuisine out of the barrio and into the larger Buffalo restaurant scene; in a recent write-up on buffalo.com, he remarked: "My people... already know about food. I want to attract the Italians, the white people of North Buffalo and introduce them" to it. La Kueva gets rave reviews from locals for its take on Hispano-Caribbean favorites like pollo guisado, pastelones, and various tropical drinks, but for less adventurous diners, a range of sandwiches is offered as well.
Lone Star Fajita Grill

phone: +1 716 833-7756

address: 1853 Hertel Ave.

Lone Star Fajita Grill has been a North Buffalo institution for what seems like forever. Simple but excellent Mexican and Tex-Mex dishes at prices that can't be beat (nothing on the menu costs more than $3!) are served up at this sparsely decorated dive at the east end of the Hertel Avenue strip. Cash only.
phone: +1 716 447-1207

address: 1207 Hertel Ave.

A simply magnificent place to eat. Buffalo's first Iraqi restaurant, Shish Kabab Express serves all the standards of Middle Eastern cuisine — shawarma, falafel, tabbouleh — as well as unusual specialties unique to the cuisine of Iraq, such as quzi and Iraqi-style kebabs. As well, Shish Kabab Express stands out among the crowd of similar places at the west end of Hertel by offering a small range of South Asian specialties such as beef and chicken tikka. The food here is fresh and authentic, with 100% halal meat, and all the bread served at Shish Kabab Express (including the samoon, a staple of Iraqi cuisine) is baked fresh on the premises. The kicker is the prices, which, according to one reviewer, are often "cheaper than a fast-food combo meal".
Mid-range
phone: +1 716 240-9273

address: 1368 Hertel Ave.

Striking a blow for the continuing Italian-ness of Little Italy is Belsito, where a modest-sized menu of "unique foods made from Italian cured meats and cheeses" comprises a range of appetizer salads, cheese-and-cold-cut plates, and — above all — a mouth-watering selection of sandwiches and panini featuring various combinations of imported Italian charcuterie and cheeses of impeccable quality. Call the menu a one-trick pony if you want, but Belsito sticks to what it does well and earns raves from local foodies as a result. Best of all, the place is far less crowded than it ought to be, which makes for excellent service and ample opportunities to chat up the friendly, ever-present owners.

phone: +1 716 259-9060

address: 1504 Hertel Ave.

The rule of thumb on Burning Buffalo's short but sweet menu is pub grub brought a bit upscale, but not too far — Burning Buffalo is not a dive by any means, but it's no cooler-than-thou "new Buffalo" hipster hangout either — with an emphasis on bison and other game meat. For example, check out the bison meatloaf, which comes in a delicious gravy made with stout beer, and the build-your-own burger option, wherein you can mix-and-match over 20 cheeses, vegetable toppings, condiments, and a patty of either premium ground steak, bison, or a daily selection of wild game (anything from alligator to wild boar to ostrich).

phone: +1 716 883-1675

address: 1472 Hertel Ave.

Situated at the heart of the Hertel strip at the former location of La Dolce Vita, CRāVing is a brand-new restaurant operated by Jennifer and Adam Goetz. Fans of the Goetz's former restaurant, Allentown's sadly missed Sample, will feel right at home here, with a creative menu whose accent, appropriately enough for "Little Italy", is on fresh and creative interpretations of Italian cuisine, including delicious homemade pizza. That's not to say that Italian food is CRāVing's sole focus by any means — selections here are as diverse as the German-inspired entrée of pork belly with mustard caviar and rye spätzle, and appetizers such as lobster poutine (!) and buttermilk-fried chicken with grits and sautéed collard greens. Lunch is a more easygoing affair, with a huge sandwich board hanging proudly on the wall.

phone: +1 716 235-8464

address: 1707 Hertel Ave.

The second location of what's now a thriving local chainlet of taquerías whose menu splits the difference between authenticity and creative culinary fusion: a decent selection of tacos ranging from familiar but well-executed favorites (fish, carne asada, al pastor) to harder-to-find specialties (pork belly, guajillo-braised beef short rib, Yucatán-style pollo pibil steamed in banana leaf) to vegetarian options filled with potatoes or huitlacoche corn, and a smaller selection of other south-of-the-border favorites. As well, the decor is toned down quite a bit from the original location's psychedelic sensory overload, so if giant lucha libre masks and acid-trip light shows aren't your cup of tea, opt for Deep South's North Buffalo satellite.

phone: +1 716 440-1065

address: 1673 Hertel Ave.

"Tastes Like Something" is the (rather odd) motto here, and that "something" invariably consists of soul food classics cooked up to downhome perfection — "as if I were having Sunday evening dinner at Big Momma's House", in the words of one happy customer. The menu consists of a small core list of permanent options (fried fish, chicken, and shrimp, barbecue ribs, and various combinations thereof) complemented by a revolving door of daily specials. Sides, of which two come with your meal, change daily as well. At Je Ne Sais Quoi the service is friendly as can be and the portions are generous, but prices are a bit higher than similar soul food joints around town, and they do not accept credit cards.

phone: +1 716 877-1264

address: 1264 Hertel Ave.

Given that Jewel of India is run by the same people who own India Gate on Elmwood Avenue and Taste of India in Amherst, patrons of this brand-new addition to the Hertel Avenue strip can expect the same healthy, high-quality fare here as at those other fine establishments. Jewel of India boasts an extensive menu featuring beef, chicken, lamb, shrimp and vegetarian entrees; diners enjoy their meal in a lovely, spacious, and impeccably decorated dining room. Lunch and dinner buffets are also available.

phone: +1 716 838-5225

address: 1561 Hertel Ave.

Of Buffalo's many, many Greek diners and family restaurants, Kostas has one of the most interesting and extensive menus: they've been serving familiar standbys such as souvlaki, gyro, and Greek salad since 1977, as well as harder-to-find Greek specialties such as tirokafteri and taramosalata. Sandwiches, burgers, pasta, and other such fare is also on offer, as is a modest selection of wines.

La Tavola Trattoria

phone: +1 716 837-3267

address: 1458 Hertel Ave.

La Tavola differentiates itself from the myriad other Italian restaurants on Hertel with a Creole-fusion style that owners Victor Cali and Pat Gentile refer to as "New Orleans Italian", with entrées such as shrimp, sausage and chicken in Cajun cream sauce over homemade pasta combining several meats and diverse flavors for a result that's often bolder and spicier than traditional Italian fare. The pride of La Tavola, their expansive 100% wood-fired pizza oven, turns out not only delicious homemade pizzas (which tend more toward the traditional Italian side of the spectrum) but also other specialties such as stuffed peppers. Sandwiches and burgers are also available in an ambience that is airy, modern, and impeccably decorated.

phone: +1 716 863-9781

address: 1503 Hertel Ave.

The "high-end food and service at street-level prices" credo under which Lloyd's food trucks operate applies equally to their brick-and-mortar restaurant: the menu combines a curated selection of the most popular options from the truck (now if you want your fix of Tricked Out Nachos or the "Dirty South" dessert burrito, you know exactly where to find it on any given day) with some interesting new creations (the "El Hombre" quesadilla is probably the most popular of these, with chorizo lending a smoky aroma to a cheese-based filling that also includes potato, onion, and avocado crema, while the "Mexicali Spring Rolls" sees Lloyd dabbling in Asian fusion). All these goodies are made with free-range, antibiotic- and hormone-free meats and locally grown produce and come served on authentic house-made corn tortillas.

phone: +1 716 833-6227

address: 1435 Hertel Ave.

Bucking the trend toward the upscale that the local dining scene has seen lately, Mac's is unpretentious and unabashedly party-oriented, with a menu mostly given over to familiar pub grub with some interesting twists. Here you can enjoy some pretty well-executed burgers and sandwiches, chicken wings that trend a bit spicier than the norm, and if you're a bit hungrier, a selection of full-size mains that bring out a more refined touch (various steaks and chops, fish and chicken dishes, and a Thai noodle bowl with your choice of meat). Mac's is a pretty huge place: with two floors of seating, you can take your pick of a view of Hertel from the huge windows at street level, a bird's-eye perspective over the bar from the upper balcony, or — as a respite from the thundering din inside — a huge second-floor patio.

phone: +1 716 551-0500

address: 1416 Hertel Ave.

If you're hungry for something a little more substantial than the delectable desserts with which Camille Le Caër has made his name, Maison Le Caër also doubles as a chic bistro where you can indulge in a modest selection of brunch-style specialties. Crêpes are the specialty of the house and come in both sweet and savory varieties, but diners reserve their highest praise for the croque madame sandwich served on a house-baked croissant: perfectly flaky, toasty, and buttery. As with the pastry-shop end of the operation, the steep prices are justified by unrelentingly high quality: delicious food, rustic yet homey decor, and the jazz- and chanson-heavy soundtrack of piped-in music combine for an authentic experience straight out of Paris.

phone: +1 716 836-8800

address: 1420 Hertel Ave.

Opened in April 2012 with a name that echoes the slogan of FC Barcelona, Més Que is the first establishment of its kind in Buffalo: a sports bar and restaurant dedicated entirely to soccer. The owners of Més Que have been fans of Buffalo's NPSL club since its foundation, and the state of affairs at this official bar of FC Buffalo is lively indeed. The menu is small in size but outstanding in quality, with elegant pizzas, panini, pasta dishes, cheese and charcuterie plates, and heartier entrees that represent the cuisine of the Mediterranean, and Spain in particular.

Public House of Buffalo

phone: +1 716 551-6208

address: 1206 Hertel Ave.

Appropriately enough given the place's name, the Public House of Buffalo serves what's described as "elevated pub fare" — classic bar food kicked up a notch with creative gourmet twists. For example, chicken fingers come milanese style and are served with a side of pesto aioli — and what would a Western New York bar be without chicken wings, tossed in barbecue or classic Buffalo sauce as well as options like Sriracha sesame sauce or Chiavetta's marinade? Owner Frank Testa's roots as a Chautauqua County farm boy come out in his emphasis on locally-sourced farm-to-table produce, so if you're in the mood for a salad, expect to see seasonal ingredients and enjoy farm-fresh flavors.

Romeo & Juliet's Caffe and Bakery

phone: +1 716 873-5730

address: 1292 Hertel Ave.

The owners of Romeo and Juliet's are a family of first-generation immigrants who have many years of experience working in genuine Italian bakeries and kitchens, and with this charming restaurant, they've recreated that experience to the delight of Buffalonians who flock here to enjoy light Italian fare such as pizza, panini and a small range of heartier though still simple pastas and main-course salads. Panini are a particular specialty here: a slate of delectable and creative options whose names, appropriately enough, are tributes to some of the great painters of Europe (check out the Picasso, described on the menu as "an artwork of prosciutto crudo, soppressata, capicolla, salami and mozzarella").

phone: +1 716 833-1307

address: 1487 Hertel Ave.

The Sterling's menu is a real "sausage party", as the kids say — changing selections incorporate everything from everyday standards like Wardynski's hot dogs to such offbeat, exotic "rare game" blends as wild boar with cranberry and red wine, smoked bison with Burgundy and thyme, and duck with foie gras and Sauterne wine — but if that's not your thing, there's plenty more in the way of well-executed pub grub to wash down your beer with, including a renowned selection of burgers. Best of all, the ambience oozes class and historic charm, with a copious collection of antique breweriana and mementos from the Brinkworth family's nearly century-long tenure in the local restaurant industry: check out the 1901 Ludwig & Company piano that was originally commissioned for the Pan-American Exposition.

phone: +1 716 833-9899

address: 1541 Hertel Ave.

Wellington is a "pub" almost in the UK sense of the term, offering not only fried appetizers and bar snacks to eat but also full meals of hearty stick-to-your-ribs comfort food: changing daily specials include pot roast on Thursdays, a "chef's choice" of chicken or pork dishes on Saturdays, and some of Buffalo's best fish fry on Wednesdays and Fridays. But the specialty of the house that Wellington is best known for are their burgers: choose from a range of creative options on the regular menu that are all cooked to perfection, or show up on Sundays for "Crazy Burger Night". All this in a chilled-out and unpretentious setting that reminds you of what Hertel was like 30 or 40 years ago.
Splurge
phone: +1 716 873-4291

address: 1198 Hertel Ave.

At the center of the action on Hertel Avenue, Ristorante Lombardo calls their food "the best Italian in Buffalo", a claim that is hard to refute given the extensive menu of elegant and authentic Italian dishes served to patrons in a setting that is among the most exquisite and upscale on Hertel. Ristorante Lombardo boasts a full bar and patio and an expansive wine list.

phone: +1 716 322-0037

address: 1448 Hertel Ave.

If you agree with the vowel-challenged impresarios of Hertel's newest fine-dining hotspot that "EVRY THNGS BTR SZND", you'll find much to like here: a diverse range of upscale New American cuisine sharing a common bond of bold, often fiery flavors. Witness the blackened artichoke appetizer — undoubtedly the most popular item on the menu, wherein succulent crab and Green Goddess dressing provide scant relief from the heat of the spice rub — and of course the Cajun-spiced jambalaya, made with a mix of andouille sausage and shrimp. Keep in mind that this is quite a small space, so reservations are recommended, and don't come expecting a quiet intimate ambience (though the outdoor patio can be a pleasant respite from the din).
Local chains
The following local chains have locations on or near Hertel Avenue.
Descriptions
of these restaurants can be found on the main Buffalo page.
phone: +1 716 877-6618

address: 2350 Delaware Ave.

phone: +1 716 862-9117

address: 1518 Hertel Ave.
Ice cream
2017 will go down in North Buffalo history as the year when Hertel Avenue became the premier summertime destination in Buffalo for aficionados of ice cream and other frozen goodies, with two new shops opening within a couple weeks of each other and a third one just a few months later.
phone: +1 716 863-9781

address: 1501 Hertel Ave.

Serving as a sort of "sister brand" to Lloyd, whose Taco Factory is found just next door, Churn differentiates itself from its Hertel competition with its emphasis on soft ice cream: theirs is scratch-made using locally-sourced milk and cream (the only place in Western New York that does this with soft-serve), then flavored in both standard (vanilla, chocolate) as well as creative (matcha, vegan coconut) varieties, and finally served in your choice of a paper cup or a house-baked waffle cone. If you're after something a bit more elaborate, there's also a range of specialty sundaes (the "Gramma Angie" — vanilla ice cream topped with chocolate chips, cookie crumbles, and cream cheese icing — is an early favorite) as well as "Churned Ups", which are basically the house version of Dairy Queen s "Blizzard" treats.

Hertel Avenue Poutine and Cream

phone: +1 716 551-6995

address: 1488 Hertel Ave.

Wherein the impresarios behind the Allen St. Poutine Company expand their oeuvre to encompass not only the titular Canadian fast-food specialty but also a range of homemade ice cream treats. The poutine selection is identical to the original location in variety, quality, and price point, so those without a sweet tooth will leave happy. But if you do want to sample the sweets, expect to shell out: $8-9 is a lot to pay for a milkshake, regardless of the high quality of the ingredients and the size of the portions (they're served in Mason jars). Elsewhere on the dessert menu you'll find "creamy buns" (one of North Buffalo's own Famous Doughnuts hollowed out and stuffed with your choice of ice cream) as well as regular old ice cream by the (disappointingly small) scoop.

address: 1900 Hertel Ave

Out of Hertel's trio of ice cream shops, Lake Effect is by far the most popular. Why? For one, it doesn't hurt that they were a known quantity already; since 2008, Buffalonians had been buying the stuff in supermarkets and making the trek to the original location in Lockport. Moreover, Lake Effect doesn't divert any attention to poutine, tacos, or other such culinary distractions: here it's all ice cream, all the time. All two dozen or so varieties are locally sourced and manufactured, and many draw inspiration from the unique elements of local cuisine: the Paula's Glazed Donut flavor incorporates chunks of its namesake ingredient into a honey glaze-flavored ice cream, the Loganberry ice cream reflects Buffalo's soft drink of choice, and the Icewine Sherbet is an homage to the signature vintage of the Niagara Peninsula.
Pizza
The following pizzerias are located on or near Hertel Avenue. Those who are interested in pizza delivery (as opposed to pickup) might want to also check listings in adjacent districts; local pizzerias will often deliver to several different neighborhoods of the city.
Groceries
Farmers' markets
address: 780 Parkside Ave.

The North Buffalo Farmers' Market is a true community partnership, with the Hertel-North Buffalo Business Association lending its support and a myriad of local businesses, including North Buffalo's own House of Olives and Gino's Italian Bakery, turning out weekly to sell an impressive range of produce, baked goods, artisanal pasta, coffee, organic honey, juices and smoothies, and even bath and body products — all grown or manufactured locally — on the front lawn of North Park Academy. Best of all, you don't have to get up early on a weekend morning to attend — the market runs on Thursday evenings, perfect for folks looking for a healthy and affordable alternative to another restaurant dinner. There are even live music performances every week!
Delaware Avenue, Elmwood Avenue, and West Hertel
In addition to the restaurants listed here, the suburban-style shopping plazas in this area include a number of chain restaurants, notably , , , , and .
Budget
phone: +1 716 768-0358

address: 715 Military Rd.

Under its former incarnation, Maggie's, this unpretentious neighborhood spot was most famous for its Friday fish fry, which aficionados classed among the best in town. Seafood lovers can still indulge in style at Catch 22, but there's now an expanded menu to go along with it, comprising both all-American pub grub classics to nosh on at the bar (a creative menu of burgers and grilled cheese sandwiches as well as local specialties like chicken wings and beef on weck), and a dining-room menu that skews Italian. Prices are a touch on the high side, but large portions make up for that.

phone: +1 716 873-8439

address: 1999 Elmwood Ave.

There's really nothing remarkable or out of the ordinary about this Chinese buffet at the Regal Elmwood Center (not that there ever is with this kind of place — if you've seen one, you've pretty much seen 'em all). But they keep the steam trays consistently stocked with a good selection of Americanized Chinese specialties, and service is efficient and usually friendly.

Frank's Sunny Italy

phone: +1 716 876-5449

address: 2491 Delaware Ave.

Gourmet fine dining this is not, but if you're looking to make like the Coneheads and "consume mass quantities", Frank's Sunny Italy is certainly a place where you can do that. Veal parm, chicken cacciatore, lasagna, spaghetti and meatballs, pizza, and other standard red-sauce Italian specialties have all the culinary refinement of the stuff the lunch lady used to ladle out at your school cafeteria, but the price is right, especially considering that your doggie bags will be big enough to make at least one additional meal out of.

The Kitchen Table

phone: +1 716 622-6001

address: 690 Hertel Ave.

The Kitchen Table moved in July 2014 to a larger location in West Hertel, but otherwise it's the same deal as before: they still serve up classic, unpretentious, all-American comfort food in a downhome atmosphere described in Buffalo Rising as "a mix between a greasy spoon and a country kitchen". Burgers (served with heaping sides of fresh-cut fries that customers rave about), club sandwiches, fish fry, and multitudinous flavors of Turkey Hill ice cream can be had, but the Kitchen Table's true claim to fame is their hearty, homestyle all-day breakfasts. The staff here really goes out of their way to please, and they treat customers like family.

Sophia's

phone: +1 716 447-9661

address: 749 Military Rd.

This humble establishment operated by Sophia and Sam Ananiadas serves some of the best (and biggest) breakfasts in Buffalo — so good, in fact, that they caught the attention of celebrity chef Guy Fieri, who dedicated a segment of his Food Network series Diners, Drive-Ins and Dives to the place. In addition to the usual lineup of pancakes, omelettes, French toast and the like, the Mediterranean flair of Sophia's cuisine is on full display in the giambotta, their signature breakfast platter of eggs, home fries, homemade Italian sausage, peppers, onions, and garlic. For lunch, an array of burgers, club sandwiches, and salads are on offer, as well as what may be the best souvlaki in Buffalo. Best of all, customers rave about the genuine warmth and friendliness of Sophia's staff that keeps them coming back.
Mid-range
phone: +1 716 875-1000

address: 2290 Delaware Ave.

Taj Grill lauds itself as "the finest Indian restaurant in Buffalo", and though that's certainly debatable — opinions seem to be divided evenly between it and Elmwood's India Gate — customers unanimously praise Taj Grill's extensive menu, which boasts a huge selection of all the traditional curries with your choice of chicken, beef, lamb, seafood, and even tofu and goat, as well as myriad options for vegetarians. The food here caters more to the Indian palette than the Americanized version of the cuisine available elsewhere in the region, to the delight of traditionalists. For best results, come at lunchtime for the astonishingly cheap all-you-can-eat buffet, where you can get your fill of the same refined cuisine for no more than you'd spend on a fast-food value meal.

Tokyo II Japanese Seafood and Steakhouse

phone: +1 716 877-2688

address: 2236 Delaware Ave.

At Tokyo II, steak, seafood, rice, and other entrees are prepared for diners before their eyes on the hibachi in an entertaining spectacle. In addition, a wide range of sushi and sashimi is available, as is other Japanese fare, a small selection of Thai entrees, domestic and imported beers including Kirin, Asahi, and Sapporo, wine, and sake.
Local chains
The following local chains have locations on Delaware and Elmwood Avenues in North Buffalo.
Descriptions
of these restaurants can be found on the main Buffalo page.
phone: +1 716 873-5330

address: 2634 Delaware Ave.

phone: +1 716 877-7500

address: 2611 Delaware Ave.

phone: +1 716 871-8670

address: 2363 Delaware Ave.
Pizza
A location of can be found on Delaware just south of Hertel.
Groceries
University Heights
Visitors to Buffalo in search of a late-night snack can scarcely do better than University Heights — an unusually large proportion of eateries there stay open late, catering to midnight oil-burning UB students.
The entire north side of Main Street east of Kenmore Avenue is actually part of the Town of Amherst.
Budget
phone: +1 716 832-6666

address: 3234 Main St.

A popular dive where the latest indie tunes can be heard on the soundsystem and people-watchers can enjoy a clientele that trends heavily toward bohemian urbanites and other alternative types (not to mention students of UB's nearby South Campus), Amy's Place is among the hippest eateries on Main Street. By day they serve a range of Lebanese and other Mediterranean fare of respectable quality, including abundant options for vegetarians and vegans. However, Amy's Place is perhaps best known for their substantial, delicious and reasonably priced breakfasts. Cash only.

phone: +1 716 833-5000

address: 3480 Main St.

Okay, so the prices are high (especially given the place's location in the middle of a student ghetto), the portion sizes are nothing to write home about, and the setup is fast-casual without much in the way of ambience. But if you're prepared to splurge, all of the foregoing is justified by the stellar quality of the food. At Burger Authority they're made with superior-quality, grass-fed beef, cooked to order and served on brioche buns sturdy enough to not fall apart under a mountain of meat and toppings. Choose from among a huge range of specialty options, available à la carte or as "super" or "happy" deals in combination with various sides. You can even get your burger made halal for no extra charge.

Doctor Bird's Caribbean Rasta-Rant

phone: +1 716 837-6426

address: 3104 Main St.

This humble take-out (with a few tables for indoor seating) offers what is by far and away, without a doubt, the best Jamaican food in Buffalo. The jerk chicken, rotis, curry goat, and oxtail are all simply fantastic, and are universally served with a side of fried plantains and rice and beans. Wash your food down with a bottle of strong ginger beer. Reggae, calypso, and soca records are also for sale at the counter.

Kalypso

phone: +1 716 834-3663

address: 12 Winspear Ave.

Located just off Main Street in the former Fast Frank's, Kalypso serves up a range of Caribbean specialties that is surprisingly ample given the relative humbleness of its appearance from the outside. Among the usual suspects — jerk chicken, curry goat, oxtail — can be found several delectably prepared selections available nowhere else in Buffalo, such as brown stew chicken, Jamaican pepper steak, and escoveitch fish. A small selection of vegetarian options is also offered.

phone: +1 716 833-1952

address: 3165 Main St.

Lake Effect Diner is a '50s-style affair located in one of the last remaining "diner cars" in America, carefully restored under the direction of local restaurateur Tucker Curtin. With oldies on the jukebox and waitresses dressed in '50s-style pink skirts, Lake Effect Diner is as authentic as it gets. Decent diner fare — burgers, club sandwiches, french fries, milkshakes and malts — is available here for reasonable prices. Lake Effect Diner has been featured on Guy Fieri's Food Network television series, Diners, Drive-Ins and Dives.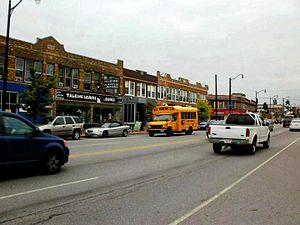 phone: +1 716 313-8034

address: 3199 Main St.

"Soul food" is the proclamation built into the name of Richard Wagstaff's pint-sized eatery in the heart of the Heights, and indeed, the "meat and three" setup at Richie's should be instantly familiar to any aficionado of the working-class barbecue joints of the American south: combo platters with your choice of meat (roasted or grilled chicken, meatloaf, various types of fish) and three Southern-style side dishes. But let's not sell Richie's short: it's no one-trick pony. Dinnertime also sees heaping plates of pasta on offer, and curry chicken and jerk-spiced perch specials that bring a Caribbean flavor.

phone: +1 716 831-8100

address: 3500 Main St., Amherst

The Heights' other Greek/Lebanese restaurant, lacking the boho ambience of Amy's Place but making up for that with food that, on the whole, is a good deal tastier. Shawarma, falafel, shish kabab and kofta, and gyros are available as either platters or wraps, and delectable Greek salads and fatoush are on hand for those in search of greener options (tabbouleh is on the menu as well, but never seems to be available). Though a good deal of the business done here is take-out or delivery, those enjoying their food at one of Venus' handful of tables are treated to a neverending stream of delightfully cheesy Lebanese music videos on the satellite TV.

phone: +1 716 544-8044

address: 3292 Main St.

If you like your breakfast served with a heaping side of far-left politics, head to this cheekily-named eatery and dine amidst a veritable library of political literature and biographies of such revolutionary luminaries as Angela Davis, Malcolm X, and Che Guevara (a "take a book, leave a book" policy applies). As for the food, crêpe batter is homemade daily from scratch, grilled slightly crispy, and goes on to form the basis of an ample slate of menu options (favorites include the Turkey Club, where chunks of juicy free-range turkey are topped with tomatoes, spinach, and your choice of cheese, as well as the Monkey Business with banana and Nutella). Everything is made to order, so service can be slow, but this is the kind of place where stopping and lingering is part of the appeal.
Mid-range
phone: +1 716 342-2004

address: 3500 Main St., Suite 370, Amherst

Even more so than Tandoori Hut down the street, Heart of India's menu represents another big step up in the steadily increasing quality of such eateries in the area. All your favorite Northern Indian curries, biryanis, seekh kebabs, and fried appetizers make their expected appearance both on the à la carte menu and at the $10 all-you-can-eat lunch buffet, each bursting with authentic flavor and spiced generously but not excessively — but the main attraction is a refrigerator case stocked with by far the widest and most delicious selection of Indian sweets in the area. Definitely good enough to make you overlook the brusque service and the staff's somewhat limited English proficiency.

Ming Café

phone: +1 716 833-6988

address: 3268 Main St.

What Ming Café offers is a lot more refined than the drab look of its exterior may suggest: sit-down meals of gourmet American Chinese fare in a setting that's several cuts above your average take-out joint. That is, if you can catch the place open: opening hours are not what you would call long. Szechuan chicken, kung pao shrimp, moo shu pork, and the like seem a relatively humdrum selection at first glance, but that's just another case of "don't judge a book by its cover"; once you tuck in, you'll find they're elegantly prepared and bursting with flavor. The hot and sour soup is particularly good. But it's in the "signature dishes" section of the menu where the true extent of Ming Café's creativity is brought to bear. The icing on the cake is the huge selection of imported Chinese teas, as well as a variety of coffee. Cash only.

phone: +1 716 835-7286

address: 3268 Main St.

Ramen and university students go hand in hand, but Sato's culinary oeuvre is a good deal more sophisticated than the four-for-a-dollar instant noodle packets you get at the corner bodega. Sato's Main Street location is the one whose menu is most heavily given over to the ramen bowls for which the local chainlet is most famous: choose from the house special ramen with chashu pork, tonkotsu ramen, Buffalo chicken, spicy kimchi, and a few others, served up in a youthful, funky ambience that's much more suited to its college clientele than the trendy but staid original location. Also on offer are donburi bowls, Japanese curries, and a short drink list wherein local craft brews (including Community Beer Works "Yuz' Not That IPA", brewed exclusively for Sato) predominate.

phone: +1 716 837-2326

address: 3260 Main St.

Though bouillabaisse, crawfish, po' boys and bananas Foster feature prominently on the menu, it would be a disservice to pigeonhole the lovely bistro run by owner and head chef Jim Guarino as simply a "Creole" or "Southern" restaurant. Instead, the cuisine offered at Shango is as diverse as it is high-quality. Additionally, the wine list is one of Buffalo's most extensive and has been honored with an award by Wine Spectator magazine; a carefully selected variety of import beers and microbrews is also available at Shango.

phone: +1 716 838-0478

address: 3151 Main St.

The Steer is best known for its sometimes rowdy bar frequented by students from the nearby South Campus of the University of Buffalo, but let's not forget that it is also a restaurant that serves pizza, burgers, sandwiches, and — as the name suggests — mouth-watering steaks and chops. The Montana Room, located on the second floor of this unmissable Main Street landmark, is a banquet room equipped for up to 60 guests.

phone: +1 716 931-9343

address: 3171 Main St.

Other than its sheer length, there's nothing you would call remarkable about the menu at this pint-sized eatery: Tandoori Hut sticks to the standards of North Indian and Pakistani cuisine, with offerings dominated by the usual permutations of vindaloo, jalfrezi, tikka masala, rogan josh, and so forth. What you will be impressed by are their large portions, friendly service, late opening hours, the complimentary garlic naan that comes free with each meal (house-baked to perfection), and the wide range of vegetarian options. A word of warning: a recent change in ownership has seen the once uncompromising authenticity of the recipes give way to myriad concessions to the Western palate, so don't be fooled by some of the older reviews you might read online.
Local chains
The following local chains have locations in University Heights.
Descriptions
of these restaurants can be found on the main Buffalo page.
phone: +1 716 838-6666

address: 3094 Main St.

phone: +1 716 834-4647

address: 396 Kenmore Ave.
Pizza
The following pizzerias are located in University Heights. Those who are interested in pizza delivery (as opposed to pickup) might want to also check listings in adjacent districts; local pizzerias will often deliver to several different neighborhoods of the city.
phone: +1 716 768-2462

address: 3500 Main St., Suite 150, Amherst

phone: +1 716 831-9979

address: 3172 Main St.
Groceries
Kenmore Avenue area
Budget
phone: +1 716 447-0502

address: 864 Kenmore Ave.

Those who are expecting Indian cuisine will be disappointed — there's nothing exotic about the menu at Curry's. Rather, the sandwiches, main-course salads, meat and pasta dishes served up here match the workmanlike reliability evoked by the humble exterior of this Kenmore Avenue restaurant. What is special about the heaping portions of classic American comfort food offered up at Curry's is the friendliness with which it's served — this is a real "where everybody knows your name" type of place — and its surprising quality. Beer-battered fish fry, a well-known Buffalo specialty, is served with aplomb on Friday nights.
Mid-range
phone: +1 716 877-4959

address: 914 Kenmore Ave.

If you're looking for the authentic flavors of Thailand, definitely head elsewhere, but if you're a newbie looking to dip your toes for the first time into the world of Southeast Asian cuisine, Yummy Thai might serve as a good introduction: the menu (identical to the one at the original location in North Tonawanda) doesn't venture far beyond the basic standards of pad thai, red, green and penang curries, pad kee mow, tom yum soup, and the like, and the recipes compromise with the American palate to a greater degree than pretty much anywhere else in town. Portions are ample and the place never gets crowded, but don't expect that to necessarily translate into fast or attentive service, which is a weak spot here.
Groceries
phone: +1 716 835-9697

address: 710 Kenmore Ave.
Park Meadow
Mid-range
phone: +1 716 270-9747

address: 1672 Elmwood Ave.

If you've been reading through these restaurant listings and remarked that "pub grub with an upscale twist" tends to be a popular trope on the North Buffalo restaurant scene, you'd be right, and here's another example. At Nye Park Tavern there are no real surprises on the menu, but you'll sure get one when your food comes out: the quality of the ingredients and presentation are head and shoulders above your average Buffalo gin mill (for instance, the "steak in the grass" sandwich is a full-size New York strip smothered in fresh-cut, unprocessed provolone), which goes a long way toward justifying the price point. The signature item are the so-called "West Side spare ribs", a smoky concoction inspired by the ones served at the long-gone Arkansas Lounge off Grant Street.
Splurge
phone: +1 716 877-9662

address: 2095 Delaware Ave.

"Fine Dining in the Old-School Tradition" is Oliver's credo, and true to form, it is one of the most elegant restaurants in Buffalo, with prices to match. With myriad different permutations of Continental cuisine present on the menu, Oliver's is a foodie's dream come true, with veal milanese, strozzapreti, and foie gras torchon among the most popular delicacies on offer. The wine list is, to quote the restaurant's website, "deeper than deep". Oliver's also prides itself as one of Buffalo's best caterers.
Local chains
The following local chain restaurants have locations in Park Meadow.
Descriptions
of these restaurants can be found on the main Buffalo page.
phone: +1 716 874-1800

address: 2130 Delaware Ave.
Pizza
The following pizzerias are located in Park Meadow. Those who are interested in pizza delivery (as opposed to pickup) might want to also check listings in adjacent districts; local pizzerias will often deliver to several different neighborhoods of the city.
phone: +1 716 877-6700

address: 2165 Delaware Ave.
Groceries
phone: +1 716 515-4087

address: 2176 Delaware Ave.
Parkside, Central Park, and the Vernon Triangle
Budget
Habibi Halal Restaurant

phone: +1 716 322-1022

address: 2614 Main St.

If you've got a hankering for Yemeni food but are not inclined to venture into the (let's be honest) sketchy East Side neighborhoods where most of the local spots are found, head instead to this little hole-in-the-wall in the Vernon Triangle where first impressions are of a small but spic-and-span dining room and service that's at an absolutely rarefied level: if you're not familiar with the cuisine, owner Mohamed Abuhamra is practically chomping at the bit to walk you through the menu. Speaking of the menu, haneeth lamb chops are the odds-on favorite (incredibly flavorful, and they don't hold back on the spice for the Western palate), but you can't go wrong no matter what you pick. And, of course, it's all 100% zabiha halal.
Mid-range
phone: +1 716 834-8348

address: 2 Russell St.

Parkside Meadow offers "dinner with a side of nostalgia", in the words of Buffalo Rising, and true to that description, it sports a menu that's informed but not confined by the classic pub grub that defines Buffalo's bygone days, improving on that template with food impeccably crafted using high-quality ingredients. Sandwiches rule the roost here: familiar classics like reuben, pulled pork, and various burgers have their own creative touches, while inventive concoctions for more adventurous palates include a shaved lamb sandwich on toasted sourdough with melted Havarti and spearmint aioli. Service is excellent even when they're busy (which is pretty much all the time), and the downhome neighborhood friendliness of the staff is yet another reminder of olden times.
Drink
Hertel Avenue
If you're expecting to party the night away with folks who look like the cast of
Jersey Shore
, you can certainly do that here in Little Italy. But like everything else in the neighborhood, the bar scene here is changing and diversifying. The best way to sum things up, perhaps, is that there's a little bit of everything on scruffy dives, thumping clubs, swanky wine bars, and trendy hipster hangouts stand side by side.
phone: +1 716 931-9680

address: 1488 Hertel Ave.

As GBGB is to the original EXPO Market, so Bar Della Città is to the Hertel Avenue branch: the designated alcohol purveyor, managing a hip and trendy feel despite the plastic-fantastic ambience of the building itself. As you might have inferred from the name, there's an Italian flair to the proceedings here, with the Campari-, bourbon- and citrus-based "Italian Gentleman" serving as signature cocktail, and limoncello slushies the perfect antidote to the summer heat. The food menu consists of a selection of tasty grilled panini.

phone: +1 716 240-9273

address: 1368 Hertel Ave.

Wash down your Italian cold-cut sandwiches with a dazzling selection of imported Italian wines, reputedly the best in the city, or an equally expansive beer list given over mostly to regional craft brews such as Southern Tier, Ellicottville, the Brooklyn Brewery, and Buffalo's own Flying Bison and Community Beer Works.

phone: +1 716 259-9060

address: 1504 Hertel Ave.

Burning Buffalo's beer list is long, but the selection is a lot less pretentious than many of the new spots that have opened in Buffalo of late. Options are divided about evenly between run-of-the-mill domestics and imports, with a few craft beers to make things interesting, as well as some really nice upscale specialty cocktails. In keeping with the unassuming vibe of the food menu, the ambience is bright and airy; equal parts Japanese tea room and where-everybody-knows-your-name neighborhood watering hole.

phone: +1 716 862-0987

address: 1795 Hertel Ave.

The Colonie Lounge is not the most highly-regarded strip club in the area, but if you'd rather not make the trek out to suburbia or across the border to Canada, it's a lot less skeevy than the other options within Buffalo proper. As a licensed cigar bar, the Colonie is one of the few establishments of any kind in Buffalo where it's legal to smoke inside, so feel free to puff away while watching the dancers.

Del's

phone: +1 716 837-5360

address: 1553 Hertel Ave.

Lately on Hertel the only constant has been change, but in the case of the erstwhile Del Denby's Tavern, the change stopped with the name. Now going by the shortened moniker Del's, what's in store for you here is more or less the same as it always has been: cheap beers, a standard slate of mixed drinks, a dartboard, and a pool table in a delightfully divey ambience. The back patio is a pleasant change of pace on nice days (even chilly nice days; there's an outdoor firepit!)

Gabels

phone: +1 716 874-3010

address: 1285 Hertel Ave.

Gabels' reputation is, shall we say, not the best among Hertel bars — divey bordering on trashy, so they say; desperately in need of renovations, with a cliquish clientele. But it wins hands down in the bang-for-your-buck department: who'd expect such a lengthy and impressive beer list or such a range of top-shelf liquors at this kind of place, and — above all — for this kind of price point?

Gecko's Bar & Grille

phone: +1 716 835-9073

address: 1464 Hertel Ave.

If you just want to hang out and have a few cold ones without any surprises, head to this happy medium of Hertel bars. Gecko's is not exactly a dive, but it's no pretentious hipster hangout either; the beer list and range of mixed drinks is decent, but doesn't include anything too obscure; it's neither cheap nor expensive, the clientele draws from all different kinds of folks, and the jukebox plays pretty much the exact mix of '70s classic rock and '80s hair metal that you'd expect. You won't find much in the way of ambience, either; on nights when the Bills or Sabres are playing, you can be sure that most eyes will be turned to the array of TVs around the bar.

Joey's Place

phone: +1 716 322-6209

address: 1122 Hertel Ave.

In the words of Buffalo Rising s review of this place, "there was a time when Buffalo was loaded with lounges". Dark lighting, seating on sofas with plush upholstery, relaxing mood music, maybe some candles for ambience — remember that? Joey Dallos, Jr. sure does, and those who stop by his eponymous Hertel nightspot are in for a real throwback experience. You won't find any hoity-toity microbrews or craft cocktails, but you will find a bartending staff versed in the long-lost art of small talk. A limited food menu is also on offer.

phone: +1 716 835-1535

address: 1854 Hertel Ave.

They recently reopened under new management (hence the "JP's" prefix), and folks who were familiar with the scuzzy original iteration will scarcely recognize the new Checkers: there's craft beer on tap, big-screen TVs ringing the barroom walls, and from the looks of things, the bathrooms get cleaned more than once or twice a year. But don't mistake this for pretension: the crowd is still friendly, the vibe is still inviting, and drinks remain cheap by Hertel's increasingly hipster-fied standards. Pub trivia happens every Tuesday.

phone: +1 716 427-6400

address: 1197 Hertel Ave.

With the same owners as Ristorante Lombardo across the street (and the same upscale vibe and prices to match), The Little Club is a "come-as-you-are neighborhood wine bar" offering a rotating list of creative and unusual vintages from small independent winemakers, a food menu with options in the realm of cheese and charcuterie, seafood conserva, and Spanish-style tapas, and a knowledgeable staff to walk you through everything. If wine isn't your preferred drink, choose from a short list of specialty cocktails or beers. Just don't expect to be able to carry on a conversation without shouting.

phone: +1 716 863-9781

address: 1503 Hertel Ave.

At Lloyd's, you can wash down your tacos at a cocktail bar pouring the best selection of mezcal in town, plus a wealth of specialty cocktails that are a bit pricey but worth it.

phone: +1 716 833-6227

address: 1435 Hertel Ave.

"Basic" (in the 2010s slang sense) is the adjective that comes to mind: if your tastes run toward thumping Top 40 music, huge two-story bars ringed with big-screen TVs, and a beer list that balances big names with a modest selection of craft brews from around the region, Mac's is the nightlife experience for you on Hertel. By way of contrast, an interesting range of craft cocktails bring a touch of the same creativity that pervades their food menu.

phone: +1 716 836-8800

address: 1420 Hertel Ave.

Even more impressive than Més Que's fit-for-a-gourmand food menu are the offerings at the bar, with a wine list of impressive size and a beer selection that draws heavily on imports and local and regional craft brews. Show up during the World Cup or another of the big soccer matches shown frequently on the flat-screen TVs behind the bar and you'll swear you were in Europe.

Mo's Place

phone: +1 716 725-3567

address: 1316 Hertel Ave.

"Where everybody knows your name" is a cliché for this kind of place that's overused almost to the point of annoyance, but there's perhaps no other bar in Buffalo for which it's more apropos. Mo's is a cozy little place with zero pretension, a small but diverse selection of beers on tap and in bottles comprising everything from big-name brands to the best of the local craft beer scene, a skee ball machine for those with a competitive streak, and — unique among Hertel bars — off-street parking in the lot it shares with Joe's Deli.

M. T. Pockets

phone: +1 716 838-4658

address: 1519 Hertel Ave.

The experience at M. T. Pockets has definitely suffered since Steve's Clam Bar decamped for the EXPO Market across the street, but still they soldier on, serving cheap drinks in a delightfully scruffy setting to a crowd that skews slightly older than other spots on the strip. Highlights include a chilled-out, almost intimate atmosphere and drinks that are well-prepared and stronger than your average; lowlights include the service, which can be gruff bordering on hostile, and watch out if you're ordering off the food menu, as the kitchen staff isn't always what you'd call "on the ball".

Public House of Buffalo

phone: +1 716 551-6208

address: 1206 Hertel Ave.

Offering a huge selection of beer, available on draft as well as in cans and bottles, served at a bar made of wood salvaged from wharf piers that were excavated during the construction of Canalside downtown. Craft beers, including locally-produced ones from Flying Bison and the Resurgence Brewery, take a prominent place among the selections. If you're overwhelmed by all the choices, never fear: the bartenders are helpful and knowledgeable about their stock, and will be more than happy to point you in the right direction.

Sidebar

phone: +1 716 835-1995

address: 1459 Hertel Ave.

Sidebar doesn't commit to the "lounge" aesthetic with quite the same level of gusto as Joey's Place, but its tinted windows, chilled-out clientele of neighborhood regulars, and live jazz music on the first Friday of each month combine to create a relaxed and mellow vibe all the same. This is the place to go on Hertel if you want to drink and hold a conversation with your friends without having to shout. Choose from a decent but not overwhelming selection of beers to enjoy at the wraparound bar, or opt for a competently-made mixed drink — and if bar games are your thing, check out the shuffleboard table!

phone: +1 716 833-1307

address: 1487 Hertel Ave.

Owner Kevin Brinkworth is perhaps best known in Buffalo as one of the duo behind Blue Monk, Elmwood Avenue's sorely missed beer lover's paradise, and there are more than a few cues taken from the Blue Monk experience at the Sterling: not only in the food menu but also in the several dozen local and regional craft beers available on tap and in bottles at a circa-1890 bar purchased from the hosts of the A&E television series American Pickers.

phone: +1 716 833-9899

address: 1541 Hertel Ave.

If you're looking for a fantastic voyage into the deepest depths of Buffalo's craft beer scene, prepare to be disappointed: Wellington's beer list is tiny by the standards of Hertel, and sticks mostly to the big-name brands. Nonetheless, it's a pleasantly unpretentious environment in which to kick back with the neighborhood Joes and catch the game on TV over a cold drink and a hearty meal of old-school pub grub.

phone: +1 716 876-6457

address: 1370 Hertel Ave.

Wine on Hertel is not an experience for know-it-all connoisseurs with a very specific idea of what they want. It's more for those who are newbies to the wine world but want to be really wowed, or perhaps for folks who are just extraordinarily prepared to put their trust in the owner's wine-list curation skills. That is to say: the selection is miniscule, but you'll never be steered wrong. If you're really lost in the woods, opt for a flight of four for $16 (the pour is generous enough that this may be a better value in any event); otherwise, kick back and enjoy drinks and tapas-style snacks in a quiet, chilled-out ambience (alternatively, live music on Friday nights presents a somewhat livelier scenario).
Coffee shops and miscellaneous
Along with Hertel Avenue's emergence to the head of the list of lively commercial strips in Buffalo has come the emergence of a robust coffee culture, with a wide and growing range of options available up and down the strip.
Hookah bars
phone: +1 716 877-7143

address: 1177 Hertel Ave.

Miles away from the frat-bro experience you'll find at other hookah lounges around Buffalo, Sahara affords you a relaxed, upscale smoking environment at the heart of the Middle Eastern district on the west end of Hertel, with interesting decor, chilled-out music on the soundsystem, and a variety of teas and other non-alcoholic drinks to sip. (And don't be put off by some of the reviews on Yelp and elsewhere — new management has really whipped the place into shape). The flavor selection is wide, prices are a good sight cheaper than the competition, and if you really want to relax without being bothered, semi-private booths are a nice touch.
Delaware Avenue, Elmwood Avenue, and West Hertel
If you're in the mood for a less prefab bar experience than
Applebee's
, there are also a number of lively neighborhood watering holes lining Delaware Avenue, as well as a small cluster in West Hertel near the corner of Military Road.
Amity Club

phone: +1 716 877-9025

address: 340 Military Rd.

A "non-alcoholic bar" serving soda, energy drinks, juice, coffee, tea, and hot chocolate as well as simple food from the grill. The $6 monthly membership fee entitles you to 25% off drinks.

phone: +1 716 768-0358

address: 715 Military Rd.

Nothing fancy at this old-school neighborhood dive, just ice-cold beers and a range of specialty mixed drinks that is pleasant and well-executed if not exactly cutting-edge. Catch 22 comes alive on weekends with karaoke and DJ sets on Friday night and open mic on Saturday; there's also pub trivia on Tuesday.

Dill's Military Road Tavern

phone: +1 716 877-9708

address: 362 Military Rd.

Miles away from the snooty hipster BS you'll find elsewhere in town, walking through the front door at Dill's is like stepping into a time machine (so much so that it's a regular stop on Eddy Dobosiewicz's Forgotten Buffalo Tours of the dwindling remnants of the rough-and-tumble, blue-collar Queen City of old). With its tile floor and wood-panelled walls, a beer list that doesn't go far beyond Labatt's, Coors and Genny, and even an original 1950s-vintage phone booth in working order, the place has been preserved almost exactly as it was in the days when it was the favorite lunch-break and after-work pit stop of workers at the old American Brass factory up the road apiece.

phone: +1 716 783-8060

address: 700 Military Rd.

The seemingly neverending craft-brewery craze in Buffalo set its sights on West Hertel in early 2019, with the opening of this 10-barrel operation on Military Road — and with a topnotch roster of beers right out the gate, plus a cozy ski-lodge ambience in the tasting room, Froth is quickly becoming a standout on the scene. That's especially true if sours are your thing: Froth brews no fewer than three of those, the "Mango Peach OG" sour ale, "Tangerine Sunset" sour blonde ale, and "Lemon Raspberry Sourbet" sour IPA. A sticking point are the prices, especially when it comes to the food menu of upscale pub grub.

Kelly's Korner

phone: +1 716 877-9466

address: 2526 Delaware Ave.

This no-frills, rough-around-the-edges neighborhood gin mill has a limited range of beers on tap, priced cheap and served cold in a barroom with all the ambience of some guy's garage in the suburbs (complete with old Buffalo Bills pennants tacked to the walls!) But where Kelly's Korner really distinguishes itself is with their food: though the menu is as brief as you'd expect, their renditions of chicken wings and beef on weck — the twin titans of local cuisine that form its cornerstones — are home runs.

phone: +1 716 874-3020

address: 2263 Delaware Ave.

Splitting the difference between the dives further up Delaware and the more explicitly millennial-friendly Hertel hangouts, KO has, in the words of an October 2018 Gusto writeup, "taken the concept of a neighborhood bar to a new level". The interior is a spiffed-up version of the usual old-school coziness, the crowd is eclectic and lively but not rowdy or pretentious, the beer list adds a goodly selection of local microbrews to the usual roster of big brands, and the food menu is pub grub par excellence (try the steak sandwich). A pool table, dartboard, and occasional live acoustic music make for fun diversions, too.

Murray's Tavern

phone: +1 716 877-9235

address: 2455 Delaware Ave.

The (marginally) nicer of the two divey Irish pubs on upper Delaware Avenue, Murray's food menu can't hold a candle to the one at Kelly's Korner up the road, but they make up for that with friendly vibes, a breezy back patio (smoking permitted!), and a couple of arcade video games to try your luck at between drinks.
University Heights
The closure of
Surrender
in early 2017 was pretty much the final death knell of the once-vibrant University Heights bar scene, which had spent the past few decades being slowly suffocated by competition from places like
Chippewa
and
Allentown
, as well as sharply increased enforcement of underage drinking laws by the Buffalo Police.
The Steer
still draws in its share of the frat crowd, but that's about all the action you'll find on Main Street these days. It's a different story if you're looking for a coffeeshop instead — read on.
Coffee and tea shops
Sadly, the coffeeshop scene in University Heights is dominated by national chains — the dueling powerhouses
Tim Hortons
and
Dunkin' Donuts
both do an extremely brisk business at their respective locations just across from the South Campus. Caffeine aficionados in search of something more distinctive have only one option in the area: a similar, but locally-owned, coffee-and-doughnut operation at the other end of the strip.
Famous Doughnuts

phone: +1 716 834-6356

address: 3043 Main St.

Yes, you can get coffee here, and it's perfectly good. But the specialty Famous Doughnuts is best known for is right in the place's name: they've been whipping 'em up hot and fresh everyday for University Heights denizens since 1938. You won't find a ton of variety, but what these folks do, they do well. Glazed doughnuts are what to order: unlike some competitors we could name (ahem, Paula's), the texture is pleasantly light and fluffy, the sweetness is not overbearing, and the doughnuts are manageable in size, small enough for one person to eat at a sitting. They do serve filled doughnuts too, but they're not quite as good.
For something a bit different, the Heights is also where you'll find Buffalo's best bubble tea.
address: 3216 Main St.

At this friendly and snazzily decorated shop, the namesake item is super flavorful without the cloying sweetness you see at a lot of other places: the folks at Lucky Koi understand that high-quality tea, even more than the flavor syrups, is what can really make or break this sort of place (choose from white, black, green, or oolong). As for the flavors, you've got your work cut out for you navigating the huge range of options; if you need help narrowing things down, the rule of thumb is the Asian flavors — ube, longan, dragonfruit — tend to be better than the Western ones. Made-to-order Hong Kong bubble waffles are a winner too.
Hookah bars
phone: +1 716 835-3200

address: 3550 Main St., Amherst

Well and good to provide your customers with a laid-back and chilled-out experience, but North Buffalo's premiere hookah lounge, Sahara, takes it to the soporific extreme. If you prefer a more peppy ambience, head instead to the University Plaza, where LIT offers events such as karaoke (every Wednesday night), DJ sets (multiple times a week), belly dancers, and other spectacles (check their Facebook page for details) to go with your sheesha session. A downside is a more modest variety of flavors on offer, and higher (but still reasonable) prices too.
Park Meadow
phone: +1 716 270-9747

address: 1672 Elmwood Ave.

While somehow retaining the same cozy homeyness, Nye Park Tavern is a spiffy makeover of the erstwhile Papa Jake's that brings the place firmly into the fold of the incipient hipster district that's coalesced on upper Elmwood. The beer list splits the difference between some two dozen regional craft microbrews on draft and more pedestrian big brands available in cans and bottles, plus there are some interesting specialty cocktails to choose from and a not-half-bad wine list.
Coffee shops and juice bars
address: in Delaware Park, at the corner of Meadow Rd. and Nottingham Terr.

For a description of this local chain of juice bars, see the main Buffalo article.
Parkside
phone: +1 716 834-8348

address: 2 Russell St.

Parkside Meadow opened in 2015 in what used to be the similarly named Park Meadow bar, but if you've come in search of the rowdy frat-boy hijinks that old place was famous for, you're in for a rude awakening: the place has been thoroughly chilled-out and hipster-fied by its new owners. Sure, there are plenty of places in North Buffalo to wash your upscale pub grub down with a lengthy selection of local and regional craft beers or a chichi specialty cocktail, but where else can you do so amidst a collection of old-Buffalo postcards, photographs, and artifacts so vast that it may as well be considered a satellite location of the Buffalo History Museum?
Coffee shops
phone: +1 716 381-8828

address: 301 Parkside Ave.

JAM offers "coffee and community" across from the Buffalo Zoo, right at the heart of the Parkside action: the former is locally-roasted by the good folks at Tipico (the house special "JAM Blend" is accurately described on their website as "exquisite and world-class, but also approachable and well-balanced"); the latter is embodied by their unique not-for-profit ownership structure with over 70 local shareholders, the schedule of community events they host, and even their interior decor, airy and inviting and furnished with upcycled materials from ReUse Action. Decent prices, too.
Sleep
For those who absolutely need to sleep
in
North Buffalo, the options are quite limited. However, there is a much wider range of lodgings in the nearby towns of Amherst (a variety of mostly mid-range chain properties around Exits 6 and 7 of Interstate 290) and Tonawanda (some budget motels of varying quality near I-290 Exit 1 and I-190 Exit 15).
Mid-range
phone: +1 716 240-9693

address: 1738 Elmwood Ave.

"Industrial chic" is the name of the game at the historic General Railway Signal Company factory, now renovated into a mix of offices, apartments and this little boutique hotel. The Foundry Suites has only ten rooms, but they're all beauties: one- or two-bedroom suites decorated in Midcentury Modern style by the staff of Buffalo's own CooCooU, with full-kitchens, floor-to-ceiling windows (the best of which look onto a beautiful tree-lined courtyard), flat-screen HDTVs, and luxurious bedding and linens. By day, the "Foundry Lounge" downstairs features coffee in a relaxing ambience; by night you can enjoy a rousing game of pool while bartenders whip you up an upscale mixed drink. Free amenities include parking, concierge service, passes to LA Fitness, and 24-hour business center.

phone: +1 716 837-3344

address: 3612 Main St., Amherst

Among the cheapest hotel accommodation in the area, but you get what you pay for: tired, basic motel-style rooms with cable TV, coffeemaker, and WiFi Internet that works when it wants to, a few suites with kitchens and microwave, limited continental breakfast (only coffee and waffles; thankfully, Dunkin' Donuts is next door), staff with an attitude. There's a free shuttle to the airport, and the Metro Rail's University Station is right across the street.
phone: +1 716 480-9507

address: 462 Woodward Ave.

Christopher Lavey, Johnny Mora, and their three dogs operate the Parkside House, one of Buffalo's most charming B&Bs, in a restored Queen Anne-style house from the 1890s. Located on the curving, leafy streets of the historic neighborhood of Parkside, within walking distance of Delaware Park, the Buffalo Zoo, and Frank Lloyd Wright's architectural masterpiece, the Darwin D. Martin House, the three units of the Parkside House are large and airy, and boast comfortable yet contemporary furnishings, plasma televisions, and full private baths. Common areas include the dining room, where a sumptuous breakfast is served daily, and a front porch. Wireless Internet access is available throughout the property. Limited off-street parking.
Connect

The is at 725 Hertel Ave., just west of Elmwood Ave.
The is located at 975 Hertel Ave., a few doors down from Hippodrome Billiards in the plaza at the southwest corner of Hertel and Delaware Aves. In addition to free Wi-Fi, the library contains a 15-seat computer lab with Internet access, as well as three "Internet Express" computers in the main part of the library.

Stay safe

Despite the fact that Buffalo's crime rate has fallen steadily since the 1990s, it is still higher than the national average for cities its size. That being the case, North Buffalo is generally among the lowest-crime areas of the city. In particular, for a district with as active a nightlife scene as Hertel Avenue, the bars are laid-back and draw a much more sophisticated crowd than Allentown and what remains of the old Chippewa Strip, and drunken violence is nearly unknown.
University Heights is an exception to this rule, with a crime rate that is above average even by Buffalo standards. However, that means mostly muggings and home burglaries, with violent crime comparatively rare. West Hertel is another minor area of concern, especially the closer you get to Military Road. The same as any urban area, visitors to any part of North Buffalo should use common sense — lock car doors, keep valuables out of sight, keep your wits about you in general.
Compared to other crowded shopping and dining areas, Hertel Avenue is almost completely free of panhandlers — this author would be hard-pressed to name a single time he has been solicited for spare change on Hertel. Beggars do turn up occasionally in University Heights, especially the closer you get to the University Metro Rail Station, but even there the situation is nothing like the Elmwood Village or Allentown. If you do encounter a panhandler, there is little to fear — they are rarely aggressive. If you don't want to give, a firm "no" almost always suffices.

Cope
Newspapers
Published every Thursday, the
North Buffalo Rocket
is a weekly source for neighborhood news, editorials, classified ads, a police blotter, and other matters pertaining to North Buffalo.
Hospitals
For medical emergencies that most travelers may encounter, the nearest hospitals are
Sisters of Charity Hospital
at 2157 Main St. in Hamlin Park, and
Kenmore Mercy Hospital
at 2950 Elmwood Ave. in Tonawanda.
phone: +1 716 834-9200

address: 3495 Bailey Ave.

Opened in 1950 in the wake of World War II, the Buffalo VA Medical Center is affiliated with UB Medical School and provides medical, surgical, mental health, and long-term care services to veterans of the United States military under the aegis of the Department of Veterans' Affairs. Buffalo's medical center is the VA system's main place of referral in Upstate New York and northern Pennsylvania for veterans in need of cardiac surgery, cardiology, and comprehensive cancer care.
For non-emergency situations, has a location at 2497 Delaware Ave., two blocks south of the
Delaware Place
shopping plaza.
Laundry and dry cleaning
Hertel Avenue
phone: +1 716 464-8869

address: 1183 Hertel Ave.

Offers dry cleaning services.
Delaware Avenue, Elmwood Avenue, and West Hertel
Becker EZ Wash Laundry

phone: +1 716 873-2116

address: 2412 Delaware Ave.

Military Laundry & Lounge

phone: +1 716 447-2170

address: 346 Military Rd.
University Heights
Campus Laundromat

address: 3130 Main St.
Kenmore Avenue area
phone: +1 716 838-2211

address: 530 Kenmore Ave.

The Laundry Basket Too

phone: +1 716 876-6322

address: 860 Kenmore Ave.

phone: +1 716 875-3141

address: 564 Colvin Ave.
Vernon Triangle
Dial Cleaners

phone: +1 716 838-4800

address: 2496 Main St.
Places of worship
Roman Catholic
Mirroring the demographics of the Niagara Frontier as a whole, religious life in North Buffalo is dominated by the Roman Catholic church, with no fewer than five parishes located within its bounds. Far from the aging, moribund congregations to be found in other parts of the inner city, North Buffalo's Catholic churches retain a remarkable degree of vitality.
Protestant
Protestant churches in North Buffalo are most concentrated in Parkside and Central Park, whose populations still include a considerable number of old-money WASPs. Similarly, the Protestant congregations in University Heights draw a good deal of their parishioners from similarly affluent nearby suburbs such as Eggertsville, Snyder, and Kenmore.
Central Park United Methodist Church

phone: +1 716 833-3193

address: 216 Beard Ave.

Headquartered in a lovely English Gothic edifice with exquisitely ornate art-glass windows, Central Park United Methodist Church is considered the cathedral church for Methodism in Buffalo. A diverse and welcoming congregation, Central Park Methodist Church truly lives out its mission of outreach to the community through its mentoring program for at-risk students at nearby Bennett High School, its partnership with the Primera Iglesia Metodista Unida in service to the Spanish-speaking community of Buffalo's West Side, and its support for worthwhile organizations such as Habitat for Humanity, Alcoholics and Narcotics Anonymous, and Journey's End Refugee Services.

Episcopal Church of the Good Shepherd

phone: +1 716 833-1151

address: 96 Jewett Pkwy.

Founded in 1888 on land donated by Elam Jewett, the Episcopal Church of the Good Shepherd is a longstanding cornerstone of the Parkside neighborhood. An architectural wonder, this stout Romanesque edifice was designed by the Syracuse-based architectural firm of Silsbee and Marling and boasts several lovely stained-glass windows designed by Louis Comfort Tiffany. Darwin D. Martin, whose Frank Lloyd Wright-designed house is located kitty-corner from here, was a parishioner in the early days. With the Reverend Catherine Dempesy-Sims at the helm, the Church of the Good Shepherd, like many of Buffalo's Protestant congregations, is a progressive, diverse and accepting faith community (describing itself as "a place of welcome to all, no exceptions") which is active in a wide range of charitable and neighborhood-improvement organizations and initiatives.

North Park Lutheran Church

phone: +1 716 836-2785

address: 310 Starin Ave.

North Park Lutheran Church has traditionally been a congregation whose outsize sense of community — both within the congregation and as a component of the larger community — belies its small size. A choice of traditional and contemporary worship services are held by this church whose zeal for sharing their faith and love for the community is really remarkable. Visitors are welcomed with open arms.

phone: +1 716 836-1361

address: 2 Wallace Ave.

Founded in 1912 as a mission of St. John's Evangelical Lutheran Church on the Near East Side, the congregation of Parkside Lutheran Church met for several years in the building later known as the Fairfield Branch Library before the construction of the stately Tudor Gothic stone church in Central Park in which it is now situated. Today, Parkside's energetic young pastor, Nate Preisinger, leads a progressive and inclusive congregation that is as dedicated to reaching out to the larger community as it is to rolling out the welcome mat to regular parishioners and first-time visitors alike.

phone: +1 716 834-9337

address: 3107 Main St.

St. Andrew's describes itself aptly as a "spiritual oasis", warmly opening its doors to visitors of all stripes. Founded in 1875 as an anomaly — an English-speaking Episcopalian congregation on the East Side, which in those days was largely German and Catholic — St. Andrew's has been a University Heights landmark (and, in fact, a Nationally Registered Historic Place) since the construction half a century later of the elegant Gothic Revival building it now calls home. St. Andrew's pastor, Ellen Brauza, leads a faith community which is, in the words of the church itself, "friendly, diverse and inspirational". Two types of services are held each Sunday: a modern, simplified one bright and early, then traditional "high church" later in the morning.

University Presbyterian Church

phone: +1 716 836-7660

address: 3330 Main St.

University Presbyterian Church was founded at an opportune time — almost simultaneous to the purchase of the old Erie County Alms House across the street by the University of Buffalo for use as their new campus. A longstanding neighborhood landmark, University Presbyterian is a gorgeous Colonial-style church building whose 70-foot (21m) bell tower stands sentinel over Main Street. Its identity bears many similarities to that of the college across the street, providing a caring, tolerant, diverse, and intellectually stimulating environment for worship, public service, and loving outreach to university students as well as other members of the community.
Nondenominational
phone: +1 716 870-2540

address: 2540 Main St.

The oldest extant building in North Buffalo — the Washington Russell House on Main Street in the Vernon Triangle — is now the meeting hall (don't say "church"; which, according to the website, is a word reserved for the congregation itself) of The Church in Buffalo, a nondenominational, heterogeneous community of Bible-believing born-again Christians who hold one service each on Sundays in English and Mandarin Chinese. Visitors are welcome to those "Lord's Day meetings" as well as special weekly functions for young people (Saturdays) and UB students (Wednesdays).

Evangelical Christian Church of Buffalo

phone: +1 716 875-5740

address: 351 Tacoma Ave.

Though multiethnic today, the Evangelical Christian Church of Buffalo was founded in 1990 by a motley group of newly landed refugees from Russia, Belarus, Ukraine, and other regions of the soon-to-be-former Soviet Union, led by pastor Leonid Ostrapovich. Today, Pentecostal services and Sunday school classes for children are held in English and Russian in the former Ahavas Achim Lubavitz Synagogue on Tacoma Avenue, the church's home since 2002. Visitors, Slavic and otherwise, are welcomed enthusiastically.

phone: +1 716 835-8300

address: 175 Englewood Ave.

The former Bethel Evangelical Lutheran Church — a handsome English Gothic church erected in 1928 — is now home to this similarly-named, nondenominational congregation headed up by William T. Clark, Jr., who, as Bishop, Apostle, and Senior Pastor, draws from his experience conducting missionary work in countries around the world to lead a diverse, friendly and welcoming congregation that's uncommonly engaged in the community.
Black churches
Parkside is home to a majority of North Buffalo's black churches — particularly the blocks close to Main Street, which serves as the district's boundary with the East Side, long a stronghold of Buffalo's African-American community. There are perhaps half a dozen of these churches in the area; listed here are two of the largest.
Gospel Temple Church of God in Christ

phone: +1 716 833-3302

address: 143 Beard Ave.

The former home of the Parkside Baptist Church, a stout Romanesque edifice in handsome stone that dates to 1894, is now the home of the Gospel Temple Church of God in Christ. Led by Pastor Willie James Flurence, the Gospel Temple's services, which take place on Sundays at 11:05AM and 6:45PM as well as Friday nights at 7PM, are a mélange of traditional and contemporary styles of ministry and music. Special ministries for children and young adults also take place on a weekly basis.

North Buffalo Community Church

phone: +1 716 833-6598

address: 350 Kenmore Ave.

Kenmore Avenue in University Heights is where this small but tight-knit community of believers, led by Pastor William H. Smith, has been situated since its foundation in 1994. With services every Sunday at 10:30AM, small-group ministries catering to young people, men, and other specialized sectors of the church population, and extensive community outreach programs, the primary dedication of the North Buffalo Community Church is evangelism. Affiliated with the Southern Baptist Convention, the North Buffalo Community Church is a friendly congregation that, while primarily African-American in constitution, is multiethnic and welcomes all to its lively services.
Eastern Orthodox
phone: +1 716 875-4222

address: 2 Nottingham Terrace

St. George Orthodox Church began its life in 1913 in Black Rock, serving a small enclave of immigrants from Romania, and found strength in 1963 through its merger with a Russian Orthodox congregation whose struggle with small size and declining membership mirrored its own. An affiliate of the Orthodox Church in America, St. George describes itself today as a "pan-Orthodox" church that is a syncretic combination of the traditional liturgies of many Eastern faiths. The Rev. Jason Vansuch leads services in their modern building in Park Meadow, immediately adjacent to Delaware Park, where worshipers of all stripes are enthusiastically welcomed.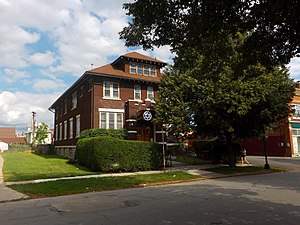 Jewish
Though it's not the hotbed of Semitic culture that it was 50 or 75 years ago, Hertel Avenue and the adjacent side streets retain a pair of synagogues that primarily deal in the same strain of Orthodox Judaism that has always characterized Jewish North Buffalo.
phone: +1 716 876-1284

address: 85 Saranac Ave.

Describing its approach as "a fresh take on traditional Jewish values", Congregation Achei T'mimim was founded in 1911 as among the first of what would soon be many synagogues serving a thriving Jewish community in North Buffalo — in point of fact, it is the only remaining unaffiliated Orthodox shul in the entire city. Though it is Ashkenazi Orthodox in constitution, Achei T'mimim welcomes Jews of all stripes, regardless of ethnic or denominational differences, to their still-vibrant services which take place Fridays at sundown as well as Saturday mornings at 9:30AM.

Knesset Center

phone: +1 716 832-5063

address: 500 Starin Ave.

This Orthodox synagogue on Starin Avenue just south of Kenmore Avenue is operated by Chabad, an Orthodox ministry connected with the University of Buffalo. Here two Shabbat services are held weekly: the small, intimate Saturday morning services (followed by a hearty lunch!) provide a quieter counterpoint to the busy, lively Friday evening ones. Midweek services are also held.
Muslim
phone: +1 716 836-9789

address: 40 Parker Ave.

Located in Central Park, At-Taqwa is a traditional Sunni mosque, including formal jum'a, with a multicultural congregation and services in English. The building was a private residence before being purchased in the 1970s by the Islamic Society of the Niagara Frontier and is now a mainstay of the local Muslim community. It's still easily mistakable for an ordinary house, however, and there's no real exterior signage.
Go next
Are you a fan of the mansions in Park Meadow and Central Park, and thirsty for more? In the
Delaware District
,
Millionaire's Row
(located along Delaware Avenue between Bryant and North Streets) and
Lincoln Parkway
(just south of Delaware Park) are a pair of National Historic Districts that boast mansions even more luxurious than the most palatial ones in North Buffalo. Architecture buffs will marvel at these beautifully preserved examples of turn-of-the-century upper-class residential design.
Like the shopping and nightlife on Hertel Avenue? The
Elmwood Village
centers on a 1.8-mile (3 km) stretch of Elmwood Avenue that's almost as densely packed as Hertel with boutiques, bars, and restaurants. In contrast to the antique shops and trendy furniture galleries of Hertel, the Elmwood Village's stock in trade is high-end, fashion-forward clothing boutiques catering to hip, upscale urbanites — alongside which are found some of Buffalo's most cutting-edge restaurants.
Located immediately north of the city,
Kenmore
was Buffalo's first real suburb: its history can be traced back to 1889, when real estate speculator Louis P. A. Eberhardt purchased a tract of farmland at the corner of Delaware Avenue and Town Line Road (today's Kenmore Avenue), at the center of which the National Register-listed
Eberhardt Mansion
still stands. But Kenmore is far from the faceless tract of cookie-cutter housing most people picture when they hear the word "suburb" — Delaware Avenue, the main drag through the village, is a lively strip of shops and restaurants that combines urban hipness (in an accessible, Hertel Avenue way; not a pretentious, Elmwood Village way) with small-town charm.
Eggertsville and Snyder
are two more of Buffalo's earliest suburbs, centered along Main Street between University Heights and
Williamsville
and with a history that dates back to the 1910s and '20s. Those who noticed the verdant streets and ample houses in North Buffalo's
University Park Historic District
will find more of the same here — the homes in Eggertsville and Snyder have mostly retained their comfortable middle- and upper-middle-class luster, and seven of the distinctive stone gates that stand at the entrances to the side streets off Main have been listed on the National Register of Historic Places. Eggertsville is also the site of the
Museum of disABILITY History
, an uplifting collection of exhibits focusing on the accomplishments of Americans with disabilities.